Rinkal Chheda a Mumbai based artist was a prodigy when she was 9 years old. Having suffered from thyroid problems since she was a child, she had a hard time coping in school. She has received a master's degree in Visual Art (painting) in 2021 and bachelor's degree in Visual Art (painting) in 2017 from SNDT University, Mumbai along with an Art Teacher Diploma in 2013 from Sir J. J. school of Art, Mumbai. Her subjects revolve around the different symptoms of thyroid conditions and the memory of events that happened during the illness.
One of the most prominent techniques Rinkal makes use of is Ebru, the traditional art of Turkey where colours are used to create patterns by sprinkling and brushing colour pigments on a water surface and then transforming this pattern onto a canvas. The results are always accidental and abstract which is why they cannot be repeated, ending in a unique pattern each time.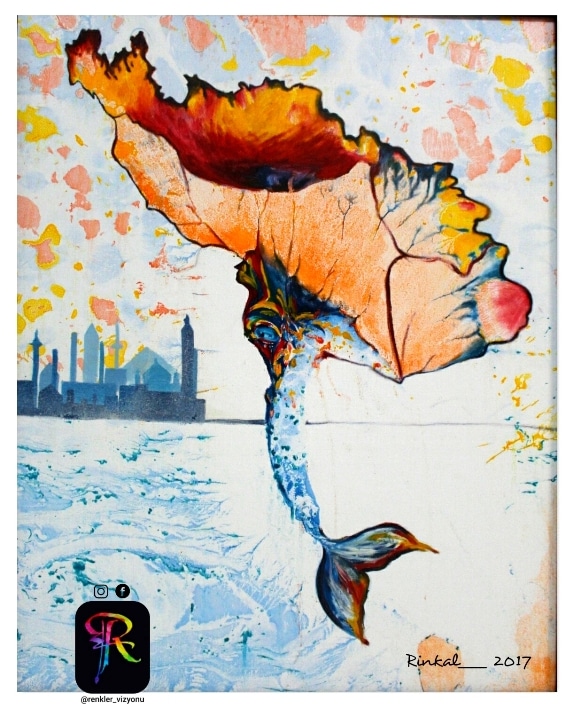 What's your artistic background?
My art journey started when I was in primary school. I developed hypothyroid disease when I was 9 year old. A time came when I stopped studying and playing altogether and would just sit and draw to my heart's desire. In a way art helped me to move on from my distress and healed my heart and mind. As I grew older, my interest developed further. After a bout of confusion, I ended up taking commerce and studied that for couple of years. Whenever there were drawing competitions in college, my peers and friends would encourage me. After my third year, I tried to figure out if I can join a short course just to fulfil my passion and so I joined Sir J. J. School of Art.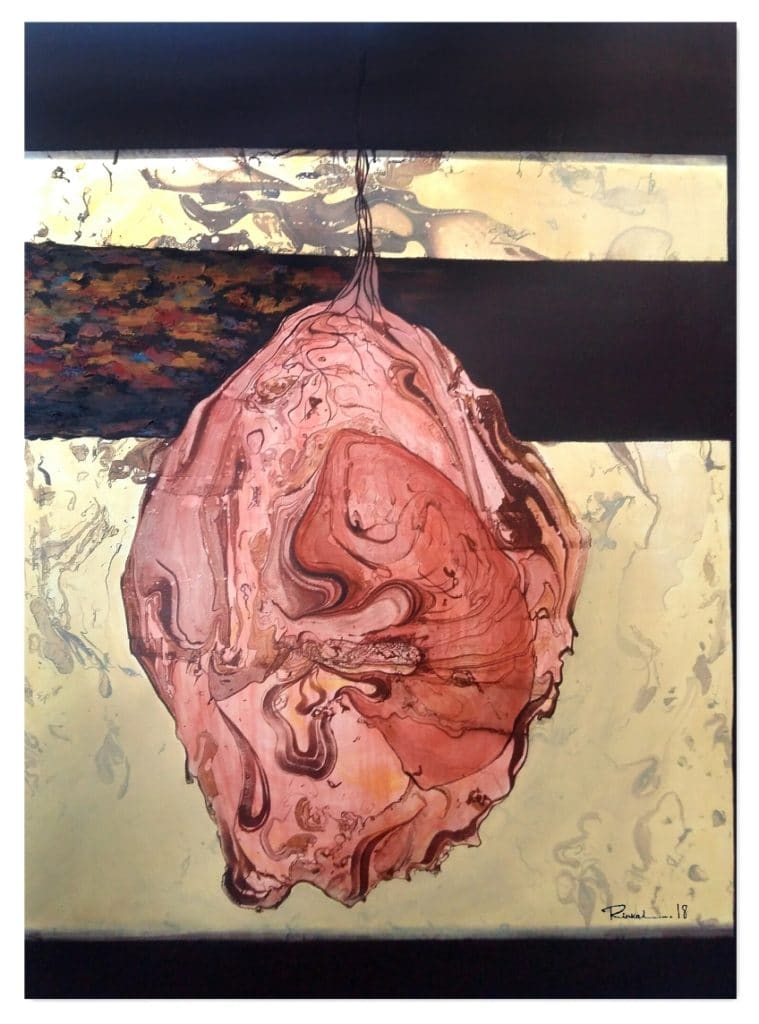 What's Integral to the work of an Artist?
I believe an artist's journey starts when they seek to know about themselves and the world around them. As an artist for me most important is reuniting and recording fragments of thoughts, feelings, memory and saying things that I can't express in any other way.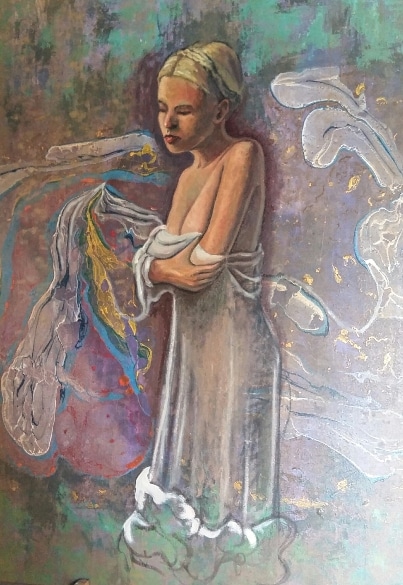 What role does the artist have in society?
I believe when artists like me who share their pains and sufferings through artworks, can create motivational and positive impact on viewers who maybe going through the same difficult conditions. Artist can help them to develop an attitude to deal with it and this can also help the society to transform in a positive environment with more courage and more empathy for others.
What art do you most identify with?
Art itself is a dynamic form of expression. For me every possible medium like sculptures, paintings, drawings, digital works, sketches help me to express with suitable topics. Medium can be anything but there are two things in common i.e. colours and lyrical patterns.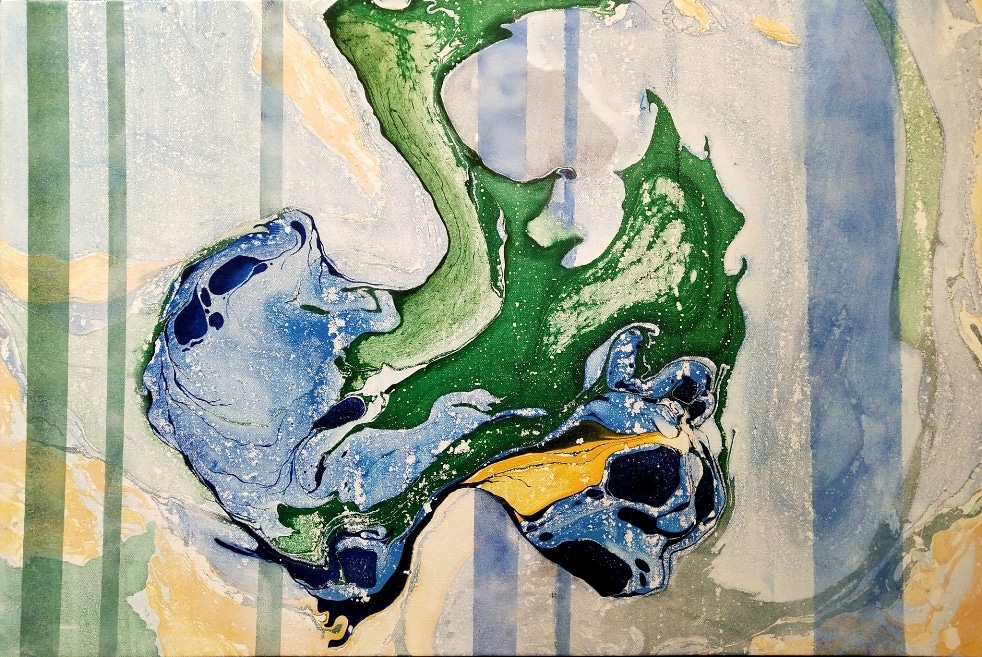 What themes do you pursue?
My subject revolves around my journey with hypothyroid condition. In my work, my reality is involved throughout the process. In the beginning, developing the basic raw materials for the creation is profoundly reflective and informative. Later, bringing those together into a form- distilling and shaping movement, creating a context, working to something that feels cohesive and complete. You can see different symptoms of hypothyroid and my struggle with this in each painting.
What's your favourite Art work?
'The broken column', 1944 and 'Henry Ford hospital', 1932 by Frida Kahlo are the most favourite and inspiring art works for me. And from my own portfolio, all works are favourites because each artwork's process has memorable moments.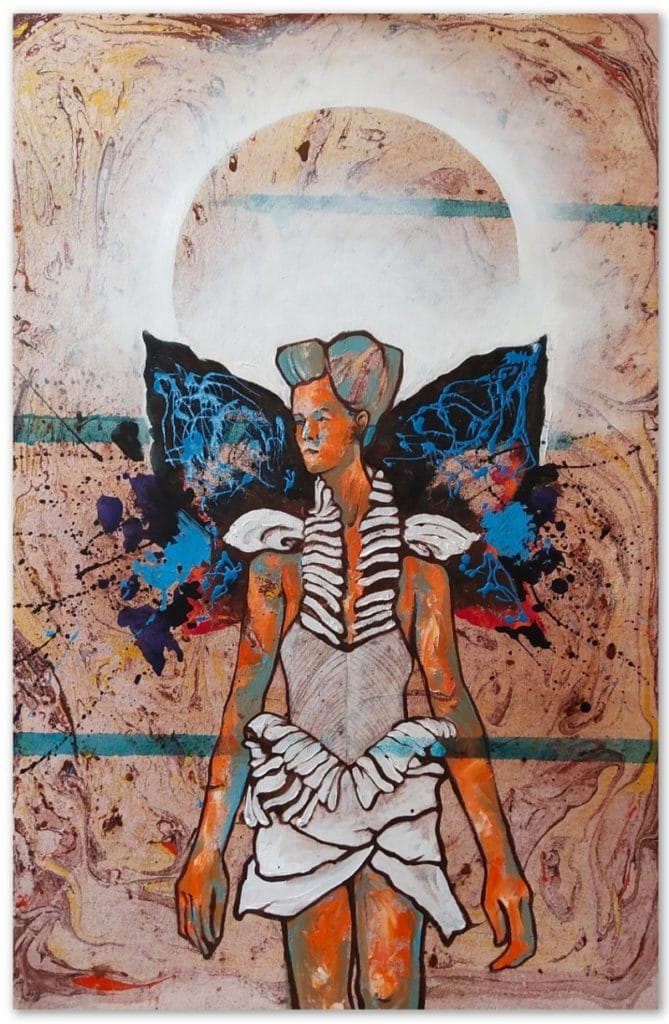 What jobs have you done other than being an Artist?
After school I completed my graduation in commerce and worked for couple of months in back office on a private bank. During my time there, I underwent a teacher training course for years at Sir J. J. School of Art. After completing that I joined a reputed inter-national school as an elementary art/drawing teacher for a primary section.
Why Art?
The body of my work is like a catalog of the events and thoughts of my life. For me, making art is almost like keeping a journal. I realized how long I have been subconsciously doing this. Art has taught me to overcome my weakness and to live a great life. Painting has never been only a vehicle to express my thoughts, but it's been a part of my life, a world full of creativity where I live peacefully and joyfully.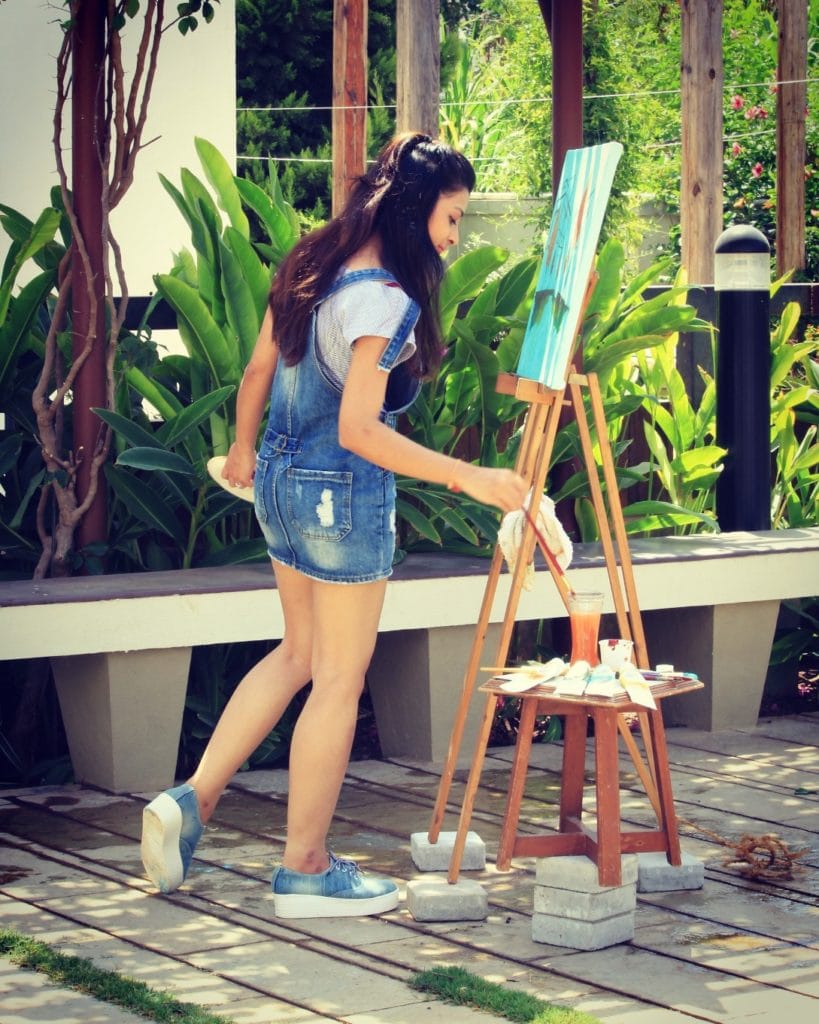 What is an artistic outlook on life?
While using the water marbling effect, I create abstract patterns on paper or canvas. Colours start to float on the water surface and patterns form automatically, teaching you that there are some things you cannot control and you just work with what you have.  Life really can be unpredictable sometimes, so you must have the 'Go with the Flow' kind of attitude.
What food, drink, song inspires you?
There are many songs which inspire me but one of them is 'Butterfly Fly Away' by Billy Ray Cyrus with his daughter Miley Cyrus. The song is a soft country ballad with lyrics that describe a child's transition to adulthood. It says that while a caterpillar may not be able to move much, it can still dream about the butterfly it will one day be. This song always reminds me to dream big and be prepared for transformation.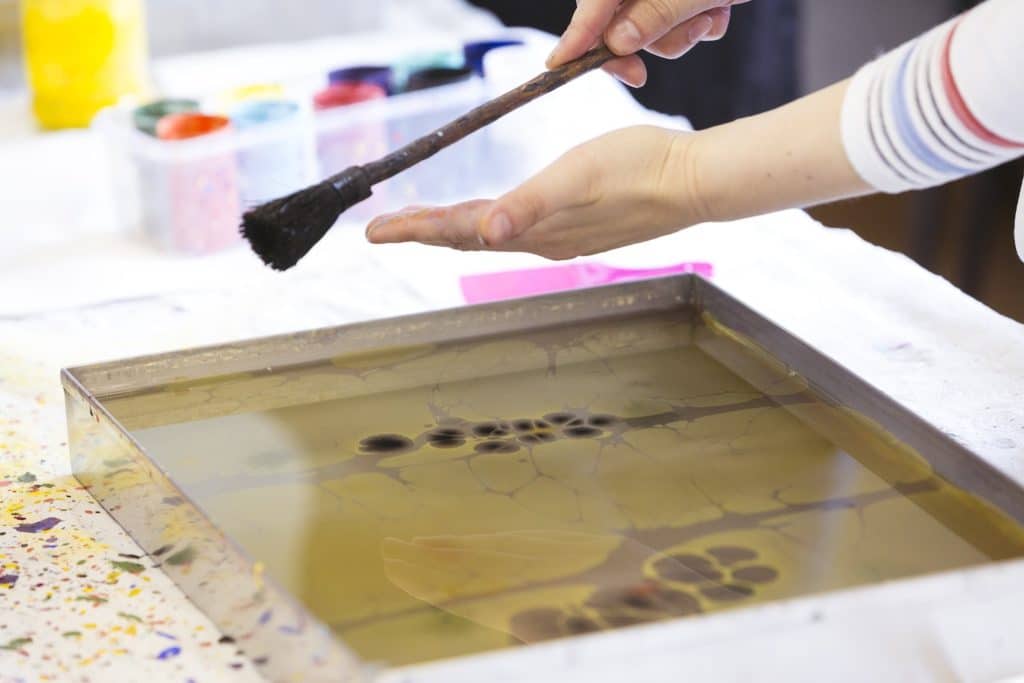 Is the artistic life lonely? What do you do to counteract it?
I don't think so, infect there was a time when I preferred to just be with my art. Art never lets you stay lonely. On the other hand people who are introverts like me find it easy to interact with other people through their art.
What do you dislike about the art world?
Art world has been divided into two parts, one is actual art world where artist expresses their thoughts, views and experiences with their works and on the other side there is the money making, business oriented art world, where plagiarized work is encouraged to make money which is really disappointing.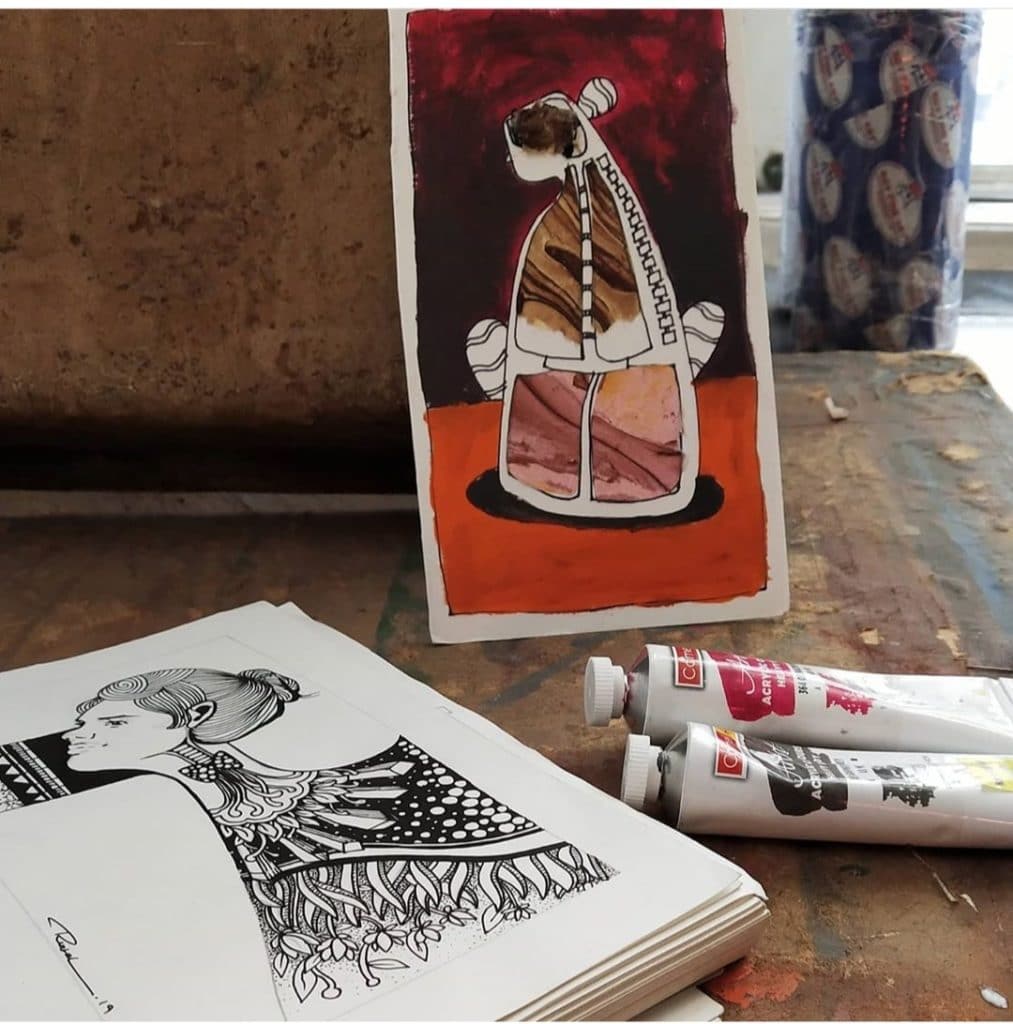 What do you dislike about your work?
Every artist dislikes something about their work during certain periods of time. And that's what motivates them to improve. I sometimes feel demotivated and stuck somewhere and that bothers me a lot. But I always try to work on it.
What do you like about your work?
The Process. When I am engaged in the process of creating something, I always feel satisfied and energetic.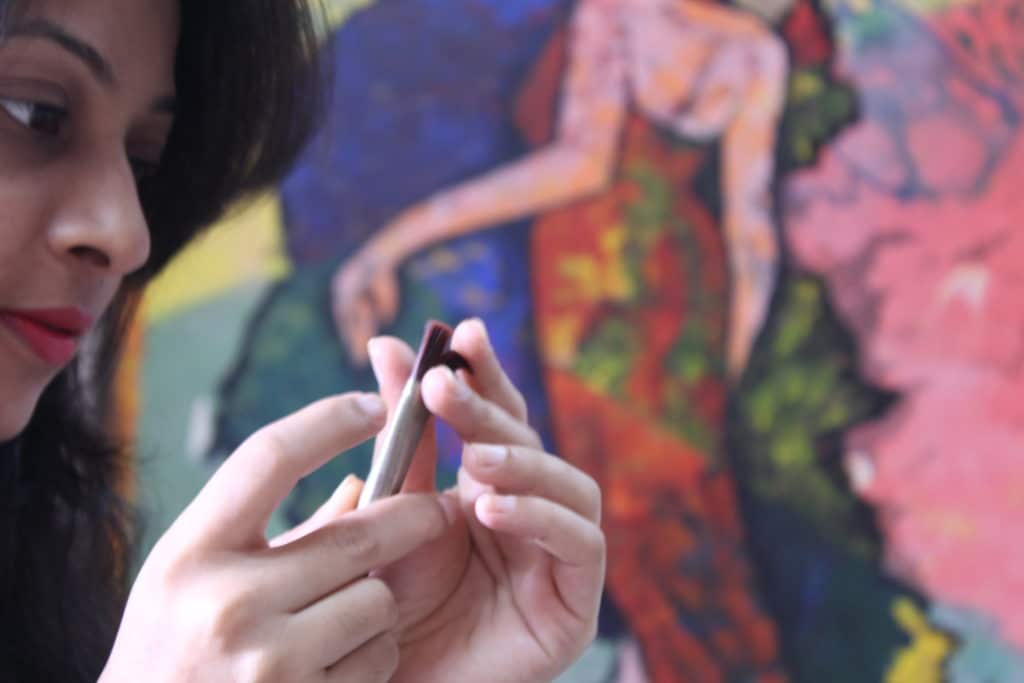 Should art be funded?
Yes of course. Funding art will encourage more artists and art lovers to work in their field.
What role does art funding have?
Funding helps artists to work without worrying about the financial resources.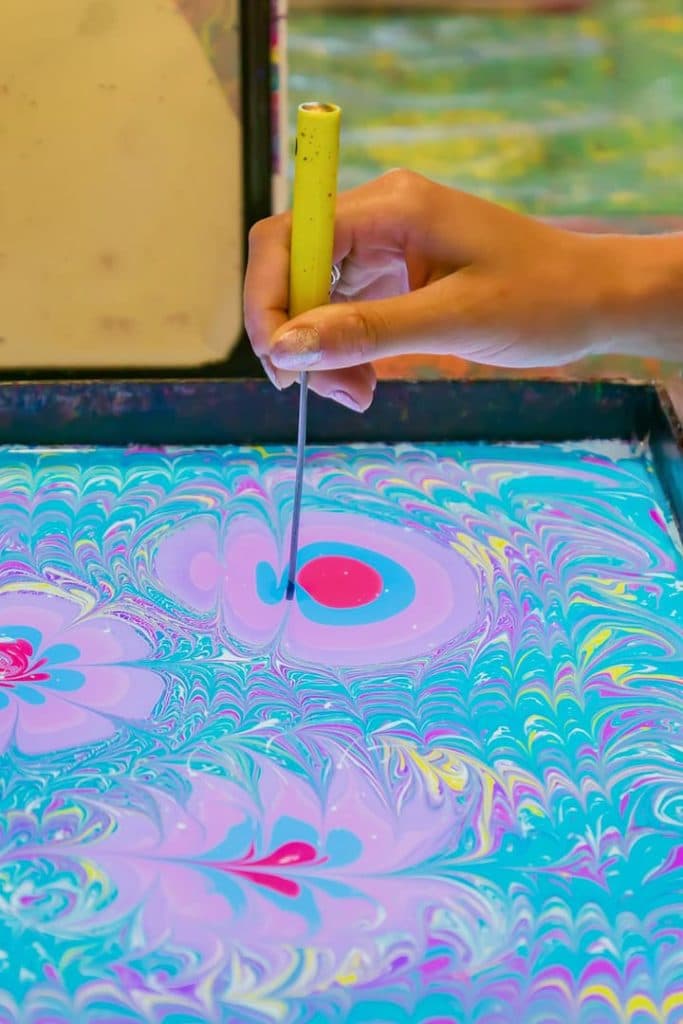 What is your dream project?
My dream project is to work for society and to reach out to those have thyroid problems and to help them with spreading more awareness about it.
Name three artists you'd like to be compared to.
There can not be a single artist to be compared with. Because every artist is different, their stories or thoughts are different and medium of expression will be different as well.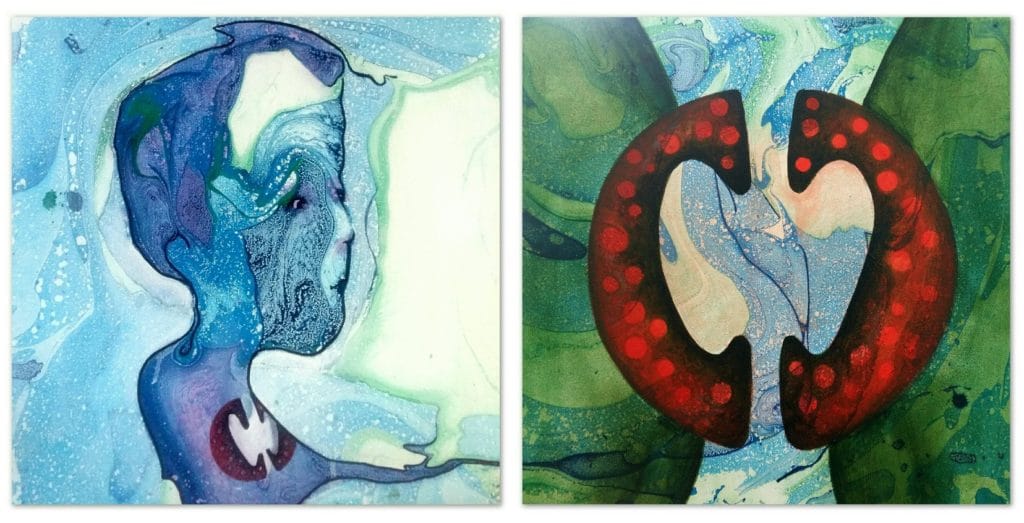 Professionally, what's your goal?
To get inspired, to create and to be the inspiration for several aspiring artists.