Since childhood artist Rajeev Semwal had an interest in art. "The reason was my father, who was in the defense service and painted quite well. Whenever he used to work, I used to watch him with great curiosity and it impressed me immensely. I think I have an inclination towards art because of my father and believe that he was my first source of inspiration," he says.  In school, he used to participate in various types of art competitions from time to time and won many prizes as well. He was encouraged a lot by his art teacher and used to spend a couple of hours drawing once back from school. One day, his elder brother's friend informed Rajeev about the art activities at the National Gallery of Modern Art from where he gained knowledge of elementary drawing skills.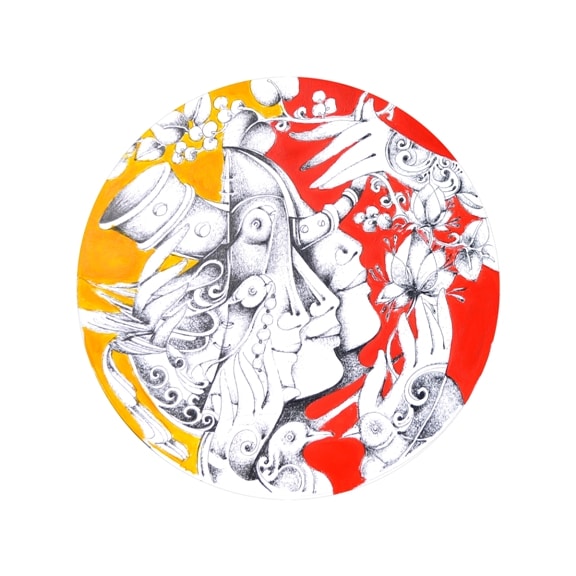 Due to the lack of sufficient knowledge of art in the beginning, making art remained only a subject of interest. In the year 2007 artist Rajeev joined a 2 year diploma in Applied Arts from the Shankar's Art Academy. In 2013 he had his first solo show; 'Drawing is the Soul of Art' at Triveni Art Gallery.  Since then he has participated in more than 30 group shows and held 5 solo shows.
What's integral to the work of an artist?
Daily practice is integral to the work of an artist. It leads to better observation skills and helps translate this into the art work. Line drawing and sketching is my daily routine and this continuous practice brings better precision and maturity to my work. I am observant of what inspires me in life and I allow it to reflect in my art. An artist must have complete dedication to his work. The artist's identity should be visible in their work.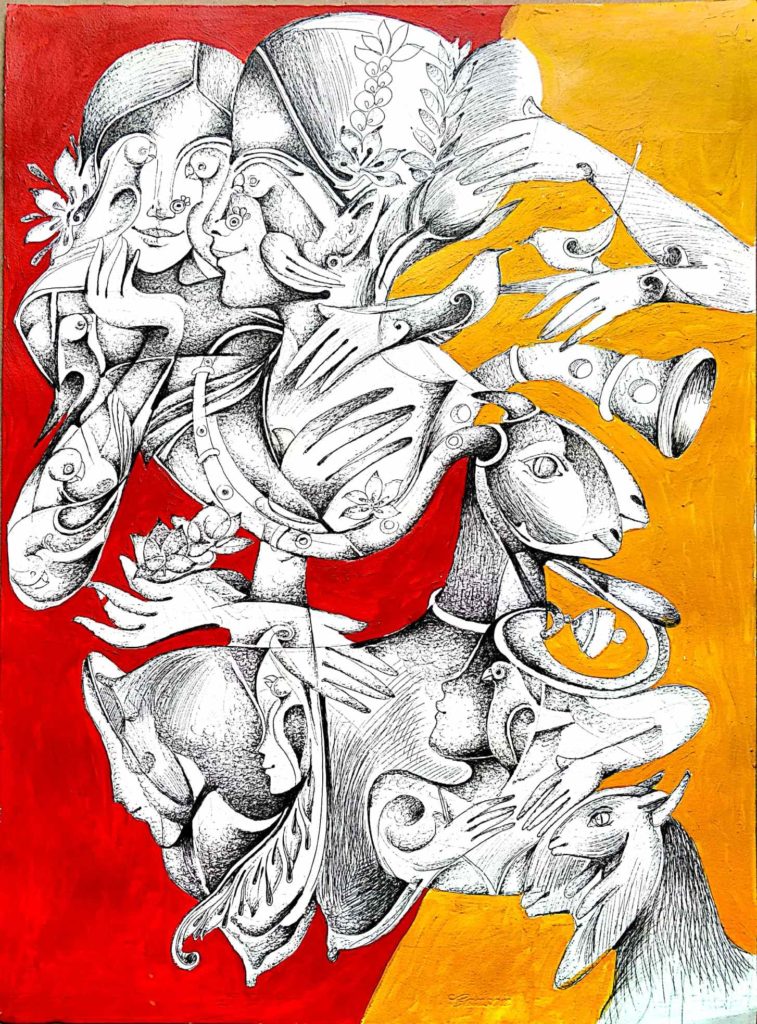 What role does the artist have in society?
Art is an important part of our society. It is very difficult to imagine our life without art. Without art, life will be very dull. Art is the mirror of our society. The changes that are taking place in our society also have an effect on art. It evolves. An artist is the creator and his creations observe and impact the society. Ultimately, change is the law of nature and it is only through art that the artist presents his true feelings to the society.
What art do you most identify with?
Pen and Ink works definitely impress me. I feel comfortable with them and consider this medium to be the most appropriate way to express my feelings.  Figurative and nature based works are the most relatable subjects.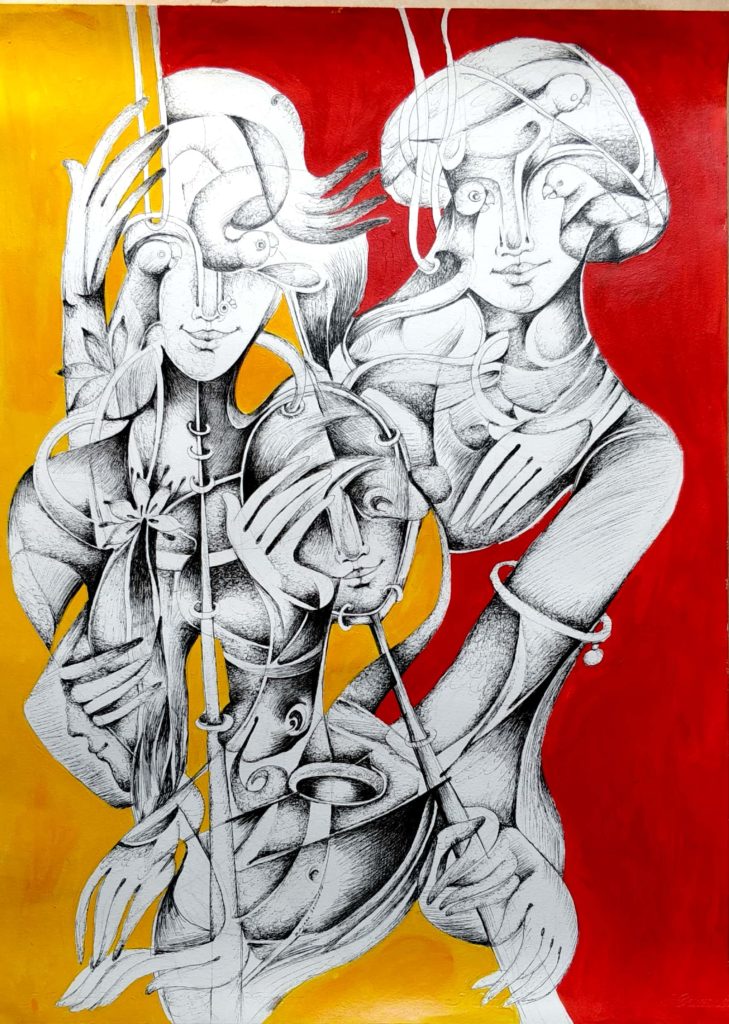 What themes do you pursue?
The subject of my art is more related to nature. Nature is a source of inspiration for many artists.
What's your favourite art work?
My series on 'Tradition of beauty' and 'Loving nature' are my favourites.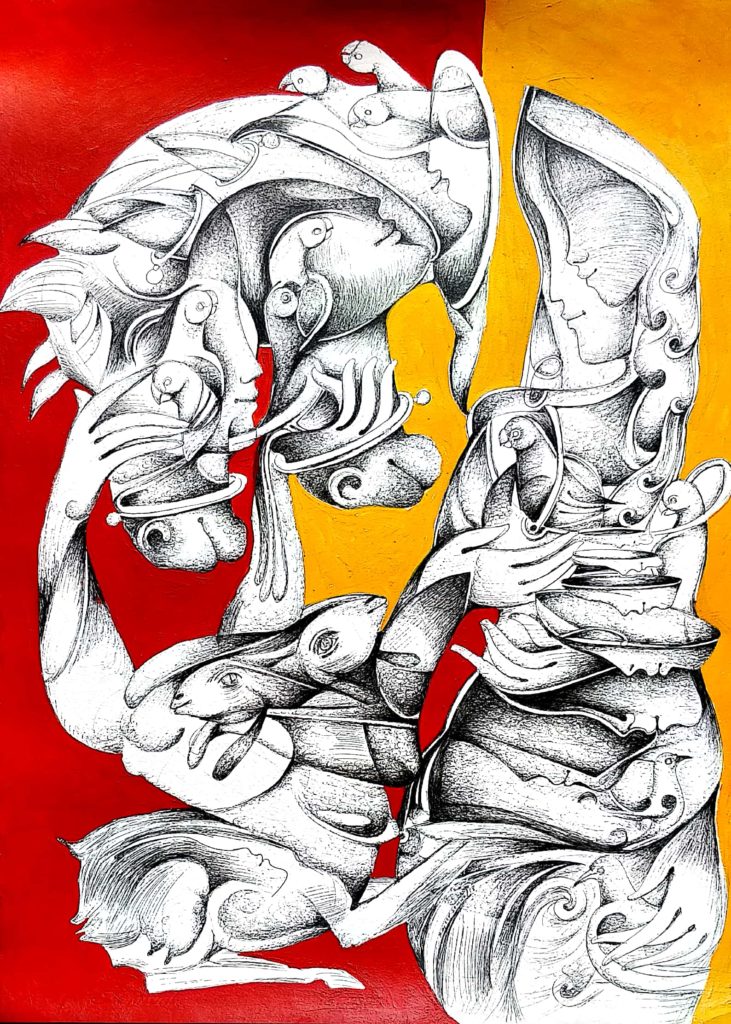 Describe a real life situation that inspired you.
I had made a greeting card for my class teacher on her birthday, which she liked very much. She showed that card to everyone and encouraged me a lot in front of the whole class. It was a very memorable moment for me that I will always hold close to my heart.
What jobs have you done other than being an artist?
If not an artist, I'd have been in the defense services. I am greatly influenced by my father's disciplined life and his sense of dedication to the country. Apart from being a practicing artist; I have worked as an art teacher and a commissioned illustrator.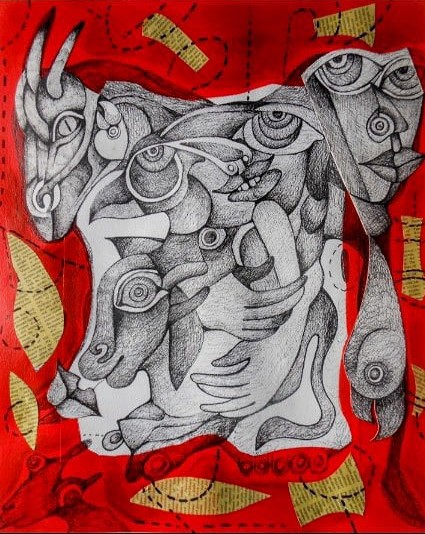 Why art?
I have been very fond of art since childhood.  I consider myself lucky that I am doing what I always wanted to pursue. I am devoted to my work and I wish to follow my dreams. Art is my soul; it has a spiritual connect for me. While working, I feel a wonderful sense of happiness which is very difficult to describe in words. It is an amazing journey that I feel on a daily basis.
What is an artistic outlook on life?
Every artist thinks differently. Their awareness is reflected in their creation. It is their thought process that dictates the composition, colours and textures they select to express in their art.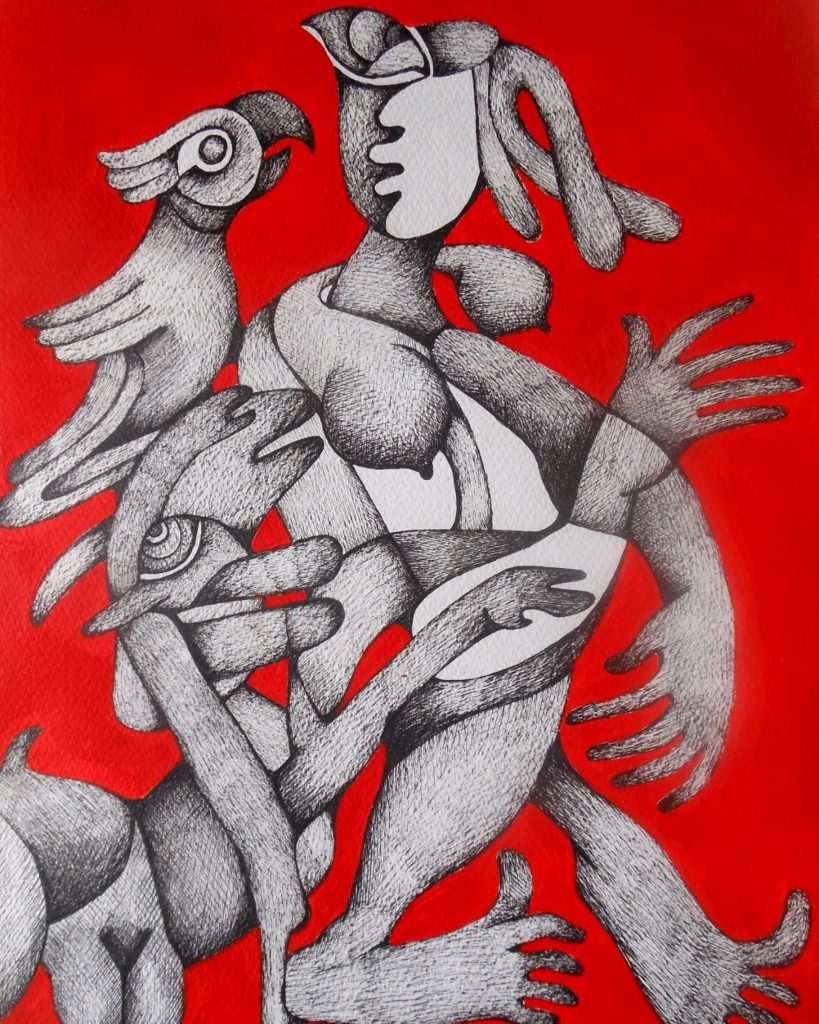 What food, drink, song inspires you?
I am very fond of tea and music.  I love listening to old Hindi film songs and they always leave me refreshed. My routine starts with this and I get new ideas while working along with music.
Is the artistic life lonely? What do you do to counteract it?
Yes I think that there is loneliness in the life of an artist but there is no emptiness. Their main aim is to develop their art, for which they invest their maximum time. There is a dialogue between the artist and their work, which makes them a little different from the society around. My art fills my life completely.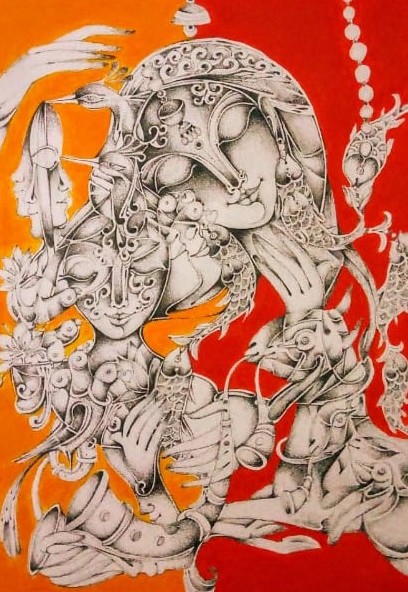 What do you dislike about the art world?
The word art means a lot to me, it is an important part of my life and I feel it. There are both positives and negatives with any practice. Some of the problems that I feel are:
There is a constant lack of dialogue in this field. People who write articles on art are very few; there is a shortage of people who write without commercial angle.  Commercialization has become quite involved in art as well.
Art lobby and groupism restricts good artists from progressing ahead.
3.There is lack of guidance, support, and interaction by the senior/established artists.
What you dislike about your work?
I am very possessive about my work. At times, I am unable to give enough time to society and my family due to being fully immersed in my work.

What do you like about your work?
I like the use of pen in my artworks. I like the freedom that I feel while creating. My dedication to art keeps me focused on my goal.
Should art be funded?
Yes I think it is very important to have art funding. Artists face many financial difficulties in their initial art journey.  Funds can help a lot in establishing the foundation of their art. The state needs to take more initiatives to fund the life and art of the upcoming and budding artists to support them in the early days.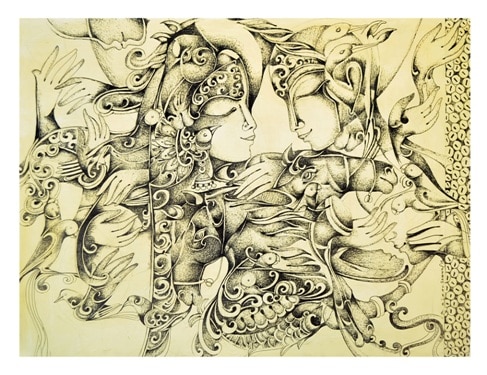 What role does art funding have?
Funds can greatly encourage young artists to move forward and to work with freedom, independently. It will allow them to explore new experiments in art. These benefits to artists should be completely transparent and young artists should get direct benefits. Only then will both art and artists benefit in the true sense.
What is your dream project?
I would like to continue my work on the subject of Mother Nature in the future.
Name three artists you'd like to be compared to.
Picasso, KG Subramaniam, and Dheeraj Chaudhary. I have always enjoyed line drawings of all these great artists and I am very impressed with their art journey.
Favourite or most inspirational place?
I enjoy working in my village in Uttarakhand as I feel very close to nature there.  One reason for this is my desire to find solitude. There I get full opportunity to understand myself and I get new ideas for my art.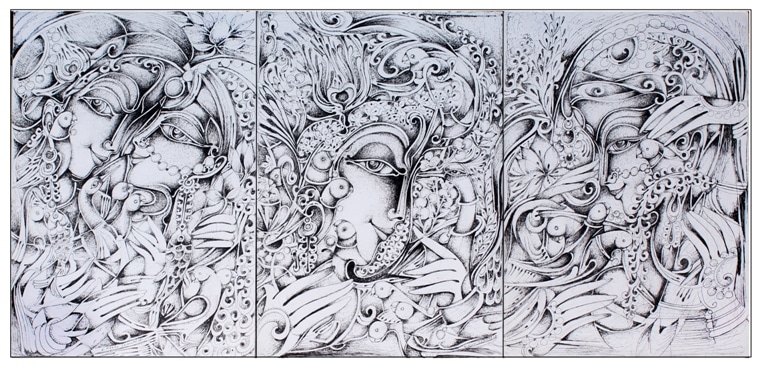 What's the best piece of advice you've been given?
'An artist should always live in life like a student, so that he always has a tendency to learn.  Art is a never ending path on which the artist must keep going on.' Renowned artist Jatin Das shared this advice when I met him at his show almost a decade back.
Professionally, what's your goal?
My goal is to approach and execute my work with full sincerity and dedication. The art that makes me happy should make those who see it also equally happy. I want to make a place in the hearts of people with my art. I dream to have a beautiful art studio in the mountains, where I can stay close to nature and pursue my art undisturbed.
Future plans? 
I wish to exhibit my art all across the world.