Pranay Verdia is the newly appointed Cluster General Manager of Sheraton Hyderabad. A Stanford LEAD alum and an award-winning hotelier with an illustrious career of close to two decades in Senior Management roles with brands like Marriott International, Hyatt International, Taj Hotels and Four Seasons Hotels and Resorts. Pranay's astute leadership has accelerated overall business growth for many organizations, along with a clear focus on leadership development of his team members. Pranay spearheaded the Fairfield by Marriott brand launch in India, also the first managed Fairfield in Asia Pacific, earning special recognitions such as HICSA Hotel of the Year (2014) and Operations of the Year APAC (2015). He moved on to implement initiatives in positioning of Goa Marriott Resort and Spa as a premier resort destination and was recognized with the Spirit to Serve our Communities APAC (2017) award for his pioneering work in hotel's Take Care Initiatives and 'Serve our World' initiatives. In his last role as Multi-Property General Manager with Marriott International, he led four hotels in the city of Bengaluru and guided the hotel teams to impressive results and several awards in the last 3 years. Pranay has been a recipient of several notable recognitions including F&B Excellence – GM (2014), Diamond GM of the Year (Courtyard Brand – 2019), Diamond GM of the Year (Fairfield Brand – 2019). In addition to being a Hotel Management graduate, he holds a degree in Economics, and has completed a 1- year Corporate Innovation and Leadership program from the Stanford University.
What makes Sheraton Hyderabad stand out from other properties you've worked in?
Sheraton Hyderabad Hotel acts as a point of connection for millions of travelers with deep roots in communities around the world. Public spaces are designed to make guests feel welcome, facilitate meetings or safely gather with friends and coworkers so they can connect in unique and innovative ways. The hotel is built on it's cultivated sense of design, iconic cuisine and sophisticated guest rooms created with timeless comfort in mind. Our guest rooms deliver productivity during the day and restful refuge at night combined with exceptional service. The hotel has a unique offering of 56 furnished serviced apartments which additionally provides spacious living options to guests looking for an extended stay or stay-cations. They are all fitted with well-equipped kitchenette, spacious living and dining rooms and an exclusive landscaped patio.
Who is your typical customer? 
Nestled in the heart of Gachibowli's bustling financial and information technology district, Sheraton Hyderabad Hotel has been redefining the travel experience, for both business and leisure travelers. The demand drivers in the city are IT/ITES and several multinational corporations. One of the reasons for the rapid growth of Hyderabad's hospitality industry is being attributed to it's rising popularity as a business hub. Sheraton Hyderabad enjoys patronage from business travelers wanting a hassle free experience. In the current times with restriction in travel, the hotel has successfully transformed itself as a preferred destination for guests looking to unwind and relax with curated leisure activities.
If you could plan a one-day itinerary for guests looking to explore Hyderabad, where would you send them?
Hyderabad attracts hordes of tourists every year due to the presence of various sightseeing spots. It is home to many upscale restaurants and historic sites. One can certainly make the most out of the weekends in a city known for it's architectural marvels and sumptuous spread of food, inspired by the Nizams. Hyderabadi Biryani, Pathar ka Gosht and Sheer Khurma are just a few of the city's best dishes that one must definitely try. Some must-visit places are Charminar, Golkonda Fort, Birla Temple, Shilparamam and IKEA for shopaholics.
 Building the right team is crucial for a property's success. What are the key skills you look for when hiring new employees?
Skills and attributes I typically seek for in an individual is that of a balanced and optimistic approach. One's positivity denotes one's level of resilience. An individual with 'can do' attitude only adds to the grit and dedication of the current workforce. I look forward to personally contributing by dedicating time in recruitment process of every employee and subsequent immersion sessions. I have been successful in conducting core trainings to build an environment of culture and integrity. I strongly believe that coaching and mentoring helps facilitate and foster growth within a hotel and certainly helps to bring out the best in people.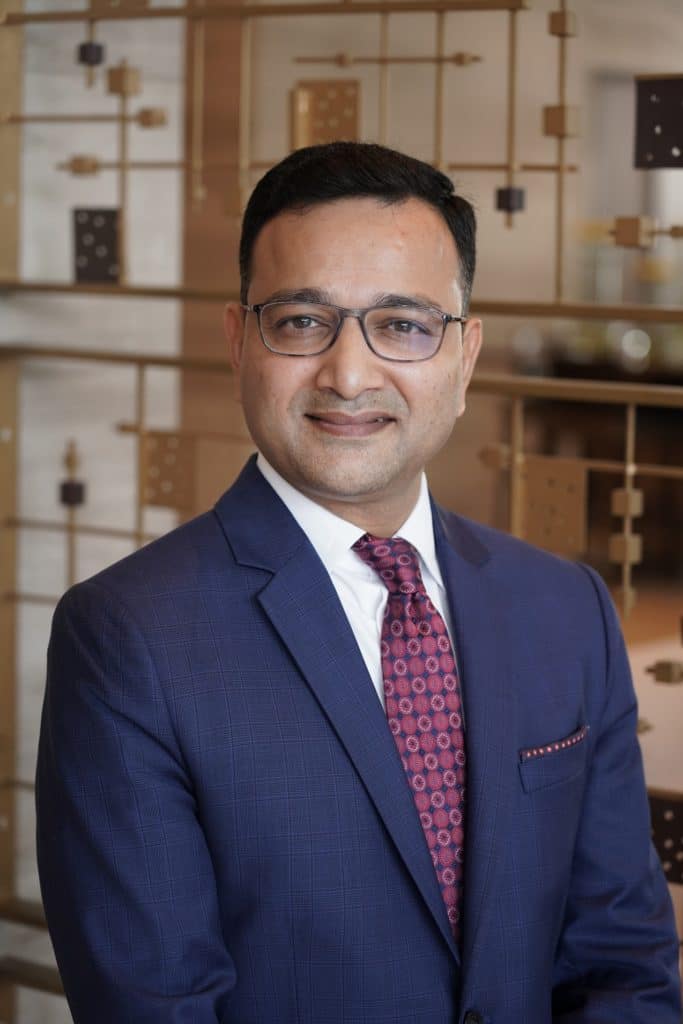 What is the USP of your hotel? 
Sheraton Hyderabad Hotel has been built on three concepts – Light, Height and Space. Located in the bustling neighborhood of Hyderabad's new business district, the hotel is also well connected with the shopping and entertainment hubs in the city. The hotel has been a preferred destination for business travelers and locals alike with it's inventory of 272 rooms including 56 tastefully designed and fully serviced apartments for guests looking to stay longer or unwind over a weekend. Whether travelers visit Hyderabad for work or vacation, Sheraton Hyderabad Hotel offers superlative stays and delivers unparalleled experiences.
 What is the one dish that guests have to try when at your hotel?
Definitely has to be the Kheema Pav and Mutton Biryani from our all-day dining restaurant, Feast – a local favorite that offers a plethora of world cuisines and local delicacies. Another must-have I would recommend is the New Zealand Lamb Chops from our specialty Pan-Asian restaurant, Zega.
2020 was a challenging year for the hospitality industry. In your opinion, how will travel trends change in the 2nd half of 2021? 
The hospitality industry is slowly picking up and marching towards reasonable recovery. However, there is still a long way to go. We are anticipating a strong recovery and change in travel landscape by the fourth quarter of 2021 as we anticipate borders to reopen to tourists eager to be free again and to reunite with families and friends. Meanwhile, we will continue to witness a significant rise in stay-cations and foresee this trend to continue in the second half of 2021. I believe travel industry in very resilient in nature and I am positive that we will bounce back very soon.
How has the pandemic changed the way you work? 
This pandemic and sudden imposing of lock down has been a drastic change for most of us especially at a personal level. Striking a healthy work-life balance is a difficult challenge even in the best of times, but it is all the more daunting and necessary during times of economic stagnation and uncertainty. One of the most important things that I made sure of is to plan ahead. To create a balance in both, personal and professional, I stuck to my routine in sustainable ways that keep my energy flowing, my mind and body healthy and our whole selves happy and content. To ensure that my mind was still positive and clear, I also maximized my outdoor allowance and exercised daily, spent quality time with family whether it's something as simple as watching a movie or read a book to distress.
My ability to unlearn, to discard old assumptions or prevailing beliefs and rethink has inevitably helped me achieve great heights. I have focused on new opportunities while developing an effective communication channel for my guests and employees.
 Was a career in hospitality something you always dreamt of?  What is your advice to aspiring hoteliers? 
In my working life, I've been lucky to have wonderful mentors and leaders who have pushed me to do new things. I owe a lot of who I am now to the timely advice and feedback I've received, which I believe to be a priceless gift. This has also impacted my professional objective, which is to inspire the next generation of leaders to lead their teams and organizations to breakthrough success via ethical leadership. My advice to aspiring hospitality professionals – This is a defining moment in business. Be open to change. The value of change is perhaps the most recurring theme in my analysis of best practices. In an era where uncertainties outweigh the certainties, it is crucial to stay positive and focused.
 Which Indian cities are your favorites for: 1) food 2) history 3) fashion?
One of the most captivating historical cities and my personal favorite would be Jaipur, the pink city. The capital of Rajasthan has so much to offer when it comes to historical monuments, food and trendy fashion. One can never get enough of the markets in the old city. Everything is so colorful and diverse. Speaking of, Bangalore and Hyderabad are the hubs of the entrepreneurial culture offering more than they promise. Relishing their authentic cuisines is truly a gastronomic experience. Goa is another place that is the center of historical monuments, great sea food and an amazing place to unwind.
 You have worked in several cities, which is your favorite Indian city for work and play? 
Goa has to be the 'place to be' when it comes to work and play. The quaint shacks by the beaches are perfect to unwind after a long day, while the Portuguese cafes offer a cozy space to 'work from home' during the day. The people are welcoming and the food is always a delight.
 When are you happiest? 
I'm happiest when I am travelling, after a game of tennis, or after an amazing meal with friends and family. It's the little moments in between that make the biggest difference, be it on a journey to a new place, a good win at the game or a comfortable meal with family. Some moments are cherished forever.