Omkar Tadase is an IIHM Pune student and aspiring chef. To him, food is all about emotions. He says the first dish he can ever remember making was chai and poha for his mother. "In my life, the most rewarding experiences were when I saw people enjoying the food that I cooked. I take immense pride in my cooking skills, as I believe it takes a talented cook to create something delicious in such a simple way. My devotion has rewarded me with several honours, including being awarded as first runner-up in the IIHM Superchef competition and the opportunity to participate in a culinary tour that took me to cities such as Jaipur, Delhi, Lucknow, and Goa," he says.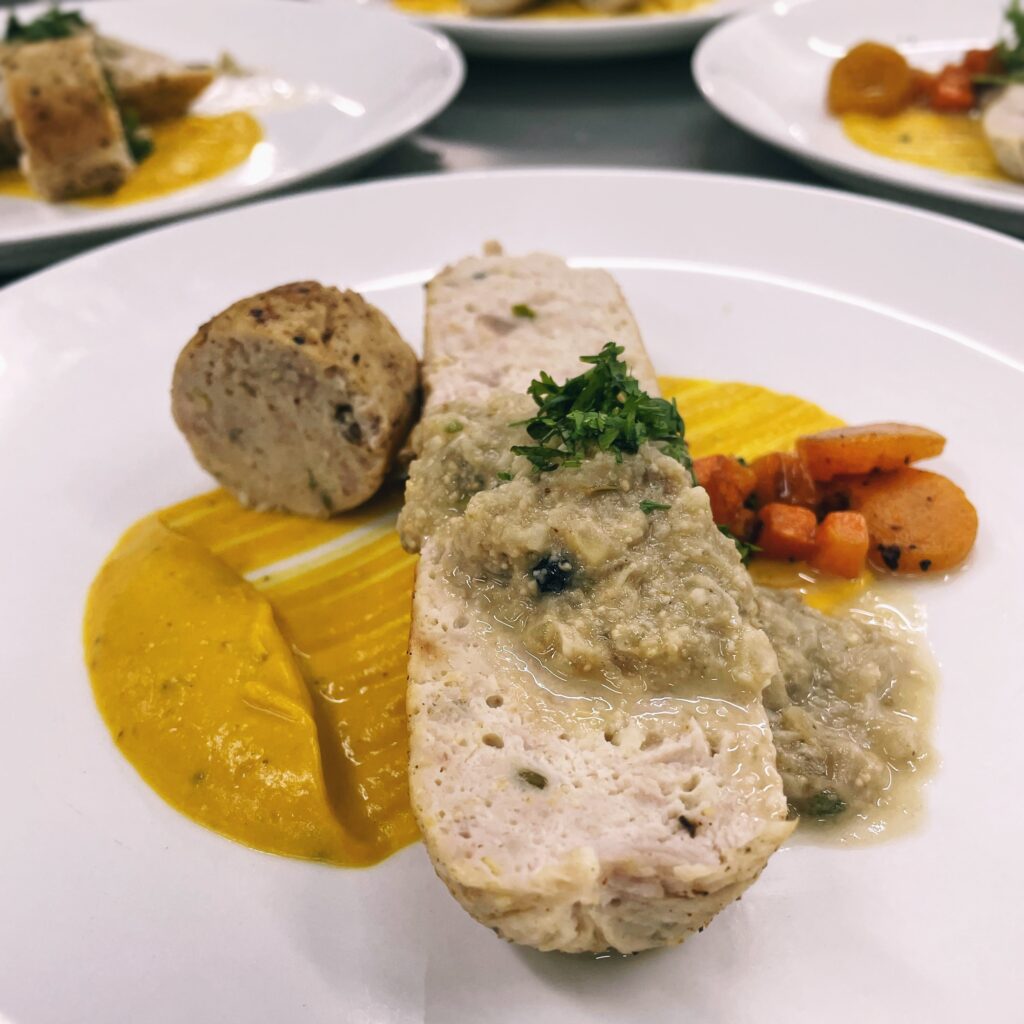 Traveling while studying cuisine has taught Omkar how different regional cuisines can be and that one can always learn from other cultures, not just in terms of food but also as a way of life. After graduating from IIHM, he is planning to work in a high-end restaurant in India, and after some years of experience, he might consider joining a good-reputed culinary university for further studies. In the future, Omkar wishes to open his own restaurant in India and live his passion.
How did you get interested in cooking? When did you decide to start cooking?
It all started as a responsibility. When we first came to Nagpur, my mother used to do all the office and other documentation work as my father was in Africa. And to make her life a little easier, I started cooking. First, I started with chai, and gradually started making poha and upma for breakfast and that's how my journey started. From then onwards, my interest in cooking has only made me read and watch more about food and this beautiful culinary world. Now, cooking is a passion.
Where do you get your recipe ideas from?
As a student, I try to focus more on my basics so books, websites, and culinary courses are my best source. Currently, I have more than 8 recipe books and 3 website subscriptions.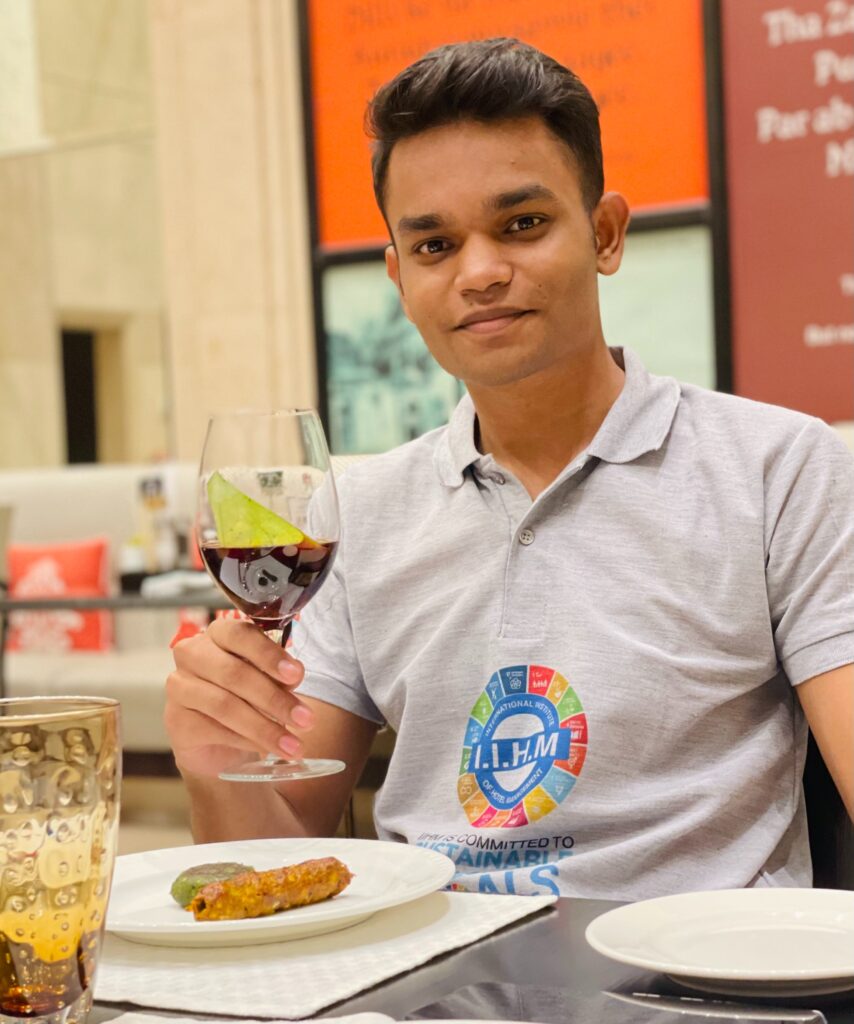 How do you keep yourselves updated about the latest cooking trends?
I am always active on my professional Instagram handle, where I have followed some pages and hashtags such as  #restauranttrends #foodtrends #drinktrends, which keeps me updated with the latest trends, and also other online articles that keep popping up while researching about the food industry.
What is your advice for aspiring young chefs?
These are some pieces of advice which I follow.
Focus on your basics.
Talk less, do more.
Never lose your passion; the first five years might be hard, but everything is worth it in the long run.
Keep asking questions.
Keep learning daily.
Try to grab every opportunity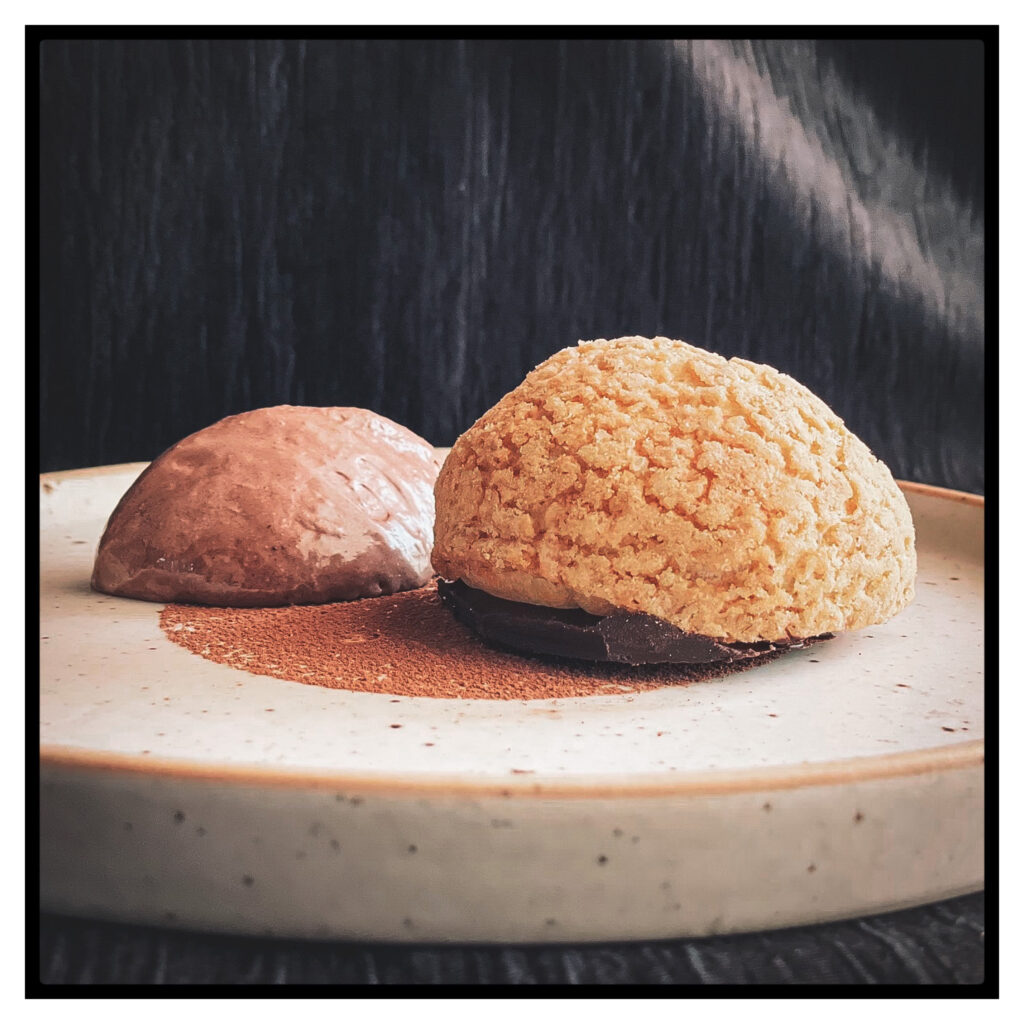 Who's your favourite chef and your favourite restaurant to go out for a meal?
Actually there are three- chef Vikas Khanna and chef Manish Mehrotra  because they are doing such amazing work by trying to show the world that Indian cuisine is not just about butter chicken and naan, it's far more than that. I love modern Indian food, and these two legends are definitely the best at showcasing our food.
Chef Ranveer Brar has made me fall in love with Indian food. All the history, and stories that I know about Indian food are all because of him. See one episode from his series on youtube and you will know why he is the best ! His narration skills, storytelling, his content, cooking skills, understanding of Indian food and culture, international experience and just pure engagement with the audience.
My two favorite restaurants in Pune are Little Italy and Arthur's Theme both with a beautiful ambiance and fantastic food.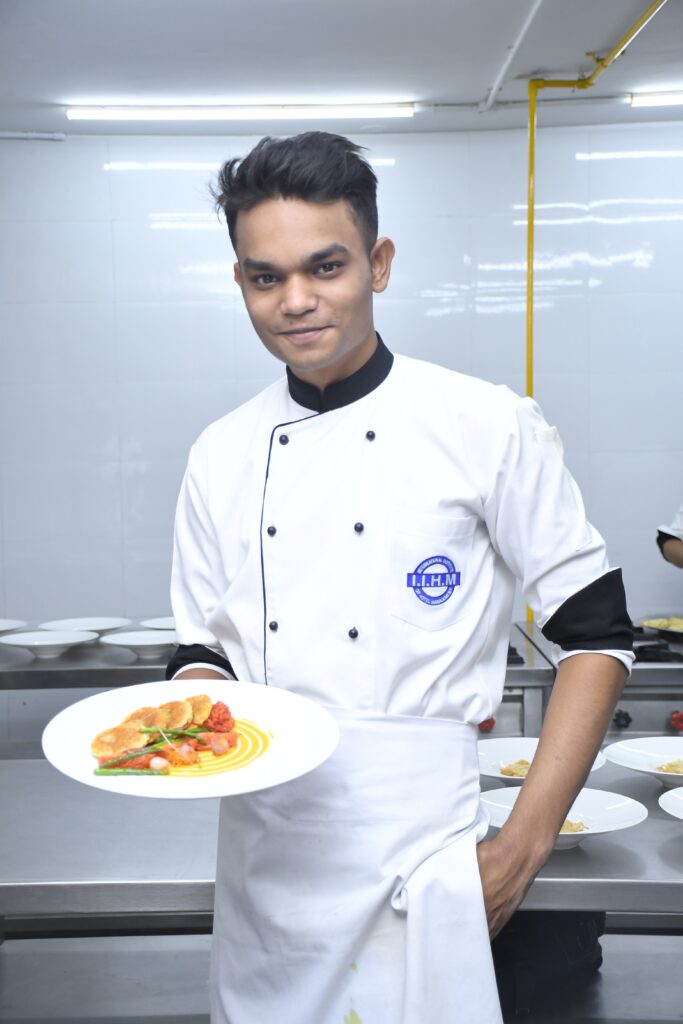 What's your favourite comfort food?
Khichdi with lots of ghee and moong dal ka halwa, nothing better than these two preparations.
Have you created a recipe which will strengthen the immune system for children? If yes please share a recipe with us.
Yes, I have created a recipe that will help in strengthening children's immune systems. For me, for a better immune system, a good night's sleep and a good metabolism are a must. Keeping all this in mind, the dish I have come up with is-
Posto chicken with 5 spice pumpkin sauce
Posto (poppy seeds) helps in soothing the nervous system and helps in sleeping better.
The five spices in the blend have numerous benefits, for example –
cumin seeds help in keeping the blood sugar level in check.
Mustard seeds is known for its anti-inflammatory properties and is good for digestion.
Fenugreek seeds is a spice known for treating digestive issues like indigestion, cramps, and stomachaches.
Fennel reduces the risk of cancer.
Black cumin keeps the body free of toxins.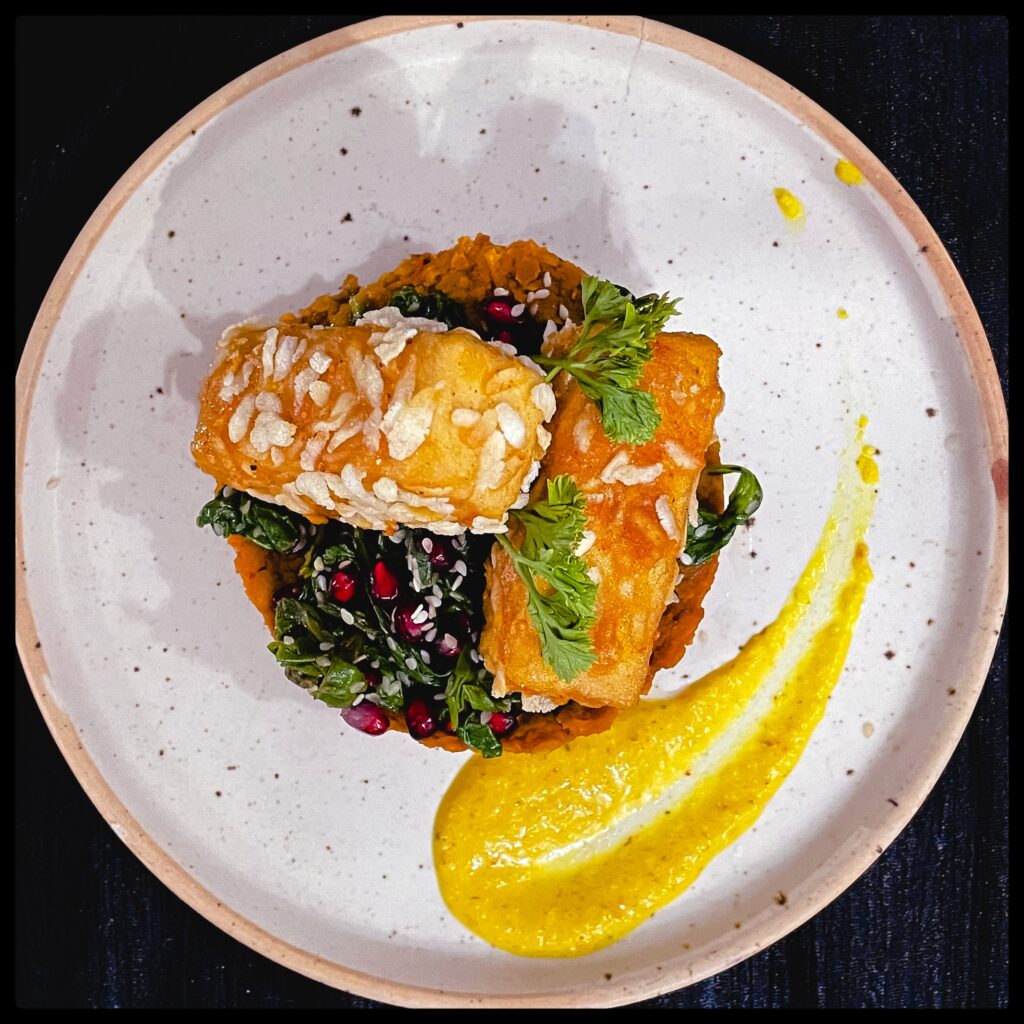 Which is your favourite ingredient?
I love spices and my most favourite spice is cinnamon, it's very versatile with beautiful and flavourful notes. I can use it in so many different ways, for example in Indian gravies, cookies, cakes even in hot ciders.
 What would you say is the key/winning feature of your cuisine?
A key element of Indian food is its diversity and the spices, India is a country with different cultures and a rich history. Our country is so distinct and offers so many tastes that every 100 kms you drive in any direction in India, you'd find an entirely different cultural backdrop the previous area.
Spice is one element which makes Indian food distinct , furthermore in my culinary study , I have discovered one crucial aspect to excel in Indian kitchen , its the timing at which one adds the spices , weather it is whole spice or a powdered spice . for example if a clove is been added in hot oil , it should pop first, only then  will get those flavour in that oil, furthermore haldi/turmeric should be added first before adding any other spices , so it can kill any remaining bacteria. Also spices with floral notes should be added at last while cooking a dish . such understanding and intricacy of Indian food works in their benefit and lends a nuanced flavour in every dish.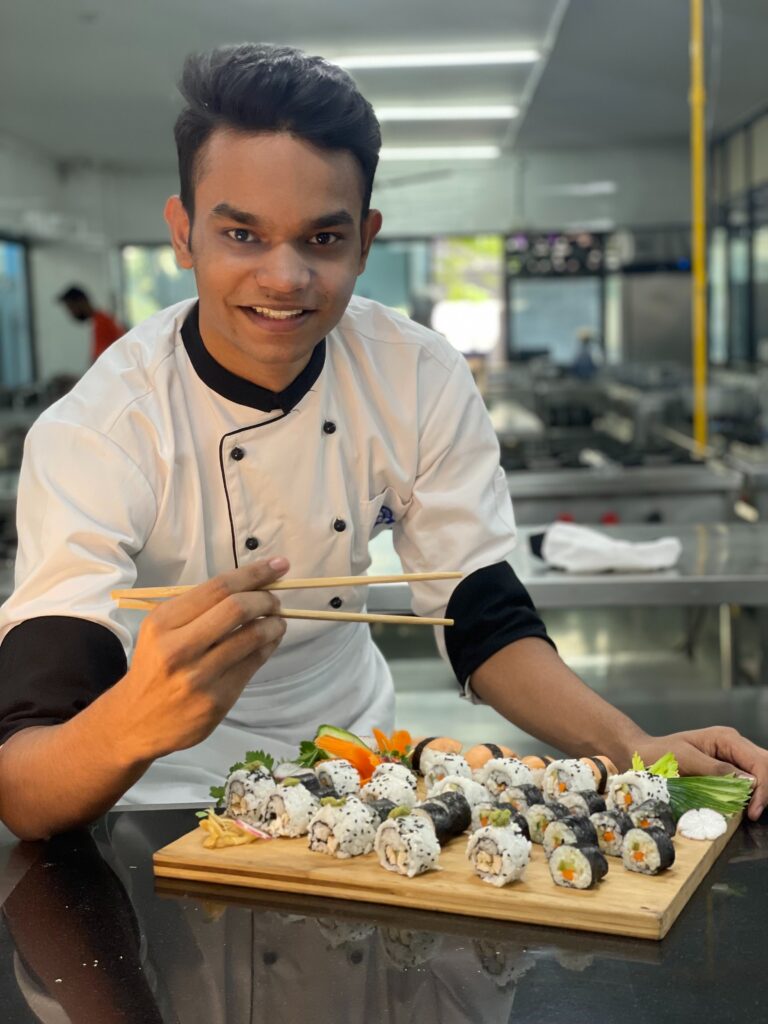 What do you love most about being a chef? 
The creativity never stops, books are never finished, there is always something new to learn in the culinary industry.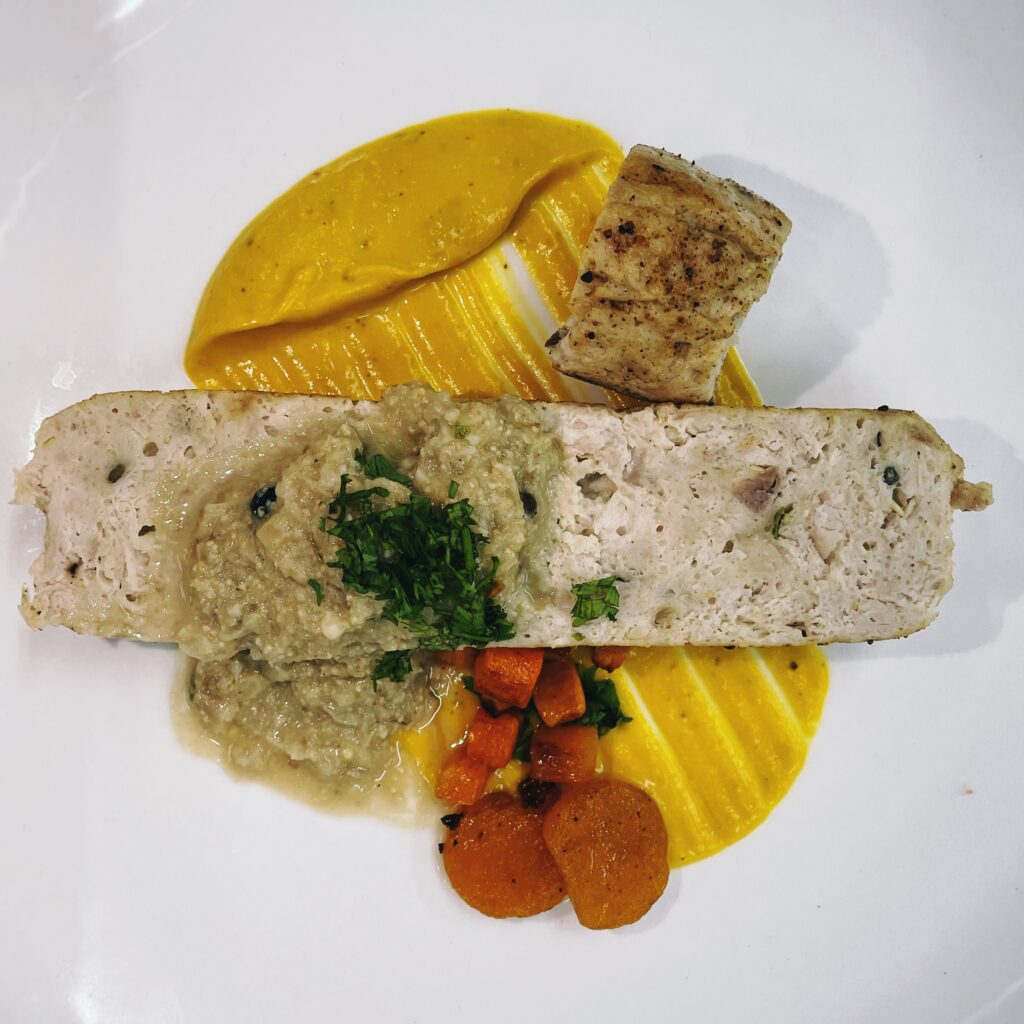 Recipe –
INGREDIENTS
FOR POSTO GRAVY –
2 medium sized onions – finely chopped
3 green chillies
2 Tbsp grated coconut
2 Tbsp poppy seeds (posto) -(soaked in warm water and then blended) .
1/2 inch cinnamon stick
2 cardamoms
2 cloves
4 cloves of garlic
1/2 inch ginger
2 Tbsp chopped coriander leaves
Salt to taste
4 Tbsp oil
1 tsp pepper powder
1/2 tsp coriander powder
1/2 tsp cumin powder
FOR CHICKEN SAUSAGE –
500g chicken breast
1 tsp pepper
1tbsp fine Posts blend
Lemon zest
Finely chopped red onion
1 egg
FOR PUMPKIN SAUCE
500g pumpkin
1tbsp 5 spice powder
Butter
2 inch Cinnamon
2 Clove
2 green chilli
2 medium White onion
1 medium Tomato
1 tsp Red chilli power
½ tsp turmeric powder
Method:
CHICKEN SAUSAGE
Mince the chicken , and marinade with salt , pepper , lemon juice and lemon zest
Cook onion and pesto
Let the cooked mixture cool and add in chicken mince .
Add egg and bind
Make a sausage using a cling wrap and refrigerate for 30 minutes.
Poach the chicken sausage 40 min before the plating
POSTO GRAVY
Cook onion with whole spices add green chilli, ginger and garlic, grated coconut and poppy seed-blend. Adjust the seasoning and finish with coriander leaves.
PUMPKIN SAUCE
Cut pumpkin in ½ inch cube, poach for 10 min and then pan roast on high flame with butter until tender
Cook white onion with cinnamon add green chilli and tomato, add 5 spice powder and adjust seasoning.
Mix pumpkin in onion, cook with some stock and let it cool.
Puree the sauce, and strain through a fine sieve.