With explosive juxtapositions, artist Marco Battaglini collides the principles of idealistic beauty, as epitomized in Renaissance painting, with the modern anarchic anti-consumerist ideology of graffiti, that espouses the transformative power of defacement. Enormous in scale, the details of the pastiche artworks purposefully expose the divide between these two stylistic trends to emphasize the superficiality of our modern culture and the collapse of the concept of art and culture as a linear progression.
"I have always loved art. I am the son of artists and all my studies have been in the Arts: Liceo Artistico in Verona and then Accademia di Belle Arti in Venezia," says Marco Battaglini, who moved to Costa Rica from Italy some twenty years ago. "There are many movements that have influenced me. During my training, I was into surrealism, followed by abstract expressionism and conceptual art. I think that my fascination for different artists, movements, concepts and techniques has made me bring together everything into a single composition."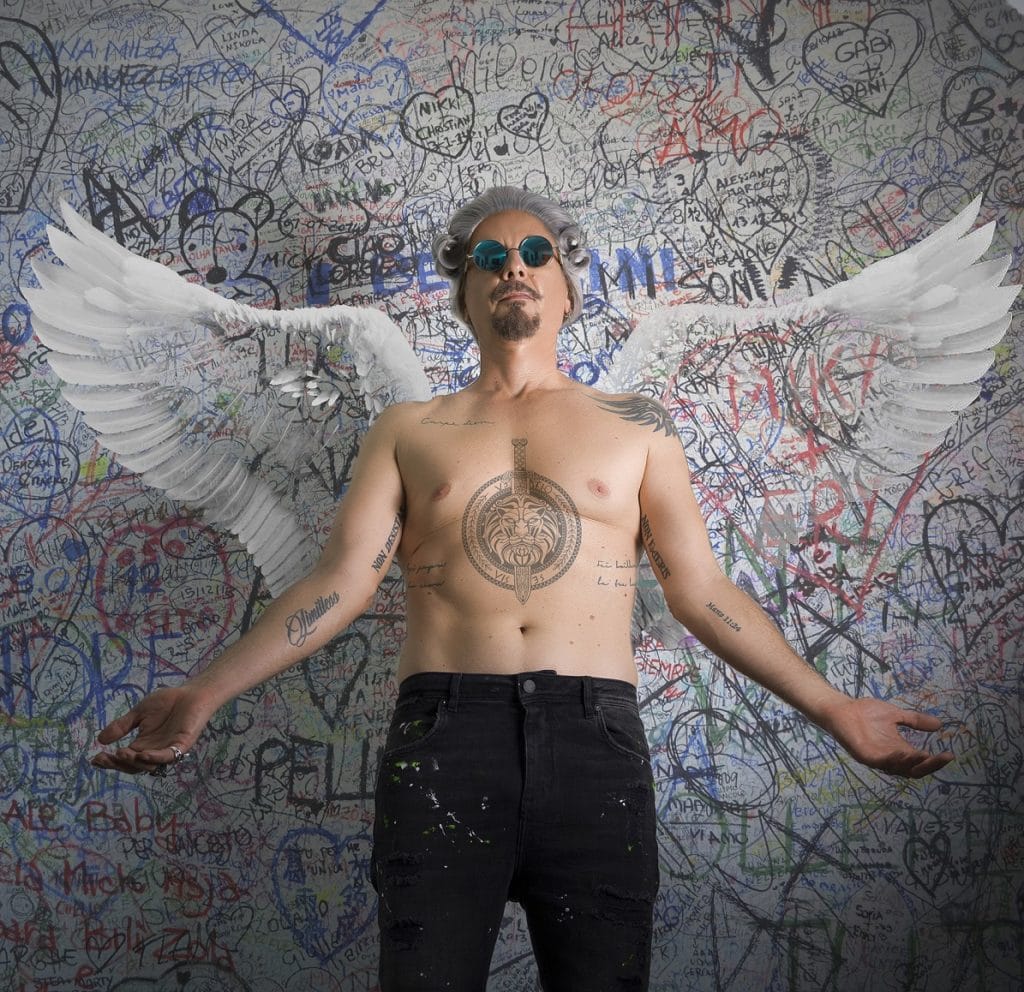 Marco's 'single compositions' are energetic frames that may contain everything from ancient Greek pillars to Renaissance nudes to modern luxury brands and urban graffiti. They smoothly combine a respect for tradition with a tendency for rebellion. The beauty of classical order and form goes hand in hand with wild and independent self-expression. It is as though these dissimilar modes of creativity aren't really foes, but friends – two sides of the one same coin. Neither of the two can be suppressed or neglected. Both must always be put on display, permitted and engaged with.
"Almost everything that you see in my work already exists," the artist explains further. "All I do is capture all these elements belonging to different times, places and cultures in one work with the aim of expanding the range of possibilities of the observers, to stimulate their imagination. I have concluded that imagination is everything, it is the vehicle that takes us where we want to be, it helps us create our reality and my art wants to be a way that can expand the imagination of the viewer, a tool for you to fly beyond the logical structures."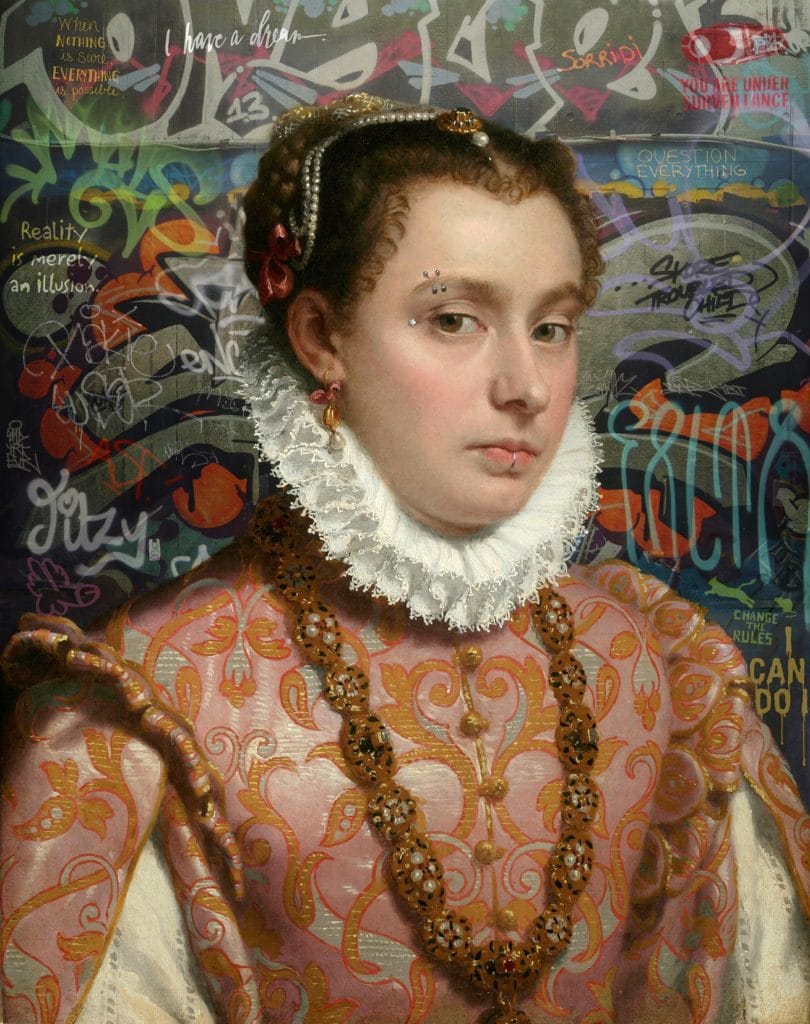 He continues: "I would like to take the viewers and move them beyond the apparent. It is normal to judge a neoclassical work as something 'noble' , 'refined', 'elegant' and 'beautiful' and a graffiti on a wall as something 'negligible', 'indecent', 'vulgar' and 'ugly'…I want to be the means to expand the perception of things. Through confrontation-union of diverse times, places, cultures, languages, ways of seeing reality.
"The multiplicity of readings, which combines graffiti, symbols linked to Western culture and elements of pop art in a harmonious amalgam, forces us to rethink the values linked to the reality in which we live, shows the impact that the consumer society has on our way of living and thinking. We are not only consumers of products but also of images, icons and symbolizations that are part of our culture. My work would be an invitation to see reality 'without blinkers', from above the forest, not as immersed in the specific context with limited analysis parameters. I want to create a cultural and semantic clash with a series of contrasts that induce the viewer to become aware of various contexts."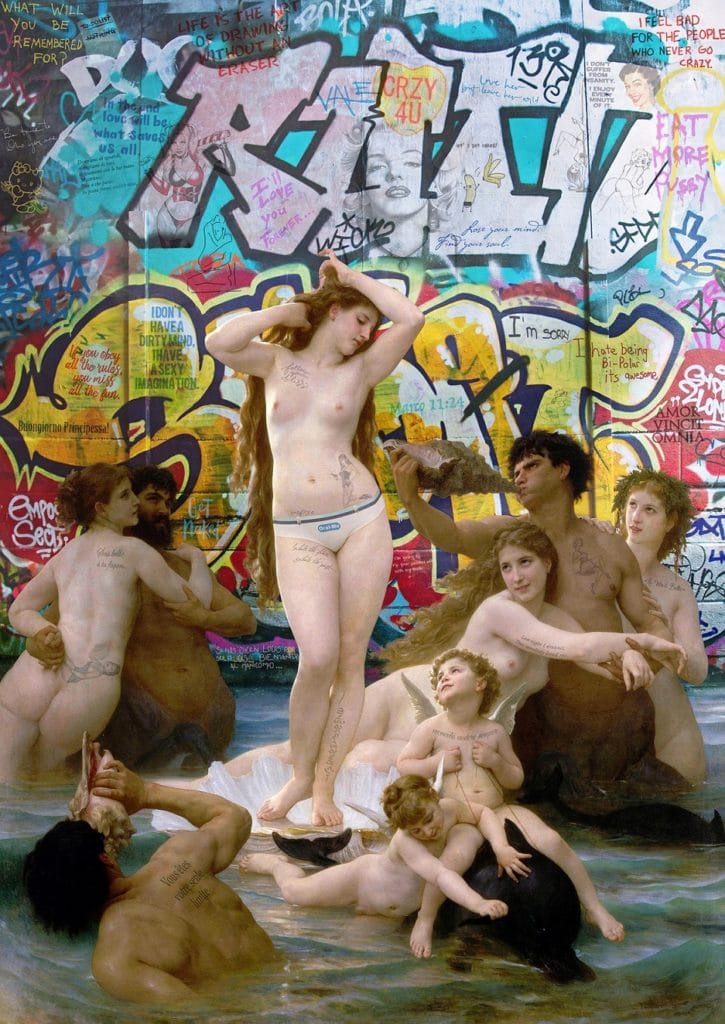 What's your artistic background?
As a son and grandson of artists, I grew up in a creative environment from a very young age, I also grew up in the midst of nature and with great freedom of expression … I think that greatly fostered my curiosity and my desire to explore beyond conventions.
As a child I accompanied my father in his 'secret space' where he wrote, designed and created. And I felt myself totally part of that creative universe and there, inspired by book covers, sketches, works of my father, I began to create my first drawings and fantasy ideas. After all my studies were in the artistic field, first in Verona and then in Venice. Therefore there has not been a specific moment in which art became my destiny, but an evolution in the search for my own style and my purpose in the art world.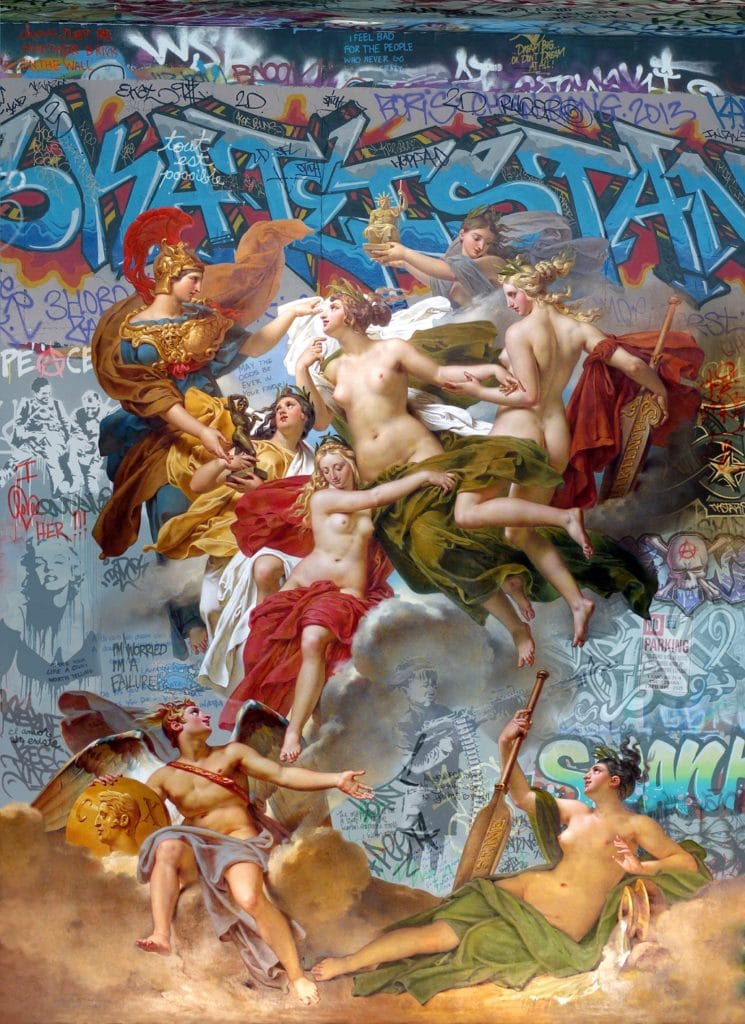 During my artistic training I have received important influence from Renaissance artists, surrealist, abstract expressionism, to reach conceptual movements.
I think that my fascination for the arts and for different artists, movements, concepts and techniques has facilitated my artistic vision to conceptualize the coexistence of different styles and different ways to communicate in a single composition.
What's integral to the work of an artist?
Not to lose sight of their mission … art was born as an expressive means …
Art is communication … as such has to communicate. Good art enters the soul, appeals to the heart and makes new ideas plausible. I think art can change the world and definitely it does it, every day…Art is a communication that is more powerful and more real to any human being than any gun or war. It changes people's opinions, style, ideas and even sometimes people's way of living.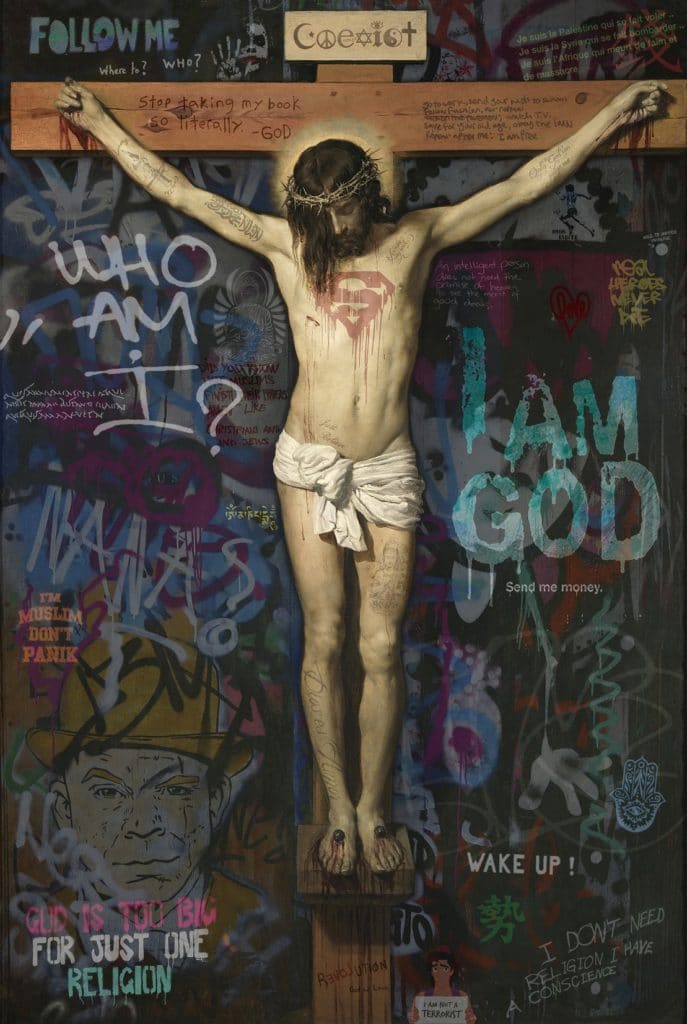 What role does the artist have in society?
Inspire … make you dream … make believe that you can! I like to think that each of us has a mission in life…
And it is important to leave a mark … There is a question that I put, as a graffiti, in some of my works: "What will you be remembered for?" I see my work as an invitation to have a conscious mind and an open heart; a style charged with eclecticism and a touch of humor that brings a smile to the spectator's face while begging questions about the dogma that underlies current artistic and social scenes. I want to contribute something … leave a restlessness in the spectator … Giving emotions and inspiration …
I want to be a means to create a new mythology with which illuminates the collective imagination.
Imagination is everything, is the vehicle to take us where we want to be, and create our reality, and my art wants to be a way to expand the imagination of the viewer, a tool for you to fly beyond the logical structures.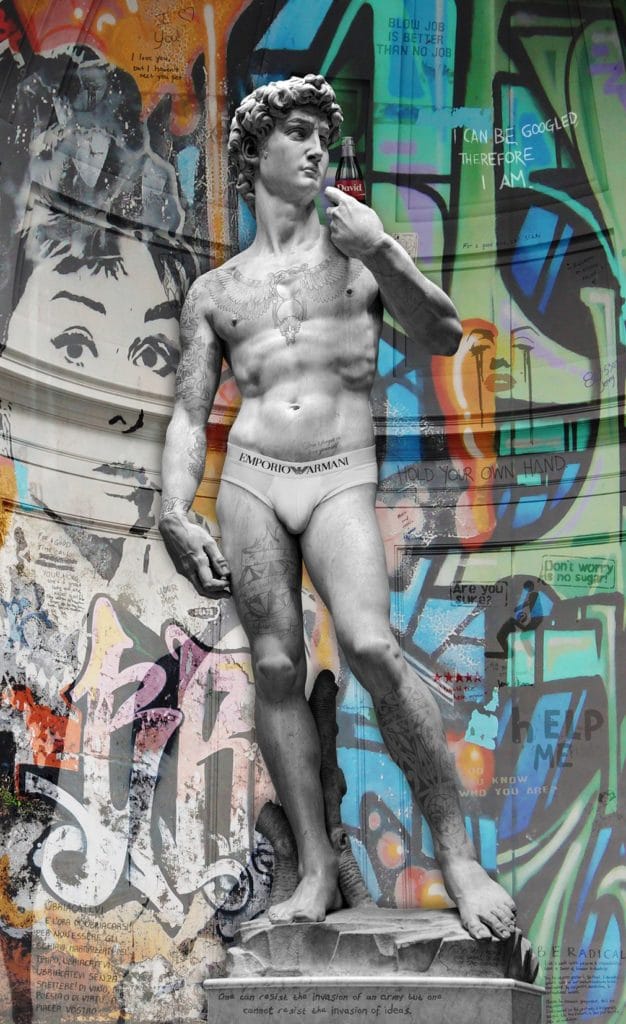 What art do you most identify with?
With art that awakens in me something … with art that reaches me directly … that it does not require someone to translate me its meaning or semiotics …As Kandinsky said: 'A true work of art speaks immediately to the spectator. The spectator should immediately respond to the work of art.'
What themes do you pursue?
Raise awareness, amuse, make people think, open hearts, provoke a smile.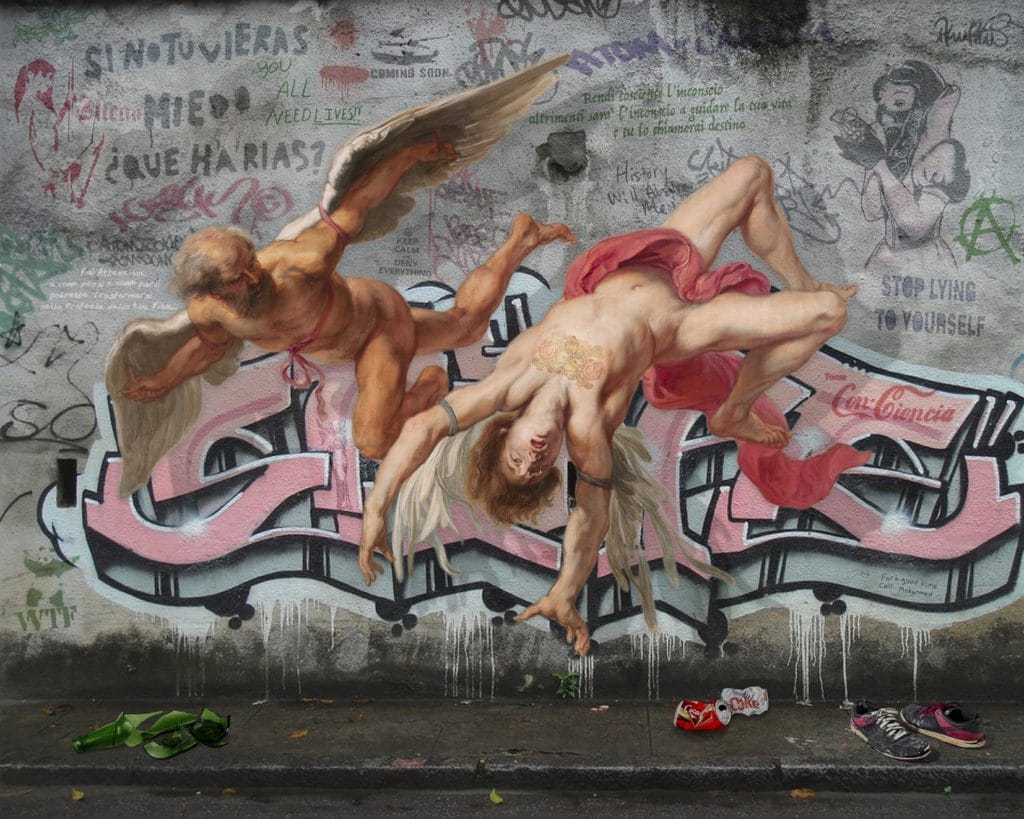 What's your favorite art work?
The one that I have not done yet and that I plan to do …
Describe a real-life situation that inspired you?
There is an image that I saw, where was a girl in a museum trying to make a dance pose in front of a Degas work and the girl doing the same pose as the ballerina in the painting …This image makes me think of the inspiring power of art, and inspires me at the same time to continue with my mission …Inspired to inspire.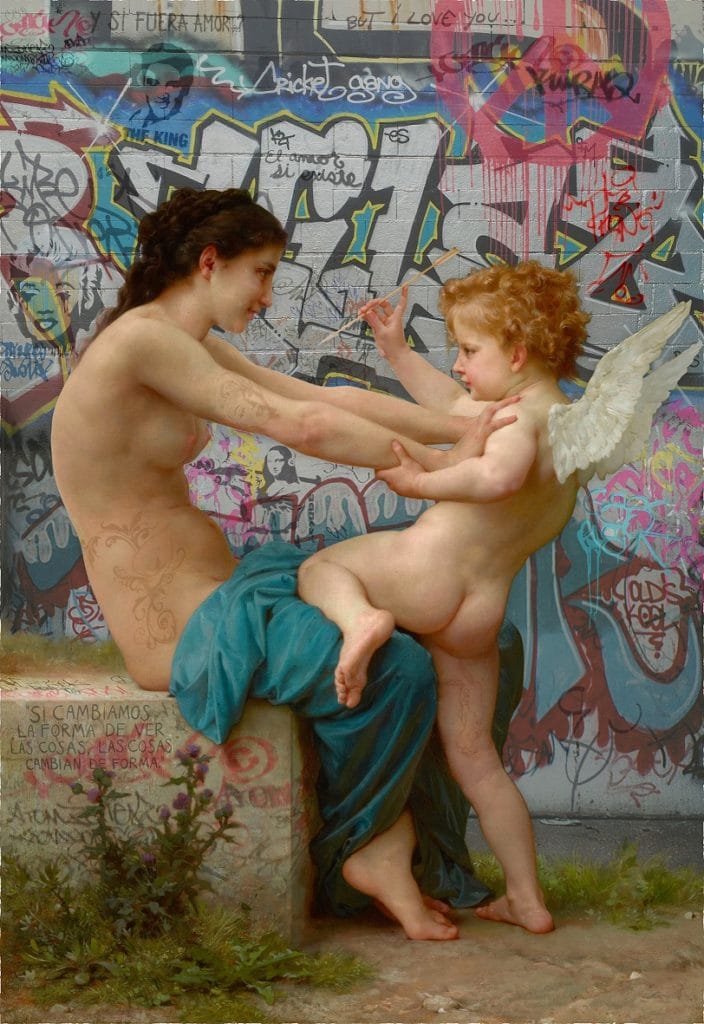 What jobs have you done other than being an artist?
It is like asking a fish what other medium would have chosen to live other than water …
Why art?
It is what my eternal and immortal soul chose before beginning this earthly experience.
What is an artistic outlook on life?
It is a playful, curious outlook, wanting to live it all intensely, to savor every moment …
What memorable responses have you had to your work?
It gives me great emotion when people tell me that they feel inspired by my art …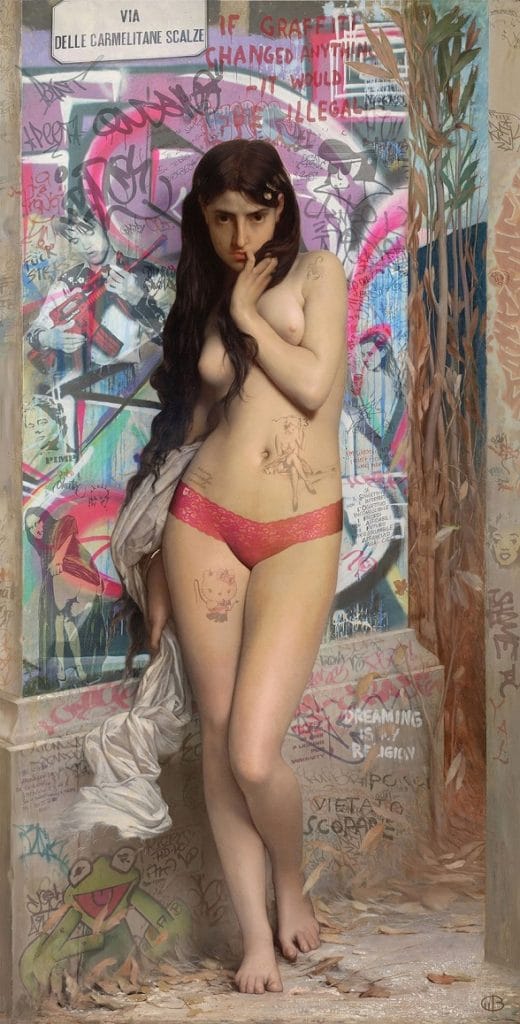 What food, drink, song inspires you?
No particular food, drink, or song does. It inspires me to listen to enlightened people, with a high level of consciousness and with a big heart.
Is the artistic life lonely? What do you do to counteract it?
I do not believe in the stereotype of the artist as lonely, depressed, bohemian, who needs pain to create … I believe that everyone, artists and not, we are the architects of our lives, therefore each one decides how they want it to be …I personally want it to be spectacular and I try to have the beliefs that carry it out day after day. One of my favorite phrases is: 'Choose the beliefs that make you live the life of your dreams'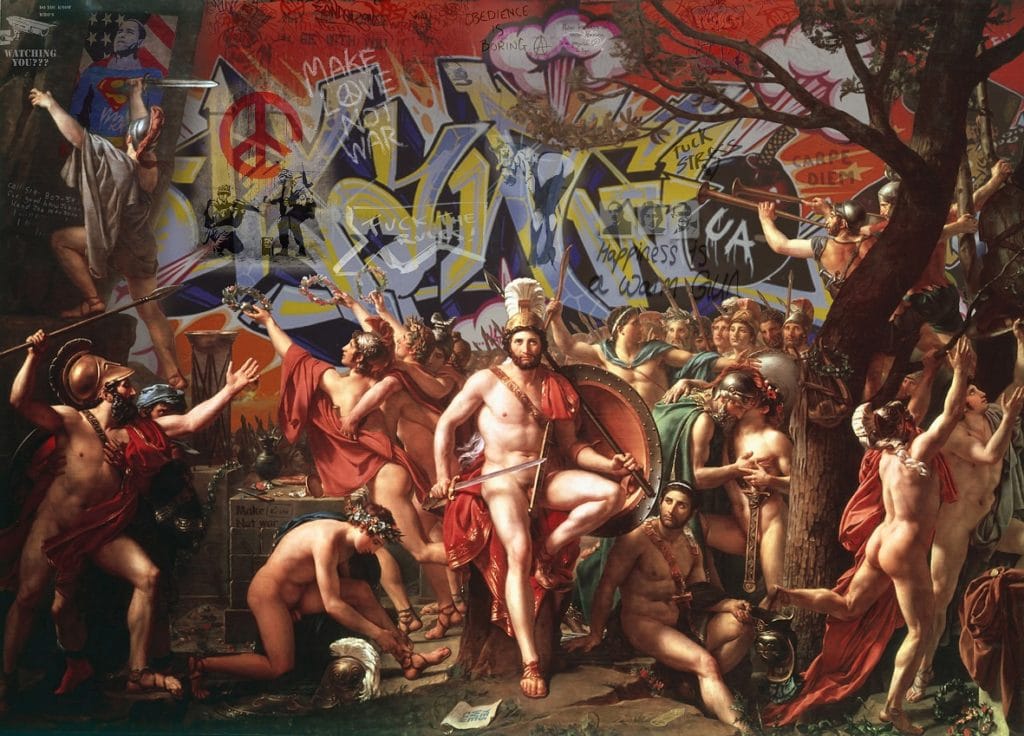 What do you dislike about the art world?
Everything I don't like is changing fast. Earlier I thought that the art world was very elitist, but the internet has come to 'democratize' the art world.
What do you dislike about your work?
Everything I don't like is changing fast… so if there was something I didn't like, it's gone.
What do you like about your work?
It allows me to inspire people with very different tastes, preferences and ages.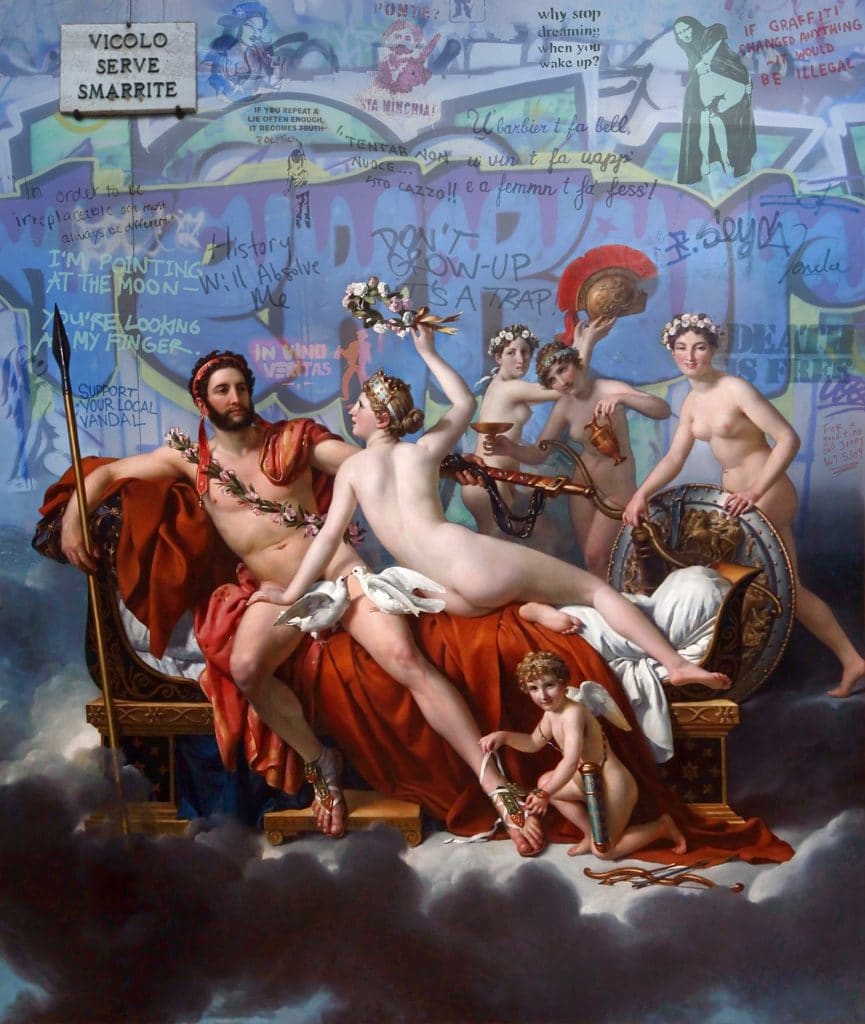 Should art be funded?
As long as there is no interest in influencing and directing the artistic discourse …If an artist's speech is valuable, there may probably be an interest in financing it … I believe that the artist's contribution will create funding opportunities. What the artist would have to question is what he is contributing to humanity.
What role does arts funding have?
It can allow you to create valuable projects that contribute to an elevation of the collective consciousness and inspire to create a better world.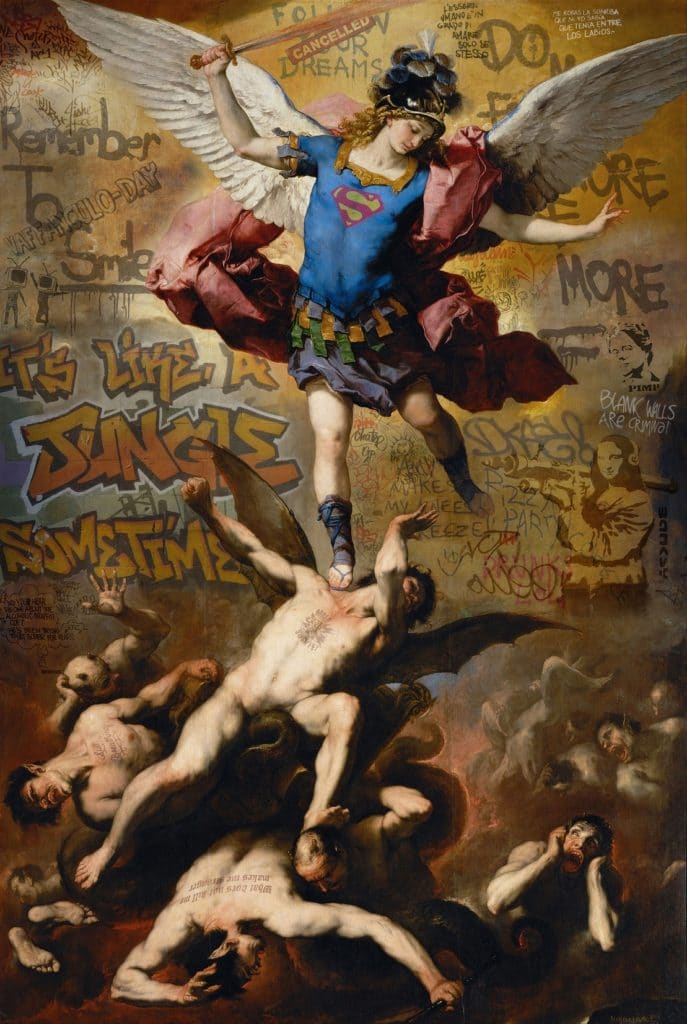 What is your dream project?
To come up with a school (or create a program with the Ministries of Education) where instead of restraining the dreams of children, they can be taught to create with the power of their imagination.
What's the best piece of advice you've been given?
In every decision you make should be guided by what you love and not by fear.
Professionally, what's your goal?
Inspire the world with my Art.
Fact box : 
@battaglini_art