Sarah Aller is a New York artist currently living in Como, Italy. She holds a BFA from SUNY Purchase in New York. Sarah has been an active member of arts communities in NYC and in 2011 she moved to Italy where she has been enjoying a career as an international artist exhibiting in global art fairs and with both group and solo exhibitions. Her stencils inevitably evoke an urban, street-art impression but Sarah pairs them with a deeper nostalgia incorporating gel transfers and collage. Like the cover of a book, Sarah's work relays the interest she believes we all share in imagining more about an unfinished narrative from fragments we are shown.
What's your artistic background?
The creative arts played an active role in my scholastic and extracurricular activities in school and when it came time for university I knew I would enroll in art school where I focused on sculpture and printmaking. Since graduating in 2011 I have continued to work and see my work evolve while exploring new techniques. I am a mixed media artist, implementing several techniques both digital and analog. I've exhibited internationally and maintain non exclusive collaborations with multiple galleries.
What's integral to the work of an artist?
Time and time management. You can't rush being an artist or expect everything to come quickly and easily. Time allows you to learn from your mistakes, to learn what doesn't work for you, who you want to be and what you want to create. Then you need time to practice what you've learned and then time to step back, gather new ideas and life experiences outside of the studio. If you hold down a job at the same time as building your artistic career you need to manage your time so that you're able to get into the studio and also make time for the administrative and promotional responsibilities.
What role does the artist have in society?
It is the artist's job to highlight the details and spotlight the overlooked. Be it political or decorative, art calls to attention that which must be observed and recognized. Without the arts society wouldn't be equipped with enough tools to form enlightened opinions and observations needed to strengthen our collective advancement.
What art do you most identify with?
I love street art, made for the public by the public. In this century we have seen street art take on a cultural significance unlike any other time in history and it's role in bringing art to everyone, especially those who view it unintentionally, or subconsciously simply in passing by is so significant in nurturing creativity.
What themes do you pursue?
I tend to invent narratives we can all connect to using vintage photographs and pop cultural references to inspire my subject matter. I'm connected strongly to my childhood in New York City. This affection comes across in my work when joyful nostalgia is paired with an infusion of grit and the slightest hint of menace. This for me is the fragrance of memory and the essence of living.
What's your favourite art work?
My grandmother's uncle, John R. Neill illustrated all but the first book in the Wizard of Oz series. He was a recognized and established artist in his time and one of his ink drawings hung in my grandmother's home when I was growing up. It showed a comically absurd scene; the moment a swarm of older, bearded and tousled male, winged pixies run towards a cliff's edge and take off into the night sky. I will use this same work to respond to the following question.
Describe a real-life situation that inspired you?
I was fascinated with this image my great uncle drew but the real inspiration was more acute. What I took away was achieving ample success as an artist was perfectly attainable. My great uncle's work lines bookshelves in thousands of homes and I too, could follow a creative profession.
What jobs have you done other than being an artist?
I'm lucky to have had a colorful string of part time and free lance jobs to supplement being an artist in New York City. My favorite was working as a wardrobe assistant for Cirque Du Solei, dressing performers and repairing costumes. I designed and constructed molds and armatures for creating and reproducing sculptural light fixtures which would hang in hotels, restaurants and casinos. I designed and painted sets and themed studio interiors. I worked the front desk of a trendy up-scale hair stylist and my longest running position; closest to my heart was working at a Montessori school in my neighborhood in Brooklyn.
Why art?
I've honestly never even imagined doing anything else. I love working with my hands and seeing the results of my time and efforts. If I didn't pursue fine art I'd also enjoy carpentry or landscaping. Working with my hands and making something that interacts with the world and other humans is thrilling. What's remarkable is when what you make speaks to another person and they want to own it and keep it in their lives.
What is an artistic outlook on life?
The artist's outlook is always how we will express what we want to put back out into the world from what we have taken in from it. An artist's perspective I think is exactly this; using your experiences out in the world and applying them to the work you do alone in your studio. All artists have an introvert within.
What memorable responses have you had to your work?
When I taught art at Brooklyn Heights Montessori school the children would often get really excited by the example projects which I would make in advance to show them the intention of the project. There is nothing more satisfying than something you've made igniting the fire to create in someone else.
What food, drink, song inspires you?
Music is 100% my inspirational aid. I can go without food or water while I'm working but take away my music and you'll see a cranky artist. The type depends entirely on the day but I like everything from early hip-hop, 70's rock, contemporary pop, jazz and world music.
Is the artistic life lonely? What do you do to counteract it?
I think all artists require isolation at some point to form and construct their ideas concisely and I doubt any artist truly finds themselves lonely at this stage. Some are fortunate enough to have a group of creatives nearby who understand the importance of constructive criticism, which paired with the quiet space to work is ideal. I have a wonderful family and good friends so outside of the studio I'm nourished with this.
What do you dislike about the art world?
Art is a business like any other profession and the most successful artists are the ones who understand how to balance their time between the studio and self promotion. What I don't like isn't the art world directly but with my proficiency at working it. Sometimes I wish I wanted a conventional job where advancement is more systematic.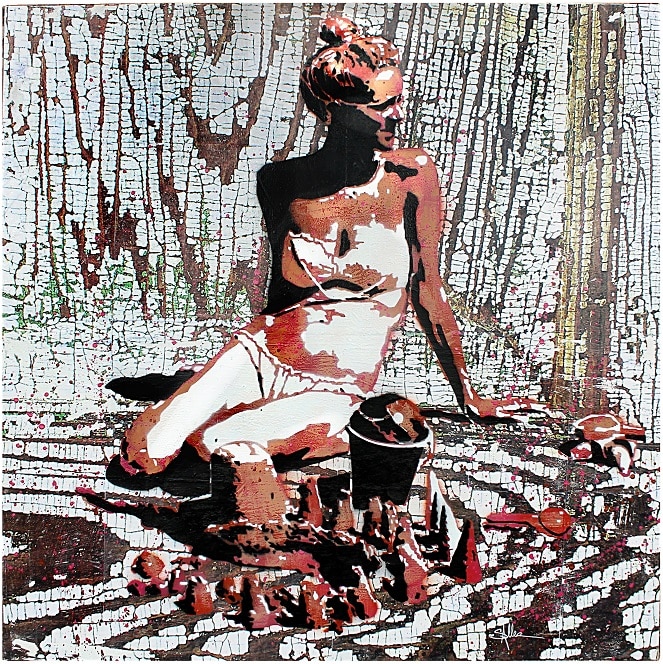 What do you like about your work?
My work is not delicate or soft and neither for that matter, am I. So it might be safe to say that what I don't like about my work is also a fault I find in myself. When I see artwork I consider refined and elegant, I'm inspired to try and create that in my own work. But I think I have to look at myself and affectionately consider that it just may never happen!
What do you like about your work?
But my work is alive; it's dynamic and full of substance. My work continues to stimulate me because I play with and apply multiple techniques which keep me stimulated and always trying new things. My work isn't pretentious and doesn't try to leave you guessing.
Should art be funded?
We need to see so much more significance (i.e. money) given not just to the arts but to education and societal enlightenment in general. Some people go after the money and others have it to give. Funding exists but unlikely to ever be a blanket institution.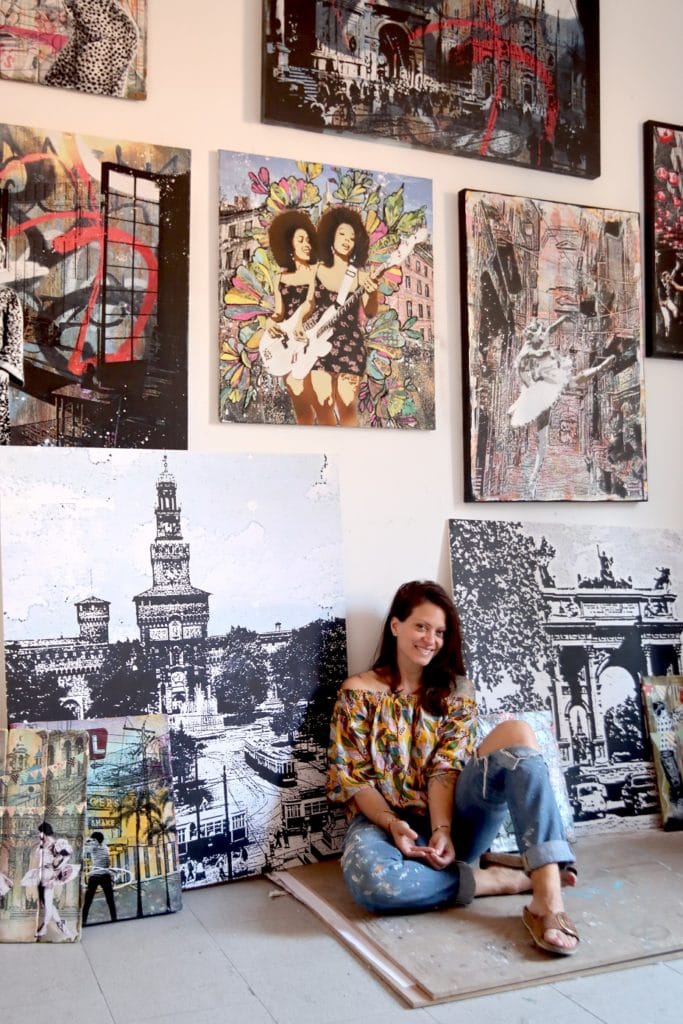 What role does arts funding have?
Funding for the arts authenticates the importance of creativity and could encourage more young people to pursue this line of cultural appraisal which we need as much as we do teachers and scientists.
What is your dream project?
I would love to make a large scale, public mural.
Name three artists you'd like to be compared to.
Swoon aka Caledonia Dance Curry, Obey aka Shepard Fairey and Mr Brainwash aka Thierry Guetta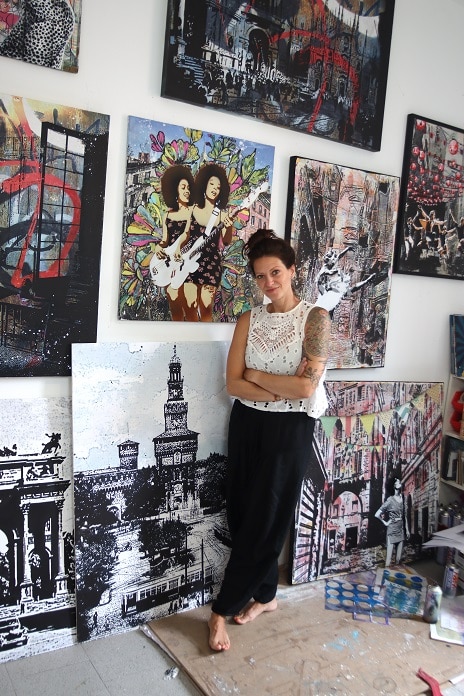 Favourite or most inspirational place?
New York City. It's my forever home, playful, dangerous, evolving and timeless.
What's the best piece of advice you've been given?
Don't over think it.
Professionally, what's your goal?
I'm not seeking great fame or fortune. As long I continue to find opportunities which contribute and to help support my family I'll be happy. My appreciation to share my work with an audience who identify with it is limitless.
Future plans?
I'm going to go find a wall I can make a mural on…