Manjiri Kanvinde is a passionate artist known for her vibrant and colorful artworks. Her love for nature is evident in her paintings. She has received accolades and has exhibited her paintings in many countries. Recently Google selected her paintings to be published in a book globally in 149 countries and which can be downloaded on Google Play books, Google Books and Google Android Play Store.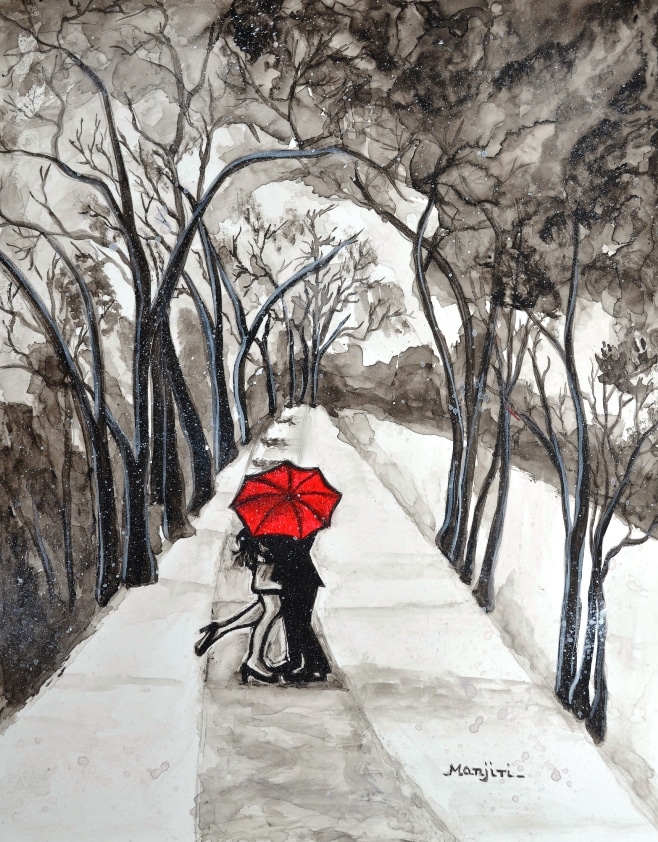 After graduation she studied Material Management at IIMM Bangalore and worked in various multinational companies before finding her true calling in art. She has successfully completed a certified course in Folk Art Painting from Singapore and also has an Advanced Diploma in Interior Design from Sanskruti, Mumbai. She has been fortunate to live in countries including UK, USA, Singapore and India. Her creativity spans a variety of artistic styles and categories like abstracts, still-life, landscapes, cityscapes and figurative paintings. Her chosen medium is acrylic paint and watercolors.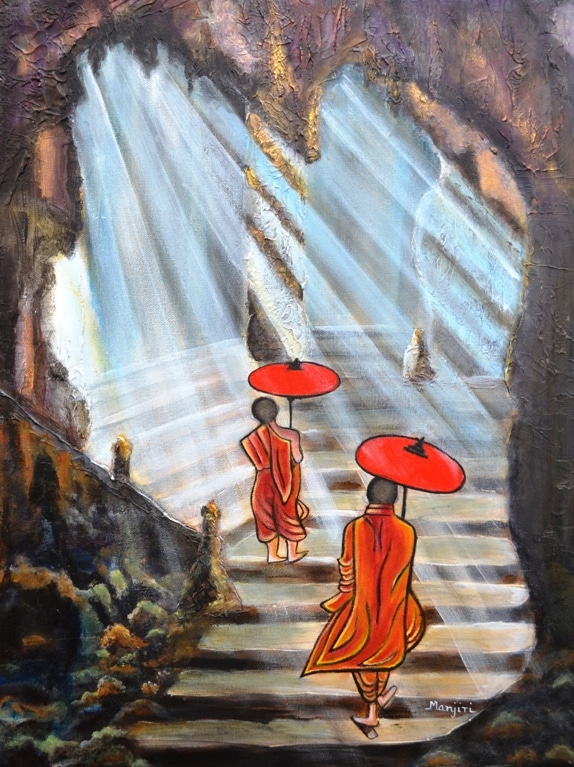 What's your artistic background?
I was always fascinated by art since childhood and would be engrossed in drawing or painting whenever I had the urge for creativity. However, I was away from the art world due to my corporate aspirations. I belong to a family of doctors and art as a profession had never crossed my mind. After graduating with a Degree in Commerce, I went on to do a post-graduation in Materials Management and worked in various multi-national companies for 8 years. We relocated to Oxford, England in 1998, due to my husband's work transfer and it is here that I once again took up painting as a passion and have been painting since. Art eventually turned into my profession. I went on to complete my Advanced Diploma in Interior design and also completed a course in Folk art painting.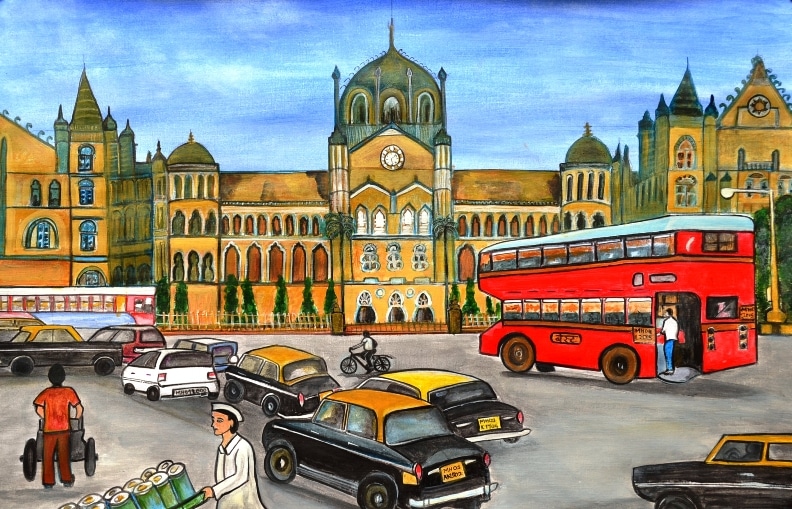 What's integral to the work of an artist?
A keen sense of observation is very integral to any artist. Creating art requires the artist to see the subject, analyze and reproduce what they want to express. Understanding the basics of color and light go a long way in avoiding mistakes and creating vibrant art.
What role does the artist have in society?
Art has the ability to foster collaboration between different societies. For example, cooperation between artists from conflicting beliefs or touring art shows that bring real-world issues to distant populations are essential to raising levels of understanding between cultures. Artists can be the key to enhance community engagement and finding creative solutions to social issues. An artist is also helpful in documenting history for future generations.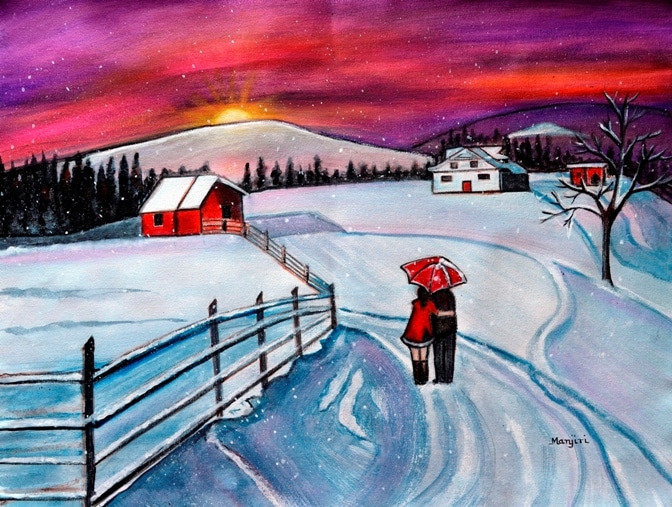 What art do you most identify with?
Most of my work is colorful and vibrant. I love painting landscapes, seascapes, romantic figures and semi-abstracts.
What themes do you pursue?
I paint in various themes be it realistic or semi abstract. My romantic paintings have been best sellers and the series of Goddess Paintings received a lot of appreciation. Sunsets, sunrise, waterfalls or even cityscapes excite my senses and I am motivated to paint.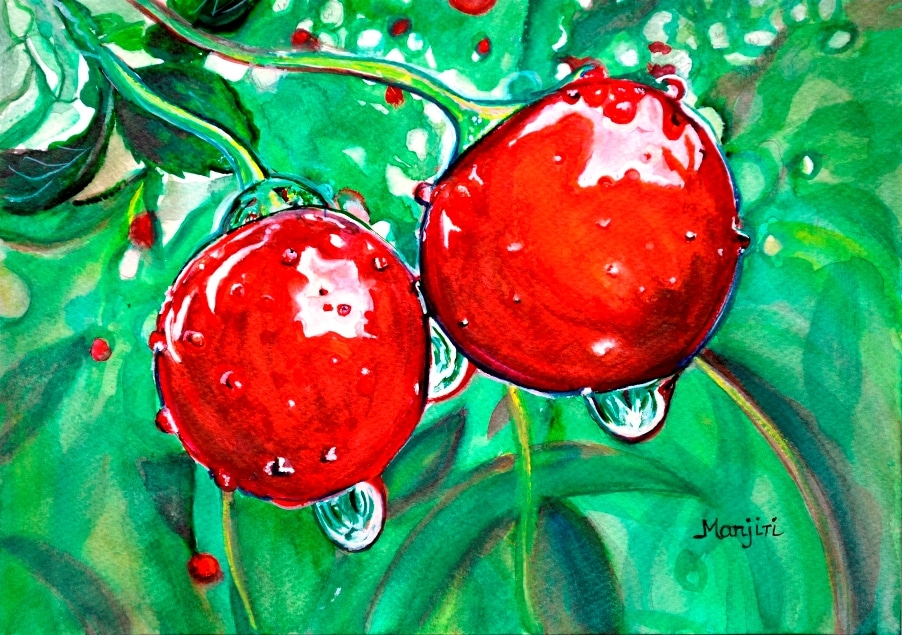 What's your favorite art work?
Each one of my painting holds a special place in my heart. To me my artworks are a labor of love and very dear to me. However, a few paintings which have received accolades are extra special. My painting 'Manthan' based on women empowerment was selected by United Nations for Expo Milan, Italy and received a lot of appreciation. My painting 'Rainy Day' was selected by American Musician Frank Bango as the front cover for his music album released in New York.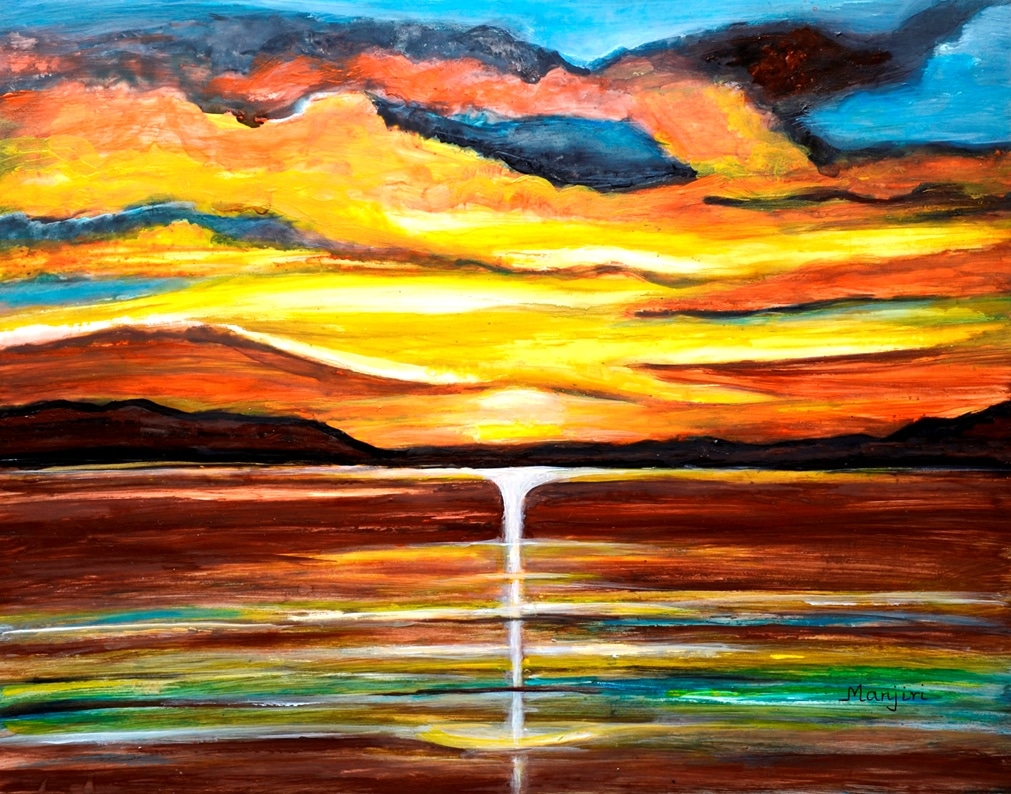 Describe a real-life situation that inspired you?
My inspiration often comes from nature and my surroundings. I have been fortunate to live in many countries. All the places I have travelled and lived in have inspired my art. A wet umbrella on a rainy day or a vibrant sunset is enough to get me excited about picking up my brush. Color is what excites my senses and so most of my work is vibrant.
What jobs have you done other than being an artist?
I have worked in various companies like Balsara Hygiene Limited (now Dabur), Gulf Oil India and VIP Industries for a total of 8 years.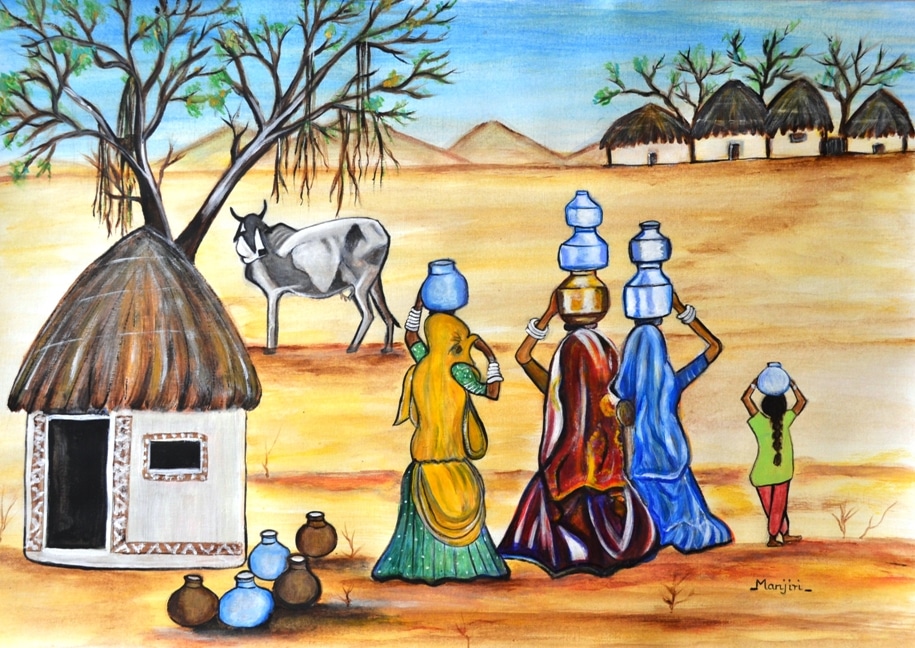 Why art?
Art is my way of creative expression. It is almost like meditation for me. It gives me immense joy and is a stress reliever. Art also allows me to showcase my talent and bring happiness to viewers and collectors.
What is an artistic outlook on life?
Art has a powerful effect on the quality of life. It has been shown that among stroke survivors, those with interest in art enjoyed better health and tend to be happier. Art originates from the soul and enriches the artist as well as the viewers.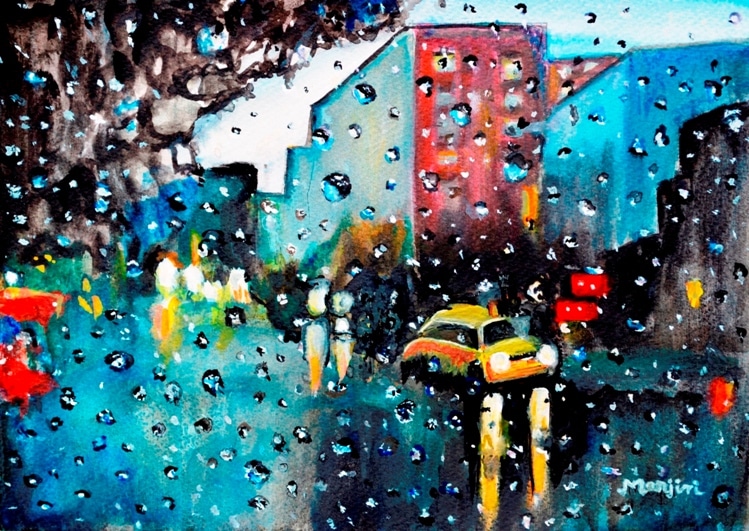 What memorable responses have you had to your work?
I have been fortunate to be selling art for years and have exhibited in many countries around the world. Some of the memorable responses received to my work are as follows:
My painting 'Cats in the wild' was selected in an art exhibition in New Jersey which subsequently was sold and started my professional art journey.
United Nations selected my painting titled 'Manthan' for Expo Milan in 2015. It was a great honor.
My painting 'Summer Romance' was bought by a collector as an anniversary surprise for his wife and she loved it so much that they went on to buy 3 more paintings over the next few years.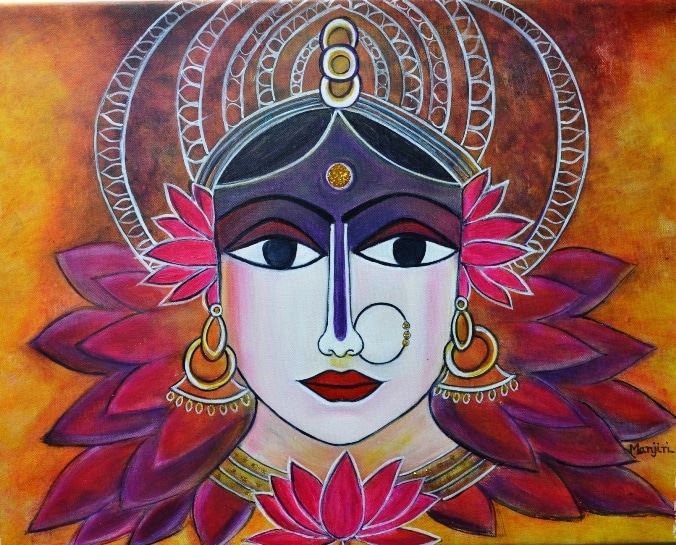 What food, drink, song inspires you?
Our visit to Sonoma Valley, known as the wine county, in California, inspired me to paint landscapes of the place. I enjoy painting with a light classical or instrumental music in the background. The 90's romantic songs are very inspiring for my romantic series of art.
Is the artistic life lonely? What do you do to counteract it?
Artistic life is not lonely but is more of a spiritual journey for me. I feel it is an escape to counter the daily grind of life. I feel alive and happy when painting. Time just melts away and it brings a sense of achievement at the end of the process. The art world has introduced me to so many wonderful people who have become friends. Visiting exhibitions and viewing other artist's work motivates me to better my art and experiment with my work.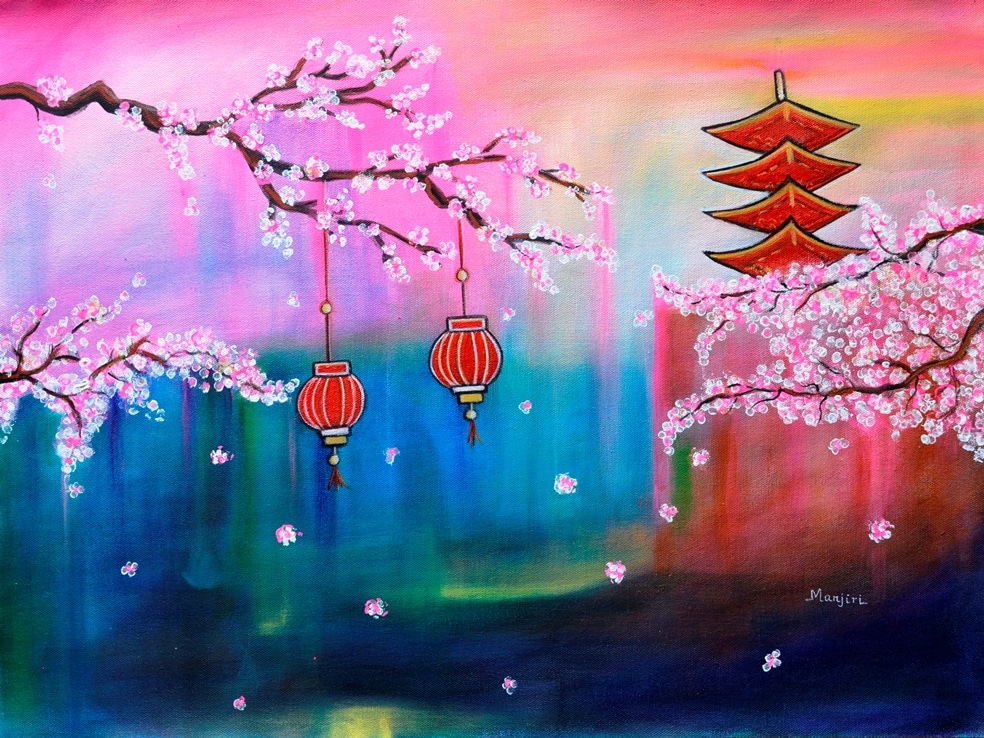 What do you dislike about the art world?
The art world generally is a happy place with collectors, galleries, artists and mediums. However, there are still some lobbies in the art world that prevent talent from rising. Not having an extensive art education sometimes is looked down upon by certain galleries. But I feel extremely lucky to be able to find my collectors online who have shown appreciation with excellent testimonials and also bought multiple paintings over a period of time.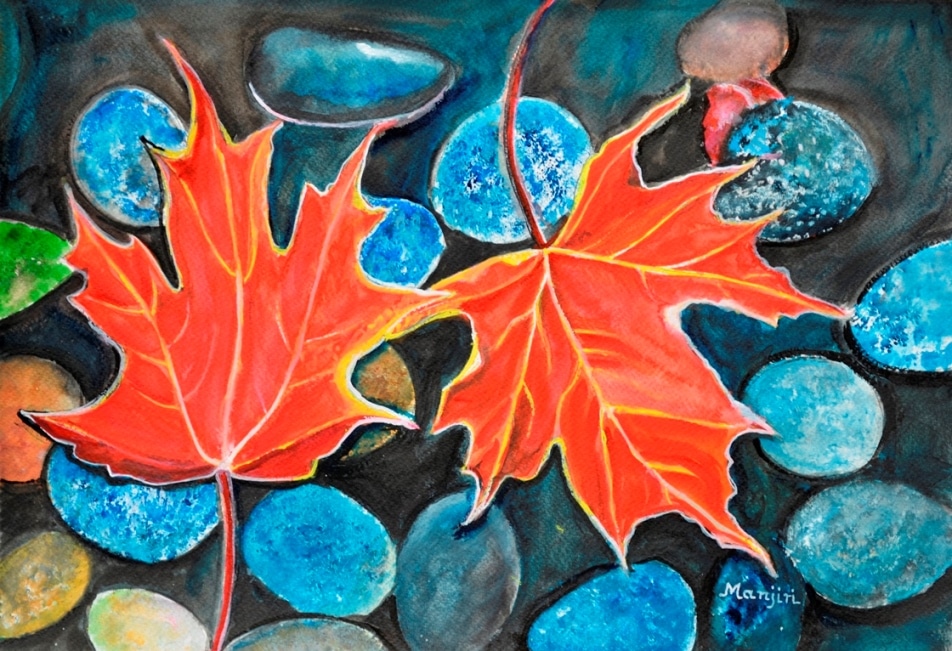 What do you dislike about your work?
I don't dislike any of my work and if I find it is not as per satisfaction, I work on it till I am happy. Art needs nurturing and constant developing. My art pieces are like my babies, so there is no question of disliking them.
What do you like about your work?
I have been often told that my art is bright and cheerful. My use of color has been well appreciated by a lot of buyers and fellow artists. I feel happy when I can bring a smile to someone because of my art.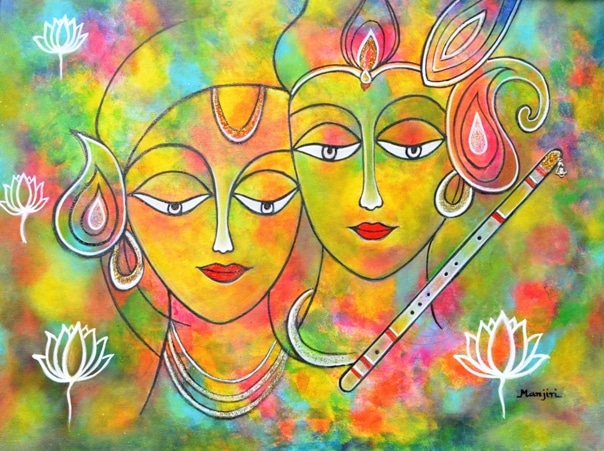 Should art be funded?
Yes definitely. Art should be funded to encourage all types of artists. There is so much talent out there in the world and many artists are not able to reach their potential due to lack of funding and encouragement. Art is a huge part of our everyday culture. Supporting arts can only enrich society.
What role does art funding have?
Art funding is one of the most important functions and duties of our government. It is through the arts where we grow, where we reach understanding, and where we find common ground in a rapidly changing complex world. Art funding will empower artists and help the economy too. Art drives tourism and supports local merchants. Besides students involved in arts are known to improve performance and have increased concentration.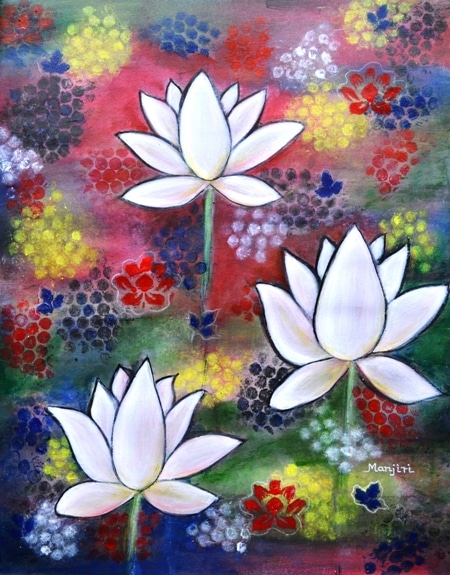 What is your dream project?
I would love to have my own studio in a scenic place surrounded by natural beauty to inspire me to paint and enjoy the peaceful surroundings.
Name three artists you'd like to be compared to.
I would like to think of my work as unique and any comparison to other artists is not what I desire. Creative expression is a very personal experience and comparing with others does not do justice to creativity.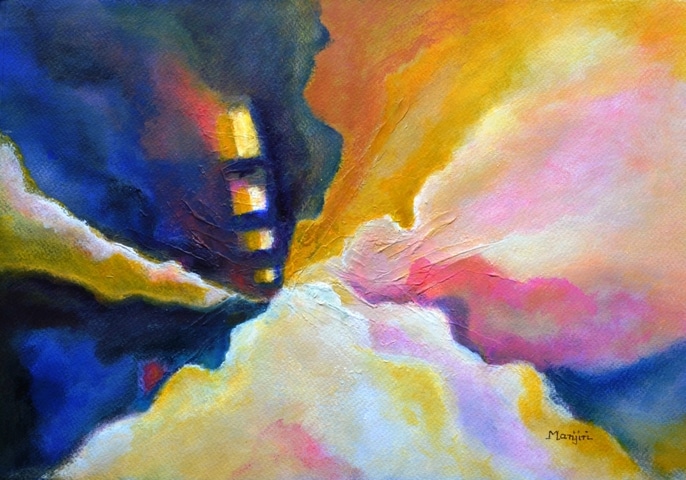 Favorite or most inspirational place?
All the places I lived and visited for travel have influenced my paintings. The beautiful landscapes, people, cityscapes and the vegetation have inspired me to paint.
What's the best piece of advice you've been given?
Follow your passion and work hard, success shall follow. A quote 'Creativity takes Courage' by Henry Matisse has always inspired me. It has not been an easy journey in the art world being a self- taught artist. However, I have always followed my heart and worked hard to improve my skills. It is a blessing to be able to do what I love and be appreciated for my art.
Professionally, what's your goal?
I hope to exhibit my work in more galleries worldwide and to market my art so as to reach maximum collectors. A portion of my sales has always been donated to various charities. The more art I sell, the more I can help these charities.