"Art to me is akin to worship. It is a medium of self-realization! Art is my greatest passion, my way of relaxation and my very existence. I feel life, spirituality and art are integrated with each other. The art of painting 'Buddha' comes to me naturally. I derive a lot of peace and solace by painting the calm and serene face of 'Buddha'. Meditating Buddha is the main theme of my work. I try to capture the moment when the Buddha attains his enlightenment, when he becomes one with the divine and becomes the realized soul. This realization I have symbolically shown in the form of light of the divine truth in his forehead," says artist Madhumita Bhattacharya. Each painting she creates is inspired from within and motivation from her dreams and thoughts. She first visualizes each painting before it's creation, the actual creation takes place in her mind and then she makes it a reality on canvas. This unique artist has a distinct style of her own and has learnt art through constant devotion and practice. She feels art is the best medium to discover one's inner self. Madhumita has dedicated her whole life for art and cannot see anything beyond! In this interview we speak to her about her future plans, an artistic outlook in life and why art should be funded.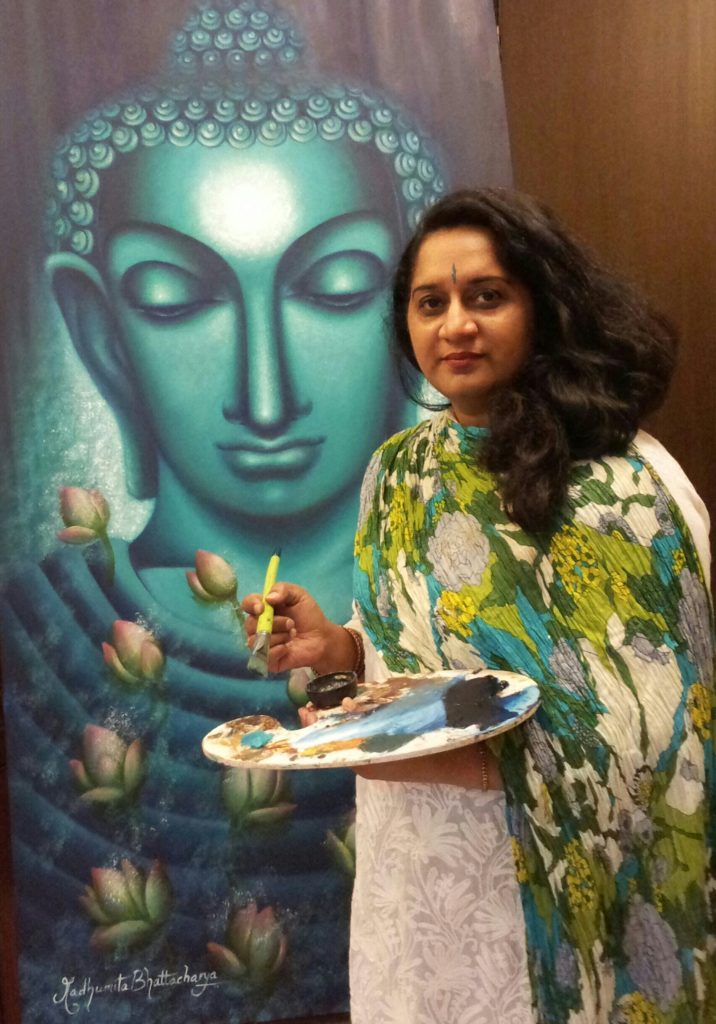 What's your artistic background?
I am a self taught artist. Since my childhood days, I can recall I would always love to draw and paint. I have been pursuing art professionally since the last 12 years even though I have never been to any art college or had any formal training in art. I am very grateful to God for keeping this passion alive within me. I have learnt art through constant devotion and practice. I draw free hand and my work is purely imaginative.
What's integral to the work of an artist?
For an artist I believe, having a sense of clarity while at work and complete focus is integral to his/her success. Along with that, a keen sense of observation and awareness are traits that make an artist stand apart.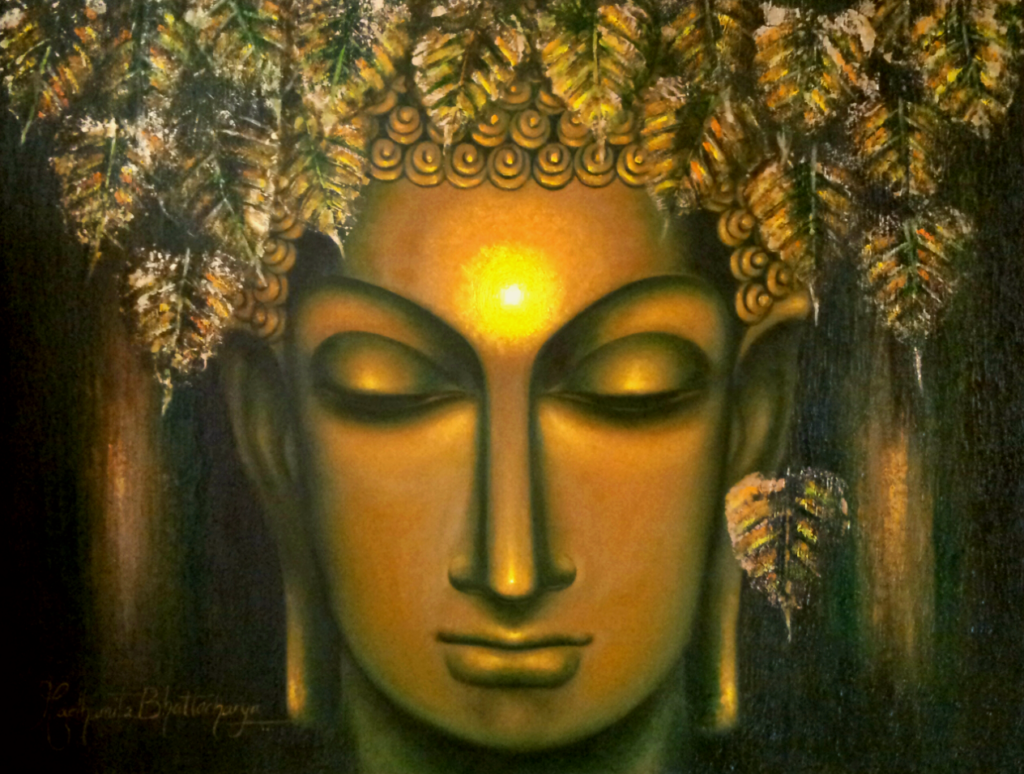 What role does the artist have in society?
An artist has the power to portray their feelings through the work that they create. Art as we know plays an important role in shaping the culture of a society. Art expresses beauty and feelings truthfully. Artists who express that well create a profound impact on the minds of their viewers.
What art do you most identify with?
I like realistic and semi realistic forms of art, something which I can relate to. Art has the power to uplift one's emotions and lift up their spirits and make them more driven than ever.
What themes do you pursue?
As an artist, my most favourite theme of work is creating paintings of Buddha in meditation. I also love to paint female figuratives and images of Krishna and Ganesha whenever I feel inclined towards it.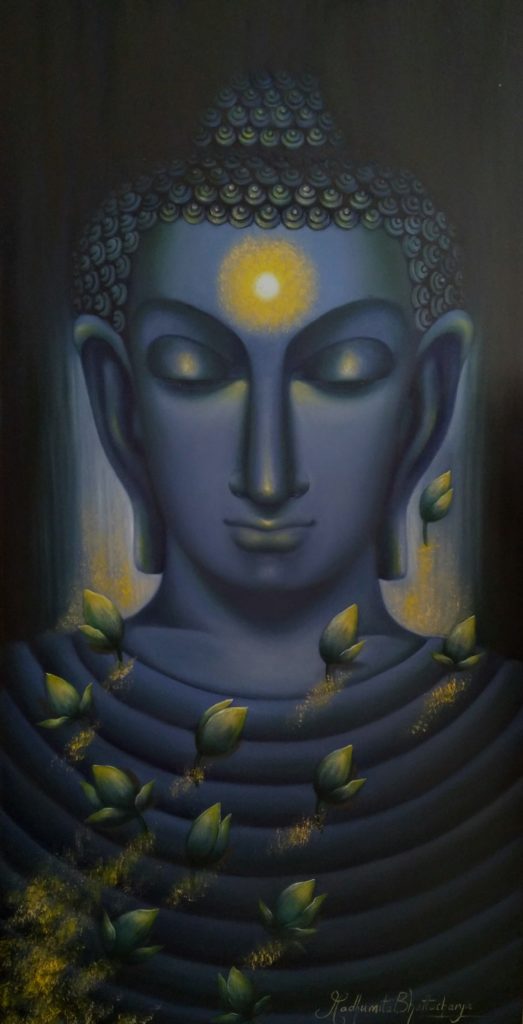 What's your favourite art work?
To be honest, all my creations are my favourites and I sincerely cannot differentiate between any one of them as they are all close to my heart.
Describe a real-life situation that inspired you?
As a child, I thankfully got the chance to travel a lot across Sikkim, Bhutan, Nepal, Darjeeling, Dharamshala, Yol, Dehradun, and visited many Buddhist monasteries and interacted with a lot of Buddhists. This gave me plenty of knowledge, inspired me and brought me closer to Buddha! These places and the people I have met there have been my true source of inspiration.
Why art?
Art to me is akin to worship. It is a medium of self-realization! Art is my greatest passion, my way of relaxation and my very existence. I feel life, spirituality and art are integrated with each other.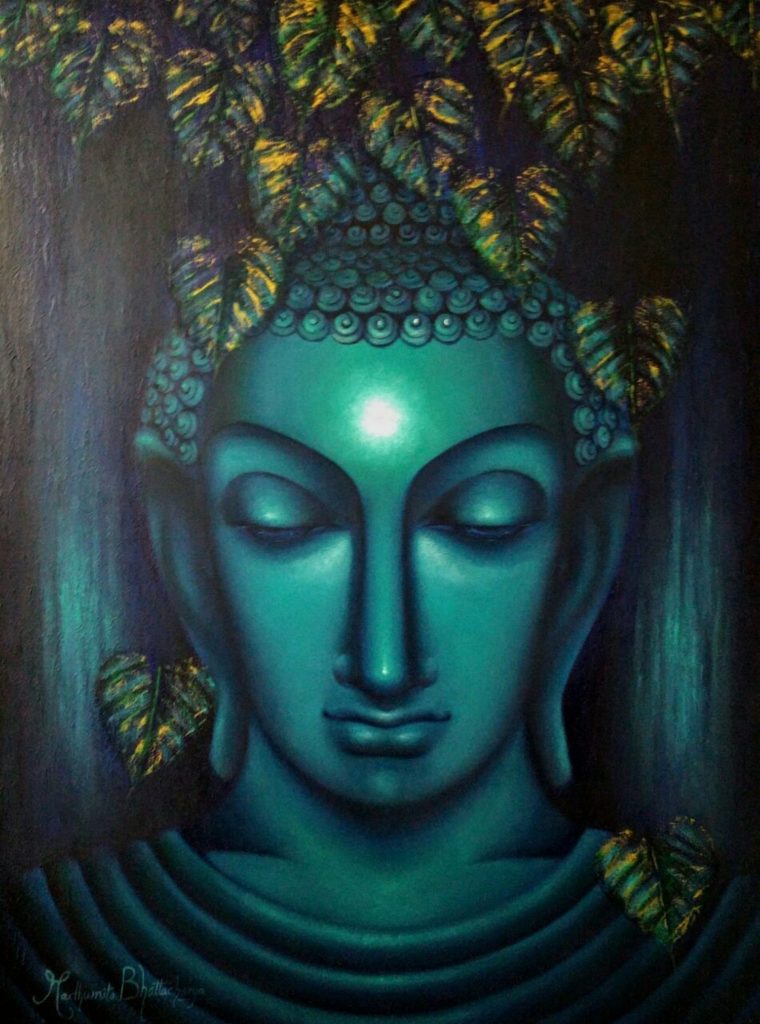 What is an artistic outlook on life?
My artistic outlook on life is creating positivity all around me and my family. Art gives meaning to our lives and helps us understand our world. It is an essential part of our culture because it allows us to have a deeper understanding of our emotions. It increases our self-awareness and also allows us to be open to new ideas and experiences.
What memorable responses have you had to your work?
Whoever buys my Buddha paintings has told me that they feel a sense of divine peace just looking at the face of the Buddha in my paintings. They forget their stress and develop a lighter and positive outlook towards life.
Is the artistic life lonely? What do you do to counteract it?
An artist's life does not feel lonely at all. In fact it is a safe space, where I experience a lot of peace within myself and am able to channelize my creativity in the right direction. For creativity to flourish, I feel one needs solitude. I love to listen to ghazals while I paint and prefer to be immersed in a beautiful atmosphere.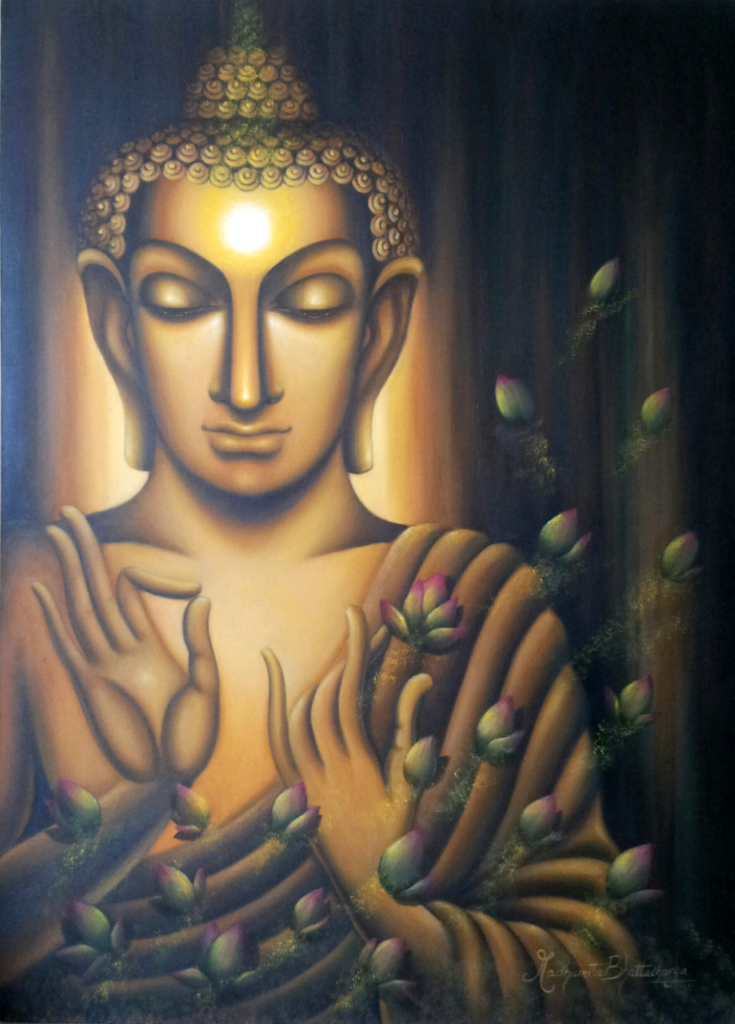 What do you dislike about the art world?
Nothing actually! The world of art is a beautiful place where everyone showcases their creativity. I am continuously learning in this world and it continues to make a better artist out of me.
What do you like about your work?
I feel that my paintings immediately connect to the audience's sensibility and spirituality. They experience a sense of infinite peace by looking at my creations of Buddha. As we all know 'Buddha' is the epitome of sacrifice. His face has the expression of serenity, honesty and divinity laced with a sense of fulfillment and salvation. I am attracted by the tranquility of his divine personality.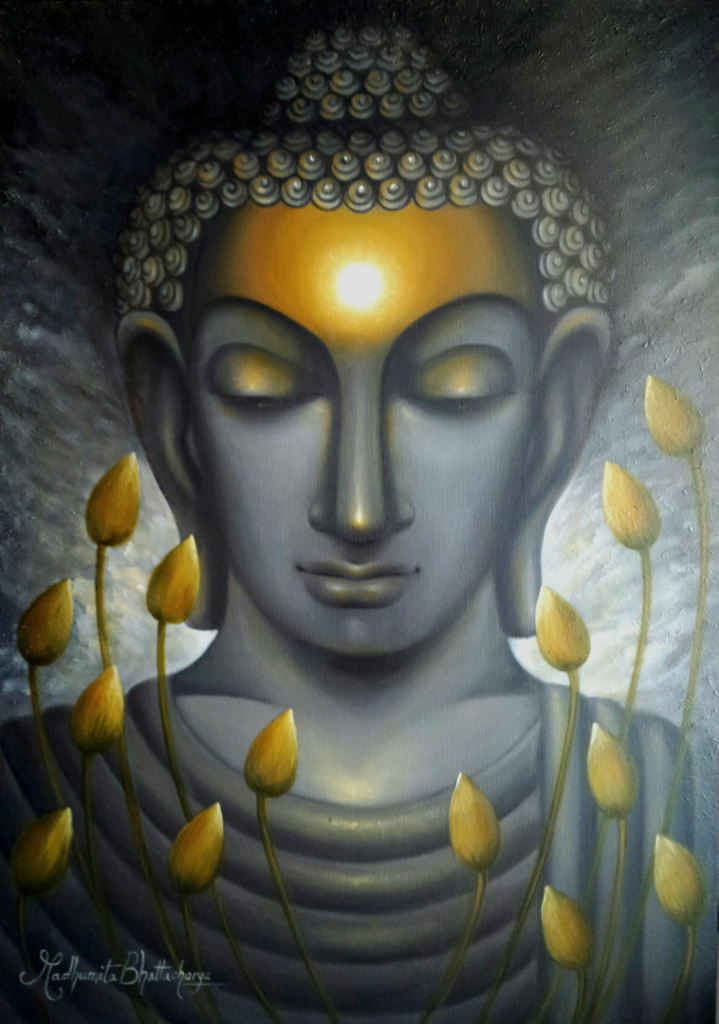 Should art be funded?
Yes. It should be funded as for some artists it is the only source of their livelihood. I believe creativity should always be promoted and supported if it's genuine and can create a difference in society.
What's the best piece of advice you've been given?
"Don't ever stop learning and growing as a person" I still have a long way to go as an artist. I am still learning art every day.
Future plans?
I want to prepare a body of work for a solo show abroad in the near future. After which, the sky is endless and there is so much that I aspire to achieve that I am ready to put in all the hard work that is required.