Artist Madhu Kuruva belongs to a small village, Konkala, in Mahaboob Nagar district of Telangana, where he did his schooling and developed an interest for drawing and painting. Coming from a family of strong etiquettes and rules, he found nature as his only friend and developed a relationship with it. This provided an ideal environment to understand nature and it's bonding with his feelings and existence. "I loved to depict the versatility of nature on white sheets and learnt the highest work ethics which earned accolades from all. From the very childhood, I was convinced that painting and art is going to be my professional career. I could not understand how to go about it until I met my first art guru Moulali Gaaru. I dedicate all my skill and artistic excellence to my guru who is always a motivation for me. I worked under him as an apprentice and stepped into the magical world of art. Later I enrolled for a BFA from Sri Venkateswara College Of Fine Arts, Hyderabad," he says. Madhu Kuruva has participated in art exhibitions and art camps all over the country.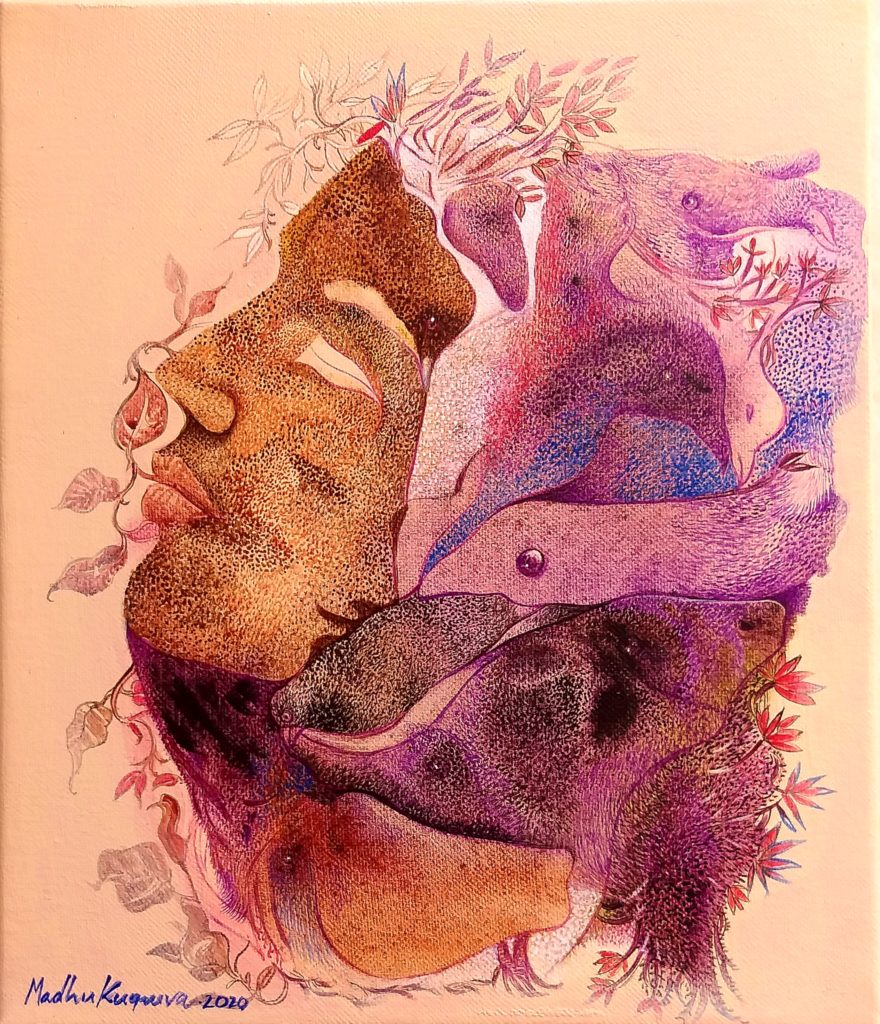 What's integral to the work of an artist?
God is so gracious that anyone who invests time in 'Lalithakalalu' (Means 5 Arts) can easily reach him. When I hold a painting brush in my hand, I forget my body and the surroundings; the mind and spirit travels to a place which is 'sacred' or 'unknown' and reveals itself on the surface. This is my pure source of happiness.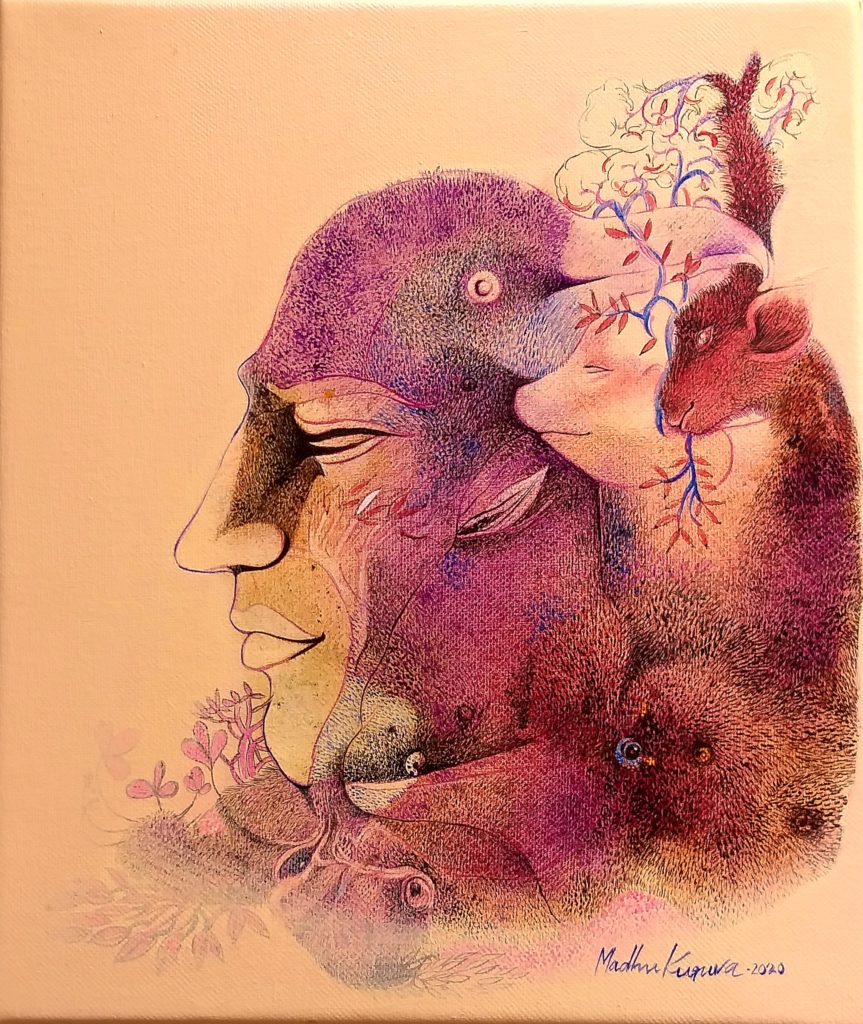 What role does the artist have in society?
It's very hard to imagine this universe without art forms and artists. Long before any text forms came into being, Visual art like cave paintings and other art forms were few ways that man found out to express the problems that we in the society come across. He uses art as a weapon to share his vision and send meaningful messages to the society. Society and art are just like a mirror image of each other.
What art do you most identify with?
After investing 20 years in art, I'm exploring 'Sukshma' meaning 'very intricate art work.' My art work asks lot of questions, without any answers. There's this uniqueness that you will find that gives equal importance to everyone and everything and trying to know the unknown. For example, when you are observing my art, you maybe appreciating something that interests you and all of a sudden you will find an animal and start thinking what kind of animal is that and it's name and so on. You will start finding more such details that intrigue an art lover. Just like magic, surrealism and illusion are the kind that leads us to a different world, even though there's a presence of rich colours in my artoworks.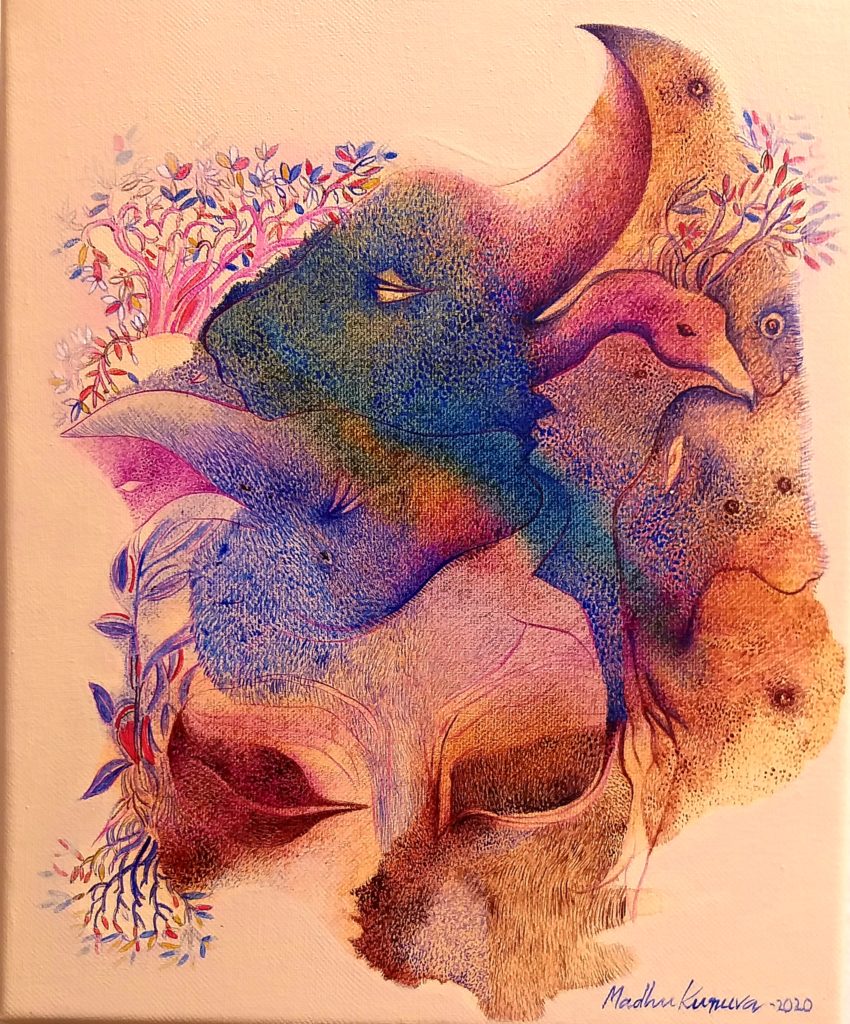 What themes do you pursue?
Childhood memories, reflections, my mind, Indian Mythology, surrealism, illusion, God's creations, live study are themes that I pursue.
What's your favourite art work?
Sukshma.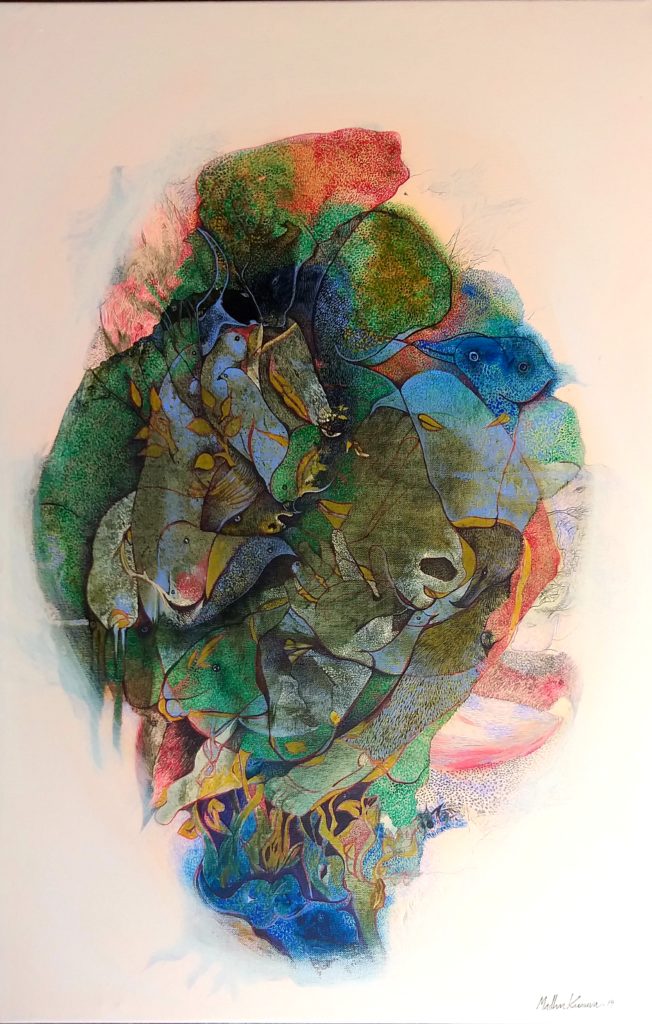 Describe a real-life situation that inspired you?
As a child who came from a humble and unprivileged background and watching the kind of hardships that my parents had to go through each and every day to raise a family of 5 children inspired me a great deal and helped me reach this stage.
What jobs have you done other than being an artist?
I have worked as a photographer, as an art teacher in schools and as an art lecturer in college.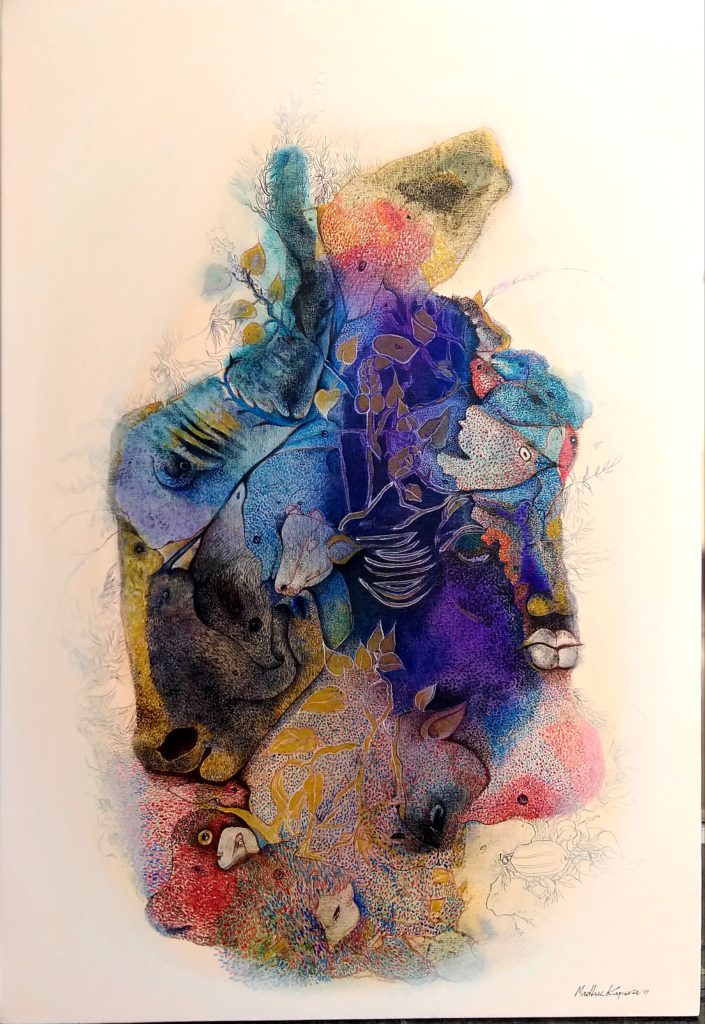 Why art?
How important is breathing to a living being? I cannot live without Art; it is my strength, energy, relaxation, meditation.
What is an artistic outlook on life?
After making sure the basic needs are met, we think about art. Once you prove your worth to yourself everyone will start appreciating your work and the support follows. As a wise person once said 'If you go behind Saraswati (Goddess of Knowledge), Lakshmi will automatically follow you.' Artists should share the best output, unique ideas, refreshing presentations that will have an impact on people and the society. The main challenge for artists is meeting the basic needs and then to reach a pinnacle in his/her work. The way to balance both these very important components is very essential to a harmonious life is my feeling.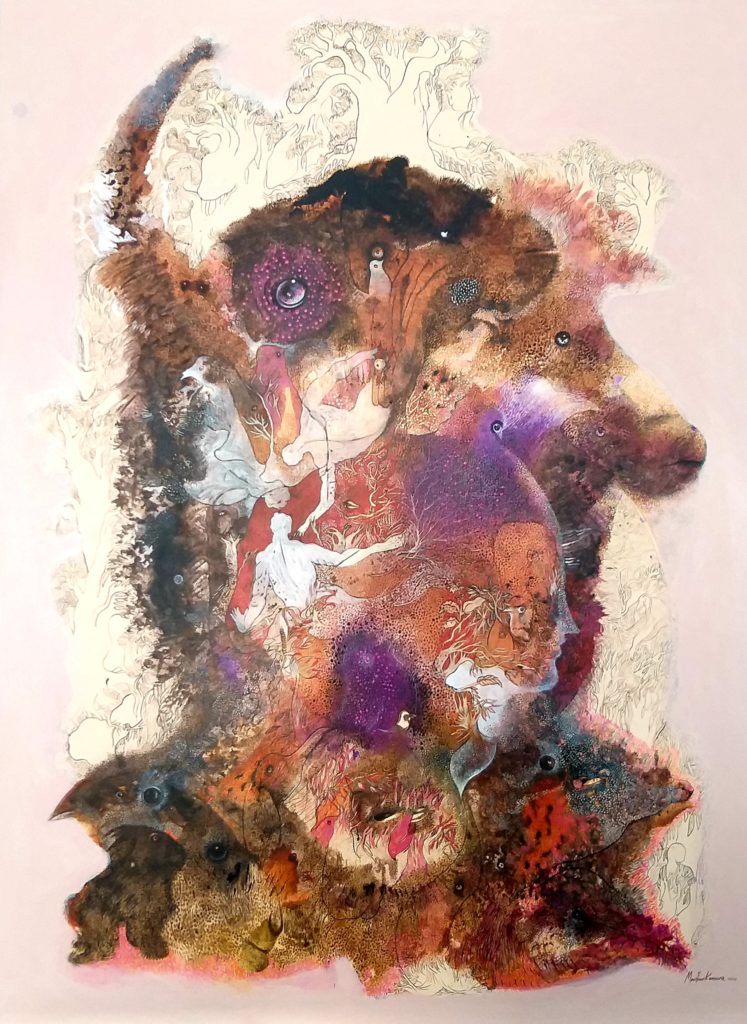 What memorable responses have you had to your work?
A few memorable responses related to my work came from citizens of Hyderabad when a solo art exhibition on the walkway at the KBR Park was hosted by me to raise funds for the flood victims. I believe the time that I invest in my work, ideas, implementations add more weight rather than where my art work is displayed or who the collectors of my art work are.
Is the artistic life lonely? What do you do to counteract it?
Solitude helps artists in many ways. It helps him/her to believe in his art that he maybe exploring with, it may open his inner eye. I also love to be with my family, friends and spend time with people from my hometown.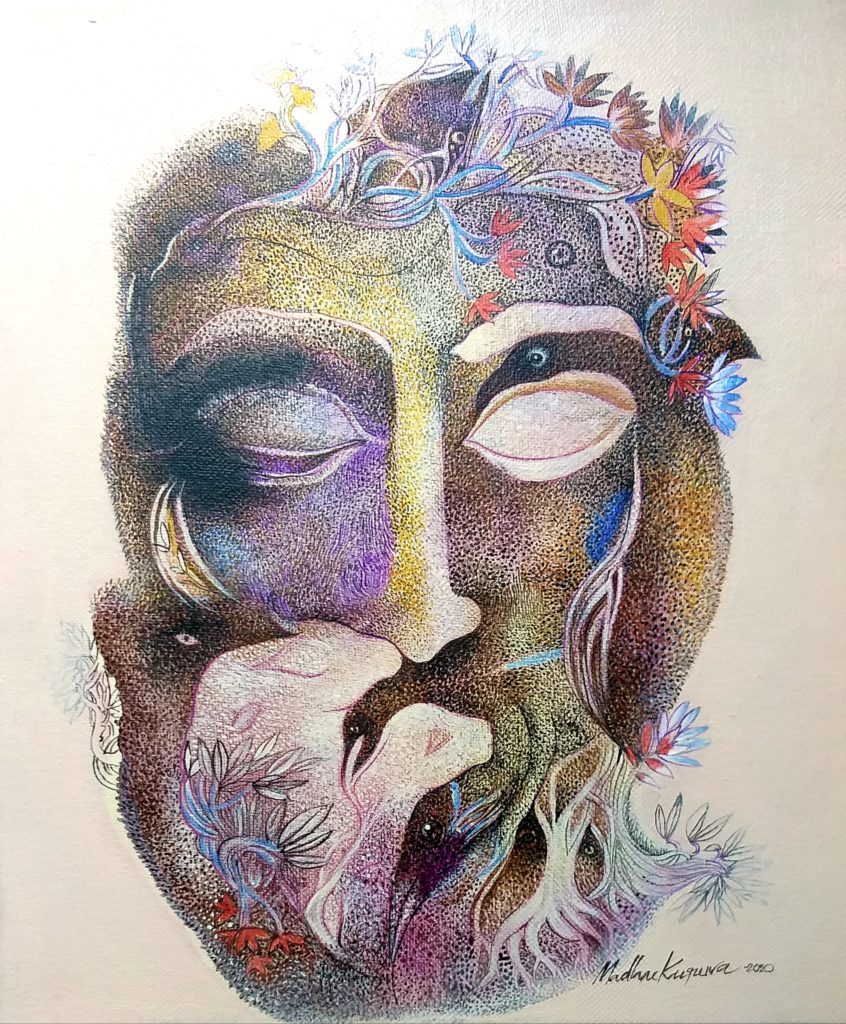 What do you dislike about the art world?
No one is perfect. I believe every action has a reason behind it. It is incorrect to imagine that support will be extended to everyone in our field too. I am optimistic.
What do you like about your work?
Detailed intricate way of presentation, patience, uneven compositions, color palettes, themes, selection of the mediums, sizes.
Should art be funded?
It would be very challenging for young and upcoming artists to make a living if art is not funded. Even well established artists need funding as the artist can explore a wide range. This is possible only when the government, museums, private collectors and organizations chip in with funds.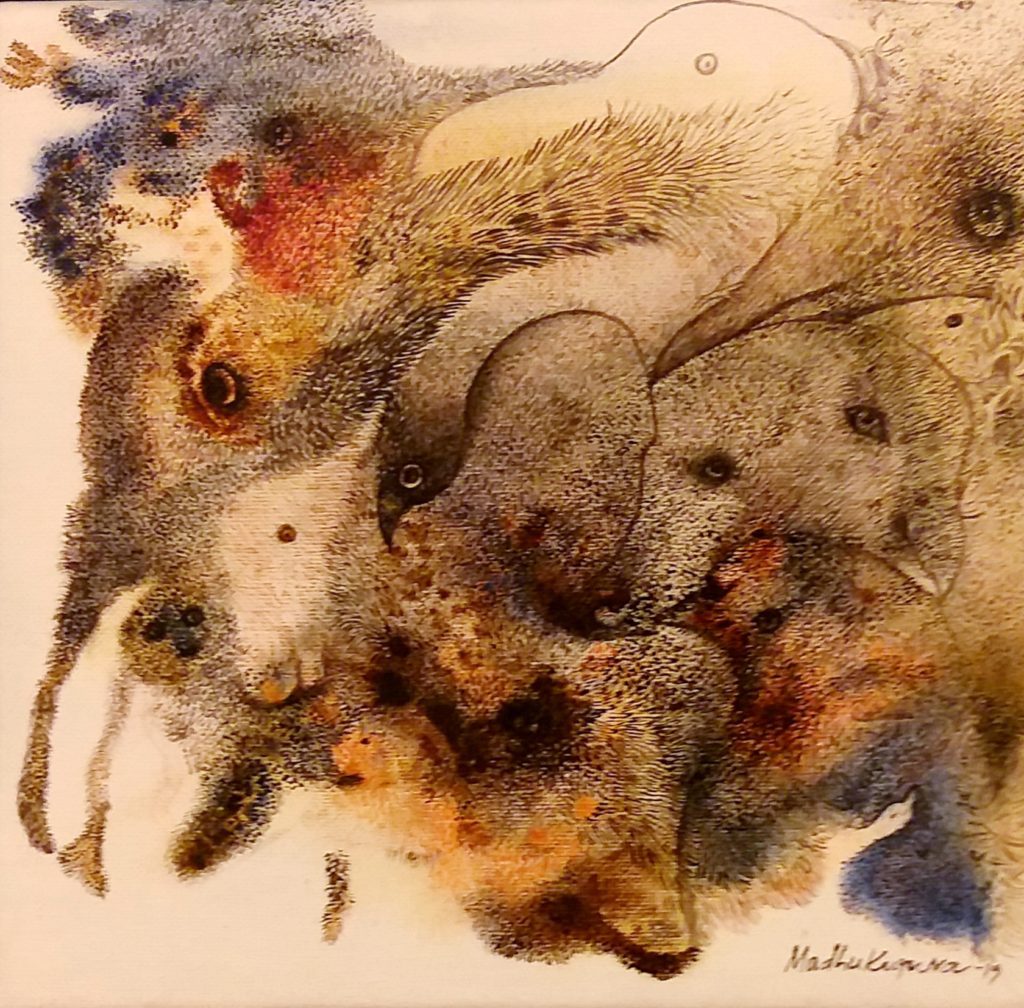 What role does art funding have?
Artists have much broader scope for getting financial assistance. Especially for young artists like me, our government, museums as well as private art collectors are always willing to extend financial aid.
What is your dream project?
My dream project is to build my own studio with natural lighting, spacious, a beautiful pond all kinds of plants and birds chirping and one that includes all facilities. It should be close to my hometown surrounded by nature, next to my residence with my spouse. I would love to paint till my heart's content without any distractions and it should be located far from the city.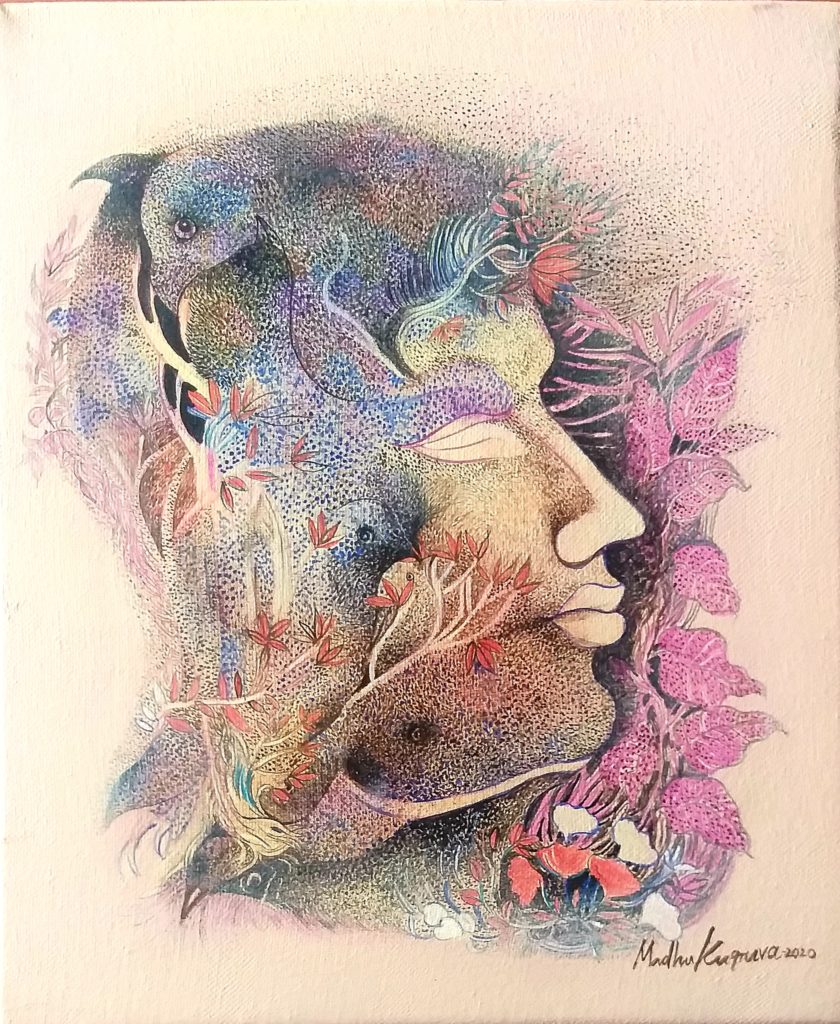 Name three artists you'd like to be compared to.
Sakti Burman
2. Jogen Chowdhury
3. Surya Prakash
Favourite or most inspirational place?
My home where I grew up.
What's the best piece of advice you've been given?
Love what you do. Enjoy the present (doing), 'Aaswadana' means to 'Enjoy'the present moment.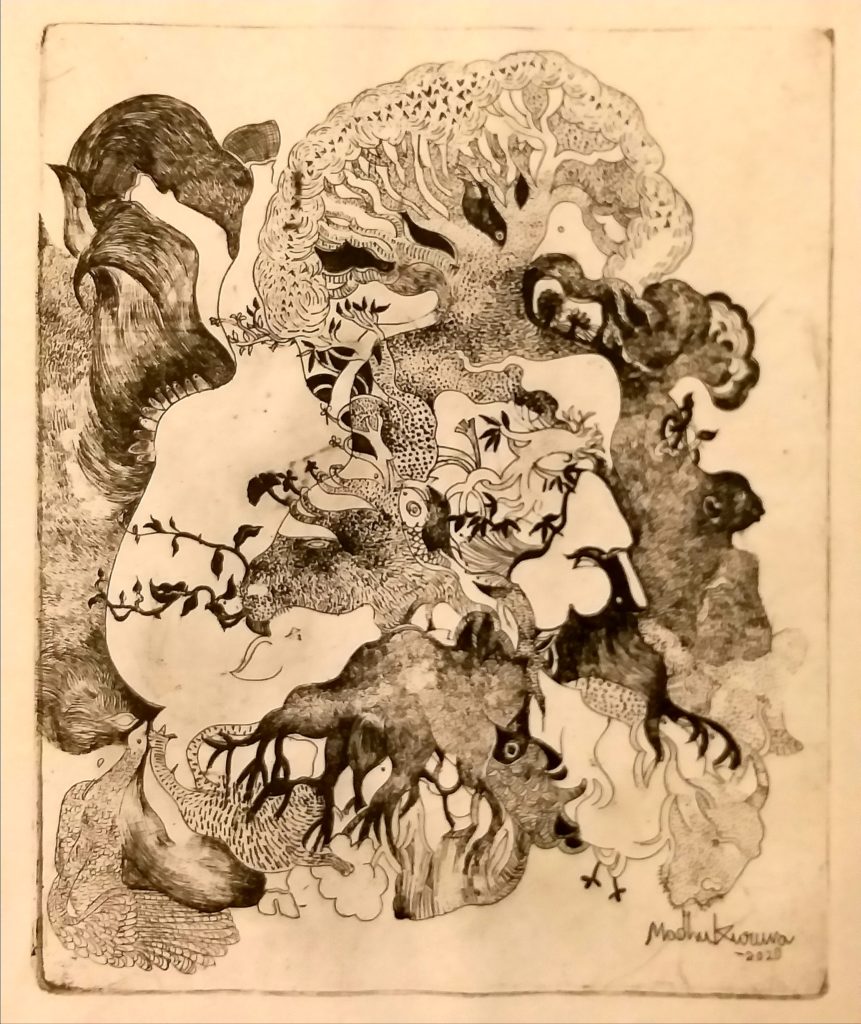 Professionally, what's your goal?
My goal is to become one of the world's renowned artists of 21st century.
Future plans?
I would like to travel all around the world visiting art museums and galleries displaying my works to everyone. Also, I would like to attend various art workshops and collaborate with artists throughout the world.