Lena Snow is an interdisciplinary artist based in Germany. She started to create art when she was a teenager and had her very first exhibition at the age of sixteen. Besides producing several series over the years, she has earned a master's degree at the University of Mannheim. Currently she has a studio in a small town on the edge of the Black Forest where she is working on her latest artworks while keeping in touch with nature.
Her works are strongly influenced by the ideas and philosophy of the American Transcendentalism – a spiritual and literary movement occurring in the middle of the 19th century demanding people to become self-empowered and self-reliant. Also, the thought that intuition, creativity, and imagination were more important than logic and rationality is something she could entirely identify herself with. Especially Margaret Fuller, another important personality that enriched this movement and is considered an early feminist had an impact on Lena's works. She pointed out that the feminine, sensitive and emotional side is genius and contributes to a set of very subtle and precise observation skills. Therefore, the topics of spiritual enlightenment, connectivity and female identity are always present in her art. Lena has exhibited nationally and internationally, she participates in art fairs as well. For 2021 she has been chosen for the Contemporary Art book of Excellence and one of the 50 most invest-able artists.
What's your artistic background?
I am self-taught. Unfortunately, I grew up in a wealthy, but troubled family that has never supported my art. At a very early age I had to learn to take care of myself. After my A-levels it was about time to leave home and so I made the decision to study English and History to become a high school teacher. However, that path has proven to be a very challenging and sometimes even dissatisfying one. During my second state examination and some stressful first months as an examined teacher I had given up on art until the pandemic crisis struck the world. Suddenly I had time for myself – for the first time in years, it felt like a recovery, followed by an awakening. In March 2020 I started to paint again and saw things very clearly. I have always known that art is my one true love, passion and destiny and nothing makes me happier than being creative, and above all, being myself!
What's integral to the work of an artist?
I think honesty. An artist should be honest about what he or she does and wants to express. It should not mainly be about profit, but about doing something that matters to oneself and the world.
What role does the artist have in society?
To spread beauty and give inspiration, to counteract hypocrisy, to address topics that are often off limits and that society wants to sweep under the carpet.
What art do you most identify with?
Colorful art and art of any kind.
What themes do you pursue?
My current Goddess series shows female entities that are both mythical and energetic. My female figures are like heroes as they have special powers and spread cosmic vibes. I want to highlight the feminine, emancipated and evolved characteristics, sometimes even the recreational or protective maternal features. My Goddesses are strongly connected to nature as I am and my goal is to create art that her viewers experience as an energy source on their walls which evokes a deeper connection to themselves and to our cosmos. My paintings are a part of my higher soul and strength as well as a transcendental connection to nature and cosmic insight. I want to express a 'higher' self that is spiritually elevated and transformed.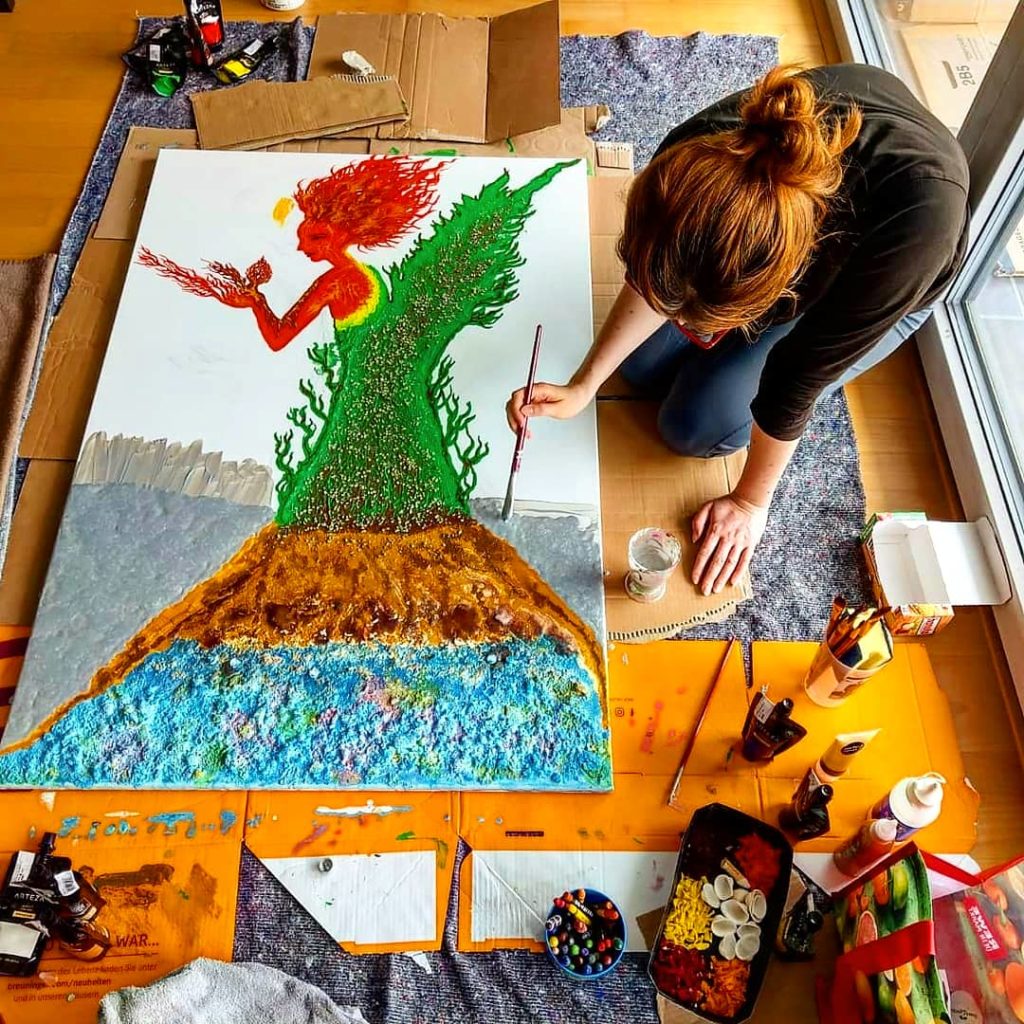 What's your favourite art work?
That would definitely be 'The Treasures of Satan' by Jean Delville which is in the Royal Museum of Fine Arts in Belgium, Brussels.
Describe a real-life situation that inspired you?
When I traveled around Africa a few years back, I often saw poor people selling handmade art that they made of re-cycled materials. That was very inspiring on many levels. They used what they already had and transformed it into beautiful pieces. That is not only very creative, but also environmentally friendly.
What jobs have you done other than being an artist?
I am a teacher for languages and history.
Why art?
Art has always accompanied me, it helped me as an outlet, it gave me strength and joy. Without it I am simply unhappy and unfulfilled. I created several series over the years that are very different from one another. Starting with my flower collection, a colorful graphic series for print when I was a teenager, I went on with my abstract series where I approached more complex concepts like time or the afterlife. My appreciation and practical use of mixed materials started at quite an early age too and is owed to the circumstance that I had to work with objects that were available to me and make a creative composition of them. This was the inception of my plastic series, approximately twelve years ago, when I began to include plastic foil into my artworks. During my time at university I studied art as an autodidact and came to a deeper understanding and knowledge thanks to acquiring academic learning skills. Especially feminist approaches struck a chord with me. I have always allowed myself to experiment and try out new things without pressure, because there was already plenty of that in the 'real world'. Creating things with my own hands and working with different materials, whether it is plastic, sand, metal, wood or even baking powder feels just satisfying and genuine to me. When I paint and create I experience a flow and a closeness to myself, I feel tender but strong and complete at the same time.
What is an artistic outlook on life?
Life can be really hard and a rocky path and as an artist you have to maneuver or balance everything. Most artists have another job apart from their artistic work life and that can be very hard. So my outlook is that artists are not only creative in their work itself, but they are and have to be creative in managing life itself.
What memorable responses have you had to your work?
The most memorable was from a friend and follower who told me that I inspired her to create art and to keep going on with art. She also told me how she saw me and my art and this showed me that I am able to convey what I intend to express. A response like this is certainly worth more than money.
What food, drink, song inspires you?
I love Led Zeppelin and devoted a painting to one of their songs I like the most. My artwork is called 'Angel of Avalon' and refers to the song 'Battle of Evermore'. I also like 60s music, as for example Hendrix or The Doors. My artwork 'Disco Girl' is an homage to the 70s disco area. It is made of recycled, empty tee candles which I collected for over one year. I arranged all these pieces on a huge cardboard box and intended to create something retro-like. The shiny tee candles reminded me of the glow of a disco ball and since I love 70s disco music, my 'disco girl' is made of equally shiny components. I also wanted to capture the colorful light reflexes on a disco night within the artwork to create something joyful and dynamic. The woman is also a reminder to me that dancing and going with the music flow is important to feel and enjoy yourself – even if you dance on your own.
Is the artistic life lonely? What do you do to counteract it?
When I was younger I needed much more social contacts and being alone was difficult. However, over the years this changed. I enjoy being by myself since this is not loneliness but solitude. I like the peace and quiet and sometimes I also like taking walks in the woods to fully concentrate on my thoughts and nature. When I paint I never feel alone.
What do you dislike about the art world?
It can be extremely exploitative, sometimes very discouraging and it can feel like you drown in the masses. I don't like people who are only greedy for profit and don't see you as a person anymore.
What do you dislike about your work?
I dislike that I have so many ideas but I feel like I don't have enough time to realize them. Keeping the balance between managing yourself, taking part in the art world, creating and having a job can be very stressful.
What do you like about your work?
I like to be at peace with myself and really feel that I am doing something that makes me happy when I create.
Should art be funded?
Art should definitely be funded. There are so many artists with great potential but not enough means to fully unfold their creativity.
What role does arts funding have?
It has an important role, however I feel that often people get funded who don't really need financial support and there should be much more funding in general.
What is your dream project?
I have always dreamed of creating something big for a fancy hotel. So when you come into the lobby you would see my artwork.
Name three artists you'd like to be compared to.
Andy Warhol, Niki de Saint Phalle, Dan Lam
Favourite or most inspirational place?
That is nature itself. I find inspiration in nature everywhere and I really can't name one specific place. I think that my travels to Africa have influenced me a lot – seeing the vast landscapes and feeling the diversity of life and nature there had a deep impact.
What's the best piece of advice you've been given?
Don't let yourself be exploited and don't say yes to everything. Be confident with your art.
Professionally, what's your goal?
I would like to win an art prize some day in order to grow further and realize more of my projects.
Future plans?
My plan is to continuously create and improve. Also to never to give up.