Sheena Bharathan is a visual artist based in Singapore. Her childhood fascination to paint grew to a chosen career in art. She completed a dual Master's in child development and psychology and worked as an educator and child psychologist at leading schools in Dubai, UAE. A move to Singapore in 2011 gave her the opportunity to intimately pursue her passion and enter the art scene. She began her art career in 2012 and initially trained under the guidance of distinguished artists in Singapore. She has been formally trained at the respected Nanyang Academy of Fine Arts, Singapore in Western painting. Initially starting with figurines, today her spectrum of artwork includes figurative works and semi-abstracts. Her fascination towards textural additions began in the initial years of her career. It has now become a distinguishing feature of her paintings
Colour is an integral part of Sheena's artistic repertoire. Her colour palette is minimal, bold and captivating. Sheena's background as a psychologist reflects through her paintings where the elements of design – colour, line, form and texture, are used in a judicious manner and draw the viewer to look beyond the apparent.
Sheena has exhibited in various international art fairs and exhibitions in Singapore, India, S. Korea, Malaysia, UAE, Vietnam, Myanmar, Ukraine, Turkey among others. Her work is in collection of Haegeumgang Museum in S. Korea. Beyond the art world, she enjoys being with my family, travelling, gardening and being at her hometown. As she says, "I hope that my artworks speak not only for me, but also for the people who view my work."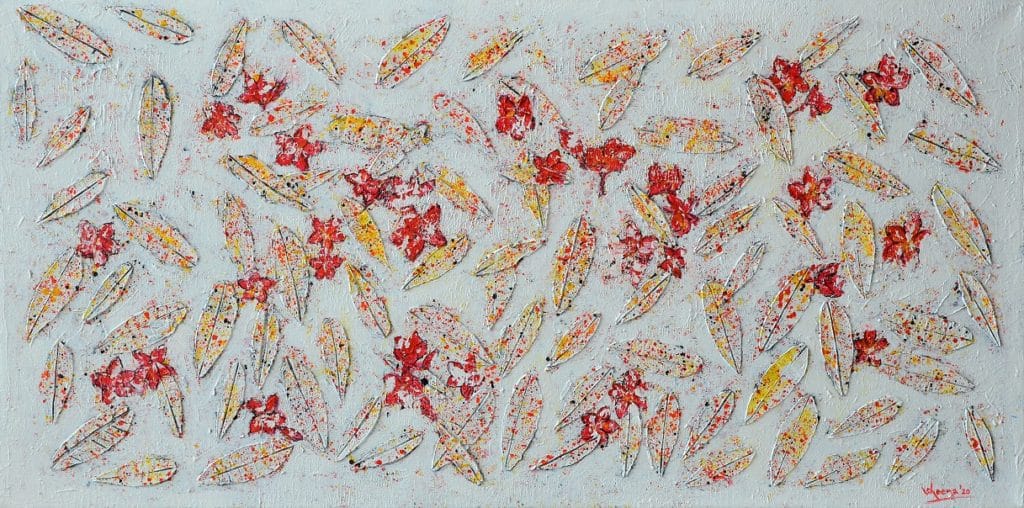 What's your artistic background?
I have been sketching from the time I remember, right from my childhood. But art as a career began to take form when I moved to Singapore in 2011. Singapore provided new vistas to me and gave me better access to an international artistic milieu. I had the opportunity to train under a few reputed artists and also pursued a course at the Nanyang Academy of Fine Arts, specializing in Western painting.
 What's integral to the work of an artist?
I think it is crucial for every artist to have their own style and originality. That is what will set them apart and give them their own identity.
What role does the artist have in society?
Mostly, artists are highly sensitive beings. This sensitivity enables them to connect to the emotions of the people around them and express it through art. In that sense, they take on the role of storytellers. Secondly, artists have the means to voice their opinions. Art becomes a powerful medium with which to voice their own thoughts and even speak for an entire community.
What themes do you pursue?
What I try to do with my art is to convey emotion. I usually work in a series and as of now, am working on two. One is nature, where I do semi-abstracts. The other one is figurative and I call the series 'She'. This one is very close to my heart and into my protagonist; I pour my moods and my feelings.
What's your favourite art work?
There are so many works of art that fall into this category that it is difficult to pick one or even a few. That said, I do have deep admiration for the works of Amrita Sher-Gil and Rekha Rodwittiya.
Describe a real-life situation that inspired you?
I am inspired by simple things in our day-to-day life. It could be a line I read, a word, or some small thing that caught my eye. If I have to pick out specific instances, there would be a lot. I draw a lot of inspiration from nature, especially rains. This probably goes back to my childhood in the lush green landscapes of Kerala, where monsoon is so much a part of our life.
What jobs have you done other than being an artist?
My working life started as an educationist and later as a child psychologist. It was my joy in working with paints that eventually pushed me to pursue art as a full time occupation. And ever since I took it up, I have not looked back.
Why art?
Well, why not art! To me, art is passion, it is life. It is my means of expressing and narrating the stories that crowd my mind. And I enjoy this process of slowly building a body of work.
What is an artistic outlook on life?
Celebrate life – that sums up my philosophical take on life and I do it through my art.
What memorable responses have you had to your work?
It is a moving experience when people relate to the story you are trying to tell. When they come back to see your work during exhibitions to see what the next story is, when they look forward to see where your character is going next, it is very touching. And when someone identifies your work from your style or from the way you have portrayed a subject, it is one of the most rewarding times.
One unforgettable memorable response I had was during an international art fair. A lady came to a standstill in front of one of my paintings and gazed intently at it. In a while, I saw her eyes fill up. We spoke and she expressed interest in buying the work. Through the entire process, she could not stop looking at the painting. I do not know what it was that drew her to it, but the contentment it gave me – to see something I created make such a deep impact on a complete stranger – is indescribable.
What food, drink, song inspires you?
Coffee. A coffee cup is a part of many of my paintings, to the extent of it becoming a character itself. In fact, I am currently working on a piece in which a cup of coffee features rather prominently! As for songs, melodies do inspire me, but I don't have any particular song to pick out.
Is the artistic life lonely? What do you do to counteract it?
I don't think that the artistic life is lonely. Sure, most artists do prefer to work alone and in a quiet space to allow their creativity free reign. But that cannot be called being lonely. Of course, I also like it that way – to have a space to myself, away from people, where I can shut out the rest of the world and throw myself into my work. But when I am alone, I find I am in good company.
What do you dislike about the art world?
Like any other field, the art world also has it's positives and negatives. There is nothing in particular I dislike about the art world specifically. Whatever can be said about this field of work would be true for any other as well.
What do you dislike about your work?
I like everything about my work. With each work, one does however evolve and learn.
What do you like about your work?
The journey from the point of inspiration through to the time when I can stand back and look at the finished painting – I love every moment of it. Most of all, I love working on the backgrounds of my paintings. For me, the background is just as important as the subject and I enjoy developing it.
Should art be funded?
Yes, art does need patronage and funding.
What role does arts funding have?
When artists are solely dependent on art as a source of income, it is often very difficult to sustain. Invariably, they end up having to take up other jobs and their art gets side-lined. So many talented artists end up putting art on the back-burner because of this. If there is regular and sufficient funding, it would be encouraging for new artists to enter the fray.
Moreover, I think, it will give artists more freedom to express themselves. It often happens that when an artist sees that a particular kind of art work has higher selling potential, they tend to continue doing similar work. Repetition may not be something they enjoy doing, but they will stick to it because they know it will sell. If they do not need to worry about income, they would have more freedom to experiment and explore.
What is your dream project?
I want to cover the walls of a studio with murals. Both interior and exterior. That is a dream project, to create an experience of being part of the painting itself, of being inside it.
Favourite or most inspirational place?
My studio is my favourite place right now. It is where I can be alone with my thoughts. That apart, I find a lot of inspiration on trail walks and I love those.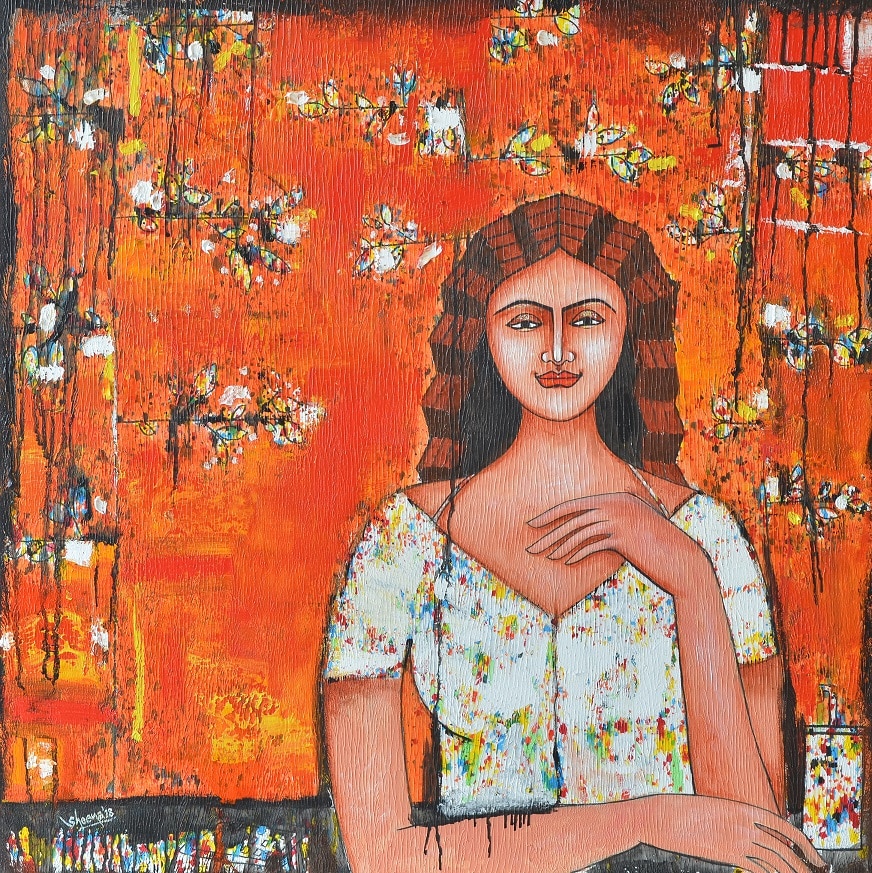 What's the best piece of advice you've been given?
Believe in your work, your style and your art.
Professionally, what's your goal?
I have had my work exhibited in many exhibitions internationally. But I would like to exhibit more in art fairs and biennales.
Future plans?
For the immediate future, the plan is to participate in the biennale being held in Florence in Italy, later this year. I am currently preparing for that.