A passionate hospitality professional with two decades of experience, Vipul Kamboj joined The Grand New Delhi Hotel & Residences as the General Manager in November 2020. Prior to this, he was associated as General Manager with Holiday Inn Resort Kolkata NH6 pre-opening. Vipul Kamboj began his career in the hospitality sector with Hotel La-Paz Gardens in Goa. Later, he served in Goa Marriott Resort where his hard work and dedication made him achieve the designation of Sales Manager. In July 2008, he joined The Leela Ambience Gurugram Hotel and Residences where he spent 10 years, first as Associate Director of Sales, the Director of Sales and lastly as Director of Sales & Marketing. Kamboj is a fitness freak and in his leisure time he loves to watch movies and spend time with his wife and daughter.
What makes The Grand New Delhi stand out from other properties you've worked in?
S-P-A-C-E. 10 acres in the heart of the city, The Grand New Delhi is like a resort in the maddening crowd of Delhi. The architecture of the hotel was built about 20 years ago whereas the design of the hotel is futuristic. A lot of new hotels being built take inspiration from The Grand architecture. The open bathroom concept, the residences, the huge banqueting space, the wide corridors, 2 floors of glass corridors and the welcoming lobby is what makes it unique in it's own way.
Who is your typical customer? 
Our typical customer base is diverse. Located in the heart of the city, with close proximity to the airport, corporate offices and Delhi's three best malls The Grand New Delhi is ideal for business as well as leisure travelers.  The Grand New Delhi is spread over 10 acres with sprawling lawns, a well-appointed spa, a large swimming pool and multiple options of cuisines for dining. This makes us a perfect getaway for staycations where one can enjoy fresh-air strolls, a couple's massage or fun with kids in the swimming pool without missing out on chef's special dishes at our experiential dining destinations.  Not only this, our elegantly designed residences are home away from home for embassies and corporate travelers staying in the city for a longer period of time. With 30,000 square feet of versatile meeting, events and banquets, we host large corporate events, trainings as well as product launches to name a few. Also, The Grand New Delhi has been a preferred destination for weddings, birthdays, kitty parties and other social gatherings.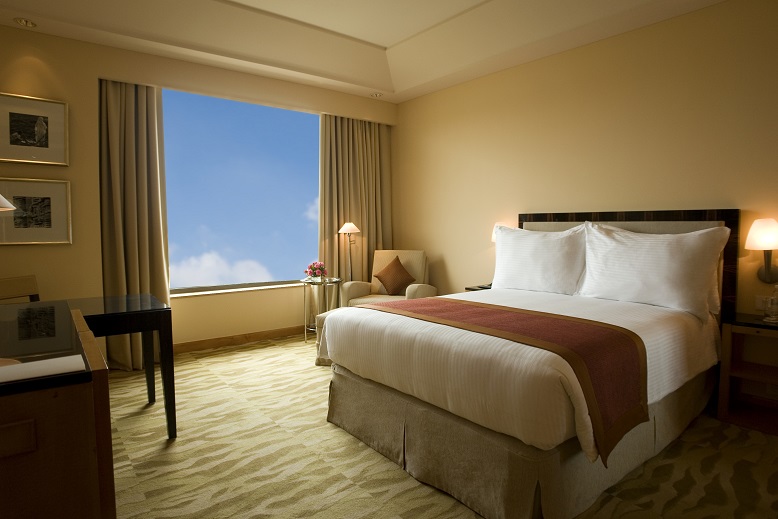 If you could plan a one-day itinerary for guests looking to explore Delhi, where would you send them?
Delhi is a city which offers something for everyone. It will be an injustice to spend only one day exploring this city.  From buzzing bazaars to lavish malls, from street food to exotic cuisines in a fine dining restaurant, from fascinating history to expansive urban sprawl, Delhi is the city that will reveal itself in different forms. Start your day early, through the lanes of Chandni Chowk- the largest and busiest market of Delhi. Experience a kaleidoscope of colours, as you go through the Chawri Bazaar. Experience Old Delhi ahead, as you walk towards Jama Masjid – one of India's largest mosques or admire the elegance of Mughal architecture as you step in to the Red Fort. Built in 1639 by Shah Jahan, it was home to reigning Mughal emperors until 1857. Don't miss the street food experience when you visit Old Delhi.
Later, take a ride in a taxi and visit the monuments that are situated in New Delhi like India Gate, Agrasen ki Baoli, Humayun's Tomb and Qutb Minar. As the sun starts setting, Delhi offers you variety of options to choose from. If you like strolling in a garden I would definitely suggest visiting Lodhi Garden or Sunder Nursery. If you are planning to pick something for your favourite people give a visit to the major markets like Lajpat Nagar and Sarojini Nagar. And if you want to end your day in a contemporary way, visit the Hauz Khas Village – a modern part of Delhi where you can visit the shops selling from designer clothing to dusty antiques and experience the trendy restaurants and bars that serve a variety of cuisines.
Building the right team is crucial for a property's success. What are the key skills you look for when hiring new employees?
I divide the hiring process into skill and will ratio. Skills are as per job description which is a given. Will is the most important aspect of the candidate's personality. An individual scoring high on skill and will graph finds a way in my team. To sum it up 'I can teach skills only if the candidate has the will.'
What is the USP of your hotel? 
Nestled in the heart of Delhi NCR, The Grand New Delhi is in close proximity to the airport, major shopping and entertainment destinations, elite corporate neighbourhood and city's tourist attractions, making it the preferred luxury five-star hotel in the city. Set amidst French courtyard inspired lush green lawns and delicately interwoven landscapes; this 10-acre property in Vasant Kunj features a resort like freedom ensuring curated bespoke experiences for each of our guests. Boasting of 390 elegantly designed rooms and suites; outstanding dining and night-life destinations; the much-acclaimed Spa Oasis and salon, state of the art fitness centre, outdoor swimming pool and over 30,000 sq.ft. of meeting and event spaces at your disposal, combined with our experience and expertise, The Grand New Delhi promises an unforgettable experience.
What is the one dish that guests have to try when at your hotel?
Our Executive Chef Balpreet Singh Chadha believes – 'Even the simplest of ingredients may result in delicious presentations and finally a satisfied guest'. Taking this philosophy ahead, Chef Balpreet has enhanced the menu and has introduced delectable preparations which our guests have loved. One such experiential concept that he has introduced is Dilli Kanteen Kitchen. Inspired by the 'Canteens of the World', DKK is The Grand's vision of global cuisine and indigenous cooking technique. Dilli Kanteen Kitchen is our take on global cuisine which will bring nostalgia through the food we will serve. The one dish that I personally like from DKK's menu is Meat Beliram – The Patiala mutton delicacy with goat meat simmered in turmeric, onions, coriander and curd-based gravy.
2020 was a challenging year for the hospitality industry. In your opinion, how will travel trends change in the 2nd half of 2021?
2021 made us realized that the pandemic is here to stay and no one can predict with certainty the way forward. One thing is certain though that life cannot stop and we need to find safer ways to conduct our business. With vaccination drives going on, the future will be bright for those who accept and acknowledge this new life style and make changes faster.
Was a career in hospitality something you always dreamt of?  What is your advice to aspiring hoteliers? 
I cannot see myself looking anywhere else apart from hospitality. There have been numerous opportunities away from the hotel industry; however the happiness that I get to be with people deters me to take up any other offer.