Stephen Alexander Rybacki was raised in Rancho Cucamonga CA and currently resides in La Verne CA. In the spring of 2009 he received a Bachelor of Fine Arts degree at California Polytechnic University Pomona. His goal was to further gain knowledge of media and technical hand skills in painting, drawing, ceramics, and sculpting. He found his strongest asset became texture and media on the surface of his work. He began to develop a love for new material and began experimenting with sheet metal. With a mentorship from local artist Fr. Bill Moore, he spent the next years experimenting and trying to control rust/oxidation on the surface of the metal, as well as incorporate the rust into compositions on different surfaces.
He is currently working to fine tune and focus on the delicate texture and colors of rusted objects, as well as how to isolate the beauty of the natural oxidation process. A rusty metal grate that has been outside for months often goes unnoticed. Stephen finds himself spotting these elements in his life daily and using them as his main inspiration to create art.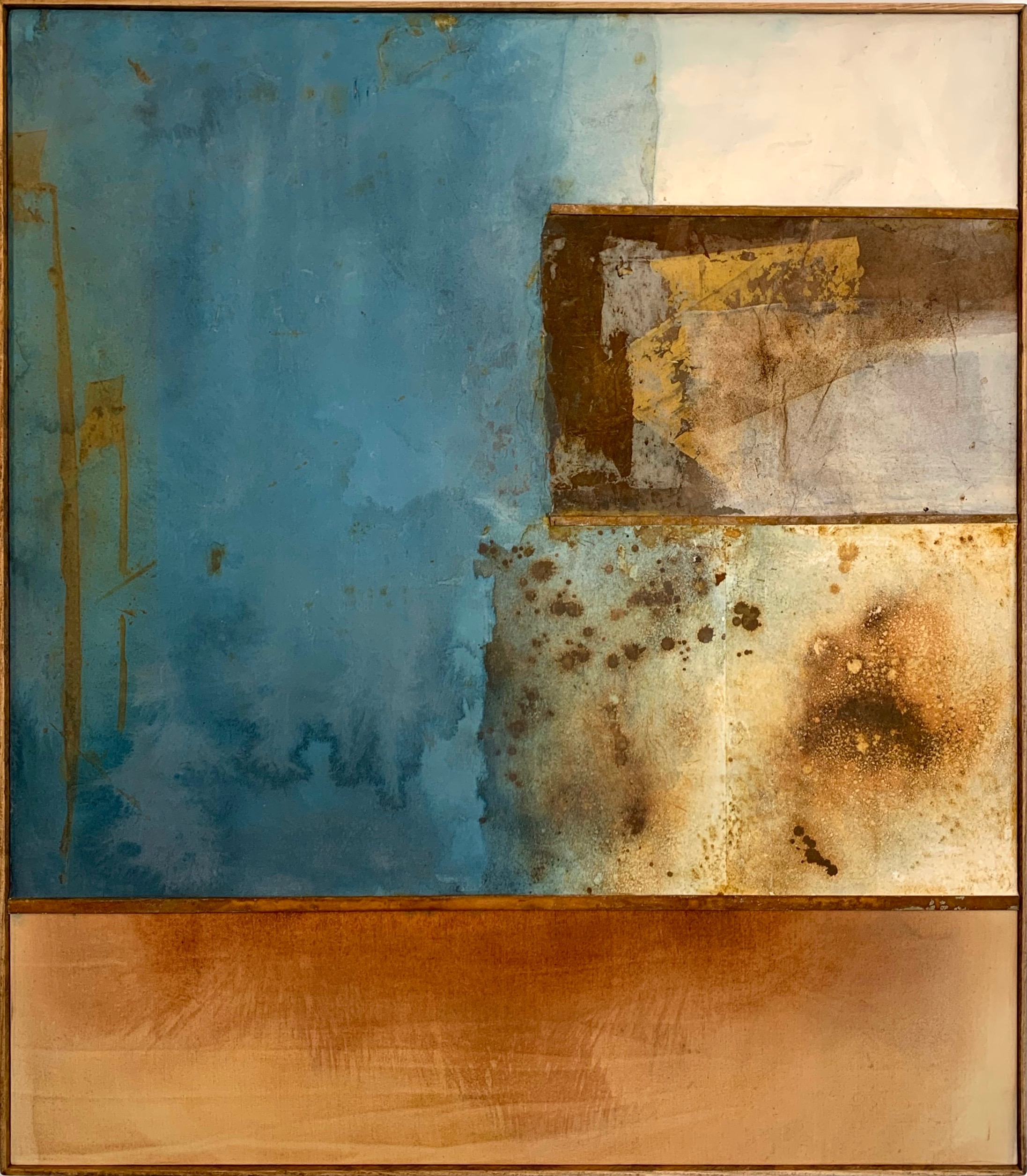 What's your artistic background?
I've always enjoyed art from my earliest memory and pursued it for my college education. In my 2nd year of college studying art, I was notified that the college would stop taking on new students for the fine arts program, but those few enrolled students would still be allowed to complete their program. This followed with budget cuts and art faculty layoffs, resulting with me spending most of my time working alone in a room on campus or in my home studio. I later befriended an amazing established artist and Catholic priest named Fr. Bill Moore. For the next 10 years we would interact with bi-monthly visits to discuss art and his critiques of my work. It was Bill Moore who helped direct me to find my artist voice.
What's integral to the work of an artist?
In general, for all artists, I would assume the connection to an artist's message or meaning, is in finding one's own voice. Also, for me personally, "the escape" is integral. When I immerse myself into creating and my
music is on in my studio, I can transport myself to another place, almost like meditation. Although I say making art is work, for me it's really just going to a happy place.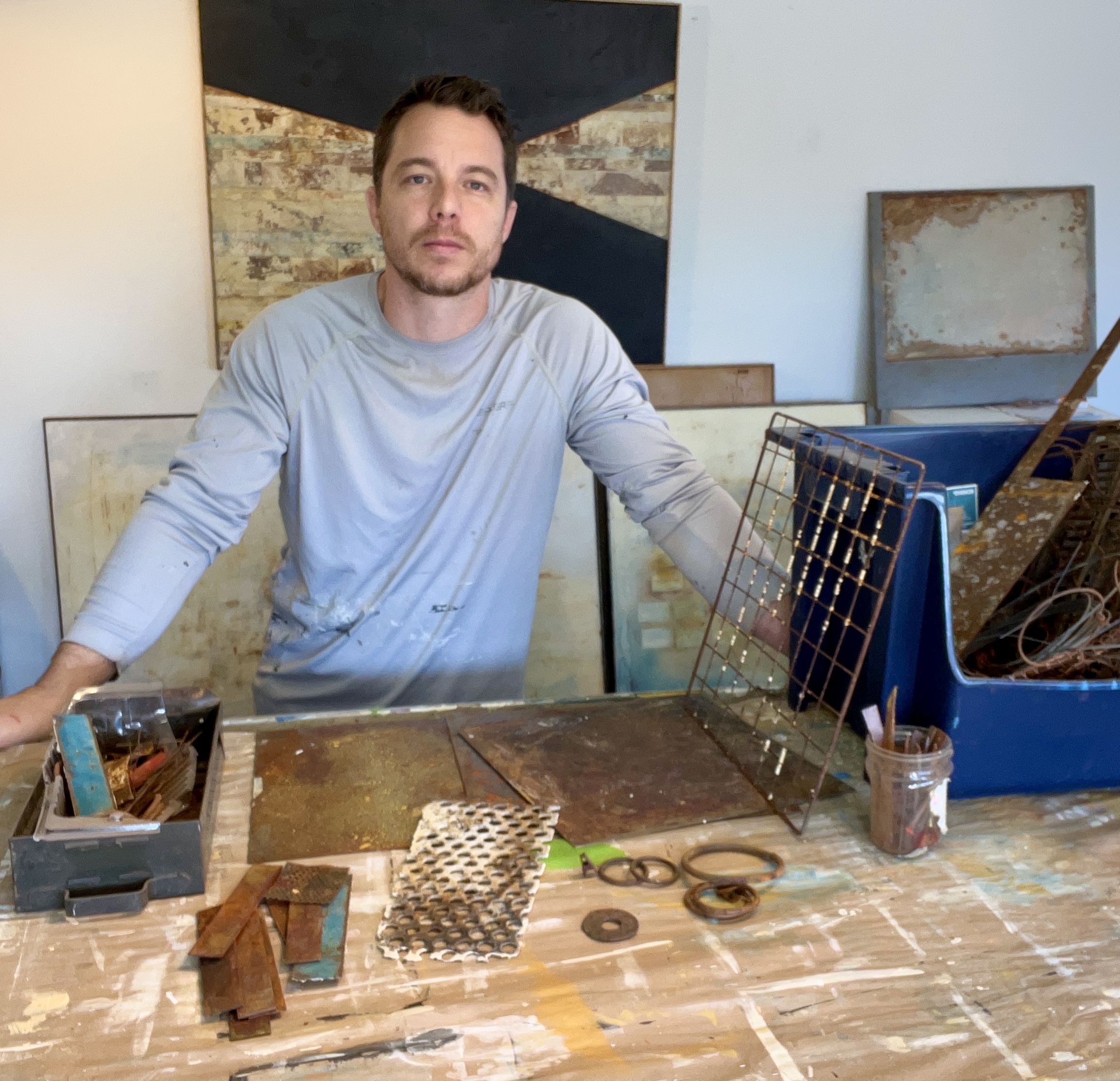 What role does the artist have in society?
There are so many answers here as I could see artist roles be many things: historical storytellers, documenters,
entertainers, etc. For me, I'd like my role to be less specific, but I hope that I generally can be an artist that creates a pathway for viewers to simply slow down. I would like people to see beauty in something that is normally overlooked, like the natural oxidation/rust material that I work with.
What art do you most identify with?
I go through phases of what type of artist 'I want to be'. I'm ok with that, and I'm still emerging and working to figure things out. Abstract art is where I find myself drawn to. Social media makes it great to see so much amazing work at my fingertips each night before I lay down to sleep.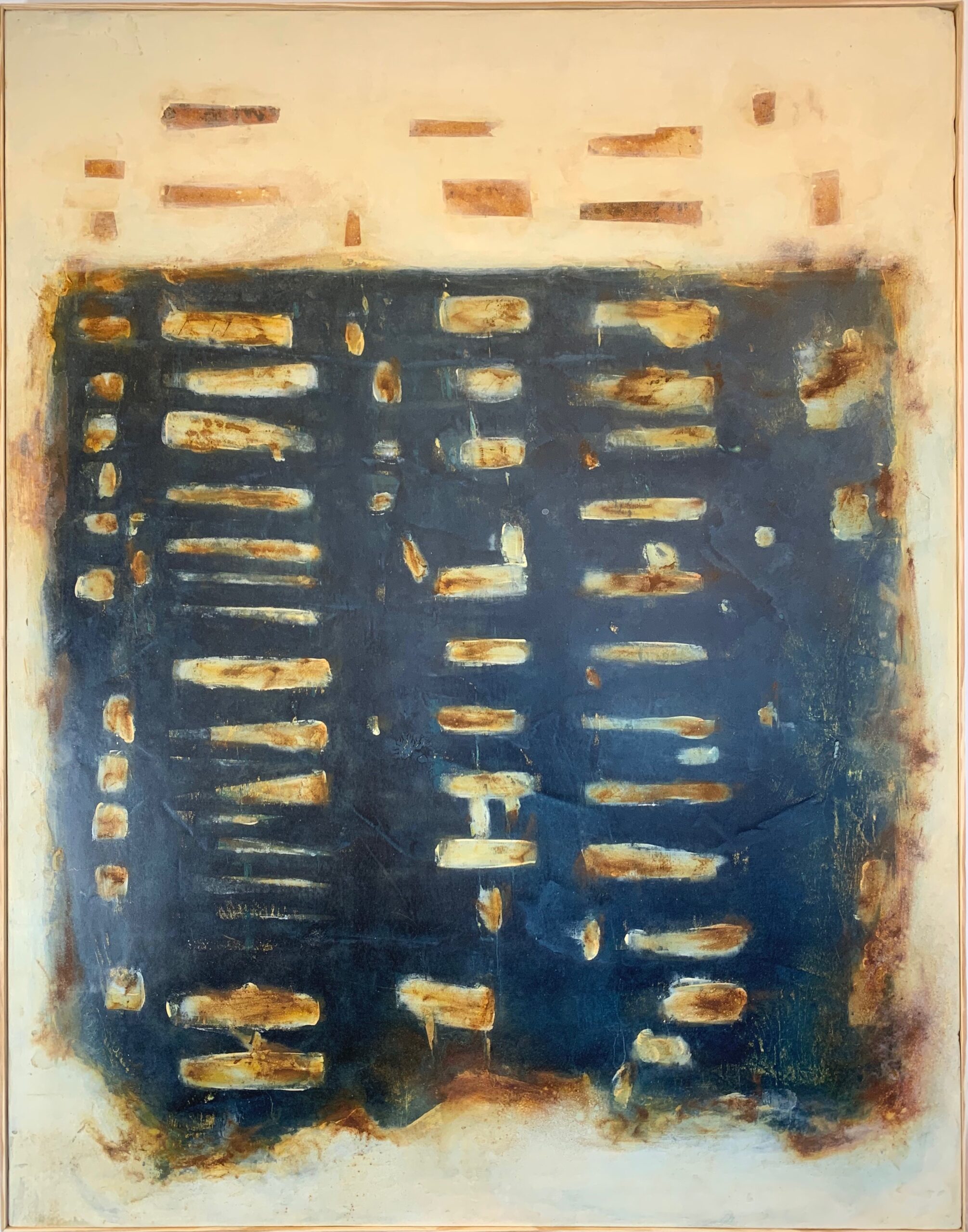 What themes do you pursue?
Working with oxidation and rust is always a centerpiece theme in my work. I began my early art working with layering paper and creating texture. When I later started to explore with sheet metal, I found a similarity between the edges of ripped/distorted/aged paper and rust on a fresh piece of metal, this interested me enough to explore it further. I'm still looking for new ways to use rust with my work.
What's your favorite art work?
I currently love abstract work with a bit of a minimal approach. Sam Lock and David Quinn are two artists I currently really admire.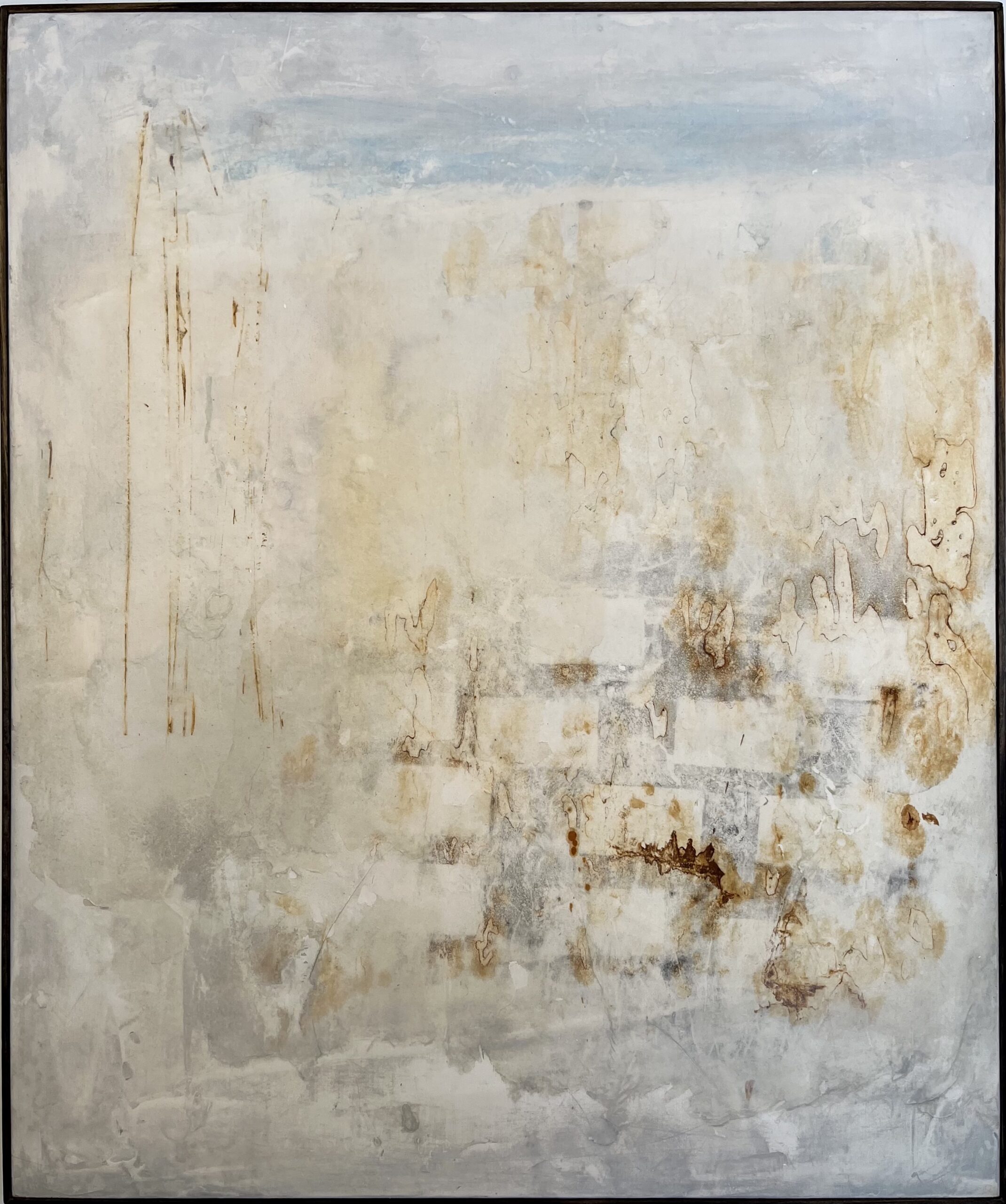 Describe a real-life situation that inspired you?
My cell phone photo reel has scrolls and scrolls of inspirational images. I shouldn't admit this, but I often take photos
of the back of rusty trucks at a traffic stops! I also take photos of metal signs, old buildings, rusty antique scraps. There are so many beautiful natural oxidized objects that inspire me daily. I often collect inspiration items that I can take home and use as found objects in my work or I will use the rust from those objects as an inspiration for a new piece.
What jobs have you done other than being an artist?
This could be an entire another interview in itself ! I'm a gymnastics coach. My family owns a nationally-ranked gymnastics center in California called Charter Oak Gymnastics. Our program has produced Olympians, World and National team members, and yearly guides young women to earn college gymnastics scholarships. Art is really a second life for me.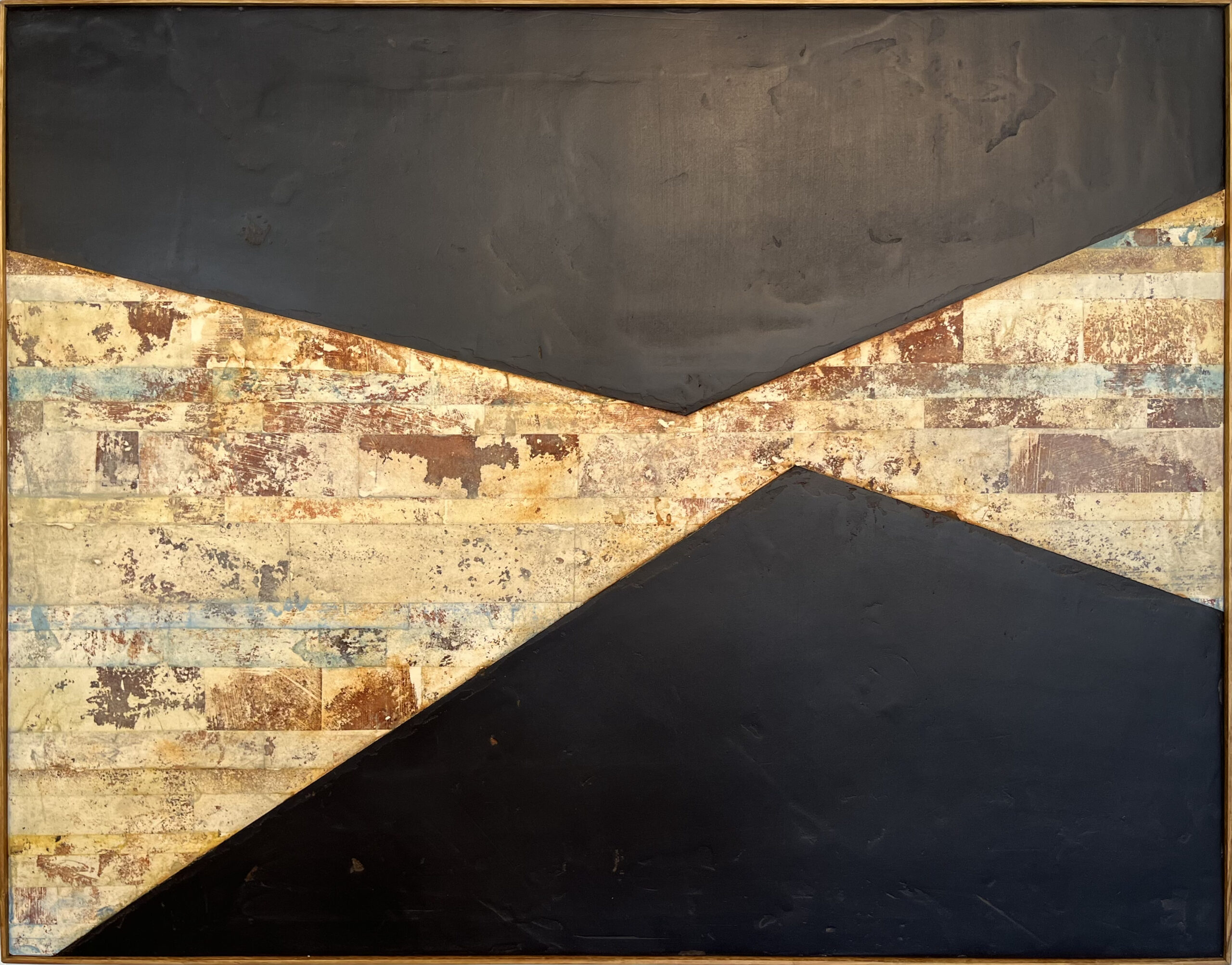 Why art?
I've had a passion creating art since I was a child, but I think there is a mix of desires or emotions that made the passion evolve to a commitment. The idea of exploring and creating something from nothing, the desire to be great at something, and the escape art gives me from the daily grind of life, have all become essential components. As my art has begun to be recognized, there's now an even longer list of goals.
What is an artistic outlook on life?
The message I hope to share in my art can be similar to an outlook in life: slow down. Stop and take a breath sometimes, and look at the beauty in unexpected areas.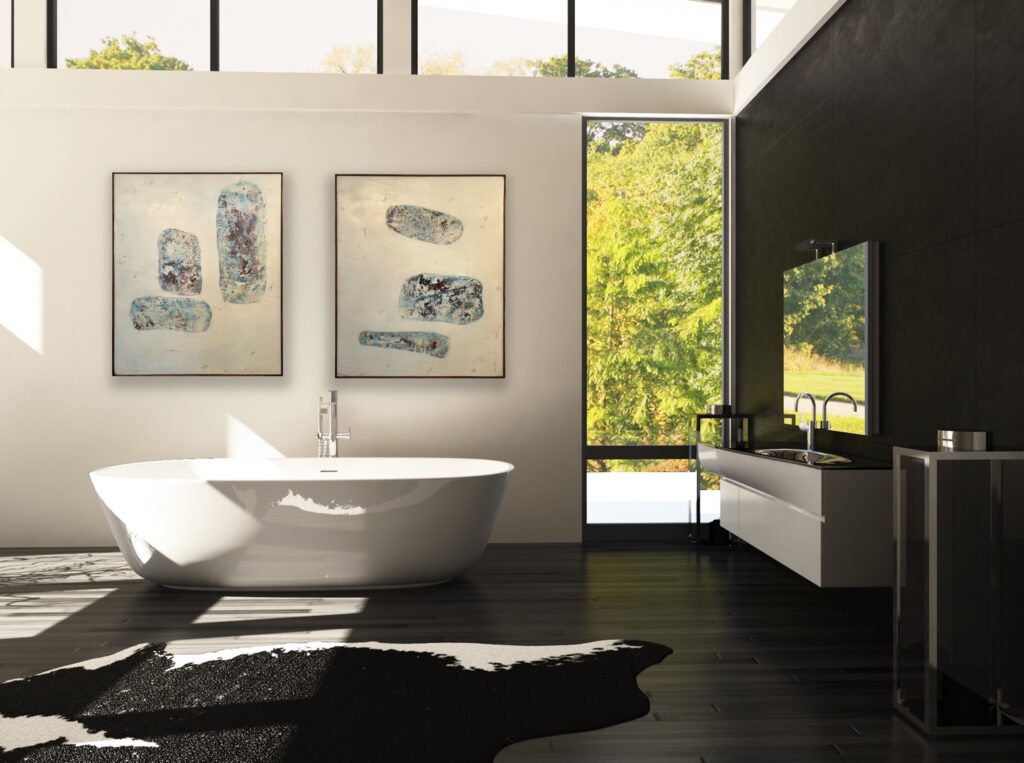 What memorable responses have you had to your work?
I've been involved with a very large (4-day) art fair the past two years in Los Angeles. It has been the first time I've had thousands of people viewing and talking to me about my work. Most memorable are the couples/people that fall in love with one of my works, purchase it, and send me a photo of it in their home. I get to see my work from a different perspective when I see it in their home, not a magazine staged home, but a home like mine. Knowing they will enjoy it every day and hopefully pass it on to their children makes the accompanying "thank you" note even more meaningful.
What food, drink, song inspires you?
Music is always on when I'm working. I love blues rock, classic rock, and some hard rock and roll. Depends on my mood or time of the day.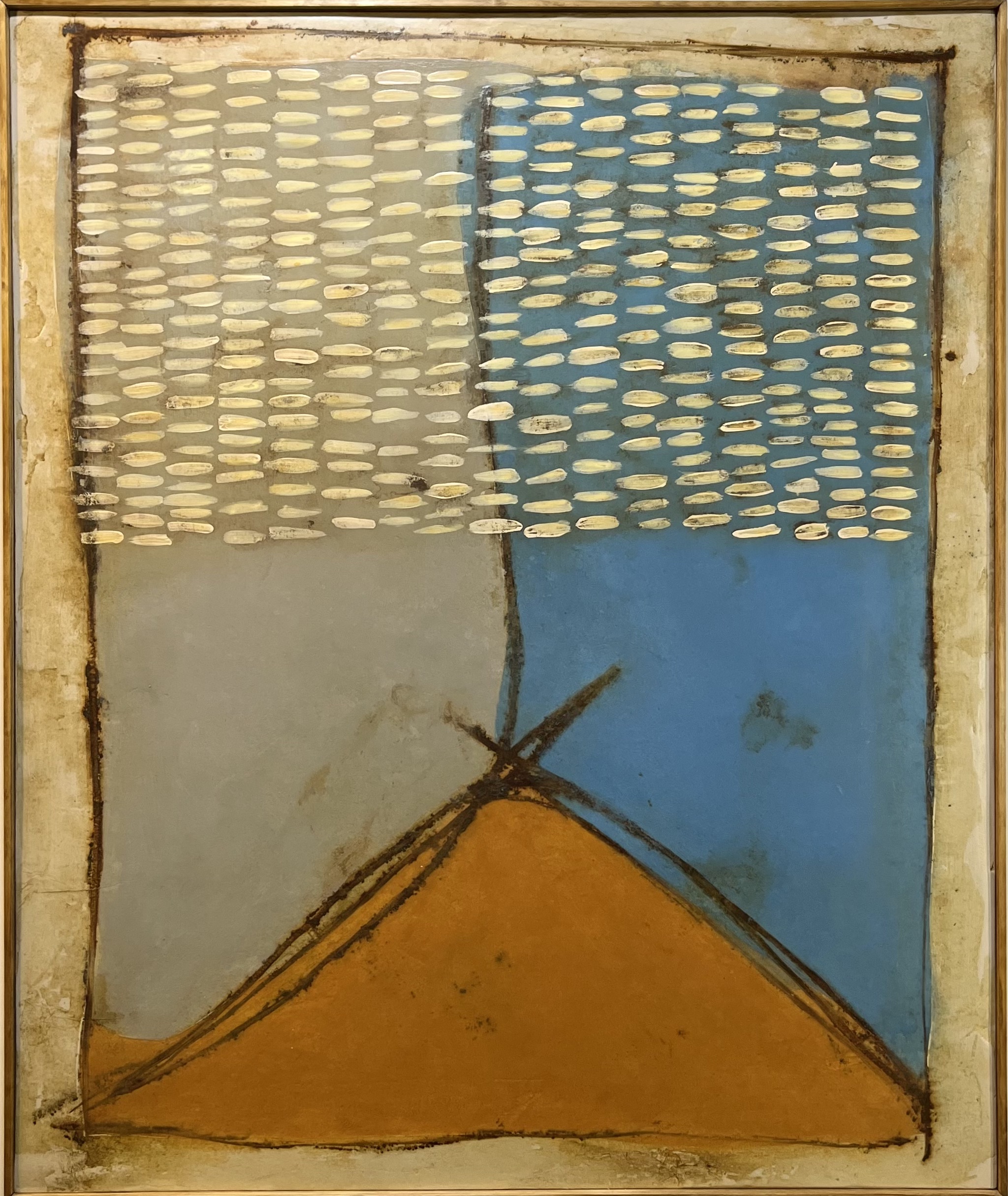 Is the artistic life lonely? What do you do to counteract it?
I have a lot of balance in my life and I'm often busy. I only get to be in my studio 4-5 hours a day, on average 4-5 days a week. Because I work another full time job, and have a wife and a child, I'm not lonely one bit. My studio is separate, but steps away from my main home. I really enjoy weekends and summers when my 7 year old joins me in my studio to work on his own art or build things with legos.
What do you dislike about the art world?
I'm still emerging, so I am currently trying to stay patient. It's not really that I dislike anything, however I am finding some difficulty in getting my work discovered or galleries taking a chance on me.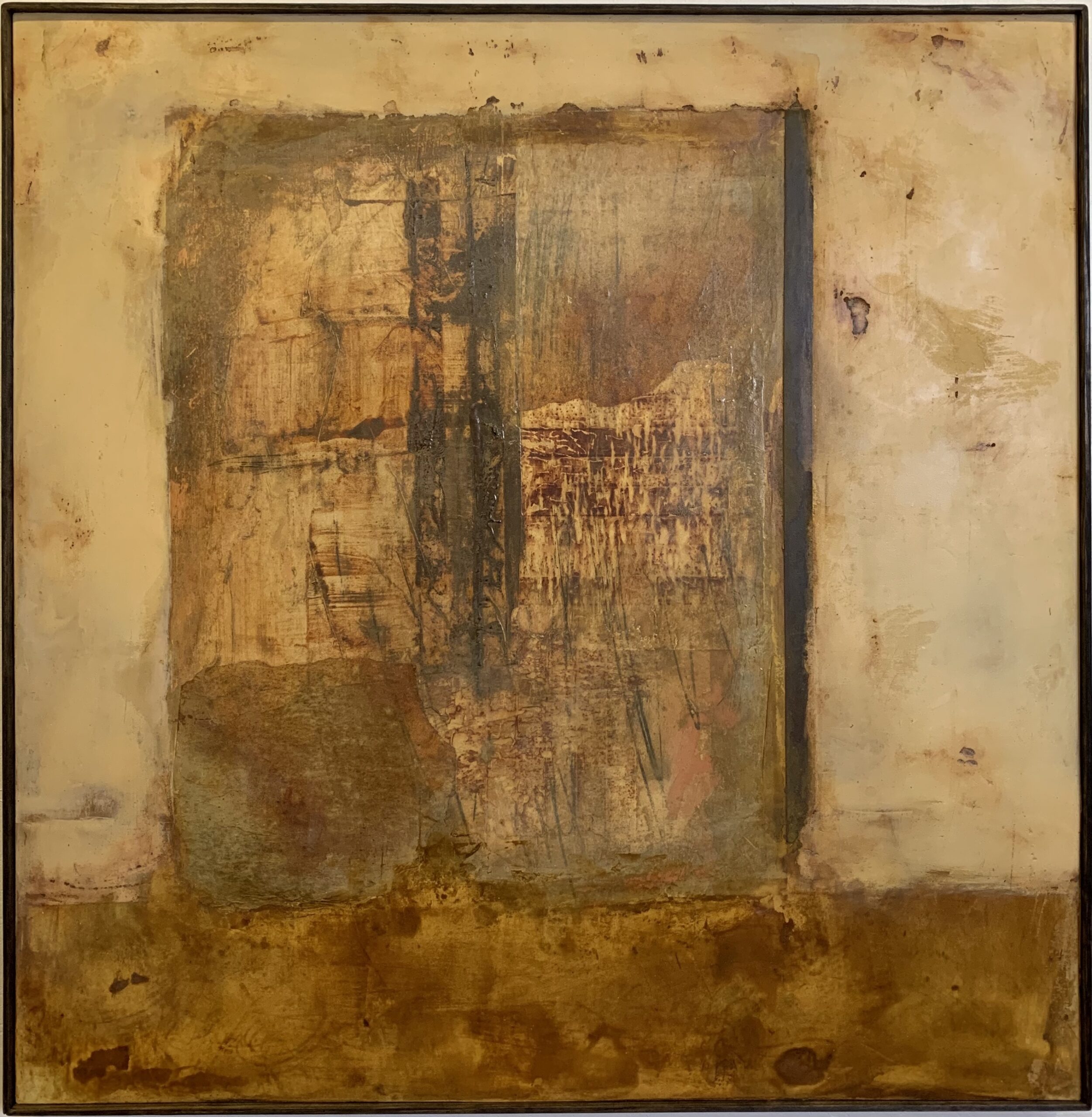 What do you dislike about your work?
I struggle with not having the ability to create what I would want to due to financial limitations. I would want larger canvases, higher quality materials and additional metal products. I envy those established artists with huge warehouse studios, limitless materials and lucrative commissions.
What do you like about your work?
I could go on with this answer for a while, and there's a lot I cannot put into words. What I like most is a feeling. It's beyond what is physically seen. It's my connection to the process: The inspiration, the time in creating and what I see in the result that others do not see. I used to have a hard time letting a favorite piece go to a collector, now I remind myself I get to make a new favorite.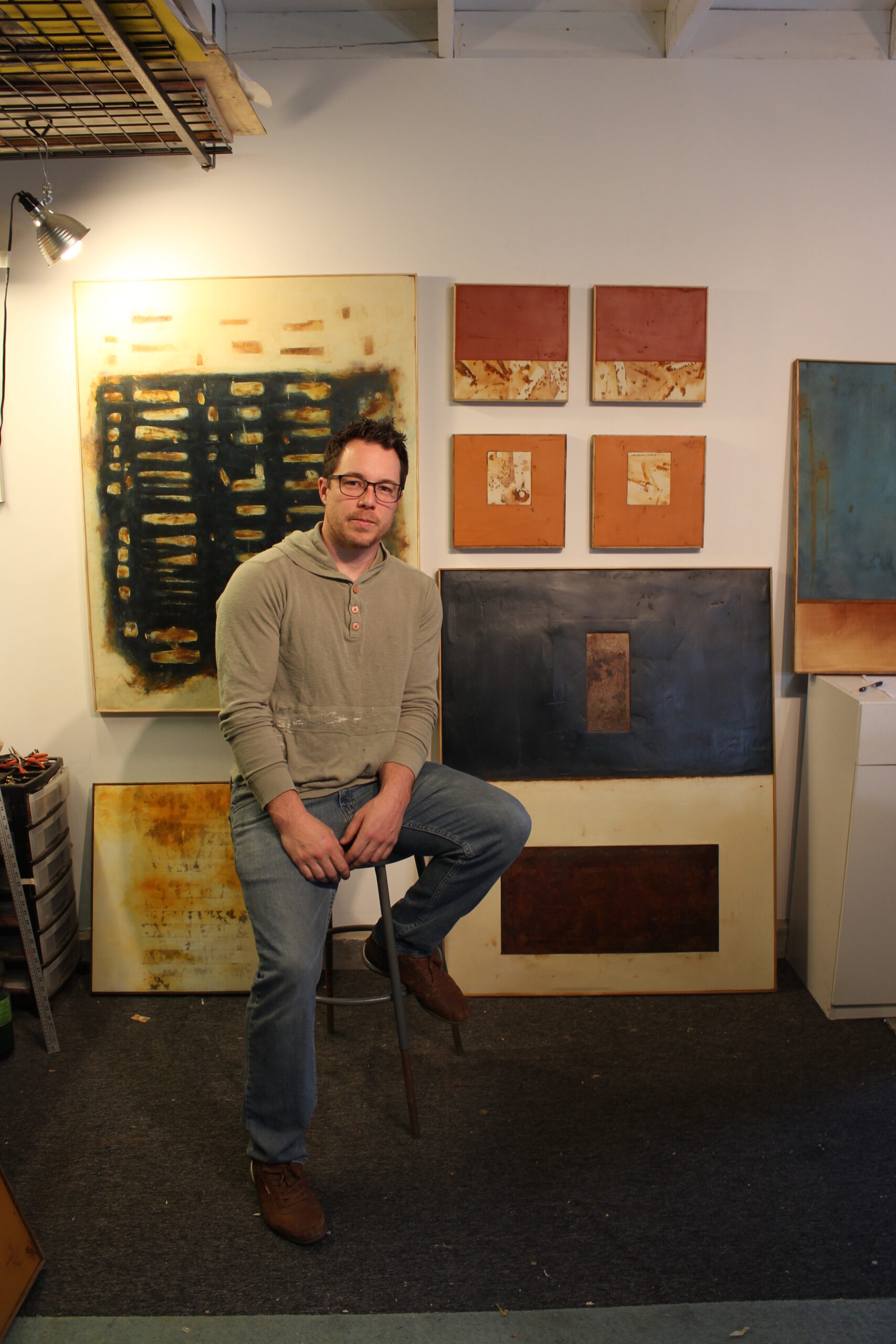 Should art be funded?
Yes, I don't know anyone who does not enjoy art of some kind. Its various forms can do a lot of good for people.
What role does arts funding have?
If funding is supporting artists on a larger scale, I could see it beneficial for creators to have an easier time to do what they love. I'm sure there are many various artists of different mediums that cannot follow their passions, maybe a stronger funding role would help.
What is your dream project?
I have a lot of dream projects, and many are large-scale. I would really love to create something like Mark Bradford's JumboTron at LAX airport. Other dreams are to secure local representation and travel in order to acquire an international audience.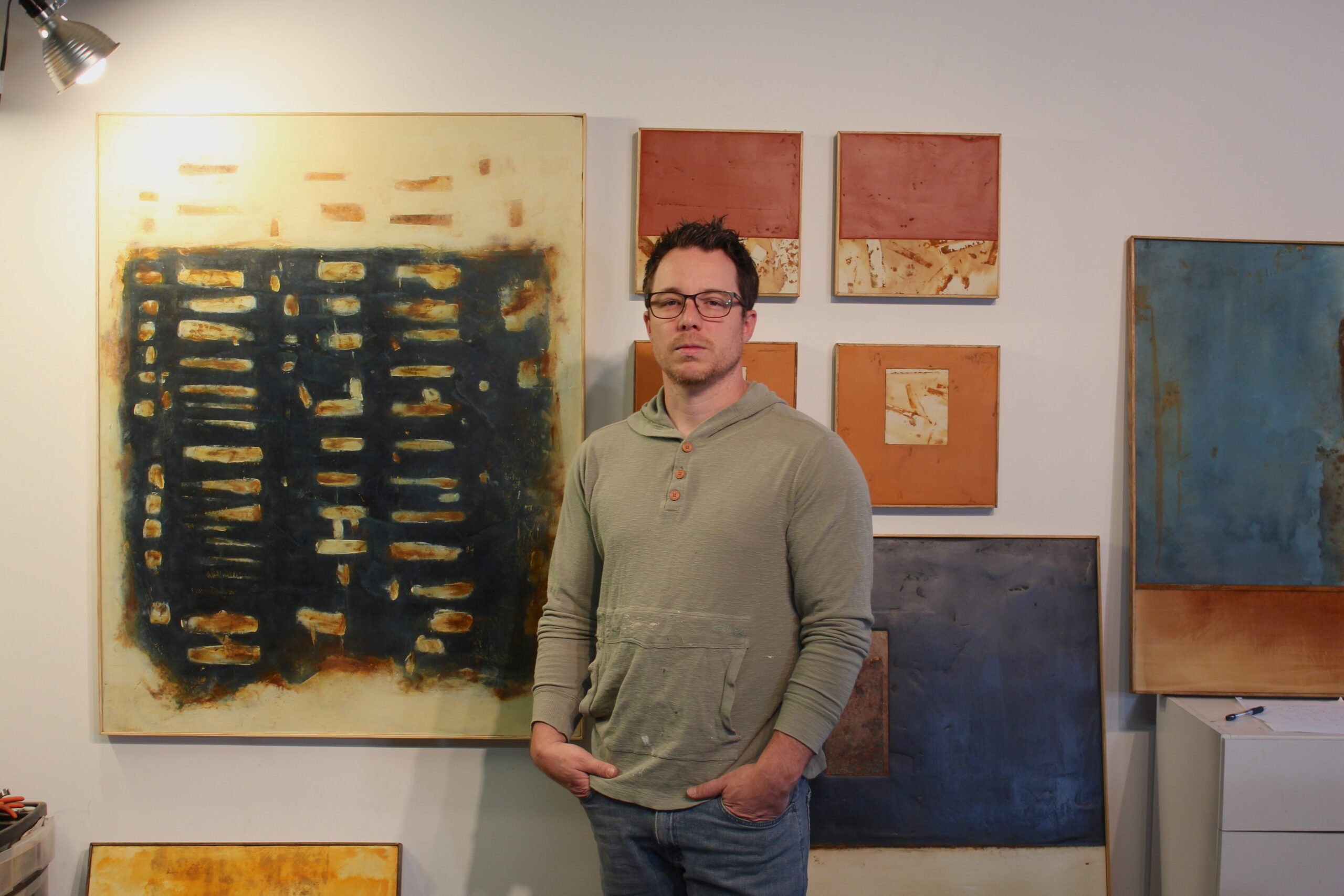 Name three artists you'd like to be compared to.
This is a tricky one to speak to. I feel I am not established enough to be compared to anyone who has a name famous enough to be known by many. Maybe I can answer this in a few years.
Favorite or most inspirational place?
I really enjoy exploring urban decay in my hometown and in Los Angeles. I would really love to travel to Europe and be inspired by the history and aged textures.
What's the best piece of advice you've been given?
My mentor and amazing artist Fr Bill Moore really pushed me to pursue working and exploring with metal at a pivotal
time in my art journey. Without his guidance, I don't know if I would even have the passion for art that I do.
Professionally, what's your goal?
My number one goal is to continue to sell just enough art to have the funds in order to create more. I don't really need to make a profit as long as I am continually moving forward. My larger goals are to gain representation, a greater exposure, and travel to different places in the world. If I can achieve these goals and just break even on expenses, I would be happy.
Future plans?
I plan to show at another art fair in Los Angeles in the Fall of 2023.