Paul Oyetunde Ogunlesi (b. 1994, Nigerian) is a visual artist whose practice vacillates between painting on canvas and drawing on paper. In creating his paintings, he blends newspaper collages, which he uses as metaphor to outlay hidden narratives behind the situation of his subjects per time, with acrylics, using the wash and tempera finish technique to arrive at his subtledly expressive, textured canvases. Ogunlesi takes a different approach to portraiture in engaging his audience, with the use of truncated, disconcerting compositions. Inspired by life, Yoruba adages, faith, the mundane, the trivial and past experiences, exploring themes such as humanity, romance, kindness and hope with tender tones and natural poses, his works echo the singularities of our individual experiences by offering the viewer multi-layered frames to dive into.
In his "of Life and Animosities" series, Ogunlesi deploys an invasive process to engage his audience, Providing a multiplicity of narratives for his audience to explore, his metaphorical, ambiguous canvases oscillate between a sense of peace and
abandonment, Love and hope.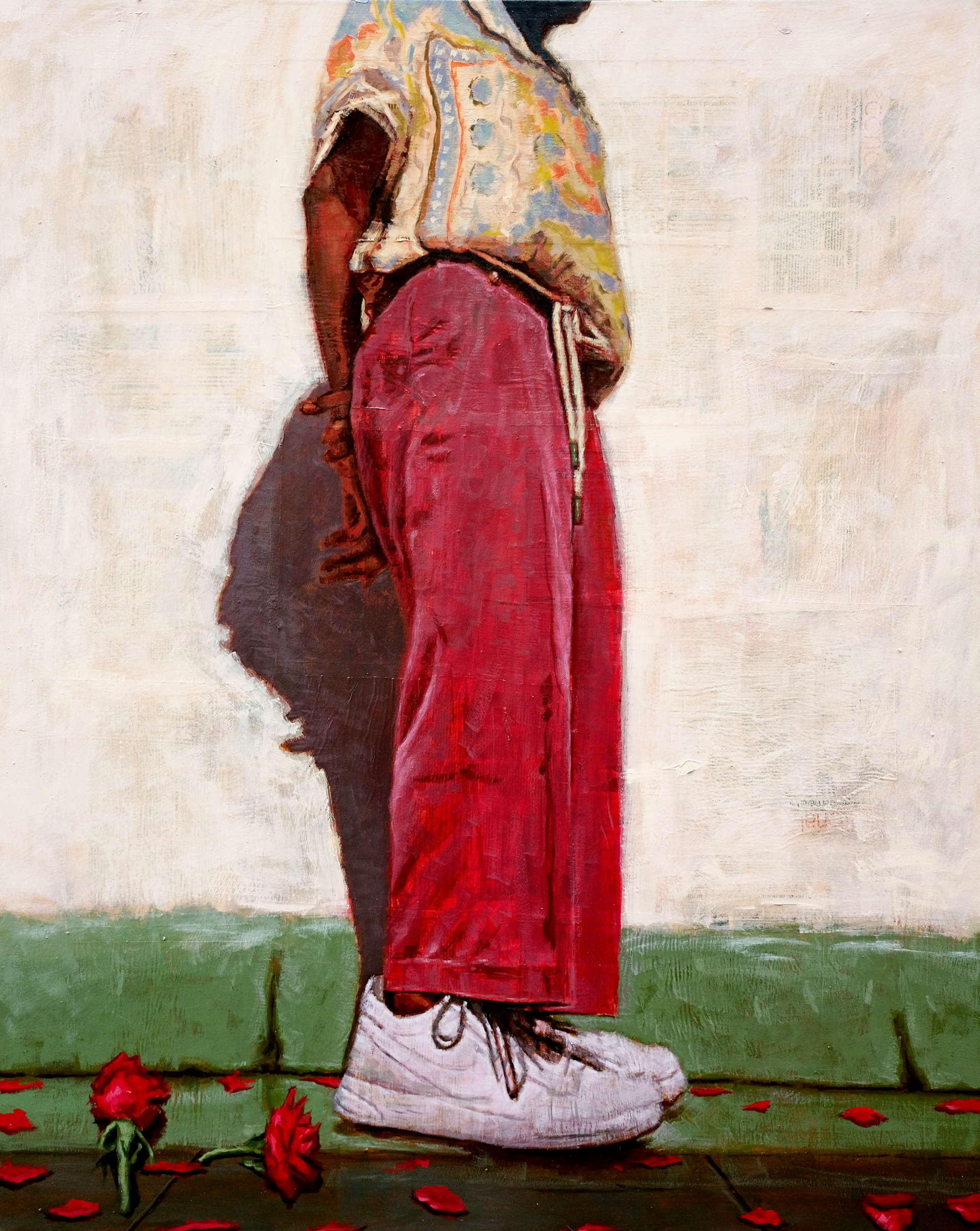 Forced into becoming voyeur, the viewer soon becomes the off-screen protagonist of a scene that is left for them to interpret. Ogunlesi carefully frame his compositions to avoid representing faces, he focuses instead on his characters' feet and legs, creating rich evocative "mediums of shared identities". Ogunlesi's works have been exhibited with HarshCollective Gallery (NewYork, USA, 2023), Cultivate Gallery (London, 2023), Rele Gallery (2022), Art Pantheon Gallery (2022), TaagGallery (Parkville, USA, 2022), Alfaartgallery (NJ, USA, 2021), Artaboutafrica (Johannesburg, South Africa, 2020), @omenkagallery (Lagos, 2019), & Arkane Africa (Casablanca, Morocco,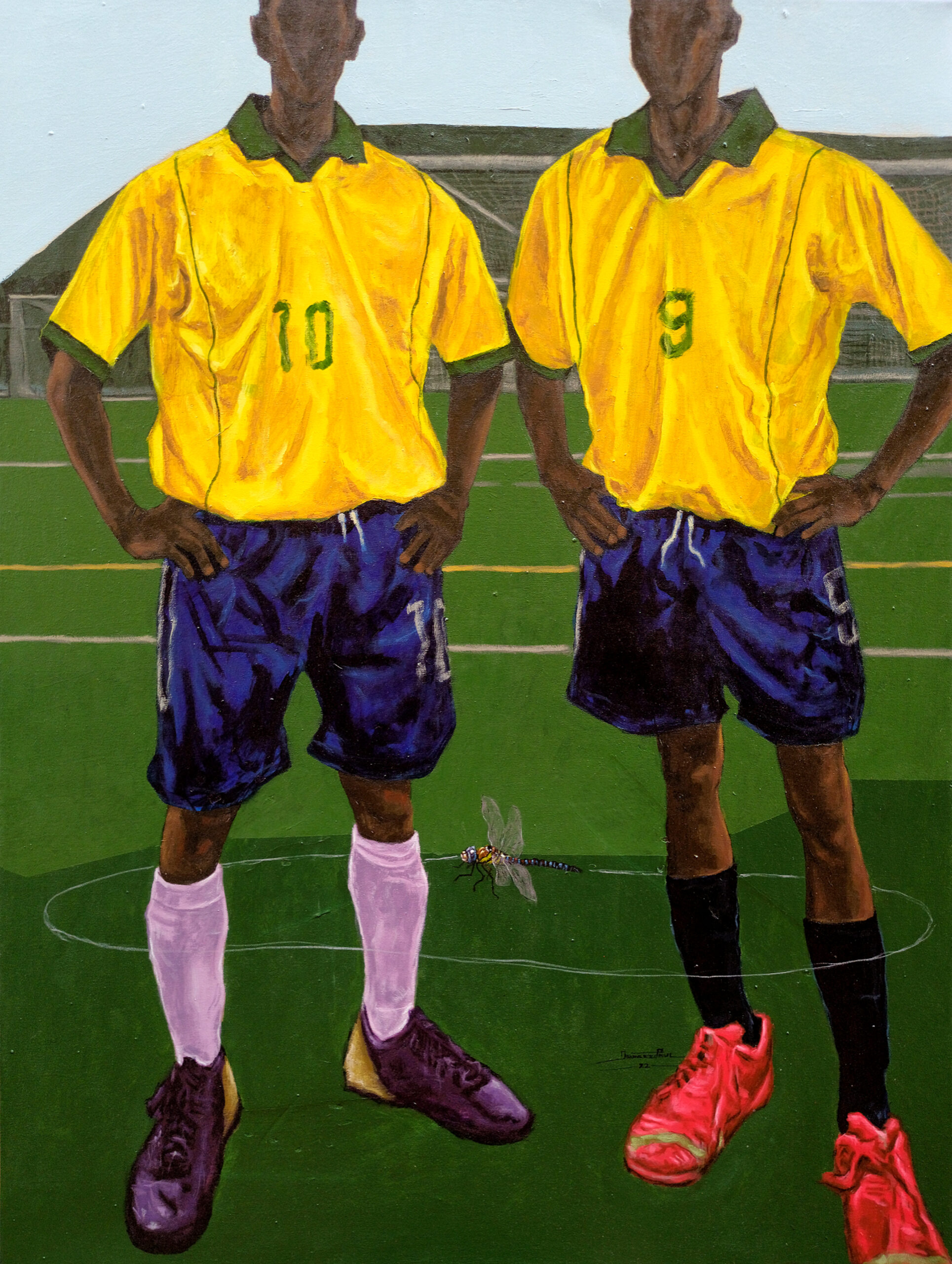 What's integral to the work of an artist?
I feel being an artist is a combination of so many things, spiritual, physical, psychological and emotional. And all work together to help the artist sharpen his or her skill and hone a personal language. One needs commitment, strong passion, vision, self encouragement, love, sacrifice, compassion, because of waiting periods which can be so hard and lonely. One needs to keep seeing a new day as a means to garner inspiration for one's work, just like me, everyone I get to see, read about, watch, or listen to everyday inspires me.
What role does the artist have in society?
The fact that there's the need to use art to make commentaries on everything that pertains to life, human beings and all available elements, is indeed a great feat. Art being a universal language has really made life easier. And has been used to drive so many drastic changes.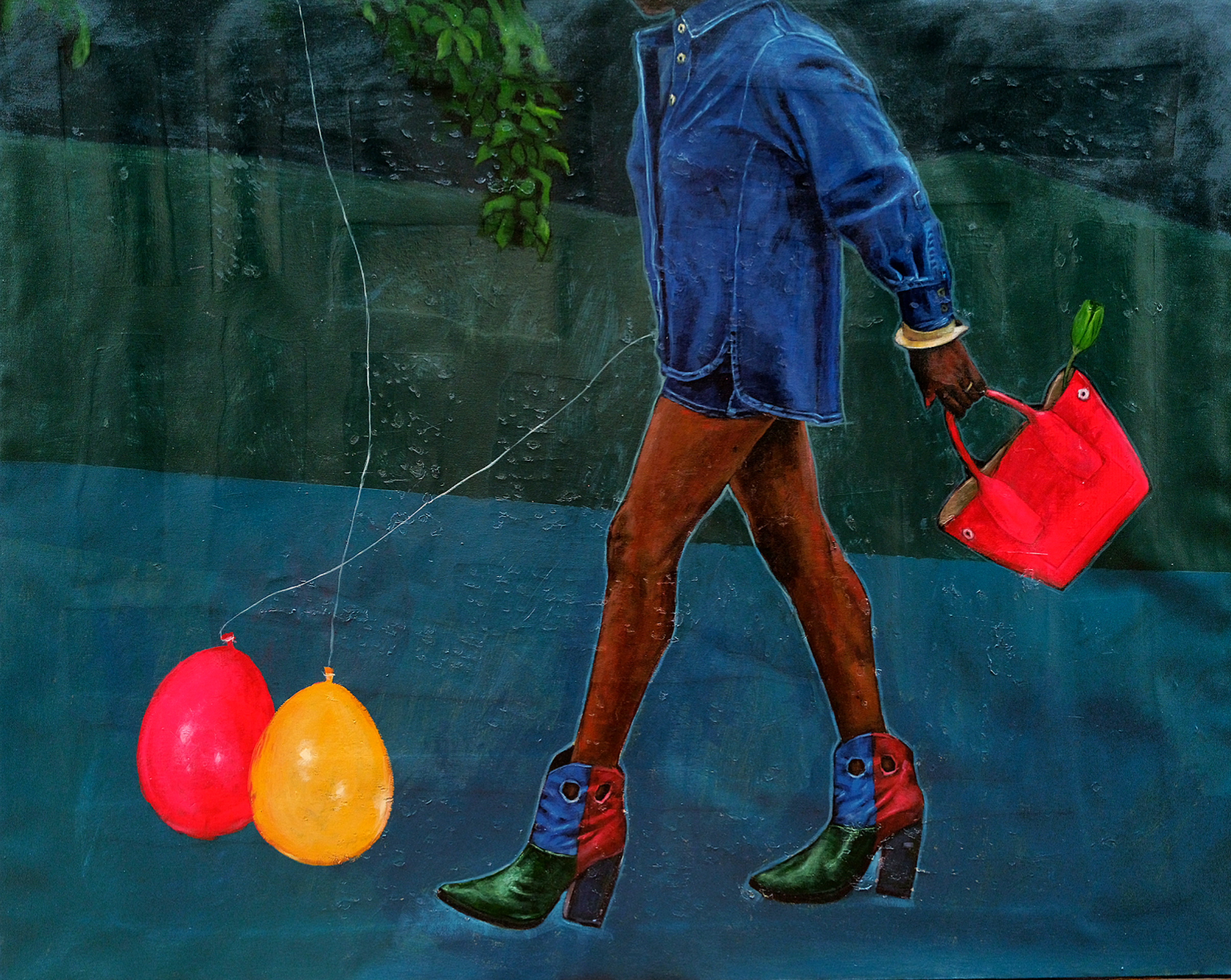 I love the tenacity, fluidity of art, that everyone can derive something from it, and make their own individual conclusions, after their soul has been duly spoken to. Really love this for my works, happy that everyone in the world, no matter their status, location, gender or even ideology, have human experiences, which in turn makes them connect to conversations around love, faith, hope, betrayal, and patience.
This for me is a great reason that I feel artists should continue to keep at their craft, digging deeper into themselves, bringing out things that will help mirror the society and help connect them to their innate humanity.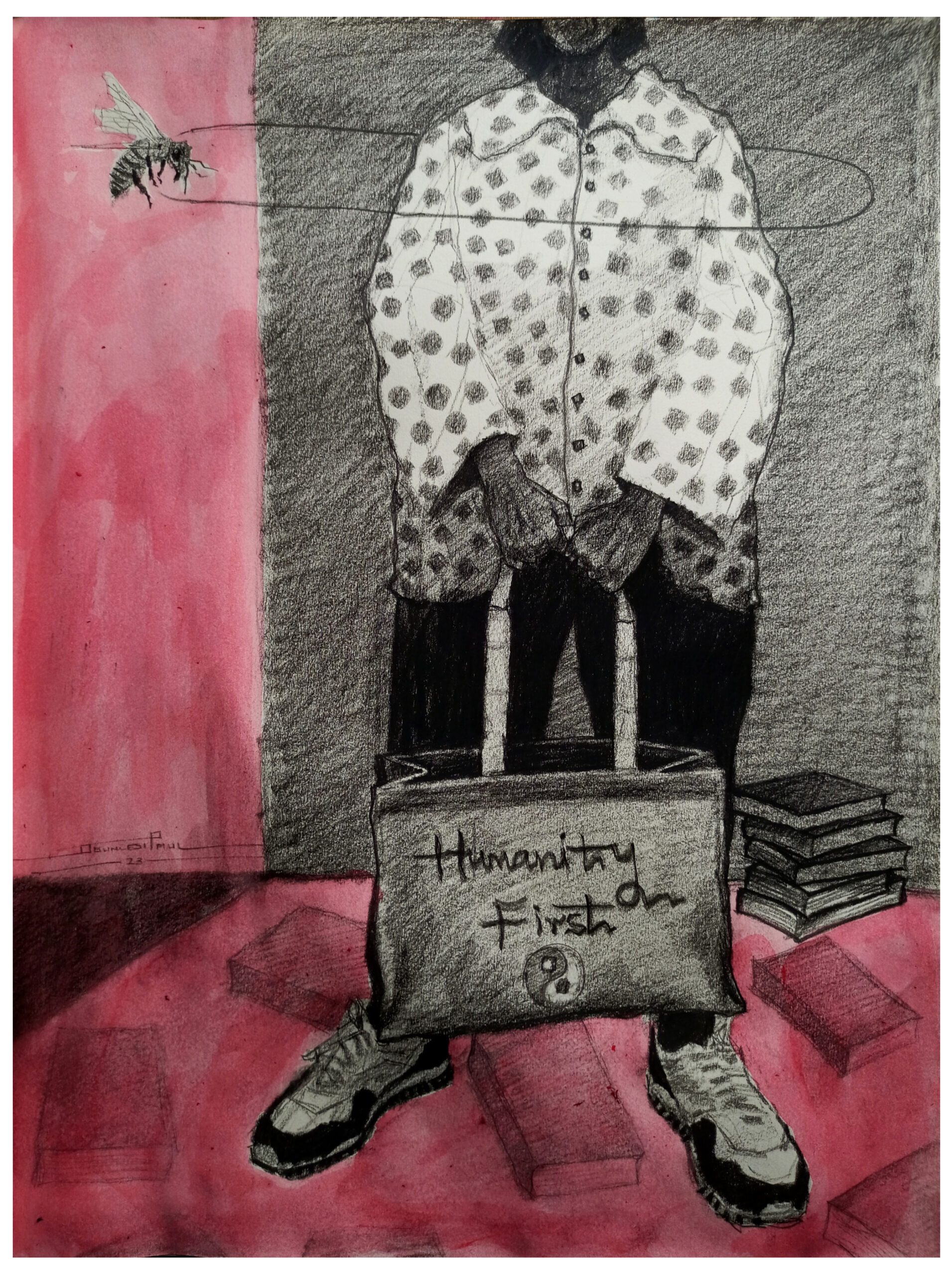 What art do you most identify with?
I really love a mix of realism and surrealism. I feel artists that work in this realm of both worlds really touch my soul.  Francois Bard and Brittany Shepherd are two great souls that really move me, and spurred me on my journey. Especially Bard, who I discovered just when I thought being drawn to drawing just legs and avoiding people's face was absurd and strange. I am really happy that I got to see his works and got inspired by his energy. Salvador Dali is also another great artist that gets me thinking daily about how I can dig deeper into myself. My works are created, with a mind that's opened to exploring these two worlds, though in most of my works, one world is more pronounced than the other. But I feel I am open to how best to keep merging these two worlds and maybe some sprinkling of expressionism too.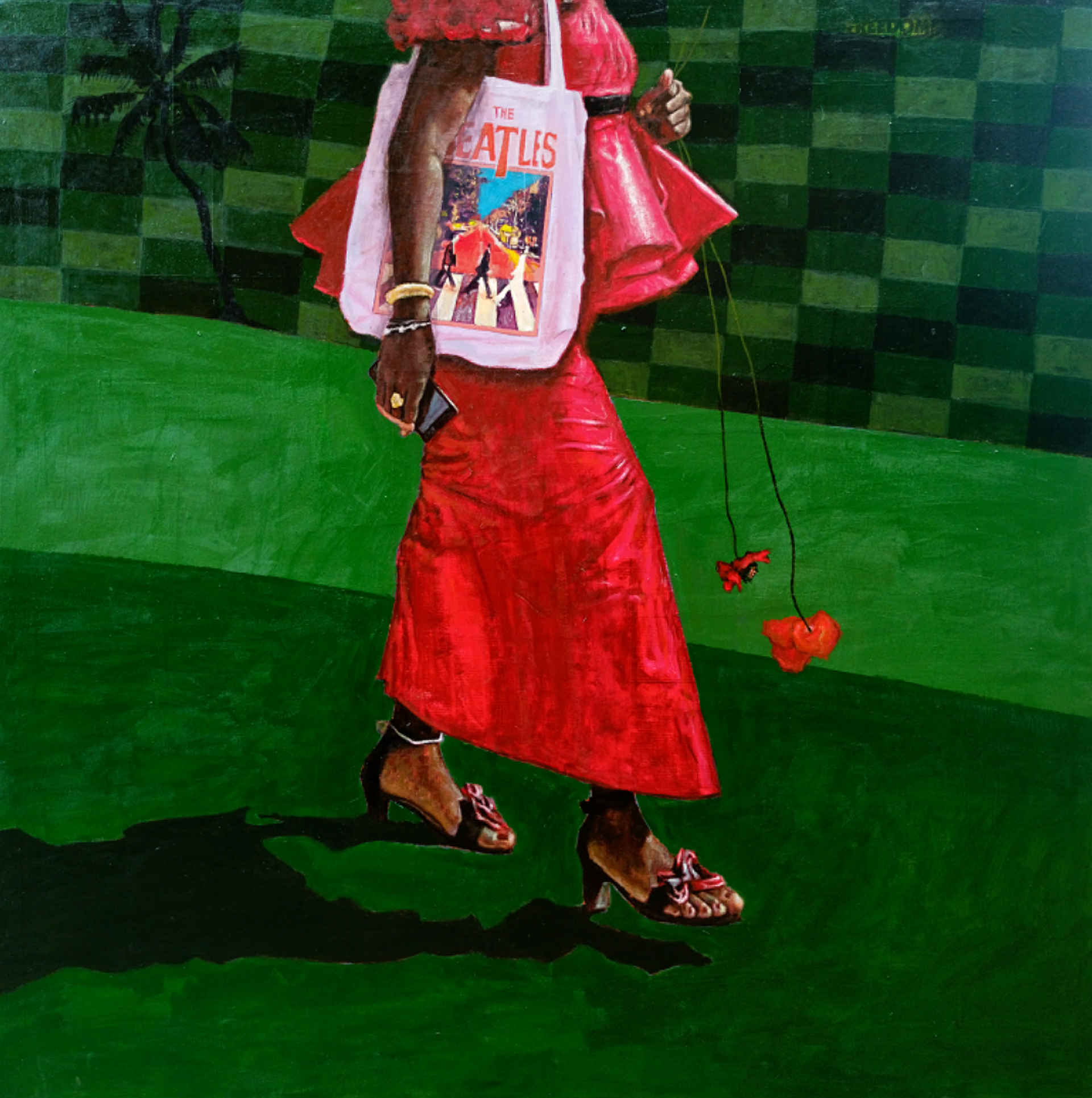 What themes do you pursue?
My artworks revolve around humanity, empathy, life's reality, love, propagation of patience and the need to have more kindness in the world. here i would also like to mention that my works are aided by Yoruba Adages, as a means of identifying with my culture, root, and self.
I feel there's need for inclusiveness in the world, because we all might actually look different complexion wise, or are in better positions in life, but one of the major reasons why I take off the head or face from my subjects is because I feel as humans these themes revolve around us all, so there's always need for my audience to also see themselves as part of the works, acting as missing piece to the puzzle. I really hope my works help people reflect on things, especially as to how they treat people and even themselves. I hope they would truly be human.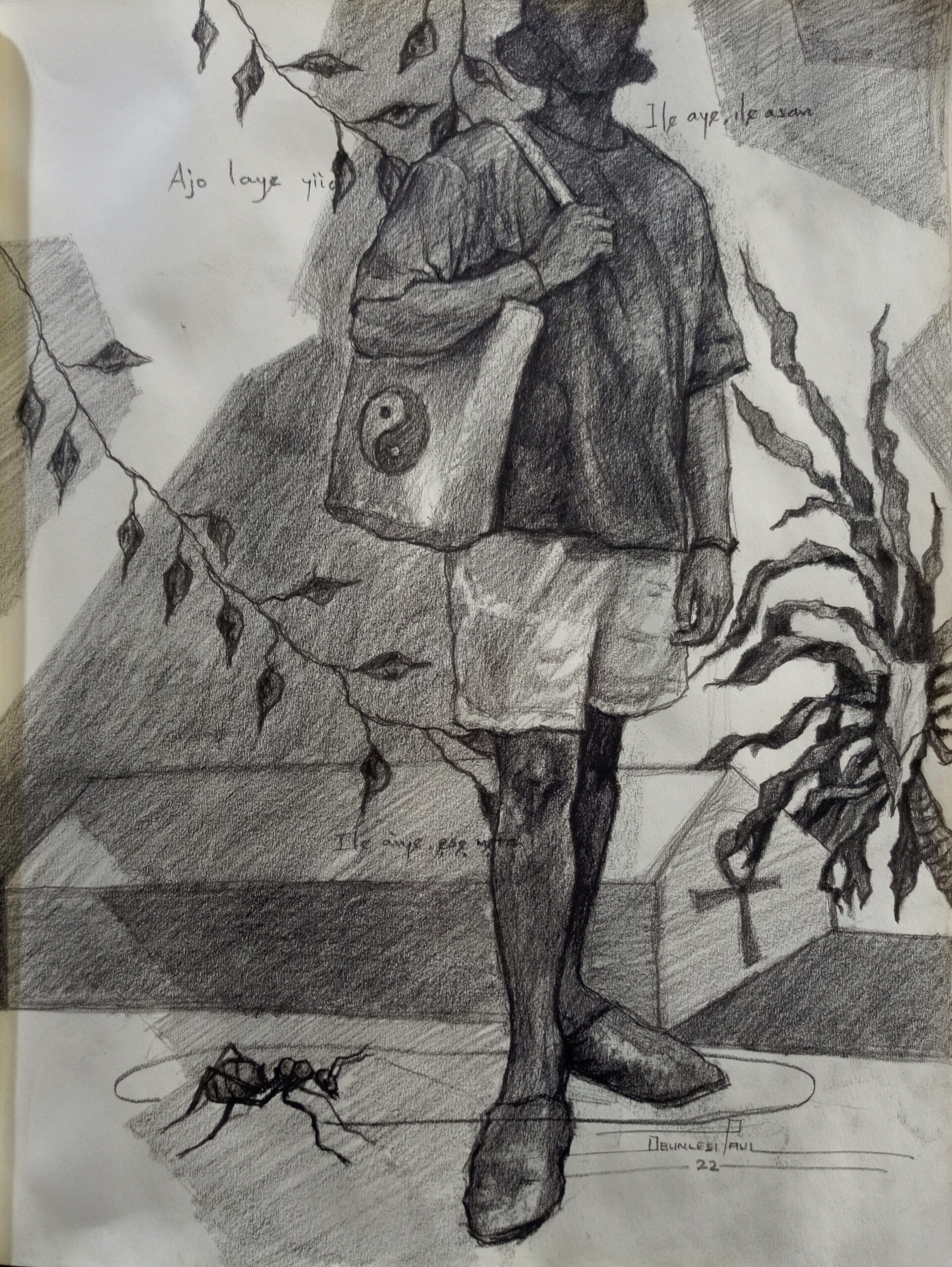 What's your favourite art work?
I feel any artwork I've seen, where I can sense or feel honesty and sincerity.
What jobs have you done other than being an artist?
I haven't really done anything outside art in this my 29 years of existence. Though I've taught in schools, and also worked as a sales representative when I was in high school, but in all I'll say everything about my life so far has been about Art. It's indeed been an amazingly adventurous journey, filled with so much things to learn and unlearn.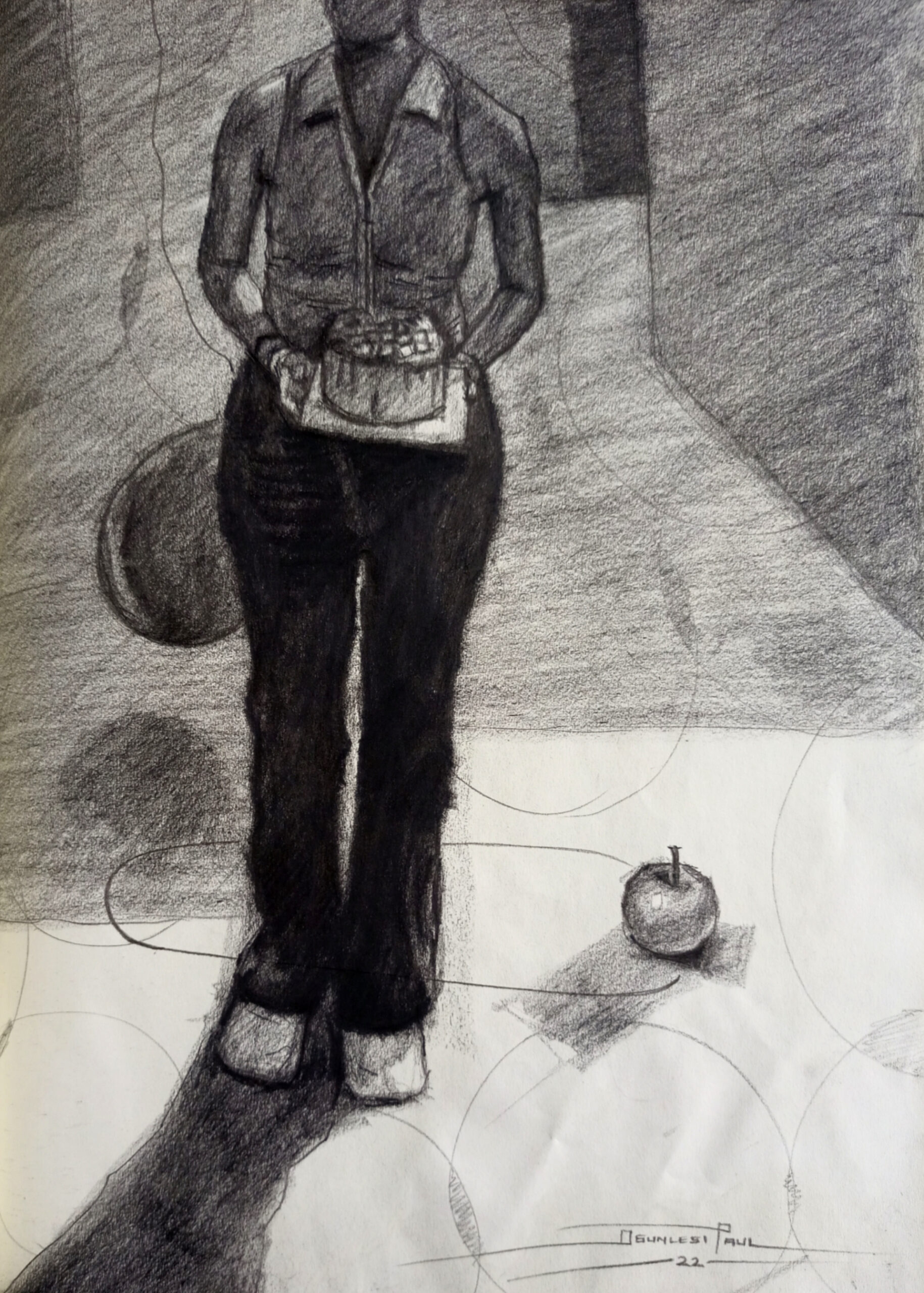 Why art?
Art to me feels like the voice I wanted to have when I was aiming to study law. But I am really happy that I chose Art instead, which has really been what all my life is about now. So to me, if I don't do art, I'll still do art. It's art or art.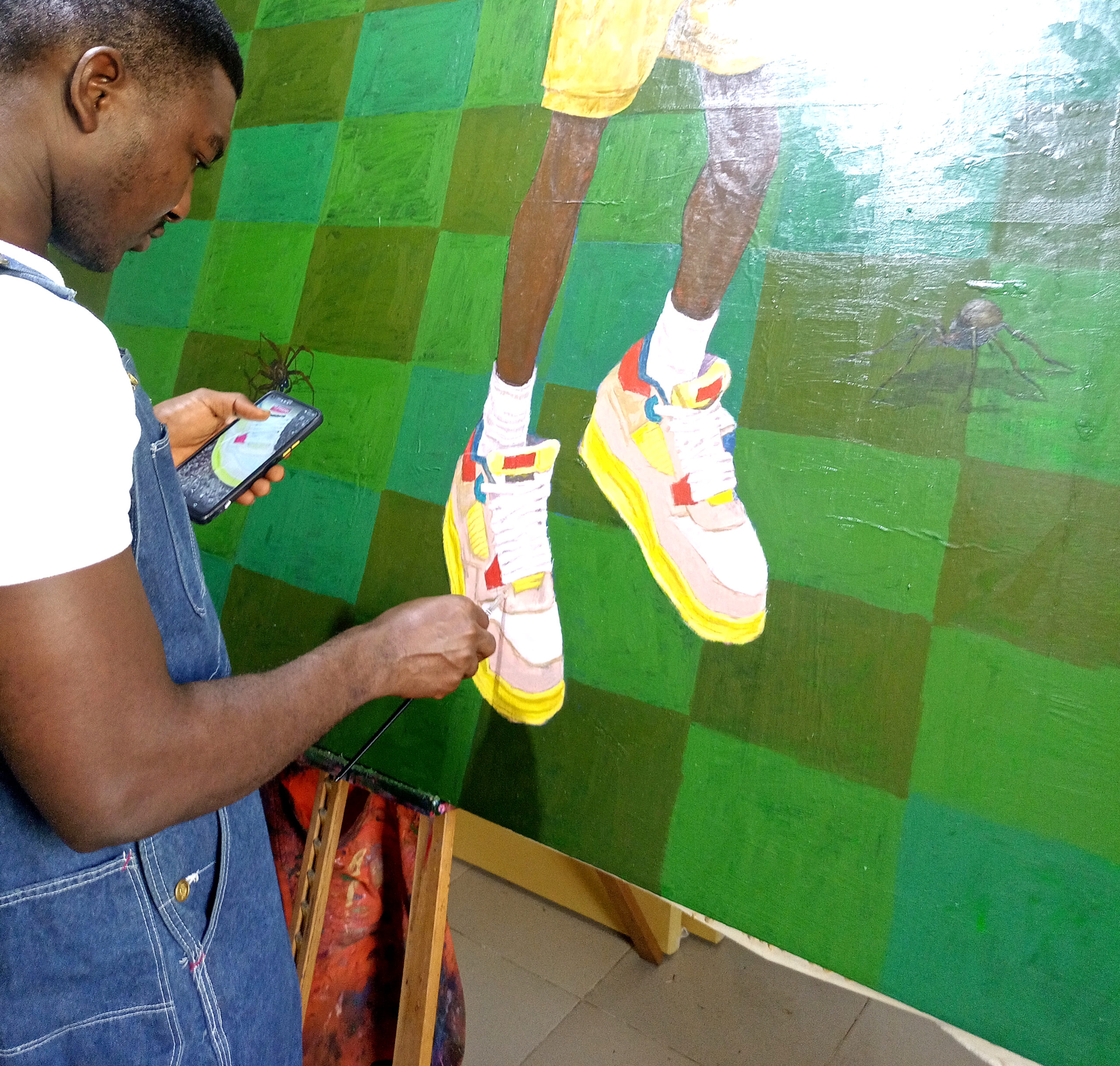 What is an artistic outlook on life?
There's a Yoruba adage that says "ọjọ ikú l'ọjọ ìsinmi" ( which means, final rest happens in death).
I feel this adage duly applies to the life of the artist. You really can't stop working, even when you are not physically in a confined studio space, you'd still be doing so much work, because like they say "studio is in the head", so the artist carries his or her studio around. So many energies influence the artist's thought process, drives inspirations and also continually gives birth to new project. Things the artist won't stop aspiring to work on until they breath their last. An artist daily tries to be as normal and as regular as possible, but the truth is, artists are Gods.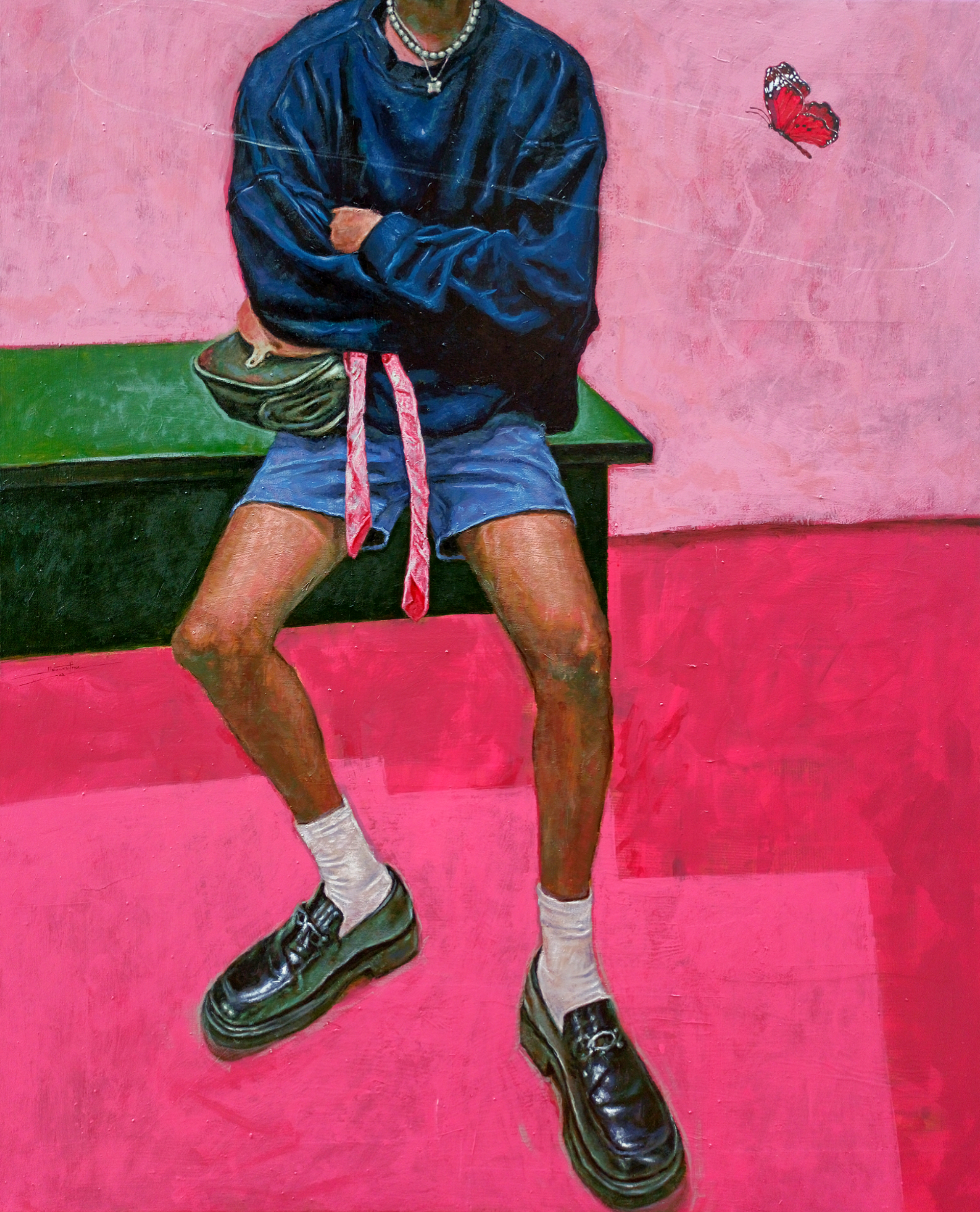 What memorable responses have you had to your work ?
So many people have contacted me, wanting me to know how great my works have made them feel, how deep the works have made them think. Making them go on journey of self reflection, always weighing their judgements and thoughts to know if they are loving each other enough. I feel these responses are really great for me, representing a testament to the need for me to keep digging into myself, and to keep being as sincere as I can be while putting my thoughts together. I am always happy to know that my audience put themselves in the works, and take the position of a protagonist in a scene that's laid before them.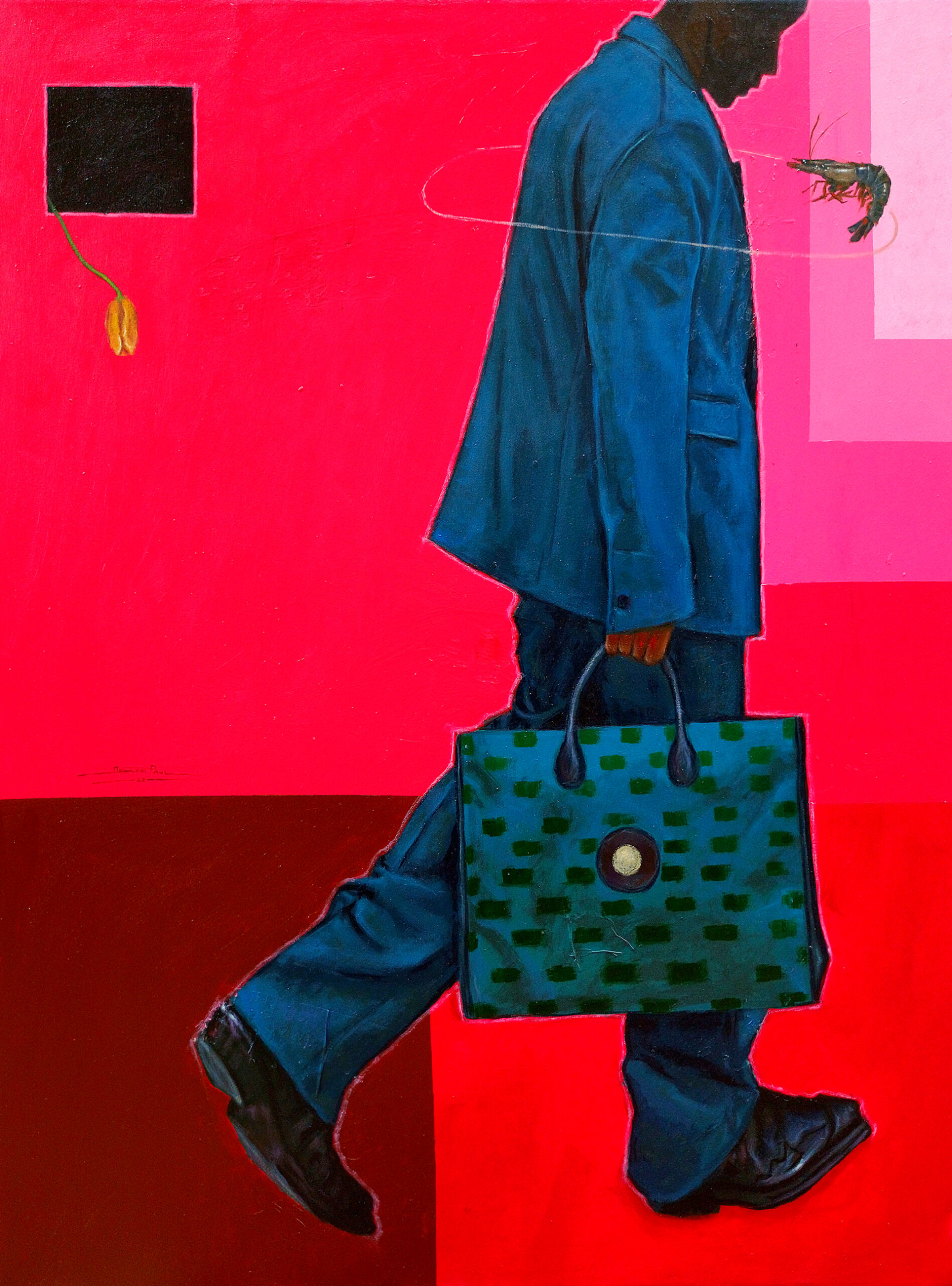 What food, drink, song inspires you?
I really love to eat breakfast early in the morning, because eating breakfast really tickles my heart and inspires me to put my thoughts together more when I get to the studio, and I'm indeed a fan of eating beans and goat meat, with soya milk. Also while in the studio, I'm always happy listening to music, loudly, all genres most especially country music and afrobeat. When I'm not listening to music, I listen to the radio, local stations, talking about issues happening in Nigeria and around the world. I feel this radio really helps me to also be up to date most of that time, and to garner information that I might have missed by getting myself locked up in the studio.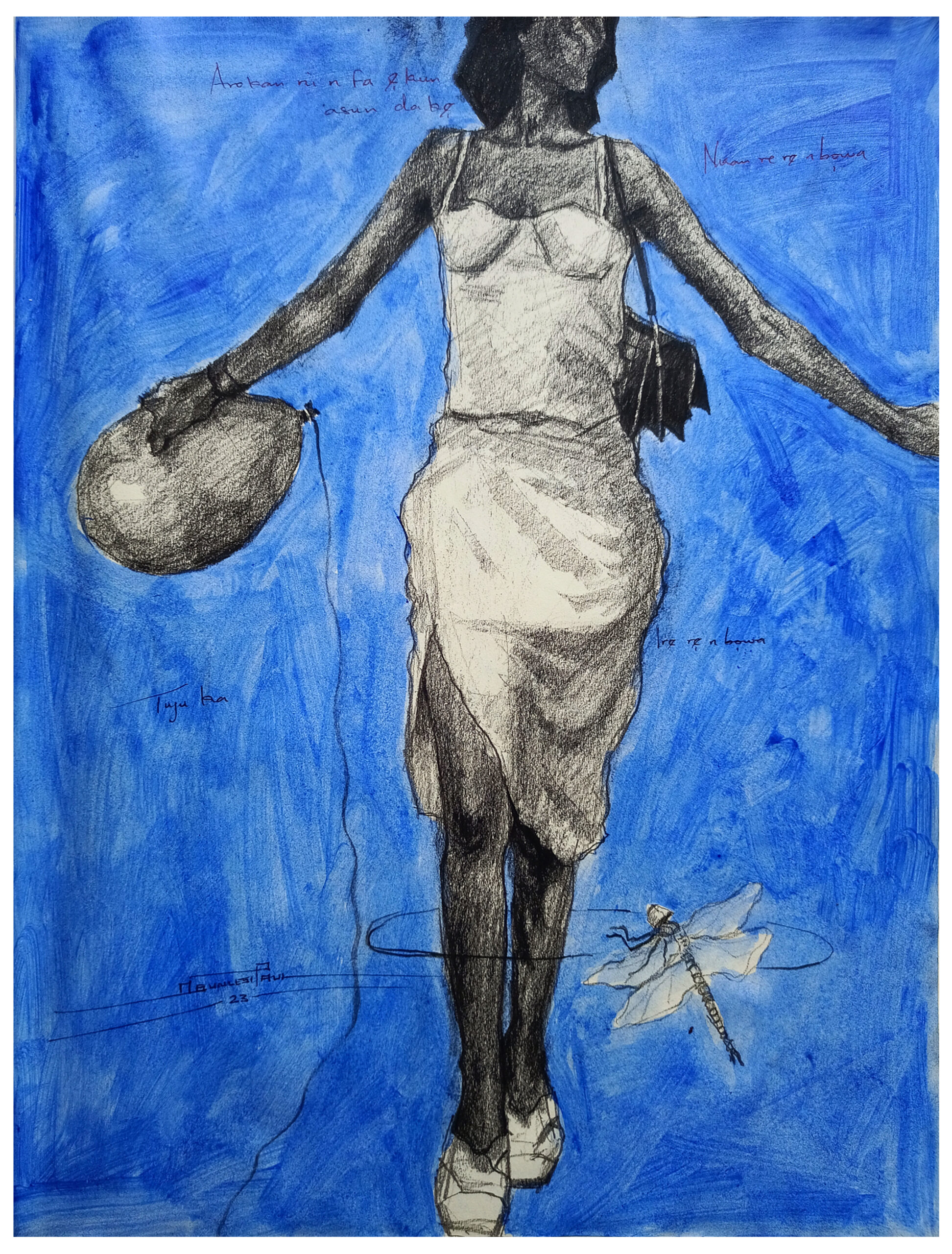 Is the artistic life lonely? What do you do to counteract it?
I work around the clock, either in and outside the studio, and this experience indeed gives me joy. And I am never lonely. Sometimes I prefer to be alone with myself all day, but daily I make it something of a discipline to make out time for friends, family, especially my wife, who has really been making this journey easier for me. I go out for exhibitions, play video games in the studio, and also visit other artists in their own space when necessary to create a needed balance. I really love this life.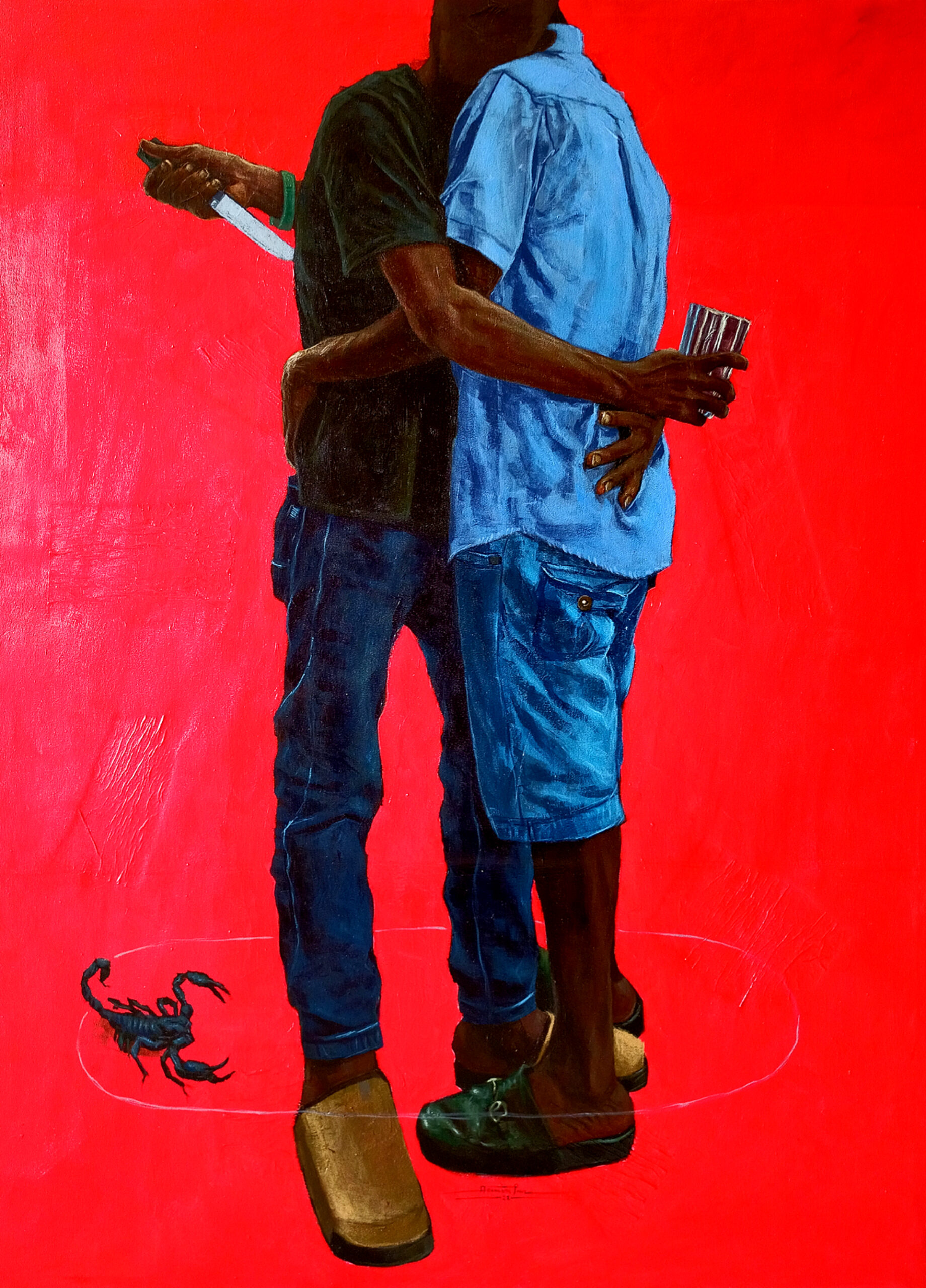 What do you dislike about the art world?
The art world is really influenced by so many factors, and the fact that it can be deeply dirty just like politics, gives me heart aches sometimes. I also feel it would be great for the propagation of more collaborations, the one that have no ulterior motives attached. I also don't like the fact that some people on the command chain in the art world e.g, the art dealers, the gallerists, seem to always want to cheat the artist, and expect the artist to always respond with utter calmness and decorum with no fight backs. Though in as much as one remain sincere and dogged, greater things are indeed sure to happen.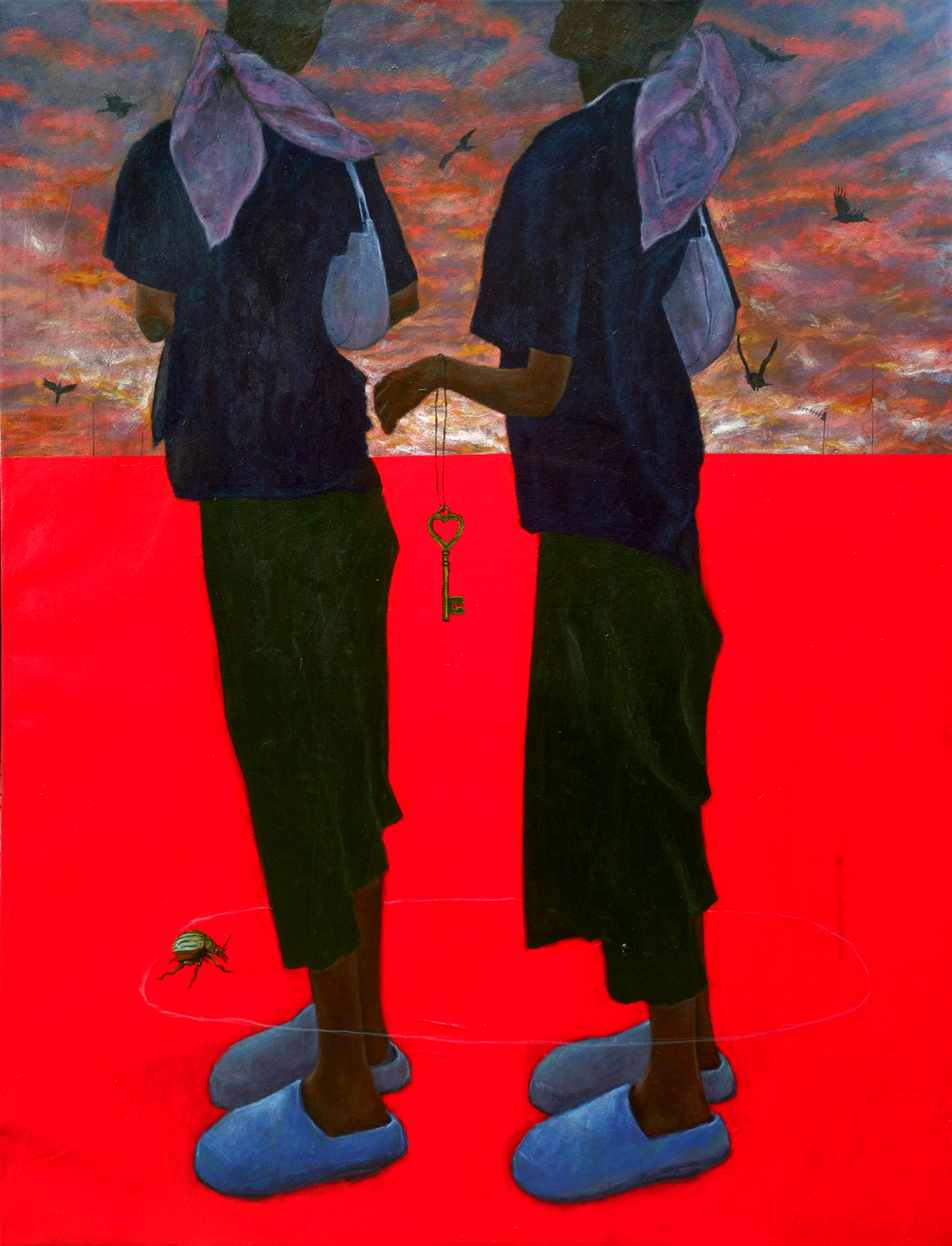 What do you dislike about your work?
Most of the time my works are way more layered beyond people's first or immediate impression. I really wish that people would ask me more questions about my works, wanting to know about why I use metaphorical elements in my works. Though it's great too that they derive their own individual conclusions when they view each piece.
What do you like about your work?
I am always in awe and deep joy when people tell me how connected they are personally with my pieces. How a certain piece touches them deeply and makes them feel like they are in a realm of self reflection. I put in so many thoughts and energy into every one of my works, so it's always titillating to know how powerful the works are able to help shape people's minds. I also like how sincere and honest my work makes me feel.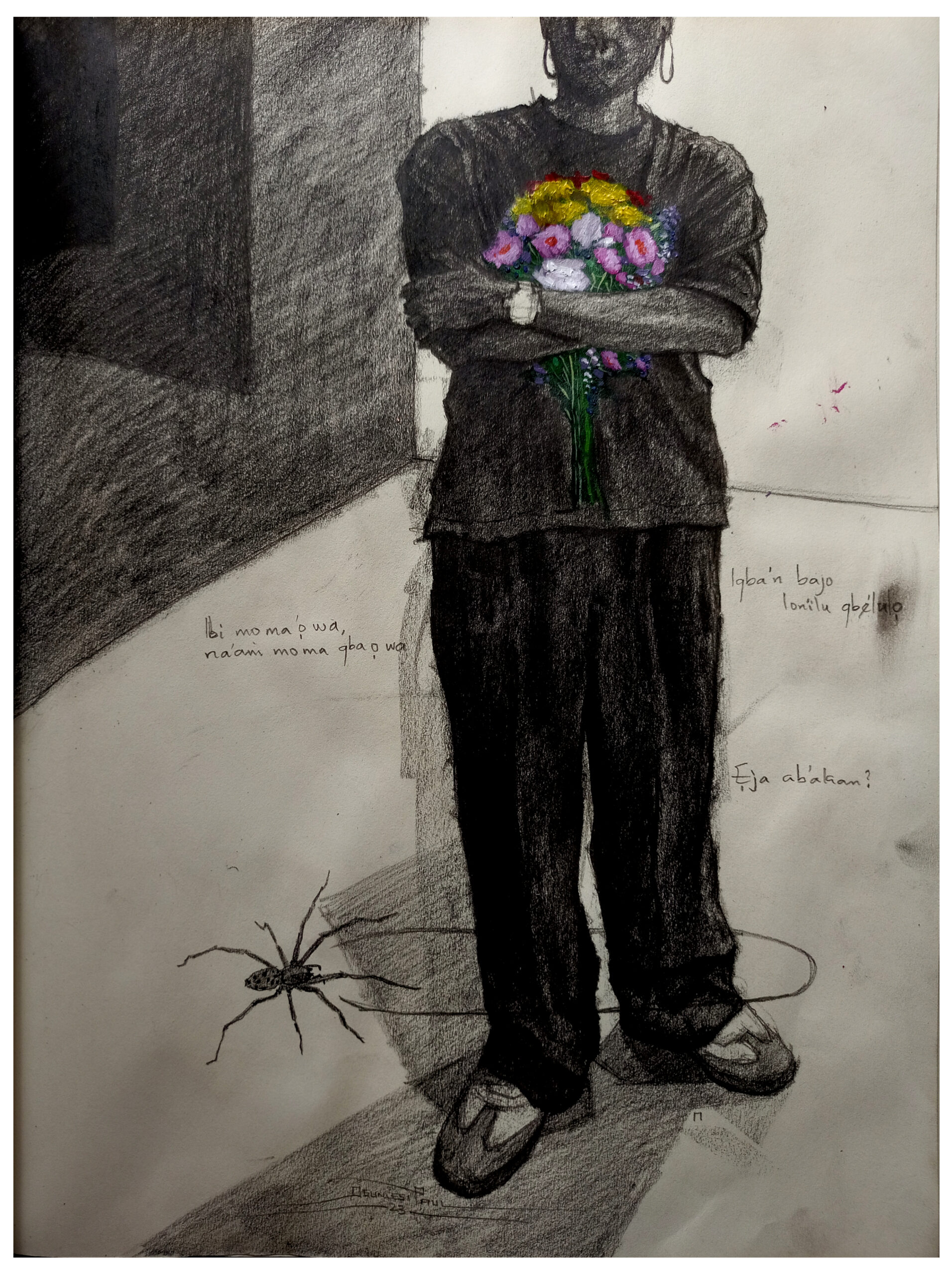 Should art be funded?
I feel it's additional empowerment and needed encouragement when art is funded. Sponsorship of artistic projects, either through government sectors, private or organizational funding is indeed always great for the betterment of the arts. There are so many artists out there that are not living well. They aren't making their necessary sales yet. And external funding through fully sponsored residencies, grants and commissioned projects will definitely help change situations for good for them.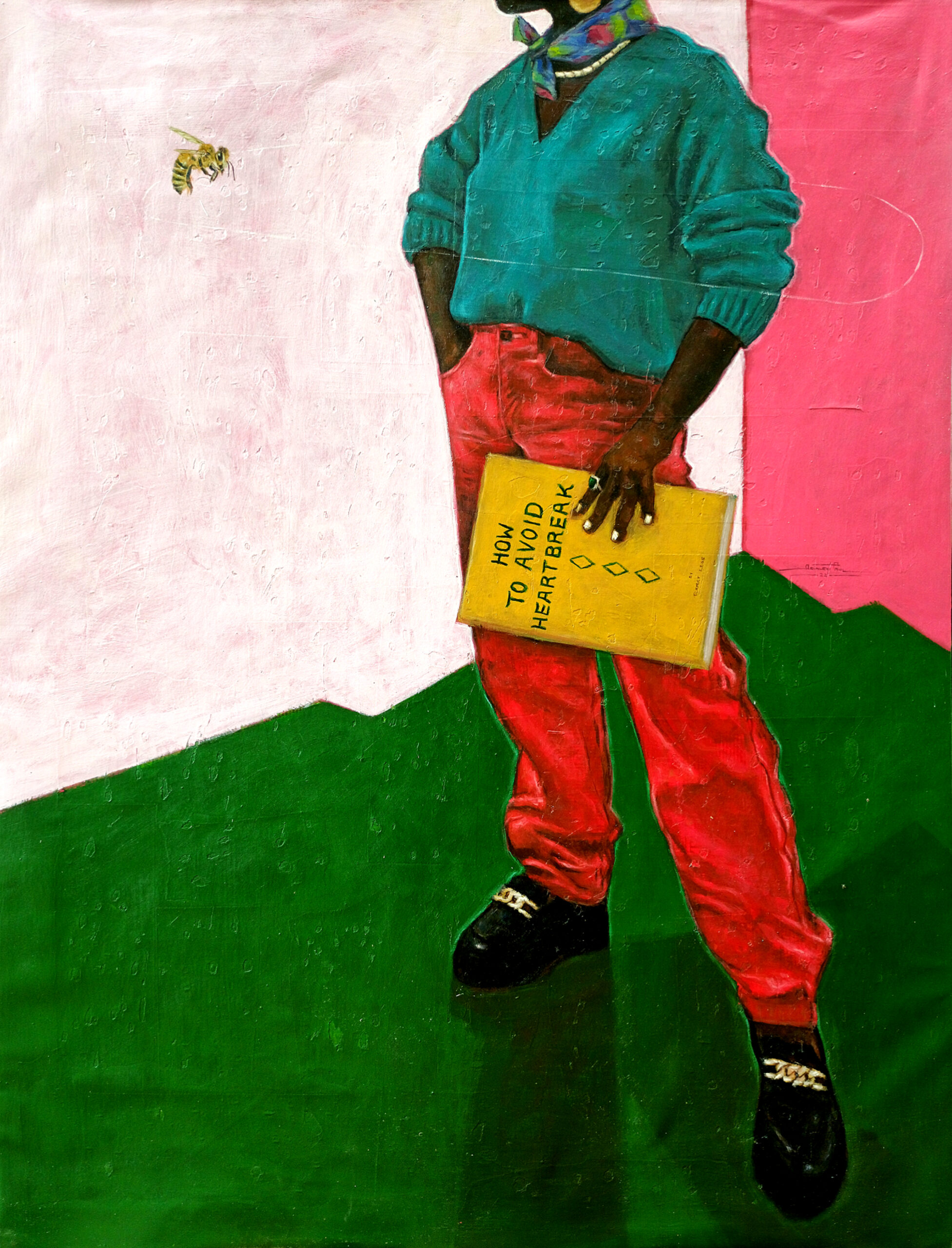 What is your dream project?
Currently I have so many dream projects. But first one is the idea for my first solo show. I have been hanging on to the thought of this project for years, thinking an amazing opportunity will come through for me to explore this idea and eventually physically bring the idea to life. I also look forward to a very large scale canvas for my first museum show. Looking forward to my first physical international residency too, where I'll be given the liberty to manifest one or two of the ideas in my head with utter liberty. The thoughts of all these things gives me goosebumps, and I believe they'd all be manifested soon.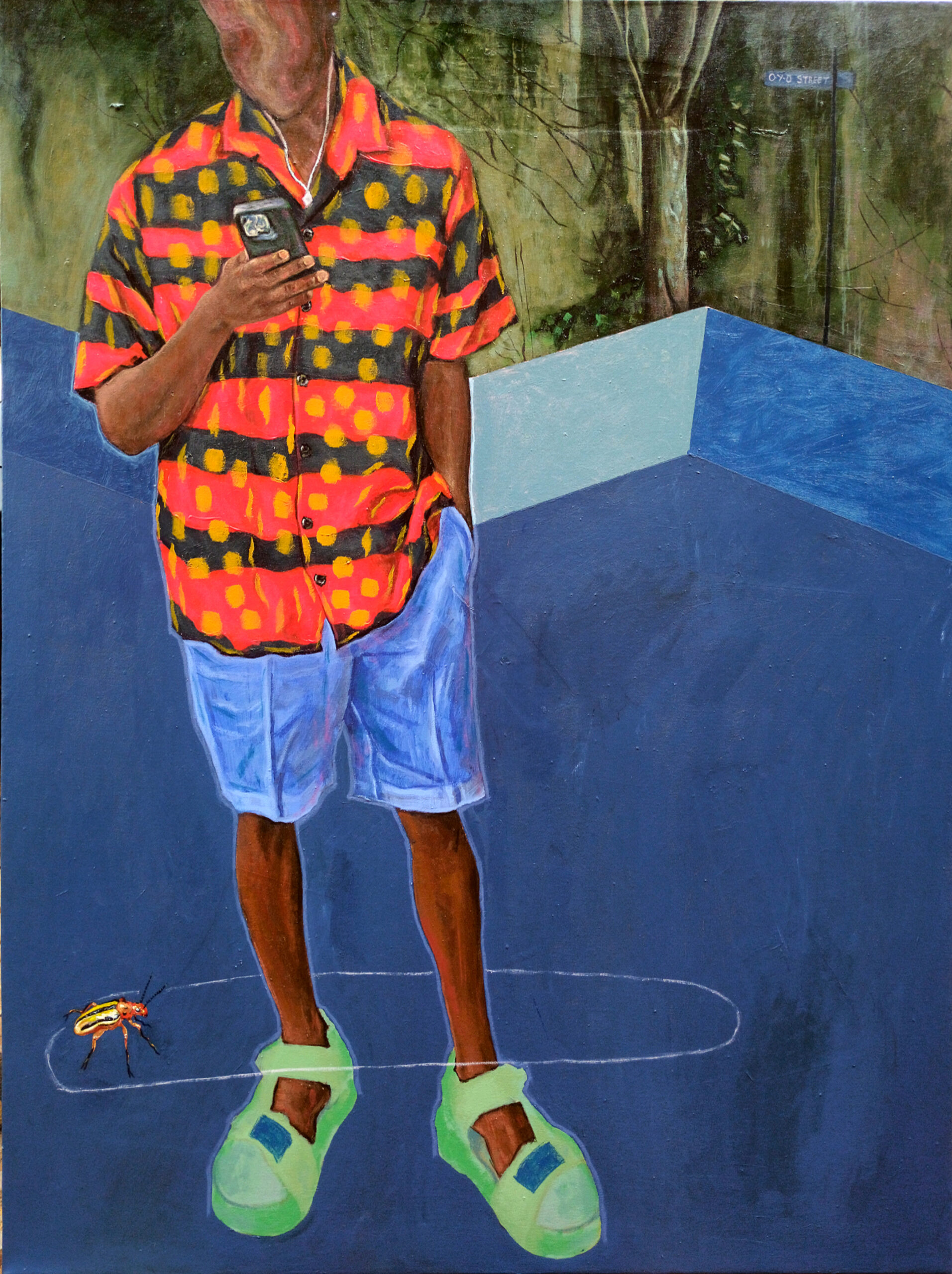 Name three artists you'd like to be compared to.
I actually believe comparison is a thief of joy. Even though so many people, both friends and colleagues have confirmed the similarity between my works and that of the amazing Francois Bard and that of Brittany Shepherd, and it was really nice to have discovered their works early too so as to know that what I was doing wasn't odd and there were amazing souls already in that realm that are doing great in their careers. I still feel there's need to keep digging into myself to the point of being fully acknowledged and solely recognized for my creations.
Favourite or most inspirational place ?
The market, where buying and selling of all kind happens. Also random places which i see on a daily basis. These help embolden my heart and spur me to think about humanity in a certain way that helps my work.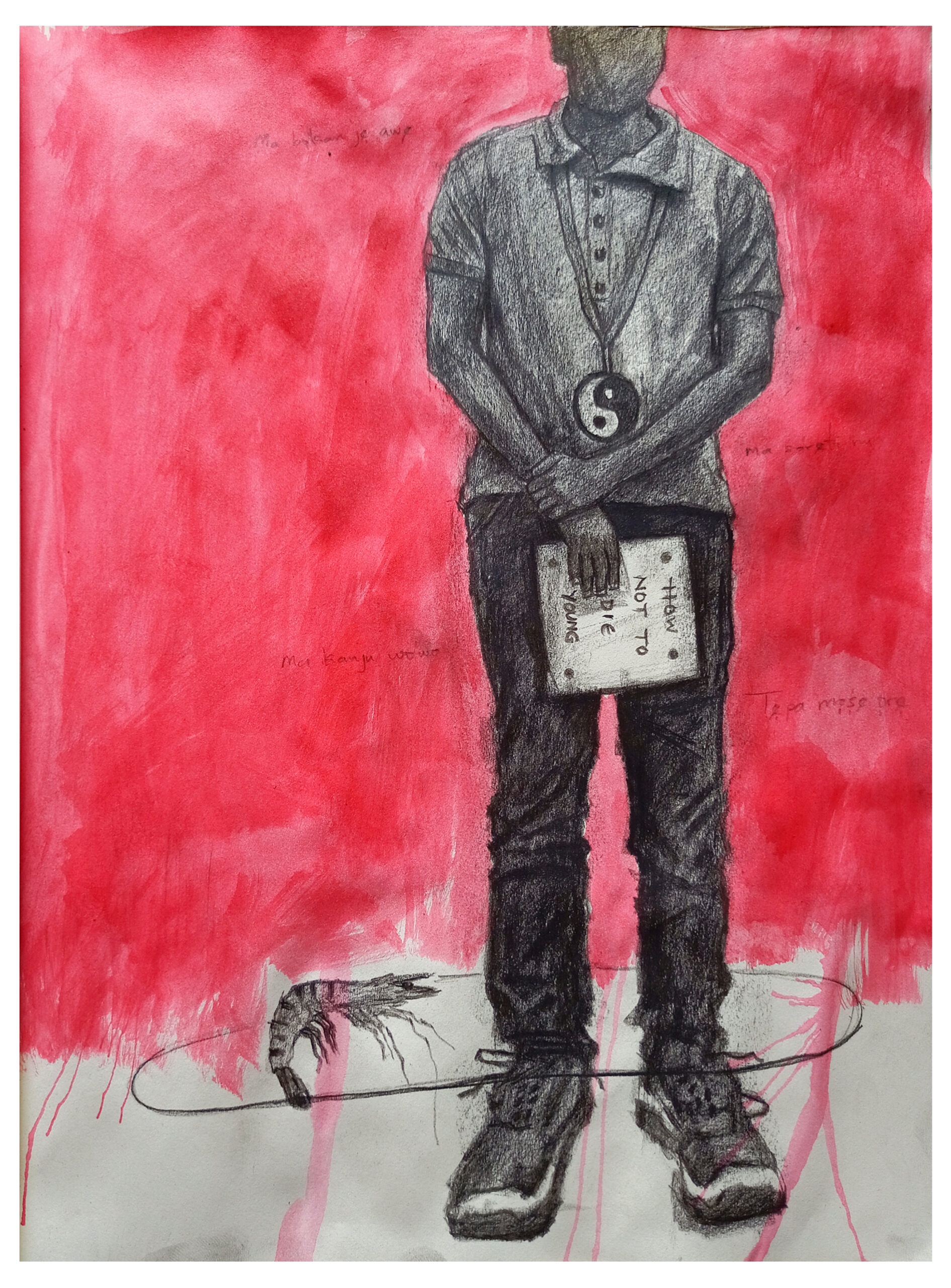 What's the best piece of advice you've been given?
There's gold in every man, and it won't be appreciated if it doesn't pass through fire. Life happens to everyone differently, and every soul out there are fighting there own demons, so don't feel you are alone when challenges come. Don't lose your head. Be grateful for everything. Be contented but not complacent, keep climbing.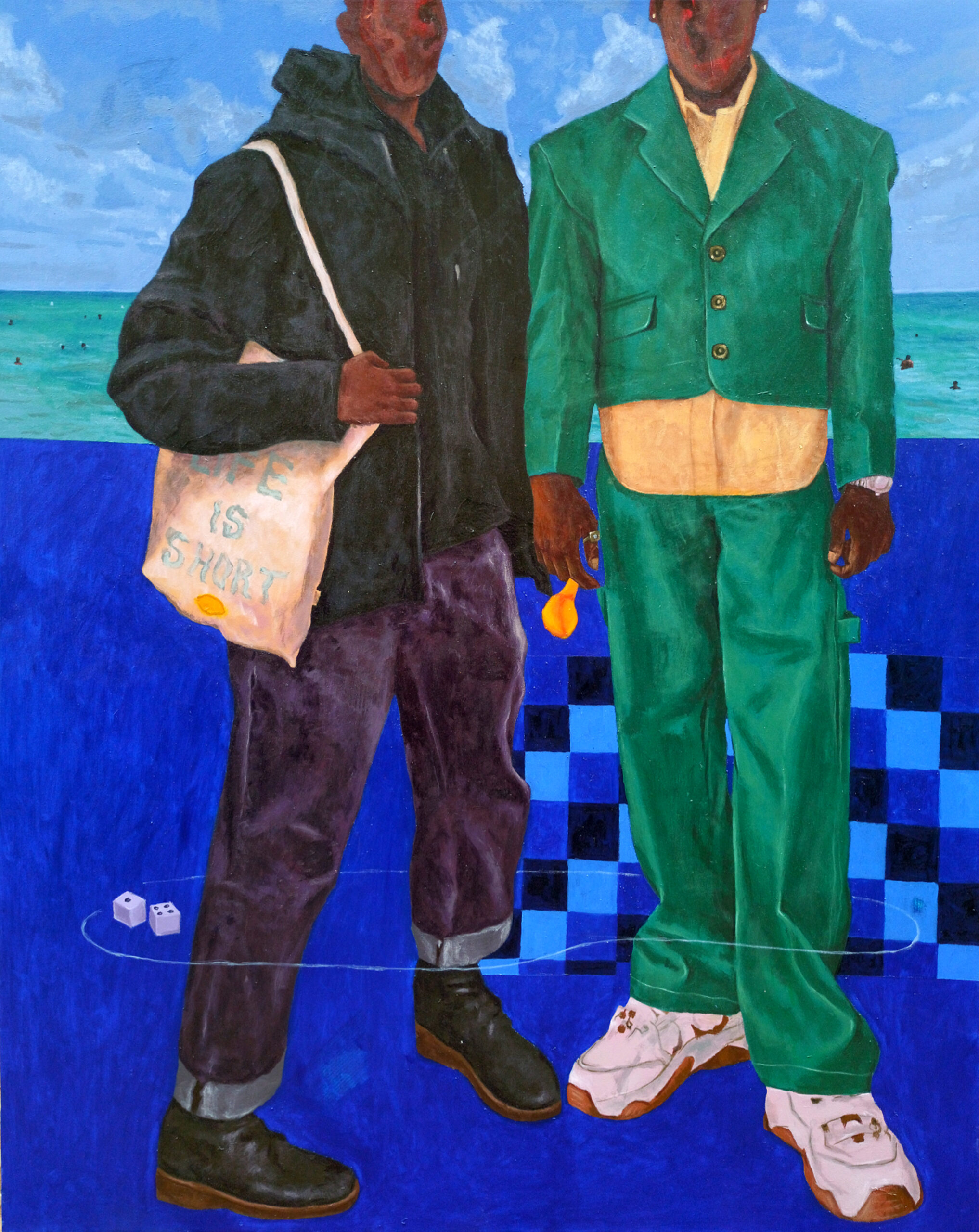 Professionally, what's your goal?
To always create my works with sincerity and honesty. To show my works in museums around the world, most importantly, Tate. To see my work sell above $500,000.
Future plans?
I want to have a great space for art residency, and as an abode for artists. I really want to be very successful through art so that I can take up local communities in my country Nigeria, where I'll change their lives drastically and help make better their standard of living.