Jonathan Raggett has completed a Higher National Diploma (HND) in Hotel Management and has worked in the hotel industry for 35 years. He was appointed Managing Director at Red Carnation Hotels in 2000, which at the time comprised four hotels; today he is responsible for 20 hotels across the globe – six in London and others in Dorset, Guernsey, Edinburgh, Ireland, Geneva, Palm Beach, South Africa and Botswana, as well as a standalone restaurant in London.
In 2009 Jonathan was named Hotelier of the Year by The Caterer and Hotelkeeper and is consistently included in Caterer and Hotelkeeper's Top 100 – The most powerful people in hospitality and listed in the Top 10 Hoteliers.  As a former Chairman of the Master Innholders, Jonathan is proud to be a Hospitality Action Trustee.
What makes Red Carnation Hotels stand out from other hospitality brands and what are their USPs?
Family-owned and family-run, our warm inclusive ethos embodies everything we do and embraces every guest, every hotel and every member of the Red Carnation Hotels team.  Our Founder and President, Beatrice Tollman has always believed in empowering staff to be 'the best they can be' and we invest in the development of our teams through an extensive range of in-house and external training courses.
As a result of the development opportunities we offer, we are proud of the longevity of our staff.  From restaurant staff and guest services manager who have almost fifty years service, to General Managers with more than twenty years experience looking after Red Carnation Hotels guests, as well as many staff who have worked for the company for more than ten years.  Our regular guests enjoy seeing familiar faces whenever they stay with us and are assured consistently high levels of service from staff who know and understand the standards on which we have built our reputation. At the heart of the business is our philosophy 'no request is too large, no detail too small'.
Who is your typical customer? 
Top corporates and high-end leisure guests looking for bespoke experiences and attentive personalized service.
If you could plan a one-day itinerary for guests looking to explore London, where would you send them?
Over the last year, working with a number of partners, we have created some exceptional experiences for our guests to enjoy while they are staying with us.  The possibilities in London are endless, but for this summer my recommendation would be to stay at The Milestone Hotel & Residences in Kensington.
The six luxurious self-contained Residences provide guests with a private home in the city with all the services of a 5-star hotel.  Alternatively, we offer a wide selection of individually designed rooms and suites, many of which enjoy views across Kensington Gardens to Kensington Palace.
The day would start with meeting Executive Chef Ben Kelliher at another Red Carnation Hotel, The Rubens at the Palace to learn how the hotel is reducing food waste in partnership with Winnow's cutting-edge technology and how surplus produce is being used creatively.  A visit to Borough Market, one of London's largest and oldest food markets, would follow to source ingredients for a 7-course plant-based lunch which Chef Ben will create upon returning to the hotel.
The trip to Borough Market has been selected as a MAKE TRAVEL MATTER® Experience; an experience chosen for it's positive impact on travellers and the community.  This particular experience directly advances the United Nations Global Goal 12 'responsible consumption and production' by promoting and educating our guests on the issue. Returning to The Milestone, as evening descends; guests would meet in the conservatory to enjoy a glass of Champagne, before being chauffeur-driven to Cadogan Pier where they will board a private luxury boat to cruise along the Thames to the iconic Tower of London.
The gates of the UNESCO World Heritage site, usually closed to the public in the evening, will re-open and guests will be led through the grounds by a Beefeater who will share the intrigue and mystery of the 1000-year-old fortress.  A Champagne reception will be held in the Jewel House vault which will be followed by a private viewing of the priceless Crown Jewels, with the Chief Warder providing rare insights and tales.
Returning to The Milestone, guests will enjoy an extra-special royal dining experience, heralded with the ceremonial technique of Sabrage, opening a bottle of Champagne with a sabre.
Building the right team is crucial for a property's success. What are the key skills you look for when hiring new employees?
The qualities I look for in new employees are a caring attitude, kindness and strong work ethic.  I also like to see energy and ambition. At Red Carnation Hotels we welcome and celebrate people from all backgrounds, cultures, sexual orientation and the differently abled.  Our workforce is 51% female with nearly 40% in managerial roles, including three General Managers, something we are very proud of in a male-dominated industry.
How important is it for a luxury hotel to have a solid gastronomic offering? 
The importance of a gastronomic offering in a hotel varies according to location.  In a city such as London where there are so many dining options, our hotels focus on providing guests with top quality comfort food around the clock.  Dishes such as Caesar Salad, Chicken Noodle Soup and a great Club Sandwich are made using the best sustainable, seasonal ingredients.  While our hotels in more remote locations offer a selection of comfort food dishes, the focus is more on fine dining options and creating a gastronomic experience for our guests.
2020 was a challenging year for the hospitality industry. In your opinion, how will travel trends change in the 2nd half of 2021?
Although we started the year hopeful the second half of the year would see the resumption of international travel without restrictions, it was looking as if restrictions would remain in place for some time to come.  However, the news today gives me some hope that an easing of restrictions for people who have been fully vaccinated will see us benefiting from the pent-up demand we know exists.  Whatever decisions are made in the next few days, I anticipate the situation will remain very challenging, and the staycation market will continue to be very important to us.
Was a career in hospitality something you always dreamt of?  What is your advice to aspiring hoteliers? 
For as long as I can remember I was attracted to a career in hospitality; it has met all my expectations and more!  My advice to aspiring hoteliers would be to never stop learning, give of your very best at all times, respect the people you work with, grab opportunities and find yourself a mentor.  Last, but not the least, work for a company that cares about you and your development for example at Red Carnation Hotels we offer a number of development programmes – management, degree apprentice and internships.
You have worked in several cities, which is your favourite city for work and play? 
Working for a global collection, like favourite children, it's difficult to have a favourite city!  However, I love the vibe in London, the fact I was born here, means it is always going to be my number one city.  I am very fond of Southern Africa – it's beauty, the friendliness of it's people and amazing wildlife make it a very special part of the world.  Ashford Castle in West Ireland is one of the most incredible hotels I have ever experienced and I have a soft spot for Guernsey having worked there for a number of years prior to joining Red Carnation.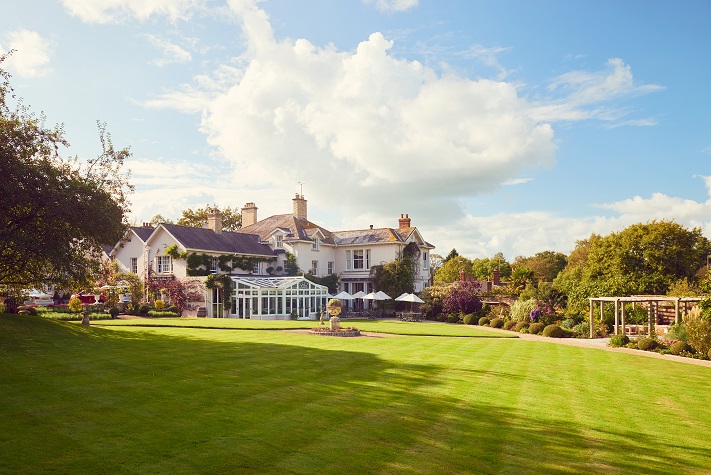 When are you happiest? 
At work I am happiest when the hotels are fully booked; we're achieving great rates and have lots of happy guests and staff.  Outside work, I derive a lot of pleasure from cycling; it allows me to unwind and reduces stress.
At work, what is your most challenging activity and why?
Trying to be fully involved in twenty properties, where each one is unique and has different challenges.  In my role as Managing Director, I am always trying my best to do whatever I can to make the jobs of my team easier.
How has the pandemic changed the way you work?
We have had to adapt and accept the fact that some things are out of our control; all we can do is work as hard as possible to ensure we continue to exceed the expectations of our guests.  Supporting the team has never been so important.
What are some of the new measures your team has put into place to deal with the post-COVID-19 situation?
Last year as the hotels re-opened, we implemented WTTC protocols and these remain in place until such time as we feel they can be removed.  The last sixteen months have provided us with an opportunity to review every aspect of our business and I believe we are stronger and better for it.  I am optimistic and don't see why the future can't be better than the past.