Joaquín Reyes is a visual artist from the city of Santiago, Chile. He has exhibited his works in Chile, France, Germany and Argentina, highlighting the Museo Nacional de Bellas Artes of Chile, Museo de artes visuales, Biblioteca Nacional of Buenos Aires, Matucana 100, Savvy Contemporary of Berlin, the Chapelle de L'Hotel de Dieu, in the city of Dreux among others.
What's your artistic background?
I studied at the Finis Terrae University with a degree in Visual Arts where my research was mainly focused on video art. Later, I studied cinema in Buenos Aires. After several years being an assistant to the painter Ismael Frigerio at the University and watching the students paint, I became interested in starting to do it myself. Currently I have been focusing my artistic work on canvases for more than 6 years. As part of my training in recent years, I took a course with the painter Natalia Babarovic.
What's integral to the work of an artist?
I think there are two fundamental parts. First of all, the strategies that one invents to be able to develop their work and secondly, the commitment that one has with the 'what to do', that is to say, with the trade that one is developing. Without the action plan or the execution there is no work of art.
What role does the artist have in society?
I think that the role has to do with the fact that the artist works with the sensitive area of humanity, with shapes, colors, sounds, etc. That is why he has a very important role because he is the one who nourishes the spirit of society.
What art do you most identify with?
I have spent some time very devoted to what my work is in painting, therefore that is what most identifies me and what has most nourished my sensitivity as a painter. I am constantly seeing images, classical painters and contemporary painters that I find on Instagram and in books and from whom I steal small parts of their works that interest me.
What themes do you pursue?
In general, the themes I work with always start from a self-referential side. There are times when I work with images taken from my daily life, from photographs I take with my cell phone, from family albums, or from stolen photographs that have implications for my personal memory. I have worked a lot from photographs of Patagonia that my father took in the 80s and that I have reinterpreted in a series of monochrome paintings. I have also come across archive images and stories that have helped me to work in that part of my country.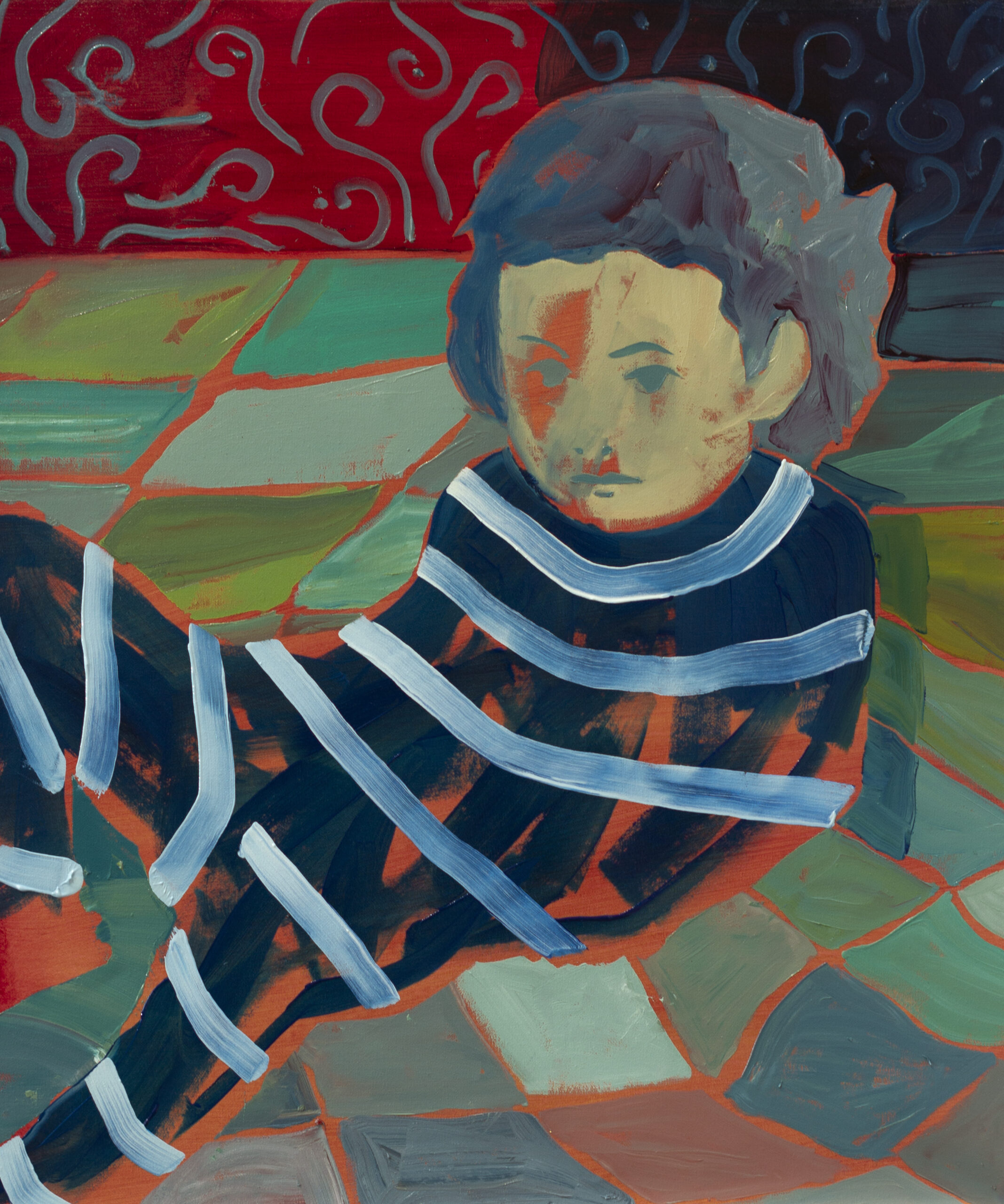 What's your favourite art work?
I don't think I have any favorite works of art, or at least none in my head, but if I had to choose, it would surely be a Van Gogh painting, which is what I re-visit the most nowadays, a Nick Cave album or a movie by David Lynch.
Describe a real-life situation that inspired you?
I have been a father for a year and a half and my daily life in this new way of life has been very inspiring. In fact, the images that I have painted in recent times have to do with this, they are based on photographs that I have taken in my daily life.
What jobs have you done other than being an artist?
As I mentioned at the beginning, it took me many years to find or rediscover painting, during that time I dedicated myself to video and cinema. I am co-founder of the production company Andes Empire, where we specialize in music videos and video art, making videos for Chilean bands such as Matorral, Carlos Marte, among others.
Also, I have worked in cinema as an editor in documentaries and videos for artists. For some time I also dedicated myself to teaching, where I taught at the Universidad Andrés Bello, Universidad de la Frontera and I was an assistant to the artist Ismael Frigerio at the Universidad Finis Terrae.
Why art?
Since school, drawing and painting were the things I liked to do the most and I think it was also the best thing I did. That pleasure has remained until now, art is what I like to do the most, it is what I like to talk about and see the most. That's why I chose art to develop myself as a person.
What is an artistic outlook on life?
I understand that it´s being sensitive to what is experienced in life, to shapes, to sounds, to images, to matter, to smells, to what happens, etc. To have an artistic vision is to have a sensitive and critique vision of life.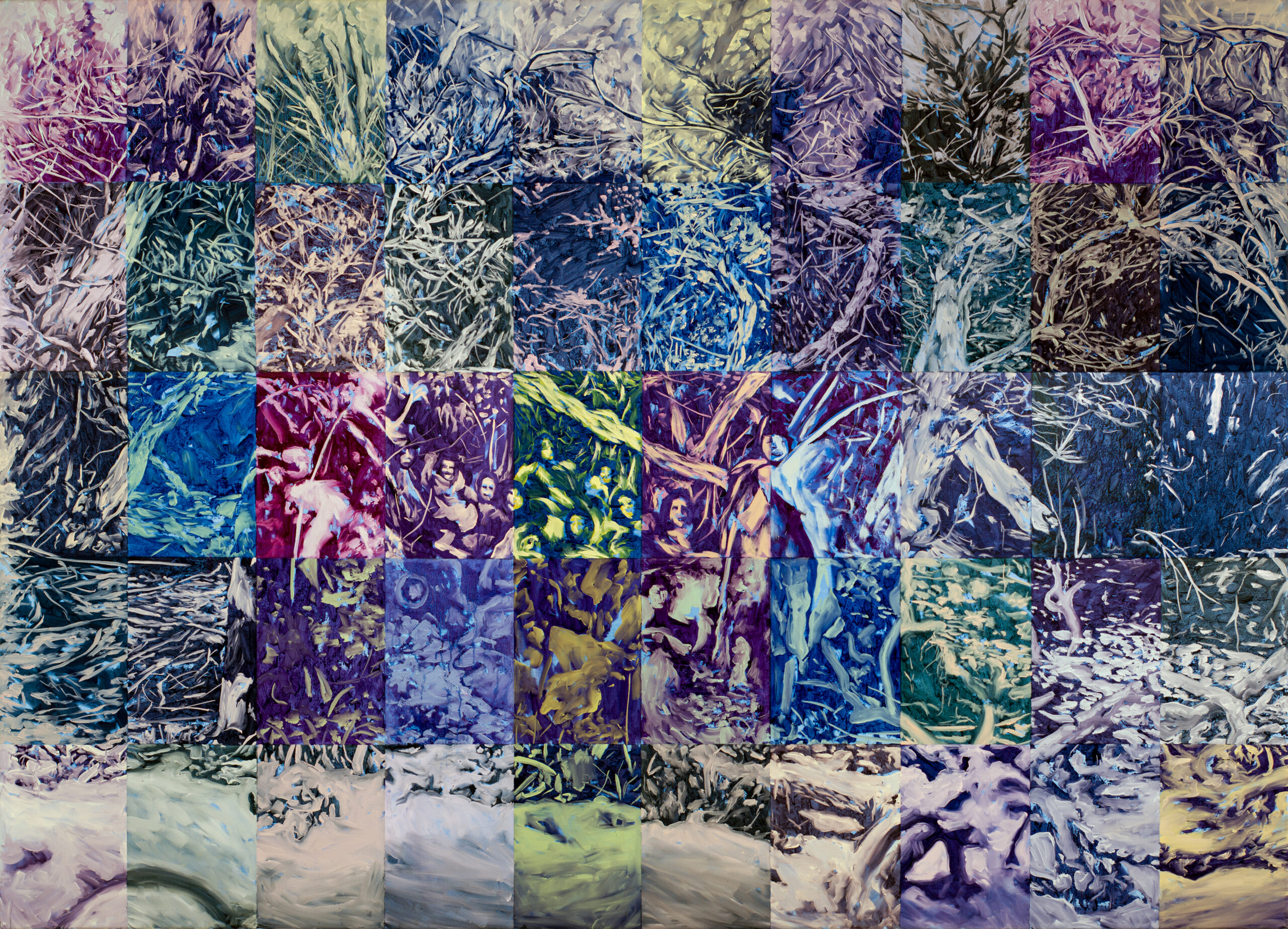 What memorable responses have you had to your work?
I think the most important thing has been the discovery I had with painting, a discipline that has allowed me to be closer than what I think, to my ideas, my tastes and my interests.
What food, drink, song inspires you?
Food and music are very important in my daily life, basically I cook every day and I cook in a very similar way to how I paint in terms of the speed and intuition with which I deal with these two things.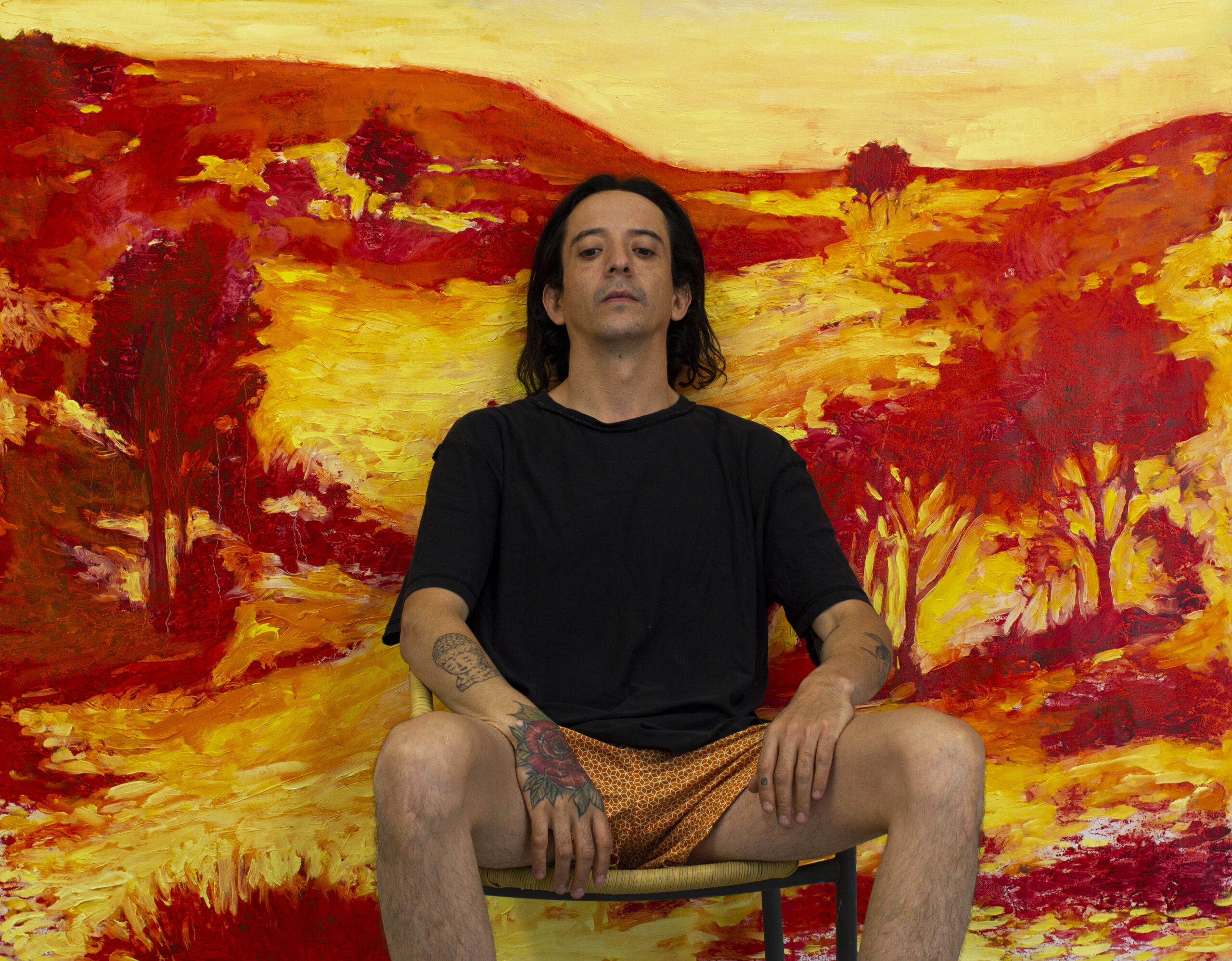 I am quite curious about cooking so I like to go out to eat in different places. Now, if I have to choose one dish that I am most obsessed with at the moment it is the lomo saltado of Peruvian cuisine. Actually, I am learning to do it and I like to try it in different places.
As for music, I also have a collection, although only as a listener. This is a very important part of my creation process, because as long as I paint I do it listening to music, I don't know if I have any song in particular that inspires me, but I have been listening to music for a long time. Charlotte Gainsburg and Jorge Gonzales and artists like Nick Cave, Arcade Fire, Charly Garcia and Pj Harvey are musicians who are on my playlist constantly.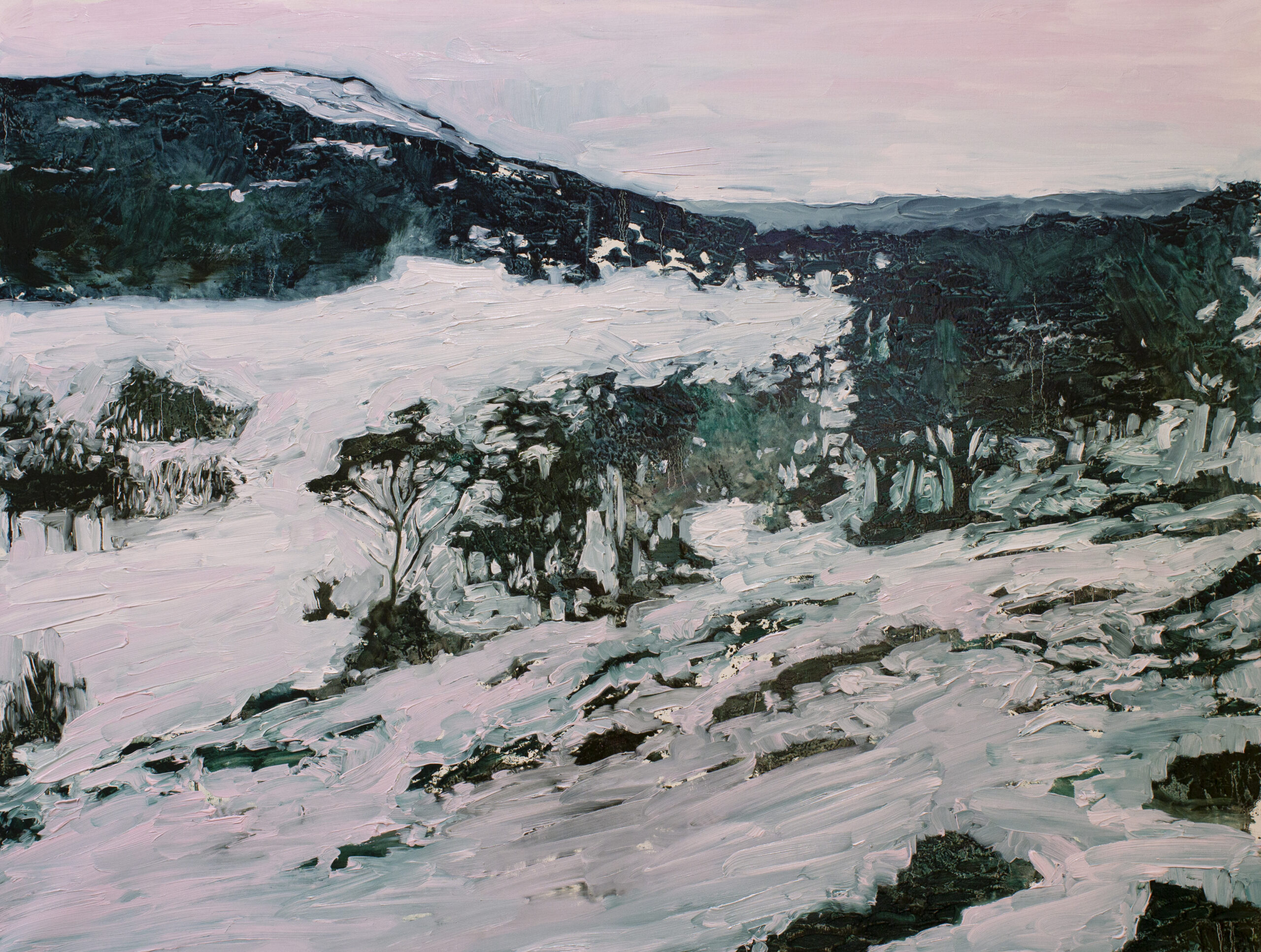 Is the artistic life lonely? What do you do to counteract it?
It can be lonely, especially because as a painter my job is to be locked up in my studio just painting. It's not like other jobs where you are in a team or in an office with more people. This job is done alone, but I have been putting together a daily life, I have friends with whom I share, I go out to one or another exhibition, I go out to eat and for a walk with my family, I try to travel a lot and in general I do things that involve others and that I like to do.
What do you dislike about the art world?
What I don't like is that in Chile the world of art itself, which is the world that I know, ignores the artist. Artists are generally underestimated even by the institutions that should shelter them, such as galleries, museums and others. I suppose that happens because in my society art is something minor, it does not have the relevance that it has in other parts of the world and that makes the world of art small and petty.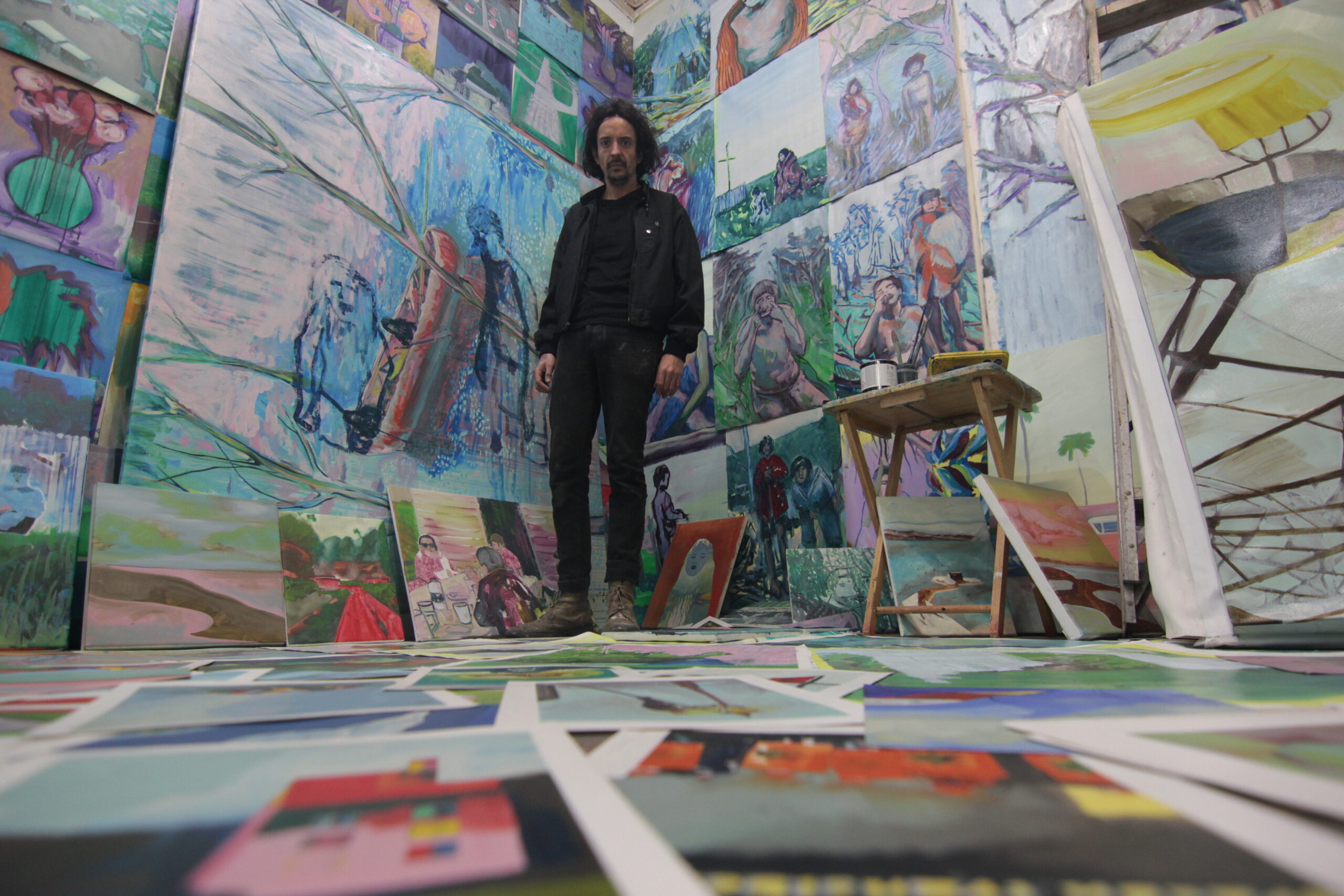 What do you dislike about your work?
In general terms, there is nothing that I don't like. There may be some of my paintings that I no longer like or specific areas of paintings that do not seem to work. In fact I paint a lot on top of works that no longer interest me. But I also take this as part of a process; those paintings that I don't like served at some point to understand and learn about things that keep me focused and entertained with my work.
What do you like about your work?
I like that in my work I notice a constant search for forms and strategies to reach a pictorial language that is as authentic as possible. I like that my work is in constant movement and I think that this is a good indicator regarding my condition as an artist and as for my personal search with painting.
Besides that, I like the exercise of painting itself, in those moments I have fun, I concentrate, I get frustrated and all that is something that I really like to experience.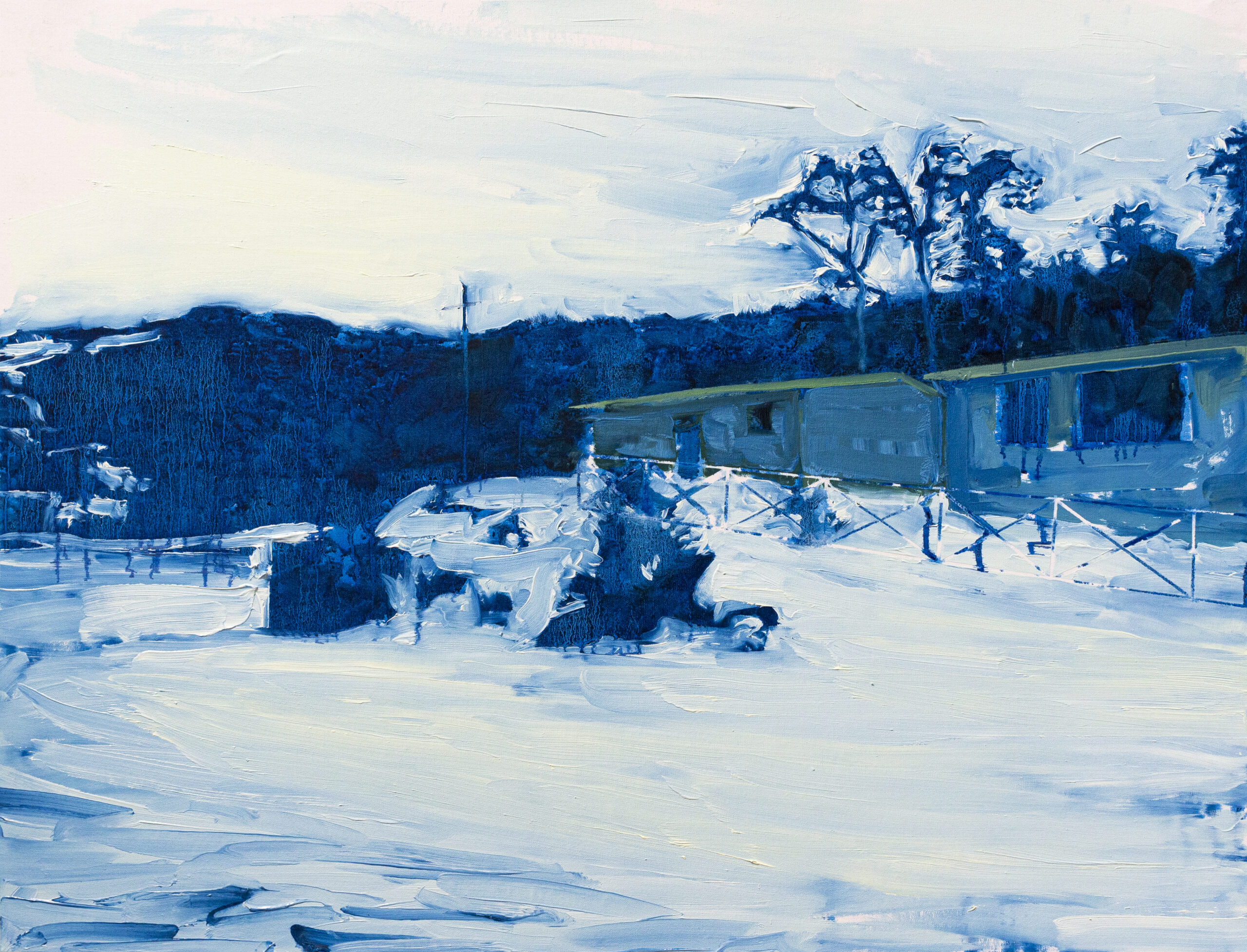 Should art be funded?
Yes ! Art is essential in this world and people who make art and work in the art world must be able to live. The different forms of financing allows artists to do their work.
What role does arts financing have?
It has a fundamental element in the existence of a possible art industry, which is what I think every society should reach. With the financing, people can dedicate themselves to art and to make a living from art is the dream of every artist.
Unfortunately in Chile, that is a distant dream for many artists. Financing here is very low, whether it´s from the State or from private companies.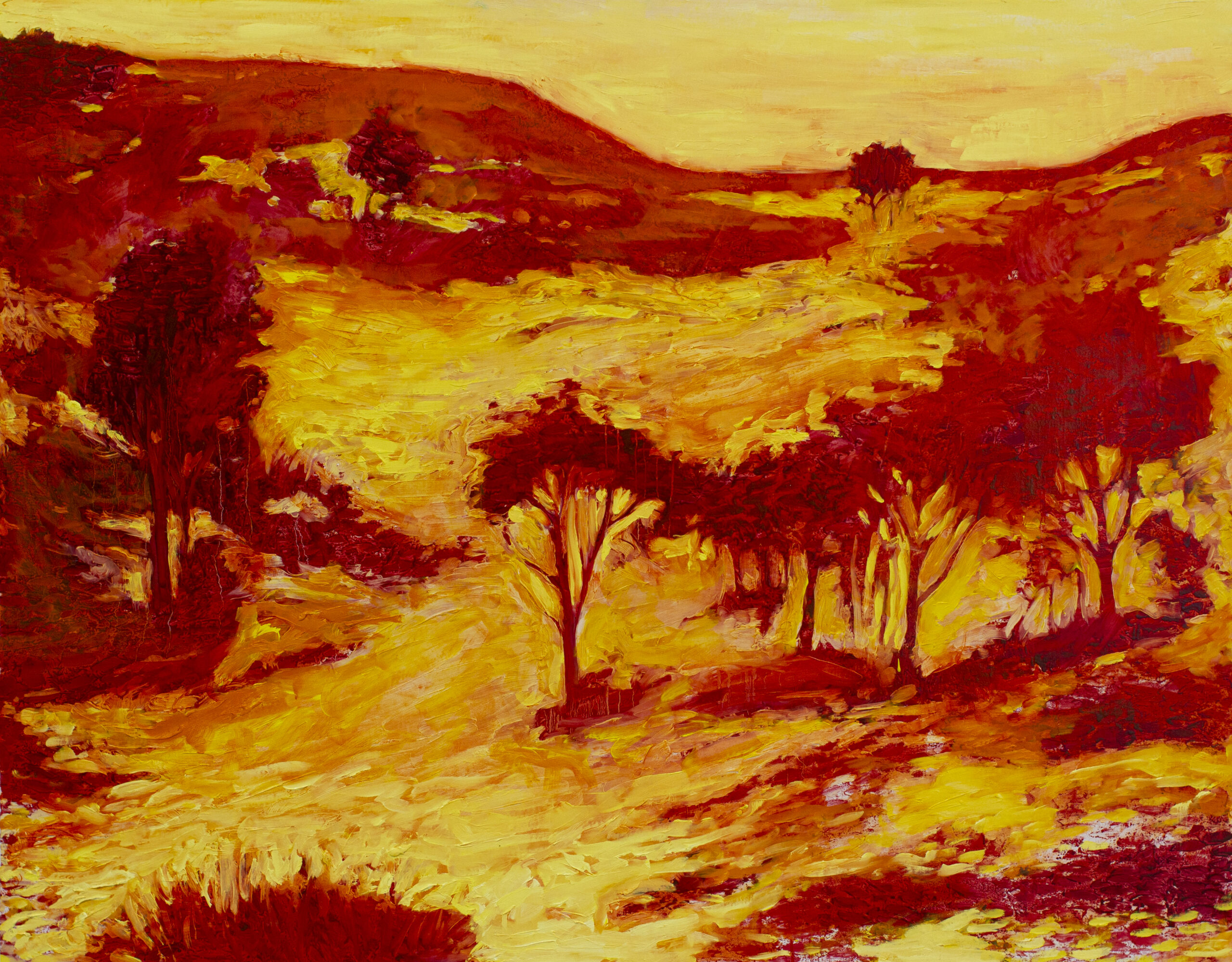 What is your dream project?
My dream project is to be able to devote myself only and exclusively to painting.
Name three artists you'd like to be compared to.
This question makes me somewhat embarrassed since I would not like to be compared to anyone. But I can name some artists who have been a reference for me and that I value very much such as Van Gogh, Cessane, Bacon, Peter Doig, Natalia Babarovic, among others.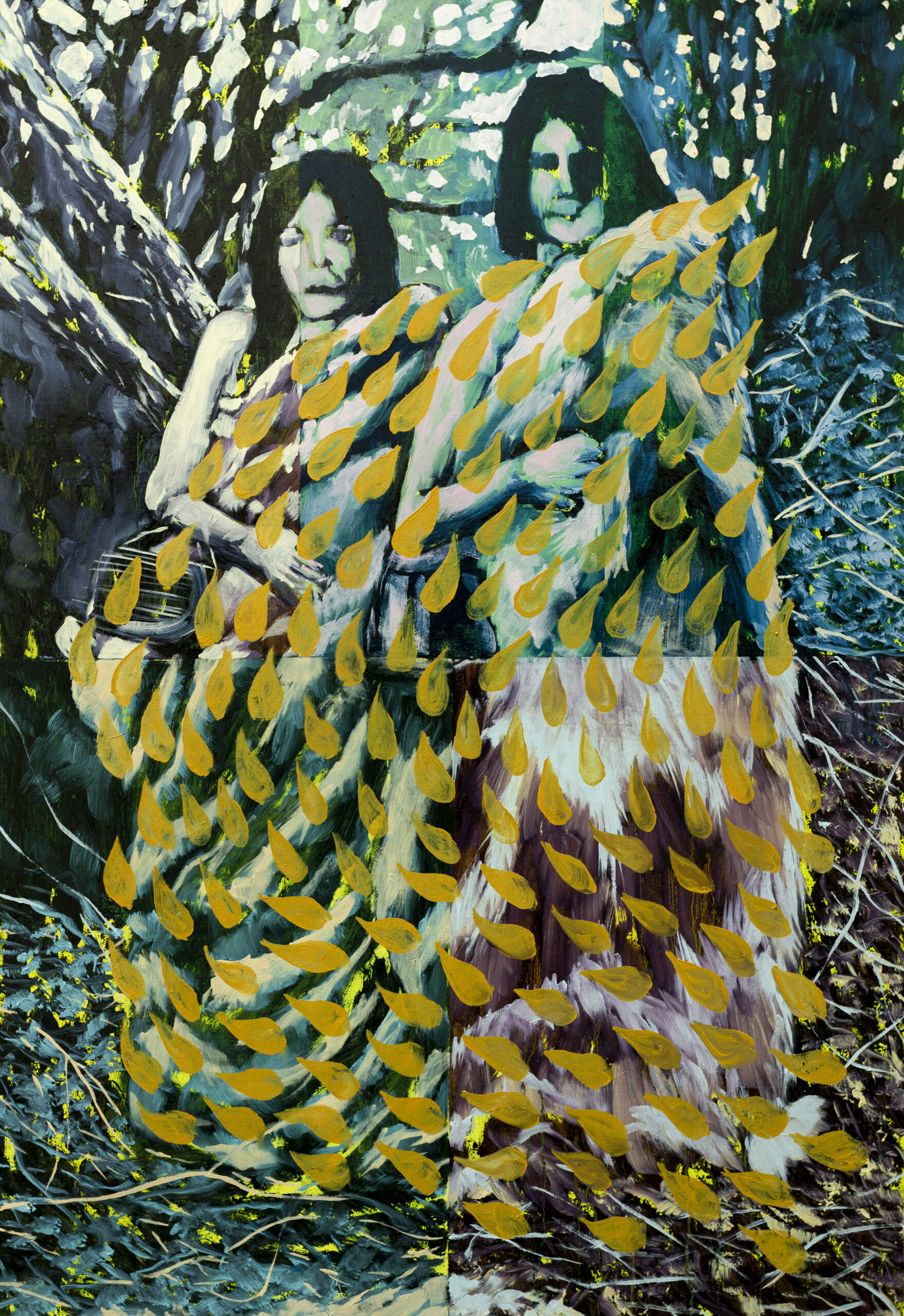 Favourite or most inspirational place?
My favorite place is Antofagasta (mining capital located in the North of Chile in the Atacama desert). This is a special place for me, because I spent most of my childhood vacations there and it also has a color palette that is very inspiring.
What's the best piece of advice you've been given?
I think the best advice has generally been from artists, musicians, filmmakers and writers where I have been able to see a personal vision of things in their work. It is an advice that nobody has given me but that is implicit in the work of some artists and that is what motivates me the most.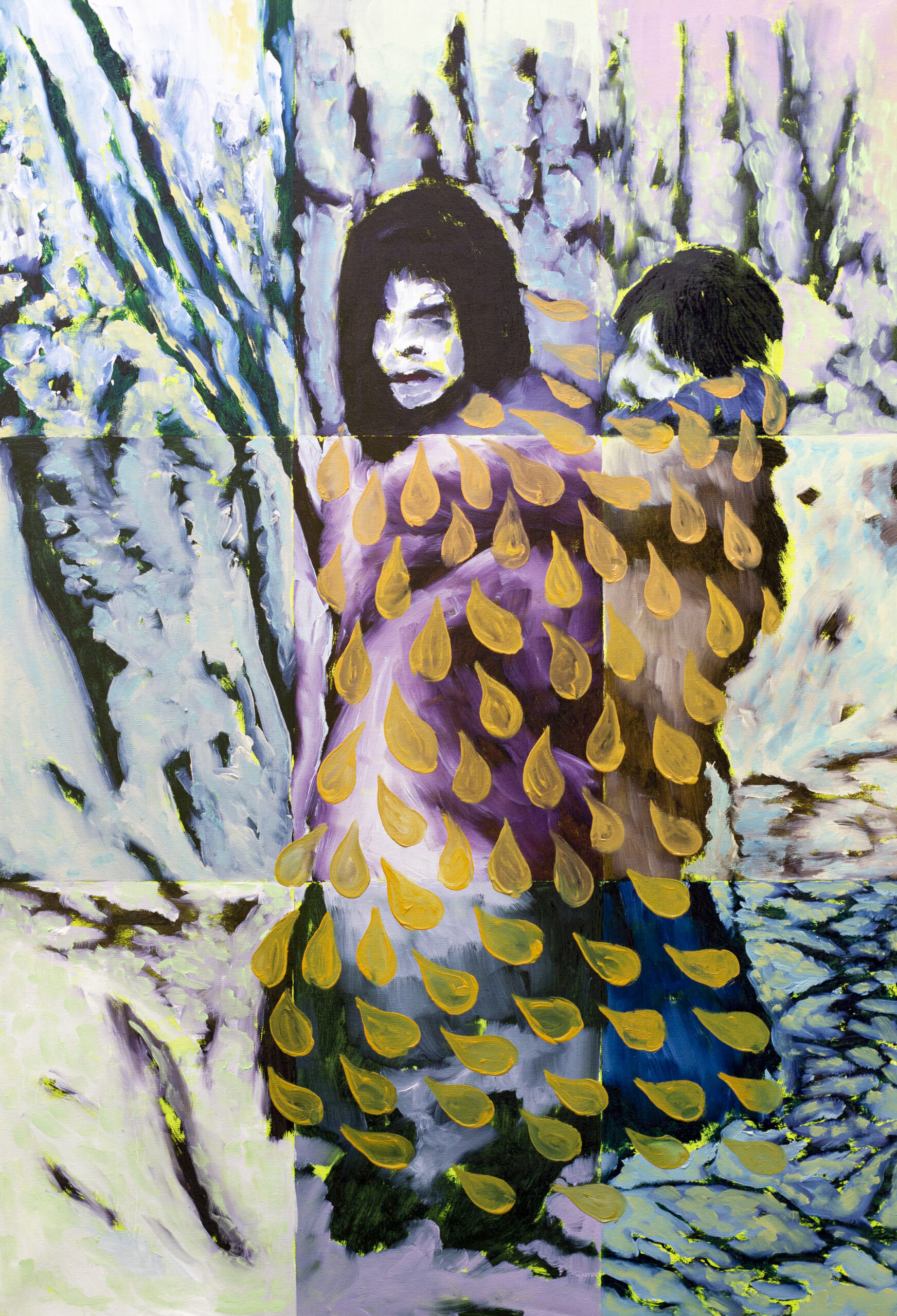 Professionally, what's your goal?
My objective is to be able to project myself as a painter by expanding my market and the visibility of my work to a more global level. And I have a more spiritual objective that has to do with feeling closer to my work.
future plans?
Regarding professional plans, I was invited to be part of a printed catalog of Saatchiart in the USA and Le Monde Diplomatique also invited me to collaborate with the image of a painting for an article that will be published in March. So I want to achieve both participations in a professional way and that other people can know my work.
In addition, I am personally working on a series of large-format paintings that seek to build a personal life diary. I hope to work on it for the next few months, and then exhibit it somewhere.