Manish Mehrotra is the Corporate Chef of the popular restaurant Indian Accent located in New Delhi and New York. Indian Accent offers an inventive approach to Indian cuisine and it's path breaking menu has been designed by Chef Manish Mehrotra. He reinterprets nostalgic Indian dishes with an openness towards global techniques and influences. Chef Manish has been called the most exciting modern Indian chef in the world today.
Having started his career in Mumbai as part of Ananda Solomon's team at the Thai Pavilion of the Taj Hotels, he joined Old World Hospitality in 2000. Flooring the guests at Oriental Octopus with his culinary skills and charm, he has since spent over 20 years with Old World Hospitality, opening several restaurants for the groups while traveling the world. Manish is passionate about his craft, his knowledge of ingredients and their origins is immense. He is an inspiration to aspiring young chefs today.
You've been in the industry for quite some time. Would you have done anything differently when first starting out?
Yes, I wish i had learnt a few more skills like in the initial days of my career, when i worked in a Thai restaurant i wish i had learnt dim sum making properly with different shapes and i wish i had practiced carving more from the Thai carvers in Thai Pavilion.
You've cooked in some really intimidating kitchens. Was there anything you did to build your confidence and ensure you always maintained the drive?
Thai Pavilion was one of the most popular restaurants in the country and a very busy one so there was a lot of pressure and it was a very intimidating kitchen for sire where i worked. The kitchen was headed by Chef Ananda Solomon who was very strict and a perfectionist. I always had the urge to learn more, do more and that kept me going and maintaining my drive to work and not to lose heart. In the initial days of your career if you learn more it will definitely help you in the future. That was the only thing that used to drive young chefs like me in those days.
What is one food trend you wish would just go away?
According to me there are several food trends that should just go away. One of those is the trend of fake meats, i don't understand this trend. If somebody wants to eat meat they should eat the real meats and if they do not want to, they should stick to eating vegetarian dishes where one can enjoy a vast variety especially in a country like ours where one has innumerable choices when it comes to vegetarian food.
Hiring and retaining talent is one of the biggest challenges in any industry, but most especially in hospitality. How do you speak to your staff about career growth and progression?
Yes hiring and retaining talent is definitely one of the biggest challenges especially nowadays it is really really difficult to hire a good person and retain them. When we work with people we train them because training motivates them to stay on.  Many chefs who have worked with me at Indian Accent or my previous restaurants were trained by me and i feel happy when i see them doing so well in their careers today.  This is what we tell all the new chefs who join my kitchen that if they give their first five years to this industry sincerely, learn new skills and keep working hard consistently it will definitely pay off later in their careers.
What is your favourite dish to cook at home?
I would say Maggi is my favourite dish to cook at home, that the only thing one can think of cooking when you are tired at 2 in the night. I make my own Maggi in my own style and eat it. Also I don't eat Maggi cooked by anyone else !
What's your favourite takeaway or comfort food? Which is your favourite place to dine?
My favourite takeaway is Indian Chinese food, getting my hands on a manchurian or a chow mein is what i love to indulge on an off day when i am at ease !
Vegan cooking/ vegan restaurants; how easy/difficult it is; what are your previous experiences with it. What is the secret of a good vegan kitchen? What about the suppliers, are there enough in India currently and easily accessible?
Vegan cooking originated in the United States first and now it is popular all over the world, especially after the pandemic we have seen a definite increase in the number of people cooking and eating vegan food. Earlier i used to think it was just a trend but now i have understood it is here to stay and will flourish. The secret of a good vegan kitchen is best quality ingredients, if you get superior quality ingredients then you can really create a lot of excellent vegan dishes. The ingredients should be fresh and should speak for themselves and get highlighted, that's how i treat vegan food in my kitchen. Honestly it is a bit tough here in India as compared to New York when it comes to procuring ingredients required to create excellent vegan food.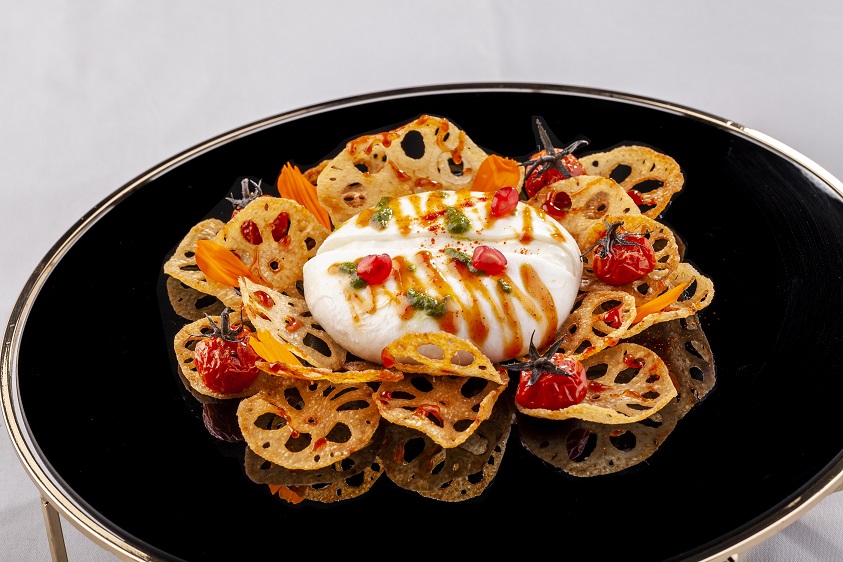 How can restaurants/ hotels/ chefs communicate the approach of innovative sustainable plant-based food/ food chains to others?
These are the latest trends within the world of cooking but honestly speaking these things were present in our cooking and our homes since ancient times. Getting fresh and seasonal ingredients was always a part of our cooking techniques but it is a bit of a challenge with restaurants because the cold supply chain is not that efficient and we still struggle to get ingredients from different part of the country. Hopefully things will change and we at our end try to promote local farmers. There are people who are during farming around Delhi, families that make different types of greens, micro greens, spice blends for us, there is a family near Kolhapur which makes Kolhapuri masala for us.
For a long time India had more vegetarians as compared to those who ate non vegetarian food, do you think we are going back to the previous times where more people are now advocating vegetarianism? What is the reason for this change and how will it impact the food that we eat ?
More and more people are turning vegetarian because of health reasons especially after the pandemic. Vegetarian options were always there but now more people are turning vegetarian owing to health reasons. People are not avoiding non vegetarian food but controlling the consumption which is great in a way. In a restaurant like Indian Accent i always feel it is ten times more difficult to create a vegetarian main course rather than a non vegetarian main course because when it comes to non vegetarian food, you already have a hero/main ingredient such as chicken or fish or pork or mutton.
In contrast when you plan a vegetarian main course your have to create a hero/highlight and one has to use local vegetables and making a vegetable a hero/highlight of a dish is really really tough. I am not a big fan of paneer so for me it is even more difficult when i am left with a lot of vegetables but my point here is creating a hero out of that one local vegetable is really tough.
Adding vegetarian or vegan menus to the menu: what is the trend/experience with this?
When i started Indian Accent in New York, i started working on vegan cuisine because there we used to get regular requests for vegan dishes so now we have incorporated a vegan tasting menu. If you look at our original food especially from India we anyway cook a lot of vegan food at home especially if it is a vegetarian dish made using oil and not ghee.  Day by day I am  in the process of learning and creating new vegan dishes.
What are the challenges for chefs/restaurants with an increasing demand for vegetarian or vegan menus?
Creating a vegan menu is tough at present and the challenges we face are getting ingredients easily plus these ingredients are expensive but i am hoping that as demand increases so will the supply. I am quite hopeful about vegan food and that it will go a long way.
Tell us about the concept of 'farm to fork' and how it helps to promote the idea of sustainability and good health.
The concept of farm to fork is really good for health and sustainability but in a city like Delhi it is tough to follow this concept. For me the concept of local is very different because onions and tomatoes are also local, it's not only ingredients such as millet or black rice that is local so 99% of what we use in our kitchen is local. However, if i use an ingredient such as olive oil i would prefer to use olive oil which is the best and that's not available in our country unfortunately. If i have to use chocolate i will prefer to use the most premium chocolate available in the world. For me local means procuring my ingredients from India. Delhi is a land locked city so i have to get seafood from outside Delhi, i cant get it from the Yamuna river. All the other ingredients which are easily available in our country are used in our kitchens regularly.