Brian Rodriguez is the Executive Sous Chef at Vienna Street-Al Hamra Village, Ras Al Khaimah, United Arab Emirates. His  culinary journey started in Italy in a small city of 2000 people, called Piobbico. He started working in a small restaurant called Osteria del Parco where he really enjoyed being in the kitchen and has fond memories about it. "Chef Samuele Ferri was the first chef to motivate me and mentor me to what was the true significance of being a chef. He was also the first one to push me to move to other kitchens in order to gain more experience and that's what I did," he says.
For the first years of his career he kept changing restaurants, because for Chef Brian it was very important to experience as many kitchens and cuisines as possible. He knew that if he wanted to be a chef he had to dedicate 100% to cooking and he had to work with as many chefs as possible to be able to see the different approaches of this profession. He traveled to Melbourne in Australia and initially thought he will be going only for 6 months but in the ended up spending 5 years.
After 5 years in Australia, he traveled back to Europe, where he shortly worked in a luxury boutique Hotel Sans Souci in Wien. He says the experience was great, the products were extraordinary, seafood was caught fresh overnight and delivered in the morning.
In December 2019 he moved to UAE to work for Hilton Ras al Khaimah Beach Resort, leading two restaurants; Piaceri Da Gustare and Sol Bar Lounge and bar where he held the position of Chef de Cuisine. Since February 2022 he moved to Waldorf Astoria Ras al Khaimah, where he was appointed as Executive Sous Chef, in charge of the culinary operation of 9 outlets and banqueting.
Do you have a favourite time of the year or set of ingredients that you look forward to working with?
As a chef, I appreciate the beauty of seasonal ingredients, and each time of the year brings its own unique flavors and produce. However, if I had to choose, I particularly look forward to the abundance of fresh ingredients during the spring season. It's a time when vibrant greens, delicate herbs, and various root vegetables make their appearance, inspiring me to create light and refreshing dishes.
What would you do if you weren't a chef?
If I weren't a chef, I would still want to work in a creative field that allows me to express myself. Perhaps I would explore culinary writing, sharing my knowledge and experiences through cookbooks or food journalism. Alternatively, I might consider becoming a culinary instructor, teaching aspiring chefs and home cooks the art and techniques of cooking.
Do your personal preferences influence the menu at all?
While my personal preferences do play a role in shaping my culinary style, as a chef, I aim to create menus that cater to a wide range of tastes and preferences. It's important for me to balance my own preferences with the desires of my guests, taking into consideration dietary restrictions, cultural influences, and current food trends to create a well-rounded and inclusive menu.
 What do you think is the most over-hyped food trend currently?
Food trends come and go, and some can be quite over-hyped. Currently, I believe that the excessive use of edible flowers and extravagant plating techniques can sometimes overshadow the true essence of a dish. While visual presentation is important, the focus should always be on the taste, quality of ingredients and the overall dining experience.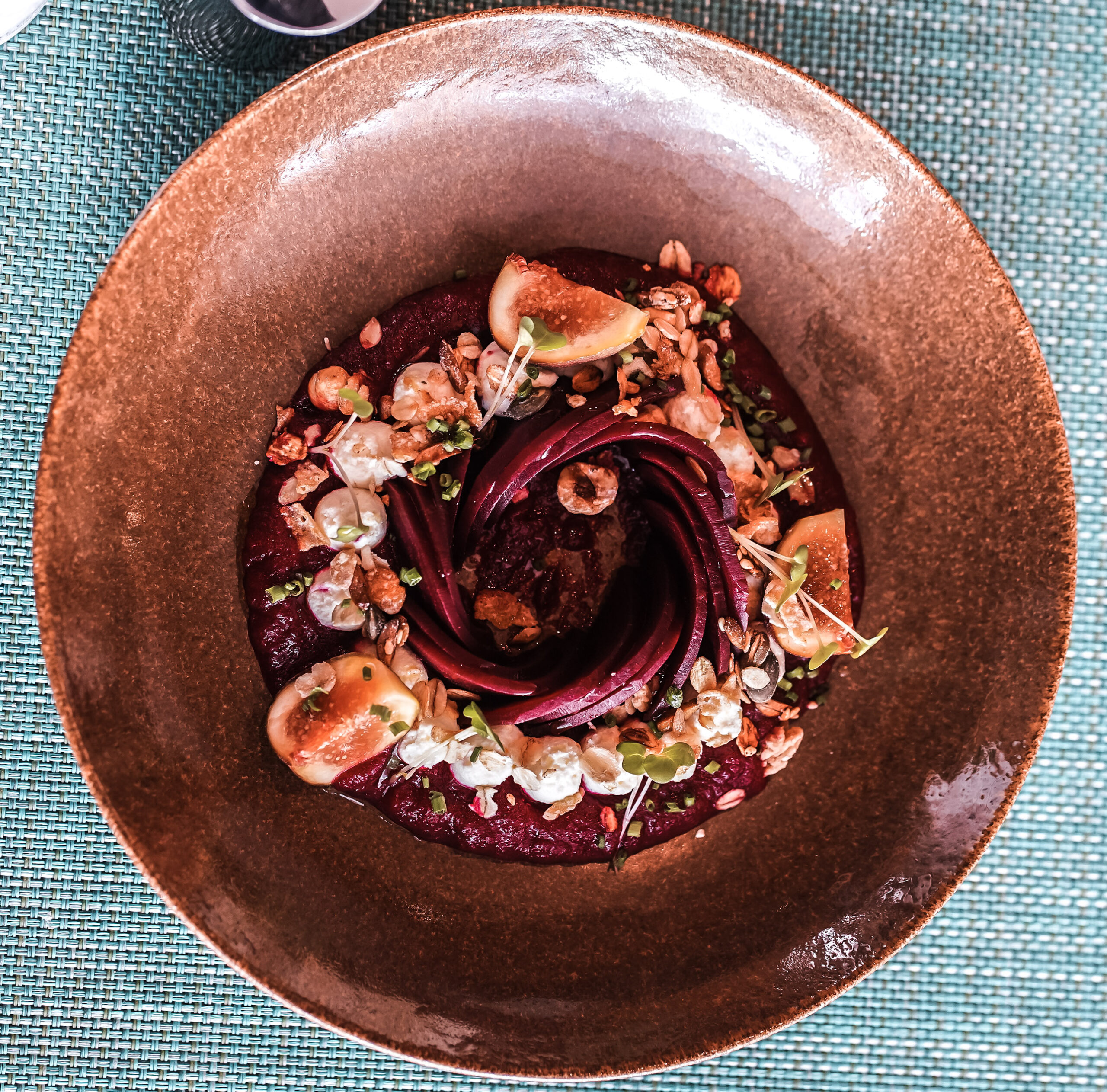 When are you happiest?
As a chef, I am happiest when I am in the kitchen, surrounded by the hustle and bustle of a busy service. The energy and excitement of creating new dishes, the teamwork involved in a well-coordinated kitchen and the satisfaction of seeing happy diners enjoying their meals bring me immense joy and fulfillment.
When you're not in the kitchen where can you be found?
When I'm not in the kitchen, you can often find me exploring local markets, visiting food festivals, or dining at other restaurants to gather inspiration. I also enjoy spending time with my family and friends, indulging in outdoor activities, or simply unwinding with a good book or a cooking-related documentary.
Where is your favourite place to dine?
As a chef, I appreciate a variety of dining experiences, from high-end establishments to casual eateries. However, if I had to choose a favorite place to dine, it would be Osteria del Parco in Italy, a family-run restaurant tucked away in a charming neighborhood. These hidden gems often offer authentic and heartfelt culinary experiences, showcasing the passion and dedication of the chef and their team.
What's your favourite takeaway or comfort food?
Despite working with complex flavors and techniques, I have a soft spot for simple and comforting foods. When I need a quick bite or a moment of indulgence, I often find myself craving a well-made pizza. The combination of a perfectly crisp crust, flavorful tomato sauce and an array of delicious toppings never fails to satisfy my taste buds and provide a comforting experience.
What makes the local food scene so exciting?
The local food scene is incredibly exciting due to its diversity and constant evolution. Local chefs and food artisans have the opportunity to showcase their creativity by incorporating unique regional ingredients and flavors into their dishes. Additionally, the growing emphasis on sustainability, farm-to-table practices, and the exploration of international cuisines have added a dynamic and innovative dimension to the local food scene.
Which is the dish you've created that you are most proud of and why?
The dish I'm proud of and which is part of the menus is "Beetroot And Figs" composed of beetroot, savoury granola, fresh figs and a gorgonzola mousse. This is a sustainable dish where the beetroot is used an all the parts: boiled and make into a rose, the scraps are made into puree, the skin is made into powder, perfectly paired with fresh fruit, gorgonzola and a mix of nuts and seeds. Both healthy and delicious.
You're having friends over for dinner tonight. What's on the table?
For tonight's dinner with friends, I would prepare a classic Italian feast. As an appetizer, I would serve a platter of antipasti, including a selection of cured meats, marinated vegetables, and bruschetta. For the main course, I would make homemade pasta, such as fettuccine, tossed in a mushroom and truffle sauce. Alongside the pasta, I would serve a roasted herb-infused chicken with crispy potatoes. To finish the meal, a traditional tiramisu, layered with mascarpone cream and espresso-soaked ladyfingers, would be the perfect sweet ending.
Name your favourite city that has it all: food, culture, and nightlife.
Choosing one favorite city is challenging, but if I have to pick, it would be Bologna. Bologna is renowned for its rich culinary heritage, often referred to as the "food capital" of Italy. The city boasts iconic dishes like Bolognese sauce, tortellini, and mortadella. Bologna also has a vibrant cultural scene, with its historic architecture, medieval towers, and world-class museums. When it comes to nightlife, Bologna offers a wide range of bars, pubs, and clubs, ensuring there's something for everyone to enjoy.
Can you tell us more about the cuisine at your restaurants?
The Waldorf Astoria Ras Al Khaimah is a luxury hotel located in Ras Al Khaimah, one of the seven emirates of the United Arab Emirates. The hotel is known for its opulent accommodations, world-class amenities, and exceptional dining experiences. Within the Waldorf Astoria Ras Al Khaimah, there are several restaurants that offer a diverse range of culinary options.
Lexington Grill is a fine dining American steakhouse that provides a sophisticated dining experience. The restaurant offers a selection of premium meats, dry age food, including prime cuts of beef, as well as seafood dishes.
UMI offers a refined and contemporary take on Japanese cuisine. The restaurant features a sushi bar, teppanyaki tables, and private dining rooms. Guests can savor authentic flavors and culinary techniques from Japan, with an emphasis on the freshest seafood and premium ingredients.
Qasr Al Bahar is the all-day dining restaurant at the Waldorf Astoria Ras Al Khaimah. It offers a diverse range of international cuisine, including Arabic, Asian, and European dishes. The restaurant provides a casual and relaxed ambiance, making it suitable for any meal of the day.
Azure offers a refreshing al fresco dining experience. The restaurant specializes in Mediterranean cuisine, serving light and flavorful dishes inspired by the coastal regions of the Mediterranean. Guests can enjoy a leisurely meal while taking in the beautiful views of the hotel's pool and garden.
In addition to these restaurants, the Waldorf Astoria Ras Al Khaimah also offers a range of bars and lounges, including the iconic Camelia Lobby Lounge and Peacook Alley.
Here's a recipe for Gnocchi Sorrentina, a classic Italian dish that combines soft potato gnocchi with a rich tomato sauce, gooey melted cheese, and the aromatic freshness of basil. It's a comforting and flavorful dish that brings the taste of Sorrento, a beautiful town on the Amalfi Coast, to your table.
Ingredients :
450 gm potato gnocchi
2 cups tomato sauce
1 cup mozzarella cheese, grated
1/4 cup Parmesan cheese, grated
Fresh basil leaves
Salt and pepper
Preheat your oven to 400°F (200°C). Cook the potato gnocchi according to the package instructions until they float to the surface of boiling water. Drain them and set aside.
In a saucepan, heat the tomato sauce over medium heat until warmed through. Season with salt and pepper to taste.
In a baking dish, spread a layer of the warm tomato sauce at the bottom.
Add half of the cooked gnocchi on top of the sauce.
Sprinkle half of the grated mozzarella and Parmesan cheese over the gnocchi.
Tear some basil leaves and scatter them over the cheese layer.
Repeat the layers with the remaining gnocchi, tomato sauce, cheeses, and basil.
Bake the dish in the preheated oven for about 15-20 minutes, or until the cheese is melted and bubbly and the top is lightly golden.
Remove from the oven and let it cool for a few minutes before serving.
Garnish with additional torn basil leaves, if desired.
Serve the Gnocchi Sorrentina hot and enjoy its delicious flavors!