James Collins (b. 1988) holds a Bachelor of Fine Art from the University for the Creative Arts, Canterbury; and a Master of Arts, Fine Art from the University for the Creative Arts, Canterbury. Exhibitions include Construction Site (Solo Show), Curious/Dubious (group show), Cognition (group show), and student shows at UCA Canterbury and Cyprus College of Art, Paphos. Currently works in East Kent. He mainly focuses on paintings and more recently screen printing. His work involves the use of photography and adobe photoshop and illustrator to create the basis of his work.
What's your artistic background?
My artistic background comes from my Mum and Dad. My Dad was a furniture maker with a large workshop in the garden and my Mum is a card maker and does embroidery so I have always been exposed to different creative ways of working since I was very young. Art was the subject I was good at in school and decided to pursue it into University thanks to my English teacher at the time, I then carried on to a Masters degree which is where I started my interest in architectural art. I am mainly a painter, but occasionally create sculptures to go alongside my work and this year I have added screen printing to my practice.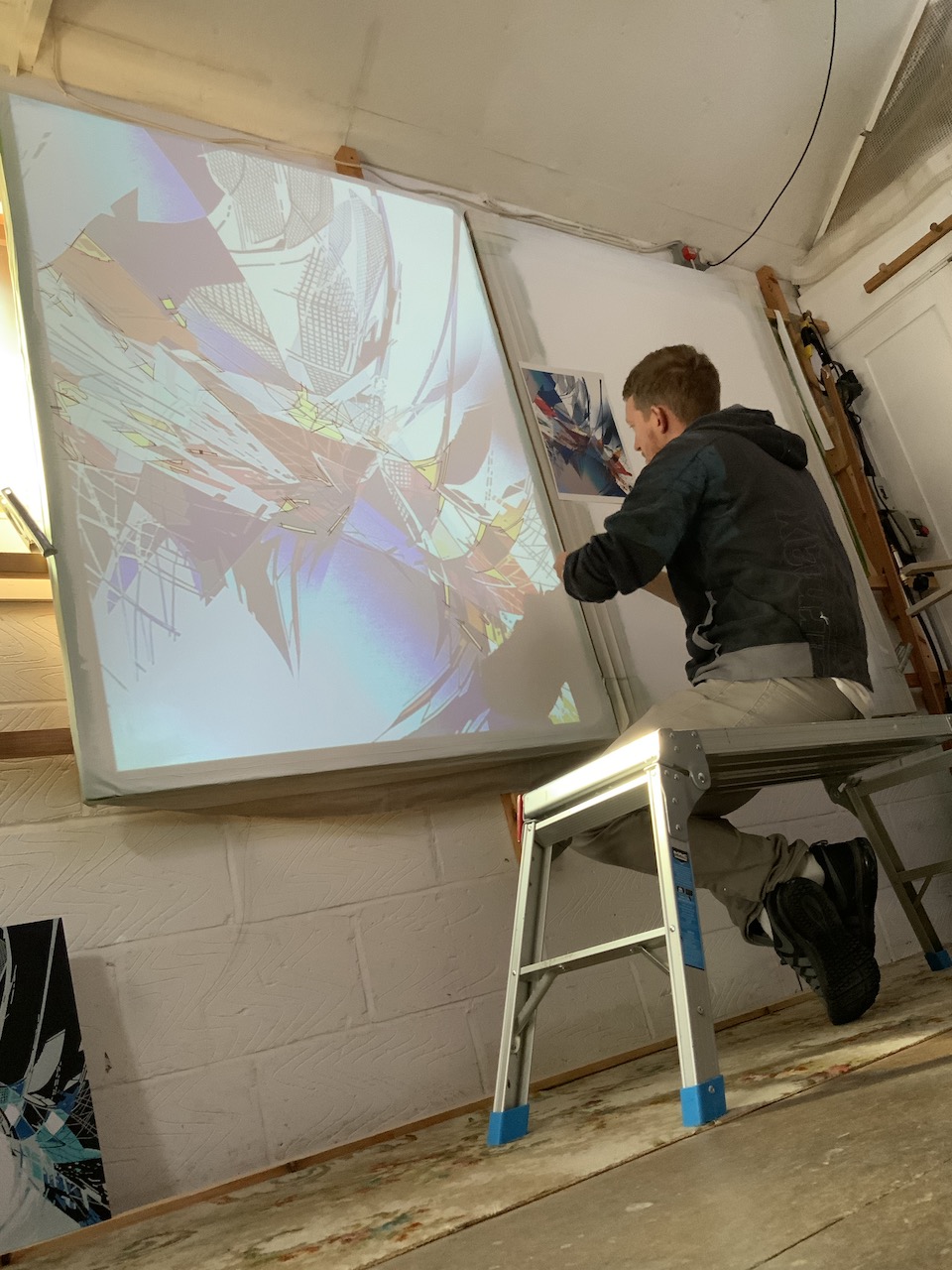 What's integral to the work of an artist?
Creating pieces of work that people can respond to. Whether it is through colour, composition, or theme. People always ask about the meaning behind an artwork, I think the point as the artist is to get people to think of their own meanings. Everyone will interpret a piece differently and have personal preferences. If everyone knew everything about an artwork it would become a bit boring and there would be no discussion about it.
What role does the artists have in society?
To create a conversation between people. Show a different view of the world. Try to be innovative and create new things. I also like the fact that some people get enjoyment from my work and it can enhance their house, office or any other space.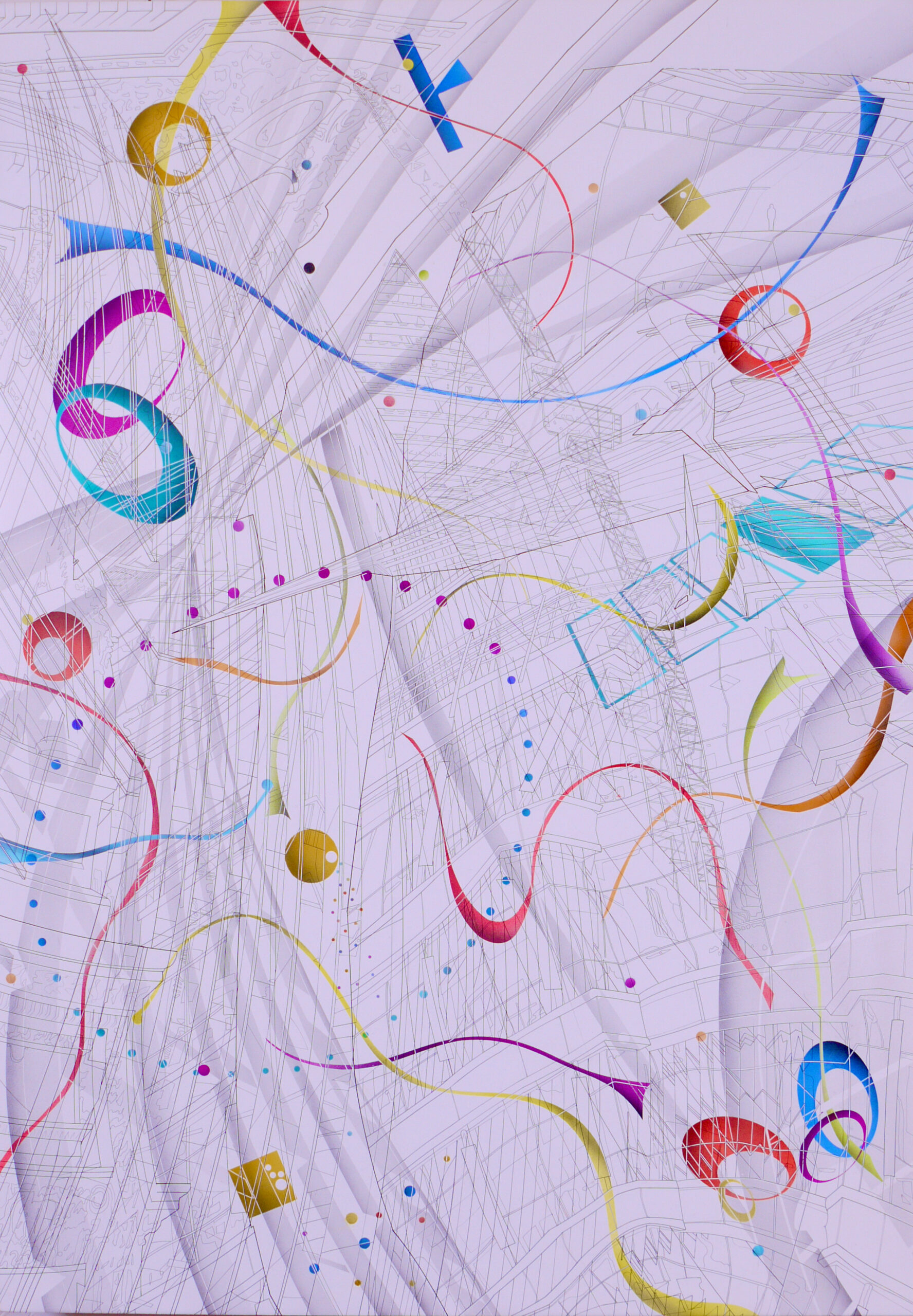 What art do you most identify with?
Architectural themed work whether it is sculptural, printed or painted always catches my attention. But I am quite open to looking at any work. If the work makes me question how the artist has created it due to the technical brilliance they have succeeded. I always look at how the painting is applied to the stretcher, how neat is the gesso application, how has the work been layered.
What themes do you pursue?
We see architecture, geometry and shapes everyday. I try to explore the idea of adding architecture to a two-dimensional painting plane. I work with architectural sources, that may only be related by the architectural content. The idea of integrating unrelated elements is a focus of my work. I layer images of architectural imagery, which will only be related by the architectural content. I attempt within my practice to find relationships within the images by the way I layer them to integrate the unrelated elements. Currently my work is exploring the idea of a space within a space. I am not designing a space to paint, but trying to form intuitive spaces composed of nascent geometries and architectural compositions. By exploring the relationship between three-dimensional geometry and it's compression into two-dimensions and by playing with the illusionary potential of three-dimensional elements. I want the viewer to look, and work out the relationships between the different geometrys. With the viewer potentially creating three-dimensional spaces in their mind as they study my paintings.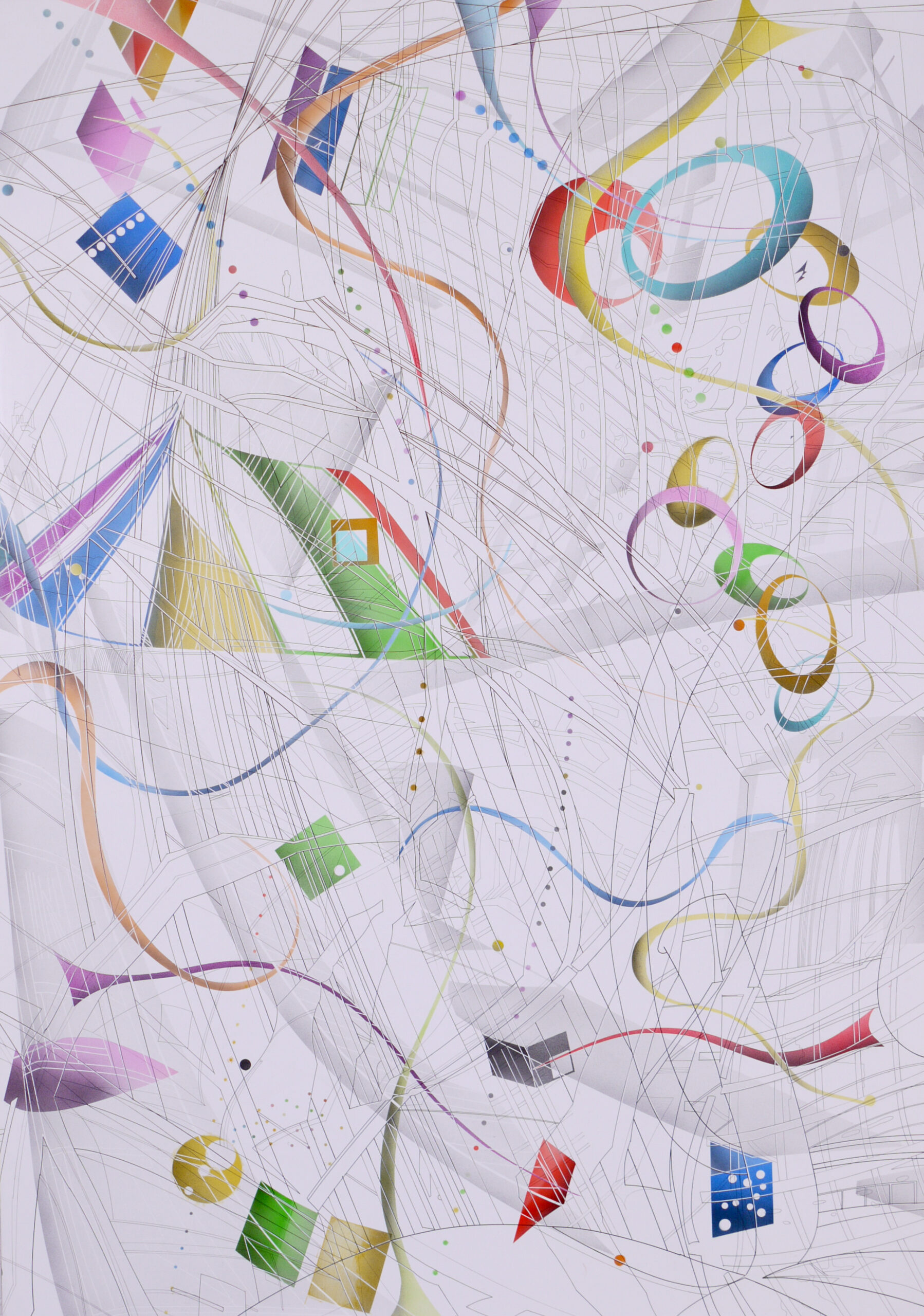 What's your favourite art work?
I have a lot. Mark Rothko, Jackson Pollock, Julie Mehretu, but I think A Bigger Splash by David Hockney. It reminds me of being on holiday in the sun. I have a small print of it on the wall at my house. As I go down the stairs to work I always see it.
Describe a real-life situation that inspired you?
A London trip on at the end of my degree. I was in Canary Wharf for the first time and really understood the size of the buildings. You can really tell from a photo, but when you are stood at the bottom you really get a sense of it. I took a lot of photographs from different angles that day of the different architecture around, I still use elements from those initial architectural photos today.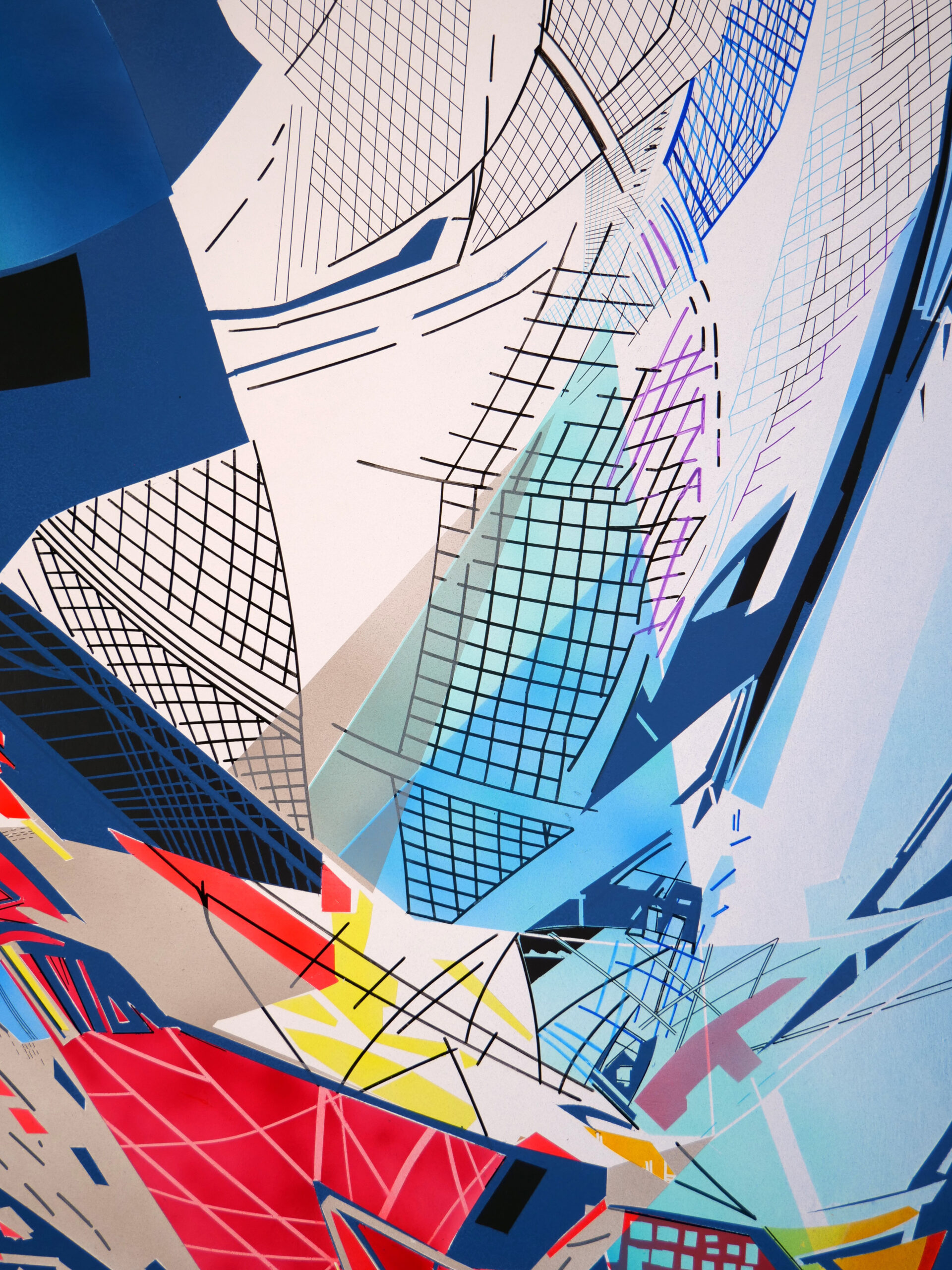 What jobs have you done other than being an artist?
I was a waiter when I was younger for nearly 10 years and used to also do some gardening work. I now teach art alongside my current art practice.
Why art?
Art is fun, I enjoy trying to work out how to push my work further and create better results. For example the experimentation with the ground of the painting, using different sanding techniques when applying gesso to the linen. Also the use of an airbrush and the constant battle to stop under-spray and get a clean line and finish to my work. I also like bringing technology into my work such as photoshop and illustrator to help me manipulate my photography which then forms the basis of my work. I enjoy the process as much as the final product.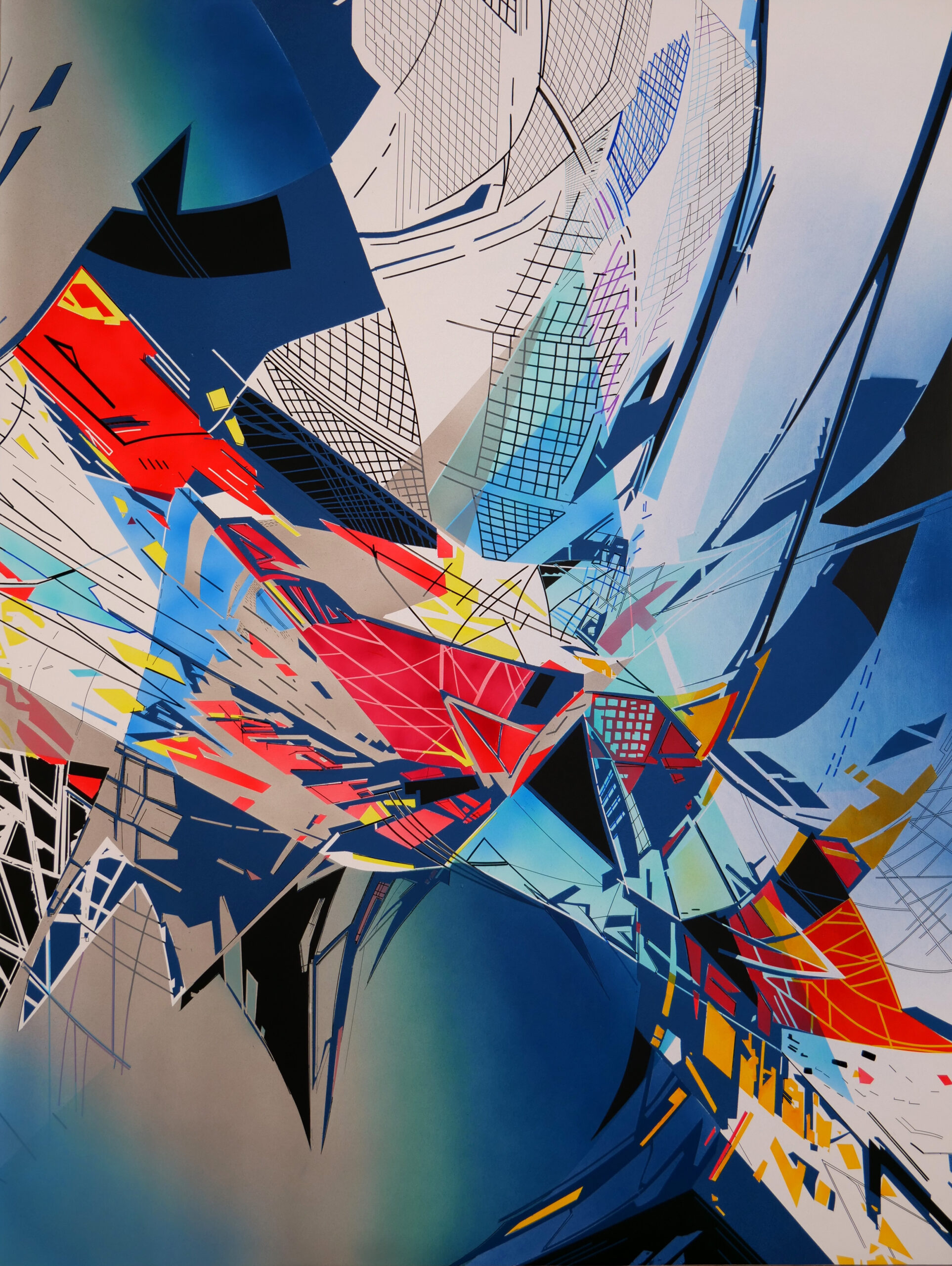 What is an artistic outlook on life?
Well art is everywhere, it is whether you choose to see it. Everything man-made is created and designed, an artist somewhere would have had to create an initial drawing for it. I think we all need to realize that a bit more.
What memorable responses have you had to your work?
"Well that looked like it took 5 minutes to make, ah sorry, I know it didn't." This was at my MA final exhibition, and the work did take significantly longer to make.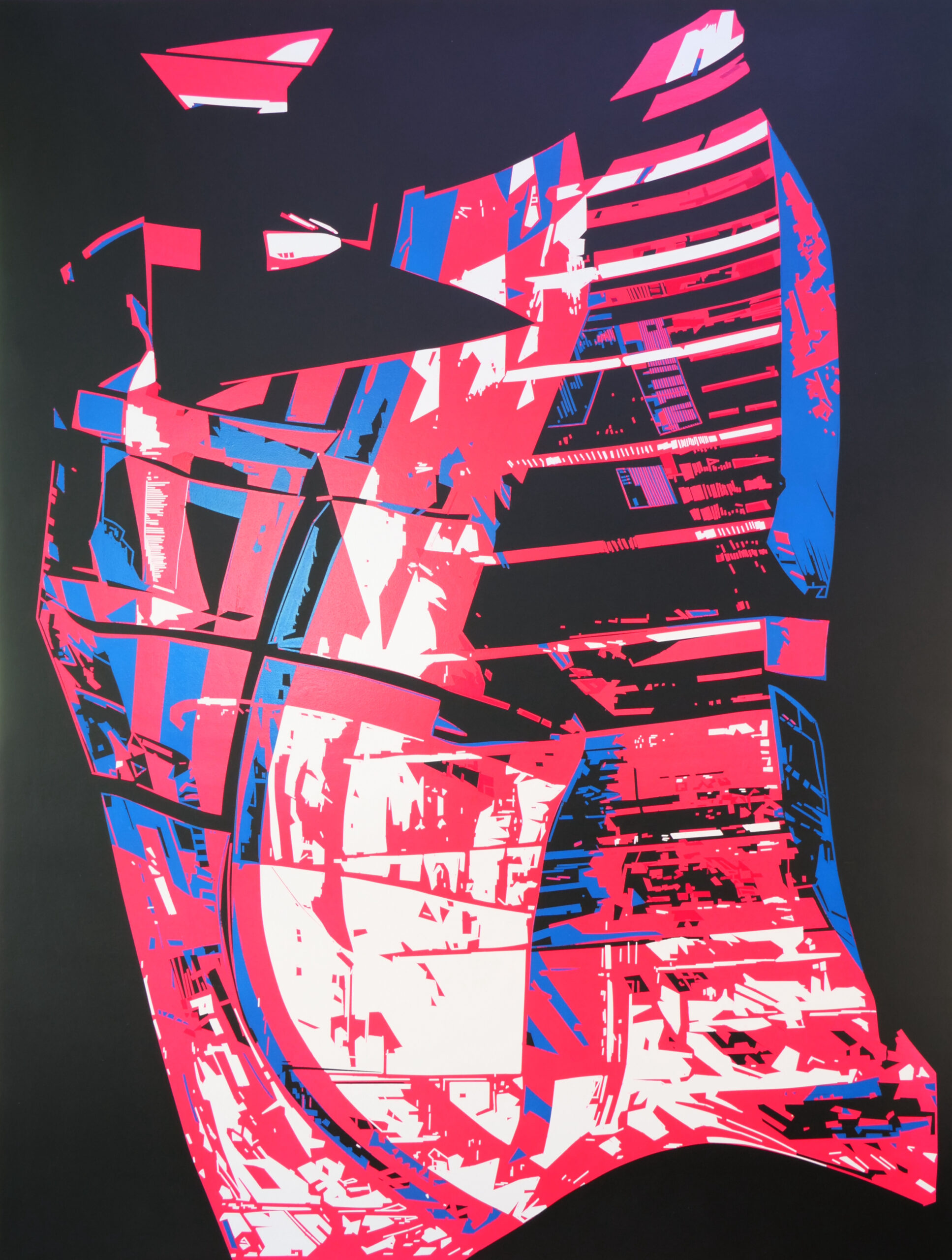 What food, drink, song inspires you?
I cannot pick a specific song. I listen to a lot of music all the time, especially when I am working, I can get hooked onto one song and play it over and over again. Normally it is my girlfriend's favourite song by Gotye – Somebody I used to know, as she plays it over and over at home, it just gets stuck in my head.
Is the artistic life lonely? What do you do to counteract it?
No, I do not find artistic life lonely, it takes up a lot of time and that sometimes requires sacrifice. But my family and friends know why I do it. I like to be working on a painting and have my music on loud, I will talk to my family about the work often as well. As a teacher I have to talk a lot and I am surrounded by people, it is good to get away from all of that by going into the studio.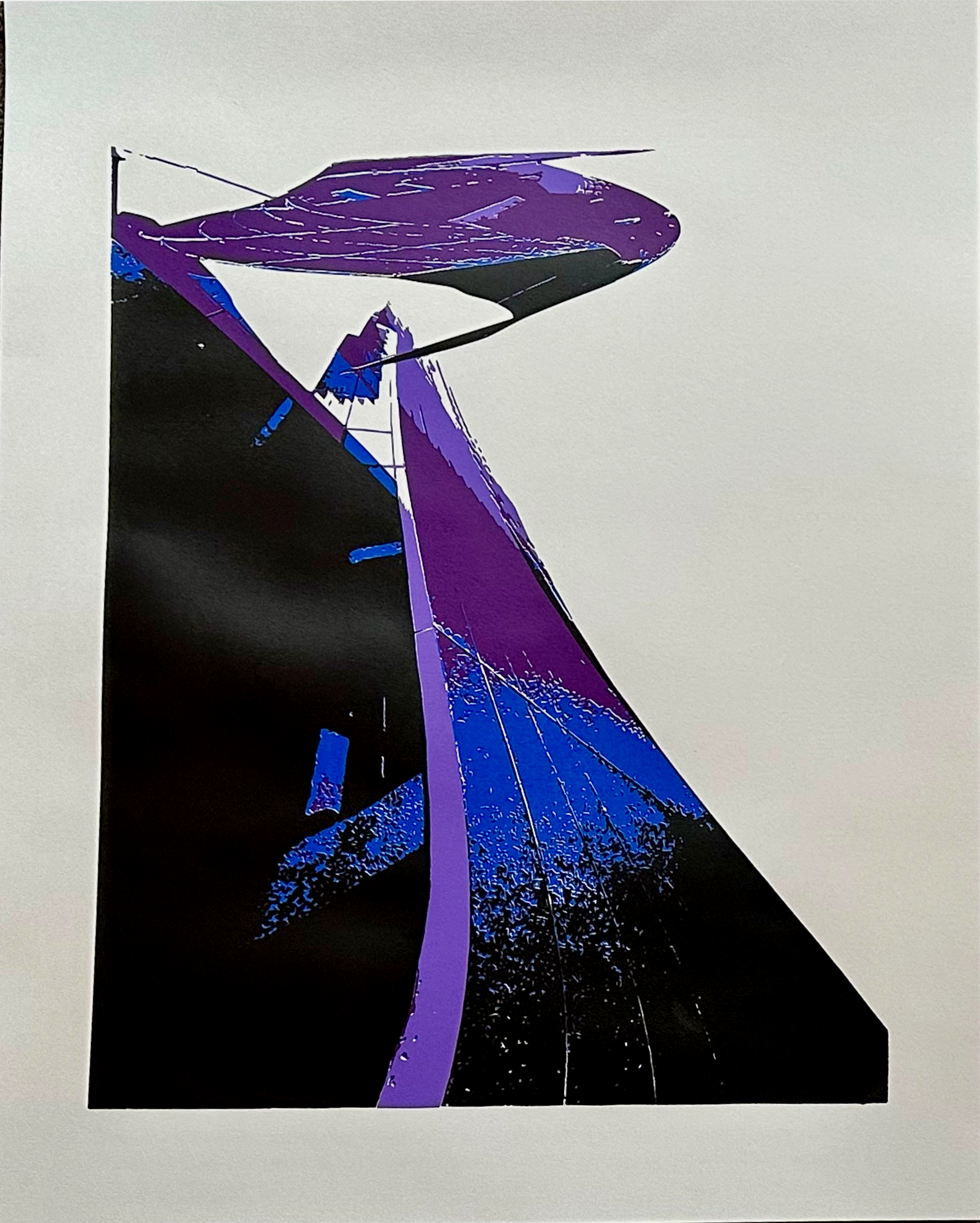 What do you dislike about the art world?
That everything has to have a hidden meaning or concept behind it promoting popular ideologies. A lot of people seem to think art needs to change society's thinking, it doesn't.
What do you dislike about your work?
The only thing I dislike is the time it takes to create. I want to create more, I have a lot of ideas and sometimes not enough time to execute them all. That can be quite frustrating at times.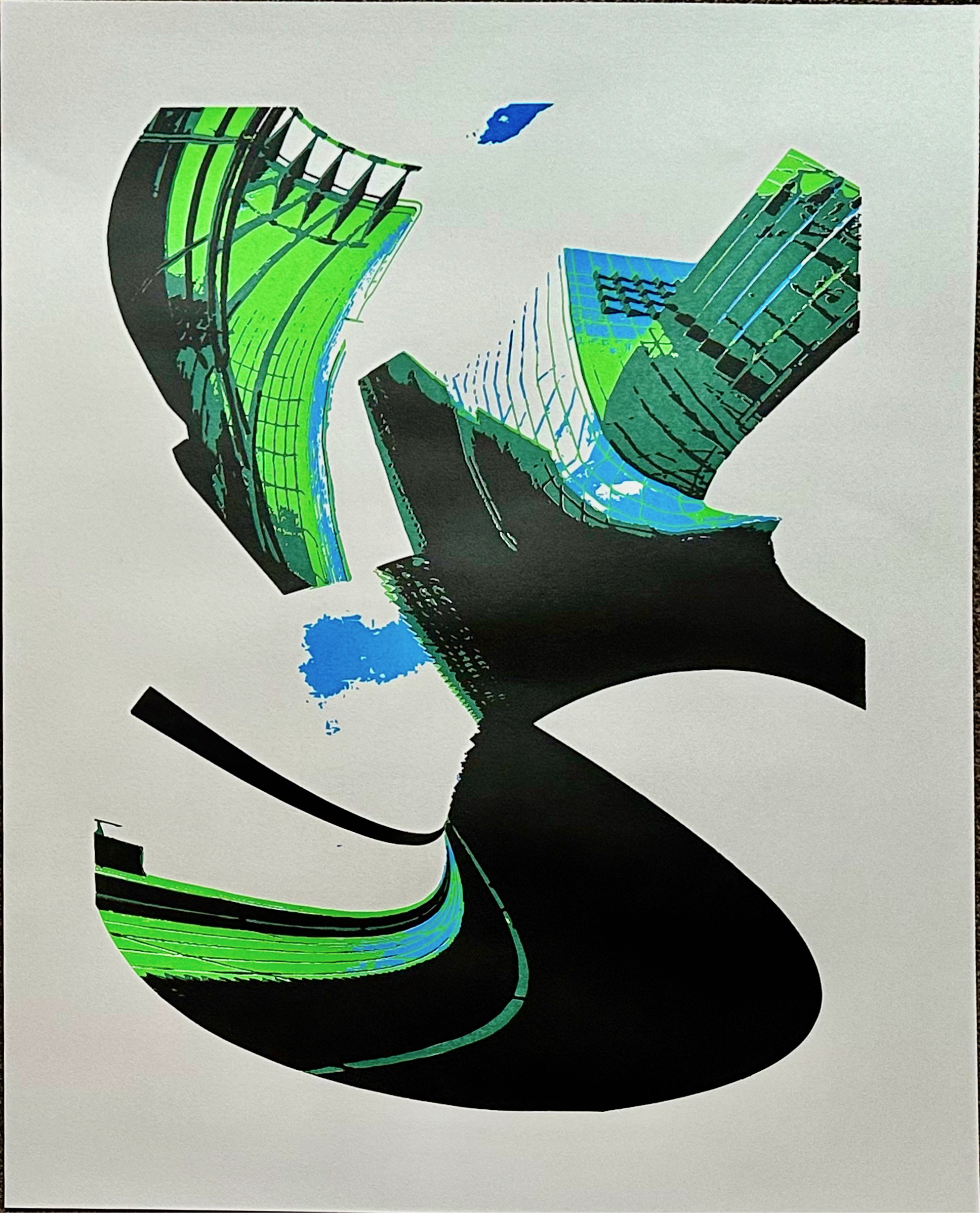 What do you like about your work?
The process. Every aspect of creating it is enjoyable and once it is on the frame completed, it is a good feeling.
Should art be funded?
Yes, the experimentation side of art especially as this needs to be funded by the artist themselves. I think funding should be higher in education and outside workshops to allow more people to access materials and equipment.
What role does arts funding have?
It allows people to focus on the art itself rather than money. It will allow more people the ability to try things out and learn things about making processes that they would not normally have access to.
What is your dream project?
To have a solo exhibition at the White Cube Gallery. An excellent space which would enhance the colours of my work. One day maybe.
Name three artists you'd like to be compared to.
Julie Mehretu – The finish of her work and the level of detail she puts into each piece.
David Hockney – The colours he uses in his paintings and the fact he uses a range of different technology.
Ross Hansen – His work has really brilliant finishes to it.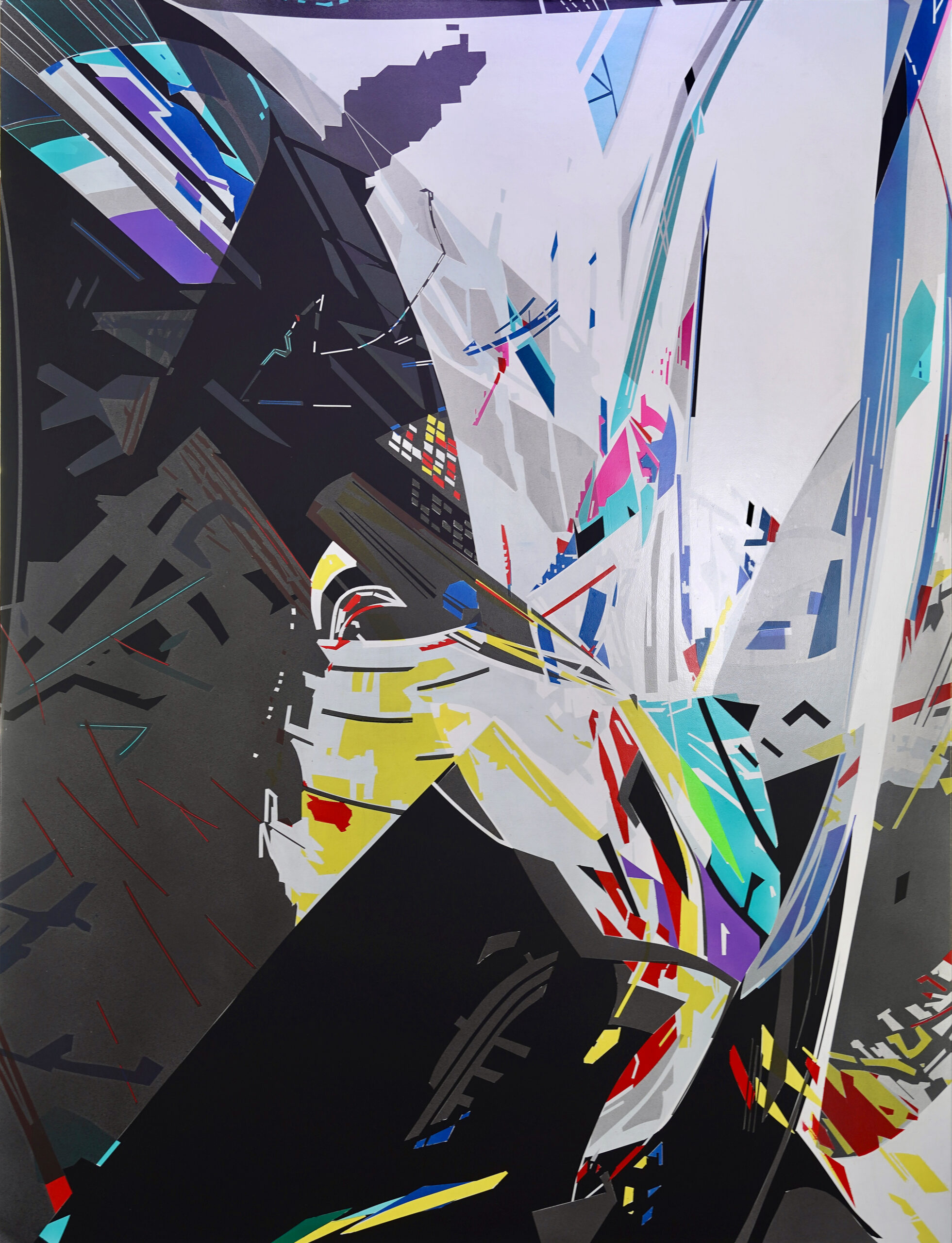 Favourite or most inspirational place ?
London, more of an inspirational place rather than a favourite place. A lot of my photography is from London and the range of architecture there. It is the place that has had the greatest impact on my work and artistic practice.
What's the best piece of advice you've been given?
"Stick to your job"
Rather than jump around trying different things, stick to what you know and improve.
Professionally, what's your goal?
To earn enough money from my artwork to live on comfortably. I would also like my work to live on once I am finished.
future plans?
To create as much work as I can, continue to try out and learn new techniques. I have so many paintings and printmaking designs that I would like to create!