Ashutosh Thakur holds a Bachelor Degree in Hospitality and Hotel Administration from Institute of Hotel Management, Goa. Currently he is the Director of Food and Beverage – Courtyard by Marriott Pune Chakan and has over 18 years of rich experience in the hospitality industry. He started his career from the iconic JW Marriott Juhu, Mumbai as a Food and Beverage Associate.
As hands on leader, Ashutosh has been very instrumental in building a strong Food and Beverage team. He has always believed to drive his team from where they are to where they have not been. He is extremely approachable and always available for his peers and team. During his tenure in Courtyard by Marriott Pune Chakan the hotel was awarded for 'F&B Operations of the Year 2017' from Marriott International. He is also the proud recipient of 'Operations Manager of the Year 2019' in Marriott Select Brands globally.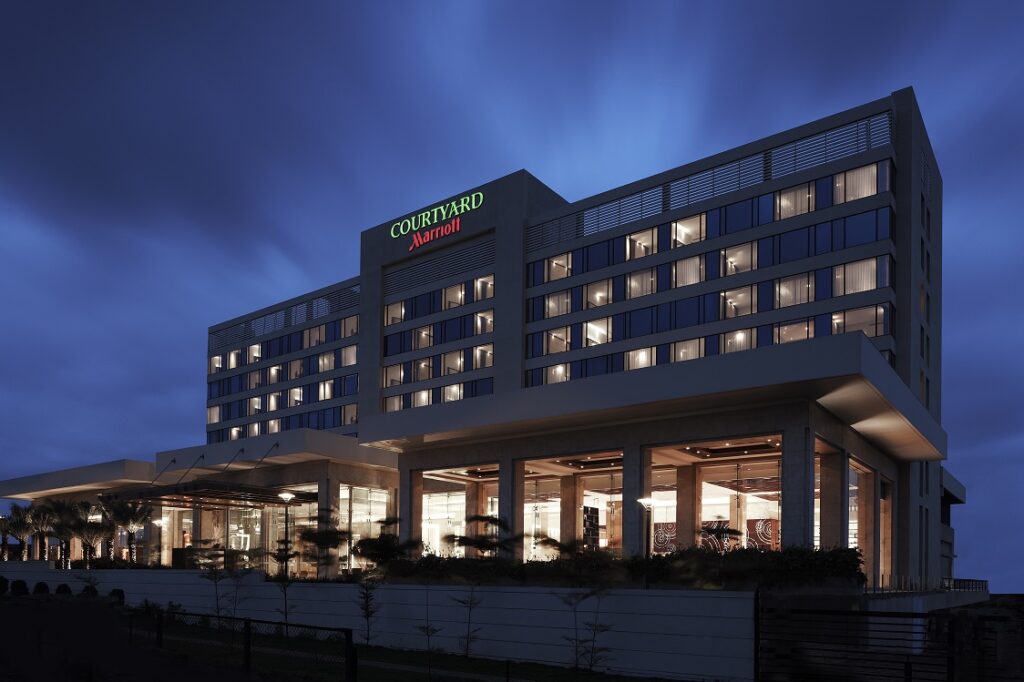 What makes Courtyard by Marriott Pune Chakan stand out from other properties you've worked in?
The award-winning Courtyard by Marriott Pune Chakan welcomes business travelers, families and guests along with their pets with contemporary accommodation, terrific amenities and a convenient location. Our hotel is in Chakan, Pune, India's industrial belt. Sophisticated eco-friendly rooms and suites, brimming with perks such as feather bed mattresses, high-speed internet, marble bathrooms and 24-hour room service.
Courtyard by Marriott Pune Chakan provides an upscale, fast casual dining environment, freshly made to order options, including a full range of grab n go selections for our guests.
Who is your typical customer?
Located in the automobile hub of Maharashtra, Courtyard by Marriott Pune Chakan has an influx of business travelers during weekdays and leisure travelers during weekends. We host a lot of long stayers who end up becoming more like a family by the end of their stay. Our picturesque surroundings in the hotel makes it an ideal destination to all celebrations; customized and designed as per client's requirements. With our impeccable service over the years our hotel has become a preferred choice for wedding destination for Mumbai and Pune market.
If you could plan a one-day itinerary for guests looking to explore Chakan in Pune, where would you send them?
Historically, Chakan has been a wholesale agricultural produce trading hub. Its agricultural market was a major onion trading center. Chakan is now home to a Special Economic Zone (SEZ) promoted by the Maharashtra Industrial Development Corporation (MIDC). It's well known the top 'automobile and manufacturing hub of India'. It hosts automobile production plants for the Skoda Group, Daimler, Mahindra & Mahindra, Jaguar Land Rover, Bajaj Auto, General Electric and Hyundai.
For guests to explore, Chakan boasts the Sangram Durga or Bhueekot Killa, which was once the domain of Chhatrapati Shivaji Maharaj. The fort is built on level ground and surrounded by the fortified walls and turrets. It differs from most Indian forts which were traditionally built on hilly, elevated land.
The Chakreshwar temple is another site of importance. Legend has it that it is the site where King Dasharatha was battling a Rakshasa (Demon King), when the wheel of his ratha (chariot) was stuck in mud near the pond of Chakreshwar. When his wife Kaikeyi helped get the wheel unstuck, Dasharatha granted her three wishes, which eventually led to the exile of Rama and the subsequent events of the epic Ramayana.
Building the right team is crucial for a property's success. What are the key skills you look for when hiring new employees?
When it comes to hospitality and customer service, 'soft skills' are often the difference between a good hotel employee and a great one. Yes, you need the 'work skills' to do the job and those skills are often gained through training and experience. But, the soft skills are just as important and you usually gain them through life experience, not just job experience. It makes you better at your job and its worth exploring them and developing your abilities in those areas. Some of the essential skills that I look out for when hiring a new employee are:
Being approachable: Guests need to be comfortable talking with you and letting you know what they need to have a terrific experience at your hotel. You want them to feel at ease interacting with you.
Having a positive attitude: Maintaining a positive attitude when dealing with guests and providing the best possible customer service to everyone. This is a critical trait in all teams, it makes you a pleasure to work with and builds better relationships overall.
Being a good problem-solver: Being able to think on your feet and contribute to good solutions is a valuable skill. You'll need to think creatively, act independently and resolve issues within company policies and procedures.
Sharing your enthusiasm: Great hotel employees love what they do and are warm and inviting. They care about giving guests the best possible experience and truly enjoy serving others.
Showing commitment: This is at the top of the "soft skills" list of many managers. Being willing to do what it takes to keep customers happy and create repeat business shows you are thorough and understand the importance of customer service.
At work which is your most challenging activity and why? 
As the growth and success of the hospitality sector fluctuates depending on the state of both local and global economies, finding and retaining talent. As the industry continues to grow, attracting and retaining top talent becomes the most challenging yet a top priority for the hospitality industries trying who are trying to edge out the competition.
But employee retention is a challenge, regardless of the industry. According to Talent Management and HR, one third of employees quit their jobs after only six months, whereas 45 percent of referred employees stay an average of two years.
I believe if the hospitality industry wants to retain top talent in the coming years, we must focus on referral-based hires and adopting processes that help boost employee morale and productivity, like in Marriott we have programs like Executive Development Program (EDP) and Leadership Education and Development Program (LEAD), which helps in harnessing the in-house talent.
When are you happiest?
Traveling makes me happiest all the time. Traveling is wonderful in many ways. It captures us with a sense of wanderlust and has us longing for more destinations to visit, cultures to experience, food to eat, and people to meet. If there was one piece of advice I have for people today to experience more joy in life, it is to travel more.
2020 and 2021 were challenging years for the hospitality industry. In your opinion, how will travel trends change in 2022?
The travel industry has been deeply impacted since the beginning of the pandemic in 2020. While some sense of normalcy could be seen mid-2021 onwards as the virus showed signs of receding and travel started opening up, but with the emergence of the Omicron variant and cases once again on the uptick, it will be weeks before the true impact of the new variant can be seen on the industry.
I personally believe that the travel trend will continue to remain strong in 2022 which will include people opting for staycations in homestays such as villas and holiday homes, preference for mini-holidays over one big annual trip besides demand for travel deals, offers and value-adds. The pandemic has also led to a conscious shift among travelers with many searching and booking sustainable travel options.
Another big shift in travel behavior during this period, which I personally believe has been an increase in interest to discover and explore some of the hidden gems or unexplored destinations, I hope to see many people majorly couples and young adventure travelers booking multiple trips to some of the unheard leisure spots across the country.
Was a career in hospitality something you always dreamt of?  What is your advice to aspiring hoteliers? 
Although I never dreamt of being a hotelier in my childhood, but when I got introduced to hotel management and the glamour of the hospitality industry it something I grew into and now hospitality is in my blood. When I started my career there were very few players in the market to choose from. But now the situation has changed, the market has more competition with international brands and India being the major market for the hospitality industry.
My advice to all the aspiring hoteliers is to immerse themselves in their chosen field, adapt to changes as per their organization's requirements, stay ahead of the time and adapt to technology without forgetting the human touch that is the cornerstone of our industry.
Which Indian cities are your favourites for: 1) food 2) history 3) fashion?
Food – Patna, since I was born in Patna, the culture and the food has always fascinated me.
History – Bhubaneswar, my initial childhood days were spent in Bhubaneshwar, Odissa. Popularly known as "Temple City of India". Temples are made in the Kalinga architectural style with a pine spire that curves up to a point over the sanctum housing the presiding deity and a pyramid-covered hall where people sit and pray. The culture survives in the form of Classical Odissi dance, handicrafts, sand artistry and sculpturing as well as theatre and music. Boundary walls and gardens are increasingly being redone to depict the folk art of the state. Odissi, the oldest of the eight surviving classical dance forms of India can be traced from archaeological evidence from the temples in Bhubaneswar.
Fashion – Mumbai, a major part of my life have spent in Mumbai, I personally feel that this city is the epicenter of fashion.
What are some of the new measures your team has put into place to deal with the post-COVID-19 situation?
As we welcome back our guests to our hotels around the world, we are committed in providing them with a safe environment that aligns with expert protocols for working to defeat COVID-19. Consisting of in-house and outside experts in food and water safety, hygiene and infection prevention, and hotel operations, our Marriott Cleanliness Council has redefined our cleaning and safety standards and launched the program named "Commitment to Clean".
When guest check in into any Marriott hotels, they will notice a number of additions to the company's regimen designed to set an even higher standard of cleanliness for the hotels, which includes:
Face Coverings – Providing a safer environment for our guests and associates is a top priority.
Surface Areas and Public Spaces – In public spaces, the company has added to its already rigorous cleaning protocols, requiring that surfaces are treated with hospital-grade disinfectants and that this cleaning is done with increased frequency. In guest rooms, Marriott has added to its detailed cleaning practices, requiring all surfaces to be thoroughly cleaned with hospital-grade disinfectants. These new enhanced cleaning technologies including electrostatic sprayers to sanitize surfaces throughout the hotel.
Guest Contact – To help alleviate the risk of COVID-19 transmission through person-to-person contact, we are using signage in the lobby to remind guests to maintain social distancing protocols and re-arranged furniture to allow more space for distancing.
Food Safety – At Marriott, food handlers and supervisors are trained on safe food preparation and service practices. The company's food and beverage operations are conducting self-inspection using its food safety standards as guidelines, and compliance is validated by independent audits. Marriott has also enhanced sanitation guidelines and training videos for associates that include hygiene and disinfecting practices.