Chef Anoop's culinary journey began at IHMCT in Kovalam, Kerala, India, where he acquired the fundamental skills and knowledge of the chef life during his three years in college. In 2003, he had the privilege of joining the esteemed JW Marriott Juhu in Mumbai, India. After that, he ventured into the Middle East region, where he had the opportunity to work for several luxury brands, including The Fairmont, The Ritz Carlton, Intercontinental Hotel, Kempinski, Desert Palm, and eventually joined the pre-opening team of the luxurious Taj Exotica on The Palm Dubai.
As a Chef he strives to serve as a culinary role model and a source of inspiration for aspiring chefs. Throughout his career, he has established an impressive reputation by working with renowned domestic and international brands, allowing him to display his immense talent and expertise across various culinary concepts and events.
Throughout his illustrious career, he has been fortunate to achieve remarkable accomplishments. One notable highlight was the privilege of being selected to join a distinguished culinary team entrusted with serving the Honourable President George W. Bush of the United States of America. Additionally, he has planned and created menus for esteemed individuals, including His Highness Sheikh Mohammed Bin Rashid Al Maktoum, Vice President and Prime Minister of the United Arab Emirates and Ruler of Dubai, as well as His Majesty King Hamad bin Isa Al Khalifa of Bahrain.
Furthermore, his culinary skills have been recognized with a gold medal at the Doha International Food Festival and the Dubai Culinary Guild Challenge. These achievements inspired Chef Anoop to further enhance his expertise and led him to the prestigious Le Cordon Bleu Paris, where he immersed himself in the culinary arts, expanding his knowledge and honing his skills. In his role as Executive Sous Chef, he has consistently exhibited strong leadership skills. Notably, he successfully led the pre-opening team by assembling a group of over 100 skilled chefs who effectively managed the hotel's restaurants, banquets, and in-room dining operations.
Do you have a favourite time of the year or set of ingredients that you look forward to working with?
I have resided in the Gulf region for over ten years now. Here, we have the advantage of importing ingredients from various corners of the world, ensuring that the finest seasonal and non-seasonal products are readily available throughout the year. However, my personal preference lies with the winter season, commonly referred to as the ' festive season,' as it brings forth an abundance of exquisite exotic ingredients. I enjoy experimenting with intense Asian flavors such as lemongrass, cloves, Thai chilies, pine nuts, and indulging in premium quality seafood options like Canadian lobsters, giant blue crabs, and tiger prawns.
What would you do if you weren't a chef?
Without a doubt, I aspired to follow in the footsteps of an army officer, as my father himself retired as a Lieutenant Colonel. Witnessing my father donning his uniform and dedicatedly serving our nation constantly filled me with pride. Growing up as a military brat, I was fortunate to experience a distinct environment with its own set of challenges and a culture deeply rooted in discipline.
Do your personal preferences influence the menu at all?
Chefs are often remembered for their signature dishes, but I believe in considering the perspectives and palates of customers when creating a menu to leave a lasting impression. It is important for a dish to surprise the customer with its unique combination of flavours, colours, and textures, which all work together harmoniously. I prioritize serving authentic cuisines, ensuring that the flavours and emotions of the dish are not compromised.
What do you think is the most over-hyped food trend currently?
The current hype surrounding alternative protein options, such as Beyond Meat, plant-based sausages, and vegan meats, may seem overwhelming. However, it is important to consider whether these trends align with the concept and identity of your restaurant. If your establishment focuses on meat-centric cuisine, incorporating a multitude of plant-based or vegan meat dishes may not fulfill the purpose. Food is much more than mere sustenance; it is intertwined with family, community, and personal identity. By prioritizing fresh ingredients, we nourish all these aspects when enjoying a meal.
When are you happiest?
Exploring different cuisines while traveling with my family and savouring the diverse flavours. It's an excellent opportunity to discover new culinary delights and deeply engage with different cultures. Moreover, it sparks an ongoing desire to learn more. Another activity I thoroughly enjoy is embarking on long drives with my friends and family. I have a keen interest in muscle cars and have had the pleasure of owning both a Mustang GT and a Dodge Charger SRT.
When you're not in the kitchen where can you be found?
One of my favourite pastimes is going on drives and exploring the local restaurants and food joints in my area, indulging in the regional delicacies they have to offer.
Where is your favourite place to dine?
In 2005, I arrived in Dubai as a commi, beginning my journey at one of the prestigious luxury hotels. It was during that time that I discovered my fondness for visiting Calicut Paragon, a restaurant that holds a special place in my heart since childhood. This eatery originated in Calicut, the hometown of my mother, and has been renowned for serving authentic Malabar cuisine since 1939.
What's your favourite takeaway or comfort food?
I really enjoy Levant cuisine and have a particular fondness for their mezzeh, wraps, and starters. Whenever I'm in Dubai, I always make sure to get the Chicken Shawarma from Al Safadi as it's perfect for a quick and convenient meal on the go.
What makes the local food scene so exciting?
Cultural diversity, global culinary talent, Emirate cuisine, luxurious fine dining, street food culture, food festivals and events and stunning dining venues. All these factors contribute to Dubai's exciting and ever-evolving food scene, making it a destination where locals and visitors can satisfy their culinary cravings and discover new and exciting flavours.
Which is the dish you've created that you are most proud of and why?
The culinary creation that took me to Paris by winning a gold medal. It was a delectable grilled chicken breast paired with marinated chicken liver infused with grain mustard and caraway seeds. Accompanied by a flavorful combination of yam, lemon grass, and coconut foam, and garnished with a drizzle of chili and basil oil, this dish truly captured the essence of French cuisine.
Name your favourite city that has it all: food, culture, and nightlife.
Dubai – the city that encompasses everything you desire: a culinary paradise, a cultural hub, and a vibrant nightlife destination.
 Can you tell us more about the cuisine at your restaurants?
Taj Exotica Resort & Spa embodies a global culinary experience, showcasing a diverse range of cuisines from around the world whether it is the English pub Roaring Rabbit, the Indian gourmet delights of Varq, the fusion of Arabian flavours at Raia, and the international fare at our lounges, bars, and beach club.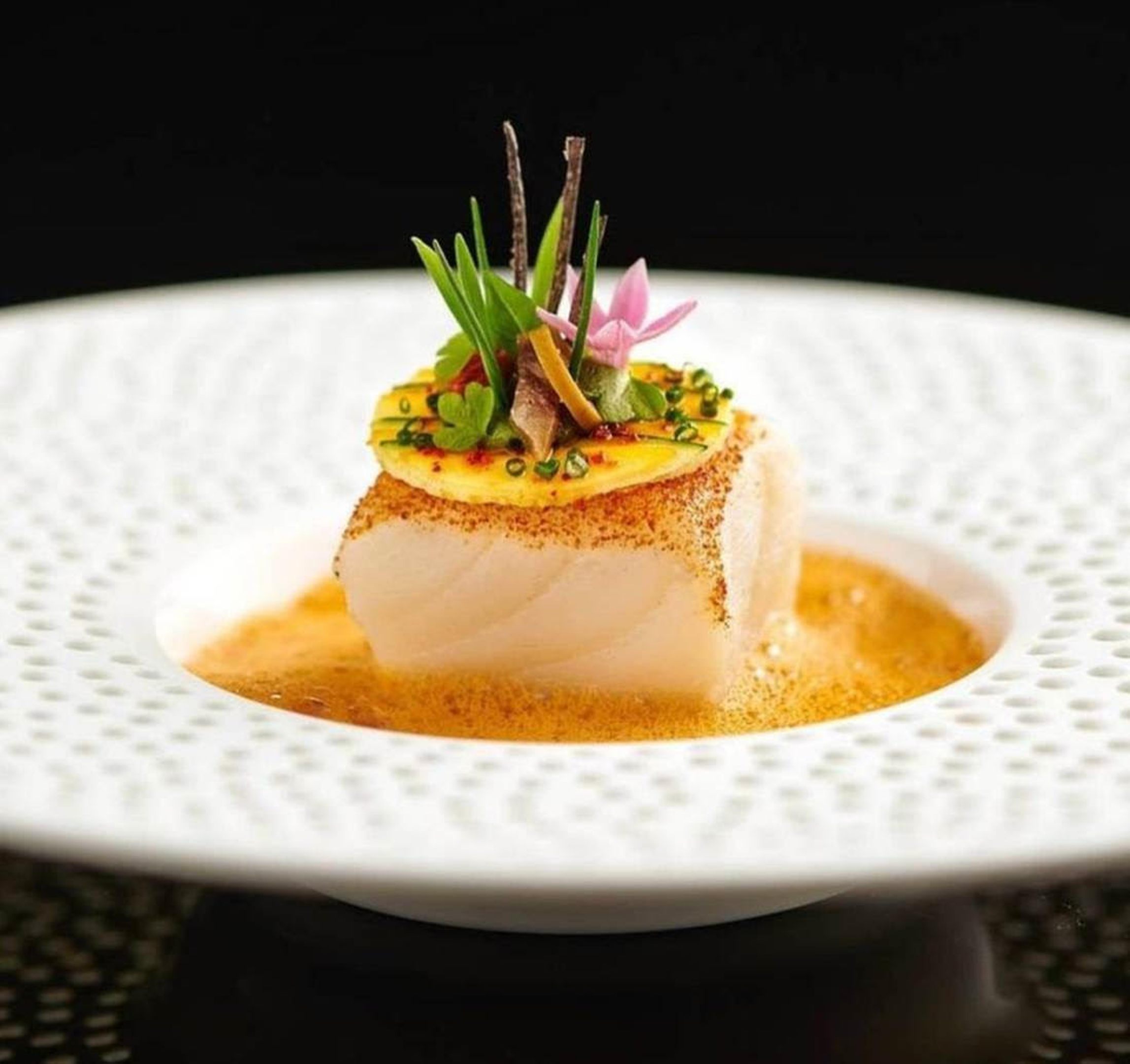 Pan Fried Chicken Breast with Lemon Grass Foam is a recipe from Chef Anoop Brelvi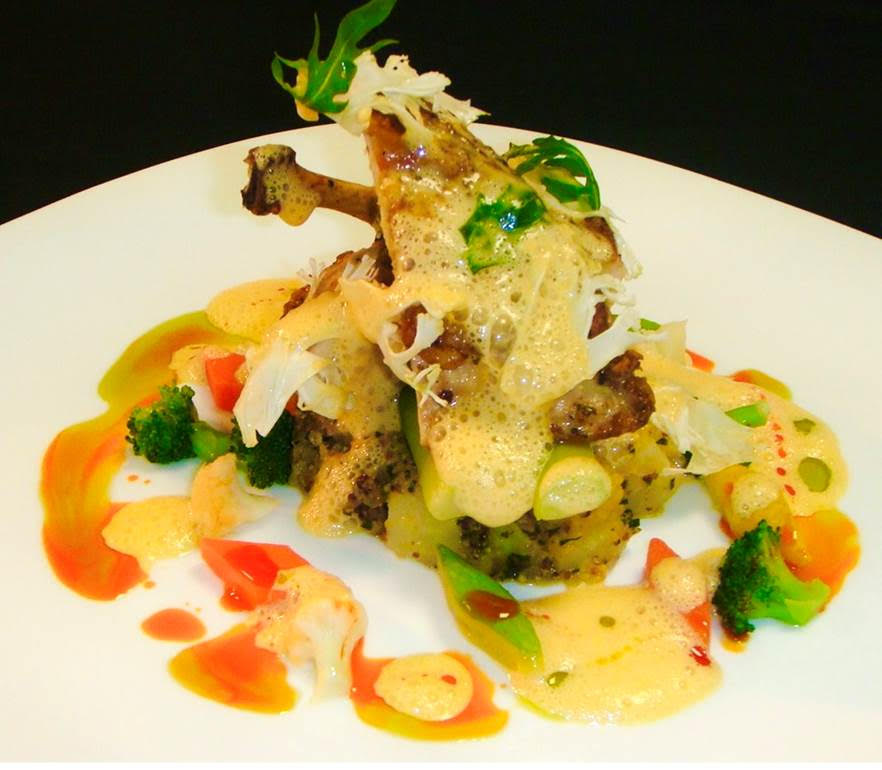 INGREDIENTS
Corn-fed chicken breast with bone and skin     800gms / 4 pcs.
Thyme:                                                              10 gms.
Garlic :                                                               25 gms /4-5 cloves.
olive oil :                                                            100 ml
Sea salt ( maldon ):                                            50 gms
Crushed pepper :                                                5 gms
Asparagus:                                                          200 gms
Baby leeks :                                                         120 gms
Carrot :                                                                 200 gms
Cauliflower :                                                         100 gms
Broccoli :                                                               100 gms
Yellow Zucchini :                                                    200 gms
Green zucchini :                                                     200 gms
Grain mustard :                                                      35 gms
Yam :                                                                      800 gms
Red Onions :                                                          160 gms or 2 pcs
Chives :                                                                   125 gms
Chicken liver :                                                          200 gms
Lemon grass :                                                          150 gms
Ginger :                                                                     50 gms
Thai red chili :                                                           80 gms
Galangal :                                                                 75 gms
Lemon leaves :                                                           5 gms
Butter :                                                                        200 gms
Coconut milk :                                                             100 ml
Cream :                                                                        200 ml
Spring onions :                                                             50 gms
Milk Full cream :                                                           100 ml
Cumin seeds :                                                               3 gms
Turmeric powder :                                                          2 gms
Wild Rocket leaves :                                                       5 gms
Salt :                                                                               10 gms
Chili oil :                                                                          10 ml ( optional for plating)
Basil oil :                                                                        10 ml (optional for plating )
PREPARATION
Clean the chicken liver and soak in fresh milk.
Marinate the chicken breast with salt, thyme, chopped or crushed garlic and crushed black pepper, olive oil.
Cut the lemon grass in smaller pieces and roughly chop the galangal, ginger, spring onions, red chili, lemon leaves, garlic (1 clove).Add all these to the coconut milk and cream in a stock pot with 50 ml water and let the sauce boil and reduce.
Wash Yam thoroughly in cold water and peel and cut in cubes, also same time cut the seasonal vegetables into desired shapes like diamonds or cubes.
Place the yam cubes to boil in water with some cumin seeds, turmeric and salt until well cooked, blanch the seasonal vegetable and chill in cold water and keep aside.
Chop the red onions and chives, and saute in a pan with chopped spring onions. Drain the soaked liver and add it to the pan and cook until the liver starts to break, add cooked yam cubes and season with grain mustard, salt and crushed pepper.
Pan Fry the chicken breast in oil and butter. And cook in a preheated oven at 160 degrees for 14 mins.
Blend the lemon grass & coconut milk sauce with a blender and strain the sauce , reduce for a while .Toss the seasonal vegetables with butter and season with salt and pepper
Serve the Chicken breast on bed of crushed liver and yam, topped with seasonal vegetables tossed in butter .Blitz the lemongrass coconut milk sauce to form foam and serve on the chicken.
Garnish with rocket leaves & dried cauliflower leaves (dried under a heating lamp or salamander, drizzle on the sides chilly and basil oil optional)