Mumbai born and bred, Chef Amit Puri is a renowned chef with 23 years of experience, a food and beverage consultant since 7 years, founder of InSiViA Hospitality, co-founder of The Blue Tiffin and Wicked Wraps and a Cookbook author. He has always believed that "A great dish lies in its honesty and genuineness." Whether a person is a great cook or not, if he puts his heart and soul into the dish, it will automatically reflect in his cooking. As a chef, he has always respected the produce, and believes that it is the little things that come together to create a magical experience. These little things or ingredients are what must be treated with utmost respect and holds major value in his life.
Having successfully executed over 60 food and beverage projects since 2017, we at In.Si.Vi.A Hospitality believe and acknowledge that every project, every city and every nation's requirements are different and hence provide customized solutions to our clients that can help them set up business from ground zero or just tweak their operations and menu in case of a running business.
Do you have a favourite time of the year that you look forward to working with?
I fancy using lemon, chilies (fresh or dry) and fresh herbs (rosemary / oregano / thyme / mint / coriander / parsley) throughout the year, obviously depending on the preparation, cuisine and origin of the recipe. Korean Gochujang chili paste is something that I've realised could probably be adapted in cuisines other than Pan Asian – in Indian preparations while making kebabs and curries, and in Italian recipes while making a hot marinade or salad dressing, definitely a new favourite. Mangoes, lychees, strawberry and green garlic are some of the seasonal ingredients I like incorporating in my recipes.
What would you do if you weren't a chef?
I was preparing for Engineering before I decided to be a chef. Today, honestly, its hard to imagine what I'd be doing if I wasn't a chef, but if that hadn't panned out, I would have probably chosen a creative career option in Music, or perhaps continued with Engineering.
Do your personal preferences influence the menu at all?
Yes absolutely. I travel quite a lot and get to experience local cuisines and trending restaurants. And sometimes, the dishes I try are an immediate hit and can be very inspiring. I tend to use inspiring elements, ingredients, or flavours from these preparations in menus I curate.
What do you think is the most over-hyped food trend currently?
A few come to my mind :
Dalgona coffee – An absolute waste of coffee, sugar, milk and time.
Butter boards – While cheese boards, charcutier boards, hummus and Lebanese boards can be an outstanding centerpiece to your dinner tables especially for large gatherings, butter boards are just over-hyped pretty boards that solve no purpose.
Everything charcoal – I think as consumers and as chefs, we've experienced enough food and beverage turn 'un-naturally' black. While this looked good when it started, its had its run I believe.
Plant based meat – Seems extremely forced and not natural.
Avocado – Personally and probably the only good thing to happen with an avocado is Guacamole. In everything else, it is just an ingredient with no value addition
When are you happiest?
The greatest satisfaction for a chef, or anyone creative, I believe is acknowledgement and appreciation, in any form, towards their work, creation and art. In my case, the end consumers and their comments and the frequency of their visit to restaurants gives us a very clear indication of our work done. The consumer today is as knowledgeable and exposed to new restaurants trends, as we chefs are. Hence it becomes even more important for us to be a step ahead and in sync with current trends, flavours, and concepts. Executing and curating trending menus that are well received and recognized by intelligent and well-travelled consumers is extremely satisfying and fulfilling.
When you're not in the kitchen where can you be found?
I have an extremely packed calendar and travel schedule. In the last 6 months of 2023, I am scheduled to open restaurants, breweries, lounges, cafes, banquet spaces and QSRs in California, Dubai, Indore, Jamshedpur, Bhopal, Raipur, Nagpur, Mumbai, Hyderabad, Ahmedabad, Chennai and Surat. If I'm not found in the kitchen, you will probably find me binging on some series on my television at home.
Where is your favourite place to dine?
In a heritage-rich country like India, with so much diversity in each state, it is absolutely unfair to choose a favourite dine in place. Given a choice, I would prefer traditional Indian food over international cuisine. However, Chettinad, Kerela, Maharashtrian, Punjabi, Telangana, Rajasthani and Bengali are my preferred Indian cuisines.
What's your favourite takeaway or comfort food?
Biryani, kebabs, dal tadka and roti are an absolute favourite. Home made Rajma chawal with ghee, and sliced onion is another choice of comfort food. Sandwiches are my preferred grab-and-go meals when I'm in a rush.
What makes the local food scene so exciting?
Local food is extremely pure, in its absolute true essence, a reflection of un-adulterated comfort and without any frills of service, unnecessary garnishes or attachments. Not to mention the flavours are bang on and extremely diverse reflecting the identity, culture, history and heritage of that city and town.
Which is the dish you've created that you are most proud of and why?
I had curated a menu for a Turkish-Indian lounge in Dubai back in 2019. For this menu, I had created a pumpkin hummus which was topped with prawns that were marinated in lemon and chilies and then smoked in the tandoor. The hummus was beautifully balanced with creamy tahini and a puree of garlic confit, with flavours of fresh dill, lemon zest and a hint of rosemary. I had then finished the preparation with some sumac marinated chickpeas for an extra kick of lemon and crisp fried garlic. The preparation beautifully showcased the 2 cuisines coming together on 1 plate, the creamy pumpkin hummus nicely complementing the smoked lemon prawns, which paired beautifully with a buttered crusty bread or a soft warm pita.
You're having friends over for dinner tonight. What's on the table?
A large bowl of a dip surrounded by a bunch of chips and crackers for sure. Dal makhani or Pindi chole, sukhe chatpate aloo and home style Punjabi chicken curry if the menu is Indian. Chilled rice kheer at the end of the meal. Or Crispy fried Asian chicken or paneer followed by Chicken / Vegetable Khauswe with steamed noodles. Will probably call for an ice cream to end this meal.
Name your favourite city that has it all: food, culture, and nightlife.
Dubai, Singapore and New York would be my favourites, in that order. Probably because of the diverse cultures and variety seen at these cities.
Can you tell us more about the cuisine at your restaurants?
As a consultant, my team and I have had the opportunity and privilege to setup, open and curate all kinds of menus across cities and countries. While my style of cooking revolves around comfort food, on the menus I curate, I often try to re-define comfort and popular food. Our menu selection spreads across Kebabs, curries and biryani, to Wood fired and Deck oven pizza and hand made pastas, from Asian curries, Sushi, Poke bowls, Ramens, Dim sums to Desi Chinese.
Pumpkin Hummus and Grilled Prawns, Serves 4-6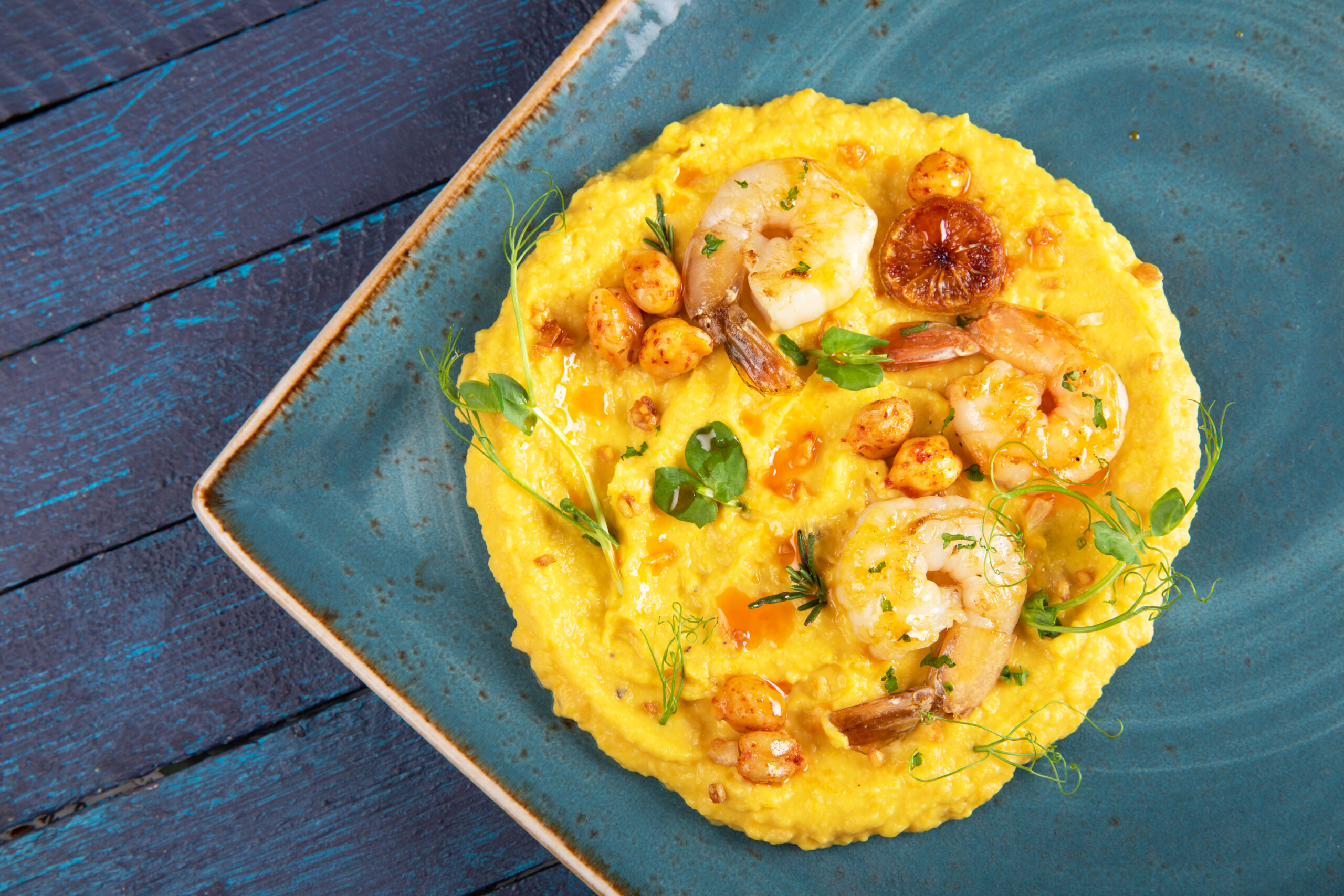 For pumpkin hummus
1 small pumpkin, about 600 gms peeled and cored
2 sprigs of fresh rosemary
½ cup olive oil
½ cup boiled chickpeas
4 large cloves of peeled garlic
2 green chillies
4 tablespoons tahini Juice of
2 limes
½ teaspoon salt
Method
Heat up the oven to 180° C and line a baking tray with a piece of baking paper.
Cut the peeled pumpkin into evenly sized pieces and mix in a tablespoon of olive oil, pinch of salt, chopped rosemary and 2 cloves of garlic.
Bake the marinated pumpkin for about 20 minutes or until soft and lightly caramelized. Alternatively, the pumpkin could be first grilled on a pan for colour and finished off in a steamer to cook right through.
Transfer the cooked pumpkin to a food processor.
Add tahini, remaining garlic, salt, chilli, and lemon juice. Whiz the mix until smooth, adding a little olive oil at a time.
If the paste is too thick, trickle in 1-2 tablespoons of chilled water to thin and smooth it out. Transfer the hummus into an airtight container and refrigerate for later use.
For prawns
16 medium sized prawns, cleaned and deveined. Fresh tastes best.
1 tablespoon garlic paste
Pinch of salt and pepper
Juice of 1 lime
Couple of sprigs of fresh oregano
1 teaspoon smoked paprika
1 teaspoon Dijon mustard
2 tablespoons refined oil
For garnish 2 tablespoons garlic, peeled, chopped and fried crisp
1 tablespoon fresh oregano
Few springs of micro-greens
2 tablespoons of toasted pumpkin seeds
2 teaspoons olive oil
Method
Prepare the pumpkin hummus and refrigerate for further use.
To cook the prawns, wash and clean prawns, pat dry.
In a large mixing bowl, marinate cleaned prawns with garlic paste, lime juice, seasoning, oregano, paprika and mustard paste. Refrigerate for 30 mins.
Heat refined oil in a pan and grill prawns, turning them at regular intervals. Do not overcrowd the pan while cooking prawns, cook them in two batches if the pan isn't too large to accommodate all together.
To assemble and garnish
Spoon the pumpkin hummus on a plate or bowl and top with hot grilled prawns.
Squeeze more lime juice over the grilled prawns and hummus and garnish with fresh oregano, crisp fried garlic, fresh micro greens, pumpkin seeds and a drizzle of olive oil