"It is said that the energy is constant and it only changes it's form over time. If I am allowed to express my journey as a painter I will use this example to explain, how over the years my paintings have changed shape and yet it's inner energy has remained constant. Every true artist is filled with this insatiable and indestructible energy of creativity that makes him strive for the yet undiscovered frontiers of creation and it is the most alluring challenge for him; to which, I am no exception. In this process I have experienced the artist's anguish to express his feelings on the canvas and then his ecstasy when it has taken tangible form through the colors of imagination," says artist Dinkar Jadhav.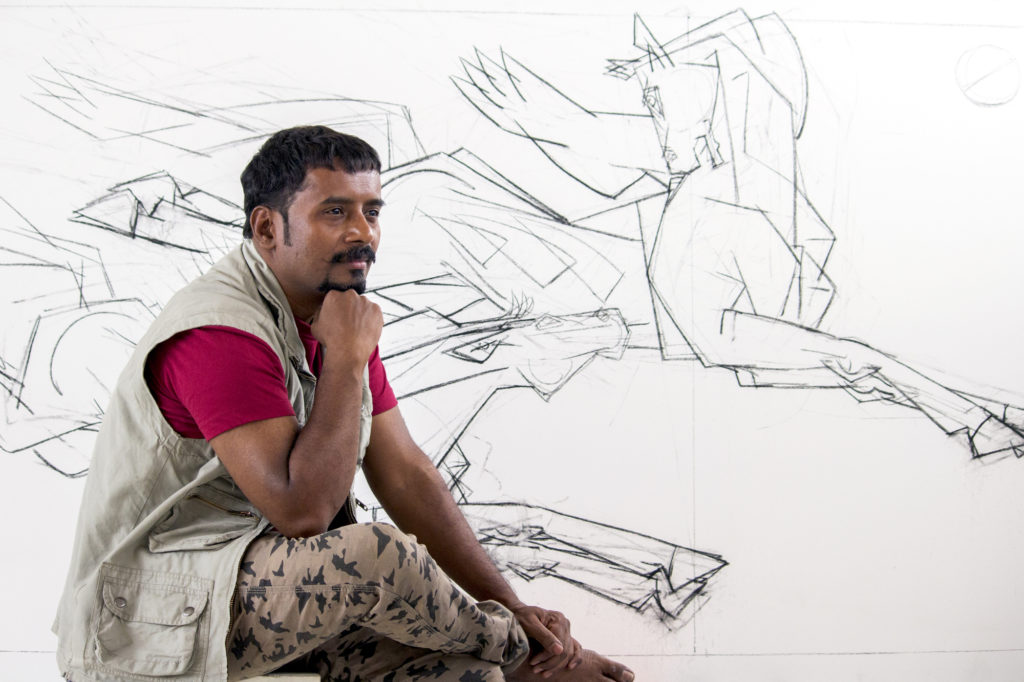 Painter Dinkar Jadhav has established himself as an artist who dares to walk on the path less trodden. His journey to these romantic yet challenging places of creative excellence began with the Ashwa Chitramala (the horse series) a few years back, which met with success and admiration equally! Having invested invaluable hours, He has resurrected his swift horses Flaming with Novelty as a new form of muscularity, the Bull. There was sheer anguish and fierce passion in his earlier horse paintings which exploded through the colors and fearless strokes on canvas.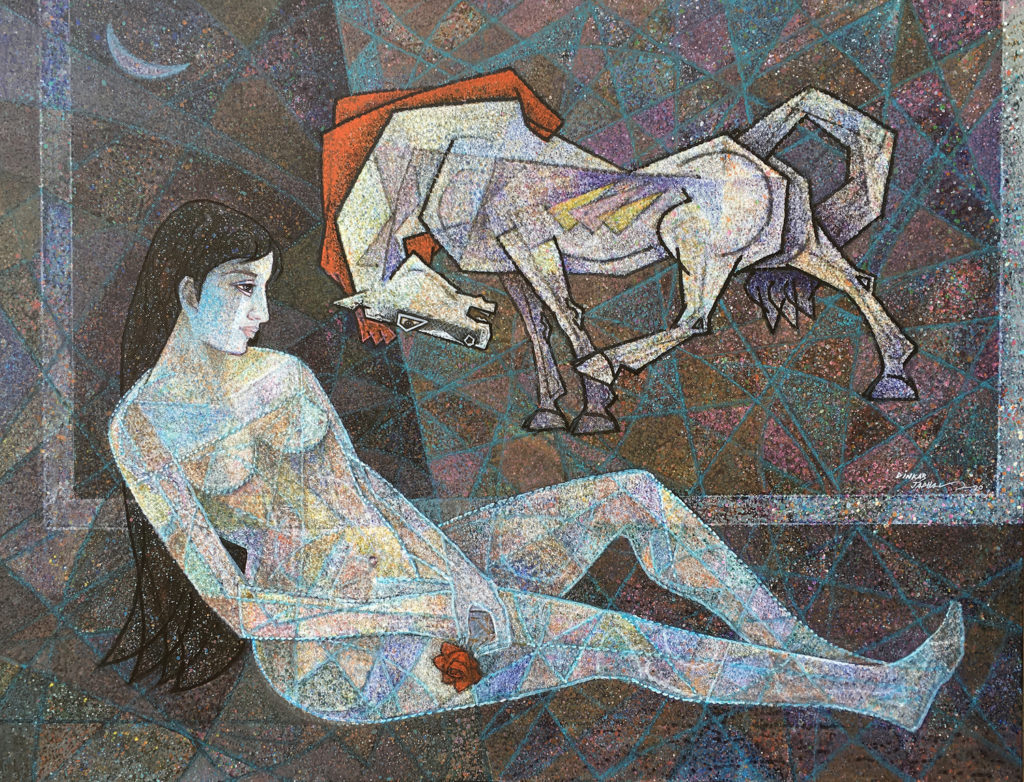 This anguish has given way to love now and the passion has transformed into lust, full of love! His new series of ever advancing, carefree creatures of speed which are crossing over the boundaries of unknown future keeping their faith in love is true to it's name, 'Lust for Love!' Jadhav has painted these horse couples engrossed in passionate love with a heart of an evergreen romantic. The colors are bright and gleaming with self-assurance, the brush strokes are gentle yet confident and echoing the spirit of 'carpe diem' i.e. seize the day! His horses symbolize the undaunted quest of human being for the greatest of the feelings called love. Jadhav has also introduced the bull, the symbol of muscularity and virility in his portfolio this time. These bulls are mighty, confident and making charges towards their dreams and desires. This series is the depiction of his heart of the heart and the example of his honest enduring journey towards excellence.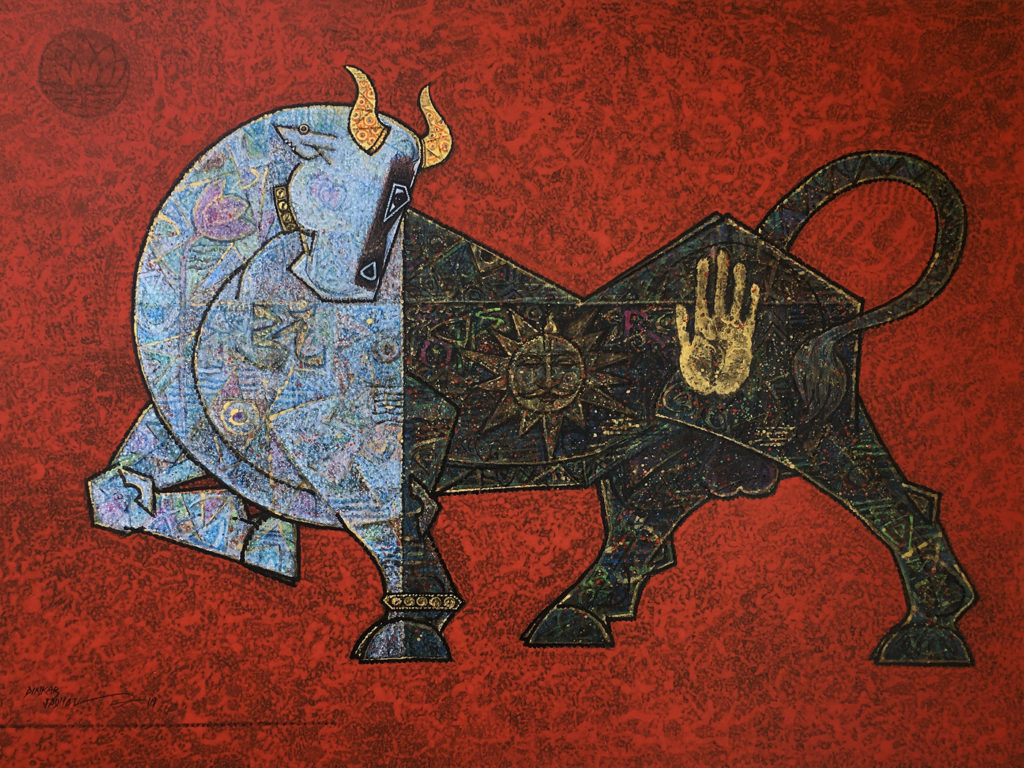 What's your artistic background?
I was born into a humble family that hails from Jadhavwadi a very tiny village in Maharashtra. As a child my toys were earthen objects, this connection with the earth was to be a continuous source of inspiration for me. Love and an indomitable will for art led me to go for art education in Pune at Abhinav Kala Vidyalaya.
What's integral to the work of an artist?
Integral to the work of an artist is using nature as a tool for expression with an inner vision and going within the flow of energy you feel while creating your art.
What role does the artist have in society?
Art is that form of energy or way of communication that people from different cultures and time can connect with. Art influences society by changing opinions, instilling values and translating experiences across space and time.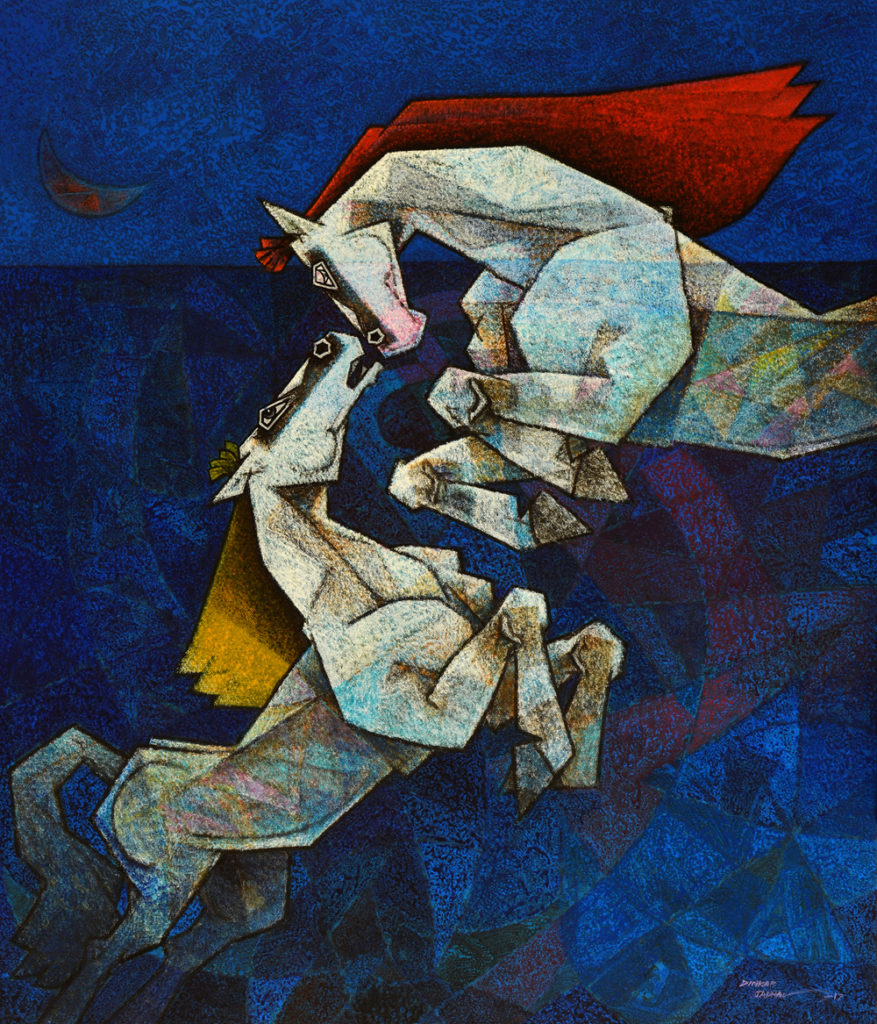 What art do you most identify with?
My source of inspiration is the natural world; the energy has remained constant just in changing forms over time. My work displays capturing of nature's melodies in colours, light and shadows in composition of colour blocks, geometrical forms and crisp angles.
What themes do you pursue?
l paint objects as patches of colours, but the forms are abstract. To me, this abstraction is creativity. Nature provides me with inspiration to express my inner vision, which l feel is art. The artist in me derives immense satisfaction when l paint this way.
What's your favourite art work?
Horizon where the sky bends down to meet earth is my favorite artform. The nude woman with red rose figure depicting rose as a symbol of love and she has accepted his love. Her sinless beauty and innocent eyes are tremendously expressive.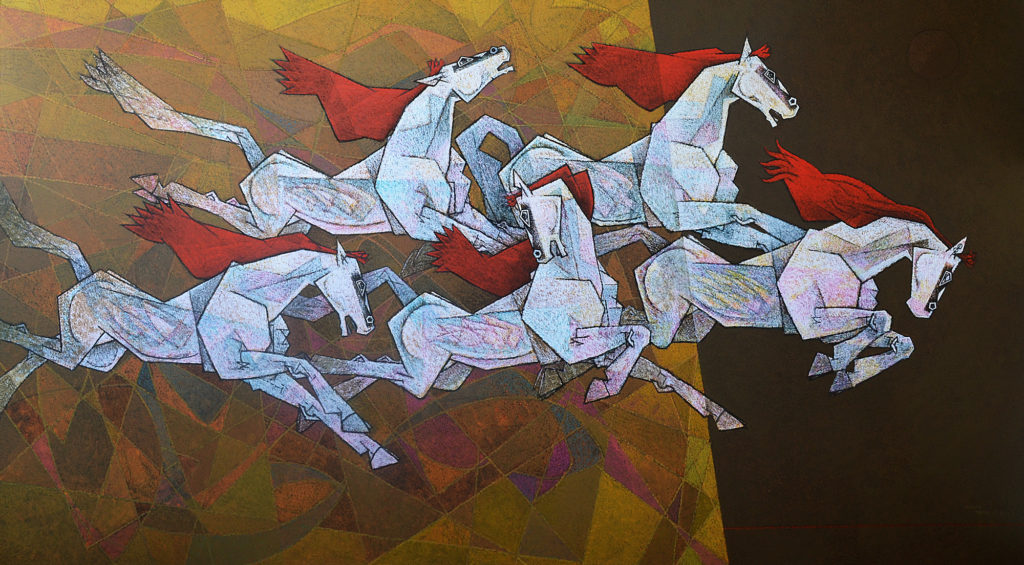 Describe a real-life situation that inspired you?
I was attending a marriage, there l was attracted by vibrant costumes of the band; l found a unique composition for painting. After the procession was over, l went to speak to one of the men playing in the band and found that he was sick with fever and he was doing it just because he was hungry. The irony of this situation affected me deeply, on one side people were happily dancing and on other hand this poor man was playing even when ill. This was my inspiration for Bandwala series.
Why art?
Art is a way to express your inner energy and connect with any individual.
What is an artistic outlook on life?
Life is like an infinite canvas and your connection with this universe.  Love and live all the colours of life because these colours make you and your canvas beautiful.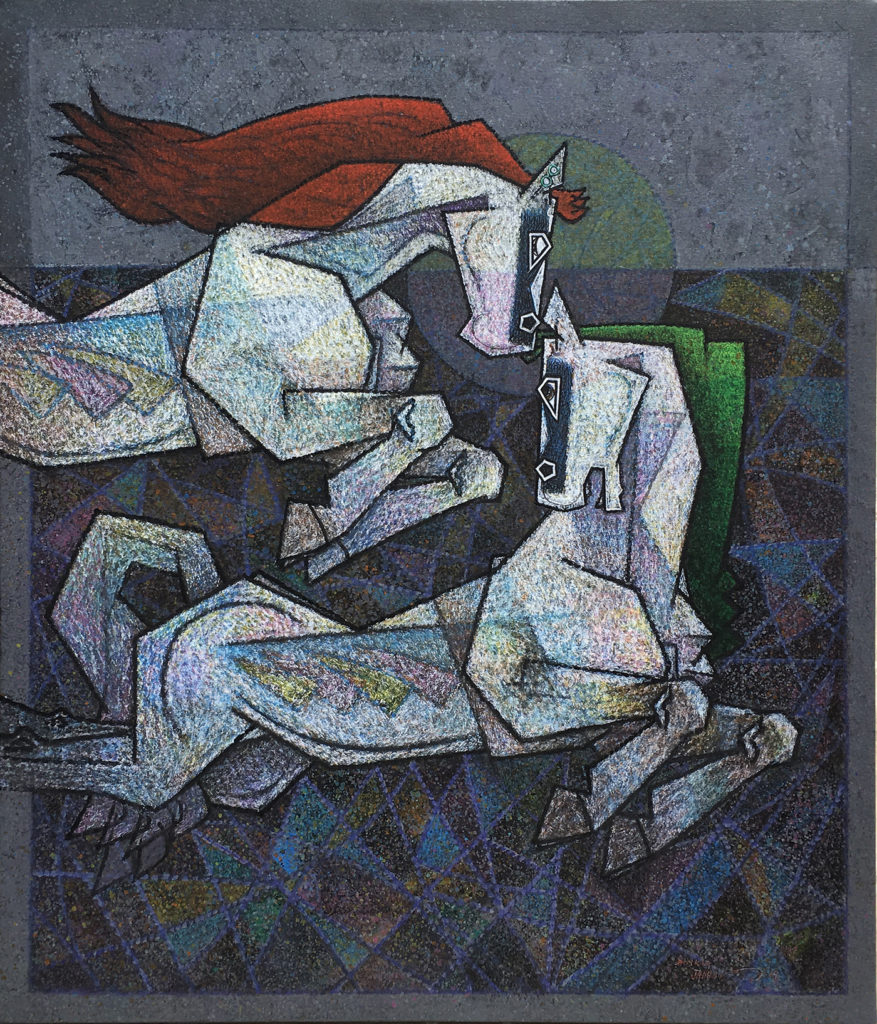 Is the artistic life lonely? What do you do to counteract it?
No artistic life isn't lonely an artist is always surrounded with thoughts and his own vision about things. Whenever I feel lonely l play with children and that helps me rejuvenate my inner child and feel good.
What do you like about your work?
The way it captures the beauty of nature, it's realistic but does not imitate nature.
What role does art funding have?
It's essential that arts are funded so that every young person is allowed the opportunity to participate and express themselves in way they can't otherwise. There is lot of our beautiful heritage, yet undiscovered, to be preserved and taught to the young generation.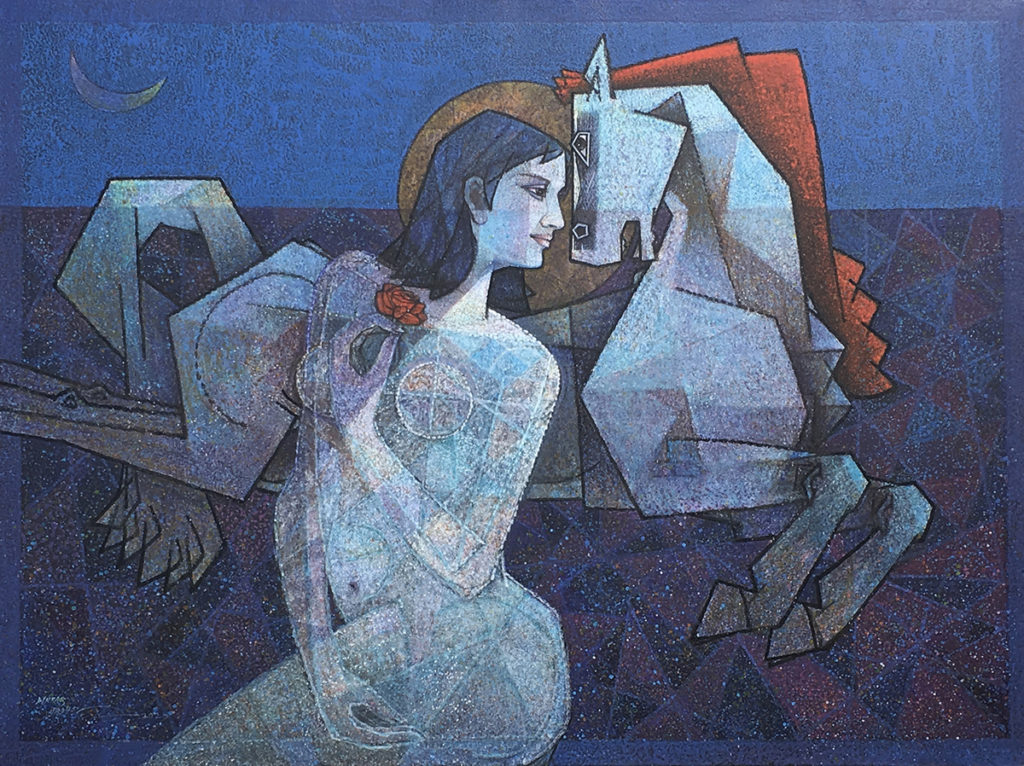 Name three artists you'd like to be compared to.
Every individuals or an artist has his own unique energy and vision which can't be compared.
Professionally, what's your goal?
My life time goal is to be loyal to my art until my last breath, and let my art touch the heart of every individual.