Diletta Innocenti Fagni was born in Florence in 1988. She started studying art during high school and later decided to continue her studies in Rome. She graduated from the University of Rome in Art, theater and film. Her work draws on mnemonic images and visual resources as starting points, looking for intimacy, emotions and identity, between present and past, real and unreal. She mostly paints scenes of private moments, seeking the evocative power of images. Innocenti Fagni's intimate paintings celebrating femininity of women and the union between nature and the human being in a romantic, delicate and contemporary vision. She lives and works between Rome and Tuscany.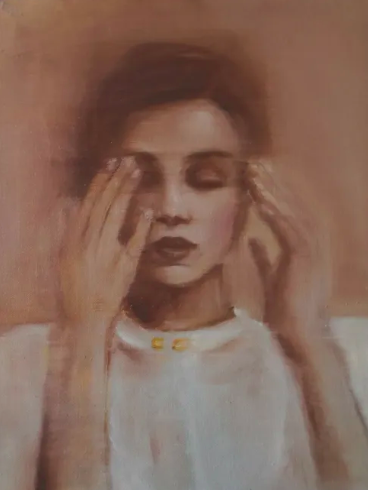 What's your artistic background?
I have always loved to draw and paint, ever since I was a child. My grandparents and parents framed some of my drawings when I was 4 and hung those at home. I attended painting courses, workshops and studied art at the University of Rome.
What's integral to the work of an artist?
Sensitivity, passion, receptivity both towards one's inner world and above all towards external stimuli. I believe that sensitivity is extremely fundamental in the work of any artist.
What role does the artist have in society?
An artist has the task of communicating a message to the world. Whether he's a songwriter, a composer, a painter or an actor, an artist expresses his urge to communicate: an inner world, a social statement, a vision of the outer world.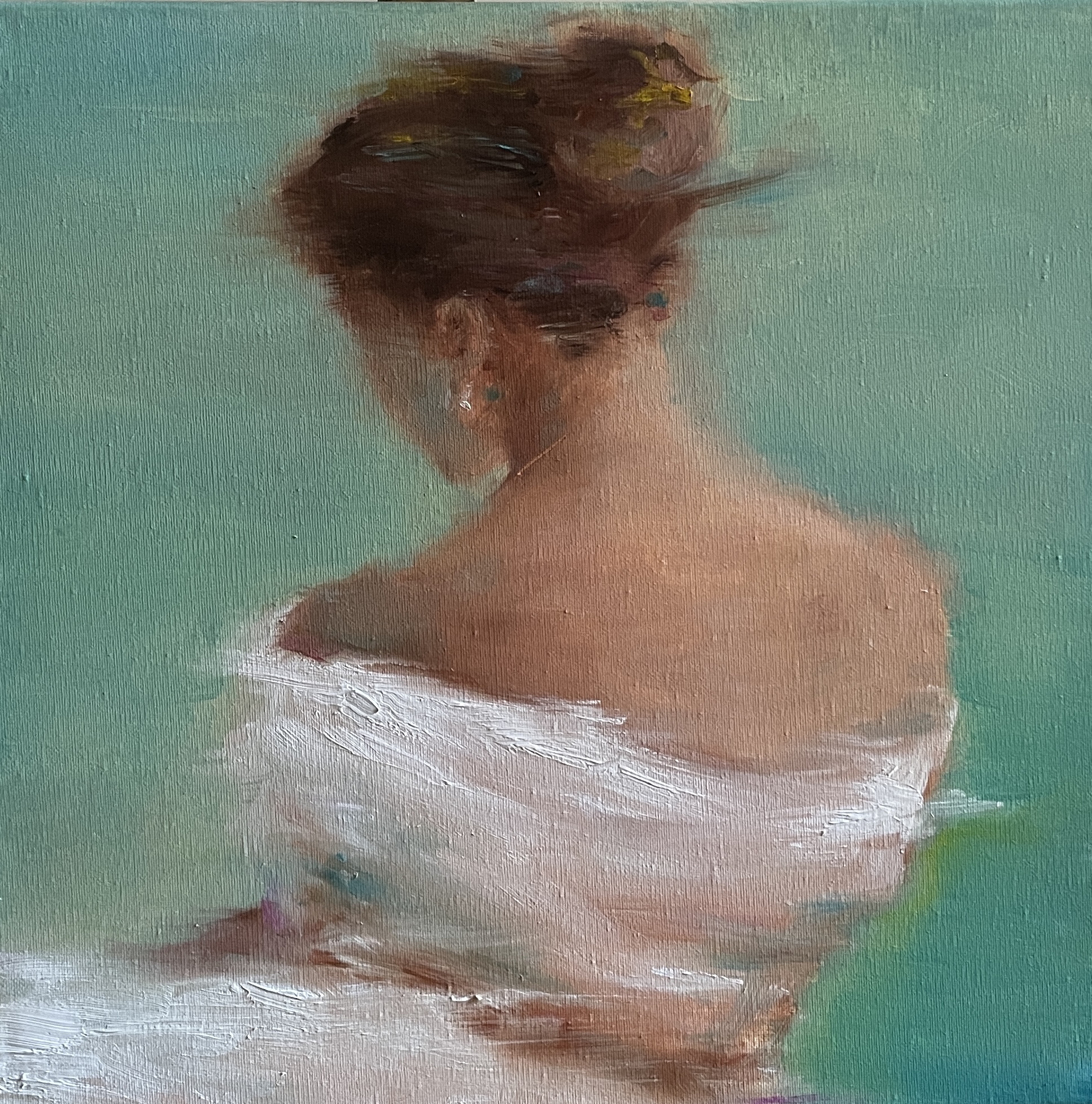 What art do you most identify with?
I love classical art and impressionist art. In my works I often evoke classical art, but communicating with a current language, which combines traditional techniques with traits that distort and reinterpret the compositions.
What themes do you pursue?
My works focus on the figure of a woman, showing a model that enhances femininity, sensuality and elegance, between past and present. The intent is to underline the strength of the 21st century woman, in line with progress and feminist movements, but without renouncing the grace and sensitivity that have always characterized women over time. It is precisely these elements that release the power and vitality of women from their bodies, their faces, painted in graceful and gentle movements, often caught in intimacy or from behind, not to violate the purity, the beauty of an internal image which is a mirror of the external one.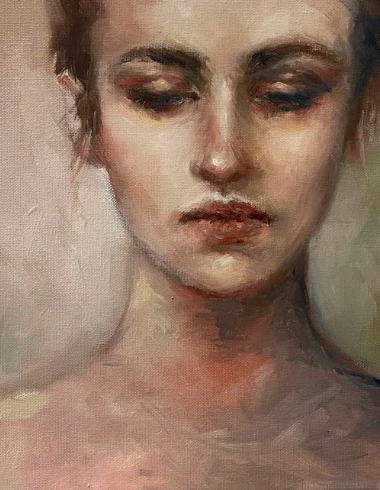 What's your favourite art work?
I really love impressionist works, the grace of paintings by Berthe Morisot for example, the great-granddaughter of another great artist Jean-Honoré Fragonard.
Describe a real-life situation that inspired you?
Silence, the chirping of birds outside the window, the early hours of the day, with a beam of golden light passing through the windows. Mornings like this are great sources of inspiration to start bringing the canvas to life.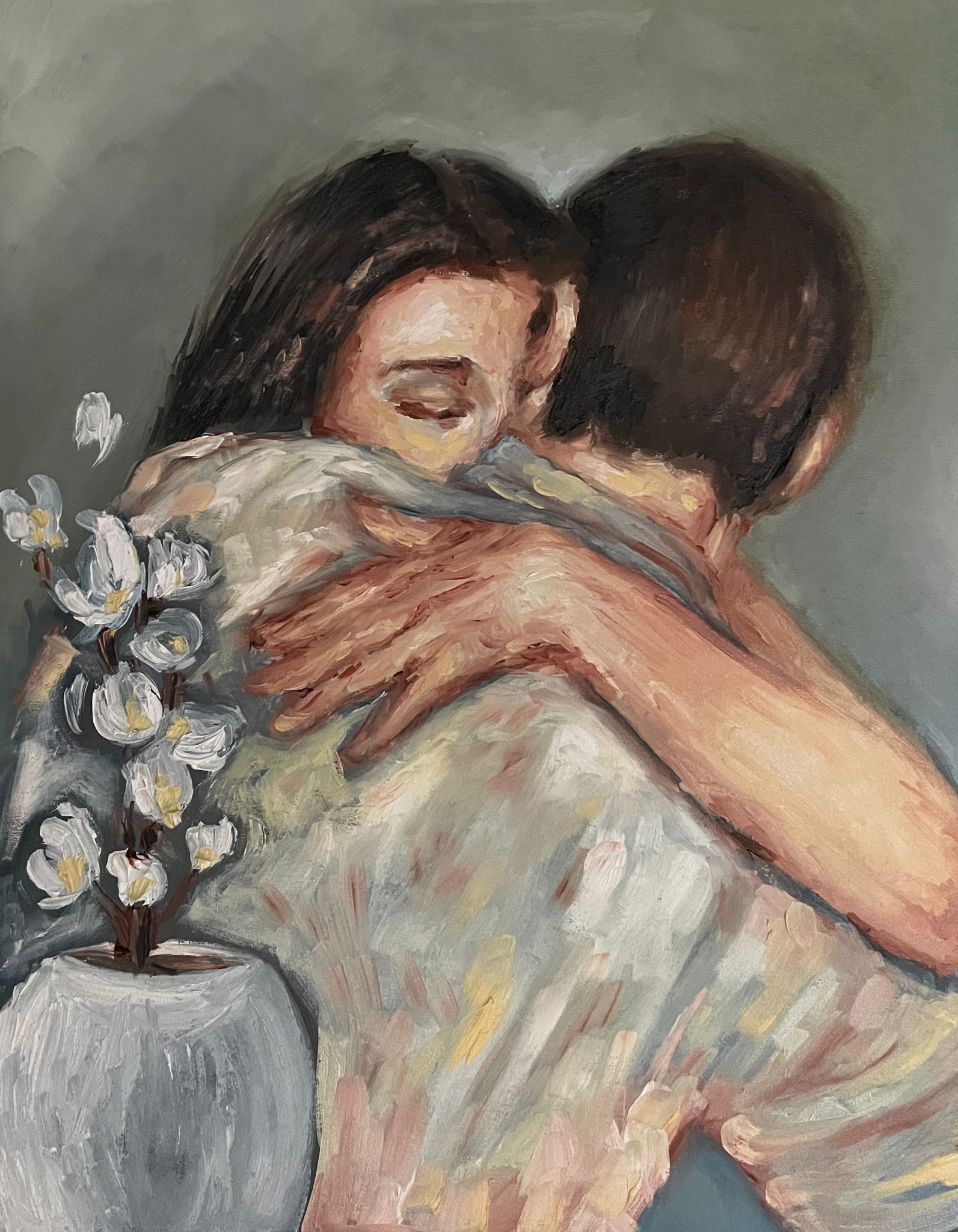 What jobs have you done other than being an artist?
In addition to working as a painter, I am an actress, therefore always in the field of art. They are two different ways of expressing themselves, but both are a part of my world. The painter through the canvas and its colors, the actress through her body, her voice. Perhaps this is also why my paintings often depict women's bodies. Women who with their looks, their eyes, their bodies, even from their backs, speak, and tell a story.
Why art?
Someone said "art and beauty will save the world". I don't know if this is true, but I know that education in sensitivity, in beauty, in grace can make us better people.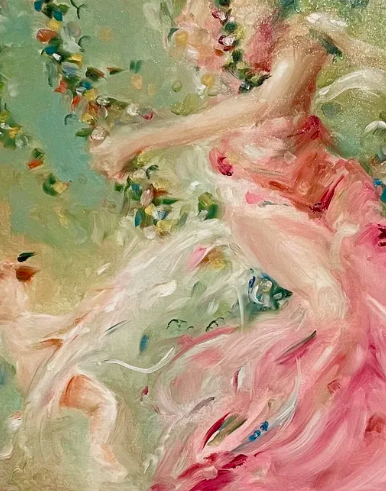 What is an artistic outlook on life?
A vision of art in life is to grasp the detail, as a whole. It is to marvel, it is having an aesthetic and a sensitivity that leads to appreciating the moments. This for me is an artistic approach to life.
What memorable responses have you had to your work?
In my work I have had collectors who have thanked me for allowing them to relive emotions, above all thanks to the effect of my paintings. Arousing emotions, memories, feelings, for me this is a great satisfaction that i derive from my job.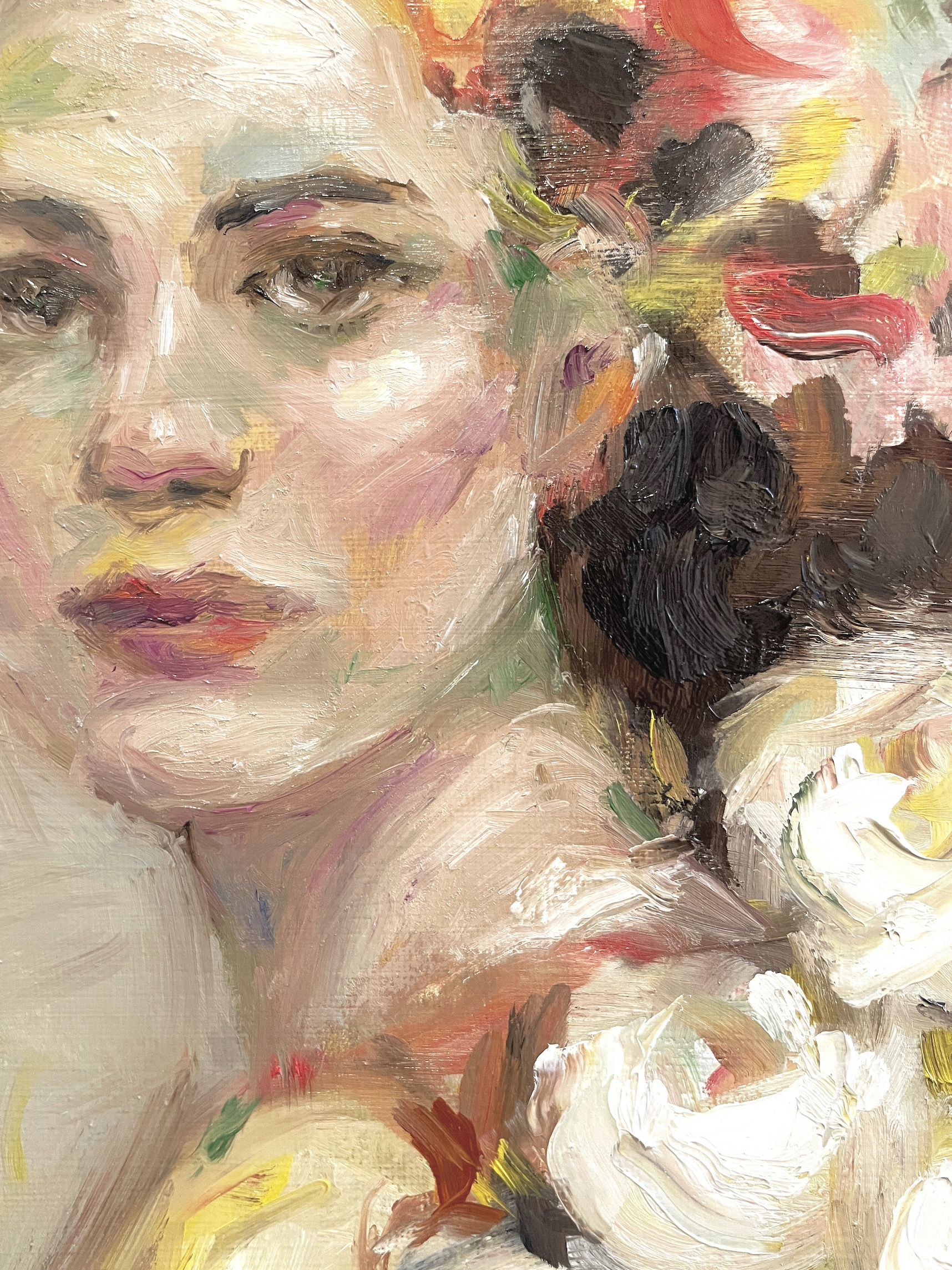 What food, drink, song inspires you?
While I paint I often listen to music, especially classical music, or music from the 60s, 80s, especially Italian. They are great classics, which immediately evoke in me a world made of icons, memories and imagery.
Is the artistic life lonely? What do you do to counteract it?
I think that the artist's life shouldn't be lonely at all, but full of affection and feelings. A full life is the key ingredient. But certainly in creation, in that moment one is alone with one's own colours, with one's canvas, in the silence of one's artistic studio. it is like a sacred rite, an extremely intimate moment.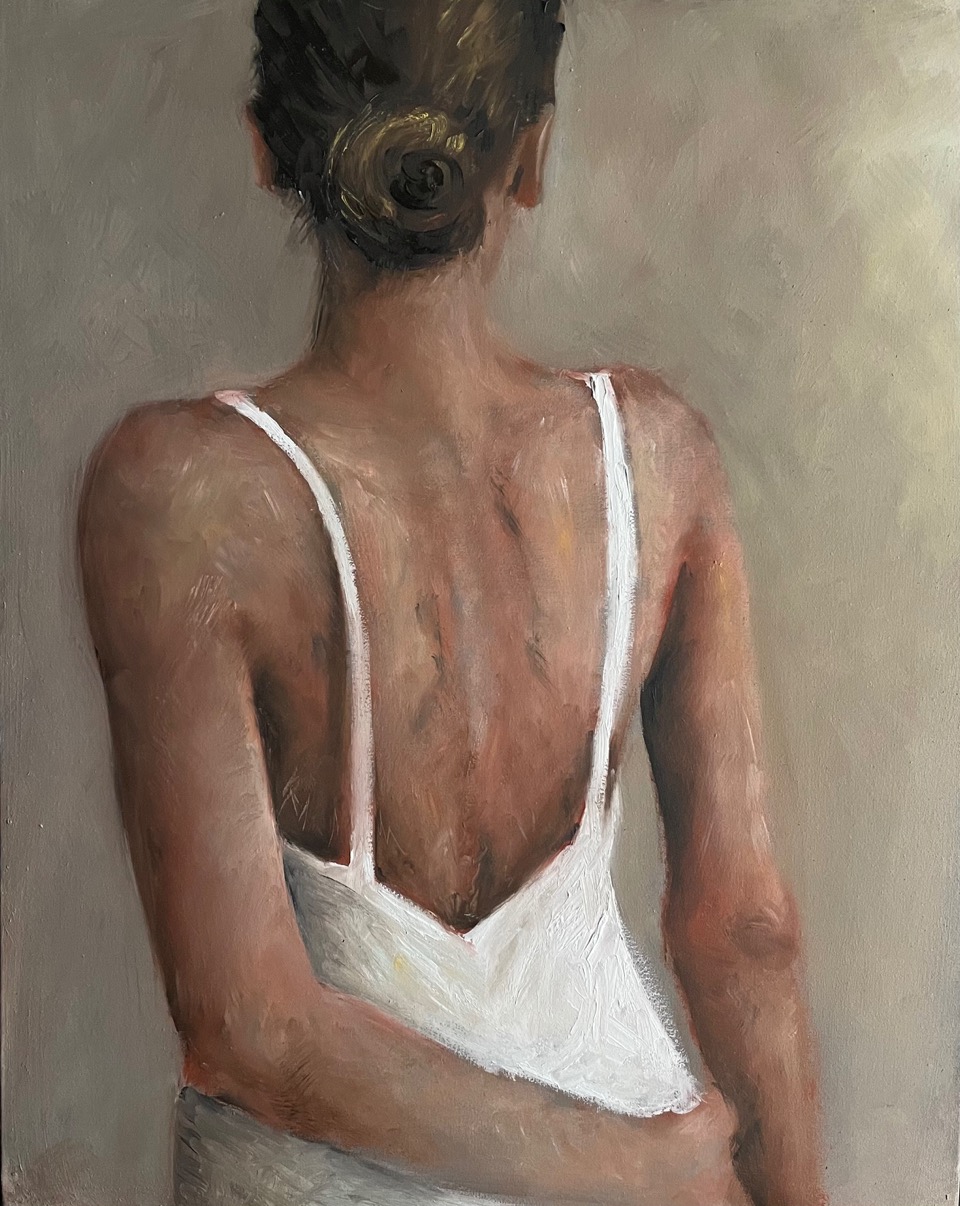 What do you dislike about the art world?
I can't see what I don't like about art. I love art, its world, even in all its contradictions.
What do you dislike about your work?
In my work, on the other hand, I often find myself in front of my paintings that I don't like. Then I look at them the next day and I like them. Other times I never like them and paint over them, other times I appreciate them again after months.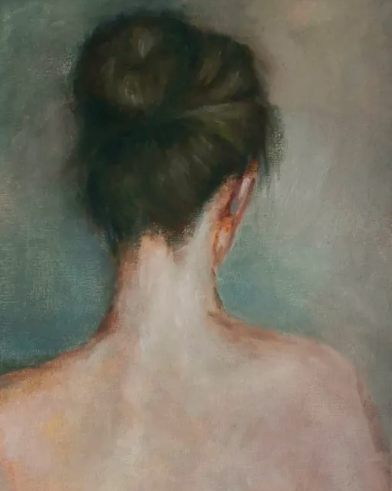 What do you like about your work?
The moment I paint I isolate myself from the world, from thoughts, from time. I enter a bubble without time, without space, there is no telephone, there are no emails, there are no commitments. There is only me and my canvas. Almost like being in a new dimension, and it's fantastic.
Should art be funded?
Of course, just as films, music and painting are financed, art also needs to be financed. On the other hand, historically it has always been like this: the great royal and aristocratic families financed art. it is important to bring art more into contact with people, art makes you want to think for yourself. All art, from literature to painting and any other form of expression is useful to society, both on an aesthetic level and on a reflective, denunciation level.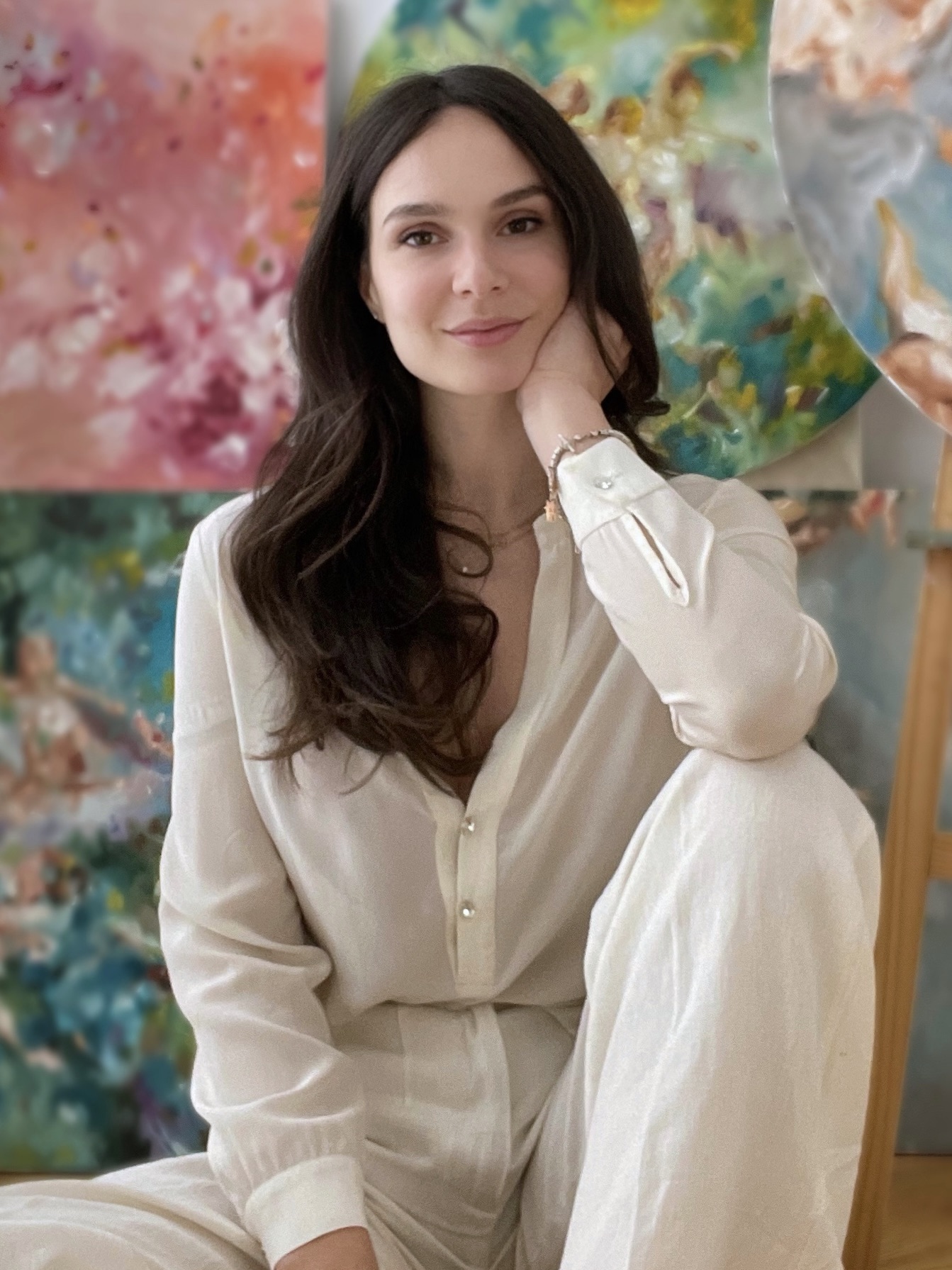 What is your dream project?
I don't know, actually. I would like to continue creating, seeing my works hung in collectors' homes,  exhibiting. Maybe I'd like to exhibit in important fairs, that could be a dream project.
Name three artists you'd like to be compared to.
There are many contemporary artists I love, but if I have to choose three names I immediately think of Anne Weyant, Ewa Juszkiewicz, Jesse Mockrin, extremely talented female artists.
Favourite or most inspirational place ?
I don't have a favorite place, every place can become an inspiration for me, I think it's more a feeling, my inspiration engine.
What's the best piece of advice you've been given?
To feel, to feel me. It's the best advice ever. Not just for an artist, but for everyone.
Professionally, what's your goal?
Never stop following what I love.
future plans?
I will go to Provence, a land loved by the Impressionists. I will definitely take inspiration for my next works from Provence.