Dhan Prasad is a Hyderabad based artist and his journey of painting started by learning it under the guidance of his Guru Sri. T. Vaikuntum right from the time he was in school. After school he joined JNTU College of Fine Arts, Hyderabad in the year 1994 to pursue higher education in fine arts. His work is figurative and the medium used is acrylic on paper or canvas, charcoal and ink/pen drawings.  He says he enjoys creating bright and colourful artworks for which he usually chooses a theme and subject that has naturally bright colours like the costumes worn by people, their possessions, ornaments they carry, their belongings and the surroundings where they live and spend most of their time. In his latest series he has painted fortune tellers/yogis/fakirs, as he has observed them around temples, durgahs and other places of worship.  According to the artist, these are the people of God living under the shelter of God usually seen in and around these places.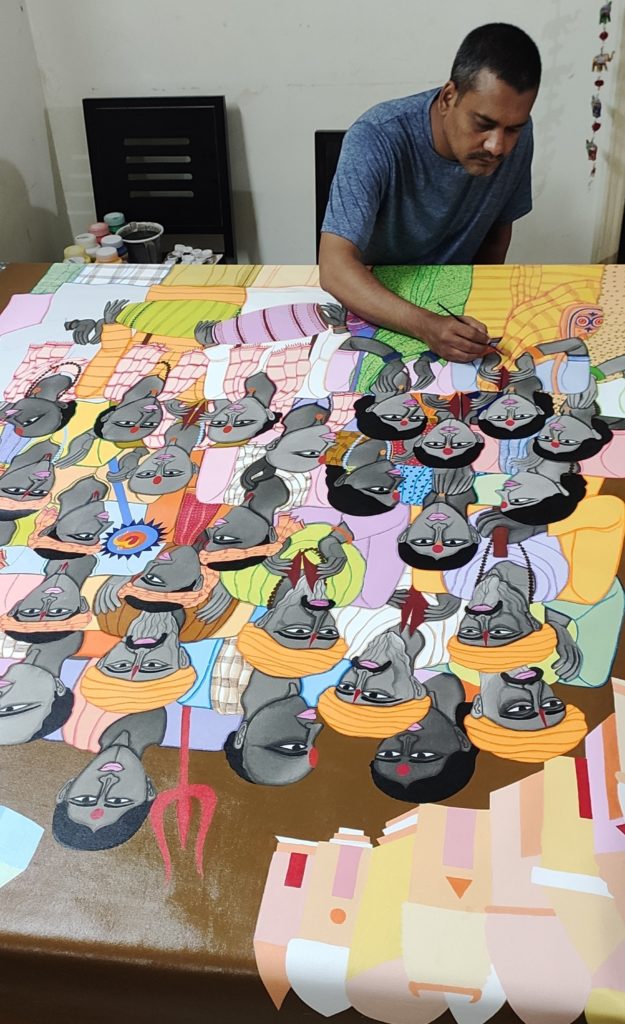 What's your artistic background?
I joined JNTU College of Fine Arts, Hyderabad in 1994 to pursue higher education in fine arts. We know that difficult situations teach us many lessons which enrich our experience about life. My father had struggled a lot to cope with challenging circumstances to provide for my family. I decided to join the Indian Army to earn a living and help my parents. It was an opportunity for me to serve my country by joining the Indian Army as Junior Commissioned Officer. I had to leave Fine Arts College and joined the Army in the year 1996 but I did not stop painting. I feel extremely happy and proud to be able to keep a balance in between my professional and personal lives.
What's integral to the work of an artist?
Feelings, thoughts, expressions and skills are integral to the work of an artist. Describing the inner thoughts on a plain surface has always been a great challenge for an artist and it's extremely important to understand how an artist should portray it on canvas. The limited space of a canvas or paper is the only medium to express emotions, which enables an artist to create wonders and reach out to audiences to show his/her artistic thoughts.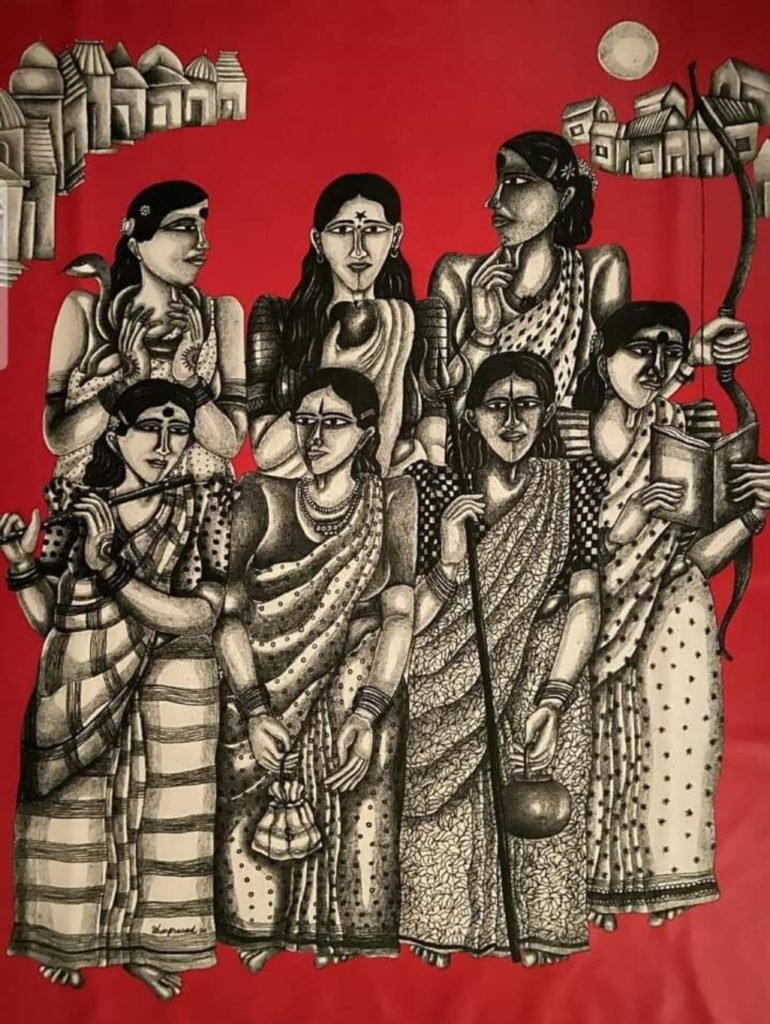 What role does the artist have in society?
The concepts and visions of an artist play a vital role in society. It's not just a piece of beautiful artwork considered to add to the decor. The creations of an artist can change the mind of the common people and bring many changes in society. Artists create an immense impact in society by developing awareness in people. Any artwork is a representation of a certain culture, which again creates an identity due to its uniqueness. The unwanted or discarded wastes can be used and transformed into beautiful artwork in the form of installations. The vision of an artist can bring joy, happiness, peace and more meaning to one's life.
What art do you most identify with?
I identify mostly with figurative forms of art as it is the oldest form which started from the primitive era. All the thoughts and expressions are shown in the form of figures making it easy to convey a message. My art form has always been very experimental, which breaks the rules in practicing fine arts though other art forms such as abstract, cubism and contemporary art.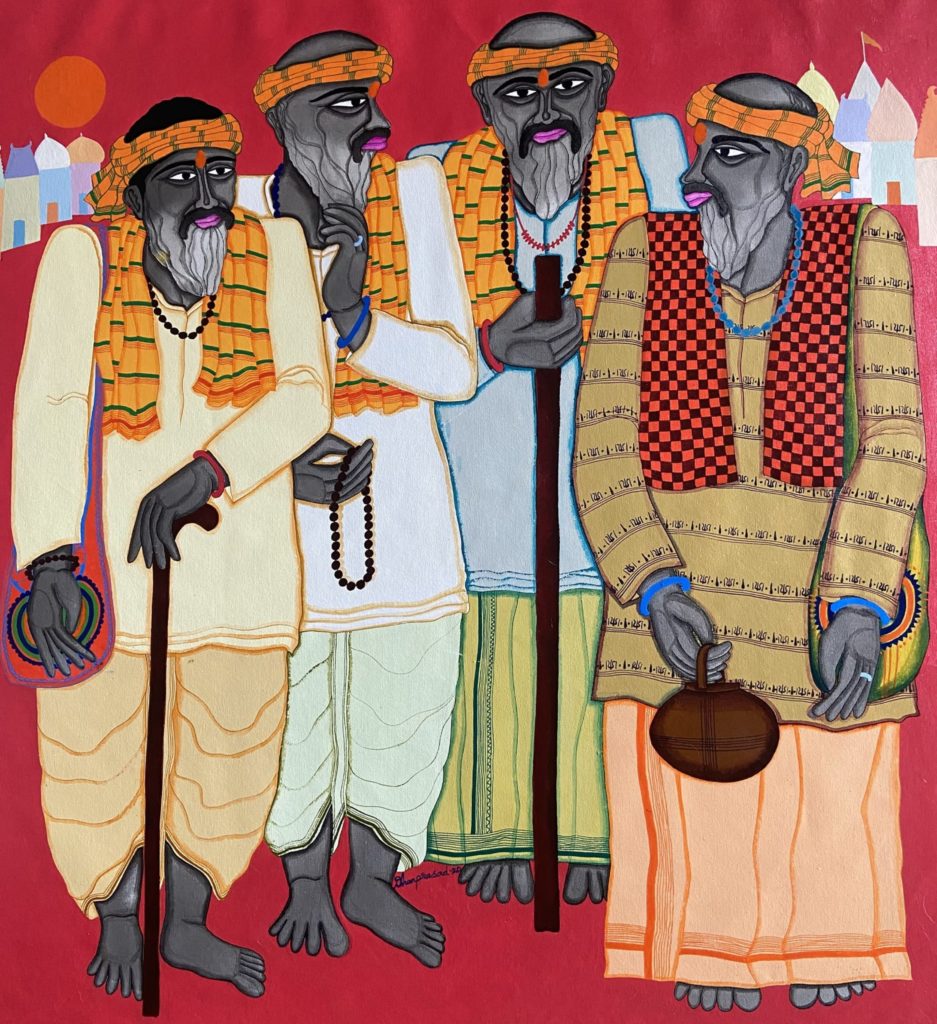 Why art?
Art is an endless process of discovering myself as an individual and an artist. Also, I feel relaxed and happy when I am painting. It gives me enormous joy and pleasure to see people seeing my art and appreciating it.  I am always thankful to God for blessing me with what I have today and I want to continue worshiping my art form until my last breath.
What is an artistic outlook on life?
According to me life is very creative and very complex to understand. People start living their lives only after their retirement. Accepting the ups and downs of the life and connecting your art with different situations of life is very important, as is being flexible with time and accepting all the challenges that come in your way.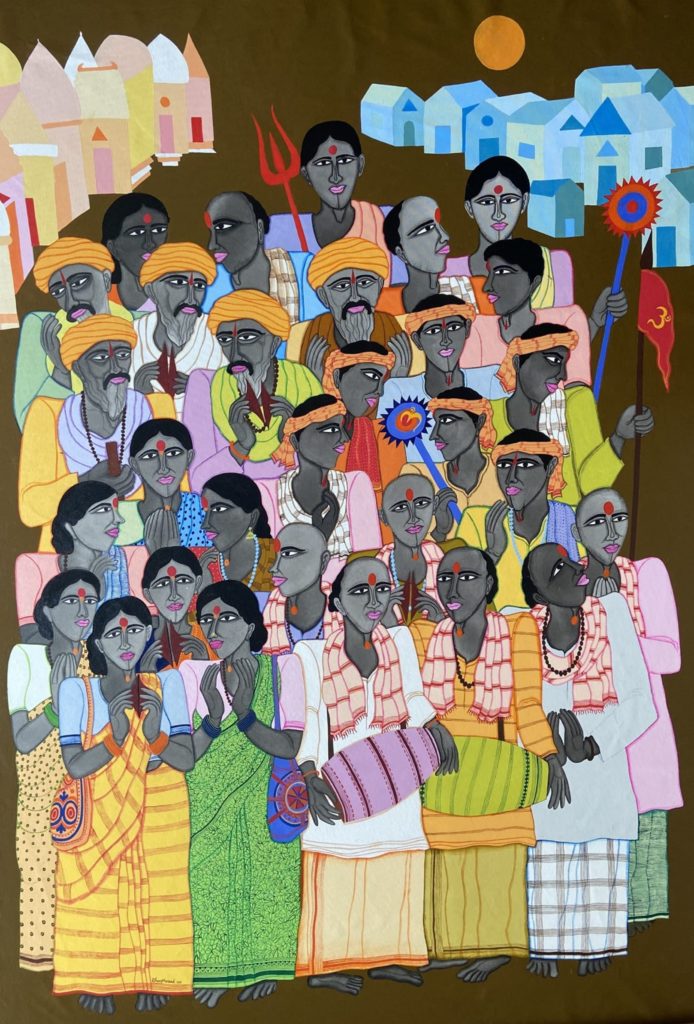 Should art be funded?
Yes, it is very essential that art should be funded to help talented artists so that they get a platform to showcase their work. This will eventually play a huge role in the betterment of our society and preserve our art and culture. The government, private sectors, corporates should come forward to fund Indian art and artists. An artist can produce better artworks when he/she is free from all burdens and worries.
What is your dream project?
One day I would like to own a big Art Gallery and allow all the artists to display their works for free.
Name three artists you'd like to be compared to.
Each artist has his/her own style and uniqueness. It's a long journey, which takes years to acquire one's own style and uniqueness. But of course an artist is always influenced and inspired in one or the other way by seeing others' works and tries to develop, interpret and create his/her own work, which is different from others. No artist wants his/her work to be compared or labelled to another artist's work.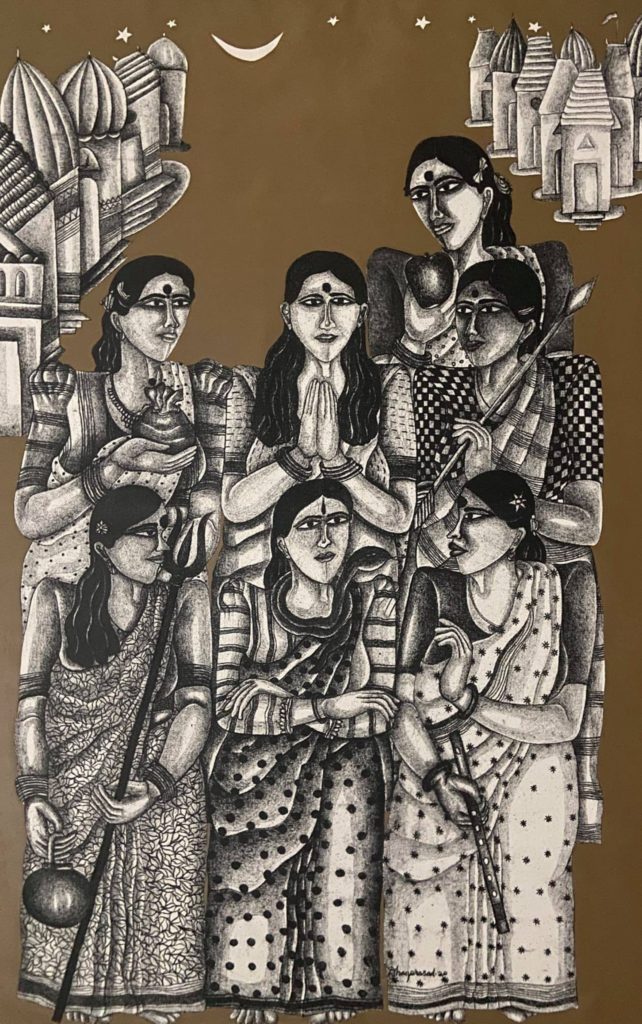 Which is your favourite or most inspirational place?
My visit to all the places of worship such as Haridwar, Rishikesh, Tirupati, and Kumbh Mela was truly inspirational. I have seen millions of different people coming from various places, diverse walks of life visiting in the belief to meet God for peace and salvation.
 Professionally, what's your goal?
Professionally my goal is to keep producing more artwork, which would always appeal to people's emotions and I am hopeful that one day people will come to know about me and my creations.