Chef Vineet Pathak is presently leading the team at Alba-fine dining Italian Restaurant at St Regis, Maldives as a Sous Chef. He started in 2009 as a Management Trainee at HHI Kolkata and has intensive hands-on experience in pre-opening operations of hotels, restaurants and kitchen setups. Some of the major pre-opening operations he has been involved with are Courtyard by Marriott (World Trade Centre Abu Dhabi), W, Westin (St Regis Complex, Dubai) and The Ritz Carlton (Pune), etc. "One of the finest restaurants in which I have been involved right from its operational stage is Sorriso – the most acclaimed Italian restaurant in Pune, which has also been nominated for the top 50 best restaurants in the Asia Pacific region. I have specialized in western cuisine with Italian and French as the core cuisines. My professional exposure also includes working with reputed chefs like Marco Pierre White, and restaurants like Frankie's, JW Steak House, and other well known restaurant chains," he says.
Do you have a favorite time of year or set of ingredients that you look forward to working with?
I personally do not have a favorite time for cooking as I meticulously use ingredients all year round. Different seasons offer exciting ingredients to work with, giving me ample opportunities to create something new for my guests every season. I find joy in using local ingredients for my cooking. My all time favorite ingredient is all-purpose flour and water because it's the basic foundation for a multitude of recipes. The most basic necessities for us are bread and water. All-purpose flour can fundamentally be turned into thousands of dishes like pasta, naan bread, lasagna, and everyone's favorite which is toasted bread. Apart from this, a few of my favorite ingredients are varieties of mushrooms like Truffles, Caviar, Quinoa, Asparagus, etc. You will find all of these exotic ingredients in my menu.
What would you do if you weren't a chef?
I would be a doctor in the armed forces, where discipline is a part of all our activities and my father has been a part of the Indian Air Force for over a decade. Also, I was a science student with biology as my major subject; this broadens my horizons, opening up the scope to be a medical student. My love for cooking and gastronomical delights was so strong that it paved the way for me to become a chef. When I was a child, I used to see my mom and my grandma cook and used to ask them all the questions that popped into my curious little mind.
Do your personal preferences influence the menu at all?
This often depends on the place or clients I am serving. It varies from place to place. I personally like to add a traditional twist to modern cuisine. This may not be everyone's cup of tea, so from a business point of view, I cater to a guest needs, the place where it is going to be served and type of clients. I also take pride in educating my customers about the specials.
When are you happiest?
When I see a guest leaving my restaurant with a smile on their face after their meal or when they praise my signature style of cooking. These compliments always tend to leave a lasting impression on me and my team.
When you're not in the kitchen where can you be found?
I love to spend time with my family when I am not in the kitchen. I love bikes so when I am out of the kitchen, I am usually on a bike ride with my wife to explore street foods.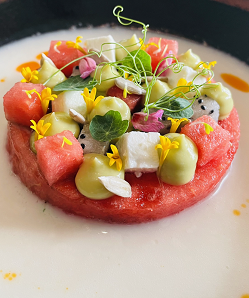 Where is your favorite place to dine?
I often hit the streets or roadside dhaabas where truck drivers and explorers stop to take a break. I  have traveled to different countries as well. Whenever I visit a new city, I head out for the day to try out new street food joints to familiarize myself about their local flavor and cuisine.
What's your favorite takeaway or comfort food?
I like anything simple and fast to take away for which I don't have to wait too long. I like Asian food a lot but nothing can beat a simple daal with tadka of cumin and rice.
What makes the local food scene so exciting?
I think it's the people who belong to that particular place and their effort to bring out their culture in the food that they prepare. Local food really paints a picture about the culture and heritage of a place and keeps their history alive.
Which is the dish you've created that you are most proud of and why?
All the dishes which my guests have liked, make me proud, but the most popular one is Garlic Bread which is my favorite.
You're having friends over for dinner tonight. What's on the table?
Well, a chef is not always a chef at home, if my friends come over for dinner at my place, they will get simple home-cooked food, like Kadhi Chawal, aloo bhaji (Potato preparation), and Pudine Dhaniyaki chutney (Mint and Coriander dip).  If you love home cooked food, you are most welcome for a meal at my place.
Name your favorite city that has it all: food, culture, and nightlife.
I would say Bengaluru, as it is the hub of the country for food and entertainment. It has a huge workforce from all around the world. People who work here know how to keep a perfect work and life balance.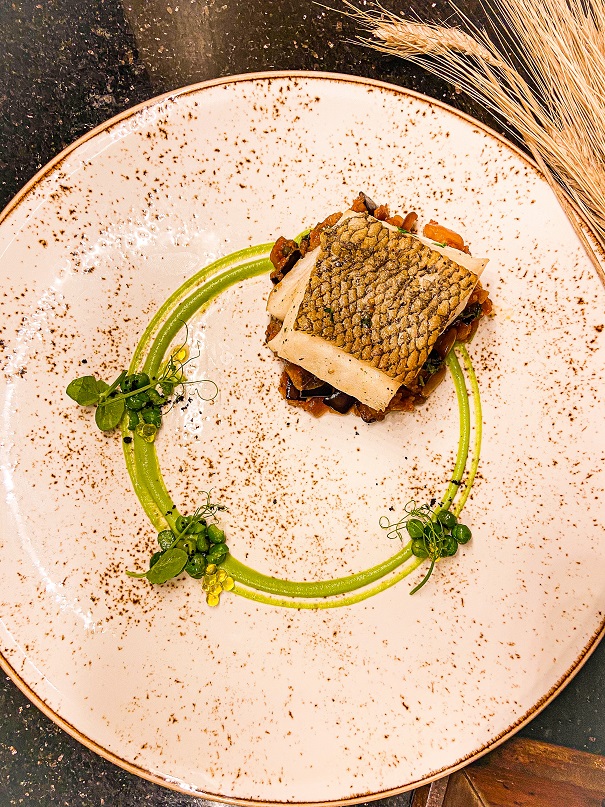 Here's my signature recipe for the Australian Seabass with Eggplant Caponata, Sweet Peas puree
 For Sweet Peas Puree
| | |
| --- | --- |
| Sweet peas | 200grm |
| Chicken Stock | 100 ml |
| Onion | 50 grm |
| Salt | 10 grm |
| Pepper | 10 grm |
| Olive oil | 10 grm |
| Truffle oil | 5 ml |
Method:
In a pan add olive oil and sauté onion. Add chicken stock in it and bring to boil. Add seasoning to it and add Fresh Sweet peas to it.
At a high speed, the blender adds, peas and stock and paste it into a smooth paste. Add stock if required.
Make sure that it will not get discolored.
Pass it through Sieve, Add truffle oil and mix it well.
For Eggplant Caponata
| | |
| --- | --- |
| Eggplant | 200 grm |
| Pine nuts | 50 grm |
| Pomodoro sauce | 150 grm |
| Onion | 50 grm |
| Red wine vinegar | 20 grm |
| Salt | 10 grm |
| Sugar | 10 grm |
| Pepper | 10 grm |
| Garlic | 5 grm |
Method:-
Cut the eggplant into cubes and keep it aside by sprinkling salt on it.put the onions in a cube. Fry the Eggplant and Onion and keep aside.
In a pan add olive oil, garlic, and chopped onion. Add Pomodoro sauce to it and cook it for few minutes. Add salt, sugar, and black pepper. Cook it well.
Now add red wine vinegar and stir it. Add eggplant, onion, and pine-nuts to it and mix it well.
For final Plating
Marinate the Fish and Pan-seared it.put it in the oven if required.
Make Sweet peas puree hot and add truffle oil.
Heat the Caponata.
On a plate pour the green peas pure and spread them.
Place Caponata on it and topped it with cooked fish.