Buhle Nkalashe (b. 1994, South African) is a Cape Town based independent artist who has been practicing since 2011. Nkalashe, a painter and mixed media artist, explores the combination of different mediums. He has been painting for nearly 10 years. He obtained his BA in Graphic Design from the Cape Town Creative Academy (2018). After working in advertising for two years, He shifted his focus to Visual Arts in 2019 to become a full-time artist. Nkalashe had his debut solo, The New African, at Youngblood Africa Gallery (2018) in Cape Town. He also participated in several group exhibitions, to name a few, Top 100 for the Sanlam Portrait awards (2017), Woordfees (2019), Africa's Art Collective Seasons at the Julie Miller Institute (2019) and Saatchi Online Campaign (South African Emerging Artist) (2019). Nkalashe was also invited by Red Room Contemporary Gallery to exhibit at the Turbine Art Fair (2019) and featured in various Saatchi catalogues and collections.
Throughout his life, Nkalashe has been exposed to many cultural events and ceremonies particularly in his Xhosa culture. In these gatherings, people perform rituals and ask for a blessing. During the celebration, songs are sung which tell stories and also traditional clothes are worn, mainly depicted in weddings. Traditional clothes are very colourful and have patterns. This can also be seen in beadwork. Nkalashe is fascinated by the idea that patterns and colour can be a symbol of identity.
Nkalashe is known for his contemporary artworks executed through large canvases. His work mainly consists of portraiture and abstract paintings which are made from a mixture of mediums (charcoal, acrylic paint, oil paint and oil pastels). His current work can be described as an exploration of how he sees the world and possibilities that come with it. Nkalashe has reconnected with his inner child and has been liberated by it. In this body of work, the artist shares memories and creativity he had when he was a child. He believes that by projecting the voice of his soul in these artworks, he can encourage others to walk in the journey very few do.
What's your artistic background?
I am a painter who incorporates mixed media like oil and crylic paint and oil pastels. I celebrate South African people and their cultural heritage. I appreciate this beauty through my own interpretation of traditional patterns borrowed from isiXhosa, isiZulu and Ndebele. I feel these patterns and colours are a strong symbol of the South African ethnicity. From a young age I have been exposed to traditional clothes through many cultural events and ceremonies in my Xhosa culture. It is my duty to re-image these patterns together in a contemporary African setting to create a new hybrid South Africa.
What's integral to the work of an artist?

The work must be a part of him/her. It should also contribute feeling and outlook of the artist in society.
What role does the artist have in society?
To be an innovative and authentic creator.
What art do you most identify with?

Patterns and colours
What themes do you pursue?

Identity, South African culture, African contemporary design (Patterns)
What's your favourite art work?
Kofi 2019 by Amoako Boafo
Describe a real-life situation that inspired you?

Traditional clothes are very colourful and have patterns. This can be seen in bead-work. I am fascinated by the idea that patterns and colour can be strong symbols of the South African ethnicity.
What jobs have you done other than being an artist?

I have worked as a graphic designer.
Why art?
It is in me to be a creator and art is not restricted today.
What memorable responses have you had to your work?
"Buhle Nkalashe is an incredibly gifted, thoughtful and conscientious artist, who also shows concern and engagement, for the reception and curation of the gallery's entire show, not just his own individual contribution. His professionalism is remarkable."
INA WICHTERICH – Co Curator at Youngblood Africa Gallery
"Buhle brings a lot to the table; technical ability, thought provoking narratives and a considered and professional approach. These are the right boxes to tick when investing in new talent."
CHARL BEZUIDENHOUT – Director at WORLDART
"My company Afrinova has been partnering with Buhle in marketing and introducing him to new investors, who love to collect his work. Because, he has continuously shown himself to be a humble and positive individual who is always keen to learn, and push his work to the next level. Buhle has proved to be consistent in everything he does and has also been extremely proactive."
KEA BOCCOMINO – AFRINOVA
"I discovered Buhle's talent in 2017 and since then followed and contributed to his career as full time artist. He created artworks for several group shows and art fairs, always with positive viewers responses. Clients in particular enjoy how he incorporates his subject matter of his surroundings with always a positive outlook and vision on Africa. I am looking forward to introducing more artworks by Buhle Nkalashe to my customers in future.
MAIK KOBALD – Red Room Gallery (www.redroom.gallery)"
What food, drink, song inspires you?

Deep House music from South Africa
Is the artistic life lonely? What do you do to counteract it?

My childhood was very lonely, being the only child and parents were not around most of the time. This made me find peace and enjoy my own company, learn things about myself. So I got very used to it.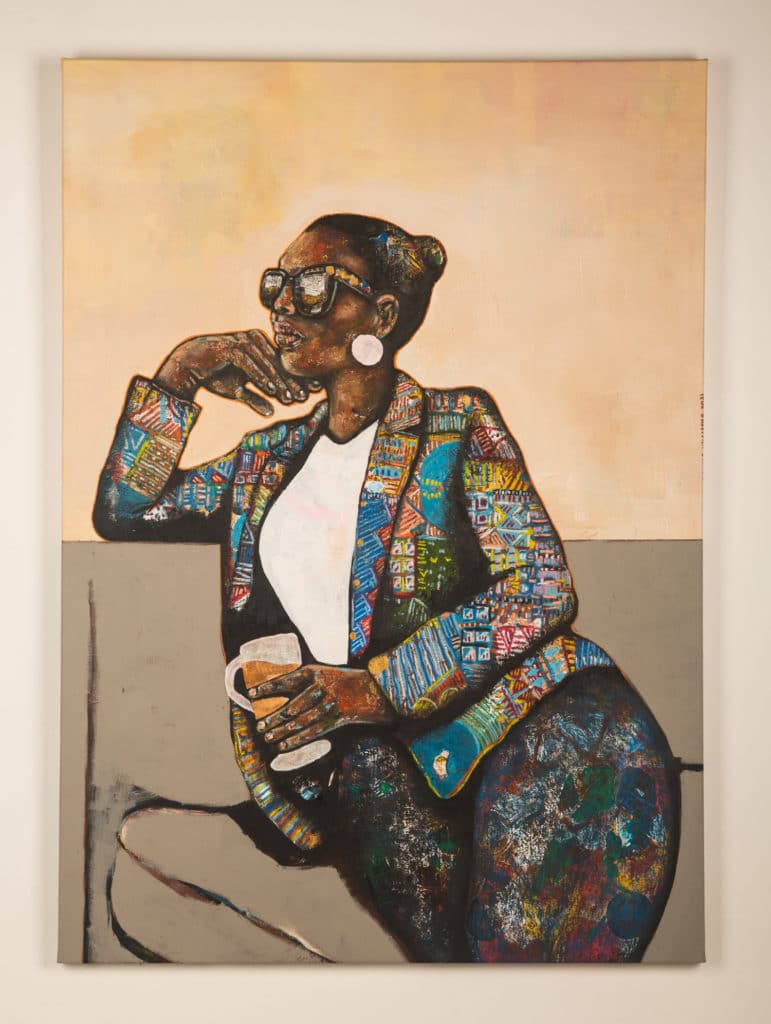 What do you dislike about the art world?

Being an introvert I sometimes dislike being in crowded environments. I also dislike the fact that some key knowledge is hidden from certain artists. The fast trends of social media which many artists adjust and follow leaving their own artistic identity on hold just to make a quick buck.
What do you dislike about your work?

It's a working project, there is always something new to discover and grow.
What do you like about your work?

The details and colours
Should art be funded?

Yes especially for up and coming artists.
What role does arts funding have?

A role of investing in art/ creativity which makes the world a better place.
What is your dream project?

To collaborate with Mercedes Benz.
Name three artists you'd like to be compared to.
None, art is not a sport. It is subjective.
Favourite or most inspirational place?
Gordon's Bay sunset
What's the best piece of advice you've been given?

Work on your craft, the rest will follow.
Professionally, what's your goal?

To enter the international market.
Future plans?
A solo exhibition in Europe