Bénédicte Gimonnet's fascination for nature and her surroundings, from micro to macro worlds is the very source of her creative process and inspiration: over the years, with series of works oscillating between (semi) abstract and figurative compositions, her paintings explore the power and fragility of light, the colour energy and relativity. Her work is a quest for understanding visually what shapes the matrix of our universe, and an attempt to imagine the creative energy surrounding us.
Fascinated by the physicality and the layering process of paint and mediums on various surfaces – Aluminium, Wood, Perspex, Canvas – the artist builds, removes, shapes the compositions and constantly investigates the relation between chance and control in her painting practice, from intuitive to very precise and formal gesture.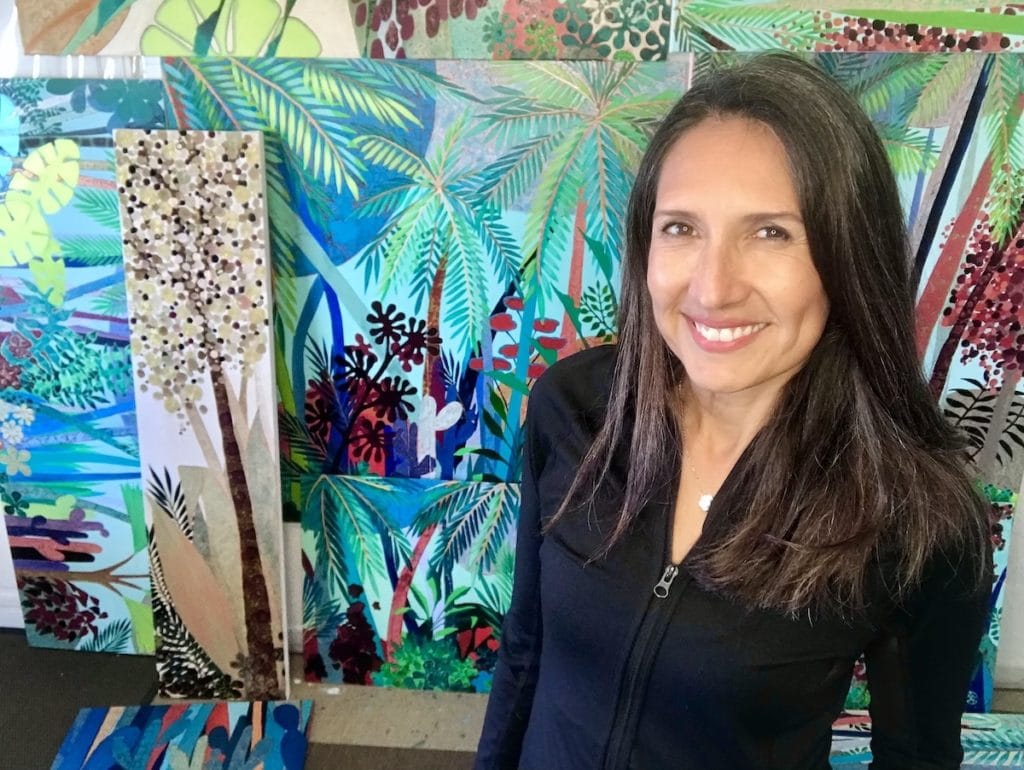 Her latest series 'SEZ' (Seychelles) made with the most unexpected painting materials, focuses on complex flora compositions reminiscent of Seychelles lushness where the artist was staying just before the Covid Crisis. This journey in tropical colorful vegetation followed by weeks of lock down and introspection, triggered unconsciously fragments of memories related to a short intense period of her small childhood in exotic colorful Peru and Venezuela, before going back definitely in France. These SEZ paintings primarily metaphors of freedom and escape, ended up revealing issues of distorted identity and lost memories.
Bénédicte Gimonnet was born in Clermont-Ferrand, France. She studied at Putney School of Art, graduated in Fine Art Painting and Print Making from the Wimbledon College of Arts (UAL) and undertook a number of projects in Europe and United States. She lives and works in the UAE since 2009 and teaches painting and drawing. Her work has been showcased in numerous exhibitions in the UAE – Salwa Zeidan Gallery, UAE Ministry of Culture, French Institute, Sharjah Art Museum – and her paintings belong to private and corporate collections across the world.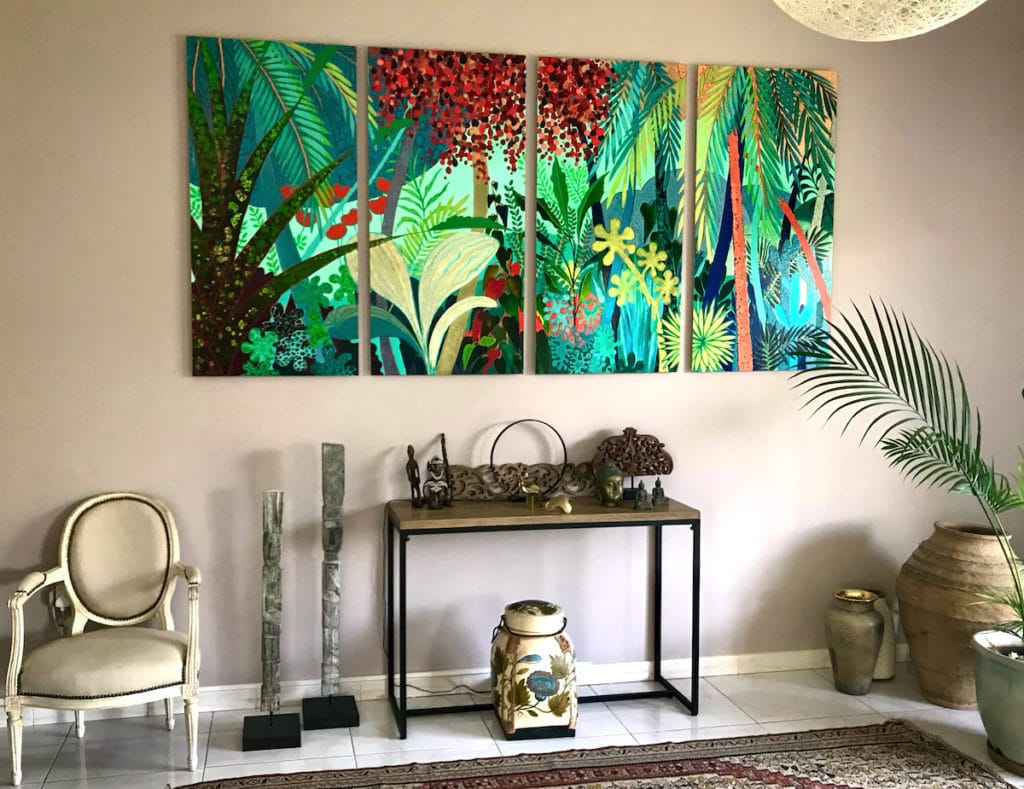 What's your artistic background? Why Art? What jobs have you done other than being an artist?
My passion for drawing and painting was triggered as a child watching my grand-father painting seascapes; he taught me how to look and examine the world surrounding me and how to draw. My family was very sensitive to culture in general and we were surrounded by art at home. However, when I expressed my wish to become an artist, my parents wanted me to pursue a more secure career: I graduated from a French business school and worked for a few years in audit and finance in Paris. Later, when we moved to London, I decided to take a leave from my job and go back to college for a few years full time to study Fine Art and Print-Making in Wimbledon College of Art (University of the Arts London).

What's integral to the work of an artist?
The inseparable link between the content and the form. Having the chance to work on both sides: a physical/material level and an intellectual one. This is a very complete and rewarding discipline where the brain and body can merge to achieve a piece of art.
What role does the artist have in society?
The role of the artist is to question our world through his/her own eyes and her/his creativity, proposing concepts, ideas, beauty or ugliness, bringing emotions or asking questions, challenging the viewer at all times. Art is a necessity and defines humanity.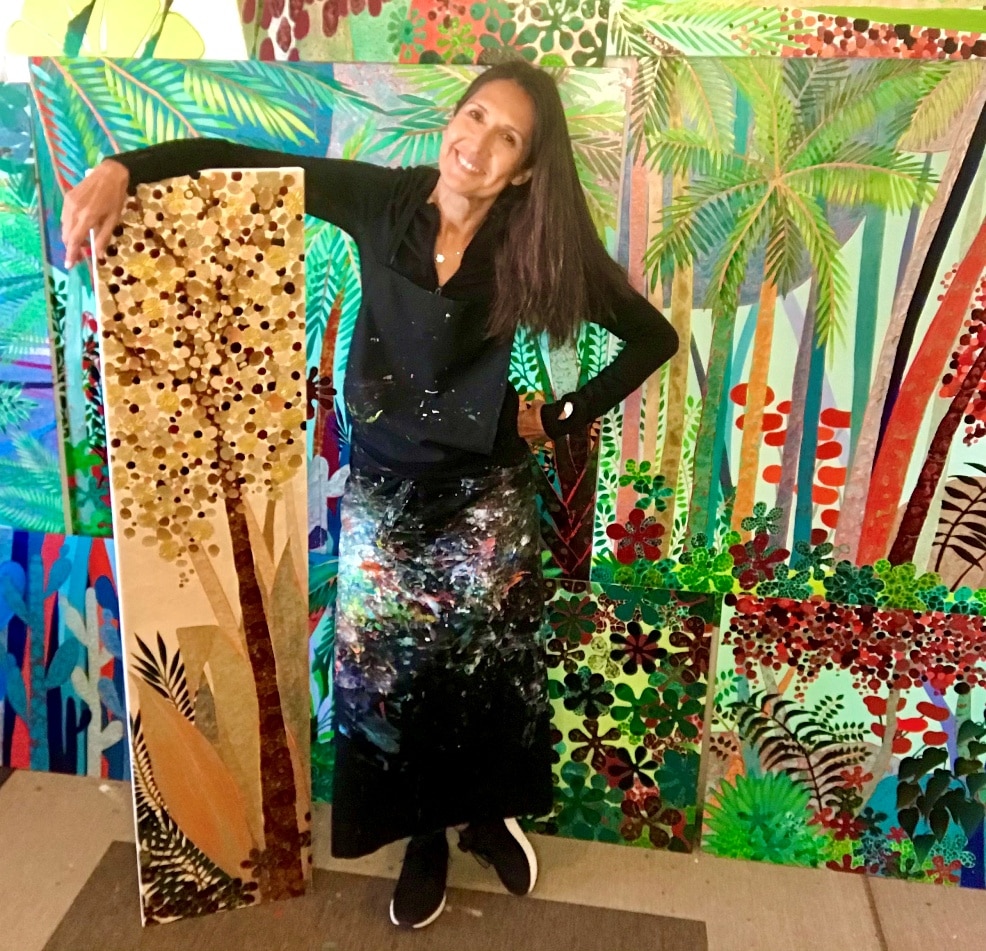 What art do you most identify with? What's your favourite art work? Name three artists you'd like to be compared to.
I have developed a strong fondness of modern Abstract Expressionism, a great admiration for the 19th century Japanese masters, the Nabis and Fauvist artists, but also for contemporary process painting. My tastes are eclectic and very broad, endless curiosity is the source of inspiration so I couldn't possibly have only one favourite art work. However, I would love to own works from Bonnard, Hokusai, De Stael, Frize, Derakshani, Richter or Gormley!

Describe a real-life situation that inspired you?
When I moved in London with my family in 1999, I went back to part-time Fine Art classes in Putney School of Art. I met a lady and mother of three, who made the decision to go back to full time art studies as a mature student. This lady who has become now a close friend has definitely inspired me. Thanks to her, I made a life-changing decision to give up my previous job, pursue full-time studies completed in 2006 with a Bachelor of Arts (Honors) in Fine Art and Print Making and become an artist.
What is an artistic outlook on life?
To be able to see and be amazed by all the small details and phenomena that life can offer us and transform it into creative energy.

What memorable responses have you had to your work?
The most memorable responses were that my work makes people dream and touches their soul. It means the world to me!
What food, drink or song inspires you?
I am French, half Peruvian, so you can imagine food, drink and music is part of my DNA. Peruvian ceviche, French patisserie and champagne are a real treat for the palate with contemporary Andean chill out electro music or an orchestral piece by Rachmaninov.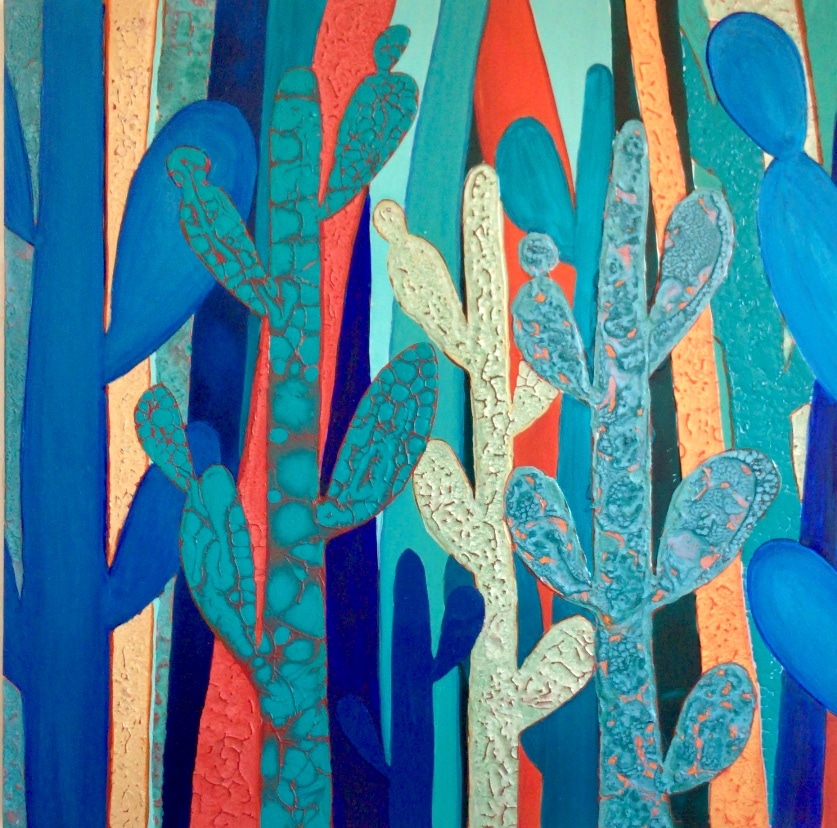 Is the artistic life lonely? What do you do to counteract it?
Being a painter is far from the fantasy image people mentally have. It is certainly a 'lonely' discipline as an artist needs time and space to develop her/his work, but it is not a lonely life. Working hours alone in the studio is not a burden but a necessity for me, and it is counterbalanced by the exhibiting and sharing times with the public, students or other artists, discussing art practice, teaching art or organizing shows. I also enjoy writing articles for a cultural magazine which allows me to meet and interview creative people. Well, not so lonely after all!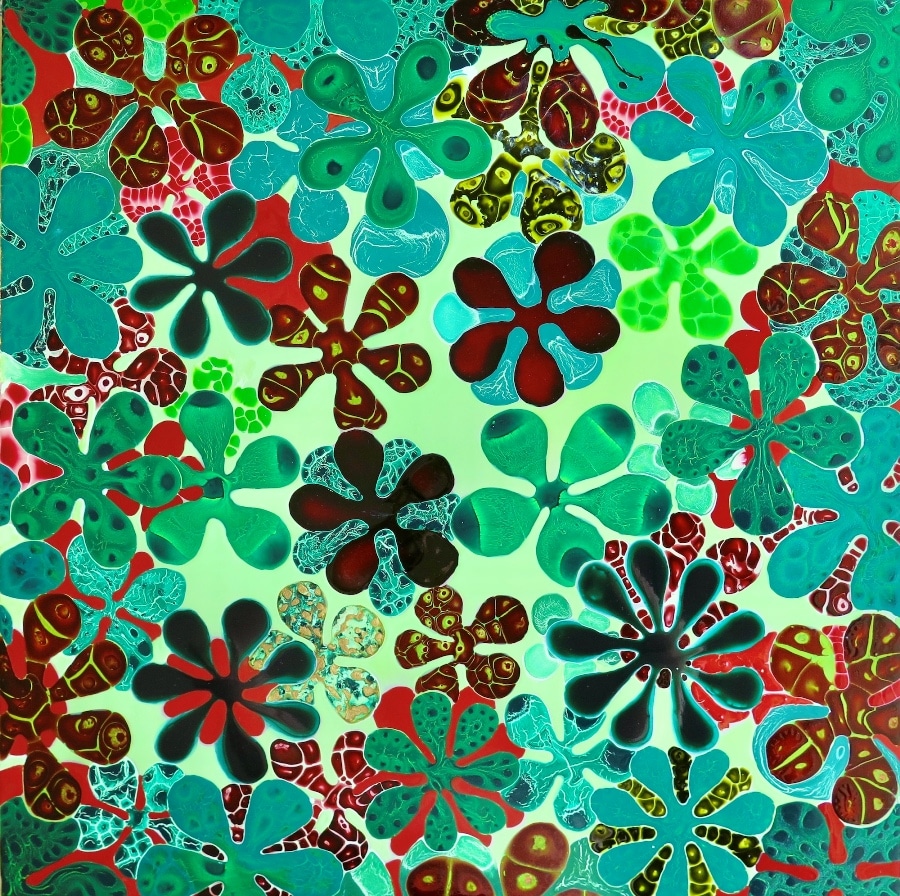 What do you dislike about the art world?
The people and institutions who deal with art only for purposes of investment forgetting completely the true joy of acquiring a piece that touches the soul. These tendencies are sources of absolute aberrations and have nothing to do with truthful art.
What do you dislike about your work? What do you like about your work?
My work builds up it's strengths through it's weaknesses. Each experiment good or bad, frustrating or rewarding, is adding to my techniques, ideas, researches and contributes to make my art practice more mature and interesting. This is definitely an elaborate process. My research on color relationship and mixed media techniques is becoming stronger and I would like to explore more 3-dimensional work.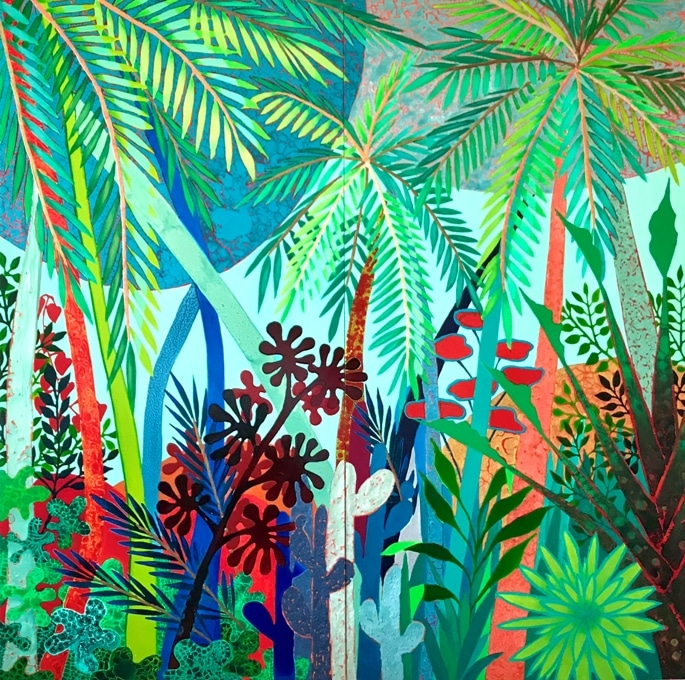 Should art be funded? What role does art funding have?
I am truly thankful to all organisations, foundations, museums, private collectors and patrons from the past and present, who support art and artists all around the world, enabling creativity to rise and persist. So many masterpieces would never even exist if patrons or institutions were not supporting artists, who struggle most of the time and can't make a living from their art. So of course, it has been, is and always will be crucial to have art funded.
What is your dream project?
A large-scale work of art in an important public place to bring creativity in the everyday life of passers-by – who don't usually visit galleries or museum -and raise general interest in the power of art.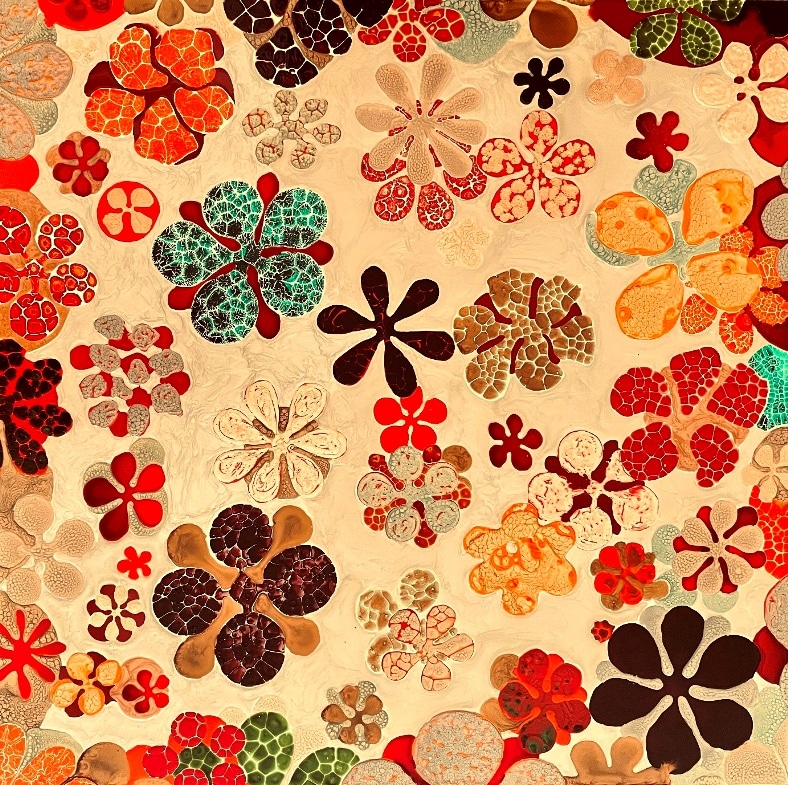 Favourite or most inspirational place? What themes do you pursue?
Nature, light and my surroundings are a constant source of inspiration to me. I am an eternal traveller and a long-time expat. Each step of my life is attached to a specific place and cultural background, with new experiences and emotions that trigger a new series of work.
What's the best piece of advice you've been given?
Less is more.
Professionally, what's your goal?
Developing my work through a sharpened and focused art practice, working with partners (galleries, institutions…) that will help me to achieve strong projects.
Future plans?
My next show will take place at the Alliance Française Dubai in September 2021 and will be an artistic dialogue/exhibition with an established Emirati artist, with some pieces produced together; a first-time experience for me, a very interesting and rewarding way of creating artwork.
Fact box :
Instagram: @benedictegimonnet