Born in Istanbul, Özlem Sorlu Thompson paints in the flat where Piet Mondrian made his art studio in London. With Mondrian her influences also include the great expressionist artist Kandinsky and abstract surrealist Joan Miró.  Özlem's works have already made their way into the homes of renowned celebrities such as actress Anita Dobson and her husband Brian May, musical theatre star Maria Friedman, actor Andy Nyman and several private collectors.
With degrees in biology and botany, an in depth knowledge of exotic plants and keen interest in physics, Özlem strives in her work to create synaesthesia and in the experience, the process and the result, with strong colours and shapes that generate an extemporaneous flow of visionary energy.  She paints without preparation or planning, merging intellectual concepts with visual ideas, while real and imagined organic structures mix with one another , while fantastic creatures and worlds all converge to create a vivid explosion of the real and fantastic.  As a result positivity and joy invariably manifest strongly in the viewer.
What's your artistic background?
Originally I come from Istanbul, and since an early age I have been making art.  While studying Biology at University and completing my Master's degree in Botany, I learned to think as a scientist.  Now I can see that biology and specifically my thesis on exotic plants and their usage in industrial design, helped to prepare me to become an interdisciplinary artist.  Also my very creative grandmother was from Ukraine and I used to watch her making all kinds of decorative art, naturally and effortlessly weaving beautiful patterns and shapes.  By watching her I learned that creating something unique is not as hard as it seems, and that you only need let your hands do as they feel.  Also music informs my artistic process, and my family is full of musicians, some of whom are professional musicians.   The fact that I was born in such a richly historic city as Istanbul, that connects two continents and myriad cultures to one another, has certainly influenced my art.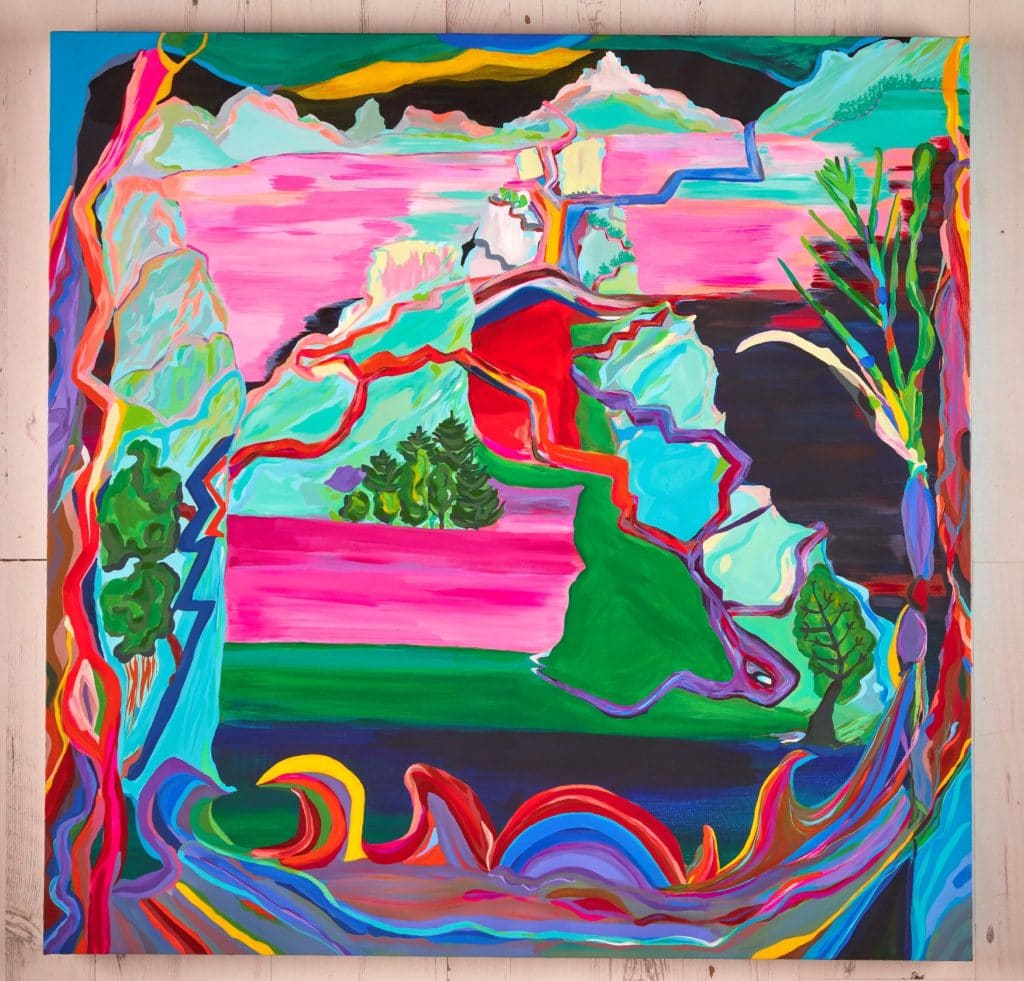 What's integral to the work of an artist?
Awareness. Being aware of yourself and your environment. When you are able to observe and digest these things then you can start playing with the shapes and concepts in a more meaningful way.
What role does the artist have in society?
The artist's role is to express and transmute the feelings of human beings in an unusual or original way. Some artists have a direct visible message to give, and the others an indirect way of expressing those feelings.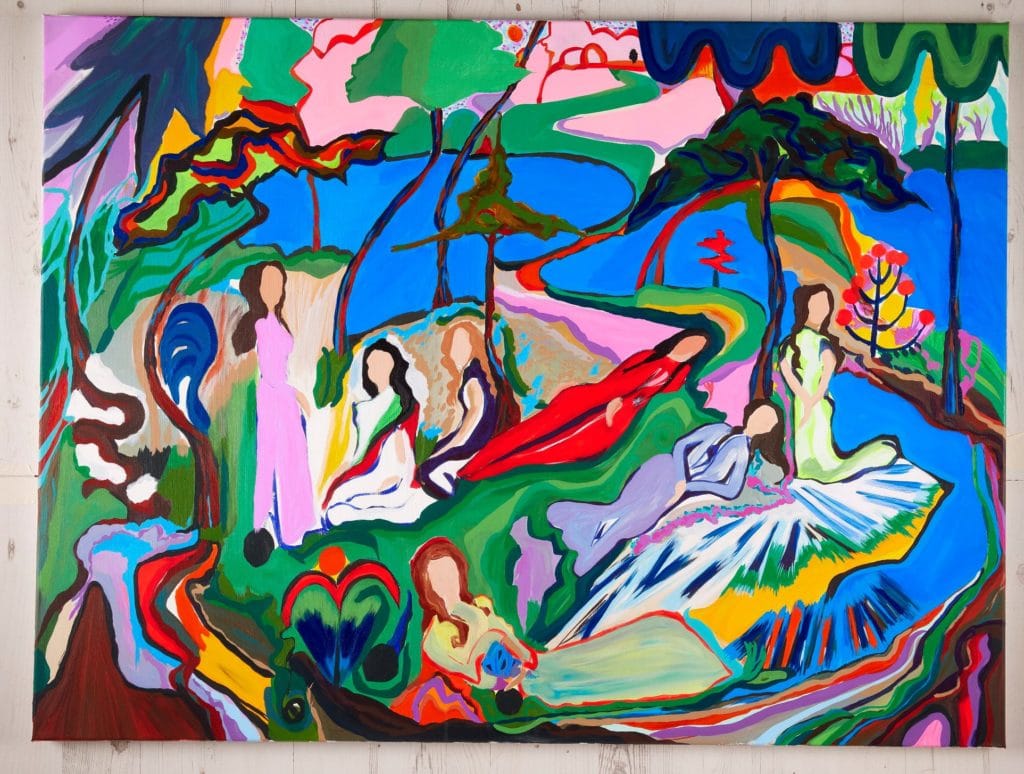 What art do you most identify with?
I believe my art is abstract. I don't plan anything; I think creating art in a deep meditative state is the purest way.  It reflects one's true self.  I did spend a lot of time making marker drawings, choosing colours spontaneously and then I continued painting in a similar way.  Colours mean everything to me; I use them especially to express my feelings.  I decide the subject and without thinking a lot about it I start painting in a meditative state of mind.  So my art is a result of my sub consciousness, I feel.
What themes do you pursue?
I like creating imaginary worlds, my first series was about imaginary creatures in other galaxies and planets. After that series, I decided to make abstract floral series and also imaginary scenes with bright colours.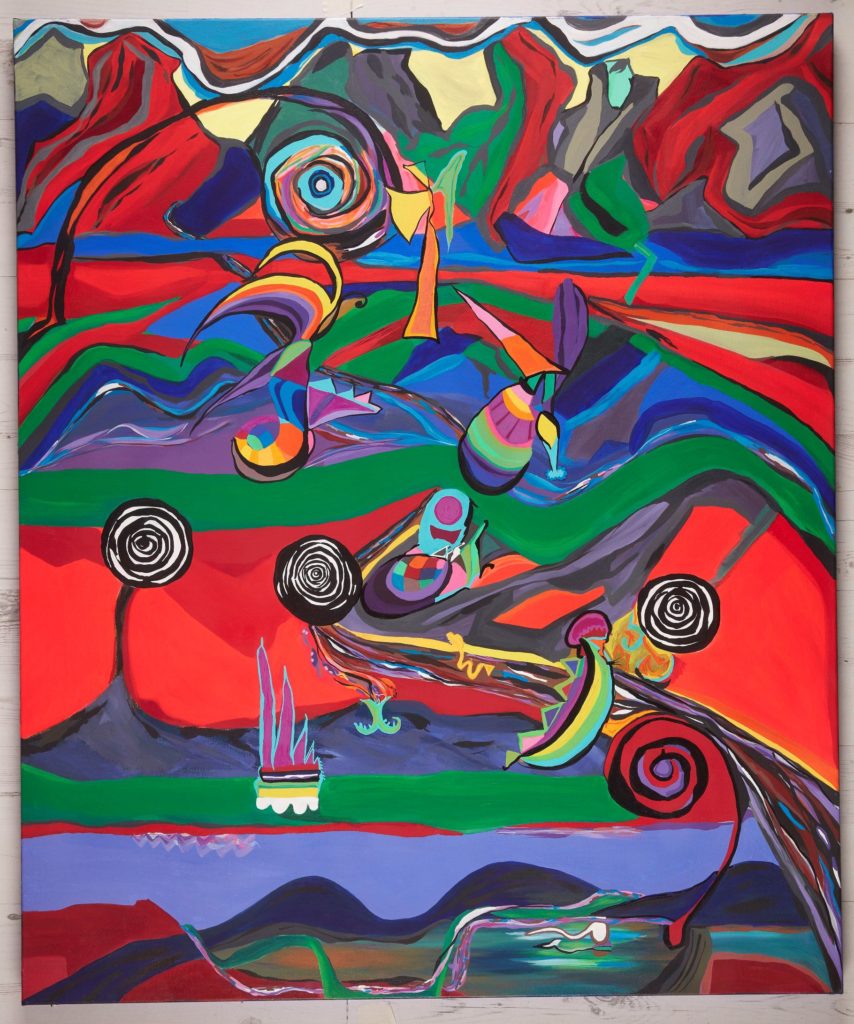 What's your favourite art work?
My favourite artwork is 'Emerald Spring' right now. If you ask me what my favourite all time artwork, I can say Kandinsky's Blue Circle.
Describe a real-life situation that inspired you?
I love the architecture of Gaudi and visiting the church of the Sagrada Familia was very special for me.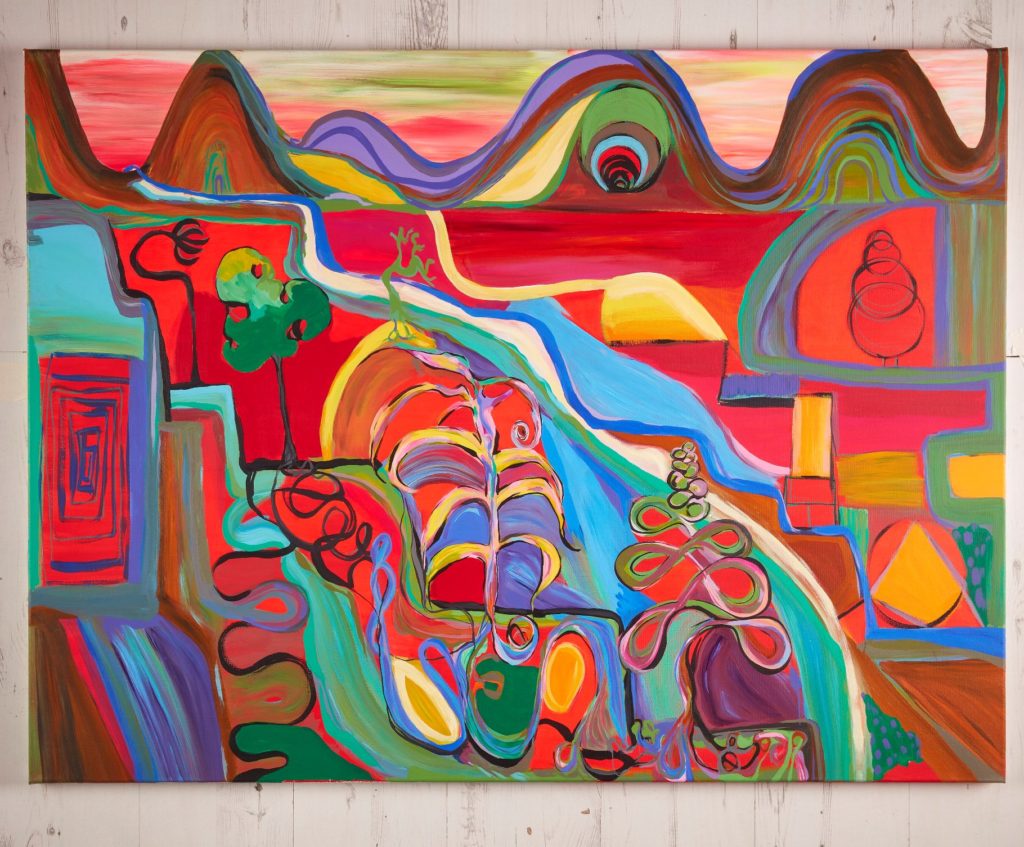 What jobs have you done other than being an artist?
After leaving university I intended to become an academic, but I fell in love and to be with my husband I had to take a great risk in life and move country, which is how I ended up in the UK. Very soon I began to experience success in my hearts' desire to become a painter, and so the risk paid off.
Why art?
Because art is essential to make sense to humanity.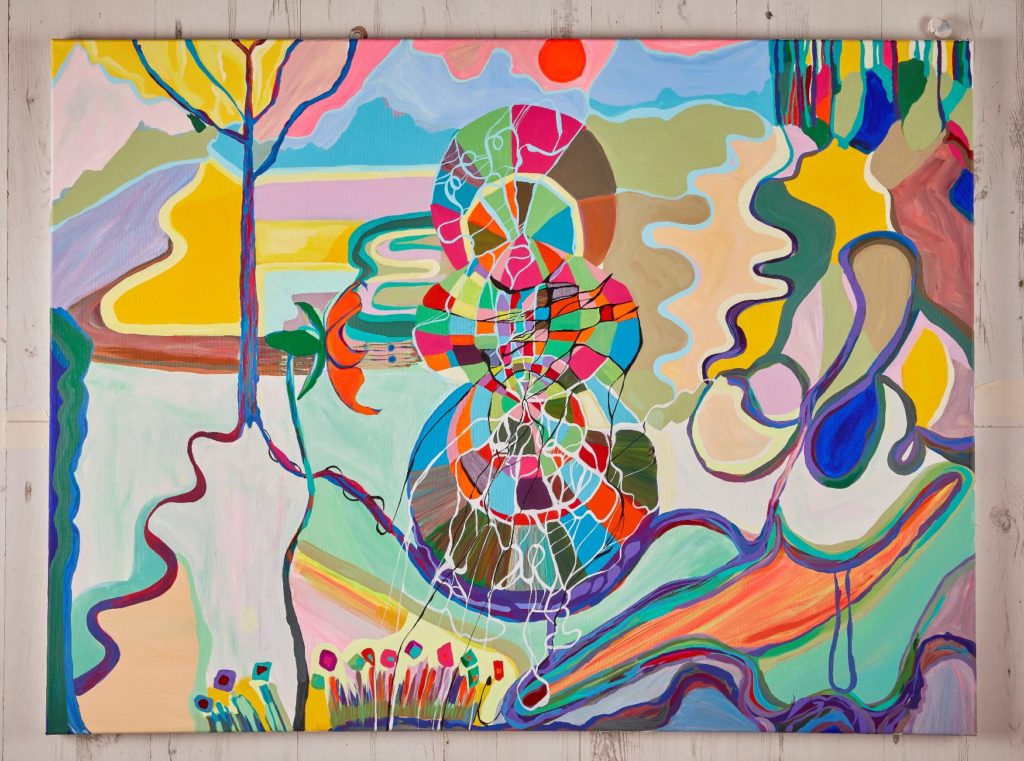 What is an artistic outlook on life?
As Einstein says 'There are only two ways to live your life.  One is as though nothing is a miracle.  The other is as though everything is a miracle.' I like thinking about life as being part of a giant miracle that we actually don't understand.  In every moment I feel this way and I reflect it into my work.  I believe a miraculous way of seeing life can bring me joy, happiness and peace.  This way we can be aware that we are like a drop in an ocean, we are part of that ocean, we are in it like little snowflakes on a huge iceberg, most of which is invisible to us, but we know it's there.  I want to share with the world what I can see when I try to look at that iceberg.  I combine dreamy scenes in my mind with the reality that I see in nature.  I like mixing reality with my imagination.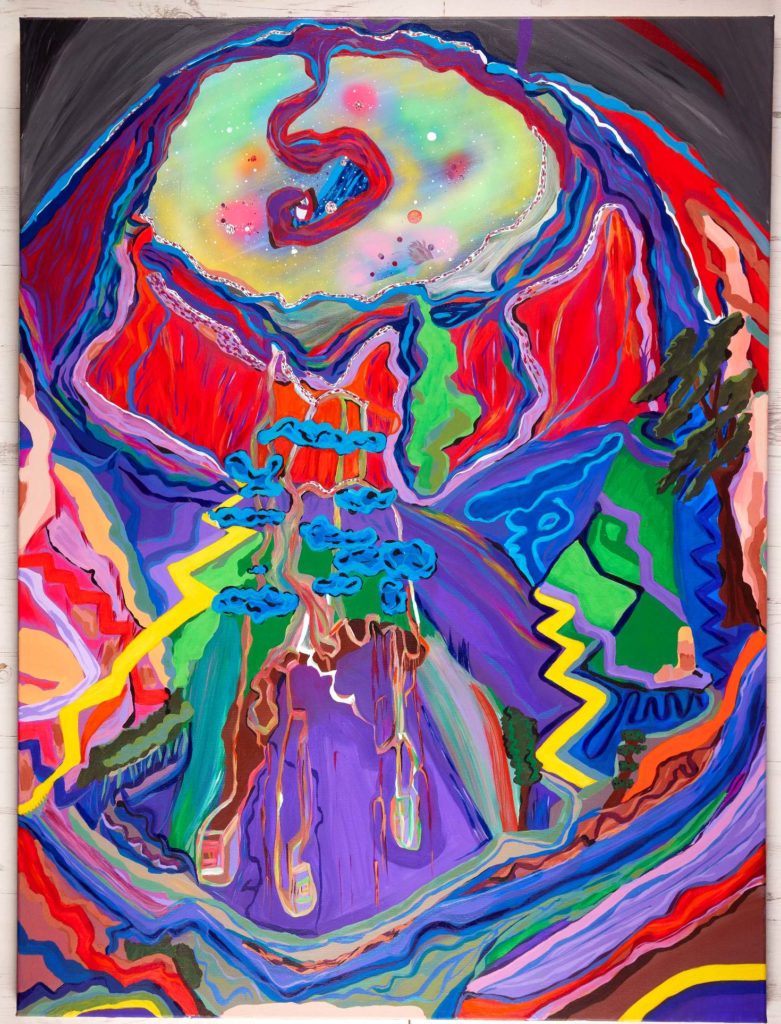 What memorable responses have you had to your work?
Very often people express to me that they feel joy and happiness when seeing my paintings which touches me greatly and inspires me to continue my work.
Is the artistic life lonely? What do you do to counteract it?
Yes it is. I love reading, especially the works of the Great Russian authors, such as Dostoevsky or Tolstoy.  I spend a lot of time thinking about physics and the mechanisms of the universe, in particular possible life forms from other worlds and black holes and apart from that I love listening to music as much as I can.  My husband is a wonderful violinist so I enjoy concerts at home !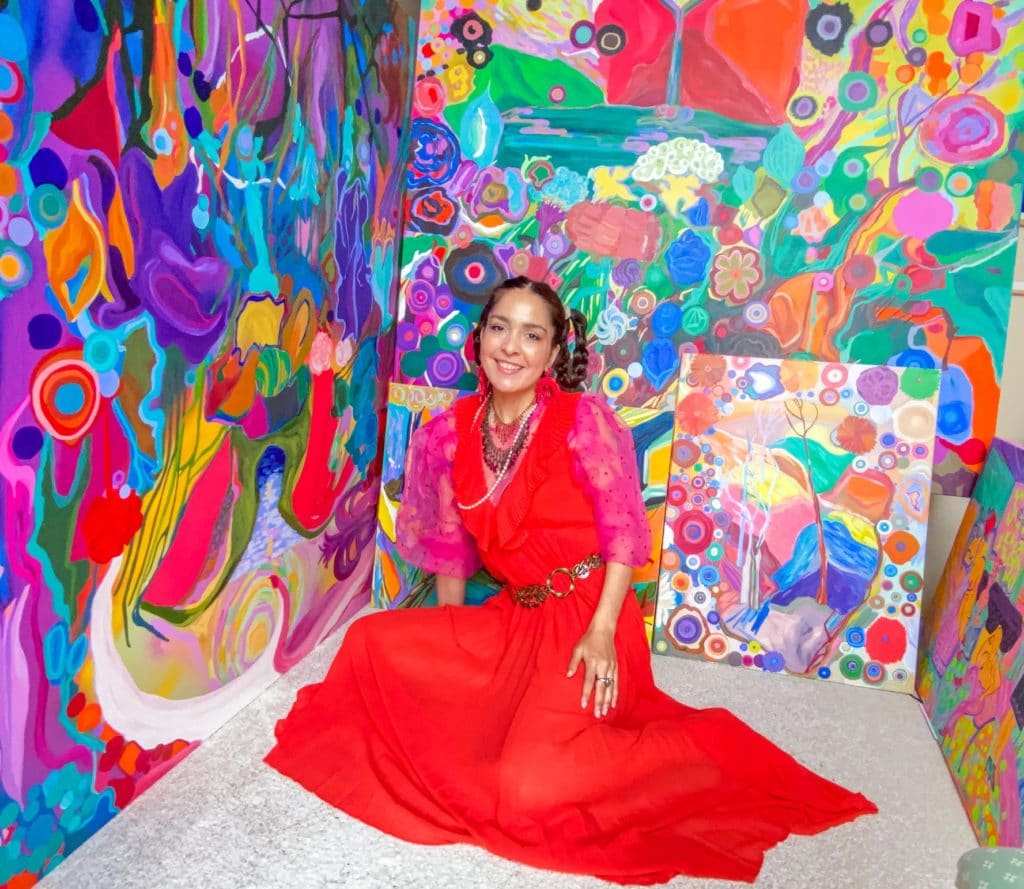 What do you dislike about the art world?
I definitely can say inequality. According to the National Museum of Women in the Arts only 13 percent of artists are women recognized by museums and big galleries in the US. This is very unjust. There is a lot to say about this subject. But I started this business as an independent artist and I met so many amazing people via social media.  If I see any opportunity I apply and wait.  I don't have a marketing team yet but hopefully in the future I might.  I do everything myself. But coincidences take a lot of space in my path.  I had amazing chances of meeting celebrities such as Anita Dobson, Maria Friedman, Andy Nyman and they loved my works, they supported me, encouraged me and believed in me.  Brian May and Anita Dobson have a very special place in my journey.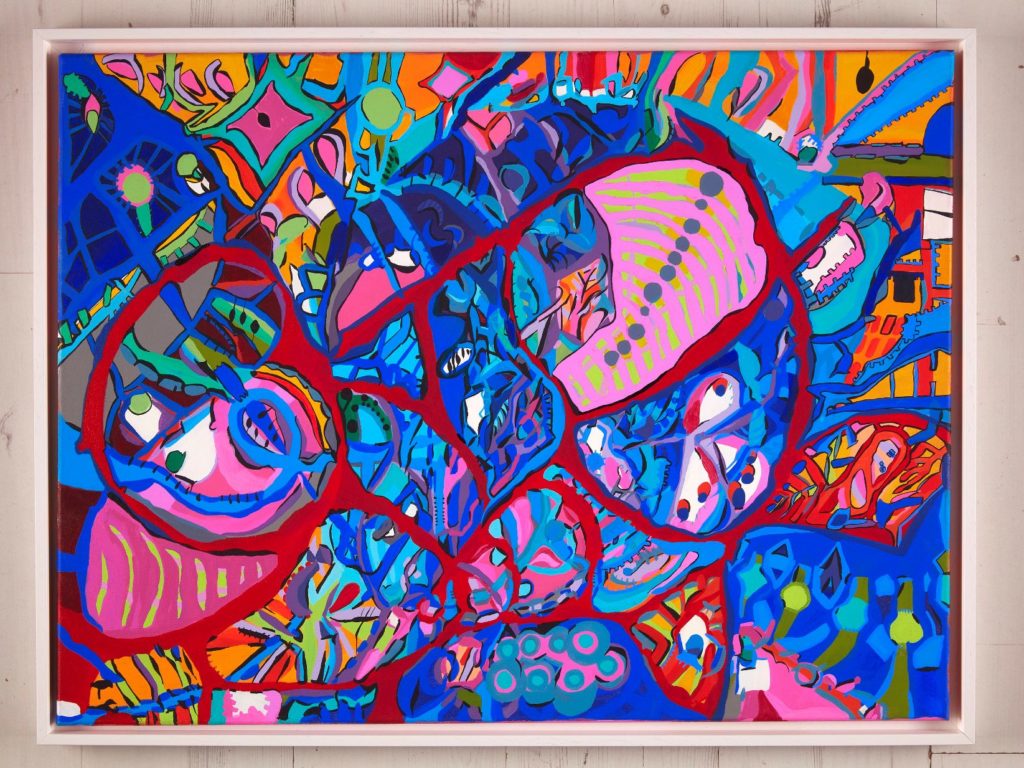 What do you like about your work?
I love my work; it is a reflection of me and expresses why I am here.
Should art be funded?
Art should be funded and there are some very generous people in the world supporting art and artists, it should be more open to emerging artists and easy to reach.
What role does art funding have?
Arts funding has a vital role to play in bringing unknown artists recognition.
What is your dream project?
My dream is to be recognized as a great Turkish woman artist in history. I imagine myself doing a show in prestigious places such as The Museum of Modern Art, or Saatchi Gallery and Istanbul Modern.  I spend every moment of my life with this aim.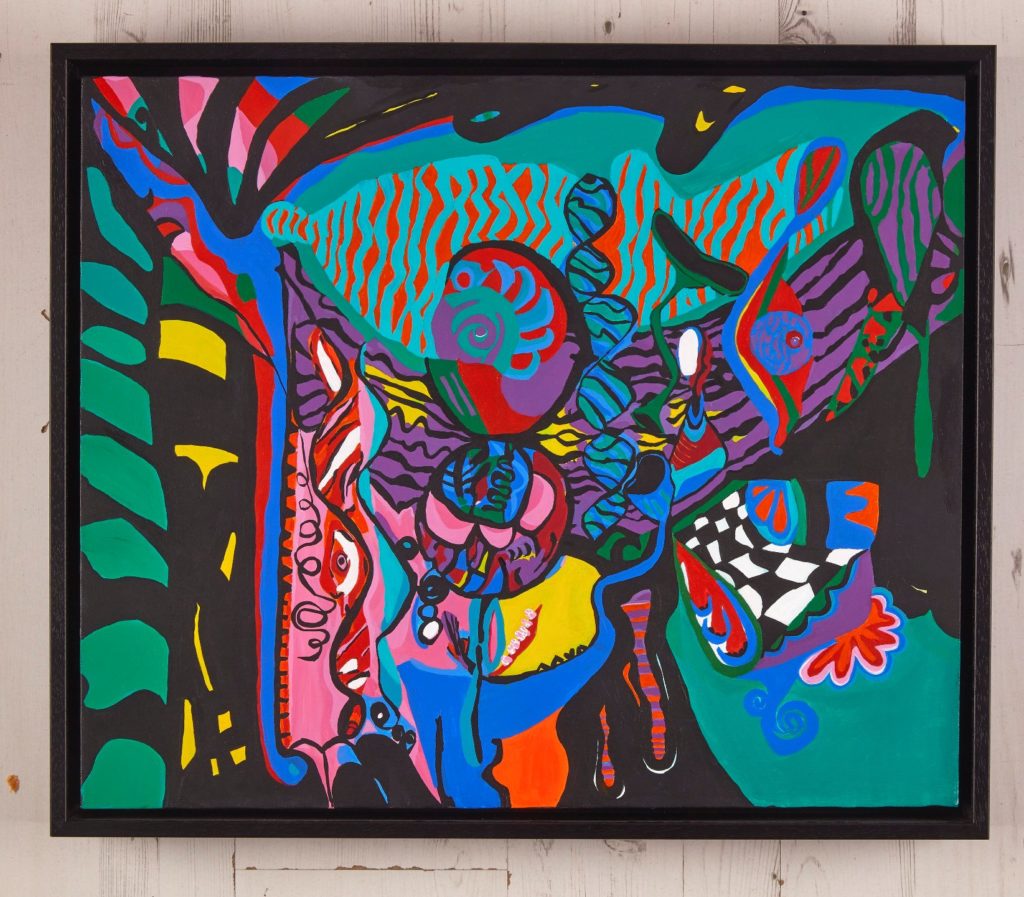 Name three artists you'd like to be compared to.
Hilma af Klint, Georgia O Keeffe, Niki de Saint Phalle.
Favourite or most inspirational place?
My most inspirational place is Nepal, and especially the Himalayas. Incredibly beautiful mountains, nice culture and smiling faces.
What's the best piece of advice you've been given?
Dream big.
Future plans?
After taking part in a lot of group shows in Manhattan, London, Wales, just before the pandemic I did a group show in Soho, London. I have been selected for an art catalogue by Florence Contemporary Gallery, in Florence, Italy. I have done online exhibitions both in Barcelona with frikifish and in Madrid with the amazing team @programmetaide , an online solo show with Arts Circle Gallery, Texas. Also I am selling my works through online stores such as Saatchi Art, Singulart, and a new platform called Gallerima has just launched in Stockholm, Sweden. My work has been published in 'Coronart', published by Ludwig Rage book club during the pandemic.
Already there are more to come, such as publication in Art Folio, a very prestigious publisher in the USA, catalogues in Florence, Italy and publication in Capsules book which has a distribution list that features hundreds of industry leaders and high caliber advertising agencies and businesses such as Warner Music, Universal Music Group, Spring Studios, Sony, and a long list of highly targeted global businesses, agencies and brands. I am planning to have my first solo show in London, in 2022. As I said, I dream big so my goal is becoming a universally recognized artist in history.
Fact Box :
Name: Özlem Sorlu Thompson
Instagram: @ozlemsorluthompson
Email: ozlemsorluthompson@gmail.com
Phone: +447415152527
Art Medium: Acrylic, oil, spray paint.
Materials used most frequently: Acrylic and Canvas.
Genre (e.g abstract expressionism, realism, etc): Abstract expressionism, abstract landscape, abstract florals, contemporary art