Pastry chef Anton Pochtar was born and grew up in the capital of Kazakhstan and went to the presidential chef's high school in Astana. He started his career as an apprentice at the Intercontinental Hotel Astana.  After a few months of training the Pastry Chef in the hotel offered Anton his first kitchen job as a pastry cook at the age of 17. Anton was very happy to learn and stayed at the hotel for two years. At the age of 20, he got an offer to move to Dubai for the next stage of his career. As a young cook, Anton was very impressed with his new hotel (Grand Hyatt Dubai Hotel), the new environment and a new country. At Hyatt Anton had a great team and had the opportunity to work and learn from some great chefs such as Reinolf Mossl, Anil Rohira, and Stefan Gruber. After two and a half years, he was hungry for more and moved to The Ritz Carlton Abu Dhabi as a Chef De Partie.
In Abu Dhabi Anton was super excited to work for the pre-opening of the new hotel. However, the main reason was an Executive Pastry Chef Laurent Allereau whom Anton heard a lot about and really wanted to learn from! After joining the great chef, Anton had several opportunities to work on many interesting events with Gianluca Fusto, Pierre Herme and other stars of the pastry world. A year after the opening, Anton had been promoted to the position of Sous Chef. He continued to work in Abu Dhabi for one more year. Then he received an offer to work as a chef on board of a private jet for VIP guests and travel the world. Always hungry for travel and exploring, the adventurous Anton could not refuse such an offer…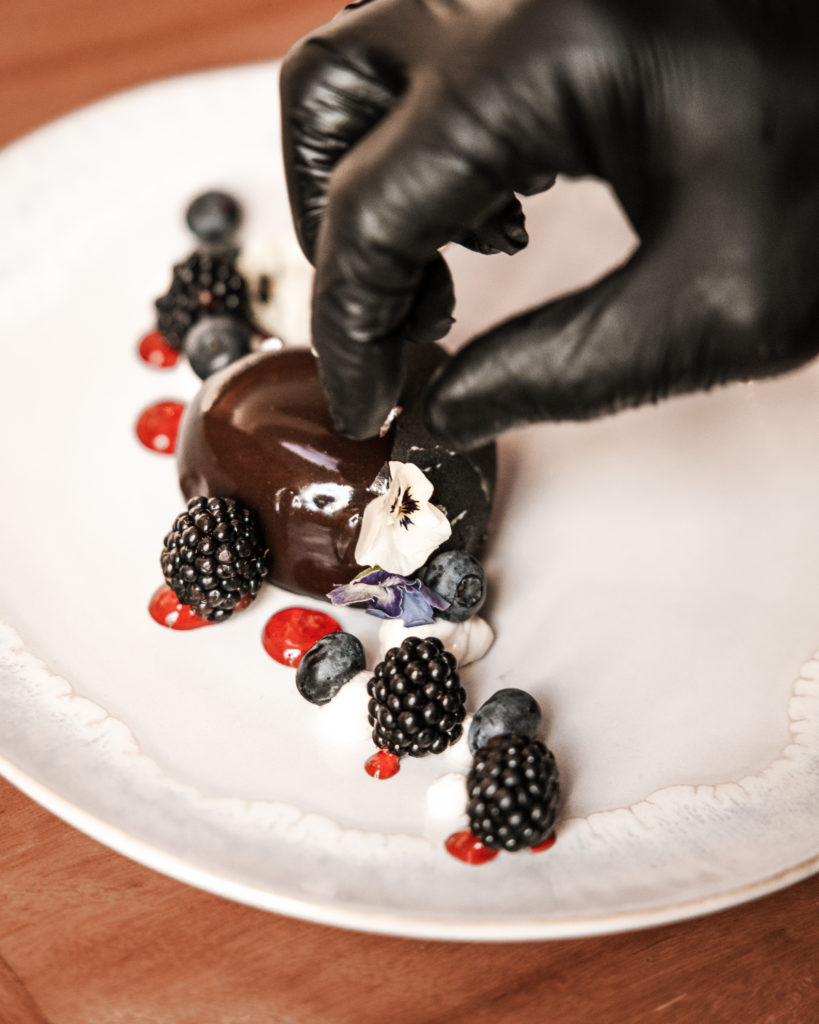 Three years later Anton decided to go back to The Ritz Carlton Company, this time in Dubai. Joining as an Assistant Pastry Chef, Anton has spent one year sharing his knowledge that he learned through the years with a young team of 25 cooks. He has been instrumental in orchestrating many large scale events and exciting projects after he took up the new challenge as a Head Pastry Chef at The Ritz Carlton Moscow. Within two years in Moscow Anton and his fantastic young team has managed to create a niche for themselves in the local market.
What inspired you to become a pastry chef/chocolatier? You've been in the industry for quite some time. Would you have done anything differently when first starting out?
My family inspired me to become a Chef! Especially my grandma. I always accompanied her in the kitchen whenever she cooked for family gatherings and celebrations. Well I believe everyone has some point in his or her life that they would like to go back to and do it better, so would I.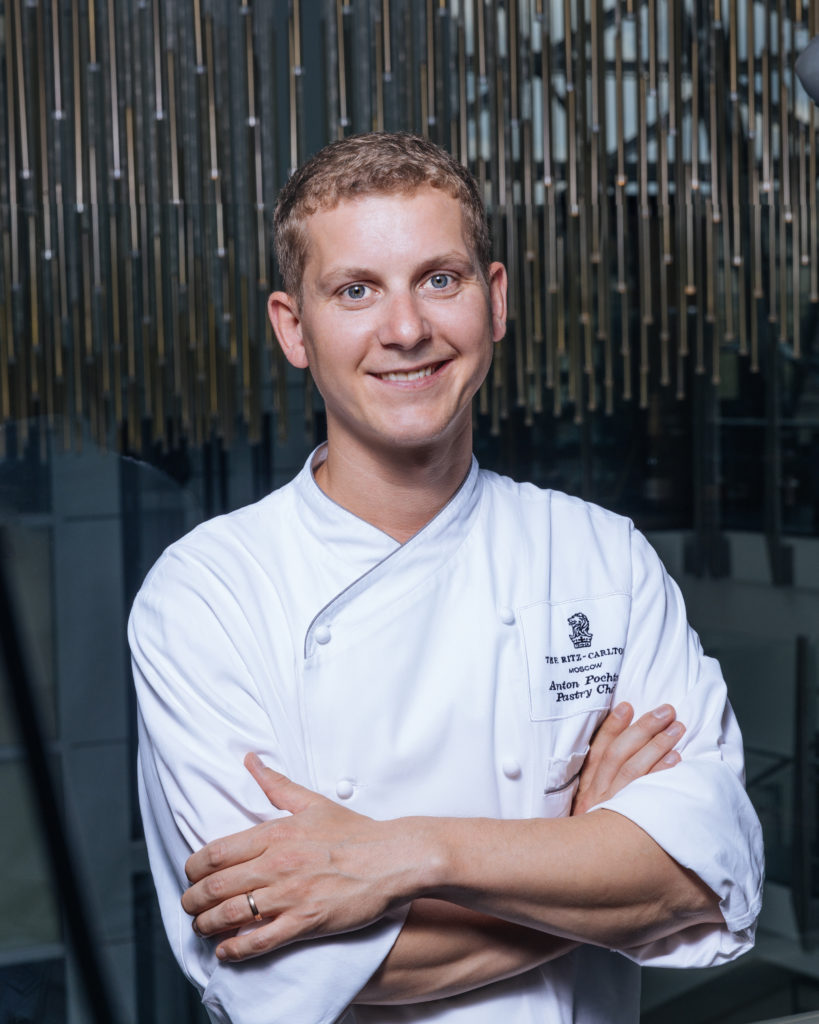 What's the latest trend when it comes to baking and patisserie and chocolate making?
In my opinion, the biggest trend is 'innovation'. New design, modern techniques, new styles. Lately pastry is more than just cooking, it is a fashion! And lots of great chefs are striving for perfection.
 What is your advice to aspire chocolatiers/pastry chefs?
My advice to young chefs and trainees in my kitchen: "Do not go after the money!" Even though I understand that money is an essential resource in our lives. However, I would say that if you want to become a good pastry chef, you need to learn from a good one! Money will come; it is just a matter of time and patience.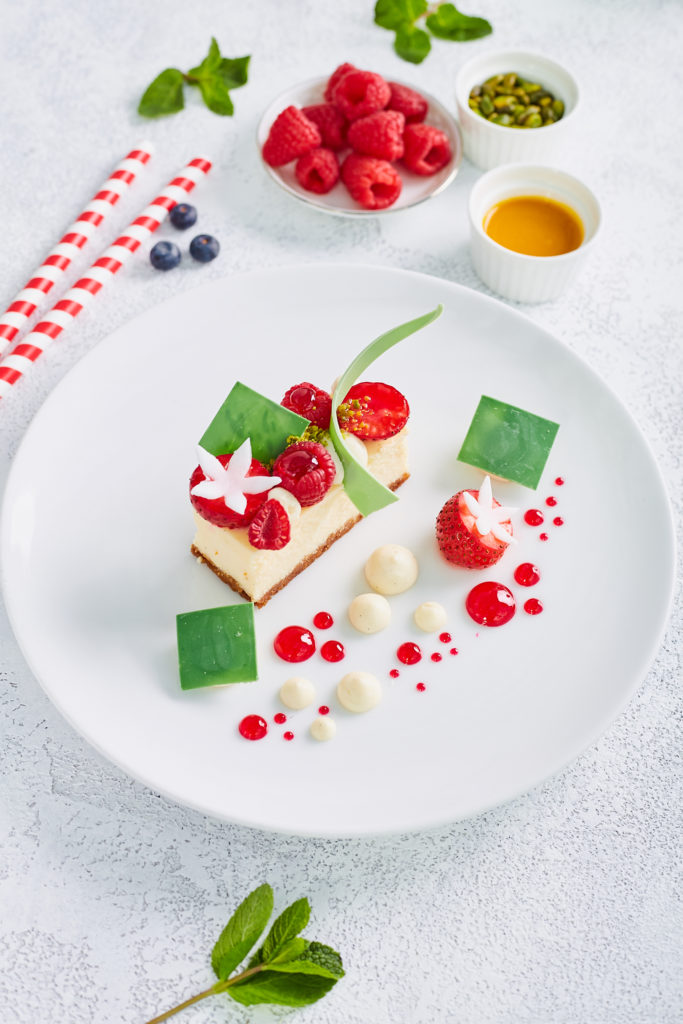 Future Plans? Have you ever thought of writing a pastry cookbook?
Perhaps it would be a good idea one day, but not right now. Right now I am focusing on my professional growth and trying to spend as much time as I can with my beautiful wife and little princes – my daughter.
 Would you consider yourself as an artist? Are you inspired by artists when you create your products? When you create different products everyday where do you get inspired from?
Every chef is an artist; it just cannot be any other way! It's interesting to get inspired from art; it does indeed bring many ideas. For me personally inspiration comes from all over. Ideas may come at any time: when I walk in the park and see nature, when I taste something new in my travels and think about flavor combinations. However, mostly it comes from my beautiful wife; she supports me in every idea and inspires me for new challenges.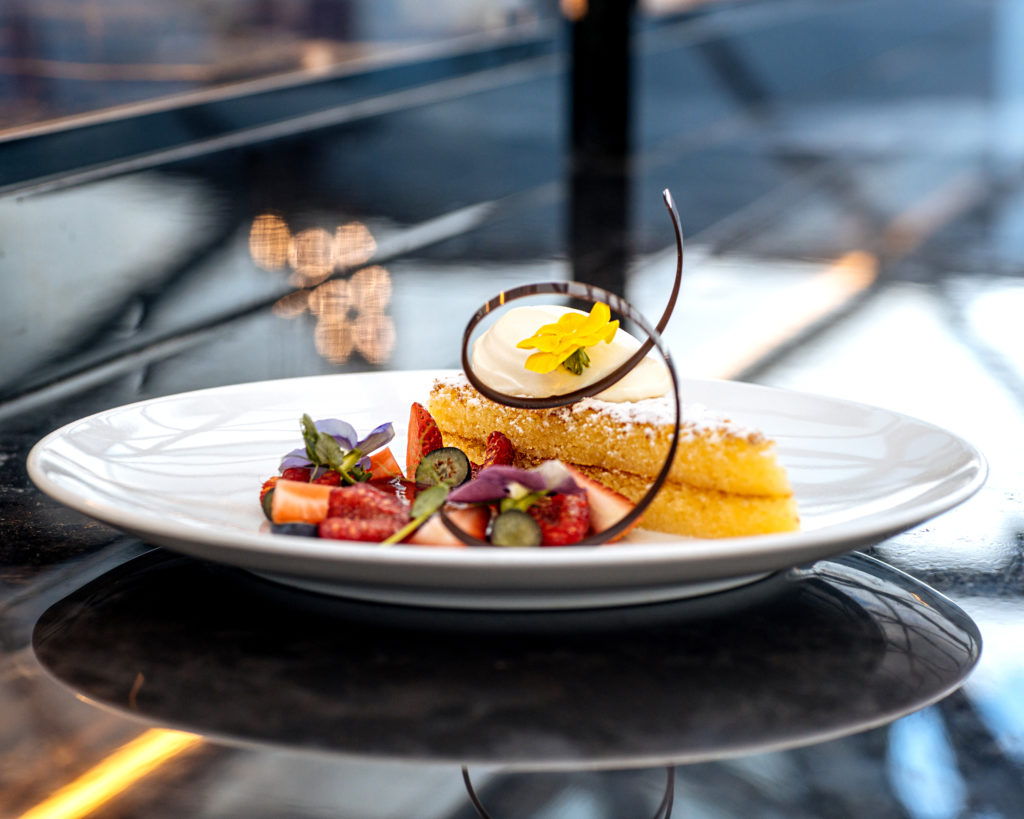 Which is your favorite ingredient?
I would definitely have to say chocolate! It is an amazing ingredient that I love so much to work with and eat of course. In my opinion, chocolate is incredible, it has hundreds of flavor profiles and has countless ways of being used. I use chocolate all the time; we always have at least one or two chocolate desserts in all our menus. So many different chocolates are frequently used in my kitchen. We create chocolate praline, truffles, tablets, showpieces etc.
 What would you say is the key/winning feature of your creations?
Definitely creativity and local seasonal ingredients!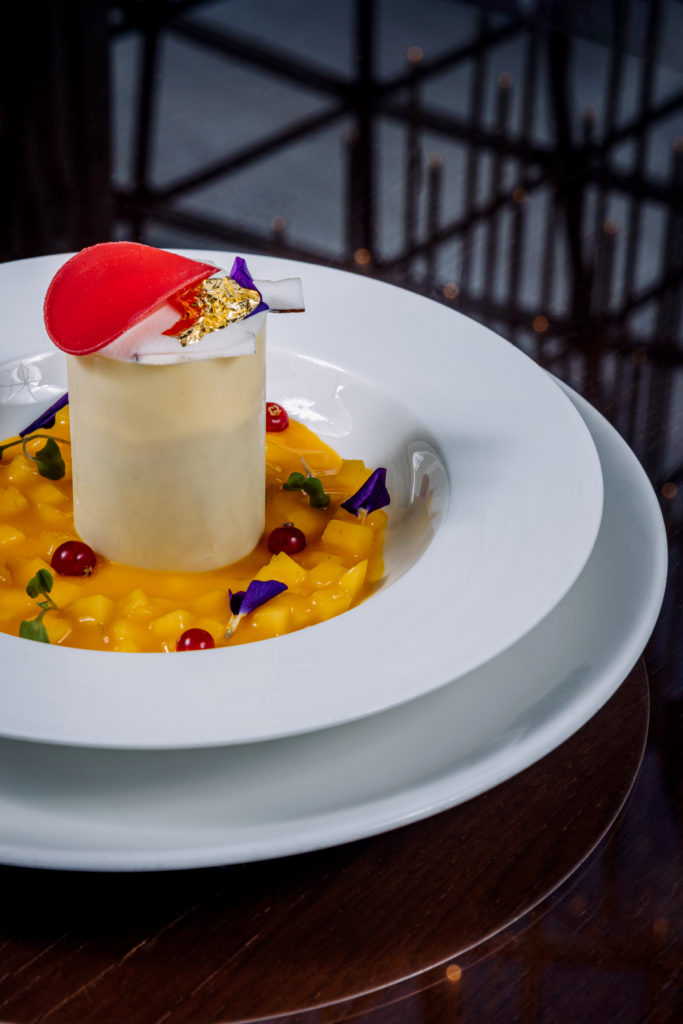 What are the most important considerations when crafting your menu?
While building the new menu, as a chef you have to look and think about so many different things! Availability of products, costing and equipment and you have to be aware of local taste and preferences. But most importantly I believe in consistency, we want our guests to have exactly the same great dish as they had a week or a month ago.
 Have you ever considered being a vegan chef? How practical is it being a pastry chef/chocolatier?
I think veganism is not my thing, at the same time I understand that it is a trend now.
 Which is the dish/chocolate you've created that you are most proud of and why?
There are so many, it's difficult to pick just one. I would say our creative ginger bread houses and other festive treats as it requires massive planning, preparation and of course great team work.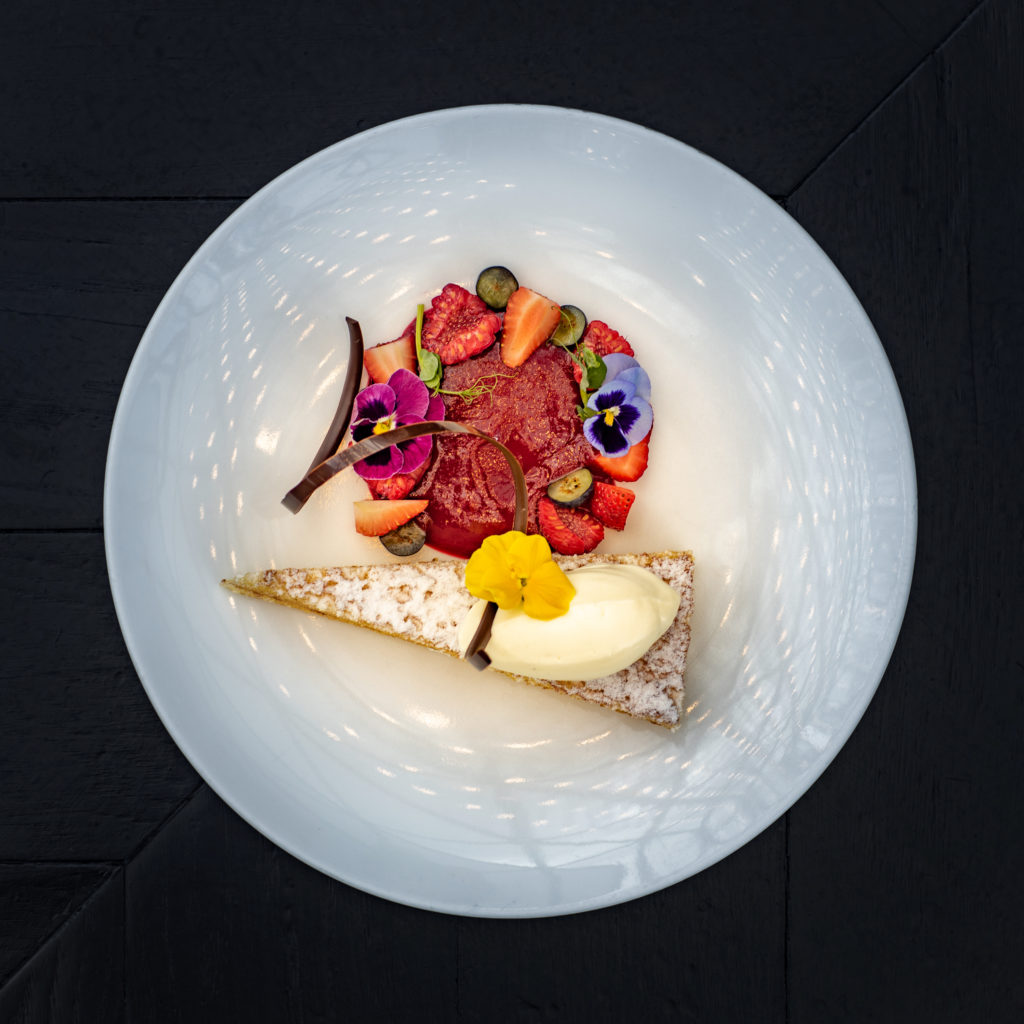 Which is your signature dish/dishes?
We are changing and updating the menu every season, this way every time we have something new and special to explore for our guests. We are using the best ingredients that are available in a particular season. My Signature dish is 'Matreshka Macaroons' Russian style macaroons for our in room amenities, Tropical summer dessert for our roof top restaurant O2 Lounge.
What is your favorite childhood dish and why?
Certainly, an apple pie, it brings back the memory of my grandmother's garden full of apples.
 What is your favorite dish to cook at home?
I love to cook crepes with fresh berries at home and French toasts for my breakfast. I really like quick and easy food to cook at home like pasta or salads. Nothing fancy really unless it's a special occasion. You know, chefs don't really like to cook at home !