Alka is a Gurugram based contemporary figurative artist. She believes that life is all about happiness and paints the dreams of a lady. She hails from a historical town Didwana Rajasthan, also known as Abhanagri. Similar to other habitats of Rajasthan, this town is also full of heritage and cultural places. In Rajasthan, people celebrate festivals with fun, joy, and colors particularly Holi-Diwali, Teez-Gangaur, and various trade fairs. Since her early childhood, she was attracted to the colorful dresses, ornaments, and Bani-Thani art from neighboring town Kishangarh. She used to make crafts, paintings, and sculptures in her own capacities.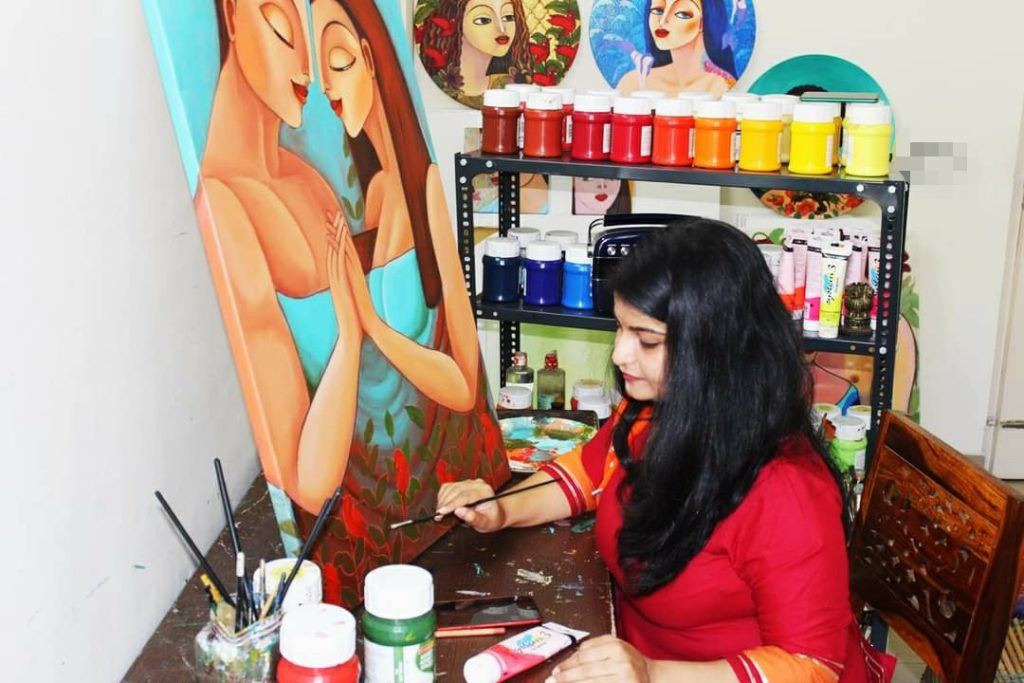 In her journey, Alka created a series of artworks such as Maternal Instinct, Human-Animal Affection, Amour, The Affair of Minds, Anvesha, The Deep, Venus – Goddess of Love, The King & Queen of Garden, The Queen, Yellow Clip, Golden Wings, Blessings, apart from many stand-alone artworks.
In the Anvesh series, she conveyed the message of happiness. This series is inspired by the contemporary lifestyle with a reflection of traditional culture. It is about a dream that she has cherished since her adolescence. A young lady waiting for her love. Alka used a red lotus to convey heartfelt compassion and love.
Through the work in her series The Affair of Minds, she realized that proximity is not always necessary for love. Like mindedness and common thoughts are building blocks of friendships. The closeness of mind and thoughts is more important for a relationship to flourish.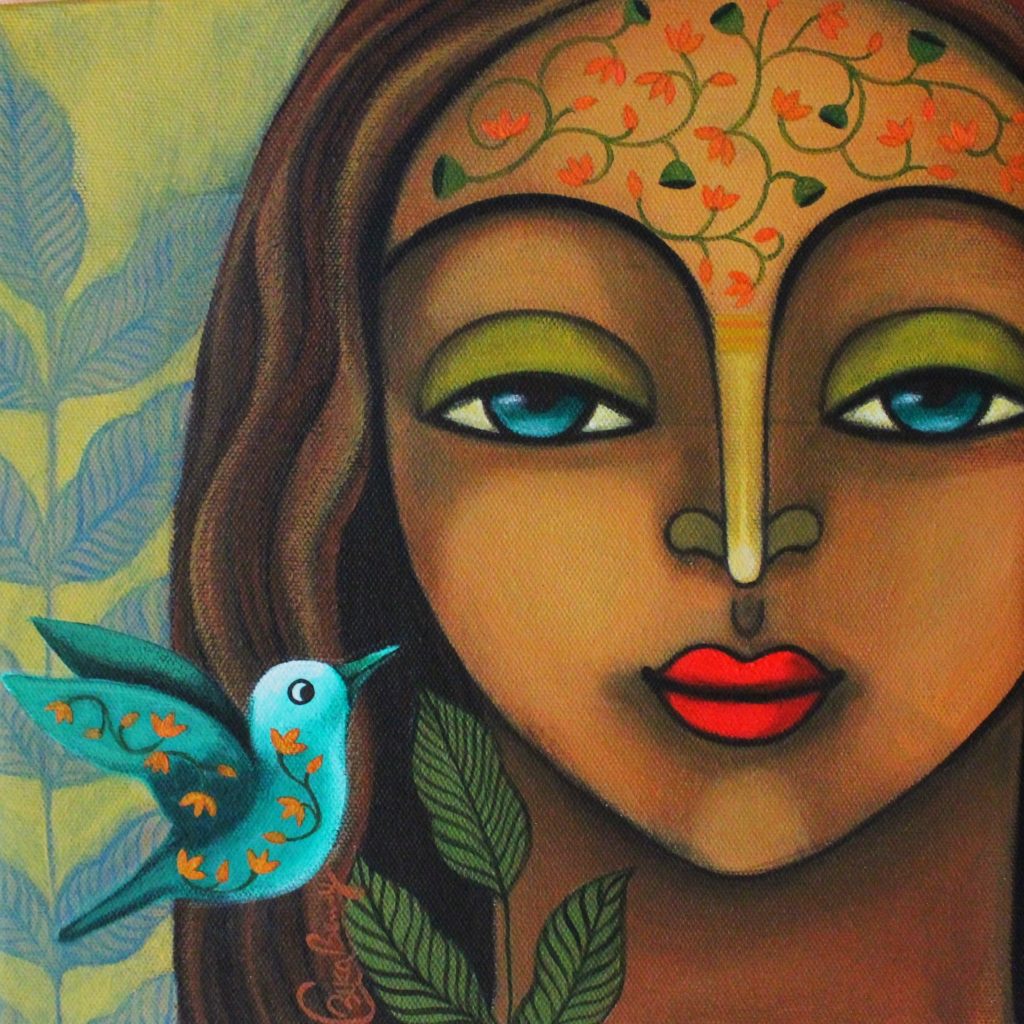 What's your artistic background?
I am a homeopathy graduate and I have been working as an artist for the last 10 years.  I believe that life is all about happiness. I paint the dreams of a lady. My Dreaming Lady is in constant search of her real happiness, which lies in a relationship. I have a strong belief in nature and use birds, butterflies, flowers in my paintings to show the various emotions of Dreaming Lady. In my unique style, I portray a charming contemporary lady with long eyes and subtle joyful expressions. My paintings got impressions from the diverse natural landscape from the Thar Desert, tropical forests, Satpura hills, great Himalayas, and the Ganges.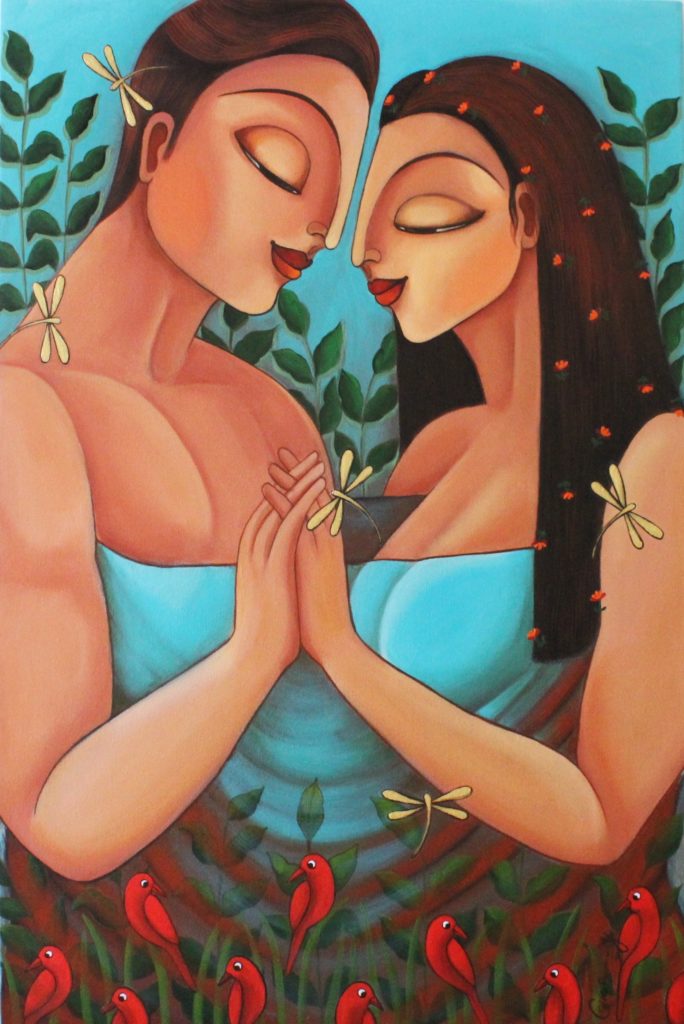 What's integral to the work of an artist?
I consider the process as most integral to the work of an artist. It is the process through which I try to convert my thoughts into a beautiful world. Canvas is like a world for me and I get drenched in it. During the process, I try to balance art by handpicking elements and thoughts and thus create my own world.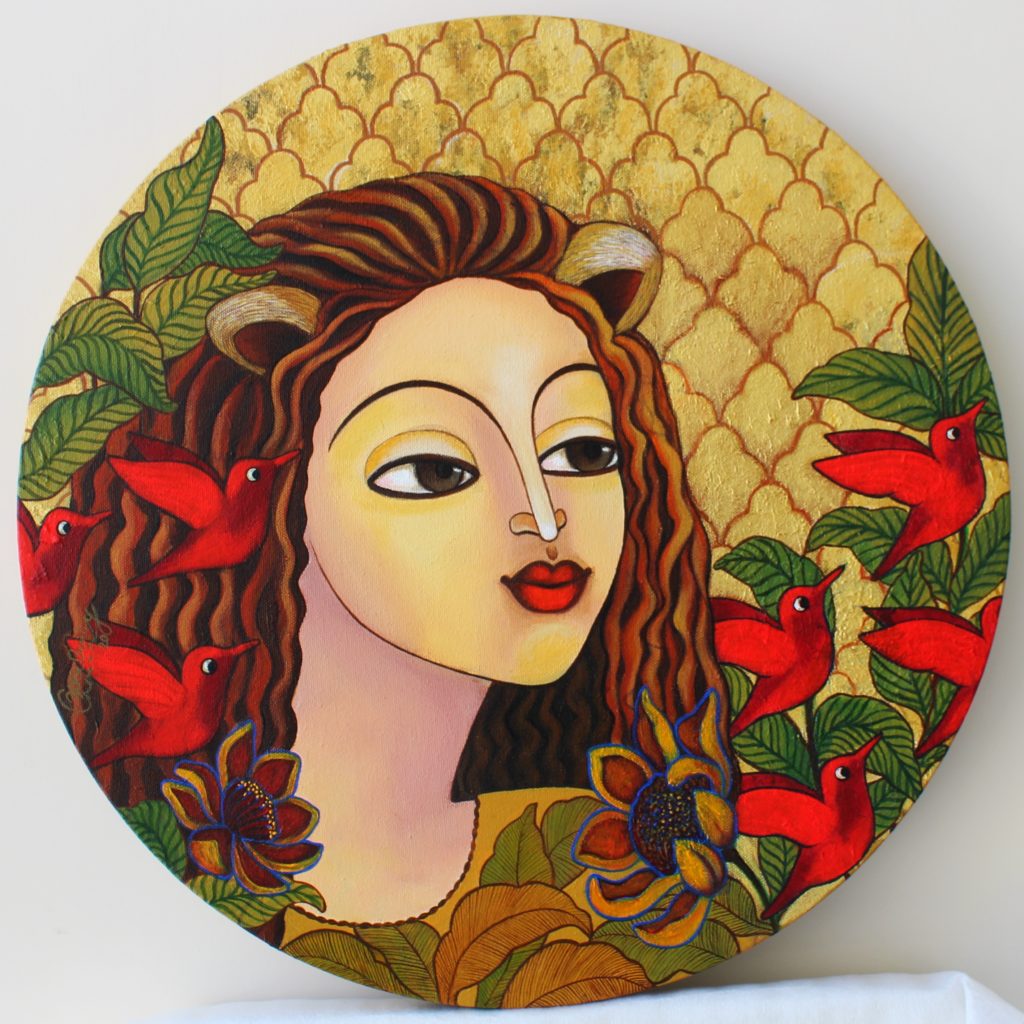 What role does the artist have in society?
Art is the most important tool to shape the culture of our society. Through art, an artist expresses the beauty of the world around them and sometimes exposes the truth to influence people. An artist can bring the best out of the world and portray this to the entire humanity.
What art do you most identify with?
I identify most with Egyptian art.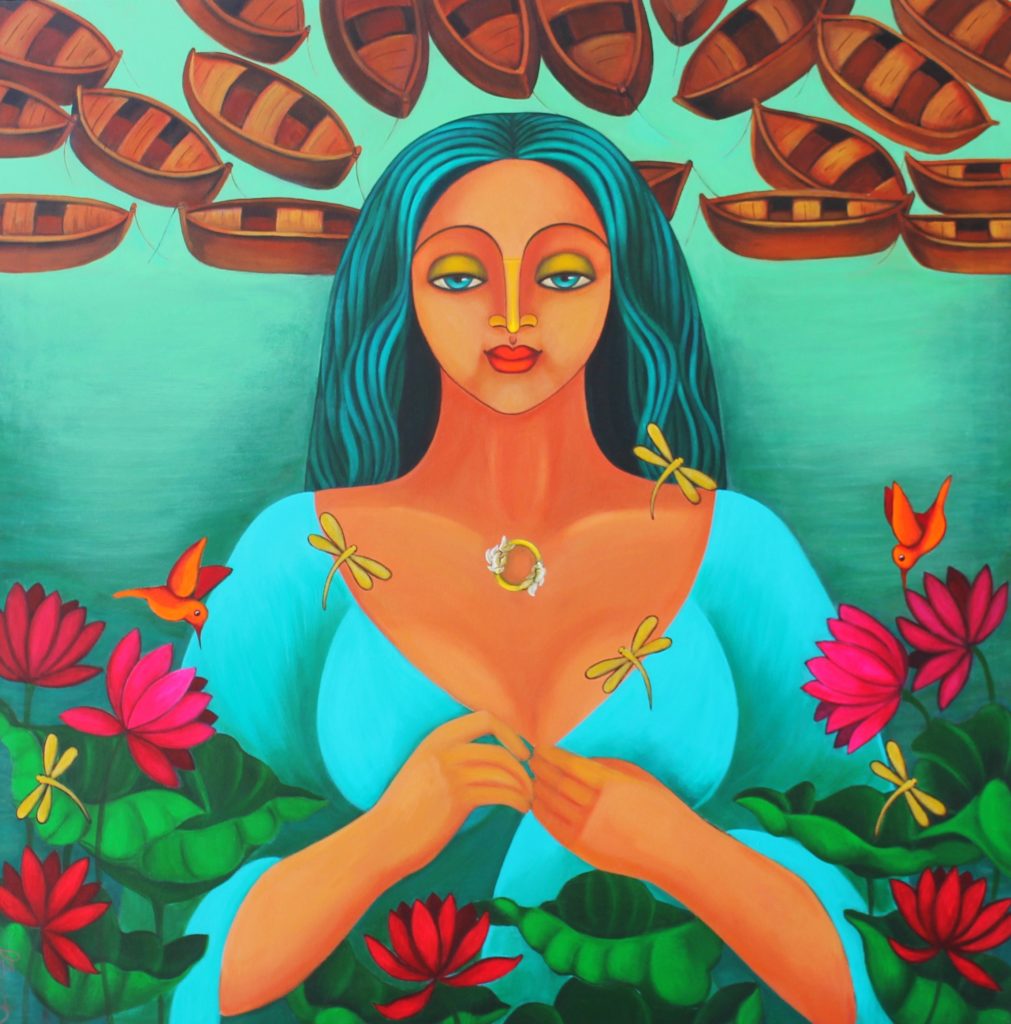 What themes do you pursue?
I work on the dream of a lady and try to infuse happiness in canvas by using bright colors. I prefer to use my own dreams as the subject and try new things with my dreaming lady. I observed the power of eyes and created beautiful long eyes. Eyes convey what we cannot say. The eyes of the dreaming lady are deep as a lake and elongated like a river. I create special effects on the hair by using stars, flowers, and other motifs. The uses of various other elements like flowers, birds, fish, jewelry, insects, etc are differentiating my artwork from others.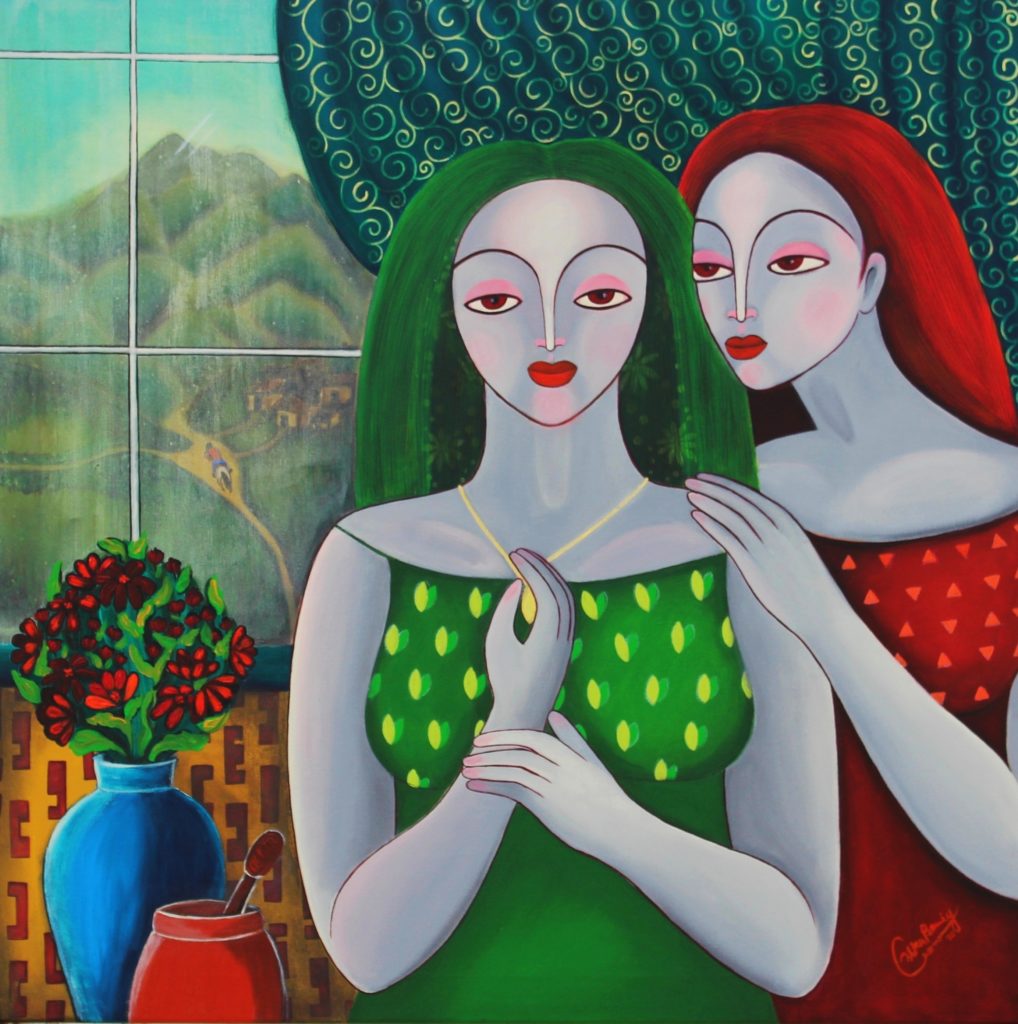 What's your favorite artwork?
Jeane – 1920 by Amedeo Clemente Modigliani.
Describe a real-life situation that inspired you?
I must say I am not inspired by a single event or situation; rather I was exposed to various events that helped me connect with art. I saw my mother and her friends gather often and work upon local Mandana art, tie and die, gota kinara, kadhai-bunai, and many more. Often they used to sing songs, create music using household objects, and perform a dance during these gatherings. I was highly impressed by these events and used to participate in them as an unobtrusive observer.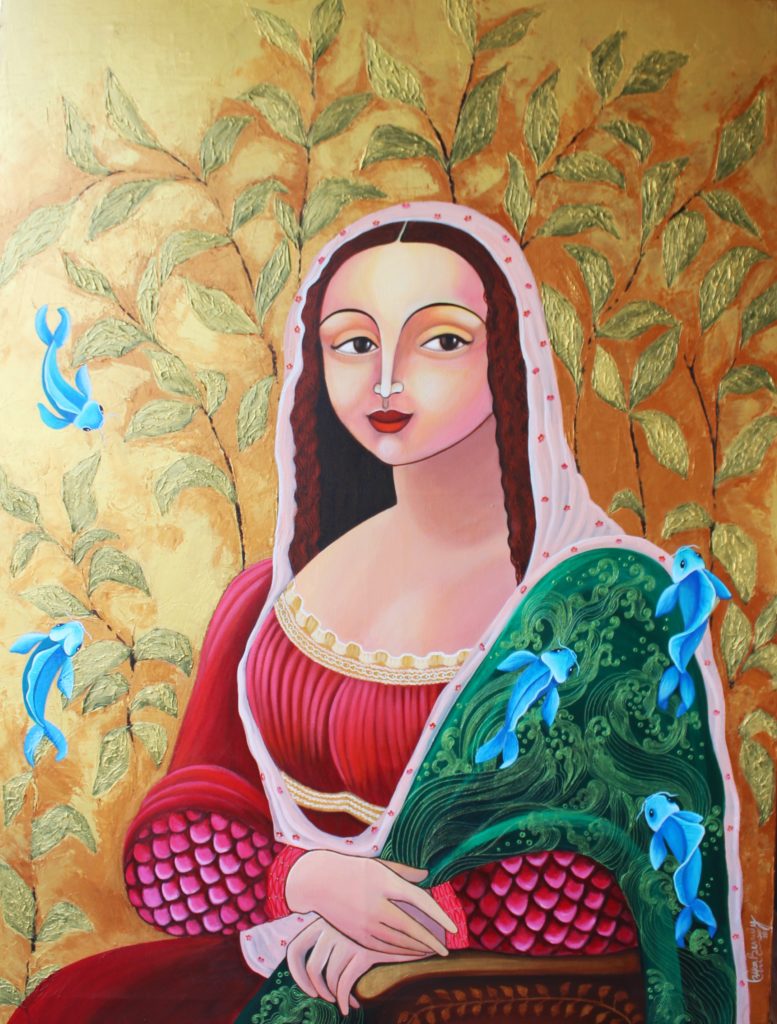 What jobs have you done other than being an artist?
I practiced Homeopathy in Jaipur for two years.
Why art?
Art is in every aspect of our life. We are surrounded by art knowingly or unknowingly. Art was born along with humanity. Culture is a synonym for art; it shapes our ideas and provides us with a deeper understanding of emotions. Art can make our society more beautiful. Art is a universal language.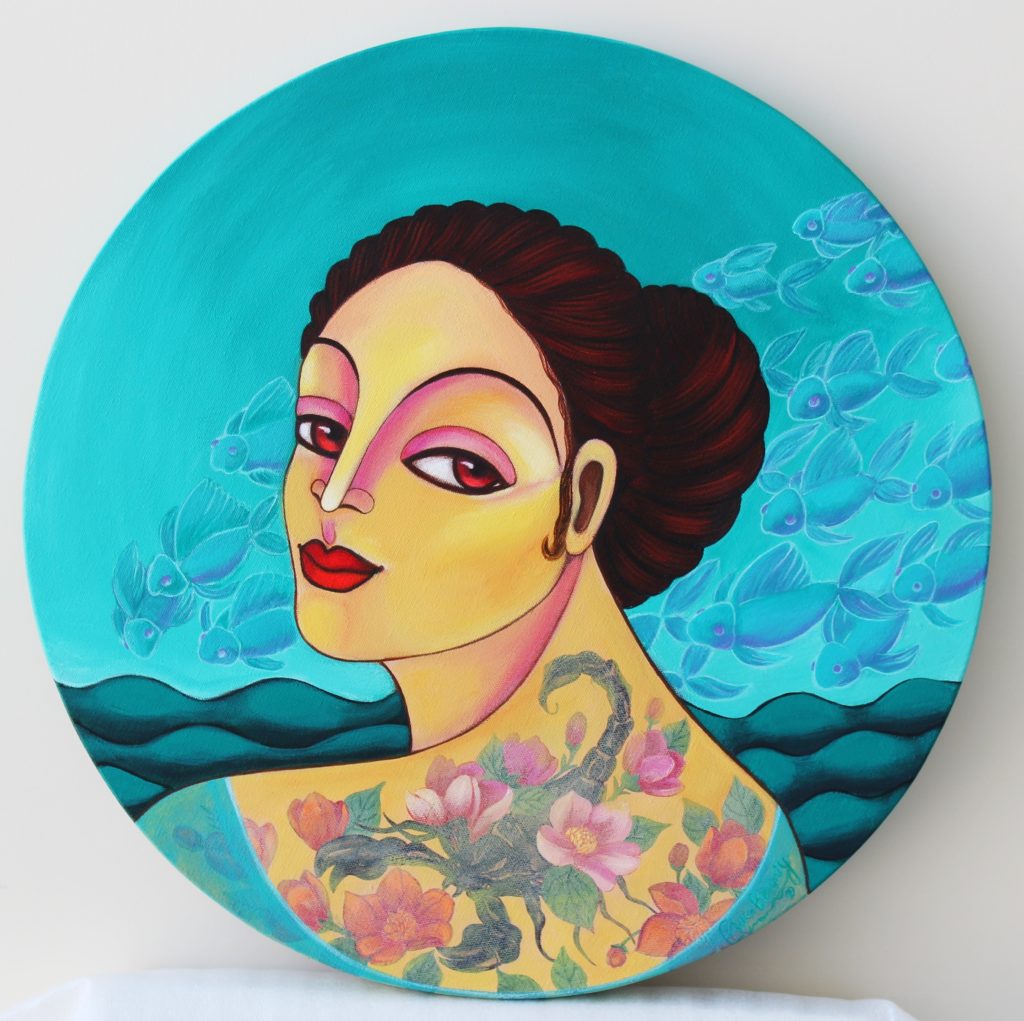 What is an artistic outlook on life?
Art is an expression of thoughts that are otherwise difficult to express. Different people can observe art, build their own perspectives and relate those with artwork. It can be a very common artifact or a complex piece of painting that tries to capture mundane things in extraordinary ways.
What food, drink, song inspires you?
I like motivational and Sufi music along with a cup of coffee.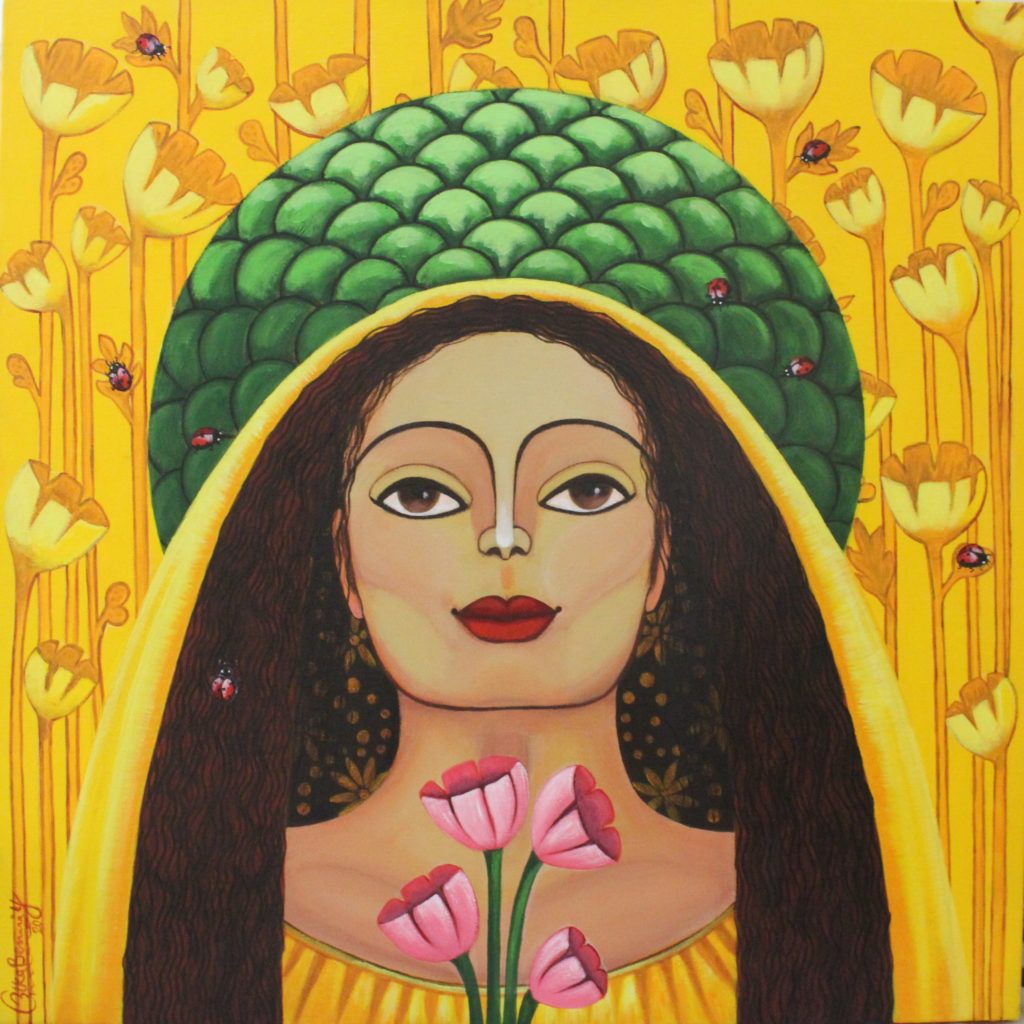 Is the artistic life lonely? What do you do to counteract it?
Artistic life cannot be lonely. Sometimes they are immersed into thoughts about their art and start conversations with things they like. It can be anything like chirping birds, blossoming flowers, rain forests, even non-living subjects like rivers, mountains. Artists try to visualize things from a distance so that they can create a story out of the full picture.
Should art be funded?
Art plays a vital role in creating our perspectives and enriching our lives. Art inspires us to portray our society the way we perceive and feel. It encourages us to challenge and expand our thoughts. It provokes critical thinking and allows us to experience the world through someone else's creativity or reality. It is a universal language that units diversified cultures and values. For me, art is an expression of happiness. It inculcates compassion, critical thinking and empathy, which helps us to understand problems in life and find solutions. Art satisfies the highest order of needs as per Maslow's hierarchy i.e. Self-actualization. Hence we need to preserve and conserve art and art society for future generations.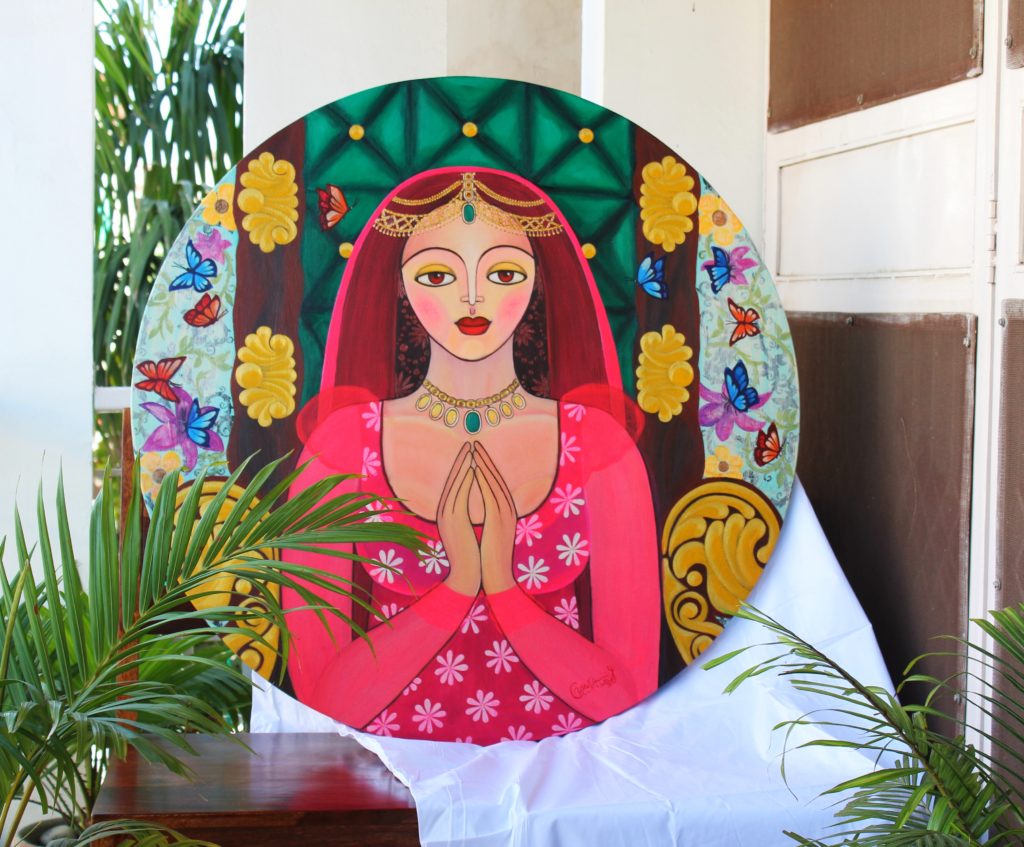 What role does art funding have?
 Pursuing art is a struggle for everyone in the initial days barring a few fortunate artists. I have seen and met with many artists who are not able to fund their basic needs. They work under stress, some of them compromise on their creativity and start doing commission work but few still continue their struggle and live their life. If we are able to reach out to such needy artists and nurture their thoughts and support them in their initial days then we can create a beautiful world and handover a rich heritage to the coming generations.
What is your dream project?
My dream is to support and help artisans in my village. Give them an opportunity to excel and earn a respectable income so that they can conserve our heritage and pass on the baton to the next generation.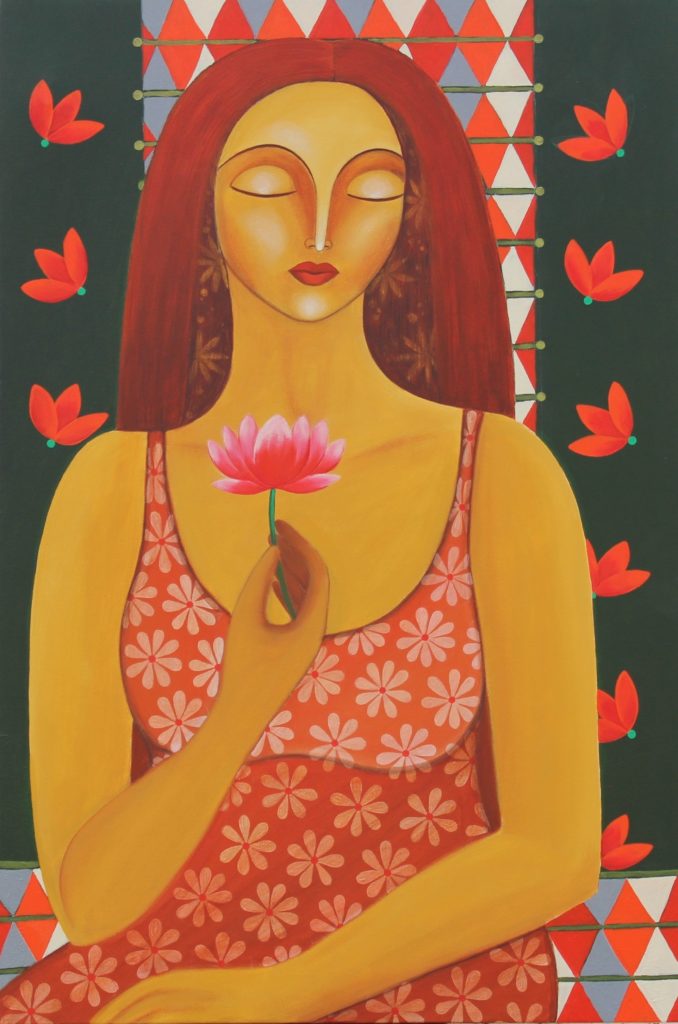 Name three artists you'd like to be compared to.
Every art is complete in itself and different from other arts. I may not like to compare any art or artist with each other. I consider it an injustice to the art forms of different artists.
Favorite or most inspirational place?
Rishikesh, Uttarakhand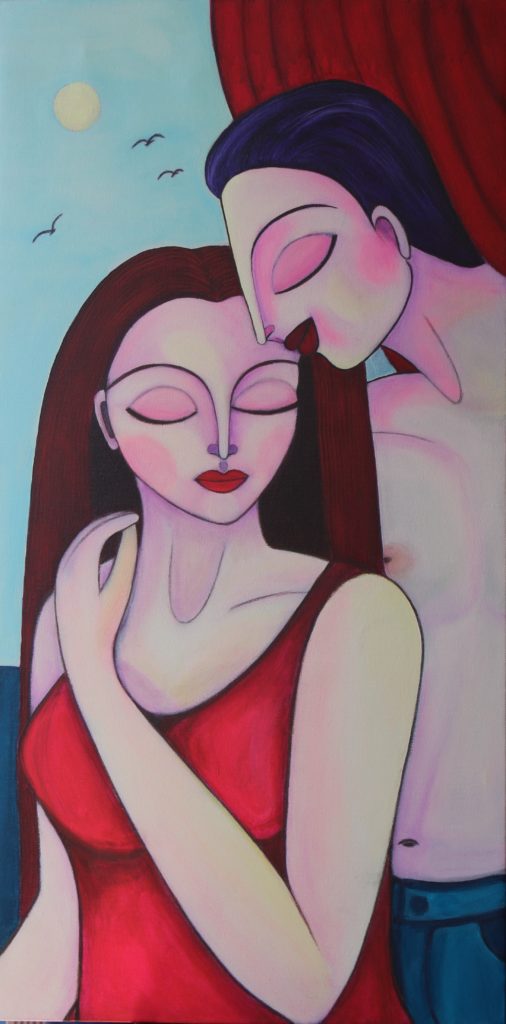 What's the best piece of advice you've been given?
Resilience and hard work is the key to success. It's very important to know yourself, your strengths, and your weaknesses.
Professionally, what's your goal?
Apart from paintings, I would like to explore the world of sculpting.