Alexandre Loiseur is a French pastry chef. Before becoming a pastry chef, he spent eight years designing haute joaillerie (jewelry) pieces for the Place Vendôme in one of the most prestigious workshops in Paris. From this other life, he retains a taste for French savoir-faire and rigor. For him, the move from jewelry to patisserie was an obvious one. It's a continuation of his desire to be a key player in French craftsmanship and excellence. With patisserie, he aims to celebrate generosity, sharing and conviviality in a more accessible way.
From a Michelin-starred restaurant to the kitchens of the Élysée Palace, he trained in French pastry-making. During these various training courses, between technique and exacting gesture, he reappropriated his taste for raw materials and the terroir. Born in Tours, he grew up in the countryside, surrounded by fields and animals. A region with a rich and diverse terroir and gastronomy, where he cultivates his taste for French cuisine.
"My grandparents were arboriculturists and I was lucky enough to be able to eat the fruit from their orchards. Apples and pears, but also so many other fruits that make up the richness of the French terroir. From cherry clafoutis to apple tarts, my earliest pastry memories are linked to the fruit grown in their orchards! " Today, the chef sees his patisserie as an extension of the work of these producers. A way of showcasing and revealing their products. He uses raw materials with respect, without distorting their taste so that they reveal and express all their flavors.
What inspired you to become a pastry chef? You've been in the industry for quite some time. Would you have done anything differently when first starting out?
For almost 10 years, I worked in the Parisian jewelry industry. Pastry-making was then reserved for my spare time. Year after year, my pastry-making practice grew stronger, both in taste and gesture. Passion took over. I quit my job, trained myself decided to make pastry my profession.
What is the philosophy and ethos behind the food you create?
Good ingredients make great desserts, so I select my raw materials with care. I favor local distribution and seasonal produce. I meet farmers and suppliers to understand their philosophy. I like to know how they grow and produce their goods, so I can make the most of them in my work.
What's the latest trend when it comes to baking and patisserie? What is one food (pastry) trend you wish would just go away?
In recent years, recipes have become lighter in sugar and fat. A change that enhances the natural taste of raw materials. Pastries are healthier and more natural. I believe that artificial colors and flavors should no longer be found in our plates.
What is your baking style and the philosophy behind it?
The most important thing in my pastries is taste and texture. I believe it's important to have a clear understanding of the tastes and ingredients used. I want to highlight the work of producers through my pastries.
 What's your favourite comfort food? What's your favourite pastry or cake or baked product ?
I'm particularly fond of vanilla pastries. There are such differences depending on the origin of the vanilla. It's a different journey every time.
Who or what was your inspiration to become a pastry chef?
Parisian pastry chefs in general. But if I had to name one, I'd say Pierre Hermé was my first revelation. At the time, I'd never tasted anything like it!
What is your advice to aspiring pastry chefs?
I would tell them to work with passion and rigor to achieve their goals!
Future Plans?
I'm currently working with my partner Yohan Picard to set up my first patisserie/tea room on Reunion Island. I fell in love with this multicultural island, the cradle of vanilla cultivation. We want to create a place that will showcase the richness and diversity of the island's products.
Would you consider yourself as an artist? Are you inspired by artists when you create your pastries? When you create different products everyday where do you get inspired from?
I spent fifteen years in the jewelry business, so I think that influences the design of my pastries. I like to take time to add detail to my visuals. But above all, it's the raw materials that guide my creative choices.
The topic of local food, from smaller, specialized and personally known producers, is becoming more important. What are some of your local partners from whom you source?
I'm lucky enough to work with committed producers who make it a point of honor to make good products. I use vanilla produced on Reunion Island by the family firm LOUIS LEICHNIG. The beans are frosted and highly concentrated in vanillin.
What would you say is the key/winning feature of your creations ?
Taste, texture and structure! Firstly, I use high-quality seasonal produce. Then, I try to offer a balanced and coherent whole.
Have you ever considered being a vegan chef? How practical is it being a pastry chef?
I'm very attentive to new ways of baking. Vegan patisserie is very interesting because it uses different techniques and raw materials. It's always very stimulating for a pastry chef!
What's your signature dish?
At the moment, I don't think I have a signature dessert. What I do know is that I love working with vanilla.
How can restaurants/ hotels/ chefs communicate the approach of innovative sustainable plant-based food/ food chains to others?
The key is communication. Today, we're lucky enough to be able to speak out on so many different media. We need to make our voice heard, defend good food, promote our suppliers and, of course, our know-how!
Which is the dish you've created that you are most proud of and why?
It's one of my first taste combinations that was unanimously acclaimed. It's a dessert made with Reunion green tea, strawberries and bissap.
BABA AU RHUM mojito & red berries by Alexandre Loiseur alias Le Patisseur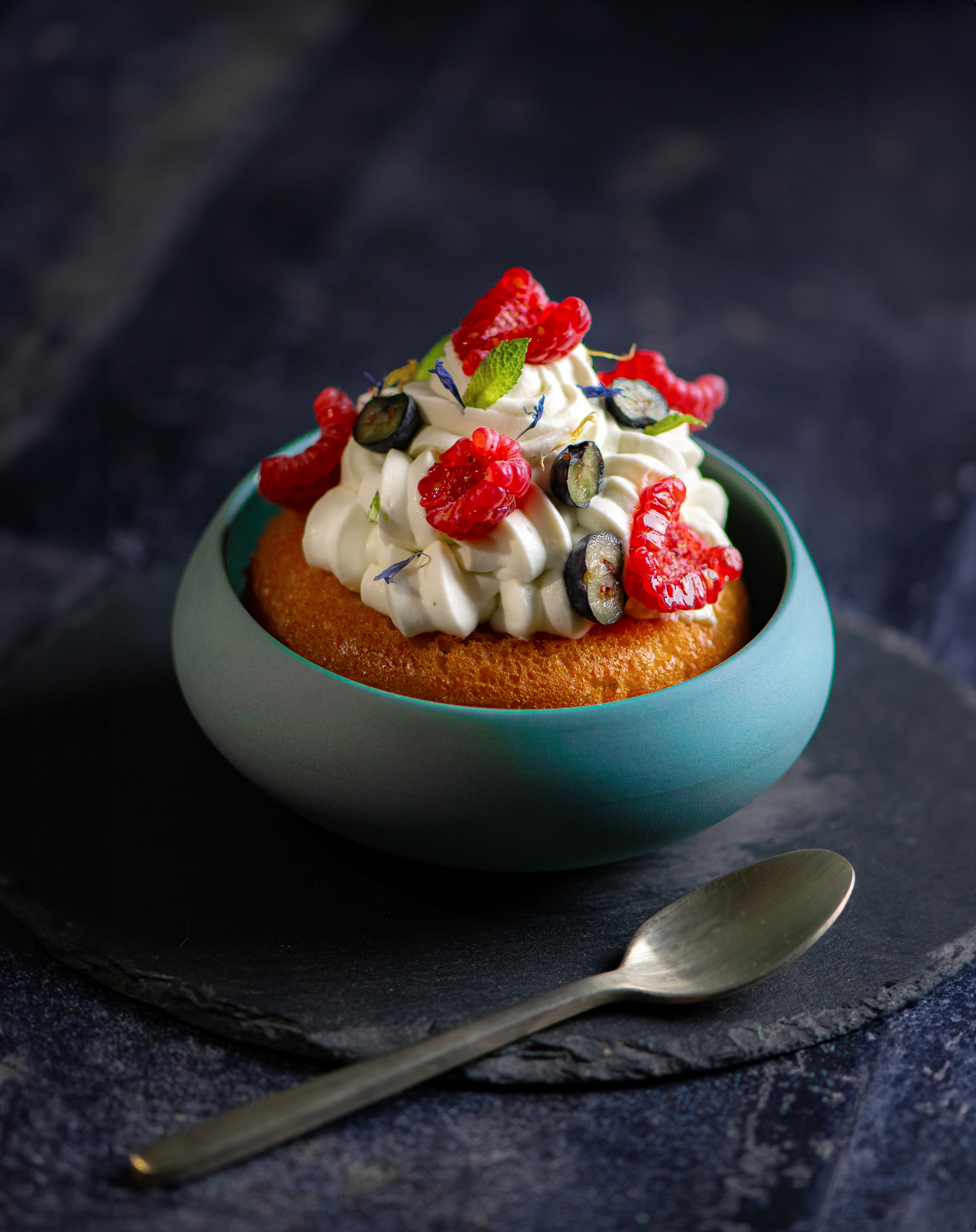 BABA
Oatmeal flour 125 g
3 g salt
Sugar 10 g
Egg 50 g
Fresh yeast 15 g
Butter 30 g
Water 50 g
IMPORTANT: the baba must be prepared the day before.
Soften the butter.
Mix flour, egg, fresh yeast, water, sugar and salt.
Knead for about 10 min at slow speed.
Add butter and knead for 2 to 3 min.
Rise for 30 min at 25°C.
Grease molds and fill.
Leave them to rise 30 min.
Preaheat the oven to 180°C and place in the oven and bake for 30–35 minutes, until deeply golden brown.
Turn out immediately and leave to dry for at least 15 h.
SYRUP
Water 500 g
Sugar 200 g
50 g 10-year old Reunion Island rum
2 sprigs fresh mint
1 lime
1 half Louis Leichnig vanilla pod
Bring the water and sugar to a boil in a saucepan.
Add the fresh mint, lime zest and vanilla.
Cover and leave to infuse for at least 30 min.
Add the rum and filter the syrup.
Let the syrup cool and soak the babas.
Drain the babas on a wire rack.
LEMON CREAM
Lemon juice 45 g
Sugar 25 g
Egg 50 g
Gelatin powder 2 g
Water 12 g
Butter 30 g
Hydrate the gelatine with
Heat lemon juice to boiling.
Mix sugar and egg.
Pour the boiling lemon juice over the eggs and sugar, stirring constantly.
Add the gelatine.
Stir in the butter.
MINT CHANTILLY
Cream 300 g
Sugar 7 g
Mascarpone 31 g
Gelatin 1.40 g
Water 8.5 g
Mint 15 leaves
Hydrate gelatine with water.
Bring half the cream and sugar to a
Add finely chopped mint leaves and infuse for 30 min.
Blend the infusion and heat without boiling.
Strain the infusion and pour over the mascarpone and gelatine.
Fold in the remaining cream and leave to cool overnight.
ASSEMBLY AND FINISHING
1 lime
Fresh red berries
Small mint leaves
Fill the center of the babas with the lemon cream.
Whip the chantilly and pipe onto the babas.
Zest the lime chantilly.
Decorate with fresh red berries and mint leaves.