Carrots restaurant is Bangalore's first vegan restaurant and a very popular one at that. With an interesting and innovative menu along with friendly staff, this restaurant has been in business for the last seven years. It is remarkable is that Carrots also offers cooking classes and consultations to those who wish to learn about the basics of vegan cooking and implement it in their homes or restaurants. We spoke to Chef Susmitha about veganism as a way of life, the vision, philosophy and what the future holds.
 How much is your food driven by plant products?
100% of our menu at Carrots Restaurant is plant based. We're an ethical vegan business. Chef Susmitha and Chef Ram are both vegans and constantly work together to create plant based dishes, products and desserts.
Tell us about your vision and philosophy.
The idea behind our menu is to demonstrate that a wide variety of foods, baked goods and specialty products can be prepared purely from plant based ingredients, without the use of animals. And enjoyed thoroughly. We also believe in empowering people to make their own vegan food through classes, and supporting the conscious business community through mentoring and collaborations.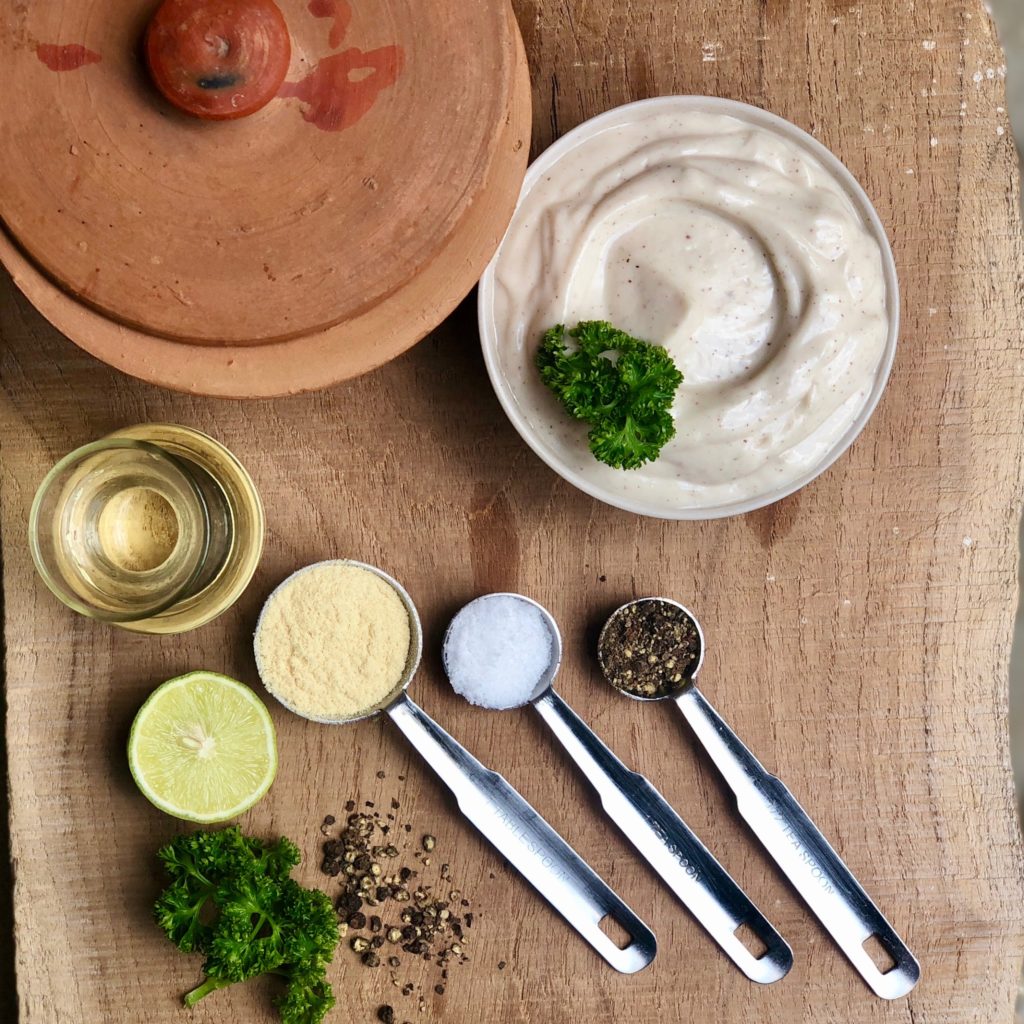 Tell us about services offered by your organization and what made you think of offering these services? Is India ready for sustainable cooking?
Recipe videos, cooking workshops and culinary training programs are all an important part of our organization's work. We believe that teaching people to prepare vegan food is a powerful way to further this conscious movement. We also offer vegan consultation in the form of menu creation and staff training to any food business that wants to introduce vegan food into their menu. Unlike when we began 7 years ago, India is now definitely ready to embrace conscious dining. Also, we consider it our duty to make everyone ready to choose vegan by increasing awareness.
What exactly is vegan consultation and how do you go about it? Are there many takers for this service these days?
As veganism grows as a global trend, more businesses in the food and beverage sector want to offer plant based foods and products. Our vegan consultation primarily focuses on building a strong foundation of vegan cooking and creating a holistic awareness about the concept among chefs and other staff members of any business that hires us.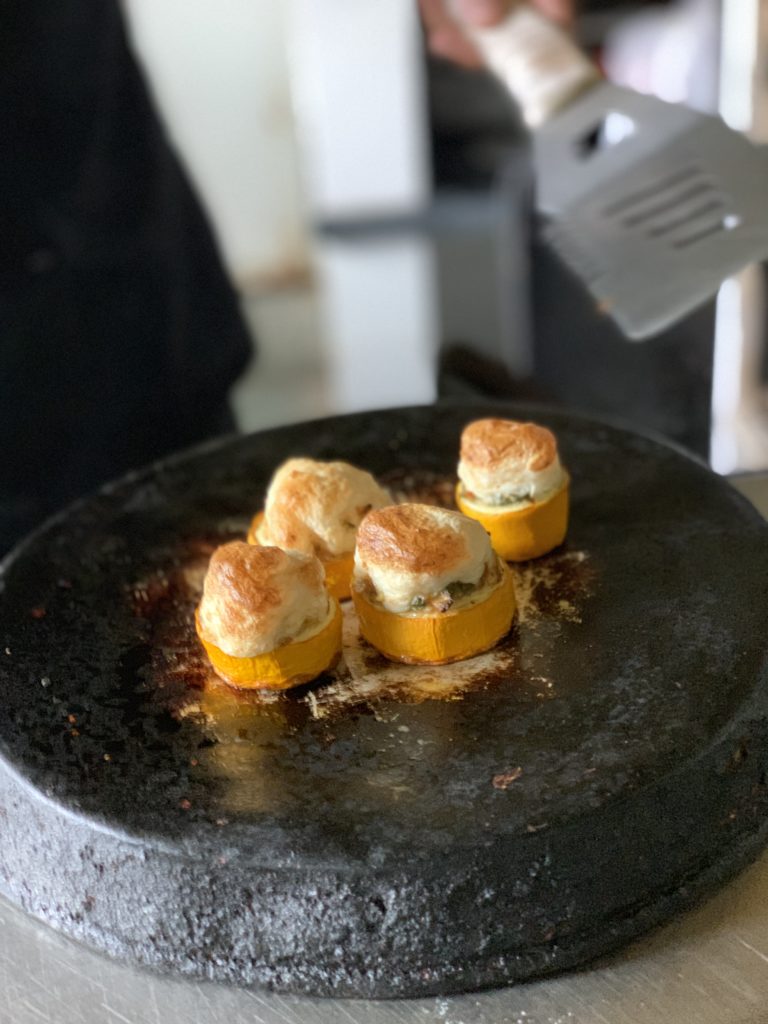 Please tell me about your online workshops, how is it convenient especially in these times?
Most of our students so far have travelled to Carrots from out of Bangalore (and even India) to attend our workshops in person. But we do understand that not everyone can travel. Our online workshops are designed for people who would like to learn vegan food preparation from us from the comfort of their own homes. These are one on one sessions where a video call can be scheduled with us. During the session, the students prepare food under our guidance.
Do you plan to open more branches in the country? Your website says currently you operate from Bangalore in India.
Currently we have no plans to open any branches. As we're not just about the food but the entire conscious dining experience, we're dependent on our excellent team to make Carrots what it is. This isn't an easy thing to replicate. So our primary focus is to teach classes and help people start their own vegan businesses instead of Carrots opening at more locations.
Vegan cooking/ vegan restaurants; how easy/difficult it is; what are your previous experiences with it.
Vegan cooking can be very easy if you know how to do it right. Running a vegan restaurant is as easy or difficult as running a non vegan one. When we opened 7 years ago, we were way ahead of the curve. Breaking myths and creating awareness about veganism took a lot of effort from us. However, things are different now. People look for delicious food and friendly service. These are the things which bring guests back again and again. And with a vegan business, both are very much possible.
What is the secret of a good vegan kitchen?
The team ! Build a strong team with love and care. Train them well and treat them like the precious assets that they are. A joyful atmosphere leads to sublime food and service. And a team that cares about the concept shows great creativity and initiative. Also care about the health of the guests. Use clean, fresh ingredients. Make as much as possible from scratch. Knowing exactly what goes into each dish really helps.
What about the suppliers, are there enough in India currently and easily accessible?
We make almost everything on our menu in house, from scratch, using locally available ingredients. Since we make our own plant based milks, sauces, desserts, breads, etc., ourselves, in small batches, we don't need to depend on suppliers for the same. Nuts, seeds, grains, greens, beans, veggies and fruit are available in plenty. All we have to do is purchase these locally and use them to prepare our own vegan ingredients.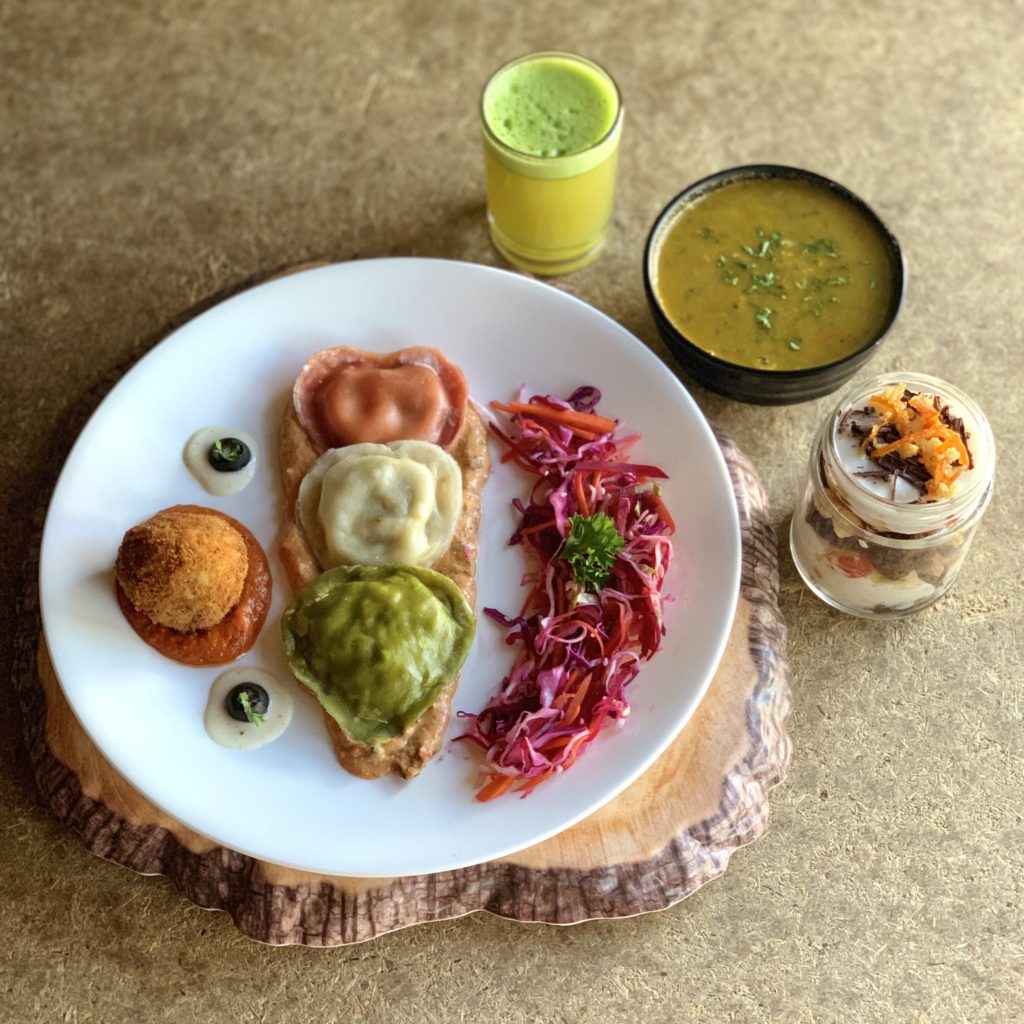 Have you ever worked with meat substitutes? If yes, what are the pro and cons.
We make Seitan (a wheat gluten based Mockmeat) in house. And we've sometimes cooked with textured soy protein. These are great transition foods for people planning to stop/reduce consumption of meat. Some vegetables also make excellent meat substitutes. Jackfruit and Yam are the stars. Meaty vegetables are healthier than the other, more processed mock meats.
According to you will Sustainable food work in company canteens… where do we stand / what is the potential?
Absolutely. Most Indian food, especially South Indian food, that's served at these canteens are either vegan by default or easily veganisable anyways. As long as it's accompanied by awareness about the sustainability and health benefits of eating plant based food, the switch will be accepted by a larger number of people at the companies. The key for the canteen caterers is to use inexpensive, locally available ingredients to prepare food in bulk.
How can restaurants/ hotels/ cooks communicate the approach of innovative sustainable plant-based food/ food chains to others?
Posting on social media, creating informative videos, hosting talks and workshops and talking to guests are some of the ways to increase awareness about plant based food across the board. Demonstrating the link between plant based food, sustainability and health goes a long way in making an impression.
Adding vegetarian or vegan menus to the menu: what is the trend/experience with this?
In the past two years, more restaurants are adding vegan options on to their menus, or at least making an effort to highlight the already vegan items. It's definitely a growing trend in India and an important one at that. Non vegan food businesses including vegan dishes in their menu is a great way to normalize Plant Based eating.
What are the challenges for chefs/restaurants with an increasing demand for vegetarian or vegan menus?
It's not a challenge if chefs and restaurants make an effort to truly learn the basics of veganism. Vegan cooking and baking can be very easy, cost effective and time saving. It's just extremely important that every staff member – chefs, service team, manager, is trained in exactly what vegan food is, before it's put on to the menu.
Tell us about your two most popular preparations in line with this concept (sustainability)
All our plant based dairy alternative products like milks, curds, butter, mayo, cheese, etc. are in line with sustainability because, firstly, plant based milks are significantly more sustainable than animal milk and derivatives. And secondly, making everything from scratch means we completely avoid tetra packs and cans. Our classes are our second most sustainable offering, because when people make things at home from scratch, they also avoid packaged products.
What made you initiate this process in your workspace?
Being vegan is our core principle and it stems from our desire to be compassionate towards all living beings. The health and sustainability are just happy side effects of being a plant based operation.
How does it help local farmers/suppliers?
We prioritize local nuts and seeds like cashews and basil (Sabja) over imported ones like hazelnuts and chia seeds. We also use millets, brown rice, Jowar flour and seasonal, local fruits and veggies. This keeps the supply chain loop as localized as possible.
Please tell us more about the concept of zero wastage and how you have contributed to it so far. Does this put pressure on your budgets?
Though being completely zero waste isn't a financially viable option to us currently, we've slowly moved towards more eco friendly alternatives over the years. But making our specialty vegan products in house saves a considerable amount of packaging waste and we're proud of this.
How do you think we can create awareness amongst more chefs and restaurants and hotels so that they contribute to this initiative?
Get to them right at the foundation, at college level. We've worked with culinary schools to conduct vegan cooking training programs as a part of their hotel management courses and the response from the students has been extremely positive. Plant based cuisine is one of the largest trends sweeping the global food industry and it's here to stay. Vegan food is the way of the future, so teaching young chefs, right when they're in college, is an excellent way to build awareness. Learning to prepare vegan food is great for their future growth.