GAYA launched by designer Gayatri Khanna has introduced embellished and fashion masks as it's first collection. These masks are both stylish and utilitarian making them the next must-have accessories. Made from double layered breathable fabrics like cotton canvas, cotton poplins, cotton jerseys and even luxurious silks, these masks come in a wide array of designs- from novel and beautiful prints to dainty yet rich embroideries and embellishments. The unique contemporary designs that can effortlessly translate from day to evening wear are what set GAYA masks apart. GAYA also has an exclusive collection of fashionable masks for men and children which come with adjustable ear straps are easily washable and reusable and have filter options.
'GAYA' coined from the Greek name 'Gaia'- the Goddess of the Earth, draws a lot of inspiration from nature, the earth and the flora and fauna for its contemporary collection of fashion masks. Bold, striking prints and innovative embellishments teamed with a fresh colour-palette are the USPs of the brand. These sum up the brand's spirit- a modern, fresh, vibrant label that makes a strong statement.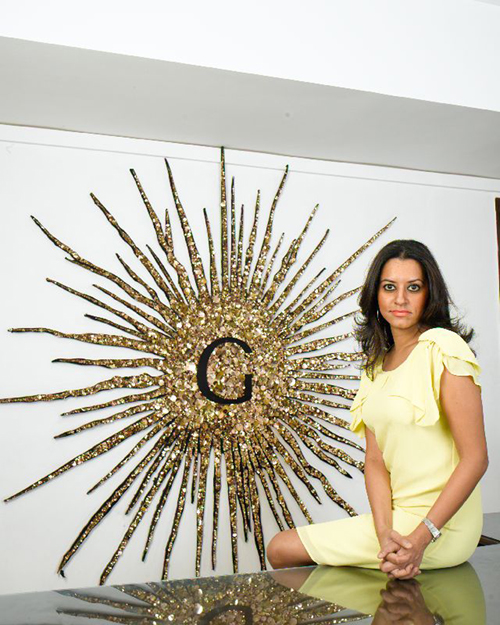 The masks come in a soft pouch bag that can easily fit in your purse and can be used to store the masks safely. The pouch is packed in a stylish box as an extra protection while being shipped! #BuyOneGiveOne the pandemic and subsequent lockdowns has most of us locked up within the comforts of our homes. On the other side of these walls of privilege, however, a lot of people are struggling to make ends meet. These include daily wagers, street vendors, construction workers, and laborers, slum dwellers that are terribly affected by the economic and social repercussions of the pandemic. They also are most vulnerable to the disease because of their inability to access hygiene and safety products like masks. GAYA, in one of the many efforts to make the world a safer and better place, has joined hands with The Helping Hands Foundation (http://helpinghandsindia.in/) to donate masks to the underprivileged in India using proceeds from the GAYA mask sales.
In this feature we spoke with designer Gayatri Khanna about fashion, future trends and GAYA masks which are immensely popular these days on e-commerce platforms.
What made you decide to pursue a career in fashion?     
While growing up, even though experimenting with clothes and dressing up was something I enjoyed, I always dreamt of becoming an entrepreneur! I am a B.S.C graduate in Entrepreneurial Studies and Marketing, from Babson College, Massachusetts. After graduating, I moved to New York and worked with various garment companies before getting a job at Saks Fifth Avenue as a buyer for designer wear. That is when I decided to combine my educational background in business and my job experiences along with a strong interest in fashion to set up my own venture- Milaaya Embroideries.
What do you consider the most important facets of the Indian fashion industry?
India has a plethora of traditional rich arts and crafts, a variety of fabrics made locally, skilled labour and other resources which are all at the fashion industry's disposal. The ability to use these in innovative ways and combining them with modern contemporary silhouettes is one of the important facets of the Indian fashion Industry.
What do you think are the current and future trends in fashion?
Fashion has always been representative of the times we live in. With the current pandemic situation, fashion today is more about comfort. Stylish loungewear is definitely becoming a macro trend. T-shirts, bermudas, joggers, wide-legged pants, track sets, kaftans, shift dresses are some of the silhouettes in trend. Slow fashion with classic pieces that are made to last longer is taking centre-stage. The future trends will be more about coming out of the crisis, uplifting and cheerful prints, a vibrant colour palette, evergreen styles with comfortable silhouettes. The future of fashion is also about sustainability and ethical sourcing.
 How do you think your education has prepared you to work in fashion?
My educational background was in entrepreneurial studies. That has helped me understand the commercial side of fashion and build a business that I can humbly say I am proud of. Fashion is a competitive business and to sustain and grow one has to have an acute sense of business, finance and marketing and my years at Babson college have prepared me for this. I have never had a formal education in fashion design but my interest in fashion has helped me turn my passion into business. My work experience at Saks Fifth Avenue as a fashion buyer and 20 years of running my own business Milaaya Embroideries, working with top luxury fashion brands all over the world have honed my design sensibilities and technical knowledge.  I am still learning something new on the job every day and my creativity is inspired from everything around me.
Define "Fashion."
Fashion means so many things to so many people. To me fashion is expressing myself, without having to use words. It is a reflection of my personality and my mood. My clothes are vibrant, bold, modern and fun. A dress or an accessory has the ability to uplift your mood, make you feel confident, powerful or just simply comfort you or as Mary Kondo would put it to spark joy. Fashion is like story-telling – the stories behind the creation of the products and the ones we weave around them.  Fashion is also about change. It is the perfect example of how nothing in life is permanent and the best way to deal with change is to embrace it and make it beautiful.
How would you describe your personal style?
My personal style is fun, cheerful, modern and feminine. I love vibrant colours, interesting prints, a touch of sparkle and I keep it comfortable yet stylish.
What was the first article of clothing you ever designed?
The first article of clothing I ever designed was for my graduation ceremony. I had an idea in my head of how I wanted to dress for the occasion but did not find anything similar which was readily available. I was never good at sketching but I found someone to translate my design into a sketch on paper and sent it to my mother in India with the luxurious crepe fabric I found in New York who found a tailor to make the design come to life. It was navy one shouldered body con dress with ruffles giving it a strong yet feminine vibe. The design is still fresh in my mind.
Tell me a little about yourself. Where are you from? What's your educational background? What are your general professional and non-professional interests?
I am from Mumbai, born and brought up here. I spent my college years in the USA. I am a B.S.C graduate in Entrepreneurial Studies and Marketing, from Babson College, Massachusetts. These years helped me live an independent way of life, broadened my horizons by introducing me to different cultures, different people. My professional interests include getting in the creative zone with my design team and developing new collections. I also read a lot of fashion editorials and blogs to keep myself updated. My non-professional interests include spending time with my family and specially my daughters who just know how to bring a smile to my face after a productive yet tiring day at work.  I also am a certified scuba-diver and I go for holidays at beaches whenever possible.  If anything that the pandemic has reinforced is the survival of the fittest theory and I work-out and try to keep fit between my busy schedules.
When did you realize you wanted to become a fashion designer?
Fashion was always something that interested me but I only decided to pursue it as a career when I was working as a buyer for Saks Fifth Avenue. I then ventured into my own business out of my apartment – selling pashminas embroidered in Mumbai to stores and boutiques in New York. The positive feedback gave me the confidence of developing my idea of acquainting the traditional Indian art of hand embroidery to the world by amalgamating it with the modern designs of international luxury brands and thus Milaaya Embroideries was born.
Who is one of your favorite models to work with?
When I make clothes, the first question I ask myself is whether I would like to wear those clothes or will my friends like to wear my creations. Models have this amazing talent to carry off whatever they wear. I want my clothes to be real and something everyone feels good wearing. Hence my favourite models are my friends, family and myself!
What are some of your accomplishments as a designer?
Milaaya Embroideries designs and manufactures embroidered garments and accessories for the top luxury brands around the world. Seeing Milaaya designed and made garments on international runways and on A-listers and celebrities is always a proud moment. GAYA is a relatively new brand and we have launched with embellished and printed fashion masks. The overwhelming response these have received on various e-tailing platforms in such a short span of time as well as the testimonials of our customers that the designs are unlike anything they have seen before or the quality of the masks is top class is an accomplishment!
Who are some of your favorite designers?
I admire the works of Michael Kors, Gucci, and Valentino. Each designer has their special characteristics that set them apart from the others.
Where can readers buy your masks?
Readers can buy our masks on www.theworldofGAYA.com. We are soon to launch our loungewear line on the same website.