Recently I visited the Westin Pushkar Resort & Spa-a luxurious resort in an area (Pushkar) which is known as the pilgrim destination of Rajasthan. The Westin Pushkar Resort & Spa is the brand's seventh property in India and Pushkar's first internationally branded hotel. Owned by Paradise Properties, the beautiful resort aims to bring Westin brand's innovative wellness initiatives to the renowned spiritual destination of Pushkar, Rajasthan, a popular desert state in India. Pushkar is 158 kms from the Jaipur International Airport, 53 kms from the Kishangarh Airport and is also connected by rail to Ajmer Junction.
I travelled from Pune to Jaipur and then a car was sent to drive me to the resort. After about three and half hours, I reached the beautiful resort late evening and was welcomed by Hotel Manager Gaurav Sekhri and Rooms Division Manager Pankaj Jha, on arrival. After a hassle free check I was driven in a buggy (cart) by Sadam Husen from the hotel's front office team to be transported to my villa. It was a delight to be welcomed by personalized amenities curated by the hotel in my luxurious villa which had an in house plunge pool, a highlight of The Westin Pushkar Resort & Spa.
The Westin Pushkar Resort & Spa is surrounded by the picturesque Aravalli Hills and spread across a vast eleven acres. The property offers ninety eight contemporary guestrooms with more than half (forty four) featuring private pools. These rooms are divided into four categories namely luxury villas, royal villas, premier villas and deluxe rooms. In addition to the signature amenities, including the Westin Heavenly® Bed and the Westin Heavenly® Bath, the resort embraces Westin's innovative programming designed to inspire balance and enhance well-being, leaving guests feeling better than when they arrived. The resort offers a choice of four unique dining venues: Seasonal Tastes, the signature all-day dining restaurant, that serves international and local cuisines alongside Westin's nutrient-richSuperFoodsRx™ and Fresh by the Juicery menus; Panorama, the resort's rooftop lounge, offers snacks and beverages with a view; Splash features a refreshing menu of light bites and drinks, served by the poolside; while Mix offers a range of cocktails and beverages at the bar.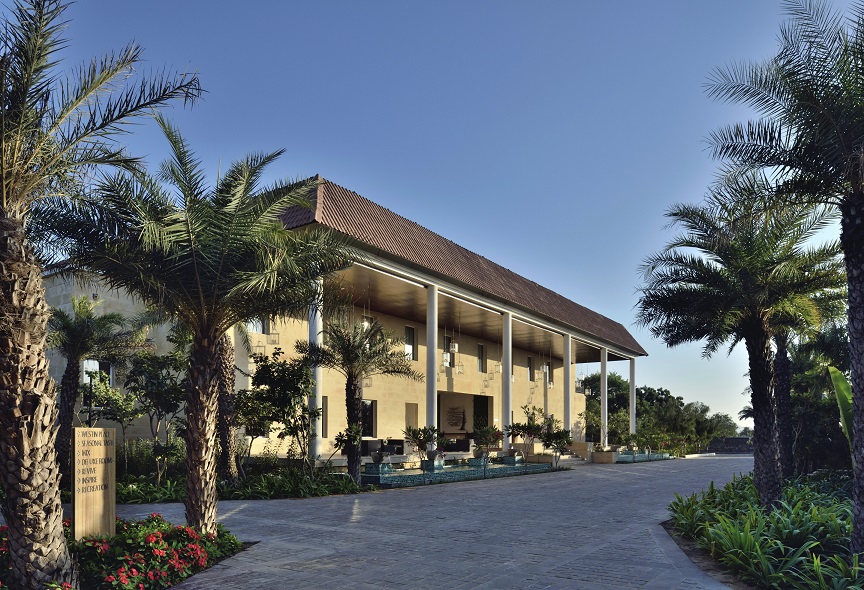 "As we enter a period where the travel and hospitality sector are slowly witnessing a steady and encouraging revival following the emergency situations of last year, guests are eagerly looking for a break away from their mundane life. We at The Westin Pushkar Resort and Spa have especially curated packages to offer an indulgent and luxurious experience to the guests with a variety of options to choose from such as Pool Villas, experiential dining, Heavenly Spa, recreational activities, in-house movie theatres and more while exploring the traditional and cultural richness of the desert land," said Gaurav Sekhri, Hotel Manager, The Westin Pushkar Resort and Spa.
The talented and creative Duty Manager Awanish Pandey planned an interesting itinerary for me and helped me capture beautiful reels and photos for my Instagram feed during my entire stay. Apart from the natural beauty of the resort and vast expanses of greenery along with beautiful water bodies, the hotel organizes interesting activities such as feeding the geese, picnic breakfast in the garden, toy train ride for children, etc. Couples can enjoy a romantic date near the swimming pool area where there is a beautiful dome shaped structure and the hotel organized a romantic set up for a dinner one of the evenings for me during my stay.
In the afternoon, I visited the expansive Heavenly Spa for a relaxing massage. The Westin Pushkar Resort & Spa boasts a 10,000 square foot Heavenly Spa with seven therapy rooms offering a range of local and international treatments. It is a good idea to visit the serene Heavenly Spa and gaze at the beautiful photograph of the Buddha or to spend time at the spacious terrace which functions as a venue for yoga sessions as I was informed by the resort. A sprawling, outdoor pool located at the center of the resort, and a state-of-the-art WestinWORKOUT® fitness studio ensure there is something for fitness enthusiasts. The Westin Family Kids' Club features a 20-seat mini theater and a dedicated play area for children making the resort a perfect family getaway.
One of the highlights of my trips was the floating high tea experience in my pool villa where the housekeeping team arranged for 15 kilos of rose petals to create a luxurious experience during high tea. These beautiful flowers and candles were arranged beautifully all across the pool and I thoroughly enjoyed this exotic experience ! The tray which was loaded with food for high tea was made of red cedar wood, created to hold 3 kilos of goodies without tipping over.
Apart from admiring my luxurious villa, I also spent time just sitting in the breezy and elegant lobby which is a great place to spend evenings while sipping on a glass of wine or a cocktail made by the efficient waiting staff at Mix. While at Mix it is a great idea to take up the bartender's suggestion of mixing one of his cocktail recipes just for the delight of making your first cocktail ever. The staff at Mix use a lot of locally grown produce to create mind blowing cocktails served with some great finger foods which you can feast on while enjoying some great music at the lounge.
It was a blessing to visit the Dargah Ajmer Sharif and the Brahma Temple one morning. This visit was organized by The Westin Pushkar Resort & Spa very efficiently wherein a car was arranged by the hotel's front office team to transport me to these two religious shrines. My interactions with Syed Layaque Hussain Aghai Chisty from Dargah Ajmer Sharif and Pandit Ravikant Parasher from the Brahma Temple were to me the most memorable part of this trip to Pushkar and I can't thank the hotel's team enough for this beautiful experience !
Seasonal Tastes was always buzzing at mealtimes with guests helping themselves to superfoods created specially as part of the brand Westin and a huge array of European, Asian and Indian cuisine. Executive Chef Gaurav Narayan and his team dished up a local Rajasthani thaali on the first day at lunch. The aloo and pyaaz parathas served by the efficient food and beverage executive Tabrez Khan during breakfast were mind blowingly delicious and i can say with my experience that hotel is blessed with an efficient food and beverage team.
The Westin Pushkar Resort & Spa is the perfect gateway when you are planning a relaxed holiday in Rajasthan especially Pushkar. Surrounded by picture perfect Aravali mountains, this superbly designed resort with vast expanses of greenery and water bodies offers everything from serene natural elements and beautiful sunsets to rejuvenating therapies and food for the soul. Spacious guestrooms featuring private pools, innovative dining options and state-of- the-art wellness facilities succeed in their motto of making guests leave feeling better than when they first arrived! Definitely worth several visits!
Westin Pushkar Resort & Spa
Plot 1242,1243,1196/1726,
Surajkund Village,
Motisar Road
Pushkar – 305022,
Ajmer, Rajasthan