Artist Susana Mata started drawing at a very early age. As a child. "I remember myself always drawing. I think this was a kind of escape from the every day routine, also as I belonged to a big family drawing made me at ease and I could escape from all the noise and movement that was in the house".
She started drawing classes in the museum of classic reproduction in her city of origin, Bilbao, in the North of Spain. "I had this Spanish Russian teacher who taught me the basics of art and of drawing. I enjoyed his masterclasses a lot and those magic moments of silence when all his pupils were concentrated drawing in the huge rooms of the museum. That is what made me think of becoming a painter. So, I enrolled for classes at an Art School to learn everything about painting.
Although she received different types of training, Susana considers herself a self-taught painter. She tries to develop a personal style far from the fashions. Her constant themes are bathers, interiors with figures and mainly the human figure, which she develops with oil painting, with a fine brushstroke and with a very personal palette. Very influenced by the figurative painting of artists such as Balthus, Hockney and Hopper as well as the new German figuration, which clearly leave their mark on her work. Her paintings are states of stillness and certainly some of them disturbing. Her characters appear alone, without contact with others. Loneliness is one of the recurring themes of this artist. Her work moves away from movement, from euphoria, to develop a very personal theme. Her painting tends to introspection and melancholy. Currently the artist resides in the city of Barcelona where she has her studio.
What's your artistic background?
Apart from the art education I have received, music, literature and cinema have also helped me to become an artist. This has helped me to widen my cultural background.
What's integral to the work of an artist?
It's very important to keep being consistent with your own line of work, despite fashions/trends which change all the time. Keep your own pace and concentrate on your work.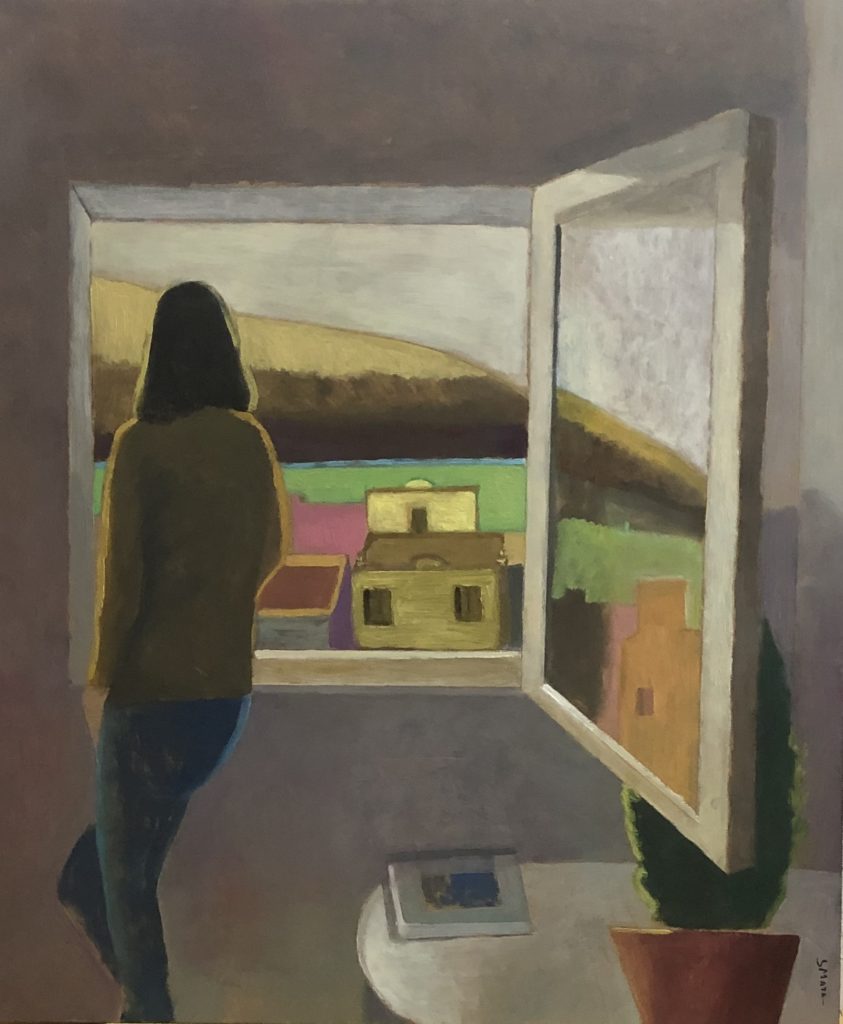 What role does the artist have in society?
Art connects us with human emotions, makes us feel more spiritual and connected with the outside world. Without art, the world would be a sad and dry place. Imagine a world without books, music, poetry etc
What art do you most identify with?
I identify myself with figurative art and with the representation of the human figure.
What themes do you pursue?
Usually I depict the human figure in my paintings. Figures standing isolated in fictional spaces. I also pursue simplicity.
What's your favourite art work?
I admire many artists but one of the works that inspire me is 'interior with woman reading a book' from Hammershöi, I also admire Andrew Wyatt, his work 'Night sleeper'.
Describe a real-life situation that inspired you?
I suffered from breast cancer in 2019. This was a major shock and I felt terrified. During the treatment, art helped me both physically and emotionally to avoid negative thoughts and to be positive. When I finished my treatment I was very inspired and I wanted to paint all the time and make nice easy paintings for people to feel happy.
What jobs have you done other than being an artist?
I have done many different jobs. Many times trying to combine both work and time for my studio, which is very complicated. I have worked as a waitress, secretary, customer care executive, teacher and many others odd jobs.
Why art?
Art gives me the freedom to do whatever I want, to be with myself, and to keep learning.
What is an artistic outlook on life?
I think an artistic outlook of life has to do with considering life as an adventure. Seeing novelty in the things happening around you. Being an artist is also an adventure and a risky one.
What memorable responses have you had to your work?
I have had good ones and bad ones. When someone says "I like everything you do" that's a memorable response to me.
What food, drink, song inspires you?
I like to try new things. I love creative cuisine and am surprised by new dishes. I love gas water and green tea which I make every time at my studio. I love all kind of music be it jazz, pop, classical. Just to mention a couple of my favourites,  I love Keith Jarreth, Bill Evans or Pat Metheny. As far as classical music goes, I love Sibelius and baroque and antique music. I listen to music such as Arvo Pärt, Philip Glass etc. I also like Brian Eno, Joni Mitchel's music very much.
Is the artistic life lonely? What do you do to counteract it?
A bit lonely indeed. We are alone most of the time but is something I like. Painting in the end, becomes an obsession. I could be painting day and night. My family- husband and daughter make me come back to reality.
What do you dislike about the art world?
I don't like the commercialization of art and also how closed minded the art galleries are. It's difficult to contact them if you don't know the right people.
What do you dislike about your work?
The feeling of frustration I have many times after work when you don't achieve the results I am after.
What do you like about your work?
I like being alone at my studio and the feeling of anxiety I have when I am going to start a new painting. When I finish the painting after many seasons and I realize that everything is balanced it brings a sparkle in my eyes. That's a fantastic feeling.
Should art be funded?
Yes I think so. I think is important to support artists and culture in general. It describes an advanced society.
What role does arts funding have?
Help young artists to focus on art and develop their careers. Also it serves to maintain and invest in art for the art centers.
What is your dream project?
To make artworks that transcend time.
Name three artists you'd like to be compared to.
Andres Craston for his creativity.
David Hockney for his capacity to communicate happiness with his paintings.
Balthus for his incredible technique.
Favourite or most inspirational place?
Barcelona is a city that inspires me all the time. It's plazas and hidden gardens and corners, modernist villas and climate. I love living in Barcelona.
What's the best piece of advice you've been given?
Don't compare yourself with big artists, just go on working like an ant, everyday at your own pace.
Professionally, what's your goal?
Being respected as an artist and making a living out of it.
Future plans?
I am going to participate in the next art life international festival in Moscow and I hope to be able to participate in exhibitions next year. But the most important thing is to be healthy enough to go on working.