Born in Pakistan in 1987,  artist Sannah Zafar grew up with a profound love for art and creativity. She had an opportunity to live in more than one country and observe different cultures and languages due the nature of her father's work and now her husband's work.
"Through my work I  wish to  embark  on a  mystical  connection  between  the  audience  and  my art. Colors  bring  a  positive aura to the surroundings  and  that  is  why  you  will  see  the  usage  of bright  and  bold  colors  in  most  of  my  works  depicting  the association  with  nature  and   human emotions. I am a self taught artist greedy to learn and currently I have enrolled in Arabic calligraphy classes to enhance my calligraphy skills. I got an opportunity to participate in group exhibitions in Dubai within this year with different curators and art galleries under the themes of Ramadan, Calligraphy and Hope," she says.
What's your artistic background?
Back in school I loved art and was always encouraged by my art teachers to participate in various art exhibitions and gained many award and certificates. I was good academically and that led me to picking business studies as my core subject rather than art as it was not considered a highly recommended area of study during those times. Regardless, whenever I found time I would escape into the art room at my school just to watch my batch mates painting. My main forum for learning art has been through observations and studying different artists and their work.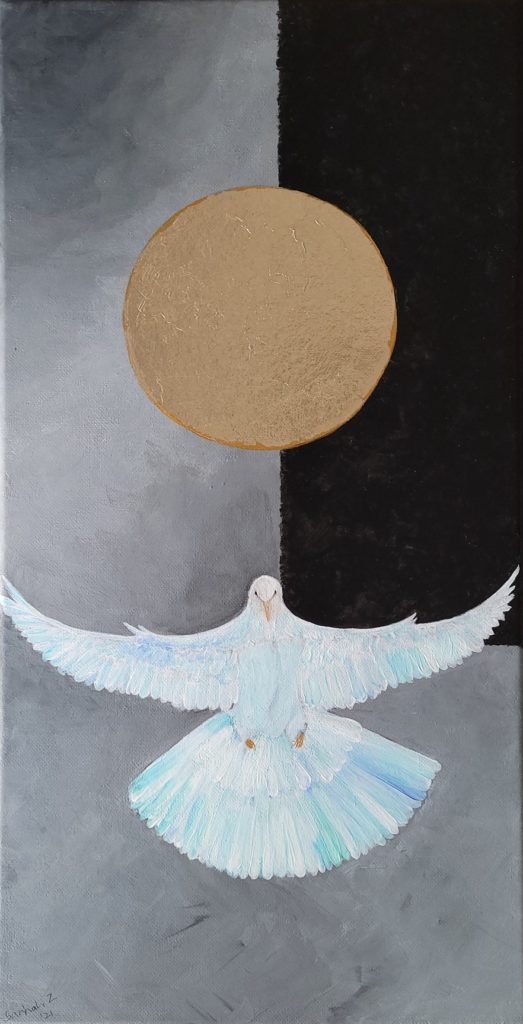 Time flew and I completed an MBA program to join the corporate sector but art remained my companion. During classrooms scribbling and doodling were my ally, at work art became my stress reliever and when I left my work to start an expat life with my husband and a toddler, art became my savior in a new country. However, I found it difficult to dedicate the required time for my paintings. When we moved to Dubai and the pandemic started, I found ample time to pick up my brushes and start painting again.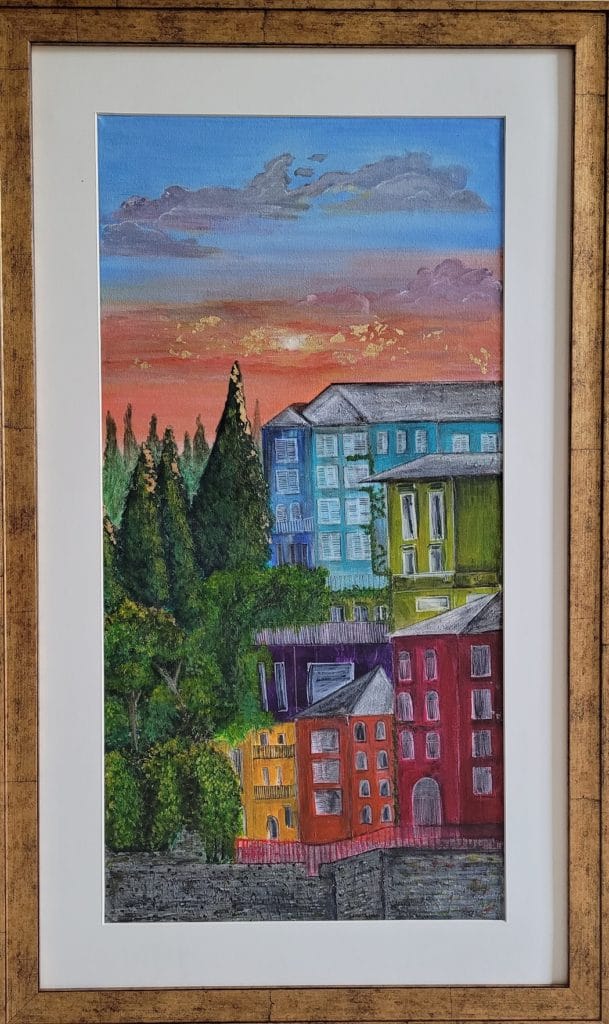 What's integral to the work of an artist?
I feel it is important to have a clear vision and be able to execute it while bringing out your own sense of uniqueness into your work. Art is an avenue where there is no right or wrong way and you can present your distinct style without fear of rejection.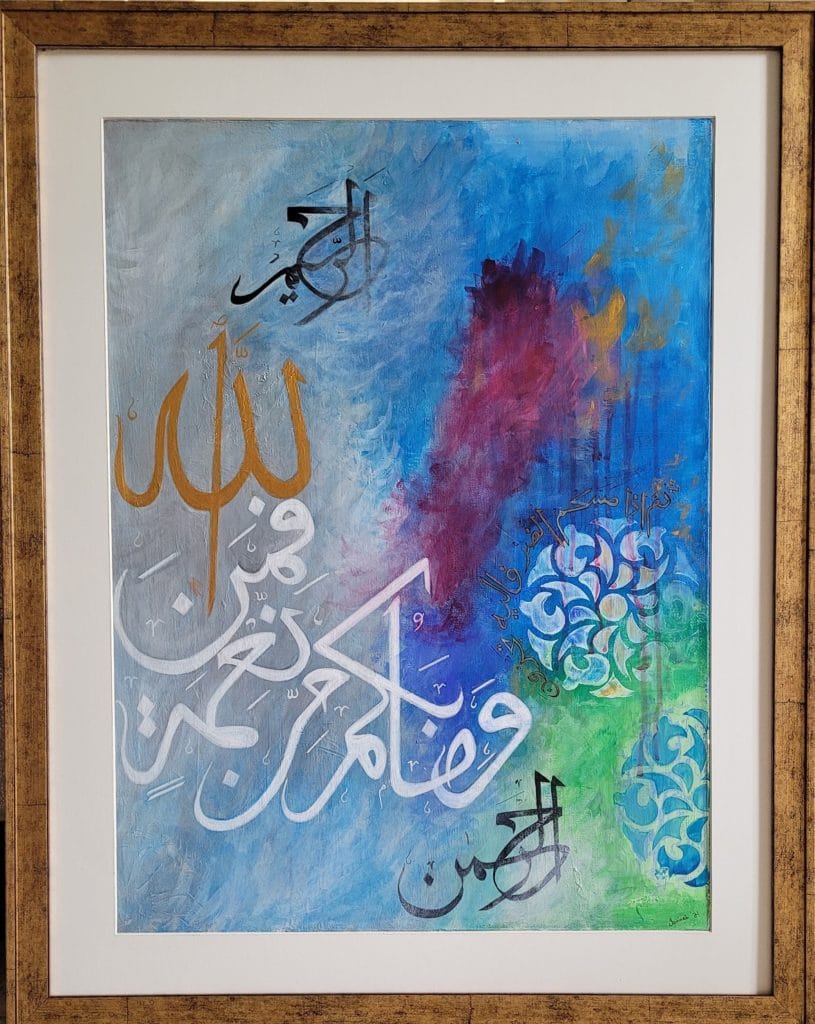 What role does the artist have in society?
I believe an artist can play several roles in a society:
– Make it beautiful by creating art that makes spaces look appear attractive and lively.
– Create conversations through artistic observations/illustrations that raises awareness for societal issues.
– Establish an emotional connection with the audience through their own inspirations and vision of the world and enable art as a medium of expression.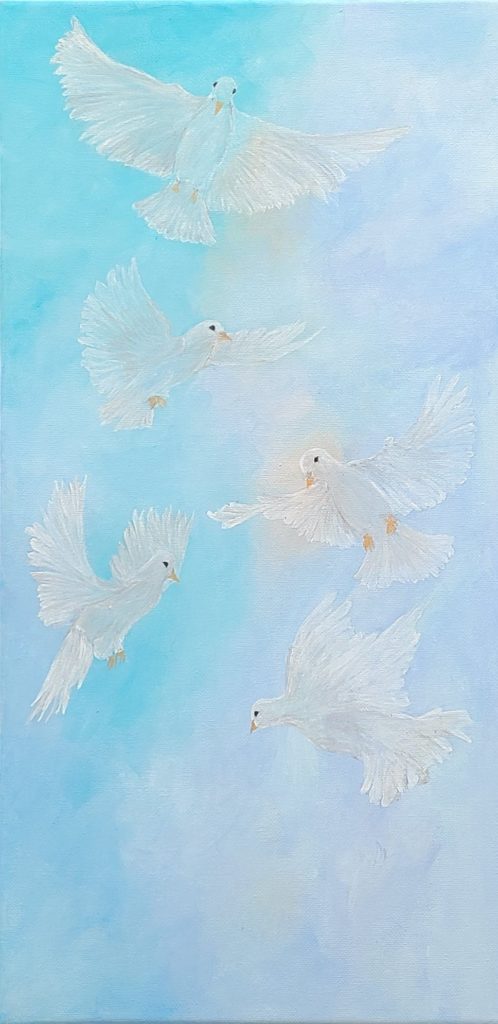 What art do you most identify with?
Visual art in the form of painting using various mediums mostly acrylics. While painting, I enjoy the abstract, expressionism and surrealism forms the most. I cannot paint anything simple from nature or still life as it has to have an element of 'me' in it.
What themes do you pursue?
Themes that inspire the spiritual side of me such as dervish and Islamic calligraphy. I also like to pursue areas that can create a connection with the audience at a deeper level regarding various social aspects of life. I enjoy working with lots of colors and symbolism that associates with positive energy and human emotions.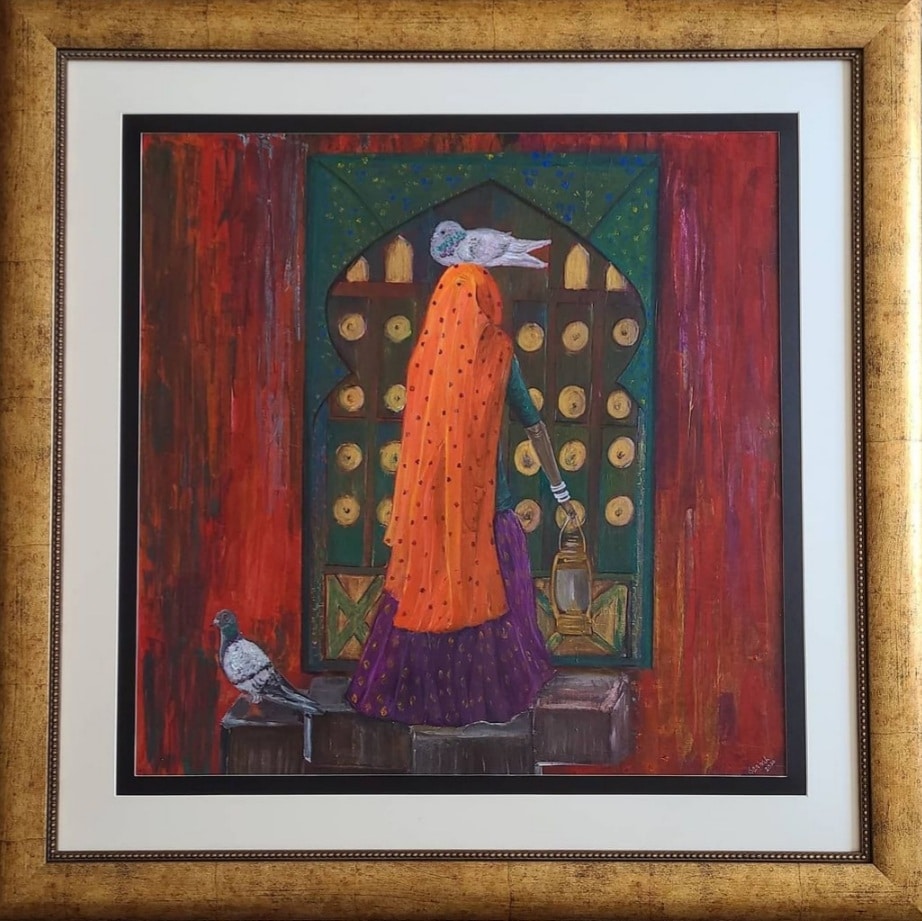 What's your favorite art work? 
I have many favorites from the contemporary and historical artists and the list keeps on growing!
To name a few; amongst the contemporary Pakistani artists:
Ali Abbas's 'Respite for Repast' is a beautiful depiction of a spiritual setup in a tomb of a religious personality.
Scheherezade Junejo's 'The Descent', a strong, unique yet a simple but detailed piece of art which amazes me every time I look at it.
Van Gogh's 'Starry Night' amongst the historical artworks is hypnotizing.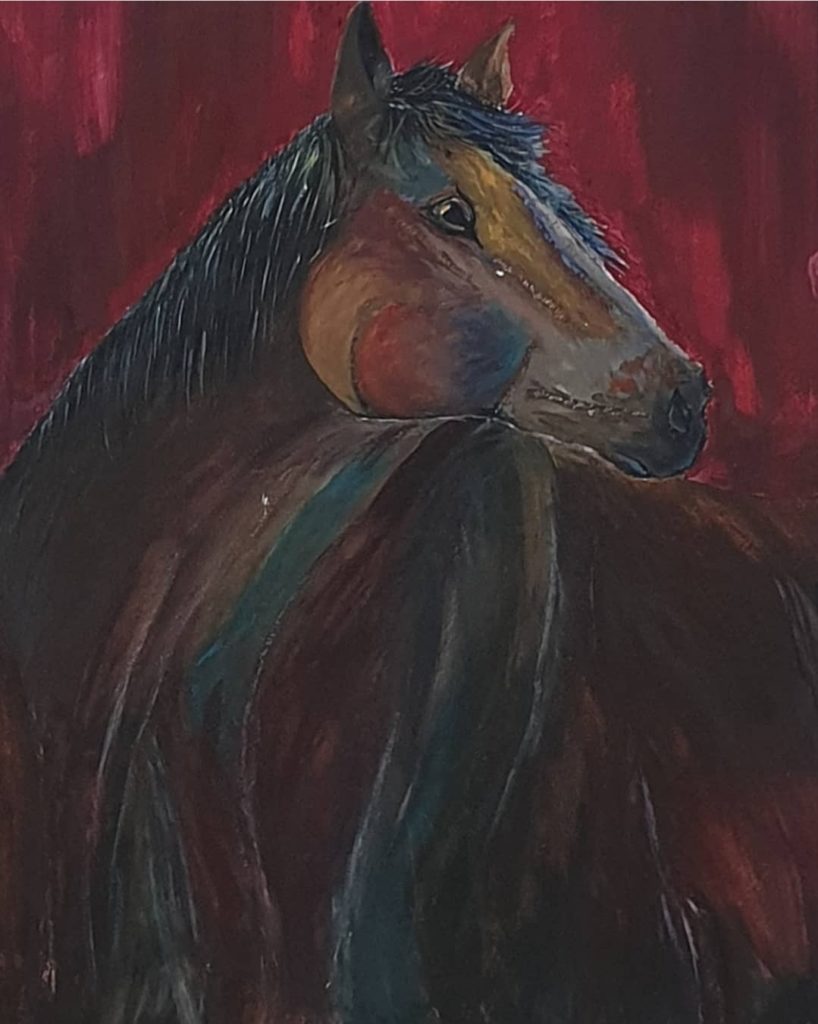 Describe a real-life situation that inspired you?
Visiting Van Gogh´s Museum in Amsterdam was a surreal experience as we went through his paintings and learned about his life history and the stories behind those paintings. Walking out from the museum I dreamt of having my own space filled with paintings each having its own story to tell.
What jobs have you done other than being an artist?
After completing an MBA program in marketing I have worked under the domain of strategy and research in the corporate sector for a few years. I left my job in 2016 and began to paint as a hobby while raising a toddler.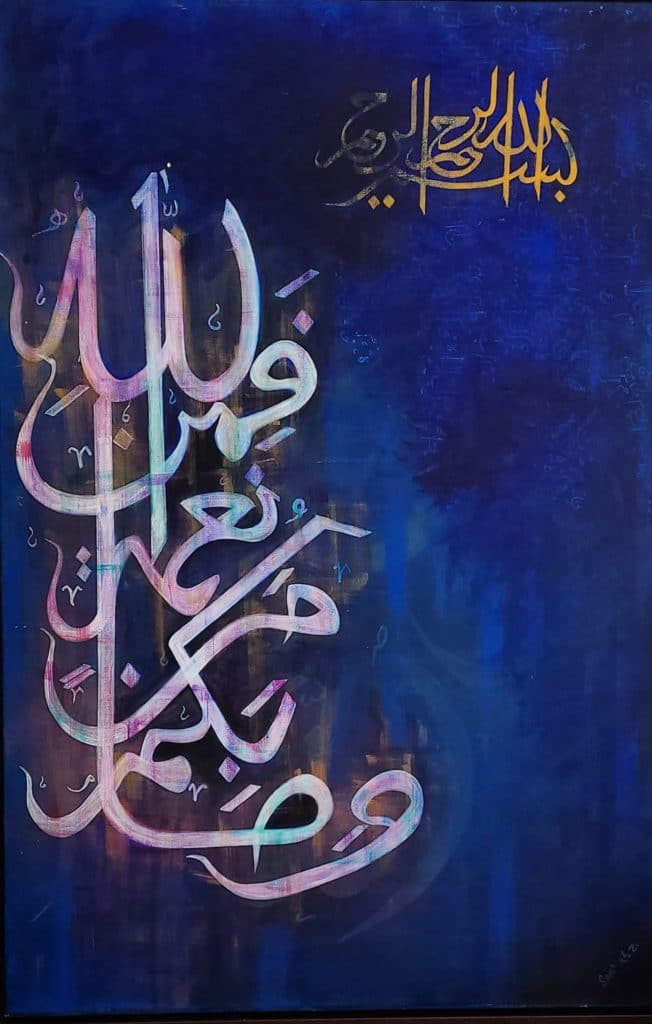 Why art?
Because it is my passion and I am blessed enough to get an opportunity to follow and dedicate my time towards my passion.
What is an artistic outlook on life?
I see art as an illustrative form of literature that surpasses all language barriers. Art is a strong element that can be used to re-present scenarios and ideas that can reach the masses as a medium of visual communication.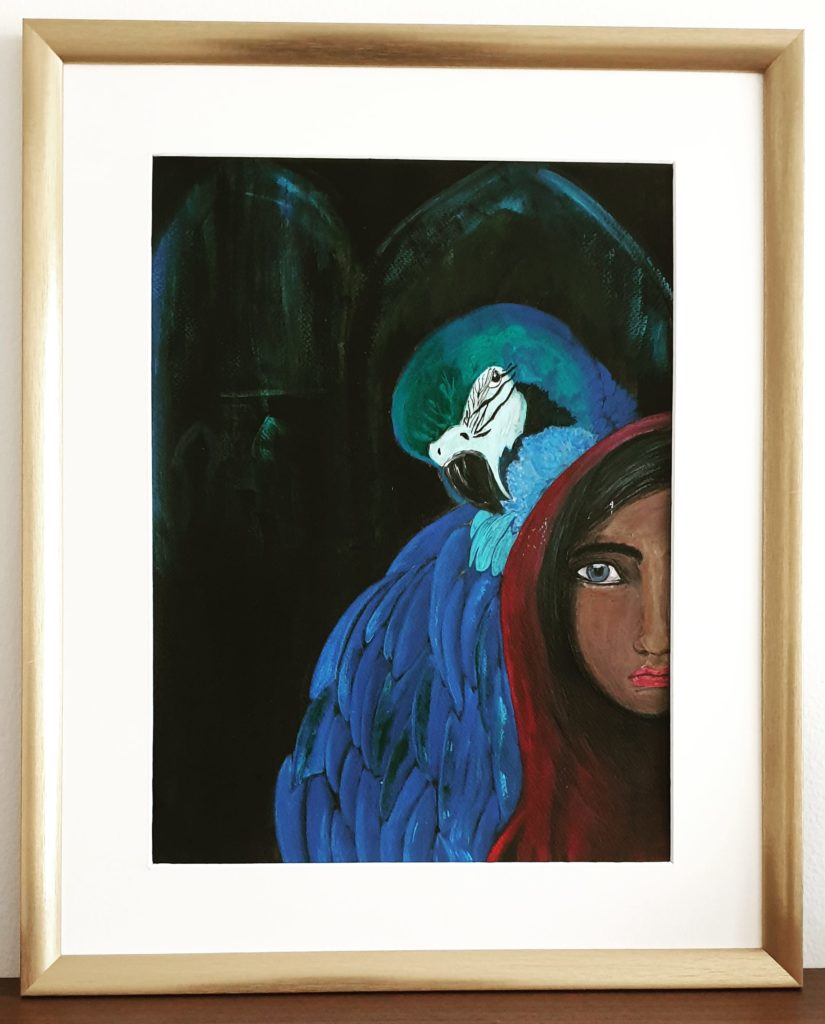 What memorable responses have you had to your work?
Back in 2008 I created a sketch during a university session and a friend pushed me to create a bigger version of it, I got numerous positive responses and many told me to abandon my MBA program and follow my dream. I was appreciated for the idea behind the art and to find someone who could connect with it made me realize that I was indeed in the wrong place. I still remember those comments and subconsciously I still replay it in mind when I need motivation.
What food, drink, song inspires you?
Unusual ideas and mystical visuals have always inspired me more than drink and food. Music however is always there to keep me in the flow while working.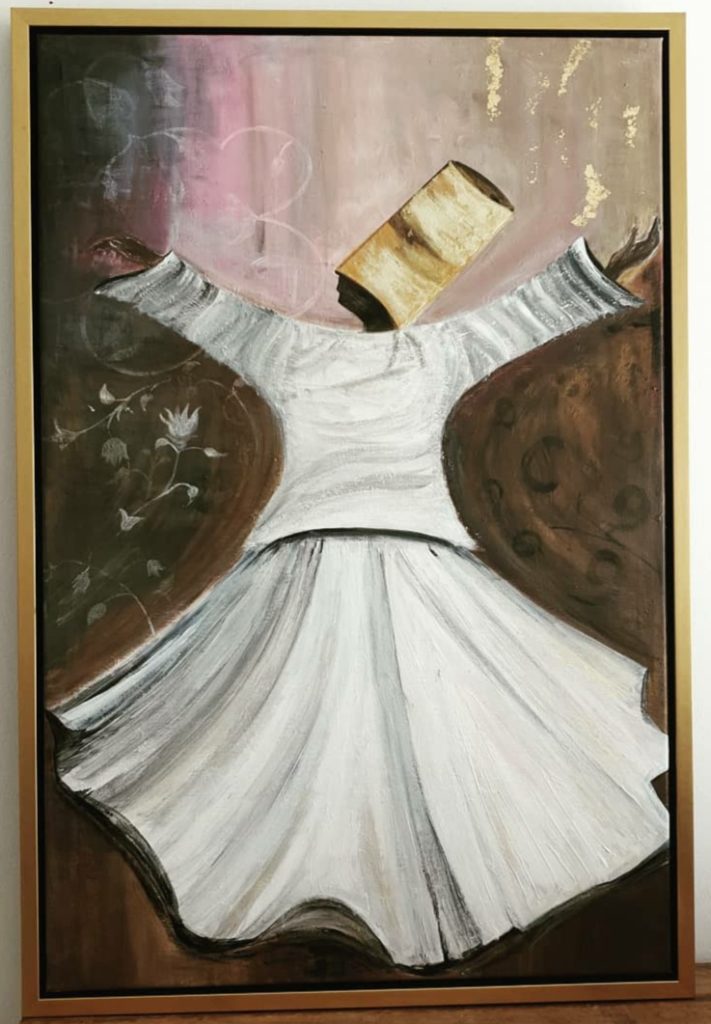 Is the artistic life lonely? What do you do to counteract it?
I don't find it lonely. When I am in the process of creating I prefer being alone as it helps me be myself and that reflects back in my work.
To fulfill my need for social interactions I spend time with my friends and family. Alongside, there are many forums for an artist to meet and work with like minded people and participate in group exhibitions.
What do you dislike about the art world?
The lack of acknowledgement and uncertainty regarding art related work in many countries.
What do you dislike about your work?
The need to finish one project so I can start with the next project i have been dreaming of.  As rightly said by Leonardo da Vinci, 'Art is never finished, only abandoned' . For me to decide the point at which I have to stop one work and start the other is difficult.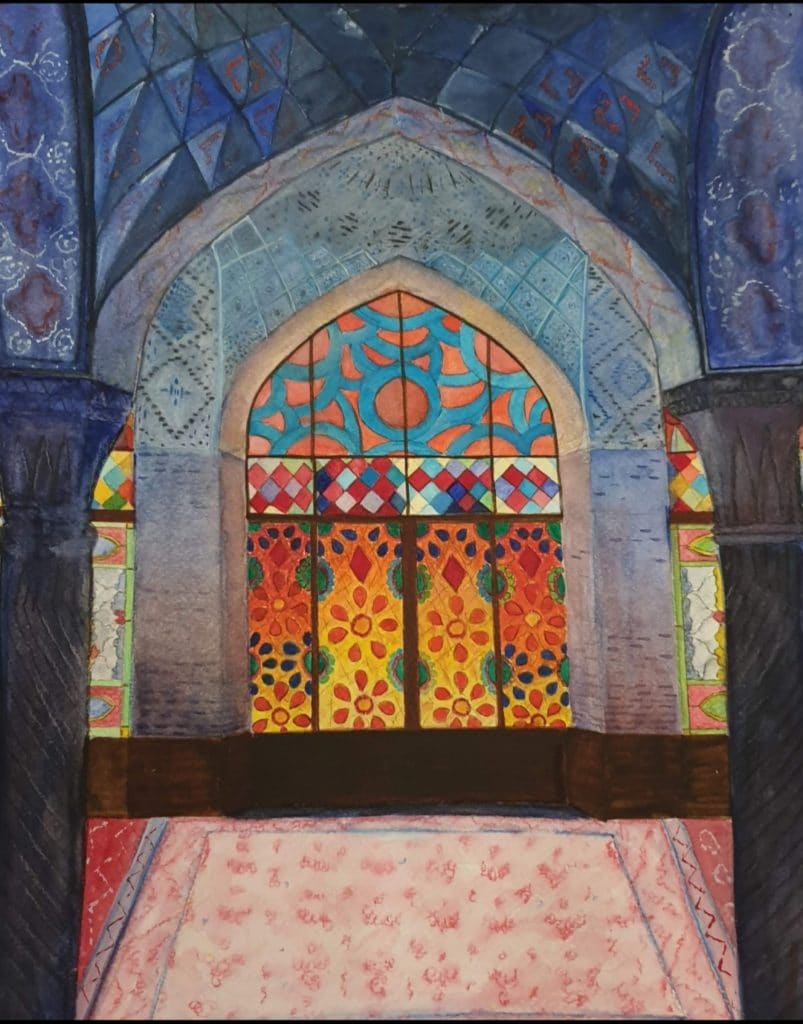 What do you like about your work?
The combination of vivid colours, spaces, emotions and the feeling of belonging I have with each piece of my work.
Should art be funded?
Definitely, many artists do not get the due recognition due to lack of resources and support.
What is your dream project?
I would like to create a series of art on social issues I strongly feel for and exhibit it with different galleries to create awareness. If my art could impact a single person and improve someone's life, I would consider my dream achieved.
 Favourite or most inspirational place?                                                                                                                                                                            Geneva. I have lived there for three years and found the beauty of nature, slow paced life and watching the seasons follow each other to be an undeniable refresher for the mind and soul.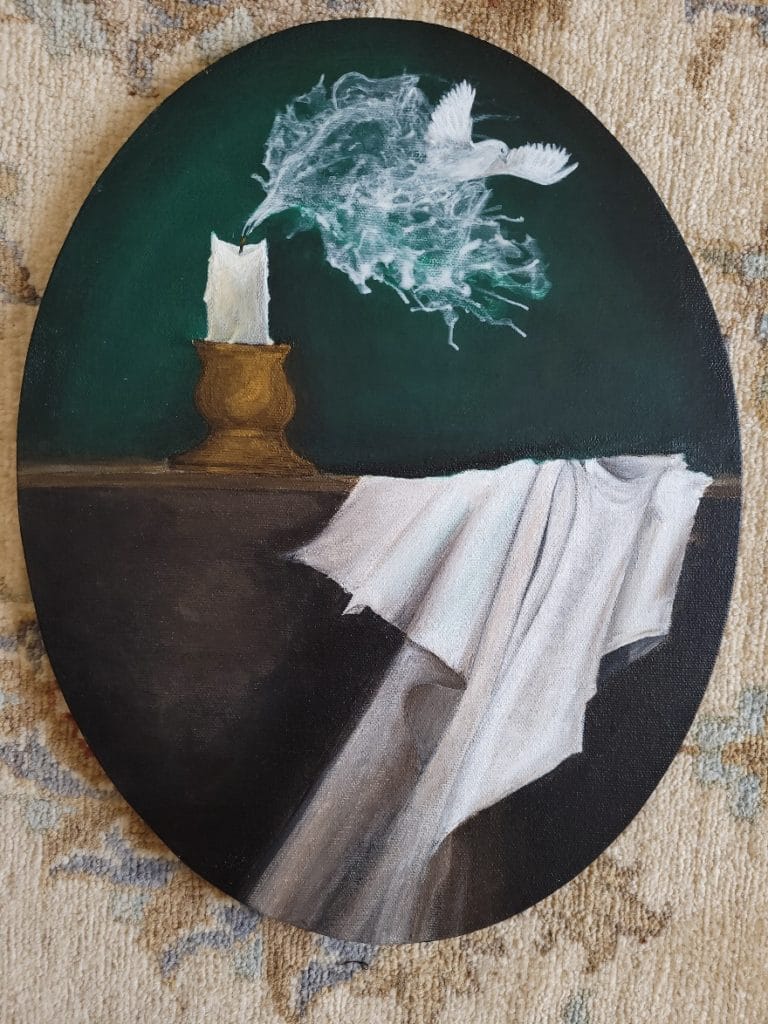 What's the best piece of advice you've been given?                                      
When making decisions choose only the path that will lead you towards your passion.
Professionally, what's your goal?
I consider myself a novice in the world of art. My short-term goal is to finish all my art projects that I am working on currently by the end of this year so it could be displayed in the exhibitions that will take place in Dubai the following year. I have a plan and a list of exhibitions that I would like to participate in. My long term goal is to exhibit with museums on an international level as an emerging artist.
Future plans?
I would like to go back to my country, Pakistan, and exhibit my work. Pakistani artists and their art work inspire me a lot. Along with that, Arabic calligraphy and it's beauty to mould into various designs and shapes, fascinates me and I would want to gain such perfection in the art of calligraphy that I am able to develop my own style. I also plan to register my self in an art residency program that will allow me to escape from day to day life and fully dedicate my time towards reflecting and exploring as an artist. Finally, I want to penetrate into art markets all around the globe and gain recognition in the world of art.
Fact Box :