Artist Ranjith Raghupathy was born in 1974 in a family filled with talented artists in Thiruvananathapuram, Kerala. His grandfather Shri. O.V.Achari was an accomplished sculpture and a painter who got the 'Kalaaratna' award for his artistic skills from the Maharaja of Travancore His Highness Chithira Thirunal in 1964. His father Shri.V. M. Raghupathy was also a renowned portrait artist. Ranjith Raghupathy started experimenting with his skills in various media such as watercolor, acrylic, oil and charcoal right from his childhood days. He started participating in several group shows and art camps in his school days. This talented artist conducted his first successful solo exhibition in 1992 at Thiruvananthapuram with his fifty canvases. His works were accepted nationally and internationally. Ranjith displays his paintings in various art galleries in India and has conducted six solo exhibitions in different parts of the country and participated in sixty-two group shows. He started his career as an art instructor in 2002 and worked in several reputed schools and trained his students in various media. Artist Ranjith  is an expert in Elementary and Intermediate Government art examinations.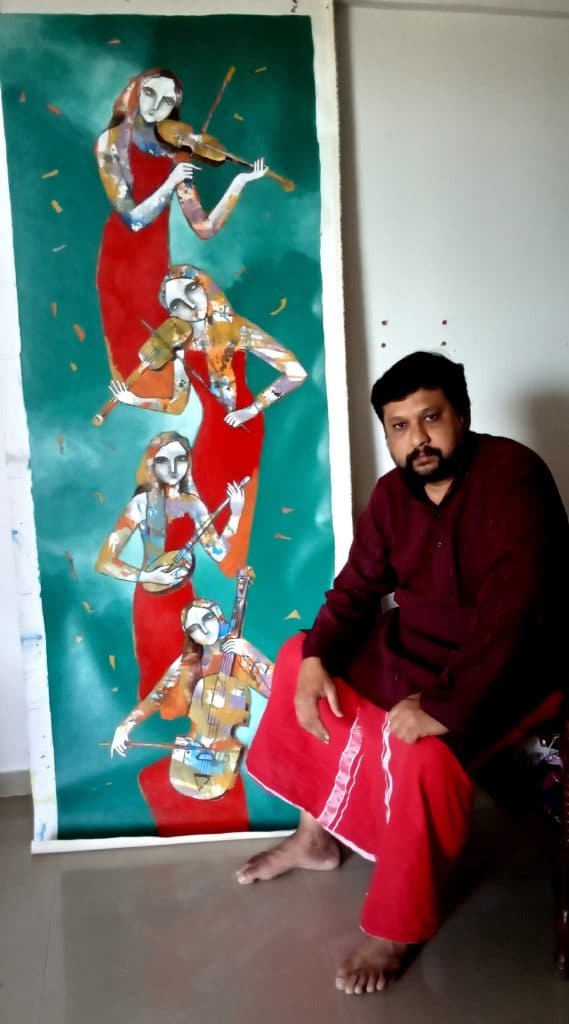 What's your artistic background?
I was born into a family of artists. My grandfather O.V. Achari was an eminent artist cum sculptor from Kerala. My father V.M. Raghupathy, who was my first Guru, was also an artist. So naturally, my passion for art began at a very young age.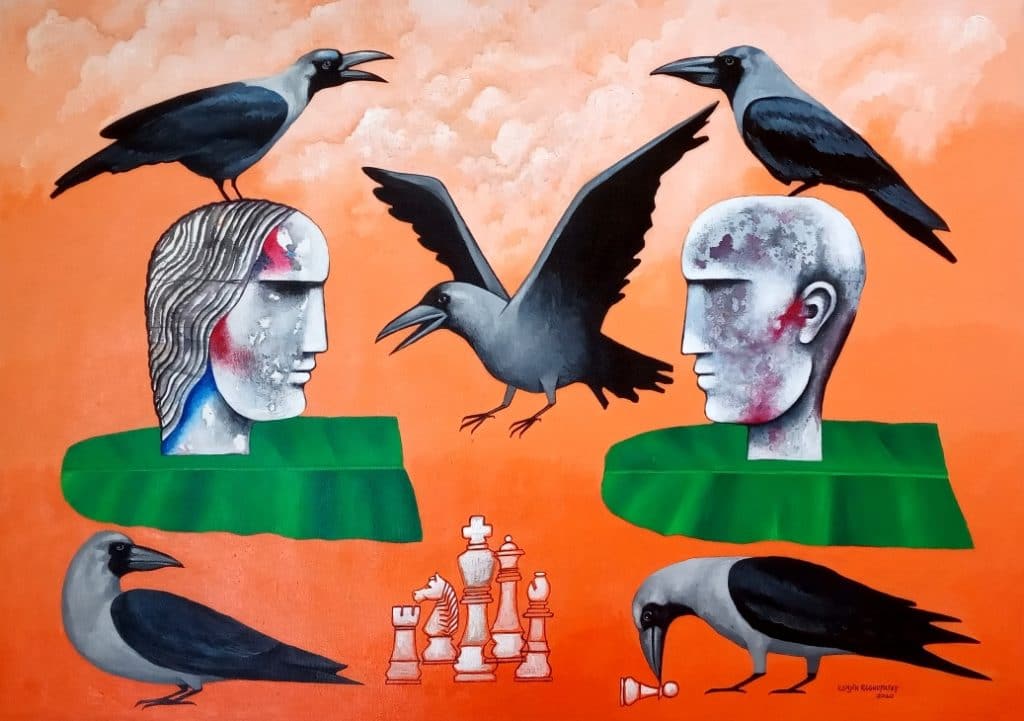 What's integral to the work of an artist?
I believe passion is an integral part to become an artist. Whether you are a trained or untrained artist you cannot succeed in the art field without passion.
What role does the artist have in society?
An artist should be a real human being. He should be compassionate and secular. He always should stand with the weak and the poor. His art should comfort the disturbed and disturb the comfortable.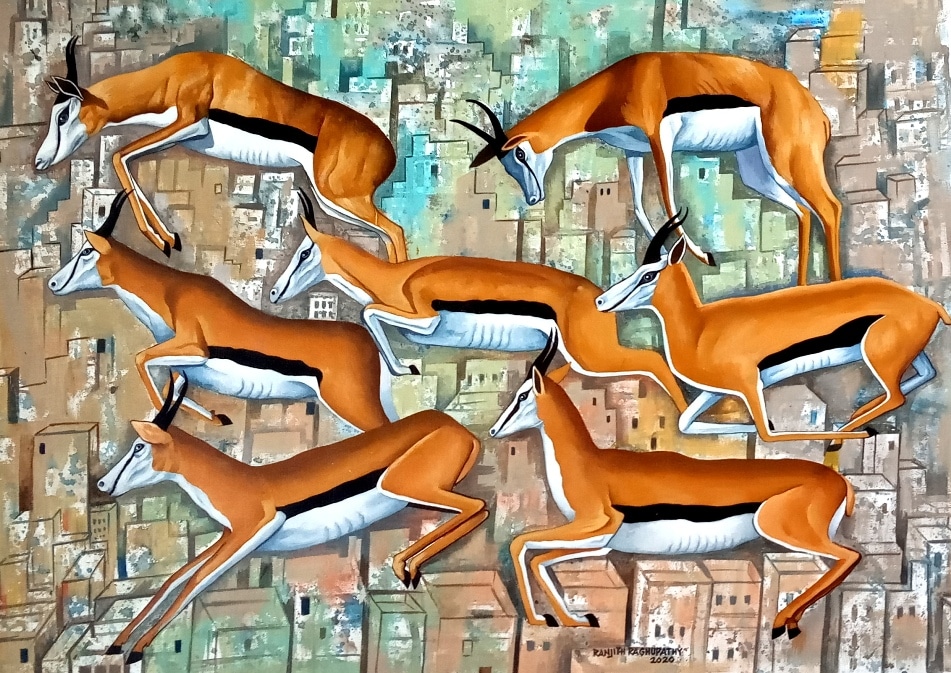 What art do you most identify with?
After drawing and painting, I identify with cinema. Moving images always created an enthusiasm since my childhood. I always consider cinema as a combination of Fine arts with Literature. I have also done some experiments with this medium.
What themes do you pursue?
I pursue the theme 'life' in general. From history to the present day, the lives of humans have always created curiosity in me. How he survives, how he dreams, how he interacts with others…all his acts create enthusiasm in me.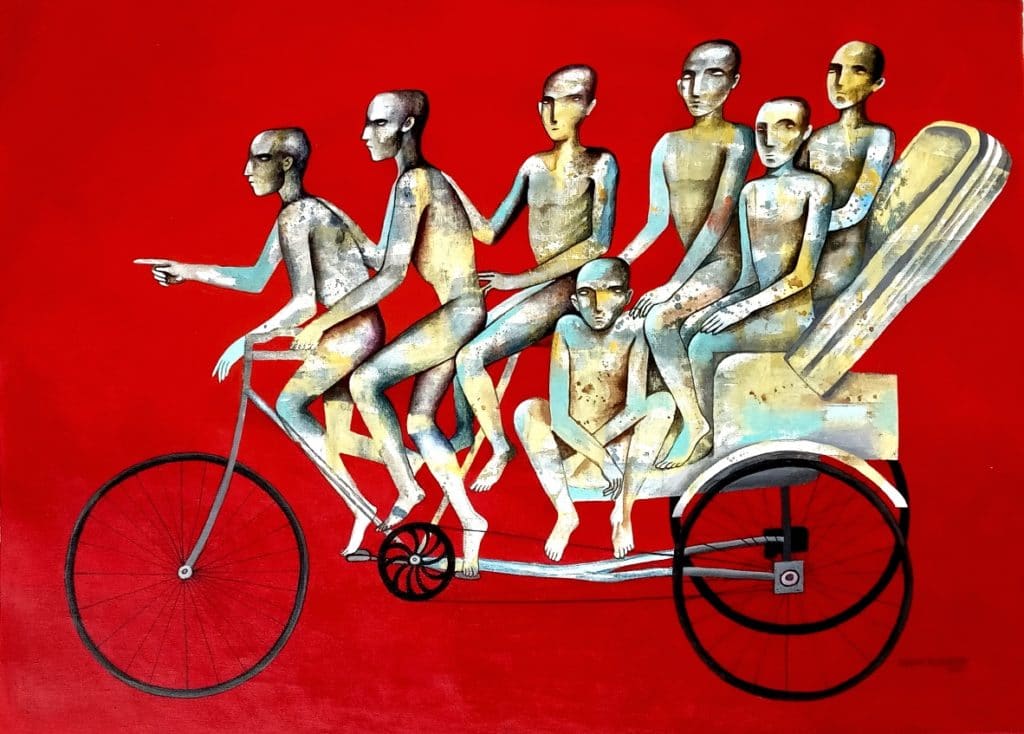 What's your favourite artwork?
Difficult to say. I like most of my works. Recently I have done a series named 'Time Travel'. It is a set of ten paintings narrating 'man and his surroundings'. This series is my favourite.
Describe a real-life situation that inspired you?
Once, I was traveling on a train. There were two people in my opposite seat. A man and a woman. They were sleeping. The man was sitting and the woman was lying on his lap. I sketched this scene and later it became a painting.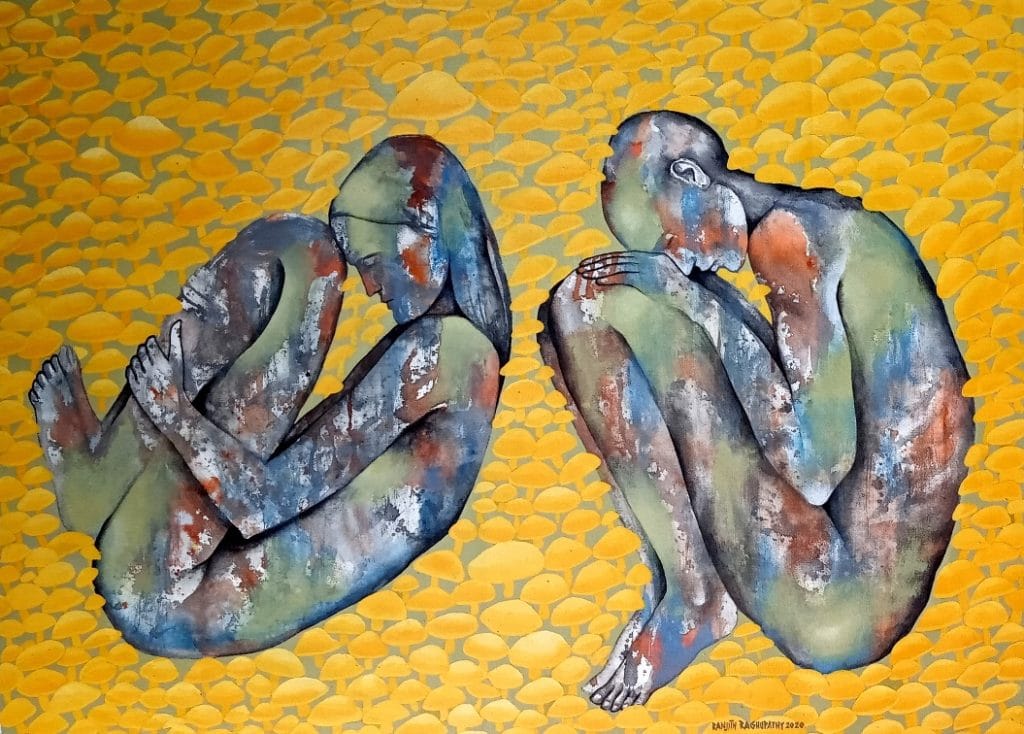 What jobs have you done other than being an artist?
I was working as an art teacher in different schools for 18 years.
Why art?
Because it is my destiny. I was born for this. I came on this earth to draw and paint.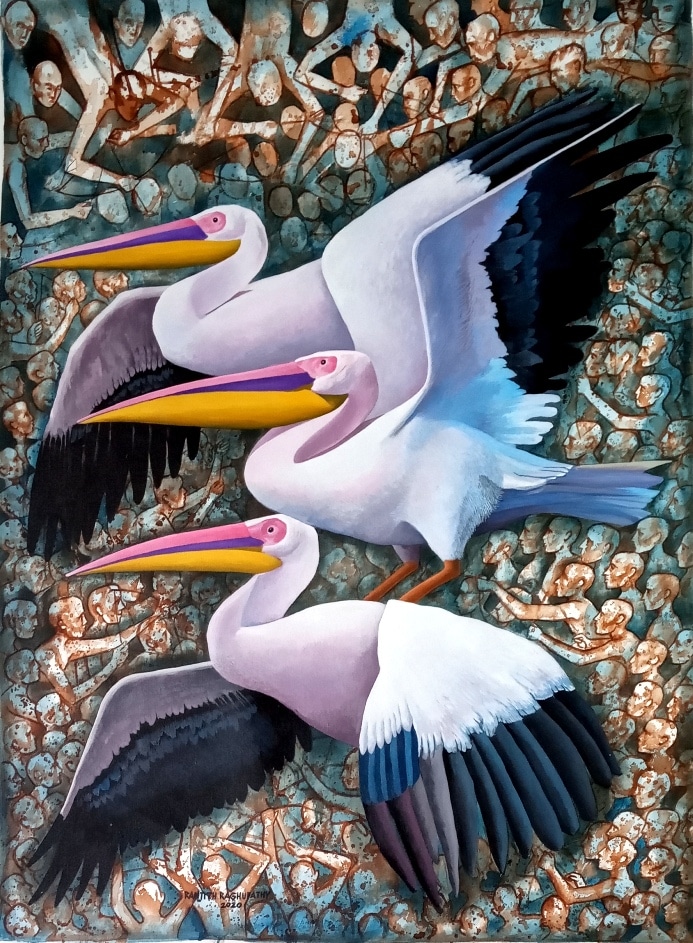 What is an artistic outlook on life?
I observe life through art. When I look at my surroundings, I feel that they have been created for me to draw. When I interact with others, I feel that the incident has been created for me to think and find a theme for my next canvas. So I believe everything around me has been created for me to redefine.
What memorable responses have you had to your work?
There are many. Known and unknown people had always appreciated my work. From personal responses to the responses on social media have always inspired me.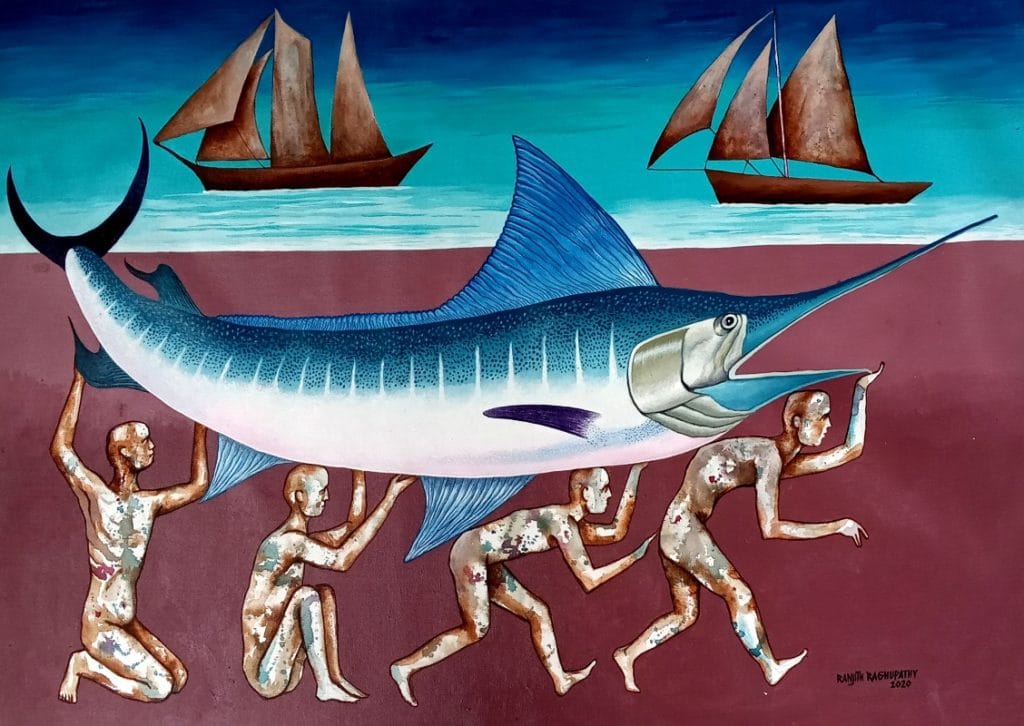 Is the artistic life lonely? What do you do to counteract it?
I love loneliness at the same time I feel a sense of discomfort in my loneliness. I know that is strange. Loneliness is very essential for a creative person. But my concept of loneliness is not going to a valley and sitting alone in a resort. I can create my loneliness amid a crowd also. I think I have attained this from my teaching experience. If I am alone in my flat without my family, I get disturbed. I always want my wife and daughter somewhere around me. They have never become an obstacle in my creative world.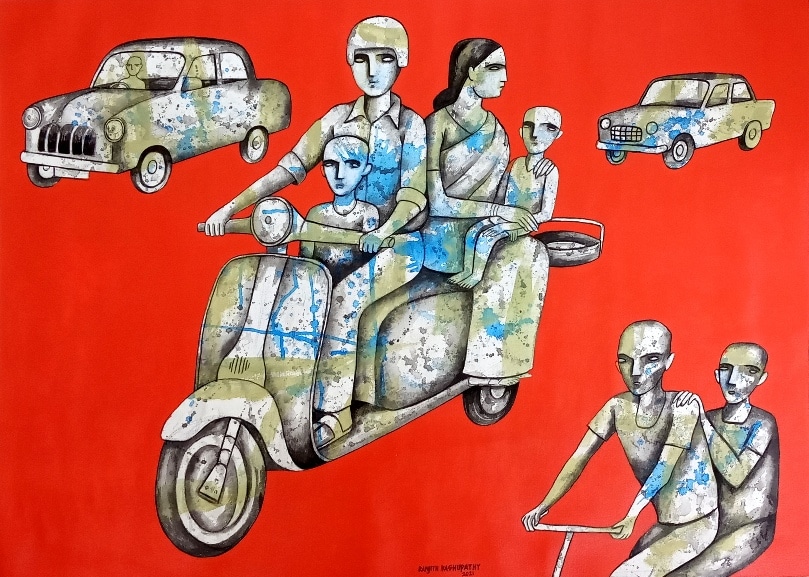 What do you dislike about the art world?
The art world is not different from any other field. There are a lot of good and bad things. One thing I dislike most is the exploitation of emerging artists. Some people and organizations try to exploit artists by taking money in the name of competitions and exhibitions. I know some galleries who tell the artists that, if you give this much money we will promote you and you are the future M F Hussain and do nothing.  Another fact, I dislike is the attitude of some art galleries towards emerging artists. They promote only established artists. They never consider an emerging artist even if his works are good.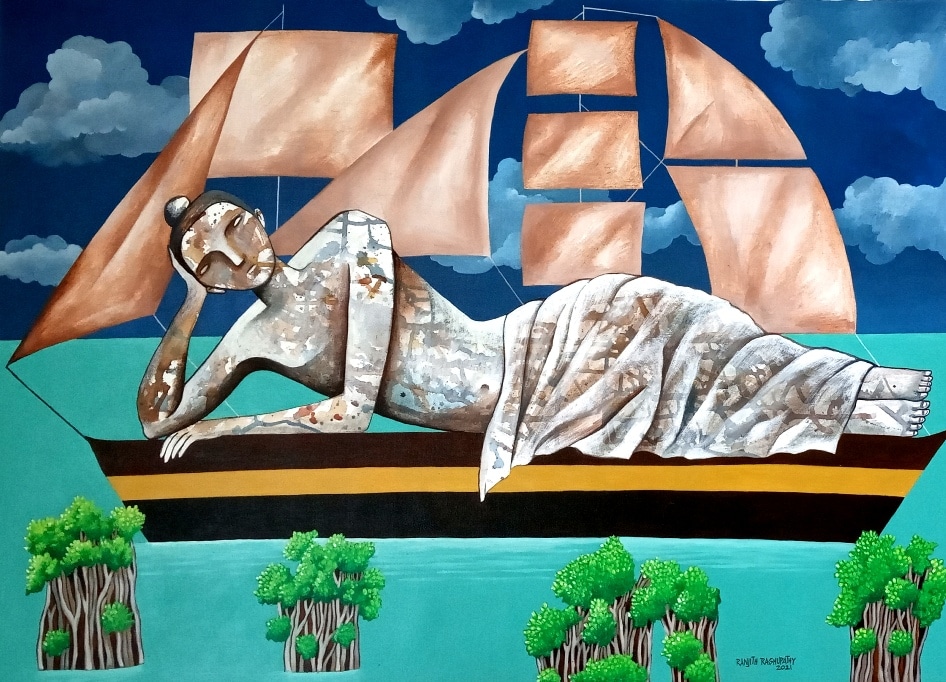 What do you dislike about your work?
I easily get bored with one style. I don't like this attitude. After getting bored with one style I always try to go into a new style. So I always feel that there is no continuity in my works.
What do you like about your work?
I will never try to repeat the same figures or same theme. I have seen a lot of artists repeat the same figures frequently with some slight change in colours or stokes. But I don't want to repeat the same pattern continuously.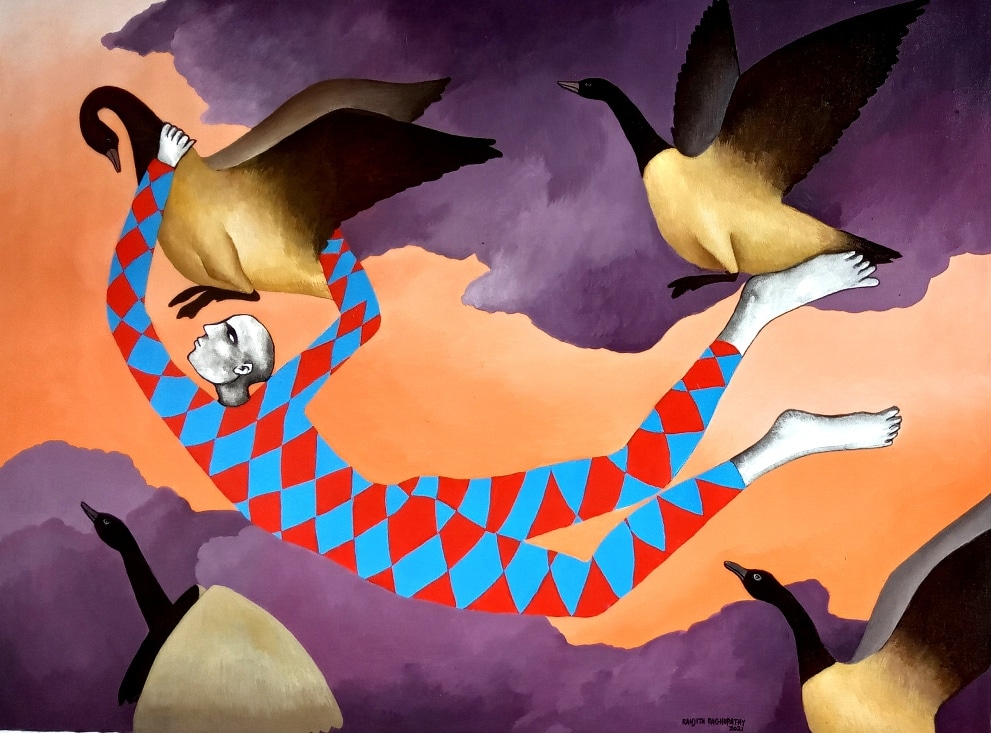 Should art be funded?
In Western countries, it is easy to survive as a professional artist. People value art over there. The government and NGOs are helping the artists to survive. They give grants and funds to the artists. But here, in our country there is nothing. Artists have to sell paintings for their living and that is not easy. Which is why artists are forced to do other part time jobs.
  What role does art funding have?
The Arts fund has a vital role. If you fund an artist he/she can rent a studio. (Most of our artists do their work in small flats). He/She can create more artworks without the tension that his creation would sell or not. He will be more creative and will be in a position to conduct more shows.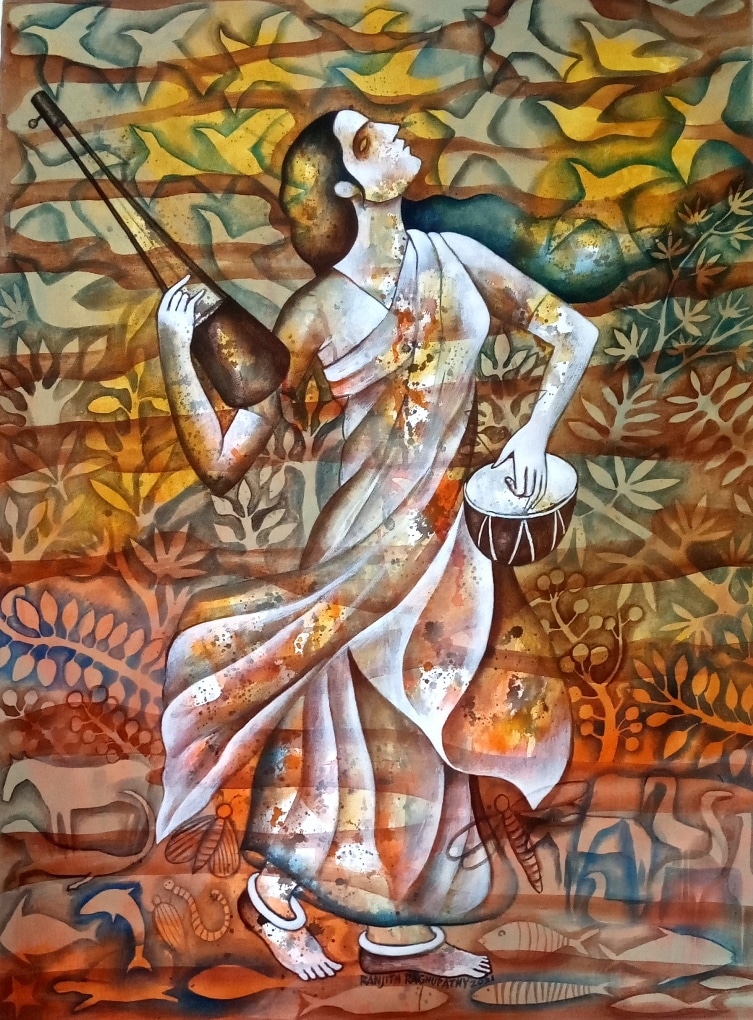 What is your dream project?
My dream project is to conduct a solo show in Europe.
Name three artists you'd like to be compared to. 
Francisco Goya, Egon Schiele and Ganesh Pyne are my favourite artists.
Favourite or most inspirational place?
I don't travel much. I would like to go to Himachal Pradesh. I think it would be my favourite place.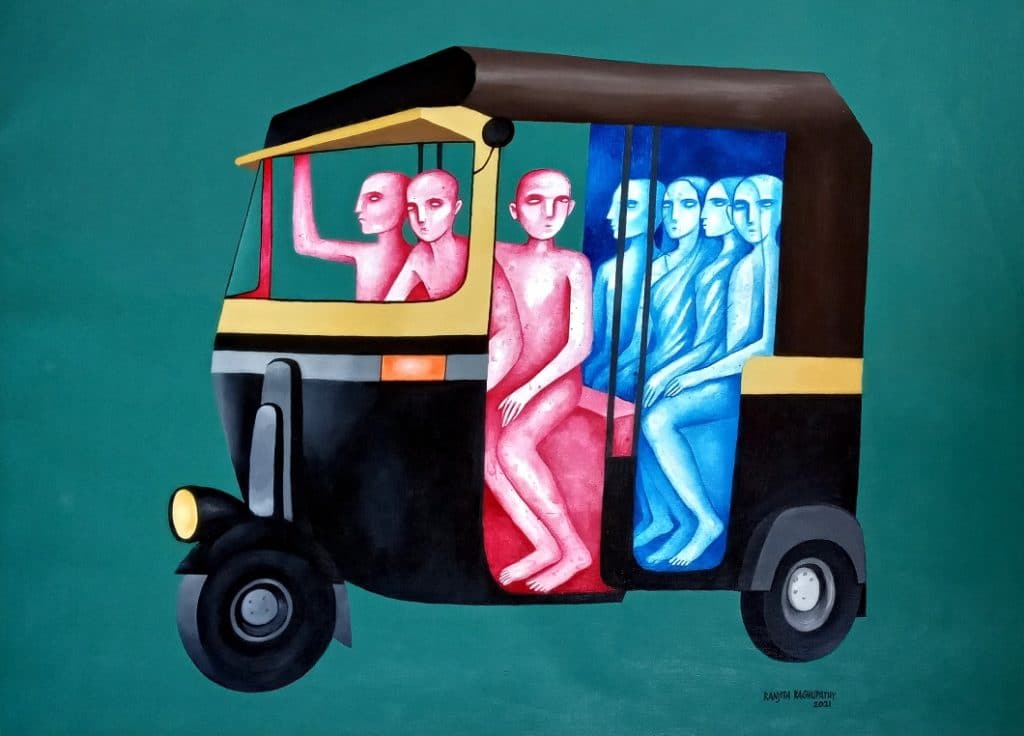 What's the best piece of advice you've been given?
Life has given me a lot of good advice. 'Don't run behind anything. Don't try to grab anything. You will get what you deserve when your turn comes'. That's one among the many secrets life has whispered in my ears.
Professionally, what's your goal?
To create a lot of artworks, exhibit them, sell them and make my footprint in the World of Art.
Future plans?
I am planning to do an exhibition with a friend in Kerala. Then a solo show in Bangalore and Mumbai.