Pramod Reddy Gade is a trained mural artist. He is prolific and sensitive in his approach to painting. His interest and devotion to Hindu religious iconography has influenced his work. There is a story to every painting Gade depicts in his work. The essence of these stories reveal in his work as layers that narrate episodes of myth associated to Hindu religion. His belief in the universal divinity as supreme power manifests by romanticizing the various episodes of the epic Ramayana and Mahabharata. Gade's use of vibrant acrylics on canvas portray the divine grace that he attempts to express. The use of text and image in his work refers to the ancient manuscripts that adorn the Indian historical traditional art. Pramod Reddy received his BFA in Painting from Jawaharlal Nehru Technological University, Hyderabad and his MFA in Mural from M.S. University, Baroda. He has exhibited widely across the globe. He says, "My work is influenced by Hindu mythology and the tales associated with its stories. I embark on a style that I developed while I was studying mural in my master's degree. This style adopts working in layers that metaphorically represent the episodes in the stories. The transparent layers revealing the elements of the events juxtapose with text and image, which plays a dominating part in my work. The bright traditional use of colours reflect the nature of the mythological depictions in the Indian art. Line to me is my strength through which I express my inner feeling of aesthetics."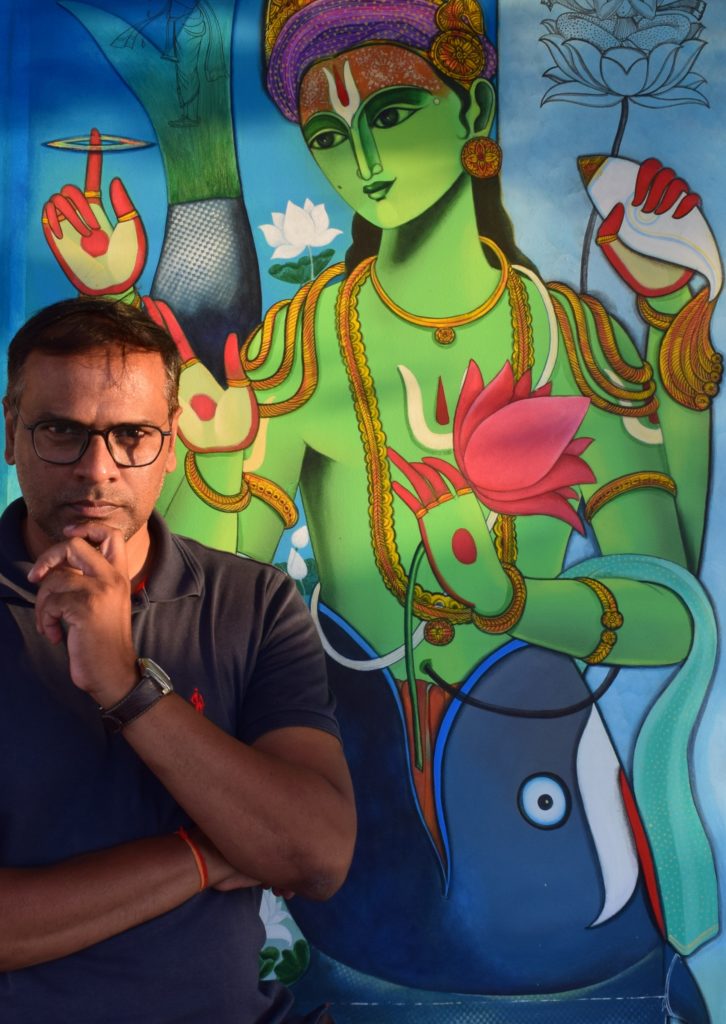 What's your artistic background?
I was born in Thoompally village, Telagana. Since childhood I had an affinity towards drawing and painting. So, after finishing my education in  school in Nizamabad I went onto graduate from JNAFAU Hyderabad and my post graduation in mural painting from Baroda, MS University.
What's integral to the work of an artist?
As an artist I believe individualized expression, connotation and commitment to one's thought process is an integral part of creation. My work is the core aspect of my existence. Work for me is akin to worship; I work with the kind of dedication and belief that a devotee has.
What role does the artist have in society?
As an artist I am sensitive and aware about the fact that my work carries a message, a thought which will be perceived by the viewer. An artist can stir the minds of the viewers with his work and initiate myriad thought processes, so I believe that an artist plays a very important role in the society as he absorbs the experiences from the society and recreates them in his work.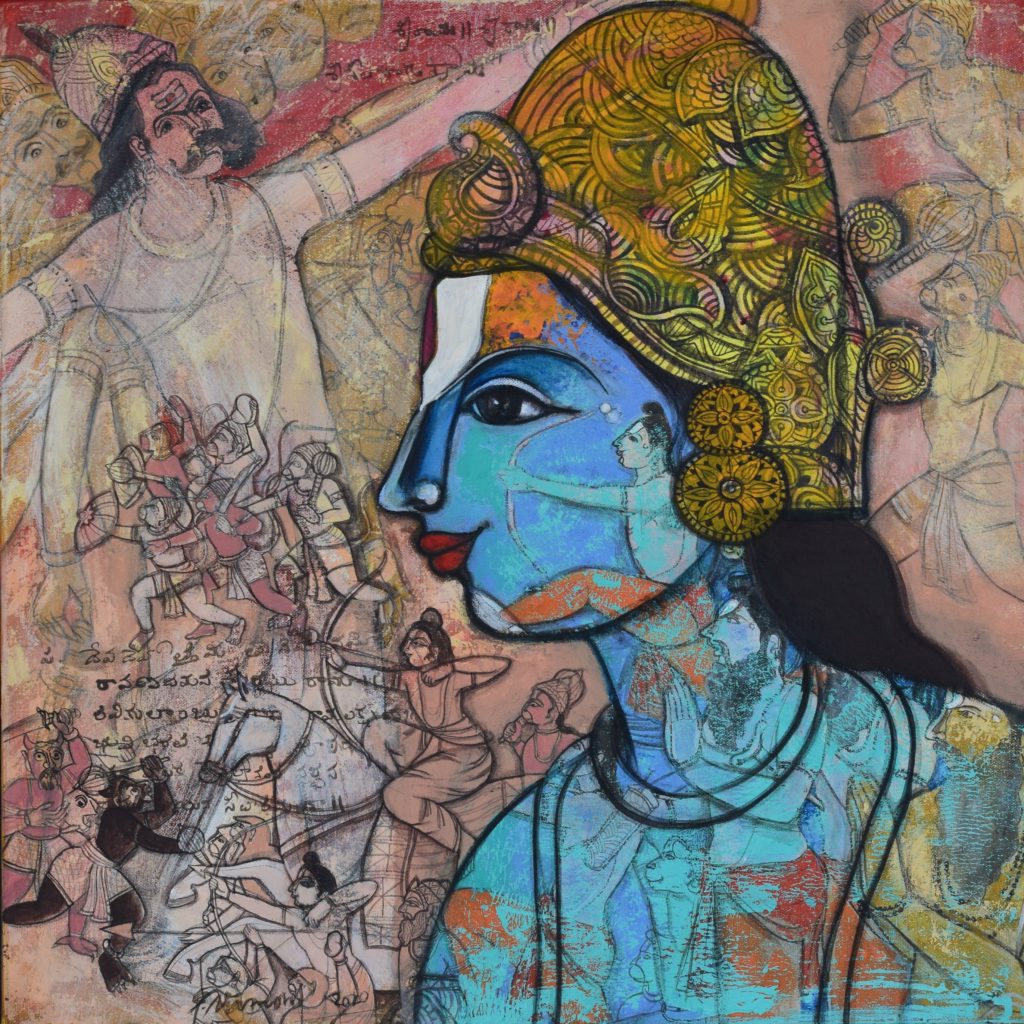 What art do you most identify with?
Since my body of work revolves around Hindu mythology and texts, the epic heroes and their related tales, I am forever eager to know more about them. I read a lot of texts and writings which get reflected in my work every now and then. Through my figurative work I not only create the physical presence of the mythological characters or instances but also the spiritual aspects related to them.
What themes do you pursue?
Creating and re assimilating the tales and fascinating aspects about the Indian Gods, is like a natural extension of my entity.
What's your favourite art work?
With each work I discover something new about the vastness of the absolute strength. The anecdotes and nuances mentioned in our scriptures are innumerable and never cease to enthrall me. I read profusely about the Gods and yet every now and then I come across a completely new dimension about their attributes or their characteristics. There are so many details attached to these seamless allegories that one can keep on working on them and yet be able to cover only a small part from their sublime, unbounded realm. For me each work is like a form of worship, of the almighty. Just as Vishnusahasranaam contains thousand different names, of the same God, my paintings are many reflections and depictions of the single divine strength.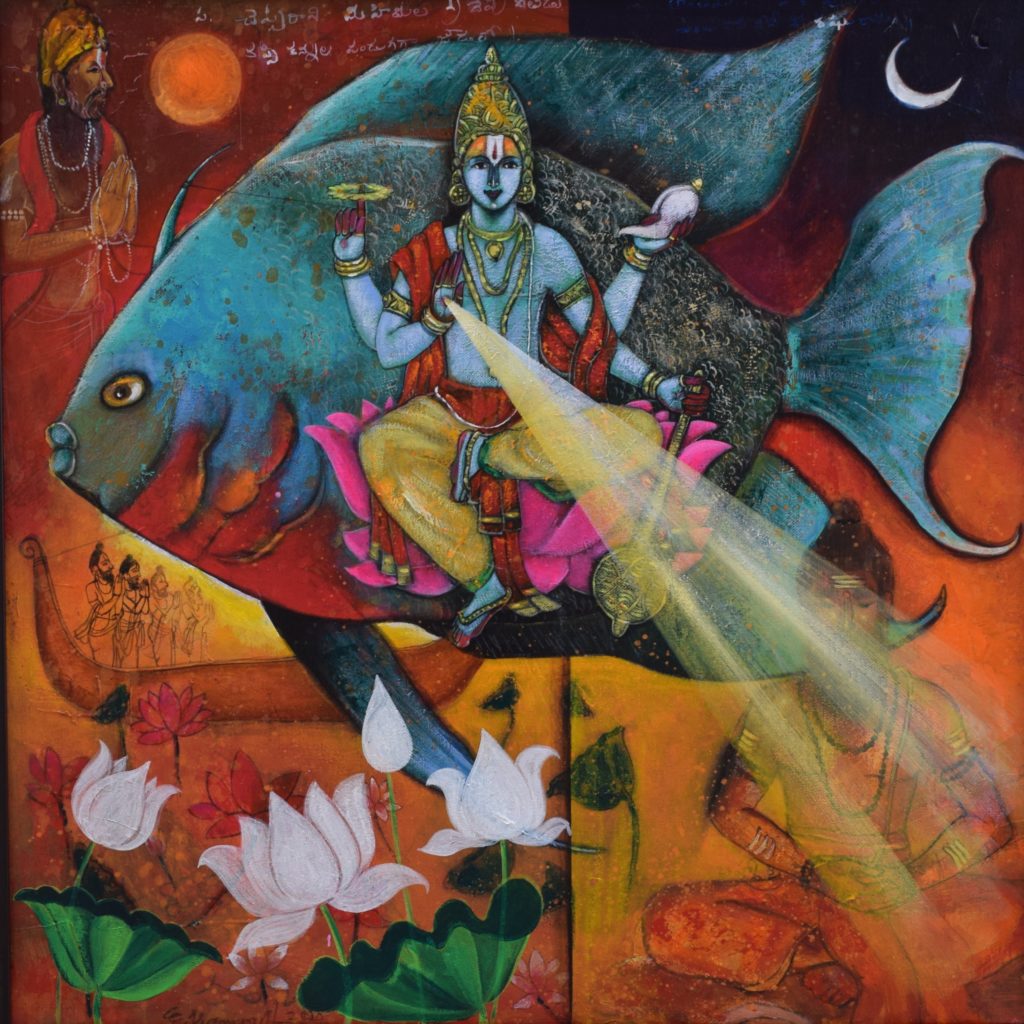 What jobs have you done other than being an artist?
I used to do illustrations for children's books for Mother Teresa Publishers.
Why art?
Art for an artist is not a choice; it's like a natural extension of the self. Art exists like an innate impulse, affinity and quest in the artist, to be creative.
What is an artistic outlook on life?
Art is a way of life, it cannot be viewed in isolation, it exists as an integral part of my life. Art makes the artist more sensitive towards his surroundings. In my journey as an artist I have discovered that the four mantras for success are discipline, patience, positive thinking, and worship.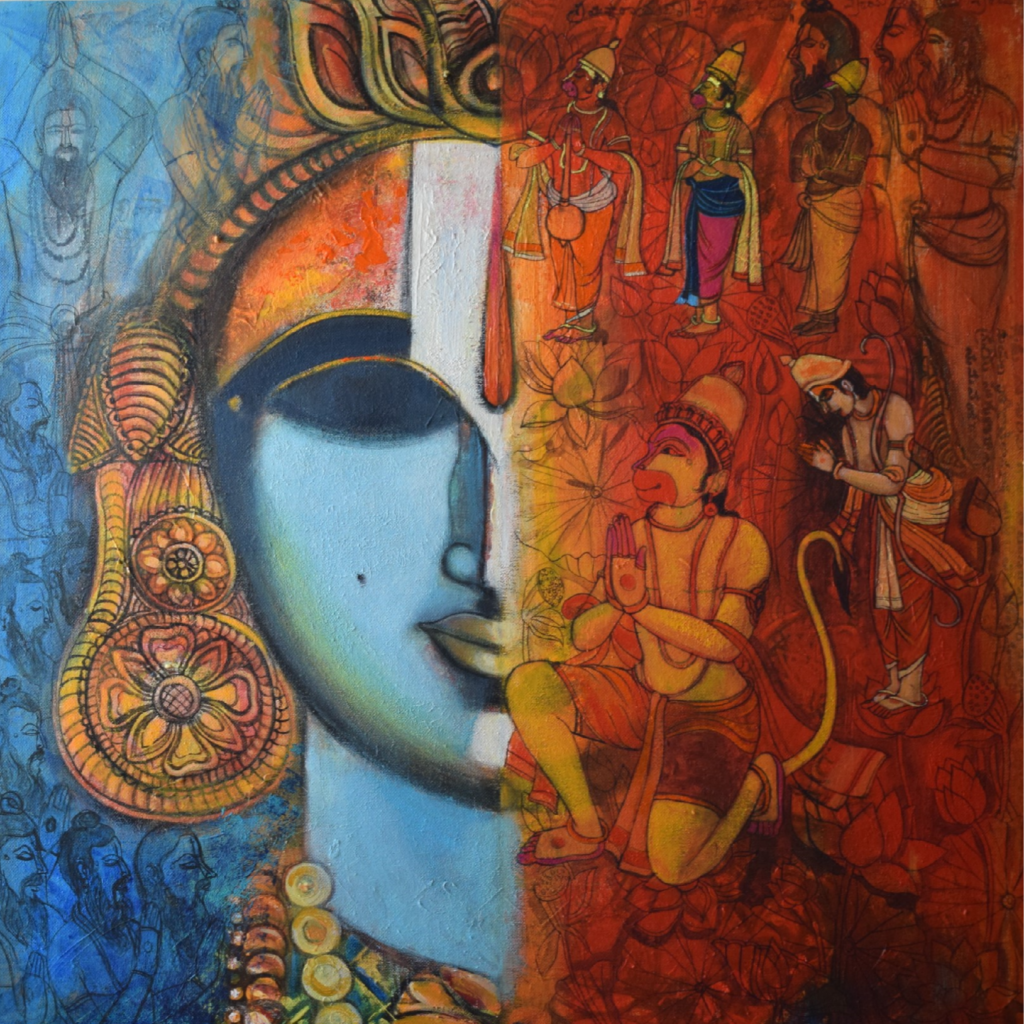 What memorable responses have you had to your work?
The most memorable response I have received was from my father when he said that I could do wonders if I continued working.
What food, drink, song inspires you?
The food that inspires me is South Indian food, the drink that I like is milk and the song that I love to listen and inspires me is the lyrical version of Hanuman Chalisa.
Is the artistic life lonely? What do you do to counteract it?
I don't think an artistic life is lonely because I always interact with my brushes, colours and canvases.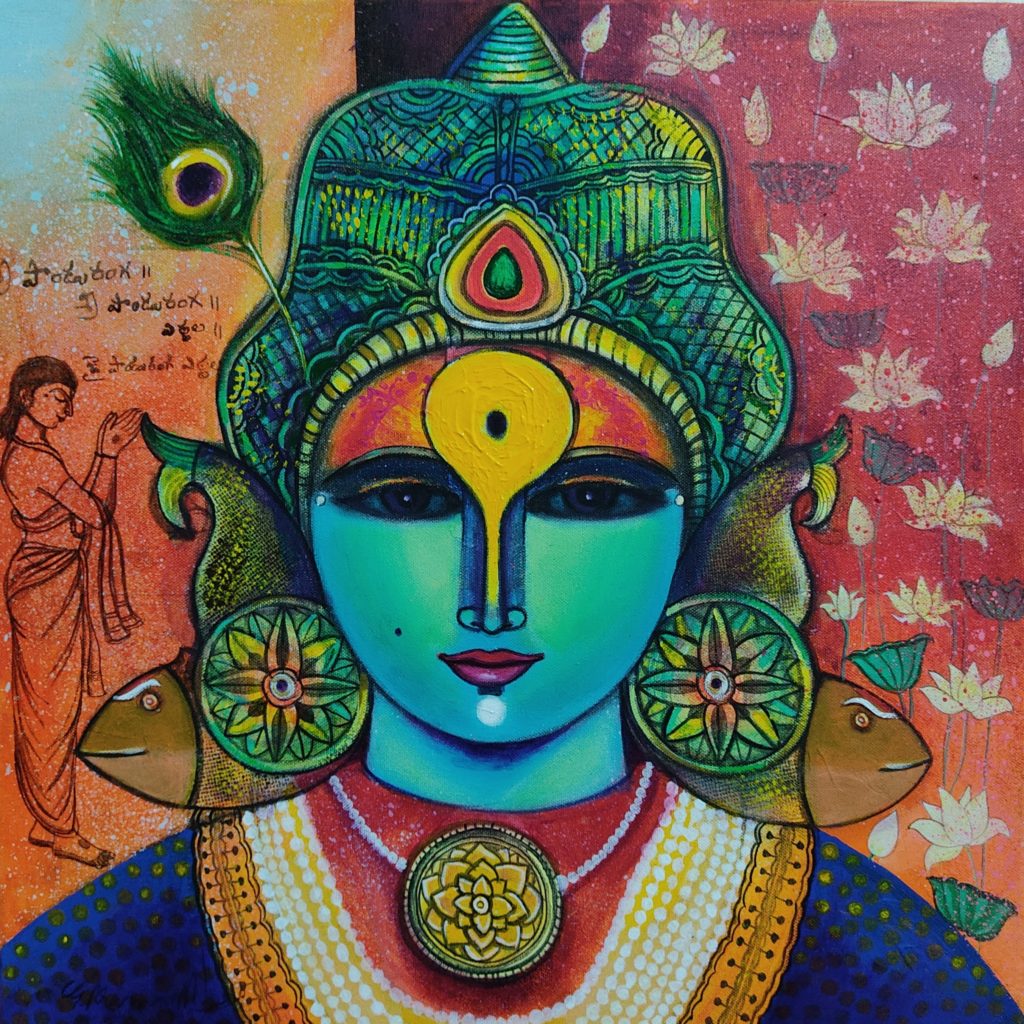 What do you dislike about the art world?
I feel that the world of art should not get influenced by unhealthy politics.
Should art be funded?
Yes, funding is most important for an artist to develop the abilities of artists.
What role does arts funding have?
Funding is most important for visual artists because, it helps the artist to do his best and at the same time, it's a sign of encouragement to an artist.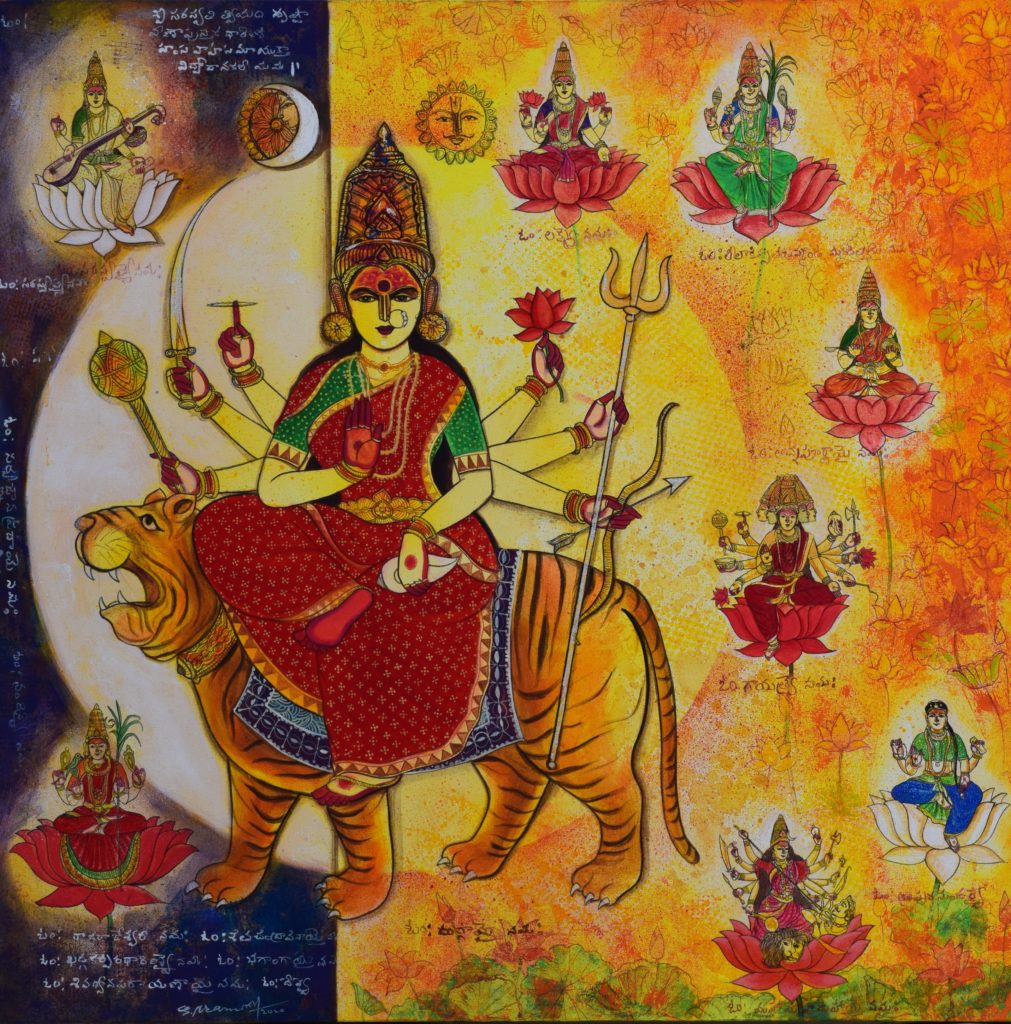 What is your dream project?
My dream project is to showcase the Untold Stories of Hindu Mythology and I am currently working on it.
Name three artists you'd like to be compared to.
No, I don't want to get compared with any artist because, every artist has their own unique style and no artist can match with another but, there are artists who inspire me and they are Jamini Roy, M.F. Hussain and Ganesh Pyne.
Favourite or most inspirational place?
My most inspirational place is my village Thoompally and I've also named my studio as Studio Thoompally.  I still remember the oral storytellers known as Burra Katha who used to come and perform in my village and these people inspired me.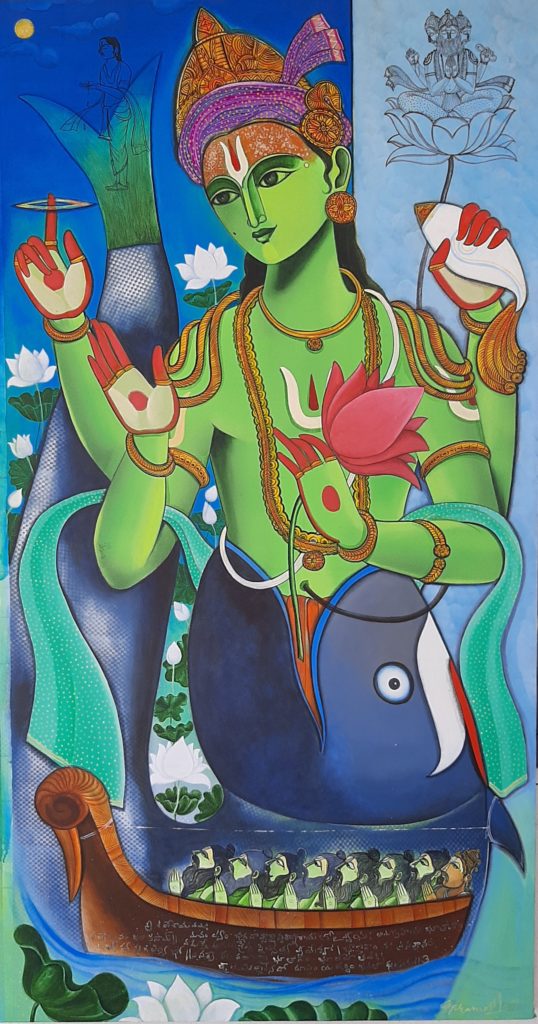 What's the best piece of advice you've been given?
The best piece of advice I give is to never stop working.
Professionally, what's your goal?
My goal is to create to the best of my abilities.
Future plans?
Along with paintings I want to create wooden sculptures as well in the future.