Art has always been a part of Peter's being. There were no defining or pivotal moments which determined the course of his life. His need to paint has always been as vital as breathing and eating; providing necessary fuel for the mind and soul. His passion for people was reinforced through years of travel after graduating from the Textile Design School in Belgium. Peter uses his unique style to capture emotion, mood and feeling through pallet knives and acrylic paint on large scale canvas.  Peter's disciplined approach to his art is reflective of the same dedication needed for his other passion as a triathlete and his core belief that life is beautiful.
What's your artistic background?
My parents did not believe in art school and wanted me to pick a more serious career. I was only interested in painting and drawing so I decided to become a textile designer. This choice was only based on the fact that it had many hours of drawing and painting classes.
What's integral to the work of an artist?
To me it's the relation I have with my medium. My pallet knife, my heavy body acrylic paints and with those tools I'm able to put a vision on a canvas. The more I paint the more I learn from myself. It's a pure and honest relationship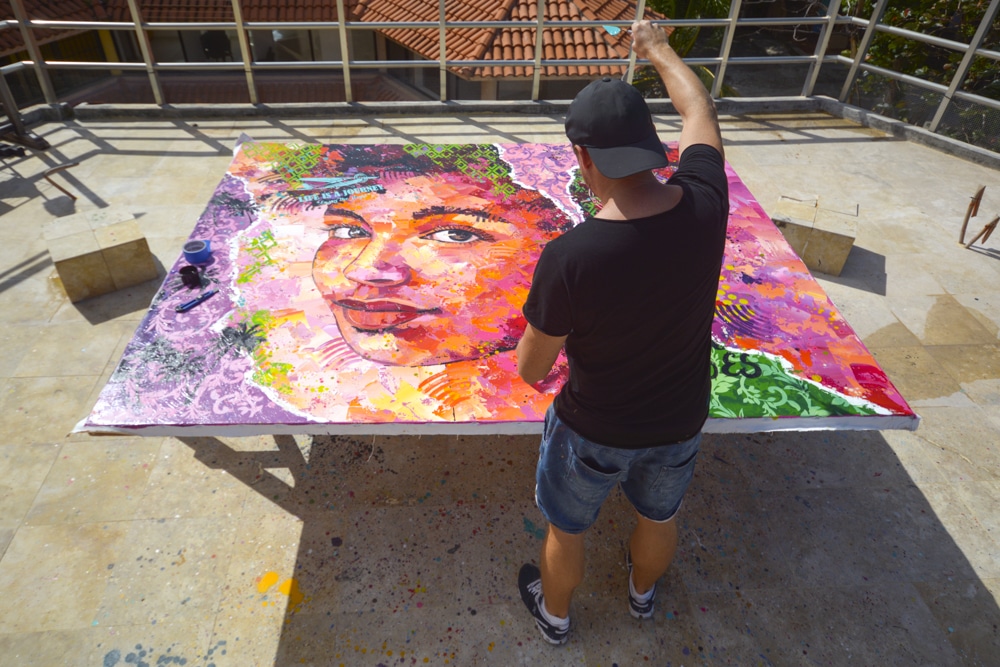 What role does the artist have in society?
I'm not going to go into a complex answer here because every artist will probably answer this question differently. I like to bring joy into people's life. Bring colors that can bring a smile or a memory about a summer love on dark winter days. People turn to movies, poetry, paintings, music and more as a way to escape from things they can't control. When life feels unfair art gives me the freedom to push back. It gives me a different kind of voice.
 What art do you most identify with?
My art heroes are all painters, so I guess I identify most with painters. Adding some splashing and dripping to my canvas like Pollock. Painting huge faces inspired by the huge sizes of Chuck Close. Use of colors like Andrew Salgado is doing so amazingly and I can go on and on about all those masters who inspire me. I need to live another 200 years to even reach to 1% of their talent.
What themes do you pursue?
That depends of the mood of the day. It has been a lot about human emotions but since I have been working in my new studio in the jungle I started to get hugely inspired by natural surroundings.
What's your favorite art work?
The one I will create tomorrow. I'm never 100% satisfied with my work and I always finish the painting with the feeling that I can do better. I hope I will never lose this as it pushes me every day to do better and eventually that improves the quality of my work.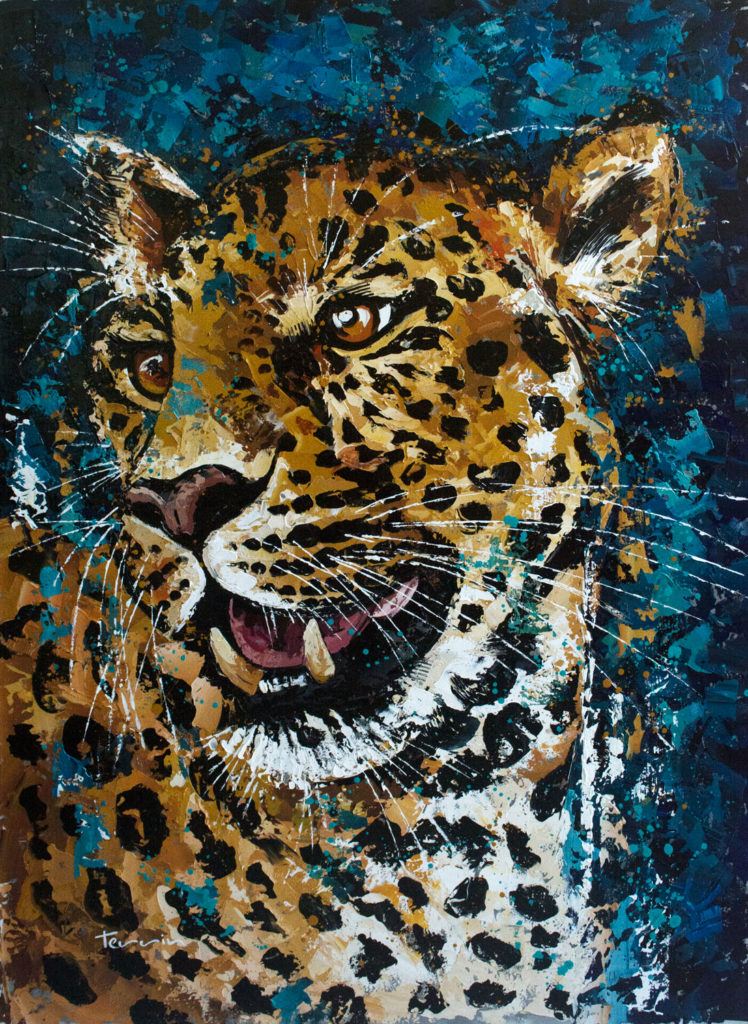 Describe a real-life situation that inspired you?
I was really moved by the black lives matter movement. I was born in a middle class family in Belgium and I always had everything handed to me on a silver plate. The chance to go to a proper school, the chance to a proper education. Nobody ever questioned me because of the color of my skin but it's clear that this is not the case when you are born with a dark skin. I was so moved about the riots and the violence that followed after the George Floyd case that I felt I had to paint it out of my system. I'm proud about that painting and I really hope we can throw racism out of our lives one day.
What jobs have you done other than being an artist?
I worked as an entertainer in all inclusive resorts around the world. I was hired as a set designer for evening shows and in the day time I kept the tourists entertained by organizing sport events. I did this job for 13 years and I absolutely loved it. As a teenager I also worked in a chocolate factory and in a furniture factory. I have tons of respect for people who work nine to five in factories. It is often hard labor and is never paid enough.
Why art?
Because I suck at everything else.  You should see me trying to be the handy man. My girlfriend always laughs at me when I try to fix or repair things. I'm an absolute disaster. I'm struggling with changing a light bulb! I love being creative and I feel the luckiest person on the planet that I can make a living with what I love doing most. Painting!!
What is an artistic outlook on life?
I live a great life. I'm my own boss, I am free to paint and work when I want. If I don't feel like painting I take the car and go to the beach and if I feel like changing scenery I can board a flight and fly to New York.  I use my creativity in my garden and in the way I decorate my house. I like to surround myself with creative people and with people who are way smarter than me. I like to learn and taste the unknown. I love to travel to forgotten villages and listen to stories of the elderly. I love my family and my friends. I see life as a big juicy apple and every day I can't wait to take a bite of it from the moment I wake up.
What memorable responses have you had to your work?
I have a lot of collectors that come back to me for a second or third painting. That always brings joy to me. Some of my collectors have become friends. I also had memorable bad reviews. In the beginning of my career I took my artwork rolled up under my arms and walked into galleries with an attitude of 'I'm the next big shot in the art world'. I laugh about it now but of course almost all of those gallery visits turned into huge disappointments and massive blows to my young and fragile ego.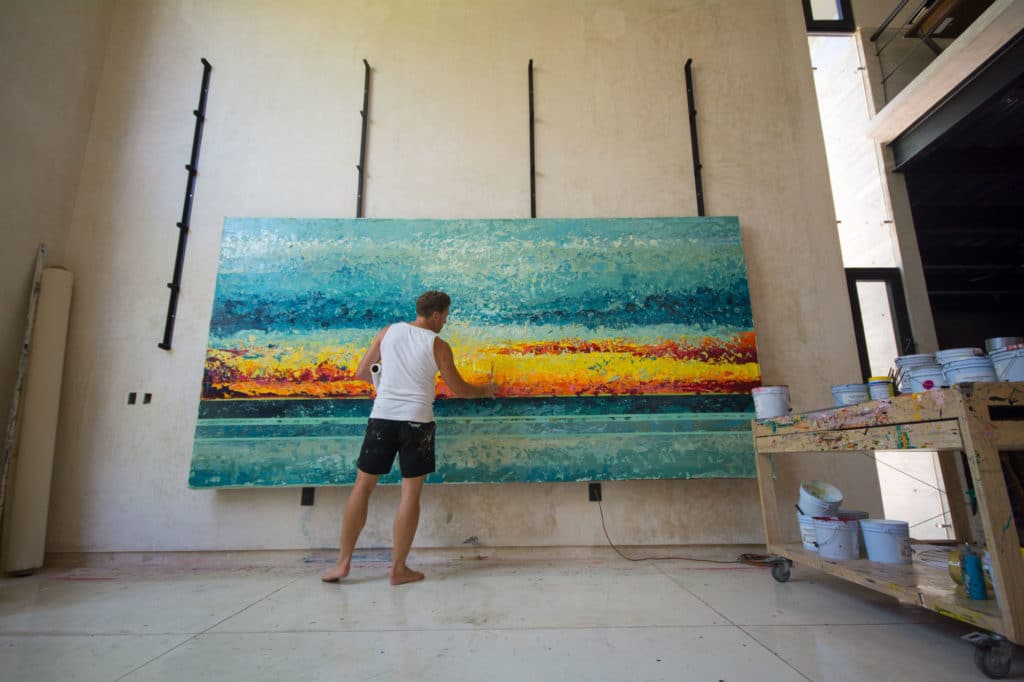 What food, drink, song inspires you?
I love good food. Thai and Indian food is heavenly, I love Mexican cuisine and of course mama's Belgian food. But I can't really say I'm inspired by it. Music on the other hand, that does inspire. That can be classical music, film music, U2, Coldplay ,Jazz, Blues ….you name it. Music often ensures that I am in the right mood to paint and my studio is for that same reason never without music.
Is the artistic life lonely? What do you do to counteract it?
It is a lonely life yes but that's ok. That's what I need and want. When I decided to build my house and studio in the green and calm surroundings of the jungle here in Mexico, it was exactly meant to have those lone moments. Me in my studio, my pets on the sofa, my music on and I completely disappear into my work is one of my favorite feelings. But as soon as I'm done with painting I look for the company of my partner. I invite friends over or go to a restaurant and socialize. I compensate those lonely moments during the day by socializing at night.
What do you dislike about the art world?
I never really felt at home in the art world. It's often a very snobbish world, full of huge egos and people who love to put you down and bombard you with nasty comments. I always look for the good in people and my friendly approach has opened many doors in my life. Not just in the art world. I still feel I'm not part of that exclusive club of high end art galleries and museums. But that's ok, I have made peace with that. I do have a lot of clients and returning clients. My art sells well and I make an honest and decent living. I think I must be doing something good to many .I'm no longer looking for approval in the art world.
What do you dislike about your work?
It confronts me with my insecurities and often causes self-doubt. I want to reach the level my art heroes have achieved but me not getting there yet frustrates the hell out of me. If I look at the work of Picasso I think often to myself  'what the hell are you doing Terrin'.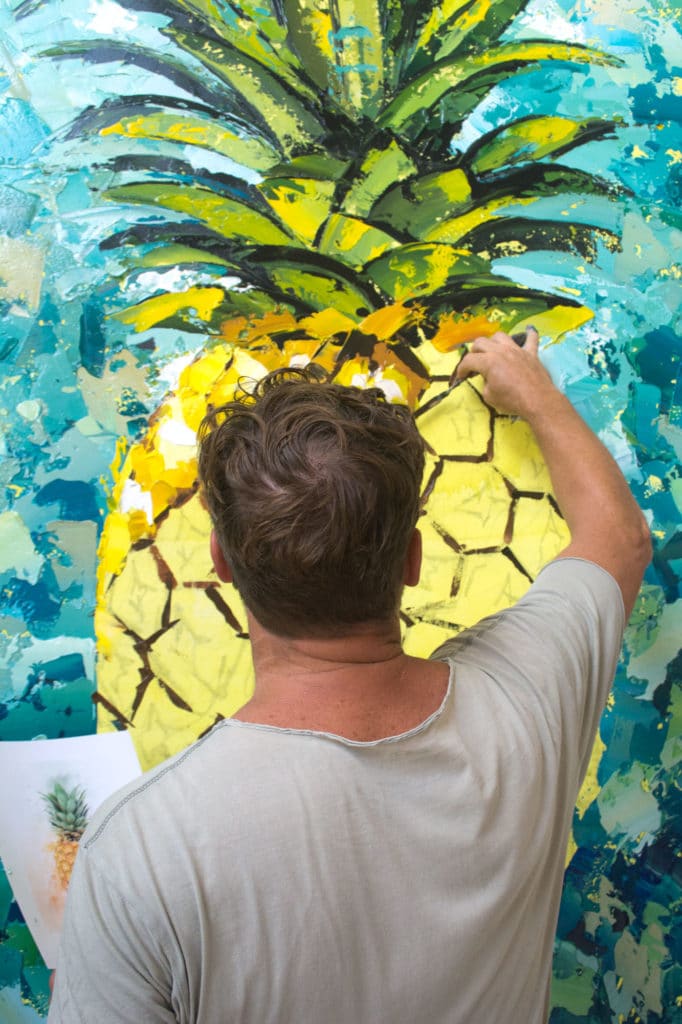 What do you like about your work?
I am happy that finally I feel I have found a signature style of painting. For many years I felt I did not have a proper style. But now, after more than 25 years of painting it is there. I love it when people see my work hanging in some gallery and tell me they recognized my work without even looking at the signature.
 Should art be funded?
I think art should be funded.  A lot of talent gets lost because the money to survive isn't there. On the other hand this is exactly the reason I turned my poverty into a way of earning money. It was the drive and the passion and the stubbornness to get out of my misery that kept me going. So I don't know if funds provided by the government would have brought me to where I am today. But for sure to many other artists a government funding would make a huge difference. So, my answer to your question is a big yes.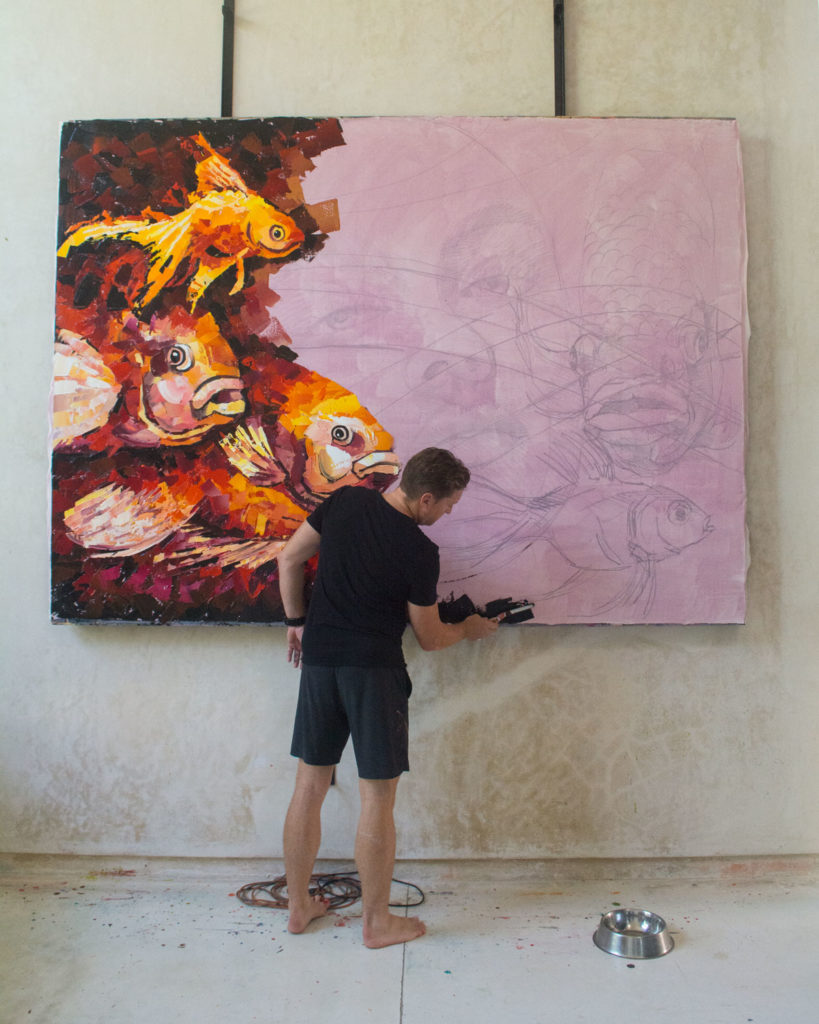 What role does arts funding have?
If you get funding that is enough to pay rent, food and materials you can focus 100% on your art and you don't waste time in jobs that only take you away from your creativity. Governments around the world often spend millions on ridiculous projects. Why not invest in art.
What is your dream project?
The bigger the job the better. I would love to receive a commission for a 3 by 15 meter canvas for example. A canvas for a huge public library or a university or even a well-known store somewhere in a big city. I also would one day like to take on a project like Vik Muniz did in the documentary Waste Land. Take my van and travel with a friend to remote small villages in Mexico. Look for fascinating characters and listen to their stories. Painting their portraits and with the money I make from them doing something that will make a difference in their lives. Like getting a roof fixed, or buying equipment to start a small business or paying a dentist so we can fix a smile . Showing the world that art can make a difference for even the less fortunate among us. I've had this idea in my head for many years now and one day I will take up this challenge.
Name three artists you'd like to be compared to.
I will have to go with my favorite artists because I really look up to them even if my style is completely different.  Chuck Close, for his original but brilliant way of painting, his discipline and his huge size canvasses. Gottfried Helnwein, for his exquisite craftsmanship, his vision and the beauty he is able to put into his images. Andrew Salgado, for his use of colors and for his ability to reinvent himself time and time again. I really envy him in a healthy way for this
Favorite or most inspirational place?
I have lived on the island of Ibiza (Spain) for 13 years and even if it's known as a party island I was able to find the real magic of this place. The beauty of it's nature, the hippy vibe, the feeling of freedom , the food, the eclectic scene and the fact it's only a 2 hours flight to my home country in Belgium makes this for me the most fascinating place I've experienced so far. Unfortunately it has become too expensive to live there and that was the reason I left the island 15 years ago. Now I live in Mexico and besides the bad press this country gets because of it's drug cartels I can honestly say I like it here. I love the people and its traditions. This country has welcomed me with open arms and has given me amazing opportunities. I am very happy where I live today.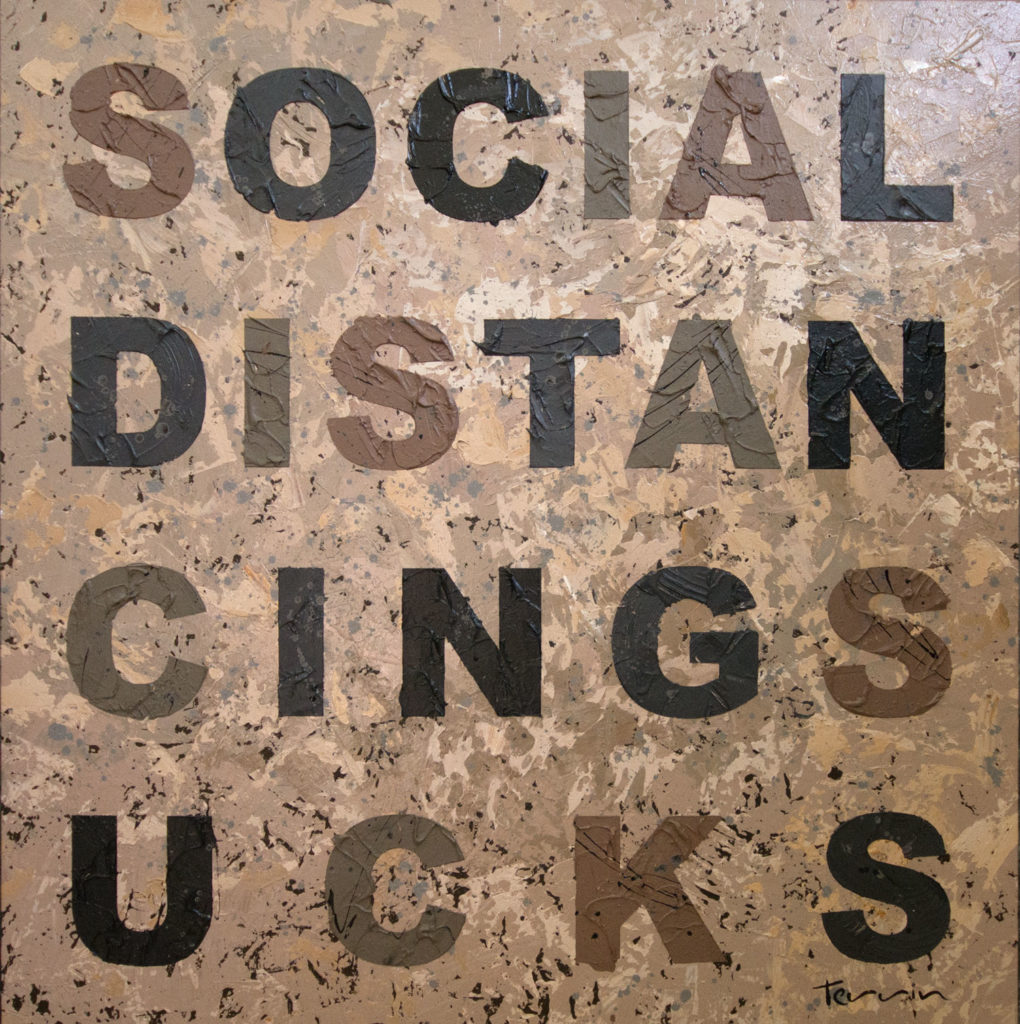 What's the best piece of advice you've been given?
It might sound strange but I always remember my father's words about spending money. If we went on holiday for example and my mother would look at the prices on the menu and tell my dad. " I'm not ordering that cocktail because it's too expensive" he would always say. Take that cocktail, enjoy life when you can. If you sit on a terrace in the famous Champs Elysees street in Paris and a coffee costs 15 euro. Then pay for that coffee, even if 2 blocks away you can get it for half the price. You are drinking coffee in the Champs Elysees, one of the most famous streets in the world. Embrace that moment, enjoy every second of that expensive coffee on that beautiful street." I often repeat that same story when I'm out with my girlfriend. She always laughs about my Champs Elysees story and often responds…" That story will end us up in bankruptcy.
Professionally, what's your goal?
I want to be able to make a living as long as I live with my art  without having to worry if I will be able to pay my bills. That's all I want. I don't see myself retiring ,I don't want  millions in the bank, I don't have the ambition to hang next to the Mona Lisa in the Louvre. I just want to paint, for a long as I live .
Future plans?
I hope I will be able to travel to Belgium soon. Because of the pandemic I haven't seen my friends and family. I can't wait to hug my mum, to give a big kiss to my sister, to go for a Belgium beer with my childhood friends, to eat mussels in white wine sauce, to walk along the waters in Bruges, to smell the aromas of the Belgian coastline or the farm lands of the Flanders. You can probably tell I'm a bit home sick. So if you ask about my future plans, I'm going to keep it simple. Take me to Belgium.