Currently Nicolas Lambert is the Executive Pastry Chef at Four Seasons Hotel Lion Palace St. Petersburg, having joined the team in 2018 from Four Seasons Hotel Hong Kong where he was the Pastry Chef at the two Michelin-starred restaurant Caprice.
"Coming from a family of boulangers and pâtissiers, it was perhaps inevitable that my twin brother and I should follow in the same footsteps. The seeds of pastry making were planted in me since the age of two. I learned the craft and rigor of baking at the feet of my parents in their quaint bakery in Epinal, France. My mother and father still bake croissants and baguettes there every morning. My career started at 15 years old by shadowing Philippe Torti at Pâtisserie du Musée at Epinal, where I worked as an apprentice while studying simultaneously," he says.
After 5 years and 3 diplomas, it was time to leave the nest and his first stop was Nancy, working at Patisserie Yves Musquar for his first experience in the working world. It was not too long before an amazing opportunity presented itself and he took it without any hesitation. They were looking for a commis in Lyon at Patisserie Sebastien Bouillet, so he was rewarded by being offered a job there.
It was also where he entered into his first pastry competition, which he won and became the youngest winner of the Festival National de Croquembouches. Two and a half years later he moved on to Paris, to work at The Plaza Athene as a Chef de Partie under one of the greats, Christophe Michalak (World Pastry Champion 2005). Hotel business was a whole new experience, one that he enjoyed for every ounce of learning. During his time in Paris, he enlisted in another competition, the Trophée Pascal Caffet and won the Prix Spécial Présentation Bonbons. Destiny intervened, when 2 years later he moved to the south of France, in Cannes to work as the Sous-Chef for Jerome de Oliveira (World Pastry Champion 2009). Because a month into his new job an intern arrived who would later become his wife.
"We had a big production kitchen, managed a great team, received interns from many international schools and opened up new boutiques. A couple of years passed and I felt as though I had learned and traveled all around France and it was time to experience the international world. I moved to Hong Kong for my first Pastry Chef experience in Caprice. I did not speak a word of English then! It was a straight up battle from the beginning, between learning the ropes of a Michelin starred restaurant, adapting to life in a foreign country and managing a team of Hongkongers as well as learning a new language! It was a crazy, all-around growth experience and I loved it. My struggle was quickly rewarded when 6 months after my life in Hong Kong I was elected Best Pastry Chef 2016 for Hong Kong and Macau by Tatler Magazine. I lived in Hong Kong for 3 years but I feel it would have taken me 6 years in France to gain the same work experience. Hong Kong is a city that lives constantly on the fast track. Especially in the restaurant world, every day feels like a Saturday night! My hard work payed off again with the award for Best Pastry Chef 2018 for Hong Kong and Macau by Tatler Magazine. Leaving Hong Kong was bittersweet as I was in need of a new challenge but also felt grateful for everything it had given me," he reveals.
He was chosen as the youngest ever Asia's Best Pastry Chef 2018 according to The World's 50 Best Restaurants. His next stop was Russia! His experience in St. Petersburg has exceeded all of his expectations as he has met amazing people in this city, enjoyed the changing seasons and learned about the Russian culture. And this city has been engraved forever in his soul because Chef Nicolas Lambert became a father here!
What inspired you to become a pastry chef/chocolatier? You've been in the
industry for quite some time. Would you have done anything differently when first starting out?
I was born in my parents' bakery, which is why baking came naturally to me.
What is the philosophy and ethos behind the food you create?
I like things simple with not too much flavor mix.
I only use basic pastry recipes because it's not easy to master these recipes and there is a lot to do with them.
What is your baking style/chocolate making style and the philosophy behind it?
I like slow cooking at low temperatures in order to cook to the core and give a maximum of taste.
I like to play with chocolate and there is a lot to do with it but I always think about creating something easy to reproduce for my team.
What's your favourite comfort food? What's your favourite pastry or cake or baked product or type of chocolate ?
Paris Brest in winter and Fraisier in summer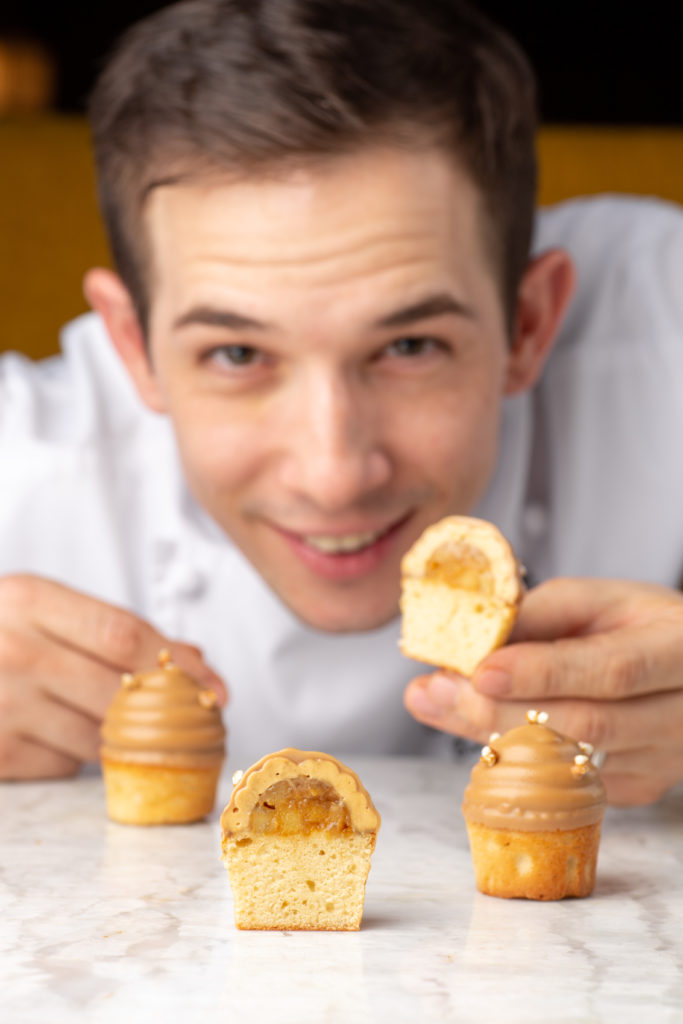 Who or what was your inspiration to become a chocolatier?
I don't consider myself a chocolate maker because I only know how to master the basics.
It is truly a magnificent profession in it's own right. But I am a big fan of the work of Patrick Roger.
What is your advice to aspiring chocolatiers?
My advice to aspiring pastry chefs and chocolatiers is to learn the basics of chocolate well in order to get started in anything and learn alongside a great chocolate maker.
Future Plans?
I don't believe in planning for the future, I always waited for the right proposals to come to me and after I take the time to make the right decision as we are never sure of anything in life. You just have to choose your path by intuition
Would you consider yourself as an artist? Are you inspired by
artists when you create your products? When you create different products everyday where do you get inspired from?
No I do not consider myself as an artist at all but as a pastry chef who makes cakes.
I am inspired by nature and everything that surrounds me every day.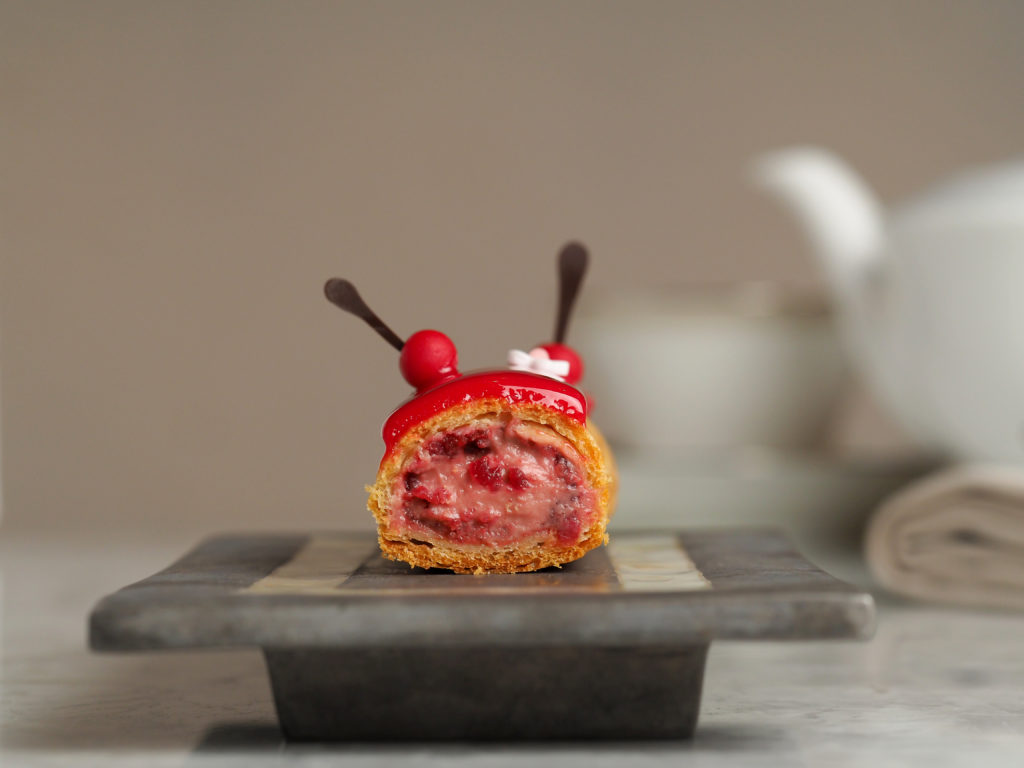 What would you say is the key/winning feature of your creations?
My creations look so good that one immediately feels like eating those products. And that visually we immediately understand what the dessert is made of.
What are the most important considerations when crafting your menu?
While crafting my menus, I try to keep in mind everyone's desire. In my experience people prefer simple things that reassure them.
Have you ever considered being a vegan chef? How practical is it being a pastry chef/chocolatier?
No i have never considered being a vegan chef never and I don't think I can be because I am French and our dairy products are too important in our pastry bases.
What's your signature dish/signature chocolate?
I don't think I have a signature dish; this decision i would prefer to leave to my customers/guests who define it by themselves.
My signature dishes change with time and the seasons.
How has the current pandemic affected your work?
Unfortunately I lost 50% of my team and all my projects are postponed to 2021.
When the lockdown is over, what is the first restaurant you'll be heading to and what will you order?
Birch restaurant here in St Petersburg.
Which is the dish/chocolate you've created that you are most proud of and why?
To be honest I don't really have one, as I told you it changes over time and usually I am always proud of the creations that I can make or I would not create those in the first place.