Marius embarked on his culinary journey by starting at Pierre Hermé's, and from there, he explored various facets of the pastry world to further enhance his skills. He honed his craft at notable establishments such as 'Dalloyau Paris,' working alongside Nicolas Bernardé, and later at the Mandarin Oriental under the guidance of Chef Thierry Marx (2* Michelin), as well as at the esteemed Pavillon Ledoyen with Chef Christian Lesquer (3* Michelin).
Subsequently, he spent nearly four years alongside Christophe Bacquié (3* Michelin). However, the pivotal moment in his career came when he assumed the role of pastry chef for Chef Pierre Gagnaire (3* Michelin). It was during this period that he found the utmost freedom to nurture his creativity and achieve significant milestones in his professional journey, fostering a sense of fulfillment, harmony, and creativity.
When the pandemic emerged, Marius found himself in the Occitanie region in the south of France during the lockdown. During the day, he immersed himself in the world of permaculture and bio-dynamic farming, connecting with the earth and attuning himself to the rhythms of nature. After the lock-down, Mirazur beckoned him, prompting him to align his pastry expertise with the restaurant's environmentally-conscious approach. Now, alongside Chef Mauro Colagreco, he is dedicated to a vision—one that seeks to embrace the intangible, the subtle intricacies within the realm of the living.
 What inspired you to become a pastry chef? You've been in the industry for quite some time. Would you have done anything differently when first starting out?
 I was immersed in the world of gastronomy from childhood; my father worked in this industry. Whenever we celebrated birthdays, I was always impressed by the birthday cakes he brought home from his company. There was something magical about them, and every time the same question came to my mind, 'How did the Pastry Chef create this birthday cake?' It motivated me to learn, with the goal of someday evoking wonder, astonishment, and curiosity in others.
What is the philosophy and ethos behind the food you create?
Above all, I endeavor not to confine myself to any set boundaries. I prioritize safeguarding my creative freedom and expanding the horizons of my expression. I craft new pastries daily, much like a writer composing short stories to nurture their creativity and prose. To excel in this pursuit, I remain keenly attuned to anything that might stimulate my mind and fuel my imagination. Nature, with its captivating, fleeting, and wondrous essence, serves as my muse, and I make every effort to remain faithful to it. I work exclusively with ingredients sourced from the vicinity of Restaurant Mirazur, where I am fortunate to have access to an exceptionally rich and diverse biodiversity. As for the spirit I infuse into my pastries, there are no limits, as long as the dream and magic come to life.
What's the latest trend when it comes to baking and patisserie What is one food (pastry) trend you wish would just go away?
Today, I work in a truly wonderful setting in the far southeast of France. I deliberately distance myself from prevailing trends, finding contentment in this detachment, as I aim to preserve the authenticity of my own creative expression. Being in a provincial environment necessitates redoubling my efforts to introduce my unique culinary vision. Consequently, the notion of a 'trend' becomes obsolete by the time we identify it, swiftly replaced by the next, and so on. I firmly believe that there is ample room for a multitude of pastry styles, and I am committed to ensuring that none of them fades away, for our diversity is the wellspring of our richness.
What is your baking style and the philosophy behind it?
I have a deep appreciation for art in its broadest sense, embracing its multitude of expressions. The beauty of nature is something I hold dear. I find it challenging to pinpoint my exact style, as I continually strive for self-renewal, consistently presenting a fresh perspective on my artistic vision. The overarching philosophy that informs my creations is 'open-mindedness,' and consequently, I refrain from imposing any constraints upon myself.
What's your favourite comfort food? What's your favourite pastry or cake or baked product ?
I adore the 'Parisian sandwich,' a true classic: Ham and Butter. It's all about the combination of excellent bread, high-quality butter, and delicious ham—pure delight. As for the sweet side of things, I'd have to mention a freshly baked croissant, right out of the oven, when the fragrant blend of baked pastry and butter is utterly intoxicating.
Who or what was your inspiration to become a pastry chef?
I have always harbored a desire to 'create something with my hands,' in the sense of nurturing my artistic side. Unlike cooking, pastry is not a basic necessity. It exists solely within the realm of gastronomy dedicated to pleasure. When presented with a pastry, all our senses come alive, and it has the power to touch us on a profound level, evoking intense emotions. I cherish this paradox of pastry, an ephemeral creation that eternally leaves its mark on the mind.
What is your advice to aspiring pastry chefs?
The advice I would like to give to the new generation of pastry chefs is to maintain an enduring sense of optimism and to cultivate a dreamer's soul. Instead of clinging to certainties, it is essential to embrace convictions, understanding that they will evolve and change over time. Additionally, it's crucial for them to surround themselves exclusively with positive influences.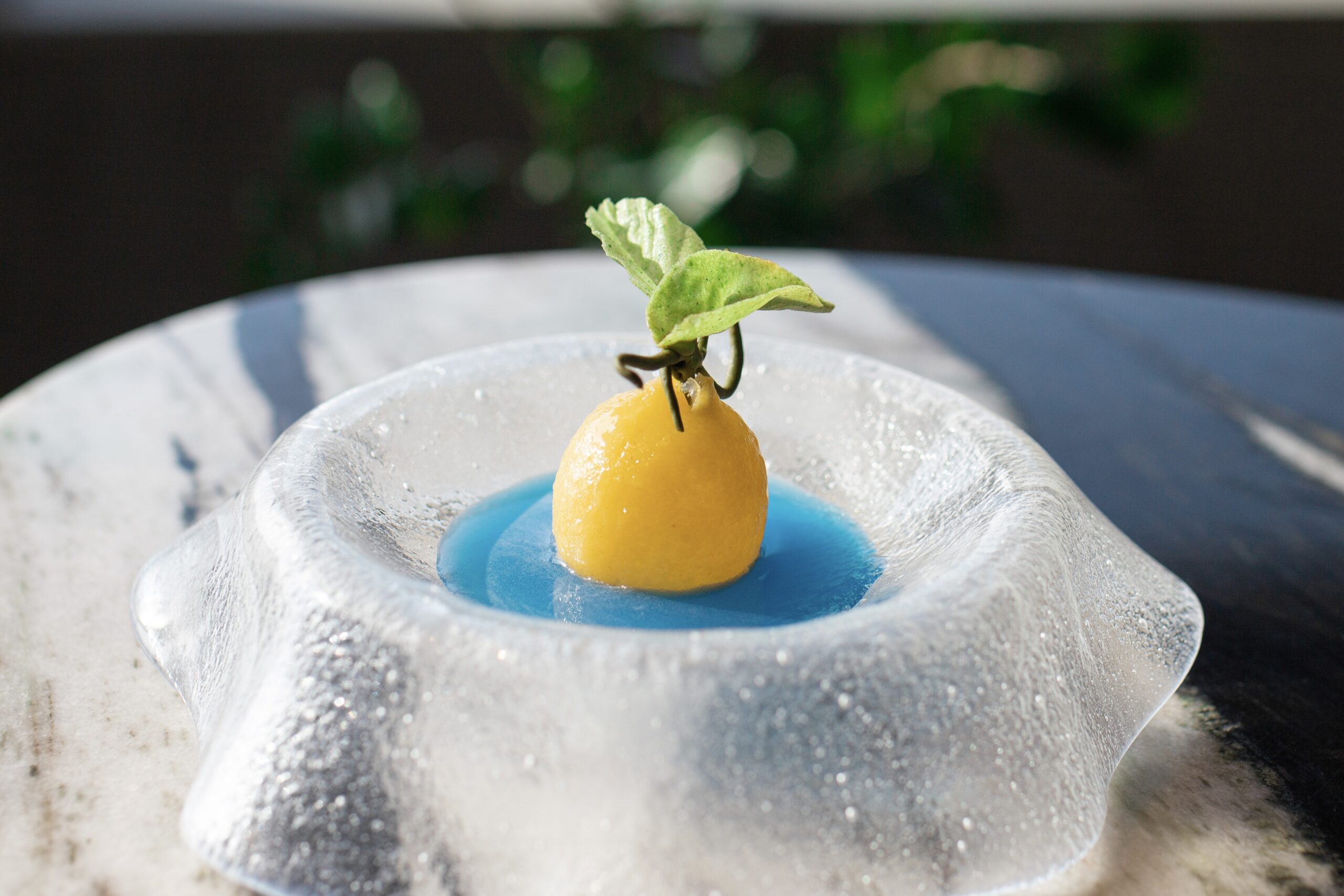 Future Plans?
I don't have specific projects; I proceed without a predetermined plan, guided by my instincts. I'm drawn to numerous possibilities; I would love to manage a luxury hotel, and I would also like to establish my own business. There are endless opportunities when you're passionate about what you do.
Would you consider yourself as an artist? Are you inspired by artists when you create your pastries? When you create different products everyday where do you get inspired from?
The profession of a pastry chef is undeniably an art. I aspire to see the vision and sweet creations I craft acknowledged as such one day. My sources of inspiration encompass a broad spectrum, including architecture, poetry, paintings, photography, history, the environment, films, sculpture, music, and more.
The topic of local food, from smaller, specialized and personally known producers, is becoming more important. What are some of your local partners from whom you source?
We are fortunate to have five gardens surrounding the restaurant, enriched by three different climates and a multitude of micro-climates. As a result, we cultivate a diverse range of products, encompassing both continental and Mediterranean varieties, as well as tropical ones. Stepping outside the restaurant, I gather yellow lemons, mangoes, carrots, and flowers. The wealth of Mirazur is inexhaustible, much to my utmost delight.
What would you say is the key/winning feature of your creations ?
 In my creations, there are no recurring key elements. I allow the dessert to dictate the story it wishes to convey. I taste, I remain aware and attentive, and I make gradual adjustments, responding to what the ingredients reveal to me.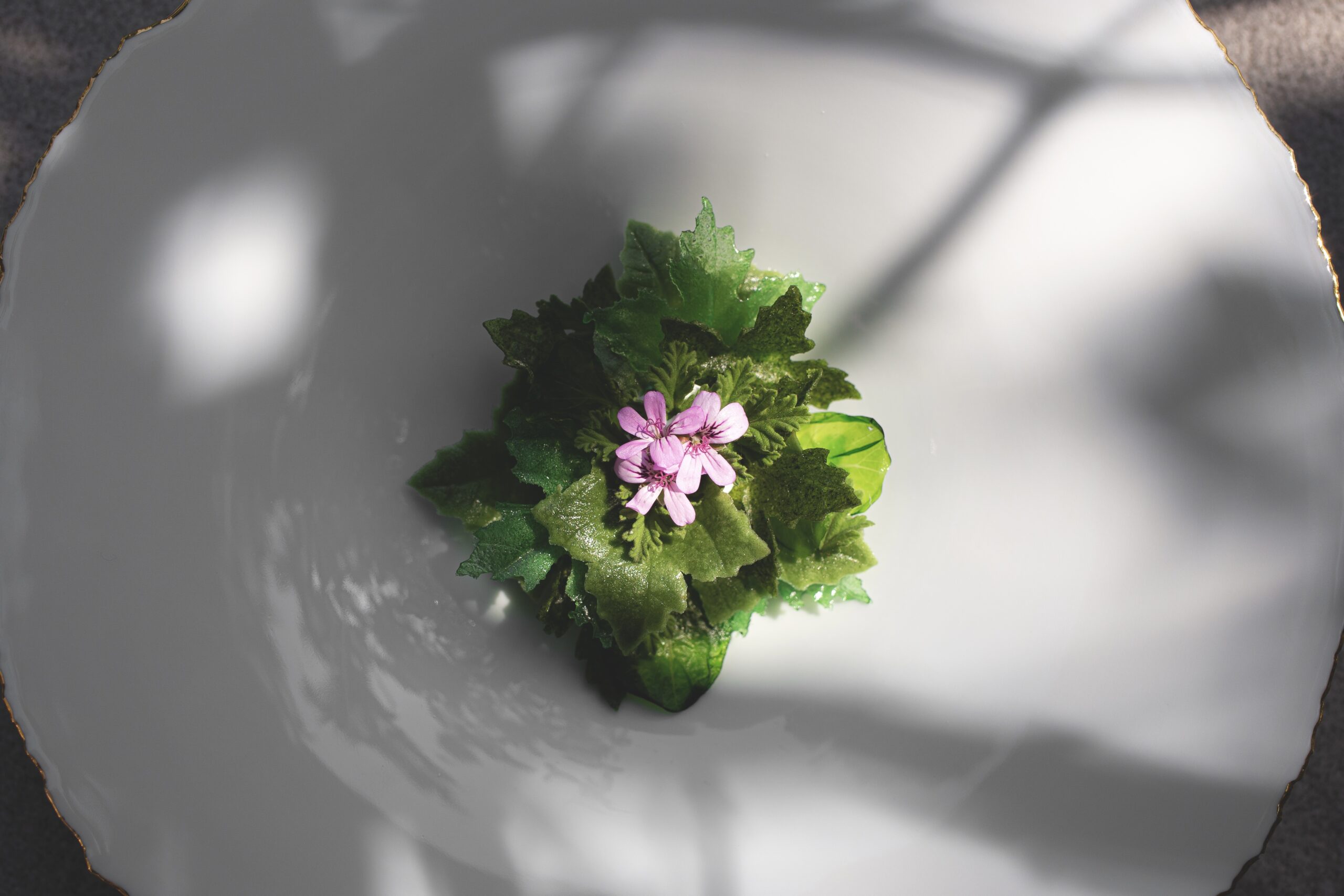 What are the most important considerations when crafting your menu?
I craft a variety of menus, and I carefully consider their balance, the comfort of the customer, as well as the influence of climate and seasonality. Cooking approaches can vary significantly based on factors such as rain or sunshine, cold or heat.
Have you ever considered being a vegan chef? How practical is it being a pastry chef?
In my profession, I encounter clients with a wide range of dietary preferences and restrictions. I create an equal number of vegan, gluten-free, halal, kosher, diabetic-friendly, and other types of pastries. My goal is to provide my creations to everyone and, most importantly, to bring happiness and satisfaction to all those who visit the restaurant where I work.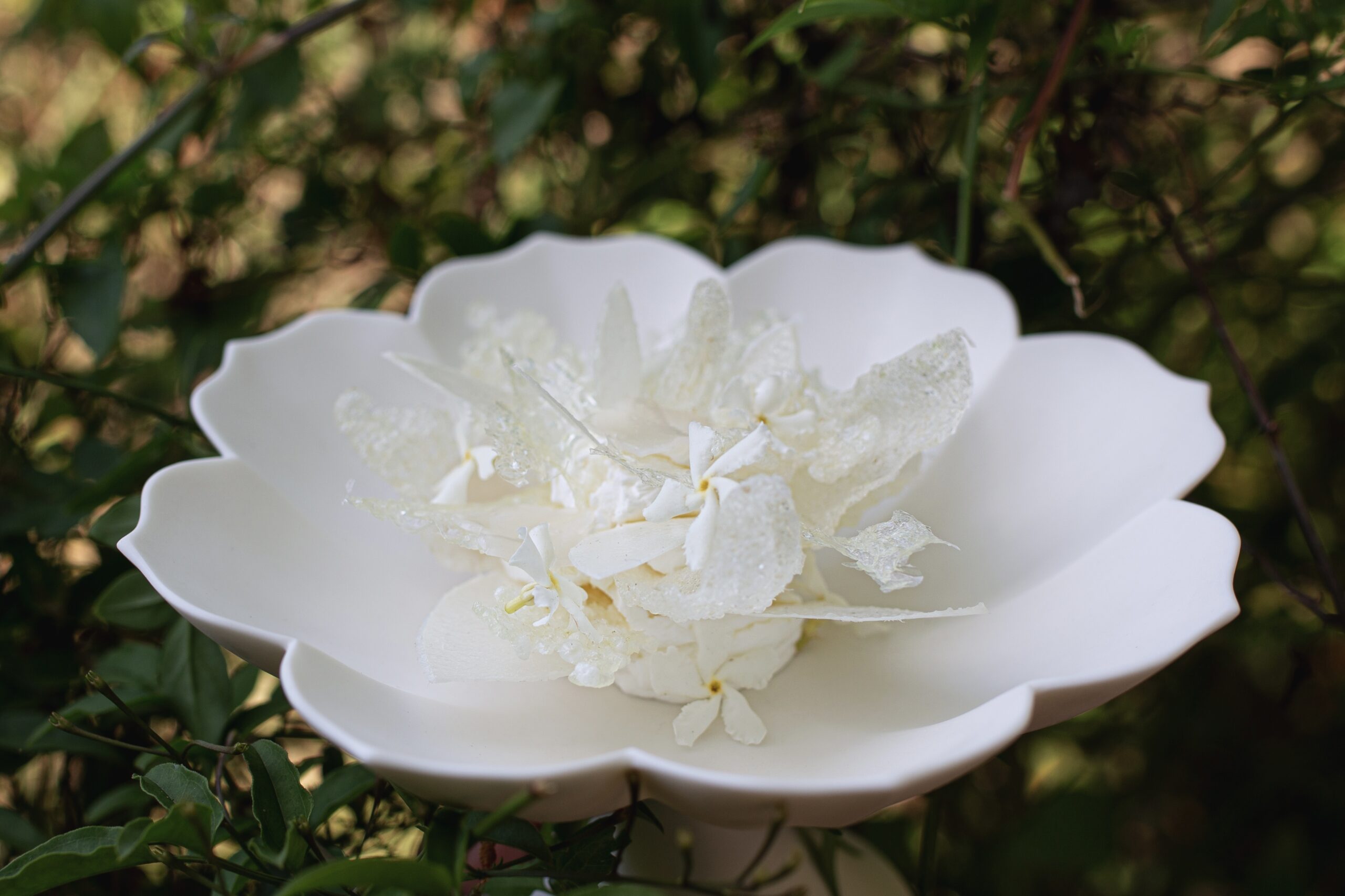 What's your signature dish?
I don't have a signature dish. Maybe someday, someone will associate me with a 'signature' dish, but for now, it's not something I hope for.
How can restaurants/ hotels/ chefs communicate the approach of innovative sustainable plant-based food/ food chains to others?
I believe that, before we can communicate this initiative to the 'outside world,' we must first initiate profound changes in our internal work habits. Convincing the teams surrounding us, and enlisting their support in championing our cause, is essential. Then, we can share our progress in terms of sustainable methods and approaches with a broader audience. In doing so, we will play a part in driving forward the gastronomic world for the betterment of the planet and future generations.
Which is the dish you've created that you are most proud of and why?
I have a deep affection for this dessert centered around jasmine and rice. It's a monochromatic creation, gleaming in pure white, reminiscent of a flower, exuding sensuality and delicateness. It evokes feelings of purity and poetry. I've managed to capture the wild essence of jasmine and imbue it with a sense of 'wild docility.'
Strawberry Cake 2023 (Gluten-free and nut-free)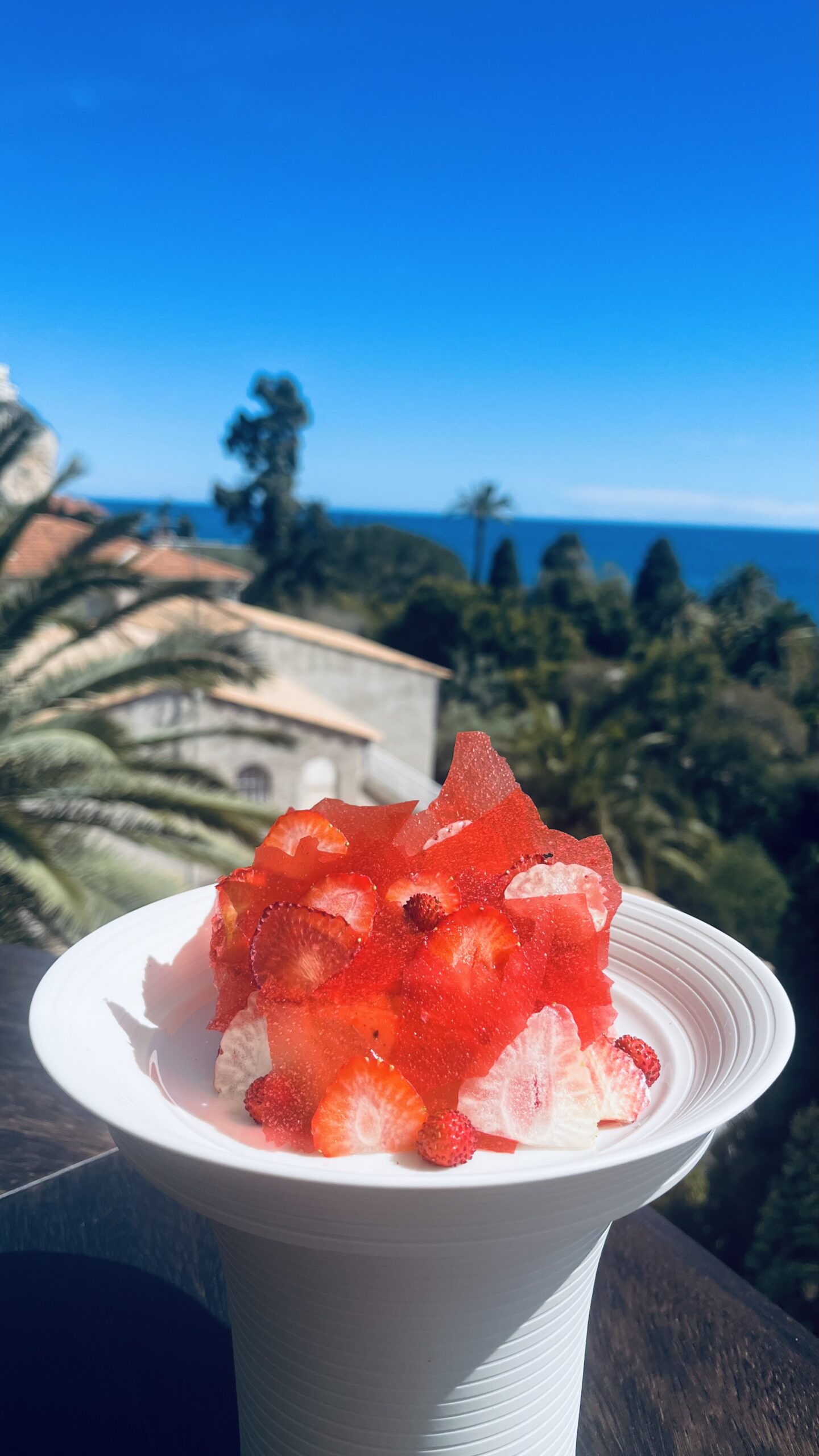 Sponge Cake (Gluten-Free / Nut-Free)
| | |
| --- | --- |
| Produits | 1 |
| Œufs | 220g |
| Farine de riz | 75g |
| Maïzena | 60g |
| Sucre | 125g |
Sponge Cake (Gluten-Free / Nut-Free)
Whip the eggs with sugar until well combined, then add the sifted flours. Spread the mixture to a thickness of approximately 0.5cm on a Silpat and bake at 180°C for 6 minutes.
Crunchy Layer (Gluten-Free / Nut-Free)
| | |
| --- | --- |
| Produits | 1 |
| Cassonade | 100g |
| Huile | 100g |
| Farine de Riz | 150g |
| Maïzena | 50g |
| Sel | 3g |
| Chocolat Blanc | 50g |
| Beurre de cacao | 50g |
Crunchy Layer (Gluten-Free / Nut-Free)
Knead all the ingredients with a paddle attachment in a mixer, then bake at 160°C for 10-12 minutes. Once the shortbread is cold, finely crush it with a knife, and mix it with the white chocolate and previously melted cocoa butter using a spatula. Spread this mixture thinly over the sponge cake, like spreading peanut butter on toast. Allow it to set in the refrigerator.
Strawberry Insert
| | |
| --- | --- |
| Produits | 1 |
| Fraise | 100g |
| Pectine NH | 2g |
| Sucre | 15g |
Strawberry Insert
Heat the strawberries to around 60°C, then add the NH pectin previously mixed with sugar. Bring it to a boil and immediately mold it into 4cm diameter and 3cm high insert molds. Place them in the freezer.
 Mascarpone Vanilla Mousse
| | |
| --- | --- |
| Produits | 1 |
| Crème | 550g |
| Jaunes | 110g |
| Sucre | 150g |
| Gélatine Or | 8,5g |
| Masse mousse | 250g |
| Mascarpone | 170g |
| Gousse de vanille | 5 pcs |
Mascarpone Vanilla Mousse
Prepare a custard with cream, egg yolks, vanilla pods, and sugar, then finish by adding gold gelatin. Let it rest in the fridge for 12 hours. Afterward, whip all the blue-listed ingredients using a mixer and a whisk.
Strawberry Tile
| | |
| --- | --- |
| Produits | 1 |
| Fraise déshydraté | 80g |
| Eau | 280g |
| Amidon de maïs | 7g |
| Gomme de xanthane | 6g |
| Sucre glace | 19g |
 Strawberry Tile
Blend all the ingredients while heating to 80°C using a Thermomix. Then, spread the mixture thinly on a Silpat and dehydrate it overnight in a ventilated oven at 60°C.
 Strawberry Chips
Slice the strawberries into thin strips, then dehydrate them (ventilated oven at 60°C overnight).
 White Strawberry Carpaccio
Slice the white strawberries into thin strips.
 Strawberry Carpaccio
Slice the strawberries into thin strips.
Wild Strawberries
Keep the wild strawberries whole.
 Assembling the Strawberry Cake:
Use a round cutter to create a 5cm biscuit disc. Place the biscuit in a small cake ring measuring 5.5cm in diameter and 5cm in height, previously lined with a strip of parchment paper for easy removal.
Place the frozen strawberry insert in the center of the biscuit. On top of it, add 4 grams of fresh strawberry brunoise.
Using a piping bag, completely cover the interior of the ring, making sure not to leave any air bubbles to have a visually even cake when unmolding. Let it set in the refrigerator for 12 hours.
Unmold the strawberry cake, place it on your presentation plate, ensuring you've removed the parchment paper strip.
Decorate the cake by alternating the arrangement of strawberry tiles, strawberry chips, slices of fresh red and white strawberries, and wild strawberries.
The Strawberry Cake is now ready to be enjoyed.
Professional Tip: It's best to refrigerate the Strawberry Cake for 12 hours before serving so that the strawberries release their juices into the mousse and the magic happens when you taste it.