Artist Madhavi Joshi was born in Mumbai, Maharashtra on 3rd May 1972. She has a unique style depicting spiritual Indian mythological idols and Hindu iconography through her paintings.
Madhavi has exhibited her work through several solo and group exhibitions in famous galleries in India and abroad. She has also participated in much art camps. In addition to this she has participated in numerous auctions and donated her paintings for charities. Her series of paintings represents her artistic expression on the sanctity and relevance of numerous vignettes of Indian culture compared to their modern practices.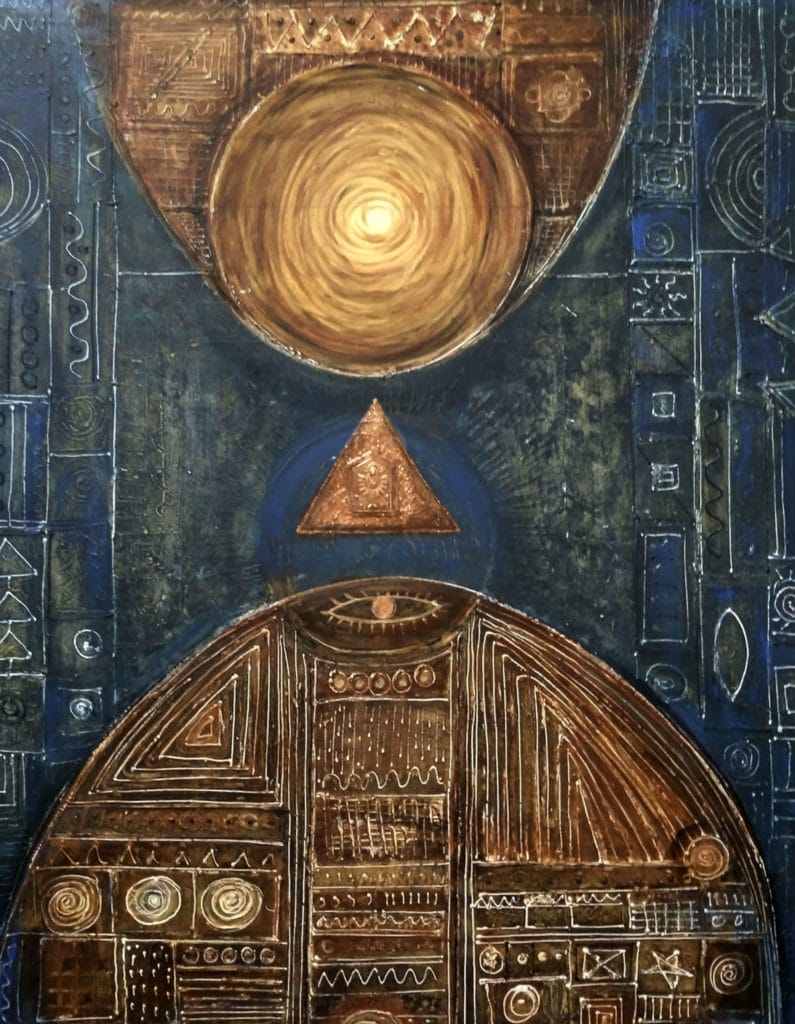 What is your artistic background?
Since childhood I have been in close proximity with nature. Being an observant and sensitive person, nature around me has always has a great impact on me. I always had a creative outlook towards life, but coming from a middle class family I thought it's best to choose a safe career path. Hence I enrolled for an engineering degree and later went for a 9-5 job as well but didn't feel that it was my calling. So I quit my job and thought of starting something of my own.
Initially I worked as a makeup artist for more than a decade. Years later I was visiting Mumbai to see my relatives and maybe it was destiny's call that I came across Jahangir Art Gallery. That day MF Hussain's masterpieces were displayed.. seeing those huge and astonishing paintings, I was so inspired that I could not think of anything else but to paint on my canvas. It felt like I was being directed towards my purpose in life. At that time I hadn't taken any training or former education in paintings, I was a self taught artist for more than 8 years. It was simply an inner calling to which I was responding. I did many shows (group as well as solo) pretty much in all the parts of India. In order to enhance my skills I decided to take up a BFA course from Pune University. I completed my BFA with distinction. Paintings have always been my solace, my escape and therapy as well.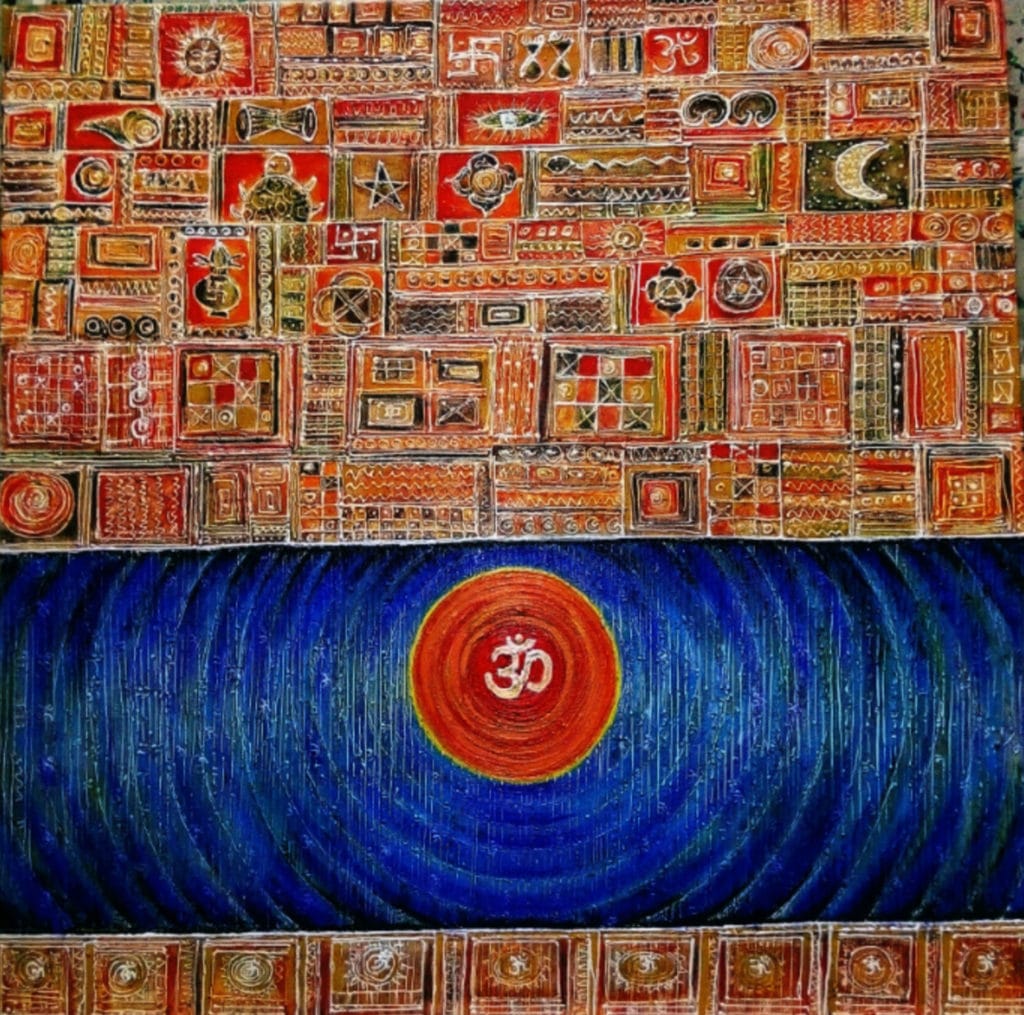 What is an integral part of being an artist?
As an artist one must be aware of his surroundings, be sensitive enough to feel the emotion to its depth and spell out one's thoughts through his creativity. Imagination is the most important tool of an artist.
What is an artist's role in society? 
Every artist plays a different and a necessary part in contributing to the overall health, development and well-being of our society. Creative thinkers and makers provide their communities with joy, interaction, and inspiration, but they also give thoughtful critique to our political, economic and social systems — pushing communities to engage thoughtfully and make steps toward social progress. Artists are a vehicle for expressing universal emotion. My painting is mainly about my self-expression communicated out there on the canvas, but really I think it is everyone's expression — I'm just a vehicle.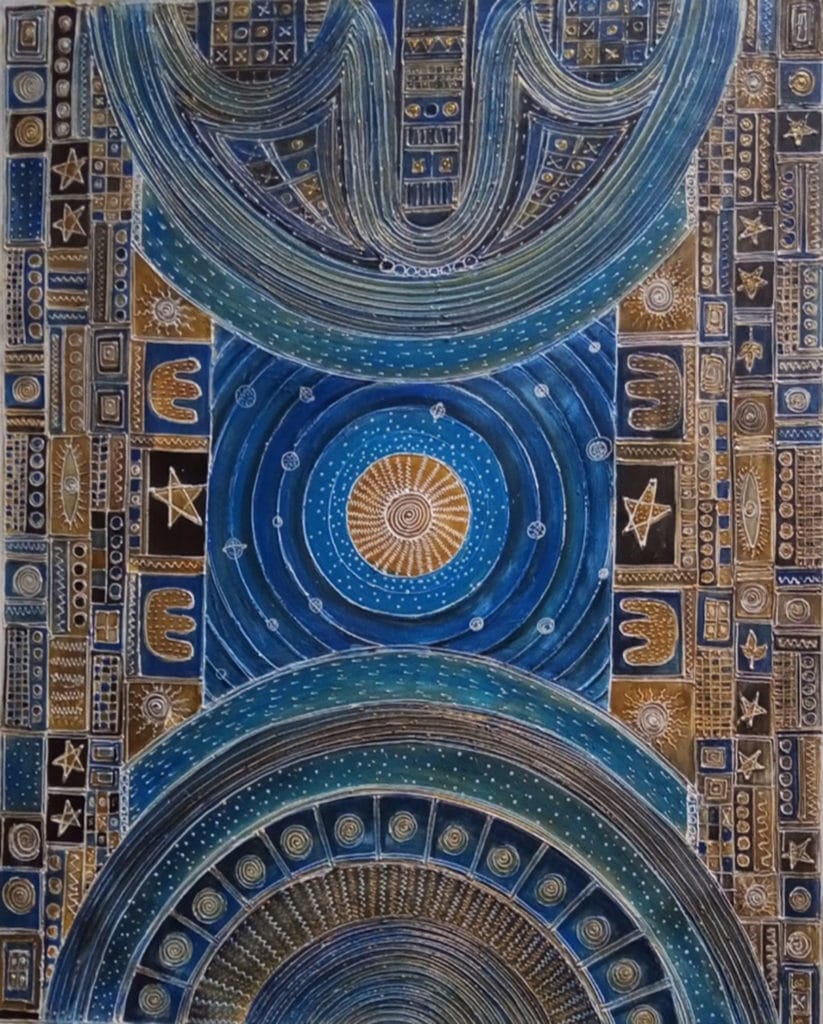 What kind of art do you prefer? 
I like any type of art form, painting, sculpture, film, music or performance (even philosophy) which at first surprised me because I may have never thought of that for myself. If it is that type of art which would give me a dramatic or subtle insight, a way of appreciating some aspect of the world that most of us either ignored or didn't see its beauty or character until it was highlighted by the artist through their work. I like how an artwork can be so impactful, it expresses an emotion or idea in a clear and powerful way, created by someone who has put in a lot of time and a lot of themselves into their work, or at least into developing their craft. I like abstract artworks a lot; it really moves me and inspires me. In my opinion one's thought process is channelized in it.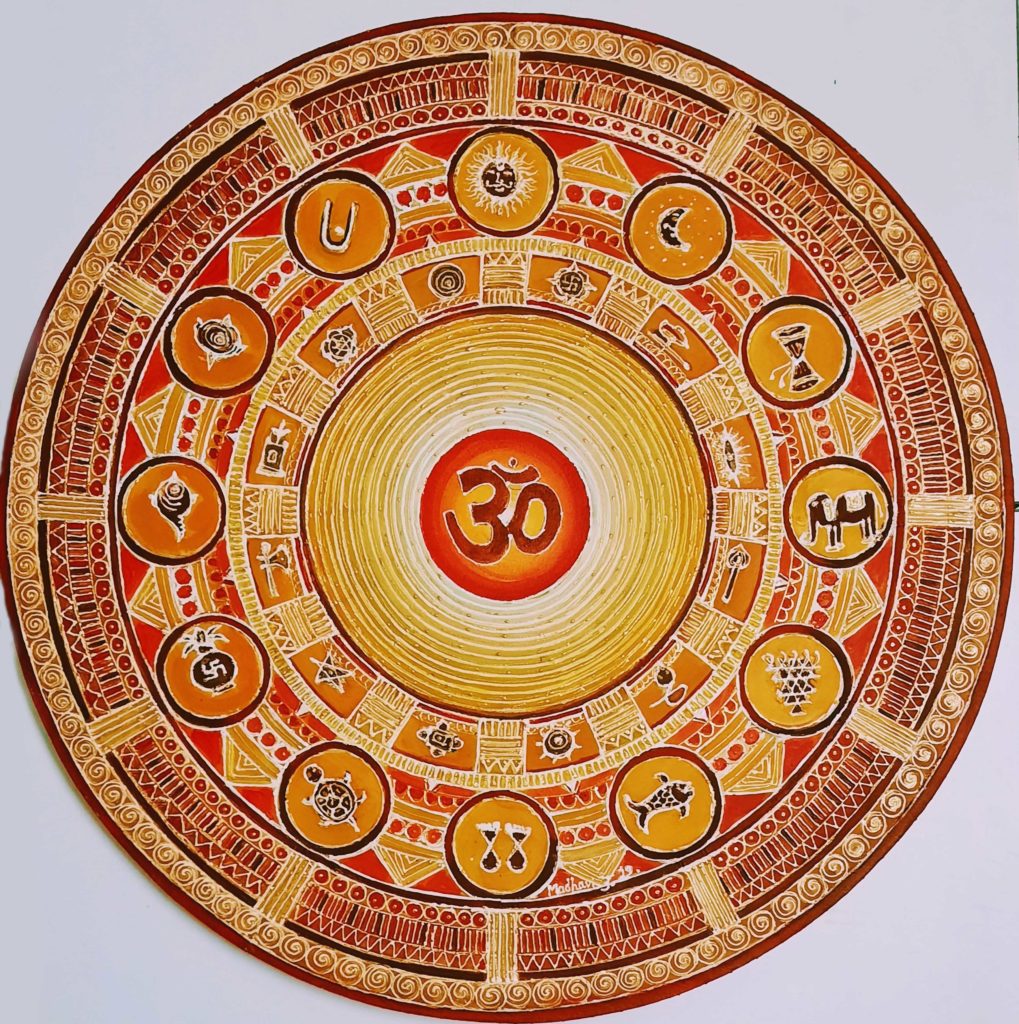 What themes do you pursue?
Coming from a traditional family I always had this fascination about spiritual Indian mythological idols and Hindu iconography. I remember in my childhood my grandmother used to tell me all these amazing mythological stories of Ramayana, Mahabharata and Bhagvat Gita which had a huge impact on me.
Thus my series of paintings represents my artistic expression on the sanctity and relevance of numerous vignettes of Indian culture compared to their modern practices. I have inculcated various elements of nature, their symbols and iconography to impart visual effects of glory and transparency along with the memories of countries past heritage through impressive strokes.The impact of various colours and symbols and their sanctity along with meditational hues are prominent in my work.
Relevance of vivid lines , geometrical figures , shapes and contours along with their colourful lines through the illuminations/brightness , light and shade and reflection effects in the apt places have together enhanced the visual perceptive levels in my creations which often amaze and mesmerizes one and all by leaving an indelible impact on their  minds and souls.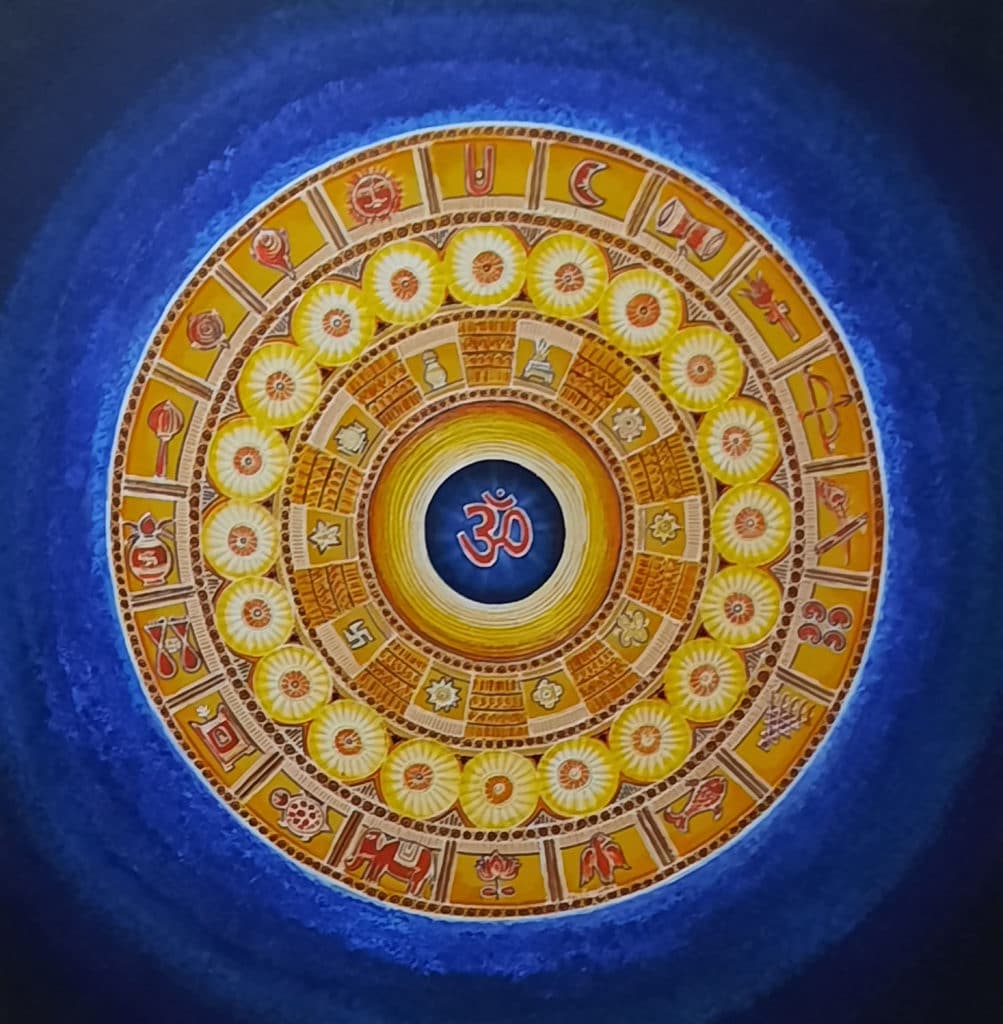 What's your favourite art work?
Being an art lover I appreciate many artists' artworks but my most favorite ones are MF Hussain's – Mother Teresa series and
Sayed Haider Raza – Bindu, Parathana.
Describe a real-life situation that inspired you?
Art has always given voice to my emotions and mindset. However, exploring the exquisite   'Pattadakallu Temples' in Badami (Karnataka) made me want to paint beyond my contemporary emotions.
The intricate designs and symbols sculpted all over the walls and pillars had hidden meanings, depth of Indian mythology and at the same time they were pleasant and eye catching .This Hindu iconography truly inspired me. I looked high and low; from studying various iconography books and sites to visiting few of the renowned temples and monuments, in order to gain information about it.
In my opinion these symbols with deep and versatile meanings and moods inculcate positivity and optimism. Using them in my art form gave it a spiritual and holy outlook, making my canvas feel like meditation to the eyes. Thus I would say that these incidents of visiting various temples and monuments has been the greatest inspiration for my current art style.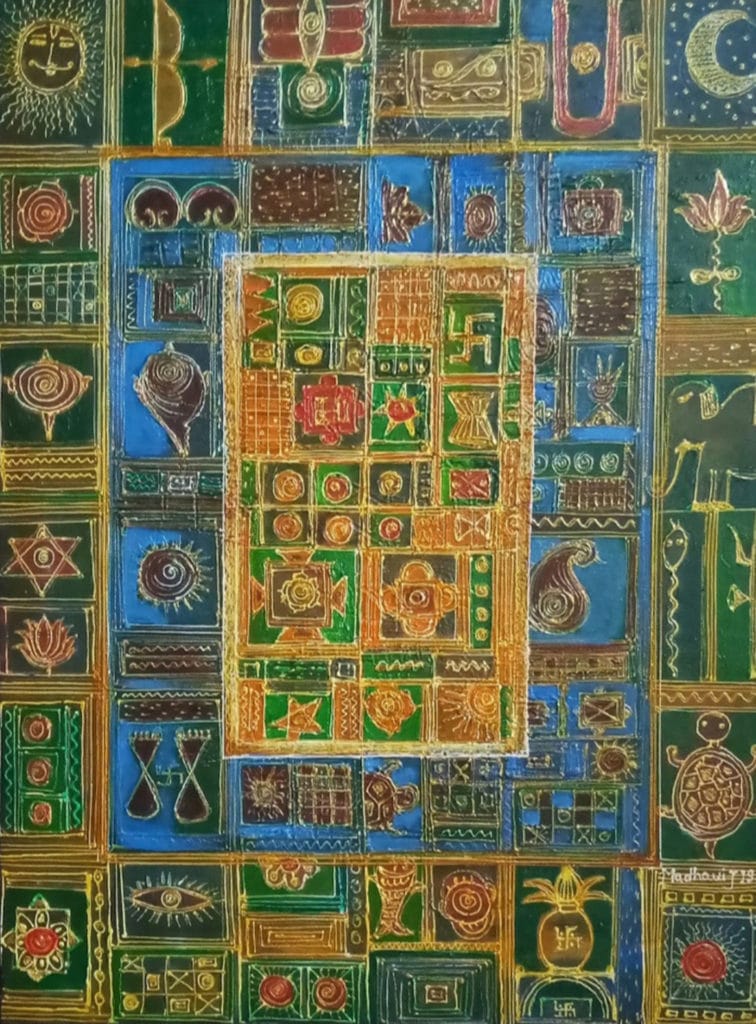 Why art?
Art is important because it can potentially influence our culture, politics and even the economy. When you see a powerful work of art, you feel it touching deep within your core. It has the power to educate people about almost anything. It promotes cultural appreciation among a generation that's currently preoccupied with their technology.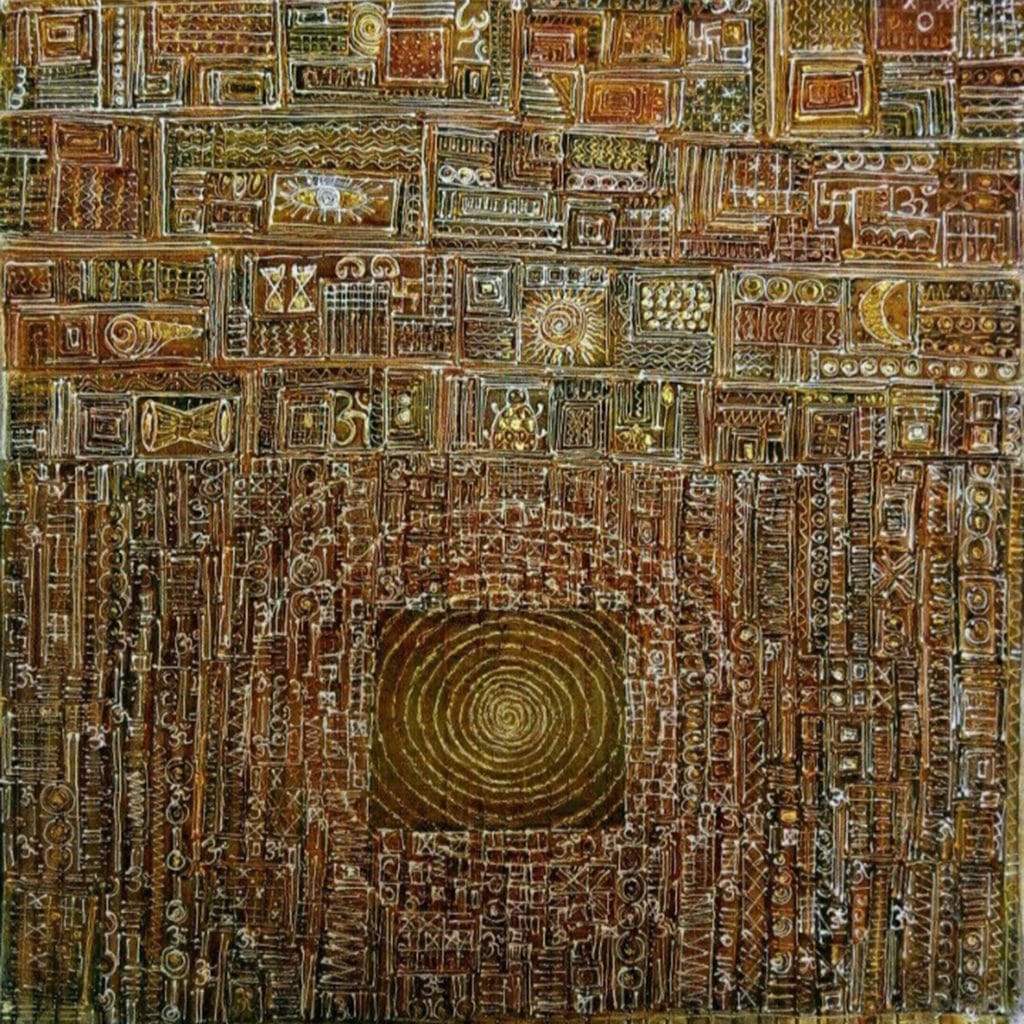 What is an artistic outlook towards life? 
According to me having an artistic outlook means to have accesses to higher orders of thinking. Art doesn't just make you absorb information. Rather, it makes you think about current ideas and inspire you to make your own. This is why creativity is a form of intelligence – it is a special ability that unlocks the potentials of the human mind and changes your overall perspective towards life.
What food, drink, song inspires you?
I like to listen to old Hindi songs as music can affect your mood. In turn, your mood will affect your artwork. I generally prefer light music rather than fast paced music; it has different impact on my painting process because every genre of music sets a different mood, which will then be visible in your painting.
Is the artistic life lonely? What do you do to counteract it?
Well, the reason why most artists are lonely because they're dedicated to their artistic expression so they prefer to spend time improving their creations. Normally a human need is human interaction, affection, but in order to put your thoughts out on a canvas impact-fully you must yourself have clarity. To arrive at a single thread of thought from all the chaos one needs isolation solace and peace of mind. It is like therapy for me. Hence I feel artists are alone but they are not lonely.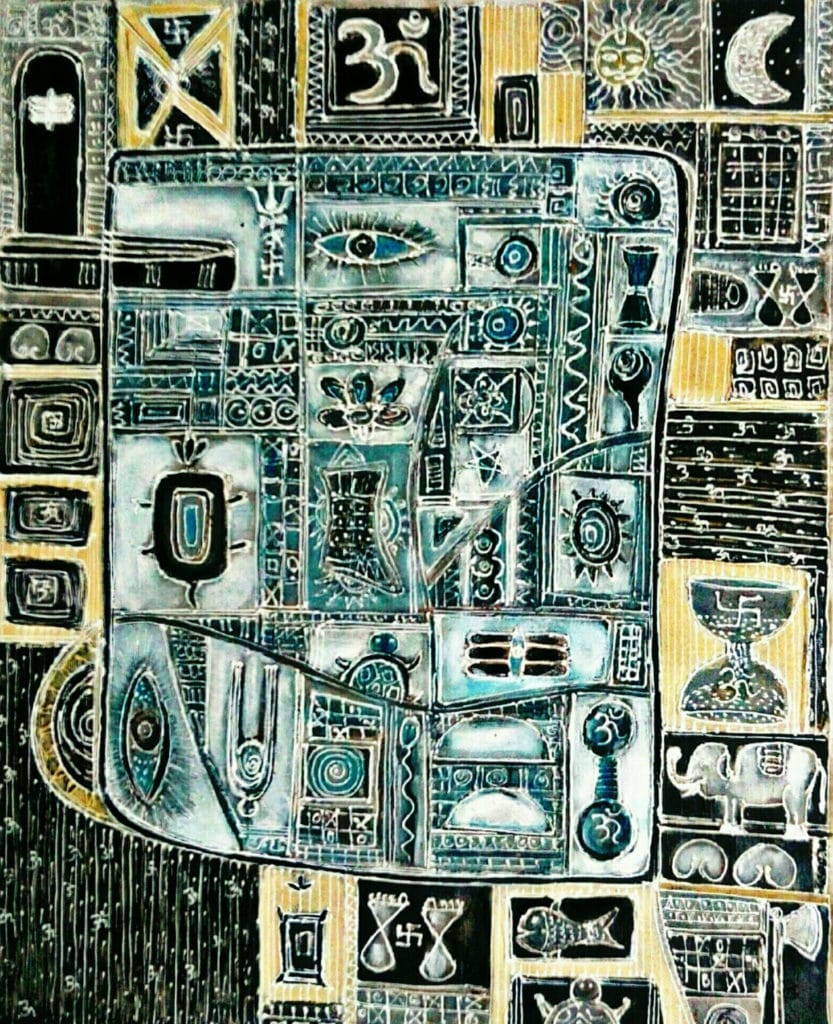 What do you dislike about the art world?
The thing which I least appreciate about is art world is that many people these days plagiarize other artists artworks. Such practices must not be encouraged as genuine artist put their time, energy, money and soul to create his artwork. Plagiarizing someone's artwork without even acknowledging the original artwork is very much unethical.
What do you dislike about your work?
Well there is nothing much I would say I dislike about my artwork as I believe 'Beauty lies in the eyes of beholder' but yes i keep on improvising my paintings time and again until I feel I have satisfactorily executed my thoughts  on the canvas and feel content with the final product.
What do you like about your work?
I like the meditative state of mind i experience while i am creating my artwork.
Should art be funded?
Yes absolutely, art is a crucial part of people's lives. Arts allow people to express themselves and share stories that would be hard to share otherwise. The arts have broadened our horizons over the years and have taught people new ways of thinking, everyone has been influenced by the arts some way or another throughout their lives without realizing it. The films, theatre , television, and programs you watch have all been created by someone with some link within the arts, as well as the clothing you wear and the magazines you read. It is essential that the arts are funded so that every young person is allowed the opportunity to participate and express themselves.
On a practical note material needed for making an artwork is not always reasonable. In terms of paintings-Good quality colours, brushes , canvas is pretty expensive and is not affordable by everyone.
What is your dream project?
My dream project is to exhibit my paintings all over the world. I also wish to donate some amount towards mental health and well-being of artists.
Favourite or most inspirational place?
First and foremost it is my home or studio or anywhere amidst nature where the overall environment is comforting and soothing.