Vinayak Mhatre is the Hotel Manager – Four Points by Sheraton, Ahmedabad. Prior to his appointment in this hotel, he was Director of Business Development & Events with The St. Regis, Mumbai overseeing a large event portfolio with some of the most luxurious events. With a career spanning over 20 years with leading hospitality companies, including IHG and Starwood Hotels, a large portion of his professional life was spent with the Taj Hotels (IHCL), where he held a number of positions in Sales & Marketing and food and beverage operations.
What makes Four Points by Sheraton Ahmedabad stand out from other properties you've worked in?
Four Points by Sheraton, Ahmedabad enjoys a great city center location with easy access to renowned shopping, dining and entertainment in the vicinity along with the opportunity to explore the rich culture of this UNESCO certified India's first World Heritage City. Our hotel is at a walking distance from the Sabarmati Riverfront which is one of the country's most modern development in infrastructure. This is a first time in my career that I have moved away from luxury hotels to a modest, simple yet stylish and buzzing hotel boasting of warm and friendly associates. The property is a host to a lot of guests who have been extremely loyal and consistently staying here since its opening.
Who is your typical customer?
Our customer profiles include a combination of business and leisure guests. Our hotel with it's location close to two of the most premier design institutes of the country and not forgetting the prestigious Indian Institute of Ahmedabad at a close distance we have guests from education, consulting, banking, pharmaceutical and automobile trades staying regularly with us. NRI Gujaratis travel from across the globe to meet their folks in India and Ahmedabad being a gateway city always remains on their itinerary while entering or exiting the state.
If you could plan a one-day itinerary for guests looking to explore Ahmedabad, where would you send them?
Gujarat Tourism has developed multiple itineraries comprising of heritage, religious, culinary, Gandhi Circuit to wildlife, golf, not forgetting the seasonal Rann of Kutch and many more but my favorite remains to be the most recent development 'Statue of Unity' accessible by road, rail and water plane service. Statue of Unity or SOU has the world's tallest statue blended with recreation and remarkable connectivity around it and is one of the most visited destination in recent times.
Building the right team is crucial for a property's success. What are the key skills you look for when hiring new employees?
High energy individuals with a positive attitude and teamwork skills, active listeners with good communication skill sets and attention to detail are key attributes while hiring new associates.
What is the USP of your hotel? 
Great team of committed individuals striving continuously and engaging with the guests, ensuring their comfort and satisfaction makes the hotel unique.
What is the one dish that guests have to try when at your hotel?
Our hotel because of the diverse nature of clientele serves multi-cuisine meals at it's award winning All Day Diner but one of the most spectacular Indian dishes that's an all-time favorite is 'Bhuna Hara Saag' with choice of local breads accompanied by our signature garlic chutney.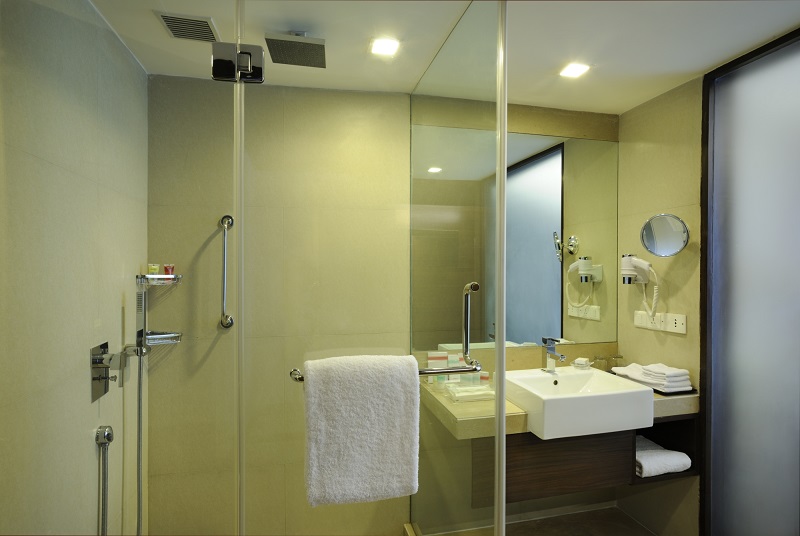 2020 was a challenging year for the hospitality industry. In your opinion, how will travel trends change in the 2nd half of 2021?
We are sincerely overwhelmed to see guests coming back and prospecting for future events happening with inquiries coming in along with site visits making us hopeful to see a sizeable recovery though not at pre – Covid 19 levels. Business travel within manufacturing and technical services has resumed back at this stage which is a positive sign in itself indicating that demand for rooms will flow in soon. Staycations see a surge in demand during weekends and road travel within cities is on the rise. Citing the impact of the second wave we now see a lot of new guests wanting to stay in the branded hotel segment which assures of safe and hygienic stays.
How has the pandemic changed the way you work?
Change is the only constant in life and the pandemic has impacted largely the way we think. I have become more empathetic with priorities focusing on learning and innovation, building mentally and emotionally strong associates, healthy and highly energetic teams. We have incorporated mental well-being sessions and regular wellness activities for the teams helping us to achieve our goals in these tough times.
Was a career in hospitality something you always dreamt of?  What is your advice to aspiring hoteliers?
Hospitality just happened to me as always wanted to be in commercial aviation sector and see the globe. My advice to all the aspiring hoteliers is to remain positive and stay focused. To keep on learning, improvising their skill sets and remain consistent in their formative years in order to pave the way for a rewarding and fruitful career.
You have worked in several cities, which is your favourite Indian city for work and play?
Even though I had a work experience of over 2 decades I was not so mobile restricting myself to working in Mumbai, Nashik and Ahmedabad. Ahmedabad remains to be my favorite place permitting me time for my life goals. I have resumed cycling, running and hopeful of professionally learning to play golf and tennis in days to come.
When are you happiest?
Coming from a modest family which is into agriculture and believes in giving back to mother earth, I love working and being at our farm. Love to see, thrive and consume our organic farm produce which gives me and my family a true sense of happiness.