Vijay Wanchoo is Senior Executive Vice President and General Manager -The Imperial, New Delhi. An alumnus of St Columbia's School and IHMCN Pusa, Vijay Wanchoo is one of the stalwarts of the hospitality industry and has been spearheading the operations at The Imperial, New Delhi for a decade, in his present tenure. He started his career as a food and beverage instructor while pursuing a Kitchen Training Program at The Oberoi School of Hotel Management and today his experience in hospitality spans over thirty years. He has worked previously with several renowned hospitality brands such as The Oberoi New Delhi, The Lalit and ITC Hotels and in Fortune Group of hotels.  Wanchoo has been appointed Senior Executive Vice President and General Manager of The Imperial, New Delhi in June 2009. His vision has been paramount in face-lifting the operations and launching the Classic European restaurant- 'Nostalgia' in 2011 and Daniell's Tavern at The Imperial in the year 2012.  His streak of brilliance surfaced at The General Manager's Programme at the Cornell School of Hotel Administration, Ithaca, USA in 2006.  With numerous accolades adding yet another feather to his cap, the journey for Vijay Wanchoo has just begun and he hopes to realize and execute his vision of excellence.
What makes The Imperial Delhi stand out from other properties you've worked in?
A gleaming heritage emerging from India's golden chapters with a legendary past on bespoke hospitality loved by kings and queens, The Imperial New Delhi continues to be a shining star on India's luxury map. An iconic hotel from the pre-independence era, it upholds the pride of being the place where India was beginning to write the last chapters of its saga of Independence. Pandit Nehru, Mahatma Gandhi, Muhammad Ali Jinnah and Lord Mountbatten would meet at The Imperial to discuss the partition of India. Being a part of history in making, The Imperial became a venue for many celebrated and historical moments between the British and Indian aristocracy.
What also distinguishes The Imperial is its magnificent art deco design. The beautifully manicured lawns, the pillared verandahs, dining rooms, tea lounges, The Royal Ballroom straight from the era of Lords and Ladies, verdant gardens and the stunning corridors have played host to some celebrated encounters between the British and Indian aristocracy and gentry. The Imperial exudes an inimitable class, making the hotel at par with any other chain hotel.
 Who is your typical customer?
The hotel has been a favorite with as many as three generations of foreign travelers and also boasts a client list of celebrities, State Heads and the like. It has been a distinguished address for designers from Europe, especially France and Italy and is also patronized by our very own Bollywood celebrities. With the dynamic environment and the changing landscape of hospitality in the current times, HNIs and UHNIs, corporate and domestic travelers are the key focus.
If you could plan a one-day itinerary for guests looking to explore Delhi, where would you send them?
For a one day itinerary in the current times, I would suggest a visit to Qutub Minar and Humayun's Tomb along with a tour of old Delhi to guests, to witness the last chapters of Mughal era in its flesh and form. Also being in the capital, one cannot miss the tour of The President's House or Rashtrapati Bhavan but pre-booking it when the honorable dignitary is not in-house, is a prerequisite.
Building the right team is crucial for a property's success. What are the key skills you look for when hiring new employees?
Understanding changing paradigms and honing a talented workforce is crucial for any luxury hotel brand. It's also a key to sustaining a successful business module. We are a large family at The Imperial and most of the employees in the hotel are either working for decades or carrying on the legacy of their earlier generations. So while hiring a new employee we look for not only skill sets in an associate but our hunt is aligned towards a team member who can demonstrate exemplary levels of commitment, has a strong sense of responsibility and comes with a warm and positive disposition. These are key factors for the success of our business and are a must for recruiting a reliable team member. To sum up, for us people come first as they are the foundation of our finest hospitality standards so a right candidate is crucial for our success, irrespective of his/her level.
What is the USP of your hotel? 
We shall continue to occupy our guests' mind space as Asia's finest hotel while they re-discover The Imperial experience, in the post pandemic environment. We exclusively celebrate all major events in the calendar and ensure guest and employee celebrations like none other.
What is the one dish that guests have to try when at your hotel?
Chicken Imperial at 1911 Restaurant has been part of our menu since the beginning and is a must try. It is a legendary dish and is much loved as our signature recipe at the all day dining restaurant.
 2020 was a challenging year for the hospitality industry. In your opinion, how will travel trends change in the second half of 2021?
Since International travel will continue to be at a moderate or very low pace now, the strategy for our tourism industry is to encourage road trips to various local destinations with lucrative packages. Staycations are a great way to unwind and offer the much needed break in these trying times when families and couples have been confined to their homes for months.  Luxury hotels, especially ours offer a feeling of a resort, right in the heart of the city with unmatched safety and hygiene at the same time. Creating local and personalized experiences for guests with a distinguished stay or customized dining packages, remains the key for luxury hotels in times ahead. The current travel trends demand unique and customized offers including private dining affairs and personalized sight –seeing tours with no large groups. This reorientation I believe is also quintessential for sustaining business, considering the unpredictable future.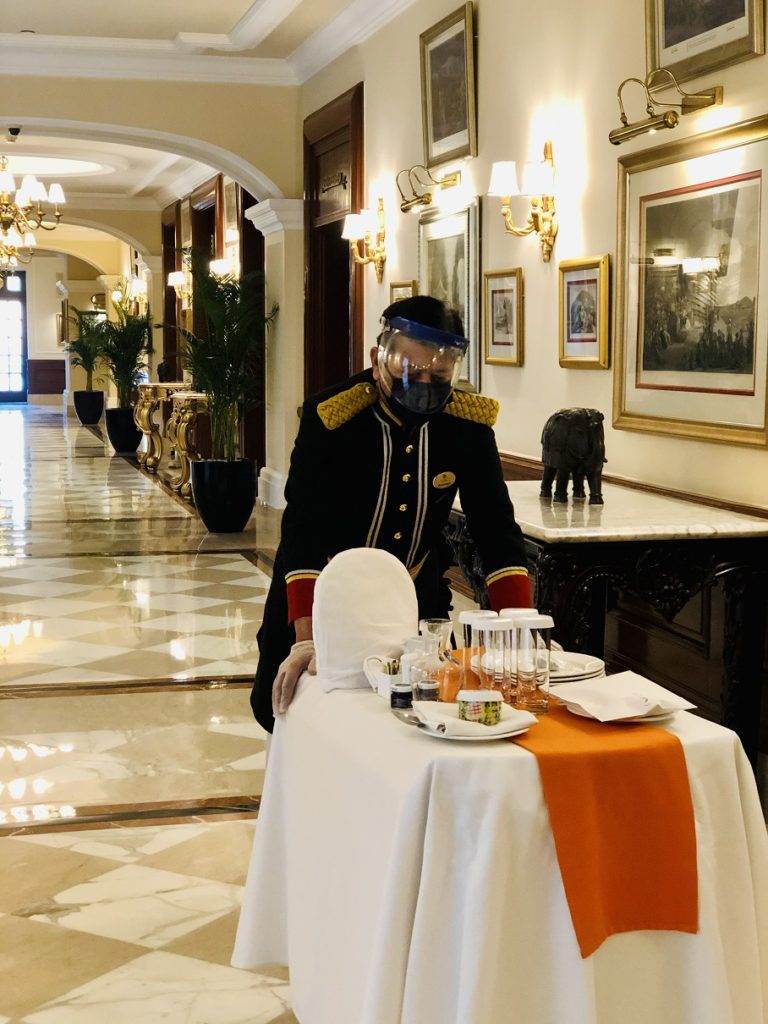 Was a career in hospitality something you always dreamt of?  What is your advice to aspiring hoteliers? 
Honestly my initial plans were to join the Indian Army, however my focus shifted to hospitality and this was more of destiny's plan rather than mine.
 Which cities are your favourites for: 1) food 2) history 3) fashion?
 There is no comparison with Srinagar, Pahalgam and Gulmarg in any way. Besides these, I do like Interlaken in Switzerland and outskirts of London.
 You have worked in several cities, which is your favorite city for work and play? 
I have had exposure in Mumbai, Srinagar and New Delhi however the Capital scores high in my favorite list of cities for work and play.