Sam is an emerging Fine Artist, based in Surrey. As an artist, she is constantly inspired by the beauty and complexity of the world around us. Ultimately, her goal is to create work that's both beautiful and thought-provoking, inviting viewers to engage with the world around them in a more meaningful way.
"Amidst the sea of digital noise, there is something truly special about handmade art. It speaks to us on a deeper level, communicating ideas and opinions in a way that no amount of pixels ever could. In a world that's both hyper-connected and increasingly disconnected, I try to create something real, something tangible, something that can truly touch people's lives," she says. Sam's art is all about layers. She loves the depth and complexity that comes from combining a variety of mixed media- from acrylics to spray paint to collage elements. Each layer adds something new, building upon what came before it. Her work is inspired by the energy and vibrancy of life – the constant movement and change that's always happening around us. She strives to capture that sense of energy and excitement in her art, creating pieces that are bold, dynamic, and visually engaging.
What's your artistic background?
I have always had a deep love for art, which was nurtured by my family from a young age. I grew up constantly drawing and creating, and this passion for art eventually led me to pursue a degree in theatre design. While I enjoyed my time in theatre design, working both in London and across the UK, I found that it was too restricting creatively, and I longed to explore different disciplines and media.
After working as a set and costume designer for several years, I became an art educator, which allowed me to develop my skills across multiple mediums. Now, as an emerging artist, I create work on my own terms, and I explore the world around me in a variety of ways, and I can use mixed media to help me achieve that. I'm excited to exhibit my work publicly and continue exploring new ideas. My background in both theatre and art education has given me a unique perspective and a strong foundation in multiple mediums.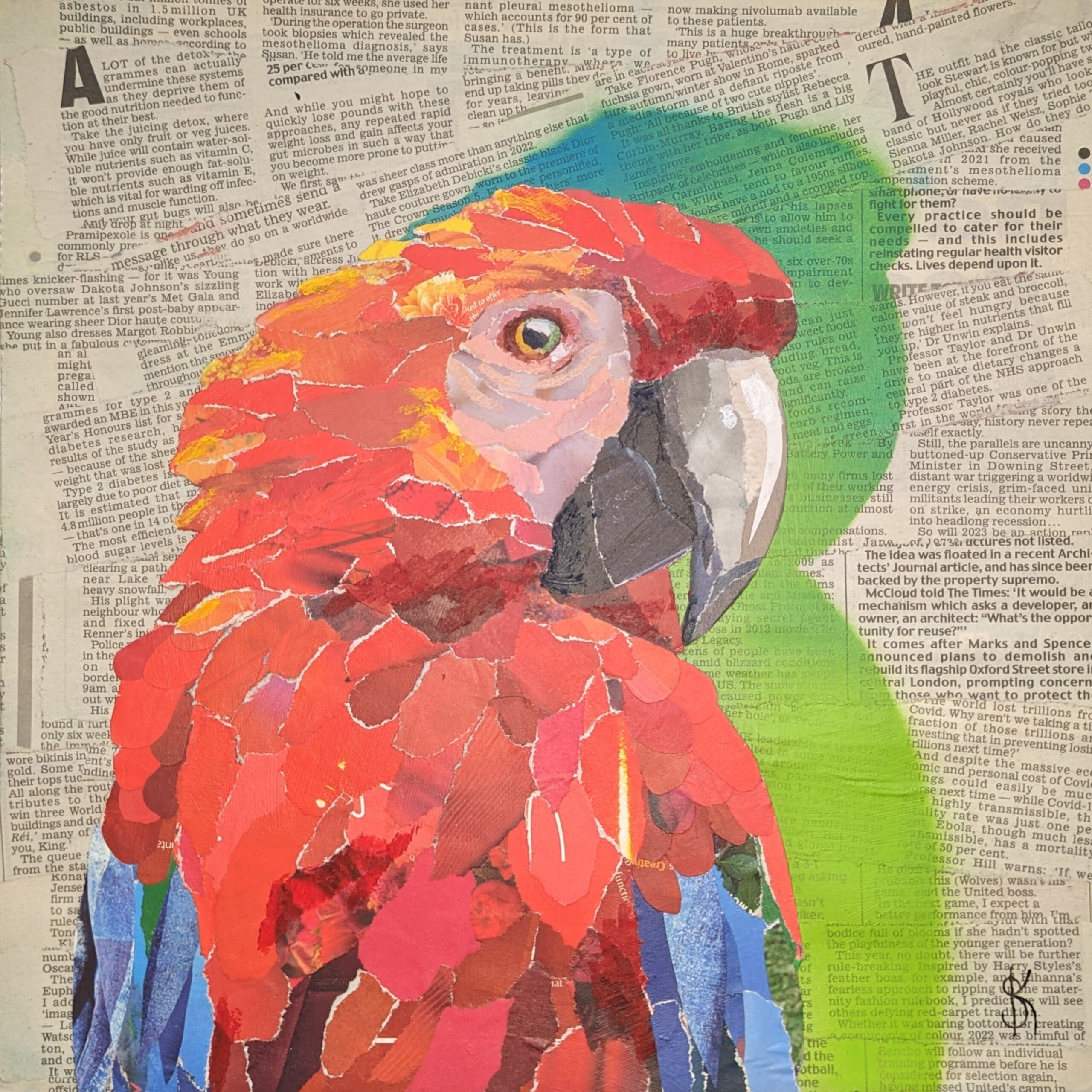 What's integral to the work of an artist?
In my opinion, an artist's work should be honest, introspective, and thought-provoking. It may be funny, push boundaries, or challenge established norms. It takes a lot of courage to put yourself out there and to exhibit pieces that can feel raw or like a part of you. Artists often pour their heart and soul into their work, and it can be scary to share it with the world.
What role does the artist have in society?
The role of the artist in society is to make people think, feel, and see the world in a different way, to connect with the beauty and complexity of the world around us. As an artist, I want to create beautiful pieces that spark joy, but I also believe that I have a responsibility to create work that somehow reflects the issues and struggles that we face as a culture. I think it's important to challenge established norms and push boundaries, to inspire people and spark conversations that can bring about positive change.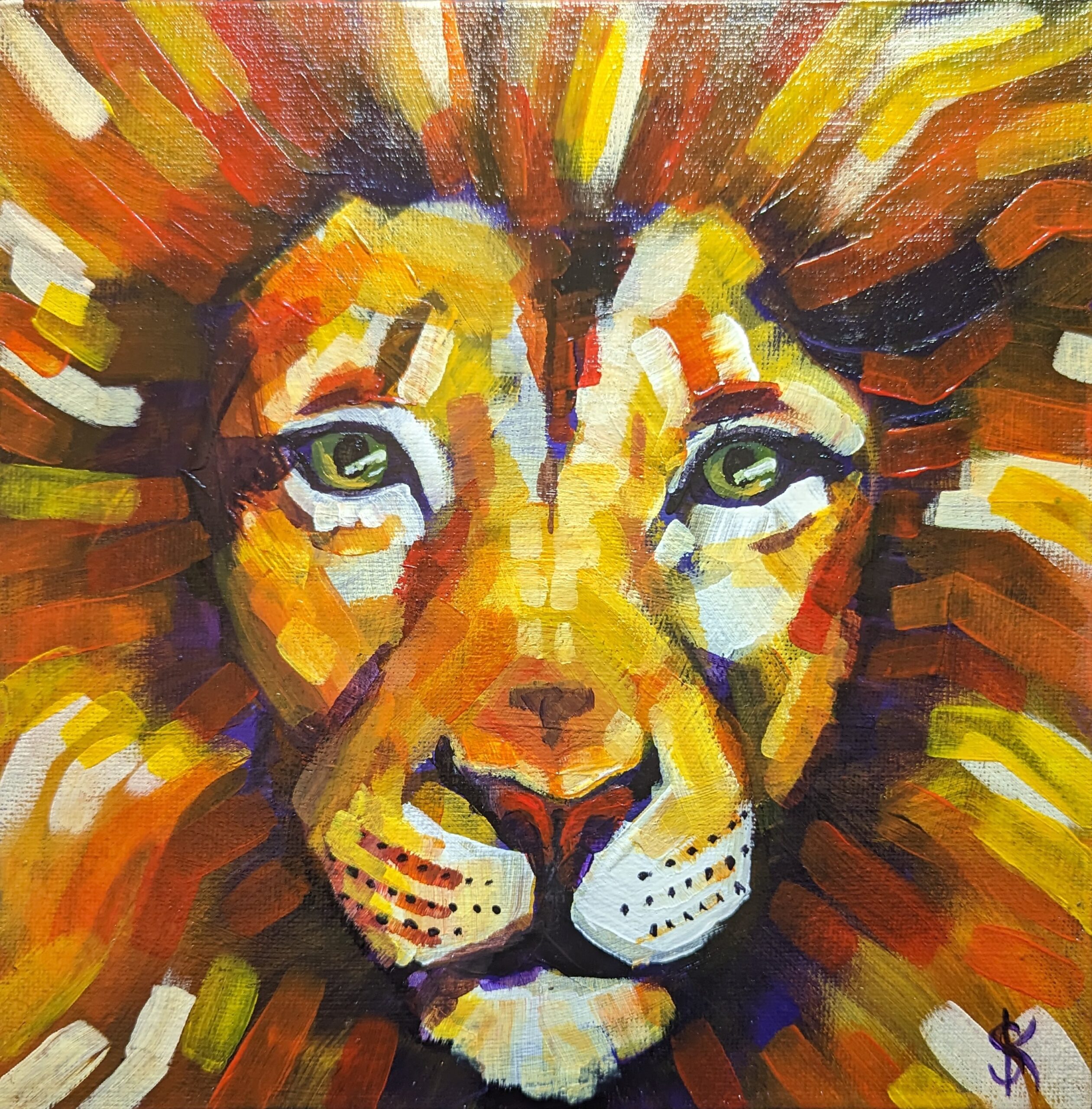 What art do you most identify with?
I've always been drawn to paintings of faces, both human and animal, because they convey so much emotion and expression. When I'm looking at a piece of art, I'm always searching for a connection – something that speaks to me on a personal level.
For me, there's something incredibly powerful about being able to look into the eyes of a painting and feel a sense of connection and understanding. It's like the artist has captured a moment in time and frozen it forever, allowing us to connect with the life inside the piece. And that's what I try to do with my own art – create pieces that evoke emotion and connect with people on a personal level.
What themes do you pursue?
I love exploring the human condition in my art, and what our impact is on the world around us. Being a feminist, I also like to explore the experiences of young women today in some of my pieces. But right now, I'm really excited about my latest series called 'Urban Animals'. It's all about how humans have affected the natural world, and it's been really interesting to see how people react to it.
What's your favourite art work?
I have a passion for Art History, so picking only one favorite piece is tough. But if I had to choose, it would be Frida Kahlo's hummingbird portrait. She tells us so much about her inner self and her connection to the natural world in that piece. I adore Kahlo's work because the longer you look at it, the more you discover.
Describe a real-life situation that inspired you?
I'll never forget the time I visited New York City with my grandma. Stepping into the bustling Times Square for the first time was truly life-changing. The rain was warm on my face, and the energy of the city was palpable. I made a conscious effort to take in as much as I could – from the neon signs to the textures of the concrete walls – and those memories still inspire my artwork today.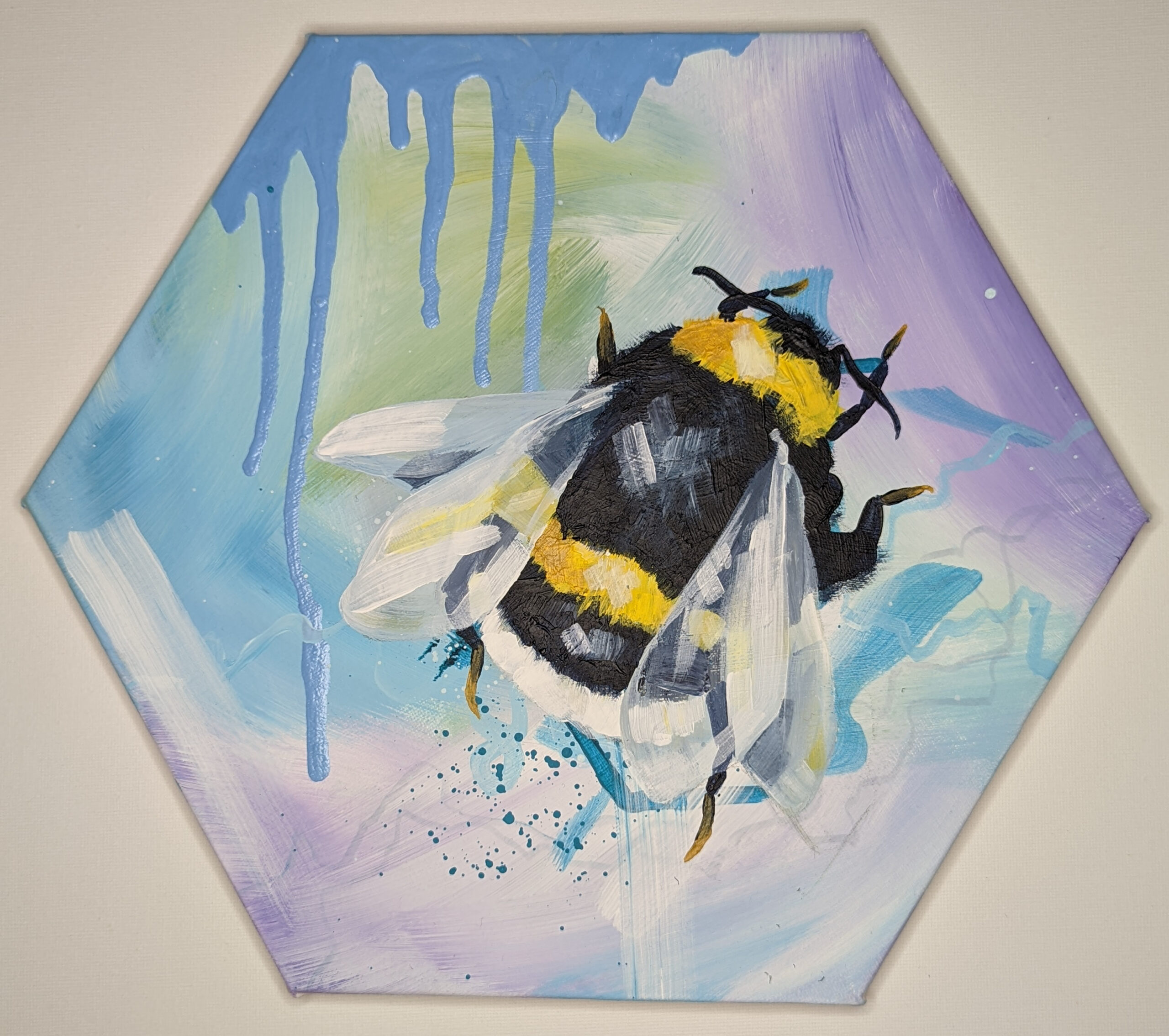 What jobs have you done other than being an artist?
I feel lucky to have always worked in a creative field. My first job as a teenager was helping a seamstress who made some costumes for Strictly Come Dancing, which was an amazing experience. After that, I made sets and costumes for theatre, film and TV, and I toured around the UK with various theatre companies. Eventually, I found that I wanted to explore different disciplines and media, which led me to become an art educator. Teaching has been a rewarding experience, and it has allowed me to develop my confidence in multiple disciplines.
Why art?
Why art? Well, sometimes it feels like I can't not make art. It's like a calling – what I'm supposed to be doing. When I'm in the flow of creating, it's like everything else fades away and I feel like a complete human being. It's a way to express yourself without saying a word, to create something beautiful from nothing, and to make the world a little bit more interesting. Plus, who doesn't love getting paint all over themselves?
What is an artistic outlook on life?
An artistic outlook on life is like looking at the world through a kaleidoscope instead of a plain old pair of glasses. It's about seeing the beauty in the everyday and finding inspiration in unexpected places. An artistic outlook on life emphasizes the importance of experiencing a life filled with wonder, emotion, meaning, and purpose.
What memorable responses have you had to your work?
I have a lot of people interested in my process, especially because I use a lot of layers. But the most memorable response I've had was from a young student who saw a big tiger painting I had done. Even after teaching him for months, he was surprised that I was any good! He said, 'oh, so you're actually good at this painting thing then!'. It was hilarious, and definitely a moment I won't forget anytime soon.
What food, drink, song inspires you?
One of the things that really inspires me when I'm creating art is music. I actually have a playlist that I call my "Painting Playlist" that I listen to every time I paint. The songs are upbeat and fun, and they really help me to get into the creative zone. I find that when I'm singing and dancing along to the music, I'm able to let go of any self-doubt and just let my creativity flow. It's like a little bit of 'dancing like no one is watching' helps me to tap into my artistic spirit and produce some of my best work.
Is the artistic life lonely? What do you do to counteract it?
Fortunately, the artistic life doesn't have to be lonely if you have the right support system in place. I feel incredibly lucky to have a wonderful group of friends and family who are always there to support and encourage me. My husband in particular, is amazing and is there for me every step of the way. Additionally, I make sure to stay connected with other artists and creatives in my community, whether it's attending art shows, or just keeping up on social media. It's important to have people around who understand the creative process and can relate to the ups and downs that come with it.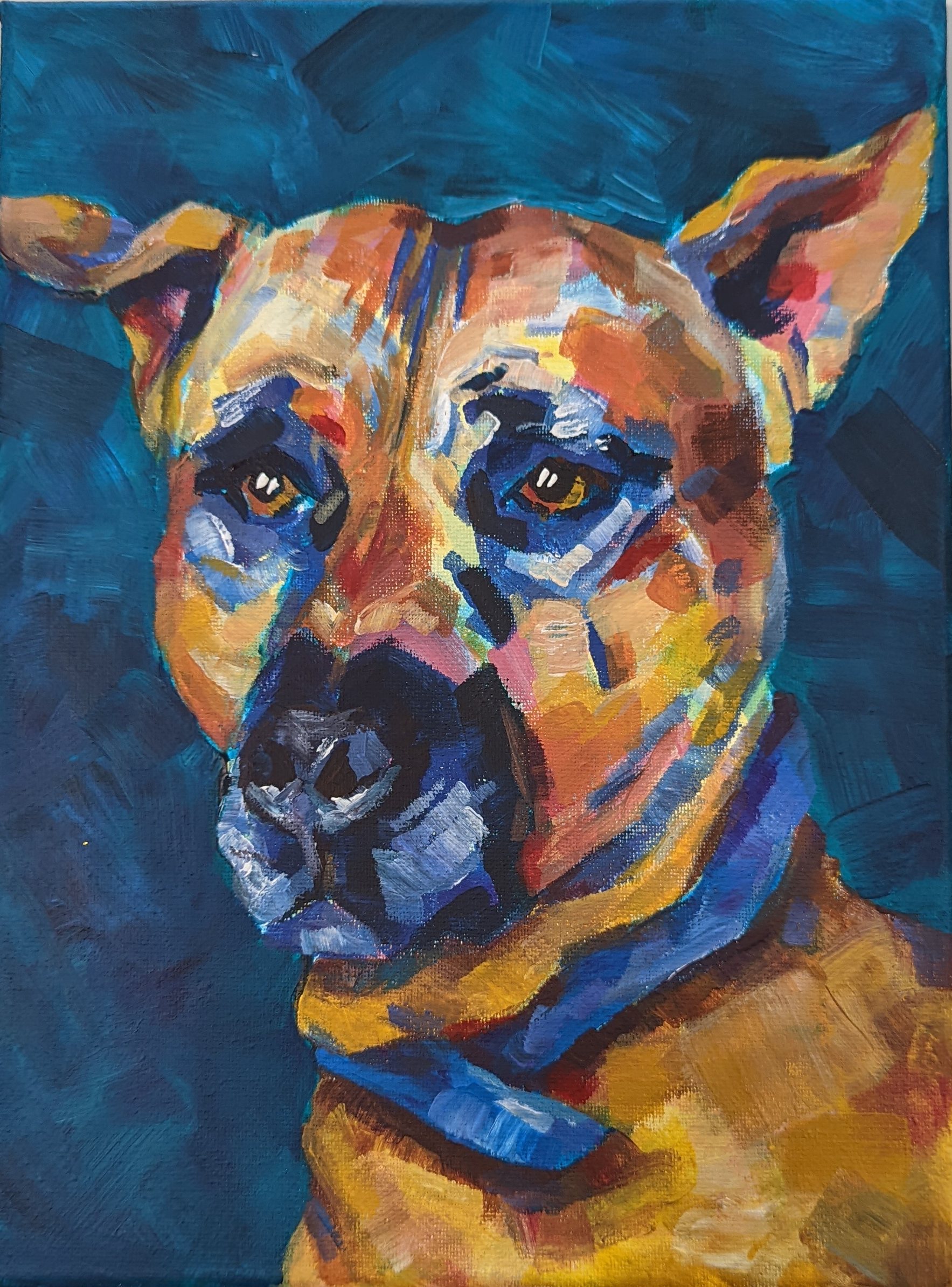 What do you dislike about the art world?
I think one of the things that I dislike about the art world is the feeling of overwhelm that can come with trying to navigate it all. With so many galleries, artists, and events out there, it can be hard to know where to focus your attention first. Additionally, trying to balance a full-time job with creating and promoting your art can be a challenging task. But, I try to remind myself that the journey is just as important as the destination, and that every small step forward is progress towards my goals.
What do you dislike about your work?
To be honest, I'm really excited by the artistic style I've developed, and I'm always looking for ways to push it further. But if there's one thing that bothers me, it's that I feel like I could be using my art to communicate more explicit messages about issues that are important to me, such as the environment and feminism. Don't get me wrong, I think art can be powerful even if it's just beautiful to look at, but I want my work to have more impact and meaning beyond just aesthetics. It's something I'm actively working on though, and I'm excited to see how my art can evolve to communicate these messages more effectively.
What do you like about your work?
I absolutely love the energy and vibrancy in my work. I enjoy the process of creating bold, textured pieces with lots of layers, and seeing my ideas come to life on the canvas. I like that I took the leap to start including bright, neon pops of colour which guide the viewer's eye around the artwork. I love that my artwork has a tactile quality to it, which makes you want to reach out and touch the surface.
Should art be funded? What role does arts funding have?
Absolutely, art should be funded! It's not just a form of entertainment or decoration, it plays a vital role in building our society and culture. Architects, designers, musicians, and other artists play a vital role in shaping our world and making it a more beautiful, meaningful place to live. The benefits of a strong arts culture infiltrate all areas of society, from education and healthcare to the economy and tourism.
Arts funding allows for more diverse and inclusive voices to be heard, and for underrepresented communities to have a platform to express themselves. It also supports the growth and development of artists, helping to create a thriving artistic community. So, if we want to continue to see a vibrant and diverse artistic landscape, then funding is essential! As Friedrich Nietzsche said, "We have art so that we shall not die of reality."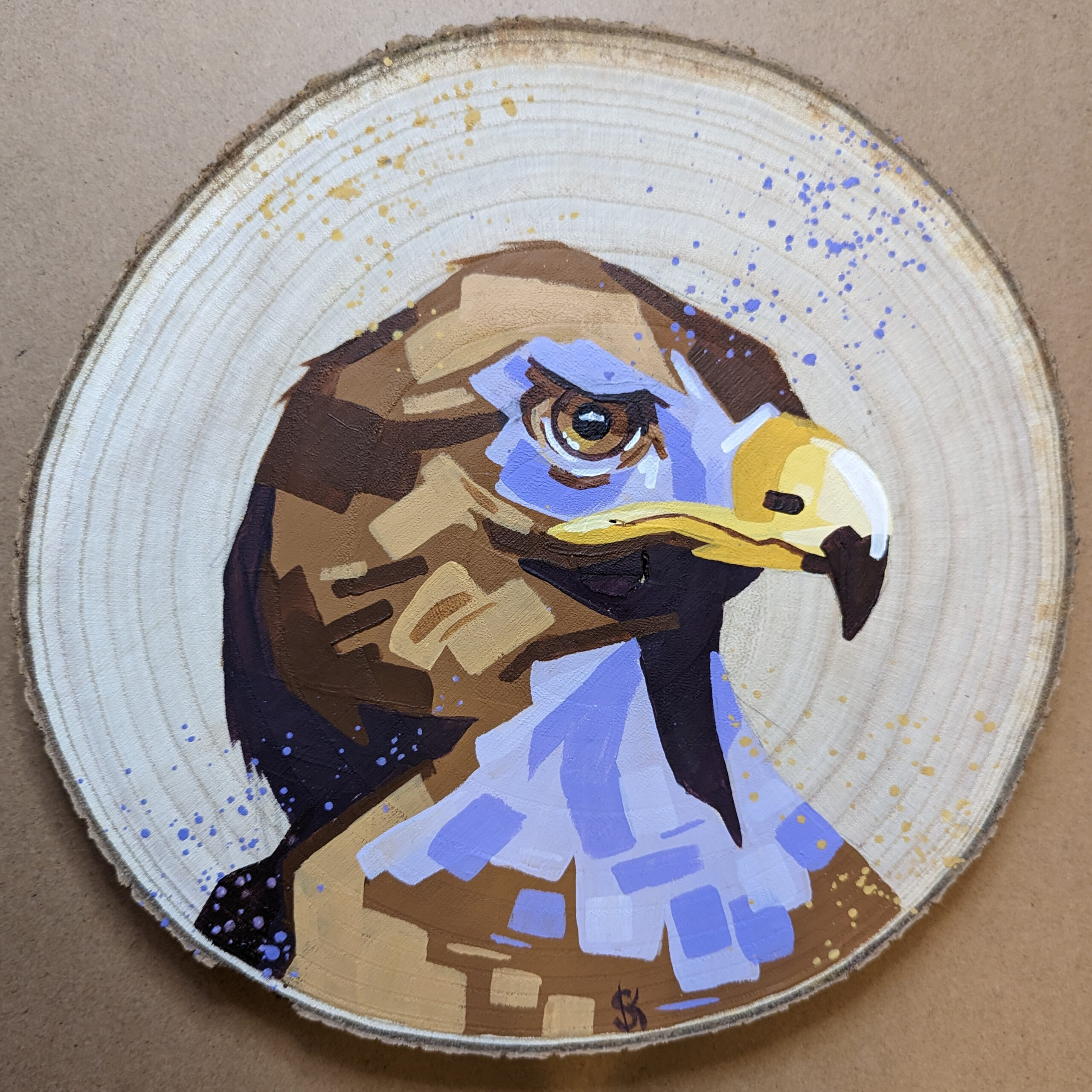 What is your dream project?
One day I would love to create a series of huge works that would be displayed together in a gallery, similar in scale to the Rothko room. I love the idea of creating something that has a powerful impact on the viewer, something that they can really get lost in. However, the reality is that my current studio space is tiny, which limits me in terms of size. But, I'm constantly exploring new ways to work around these limitations and finding creative solutions. Who knows, maybe one day I'll be able to make that dream project a reality!
Name three artists you'd like to be compared to.
There are so many amazing artists out there, but if I had to pick just three I'd love to be compared to one day, I would say Tahlia Stanton, Lindsey Mendick, and The Obanoth. Tahlia creates beautiful paintings and I love how her art is all about adding joy and happiness into the world. Recently I saw Lindsey's work at the Hayward Gallery and was blown away by her ability to inject humour into her artwork while still having a clear narrative. I completed a painting course by The Obanoth, and I love how she breaks down her subject into simplified, geometric blocks.These are three women who are absolutely owning it, and their work is so amazing.
Favourite or most inspirational place ?
My favourite place has to be the Tate Modern. Every time I visit, I am inspired by the creativity and originality of the artwork on display. There is always something new and thought-provoking that pushes my ideas of what art is, and what art could be. It's a space that constantly challenges and inspires me, and I always leave feeling energized and excited to create.
What's the best piece of advice you've been given?
One of the best pieces of advice I've ever received is to enjoy the process. It's easy to get caught up in the end goal and forget that the journey is just as important. When you learn to appreciate the small wins and enjoy the ride, it brings a whole new level of joy and fulfillment to your work. Success is not the end goal, but rather a byproduct of the hard work and dedication put into the creative process.
Professionally, what's your goal?
My ultimate goal is to create work that captures beauty, but also challenges and provokes thought. I aspire to have my work displayed in galleries across London and beyond, allowing me to connect with people from all over the world through the power of art.
Amidst the sea of digital noise, there is something truly special about handmade art. It speaks to us on a deeper level, communicating ideas and opinions in a way that no amount of pixels ever could. In a world that's both hyperconnected and increasingly disconnected, I strive to create something real, something tangible, something that can truly touch people's lives. Whether it's through bold mark making, vibrant colours, or textured surfaces, I want to invite viewers to engage with the world around them in a more meaningful way.
future plans?
My future plans are simple: to keep creating, keep growing, and keep sharing my vision with the world. Who knows where my art will take me next? All I know is that I'm excited for the journey, and I hope you'll come along for the ride!