With an association of over two decades with the hospitality brand Accor, Puneet Dhawan has recently moved to India to lead the country's operations as Senior VP Operations, Accor India & South Asia. He has previously held key positions across countries such as Hong Kong, Vietnam, Australia, Singapore, India, UAE and Philippines.
Puneet started his hospitality career in 1994 with Mandarin Oriental Manila and joined Accor in 1998 as Director of Food and Beverage of Century Wanchai, now Novotel Century Hong Kong. In 2012, he moved to Bengaluru as General Manager Delegate to launch Accor's first dual property in India – Novotel and ibis Bengaluru Techpark.
In the year 2016, Puneet relocated to Dubai as Vice President Operations – Economy and Midscale Brands Accor Middle East, managing 35 hotels in six countries. In his most recent role, Puneet re-positioned Sofitel Philippine Plaza Manila as a top luxury urban resort with over 600 rooms and extensive food and beverage operations. In an interesting conversation with Jyotiee Balani, he speaks about his extensive association with Accor, his favourite cities for food, history and fashion and how a solid gastronomic offering at a luxury hotel is a recipe for success.
What makes Accor stand out from other hospitality brands you've worked with?
 I have been associated with Accor for over two decades and have witnessed Accor's growth and transformation. Accor has been operating in India for 15 years and has grown a network of 52 hotels across 23 gateway cities in India and South Asia. Our strategy has always been to build iconic and leading brands in every segment we operate. We've shifted our overall approach from 'product centric' to 'client centric', with emphasis on the evolving needs of the customer in all their varied personas.
We have a robust portfolio, which ensures that there is something for everyone across price points and experiences, from luxury, premium, mid scale to economy. We understand and resonate with our guests' love for travel and experiences and therefore have a diverse set of offerings whether our guests want to Live (stay at our hotels), Work (use our hotels as places or hubs for business) or Play (creating unique experiences).
Building the right team is crucial for a property's success. What are the key skills you look for when hiring new employees?
 The hospitality industry has countless different jobs and while each of them vary in their specific requirements and expertise, most of them have certain skill sets that remain common. One that stands out to me is the possession of solid interpersonal skills, because communication lies at the heart of any hospitality business. It is also essential for them to have strong business acumen, to be able to manage business priorities and strengthen pivotal partnerships. Having an eye for detail is another key skill that is indispensable in this business. It is a characteristic that sets you apart and ensures thoroughness and accuracy.
 2020 was a challenging year for the hospitality industry. In your opinion, how will travel trends change in 2021?
 In a pre-COVID world, corporate travel was one of the key driving components for the hospitality industry, which came to a complete halt and stayed like that for most the part of 2020. In 2021, we can anticipate domestic travel gaining momentum, signs of which were already visible towards the end of 2020 with the lock-down restrictions easing. Guests continue to look for a change from their mundane schedules, so weekend getaways and same city staycations will become major demand drivers in 2021.
There's also a significant shift in the nature of MICE business, where demand generators such as Corporate MICE, incentives, charters have been replaced by business associated to weddings, social events, COVID related occupancies and sports. We can anticipate the bloom of domestic business and an overly competitive market with rates being deeply discounted as compared to a pre-COVID world and domestic OTAs playing a much larger role than earlier. It will also be interesting to see how touch less hospitality and innovation brought in by technology makes operations more cost-effective and enhances guest experience.
 Was a career in hospitality something you always dreamt of? What is your advice to aspiring hoteliers?
Right from my teenage years, I was very intrigued and fascinated by the glitz and glamour of the hospitality industry. I truly believe that hospitality is a unique industry that allows you to travel around the world and provides you with an opportunity to delve into different cultures, experience different cuisines and meet interesting people along the way. I cannot imagine a career in any other industry being as fulfilling for me.
My advice to aspiring hoteliers would be to never lose sight of the fact that a lot of hard work goes into making things a success in this business, both in front of the house and behind the scenes. Fundamentally, hospitality is a peoples' business, be it your guests or your colleagues, so a natural knack of getting along with people goes a long way.
 Which cities are your favourites for: 1) food 2) history 3) fashion?
 Food – Singapore
History – Varanasi
Fashion – Tokyo
What are some of the new measures your team has put into place to deal with the post-COVID-19 situation?
 We are taking a flexible approach, staying agile while keeping an eye on changing trends and demands of our guests. New campaigns are being devised with our teams across the network, that integrate Accor's ALLSAFE initiative which represents industry leading cleanliness and prevention standards, ensuring a safe holiday experience for our guests. As opposed to a long term approach, we are looking at things quarter by quarter to stay aligned with changing guest's preferences and restrictions by the government and travel policies.
Additionally, we have expanded our strategic partnerships with airlines and travel industry to offer the best value to our guests. For instance, partnership with IndiGo 6ERewards, 'Welcome back Program' with Vistara and Indigo as well as Holiday Safe initiative with Thomas Cook & SOTC. We have also collaborated with Microsoft to launch ALL CONNECT, a new hybrid meeting concept supported by Microsoft Teams, which will enable guests around the world to adapt to the new ways of working.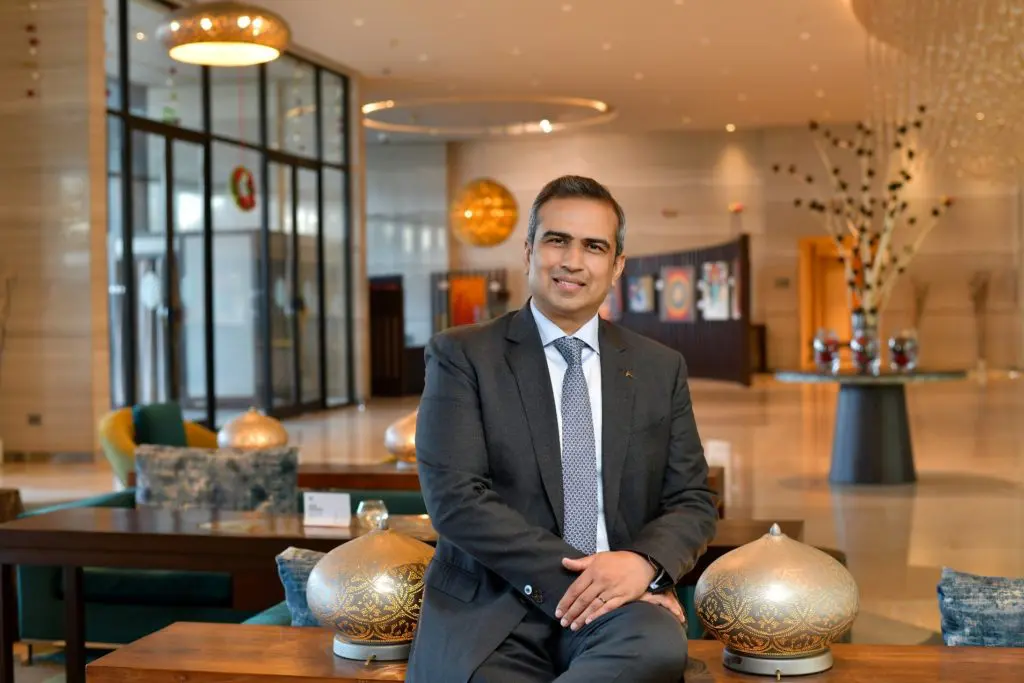 At work, what is your most challenging activity and why?
At the moment, as we are still in the middle of the pandemic, the most challenging thing is not being able to visit our hotels as often as I would want to. I love to meet, interact and engage with our team, our owners and our various stakeholders and doing all of this virtually is proving to be challenging.
 How has the pandemic changed the way you work?
 In general, I put a lot of focus on long-term forward planning, but the pandemic has changed that and made me realize that things can evolve rapidly, especially when the environment is so dynamic and volatile. To truly adapt when things change, it is imperative to be very agile and also put confidence in short term planning.
 What would you do if you weren't a hotelier?
 I probably would be a table tennis player.
 When are you happiest?
 I am happiest when I am with my family. It has been very challenging with the pandemic, with both my children being in Australia, I haven't had a chance to meet them in over a year.
 Favourite or most inspirational place?
 My favourite place is Sydney; I feel it's very cosmopolitan in nature, a city with a fairly decent pace. It has great beaches, some of the most wonderful wineries and breath-taking mountains, all within a short driving range.
 How important is it for a luxury hotel to have a solid gastronomic offering?
 Luxury is all about creating a meaningful experience for guests and a solid gastronomic offering at a luxury hotel is a recipe for success. Food and beverage offerings constitute for a large part of any hotel experience.  I have always believed that food develops loyalists. A dining experience at your hotel that succeeds in creating an exciting and memorable episode is bound to stick with guests.
Photos courtesy : Accor