Amit Bagyal is a creative Indian chef with over 16 years of experience in the culinary industry. He is currently the Executive Chef at Yaatra in the heart of Westminster, where he specializes in modern Indian cuisine, inspired by his travels across the highways and byways of his home country and beyond.
Bagyel's menu at Yaatra gives long overdue recognition to the small pockets of lesser known territories in India, divulging new flavours and traditions. His dedication to using the freshest, highest quality ingredients has helped Yaatra become a dining destination in its own right. Signature dishes, including: North Indian-inspired Amritsari Fish of Punjab served with mint chimichurri; stir-fried Momos with garlic pak choi; and Garhwal Goat Osso Bucco, rooted in Amit's childhood home in Uttarakhand, all demonstrate his adventurous and experimental flair for impeccable Indian cuisine.
Before joining Yaatra, Amit  was the Head Chef of Kanishka, where he oversaw the kitchens of Kanishka Mayfair, Kanishka Kitchen Heathrow and Mathura Restaurant. He was responsible for ensuring the high standards of fine dining, culinary skills, and food and beverage quality were maintained. Amit has also held positions as the Sous Chef at Michelin-starred Benares in Mayfair from 2019-2021 where they regained their Michelin star, Head Chef of Masala Dabbas Foods from 2017-2019 and Senior Sous Chef at the Strand Palace Hotel from 2016-2017. Over the years, Amit has developed his trademark cooking style of taking tried and tested Indian dishes and giving them his own bold spin with fine-dining levels of presentation.
Do you have a favourite time of the year or set of ingredients that you look forward to working with?
For me there is no better time as compared to when autumn ends and we head into winter, that's when the winter truffles will be available. The complexity and aroma of this unique ingredient is amazing and enhances dishes. The nutty rich characteristic of the truffle goes hand in hand with some of the mountainous spices and ingredients to create unique dishes in our menu.
What would you do if you weren't a chef?
From a young age I have always enjoyed the company of people and friends. As I grew older I would either entertain them with food or laughter. I found that my cooking was better than my sense of humor but I would still have to say I would be an entertainer in some capacity. I have always wanted to be able to connect with people and bring them together and make them either laugh and feel happy.
Do your personal preferences influence the menu at all?
For me food has to be prepared with the experience of cooking and love of food. I cook what I love to eat and I am able to translate this onto the menu and experience for the guest. People today have broadened their knowledge and thirst to want to try something authentic and new. Why not cook the food we love from home and give people a real taste of authentic cooking.
What do you think is the most over-hyped food trend currently?
I feel trends are always over-rated, no matter what it is. For food, I guess Candy floss, it is possibly there on every dessert.  I have always believed that you should stay true to the chef you are and cook with a belief that you don't need trends to succeed.
When are you happiest?
The ability to travel makes me the happiest especially hiking in the mountains. There is something deep and meaningful to be able to take simple cooking equipment and create dishes at the top of ridge or mountain with nothing but views for miles to see to sit and enjoy the credits of your reward. There is nothing better than a home-cooked meal over seeing some of the best views in the world. Simply Divine !
When you're not in the kitchen where can you be found?
Anywhere outside. Whether it is be wild camping, out door sports or trekking these are my passions in life. They can give me the same rush as cooking. I like to set myself challenges and the big one that was completed this year was the Three Peaks Challenge. Climbing the 3 highest mountains of the United Kingdom was an amazing feat and one that fills me with joy that I was able to complete this challenge.
Where is your favourite place to dine?
Home –I have eaten in some of the greatest restaurants and have tried delicacies from around the world but still nothing beats home cooked food. The way the smells envelop the house as dishes are being prepared. The love, attention and heritage that goes into these dishes that have been handed down from generation to generation and they are able to stand the test of time. To come home to find a pot on the stove brings comfort and joy to me.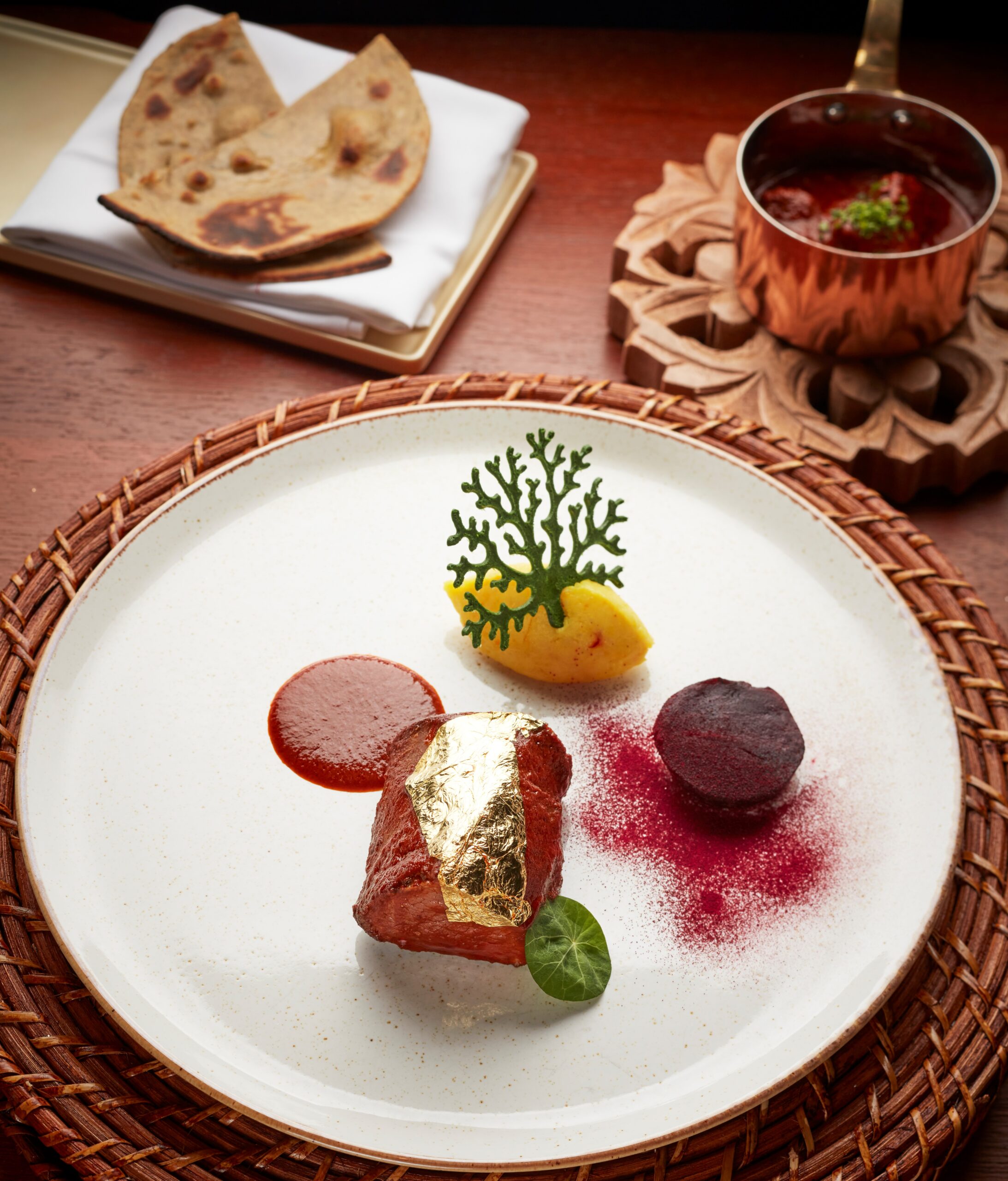 What's your favourite takeaway or comfort food?
Noodles and any Indian preparation. This type of food reminds me of home and home reminds me of comfort and tradition. It also reminds me of my time traveling and of the spectacular views when I have cooked noodles up on a mountain.
What makes the local food scene so exciting?
The combinations of different cultures.  I recently enjoyed an Italian-Indian dish which was quite interesting and unlike traditional food belonging to a specific region, it was an amalgamation of two entirely different food cuisines, which was Paneer Tikka with Pesto, served with masala spaghetti. I love the fact that the diversity of different cultures can come together and fuse different cuisines together and form a new identity.
 Which is the dish you've created that you are most proud of and why?
Black Carrot & Kohlrabi Kofta, brown onion and lotus seed korma garnish with dehydrated vegetables. I am proud of this dish as it has soared in popularity among all guests. I wanted to create a new style of vegan/vegetarian dish and was playing with this idea for a while. The way the earthy notes play with the sweet notes of the carrot along with the sauce created a new flavour profile which was a surprise for our guests. To take humble ingredients and create a full flavoured dish with thought and dedication is an amazing feeling.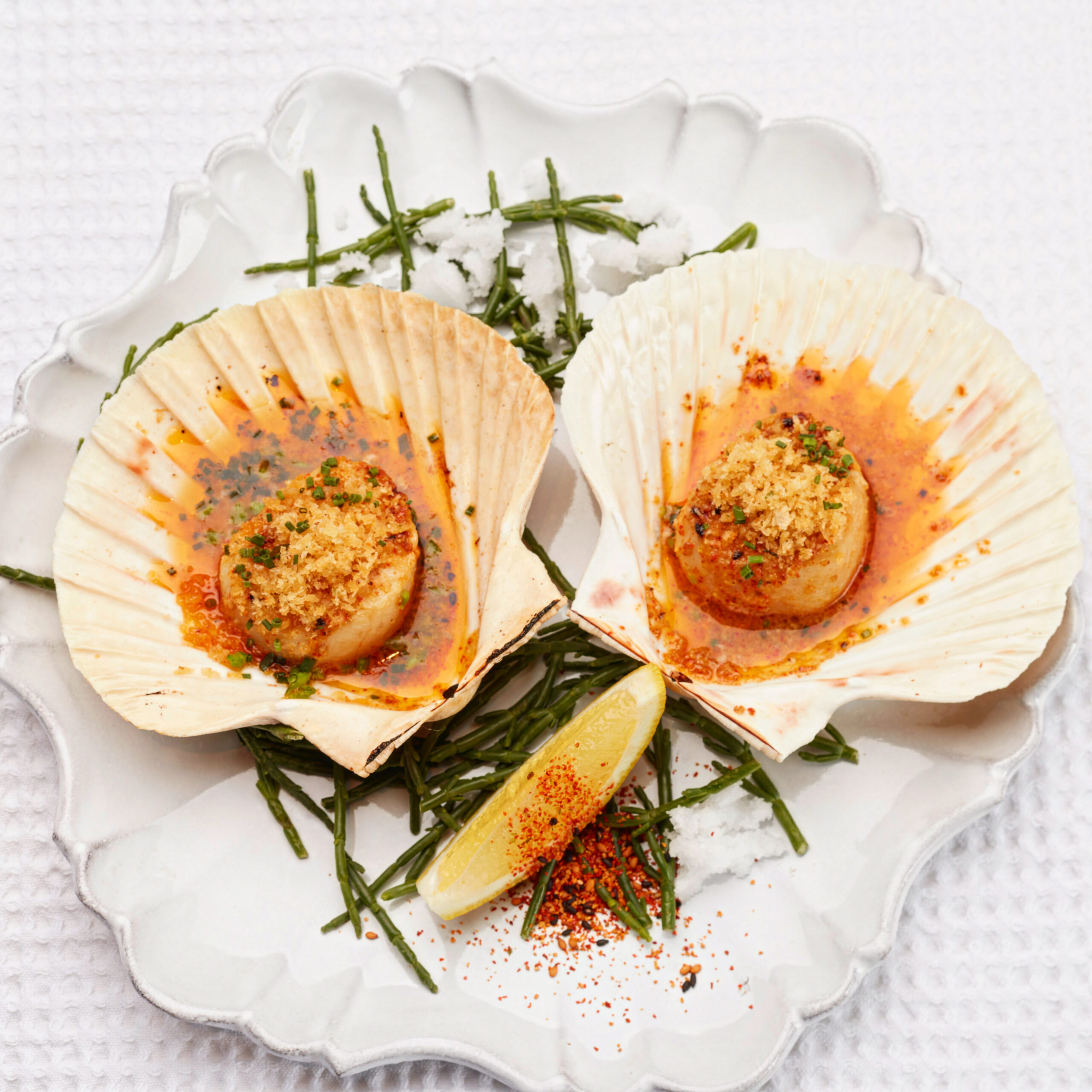 You're having friends over for dinner tonight. What's on the table?
In our culture its in our blood and hearts to feed and entertain friends and family. I love to feed mine but they have started to challenge me to create unique dishes for them. If I had a choice it would be food cooked on an open fire, for example meats that have been marinated or kebabs. The way you are able to cook, eat and socialise with these preparations at the same time is a joy. My rule is if i am cooking, then they should bring the wine. It has to be a big bold red to enjoy with friends. If possible a French Bordeaux or a full bodied Malbec.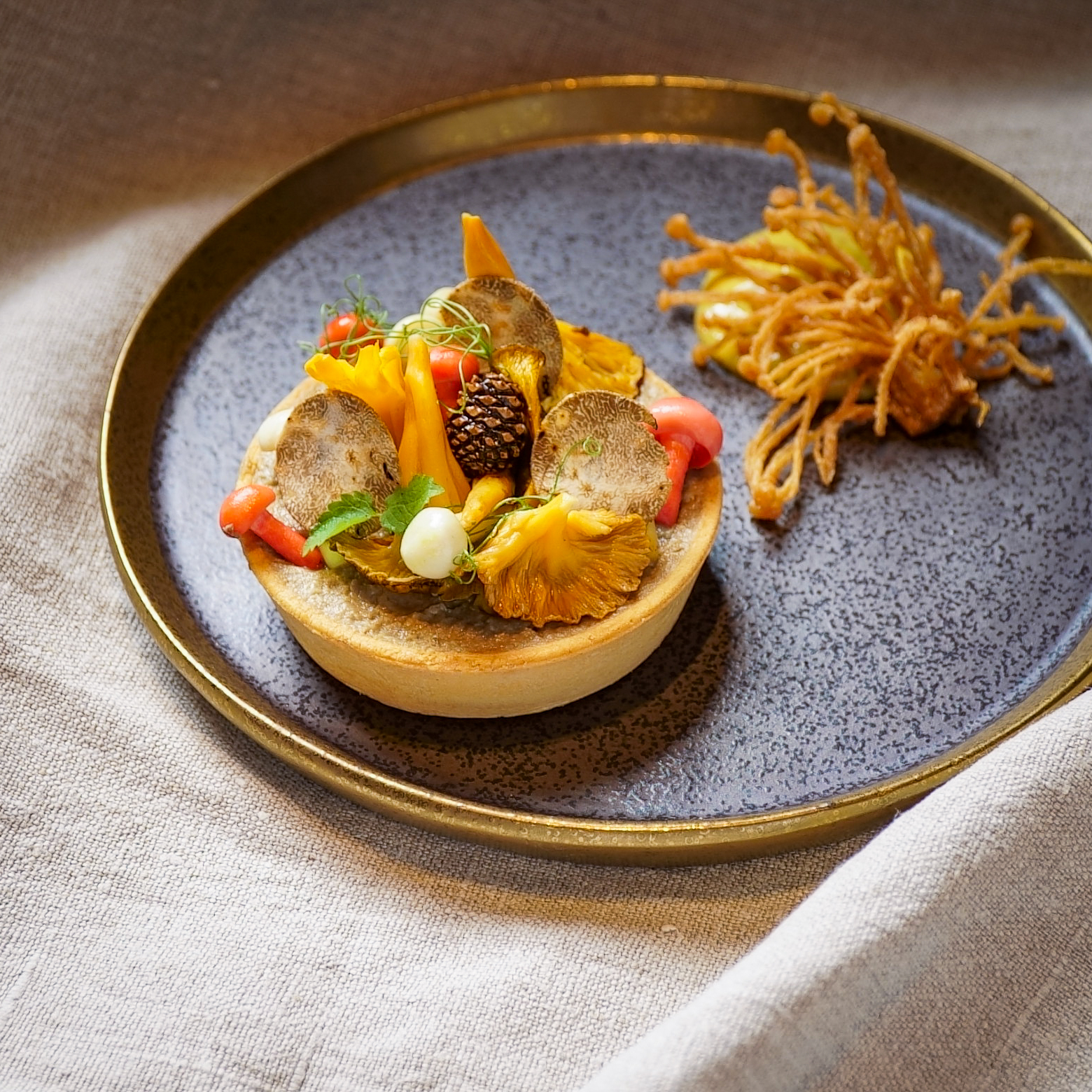 Name your favourite city that has it all: food, culture, and nightlife.
Without doubt its London. The way you can travel across the city and sample virtually every cuisine imaginable. The ability to go and have a Punjabi breakfast in the west and French fine dining for dinner is a wonderful feeling. The way London has allowed itself to become so diverse is a blessing. This city allows more and more cultures into its heart and mind so that more people get to see others way of life, food and culture, there is no other city like it.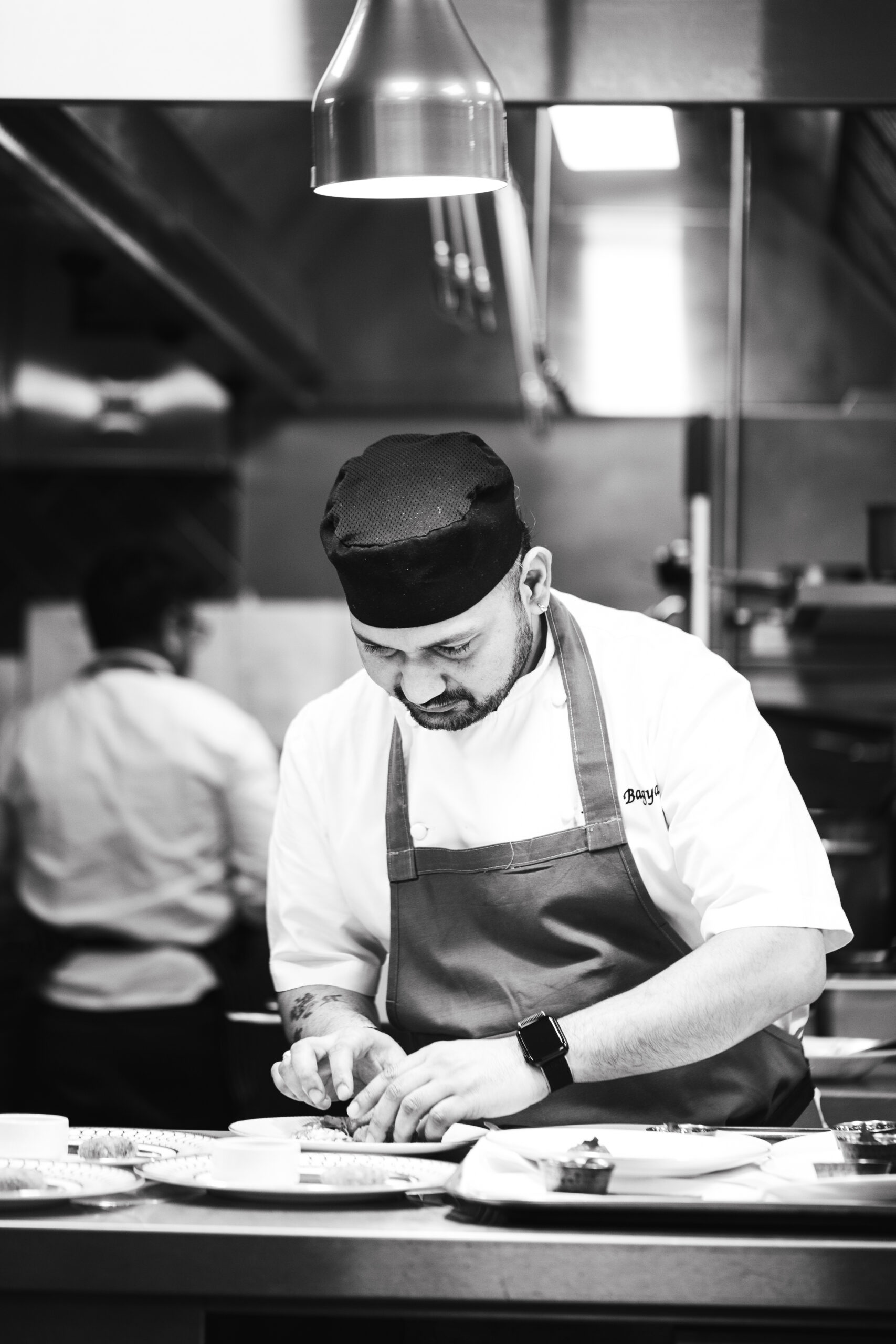 Can you tell us more about the cuisine at your restaurants?
Yaatra means journey and we want to take people on a journey whether it be taste, experience or the ability to give them something new. We focus on Indian cuisine but we also have little nods to modern British cuisine and our guests love the dishes. More people want to try something authentic like our Garhwal Goat Osso Buco or Coorg Lamb Fry but we want to make sure we had dishes people knew already, like our Delhi style Butter Chicken – cooked my way of course !
 Garhwal Goat Osso Buco – This dish is cooked in most parts of Uttarakhand and is very close to my heart as it reminds me of my childhood on the hills of Uttarakhand. For this preparation, I actually use mortar and pestle to hand crush the spices and get an authentic flavour. The sweetness from onions and sourness from tomatoes marries perfectly, plenty of green chillis and the broth from mutton makes it a perfect dish. It is super delicious and very simple to cook.
500 grams goat osso boco
3 Bay leaf (tej patta)
1 Black cardamom (Badi Elaichi)
4 Cardamom (Elaichi) Pods/Seeds
3 Cloves (Laung)
1 stick cinnamon
1 teaspoons cumin
For hand crushed spices (using mortar & pestle )
1 inch Ginger
4 garlic Cloves
2 Green Chillies
1 pod dried turmeric
For paste
2 Onions , sliced (fried till brown )
2 Tomatoes , sliced
2 teaspoon Coriander Powder
5 whole Kashmiri red chilli
Salt, to taste
Mustard Oil
heat oil in a pressure cook, add whole spices like bay leaf, big cardamom, green cardamom and cloves.
Allow the spices to roast for few seconds. Add hand crushed spices and saute for a minute .
Add onions paste and saute till oil separates from the paste.
Add mutton pieces and stir.
Keep stirring, sprinkle salt, cover and cook in the pressure cooker till at least 6 whistles.
Serve the Garhwali Pahadi Mutton along with whole wheat roti or truffle oil morels pulao or steamed rice.