Akshu Kalra is a 23 year old artist based in Charkhi Dadri, Haryana in India and a full-time Quilling Artist. She works from home and has Quilling since December 2020. She created her page named 'AkQuilling' and since then her work is known by this name. Akshu creates contemporary artwork by using paper strips. After a year of hard work, she got her first commissioned project. In the last 2 years, she has created more than 250 commissioned artworks.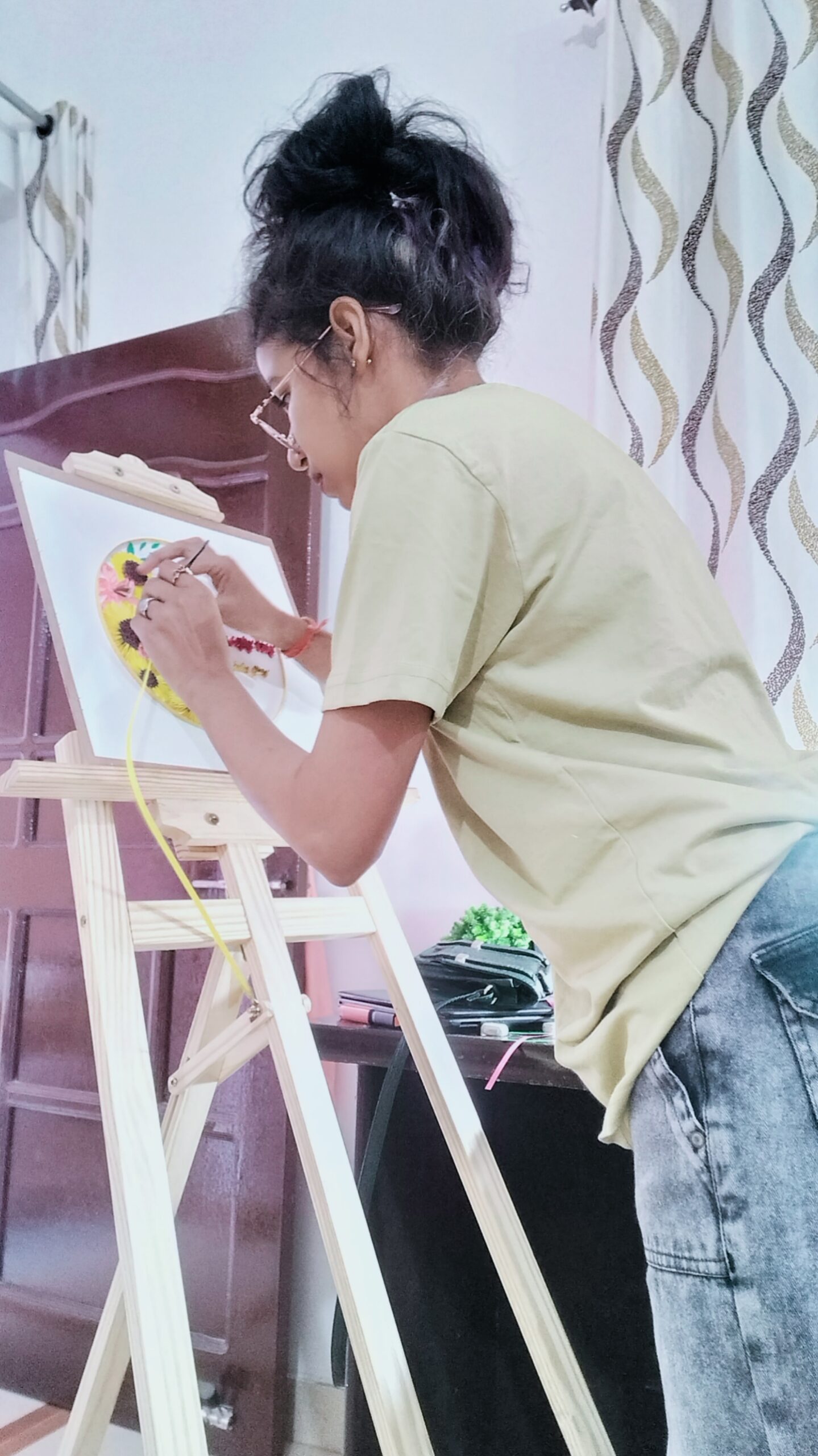 What's your artistic background?
I am a self-taught Quilling Artist. When I was in school I made mt first piece in quilling.
Back then in my final year of graduation, I found my interest in Quilling. I was looking for different qualities of artwork then I saw Judith and Sabeena Karnik's work from that moment I started Quilling. It's been around three years now. This was the most amazing incident that has ever happened to me. I don't have any formal training. I work from home. I learn techniques all by myself. I often combine different mediums or experiment with new forms to create unique expressions. I create customized artwork based on specific requirements or preferences. For the last two years, I have been accepting commissioned work. I translate clients' ideas into artwork. I love my life as an artist.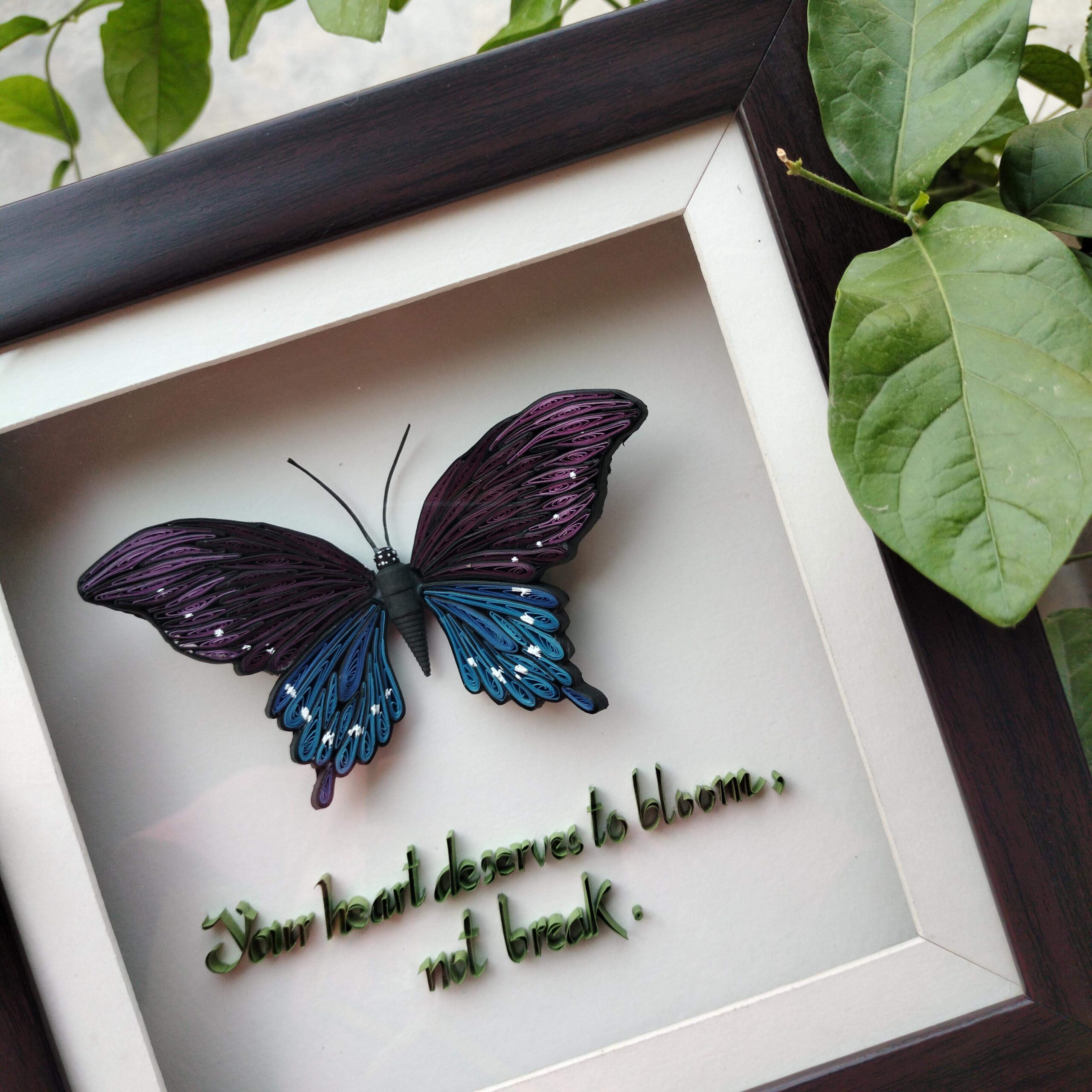 What's integral to the work of an artist?
Passion, clarity, originality, observation, focus and very intimate knowledge of your medium. Art is seductive. This is how you will find yourself interacting with your art. Artists can think outside the box and bring something new and original into the world. Through their chosen medium, they can evoke powerful feelings.
What role does the artist have in society?
There is art everywhere. Artists express that emotion and help us to see life through their artwork, capturing and interpreting the world around them through their unique perspectives. Artists are like storytellers. They share stories through their art that would be hard to share otherwise.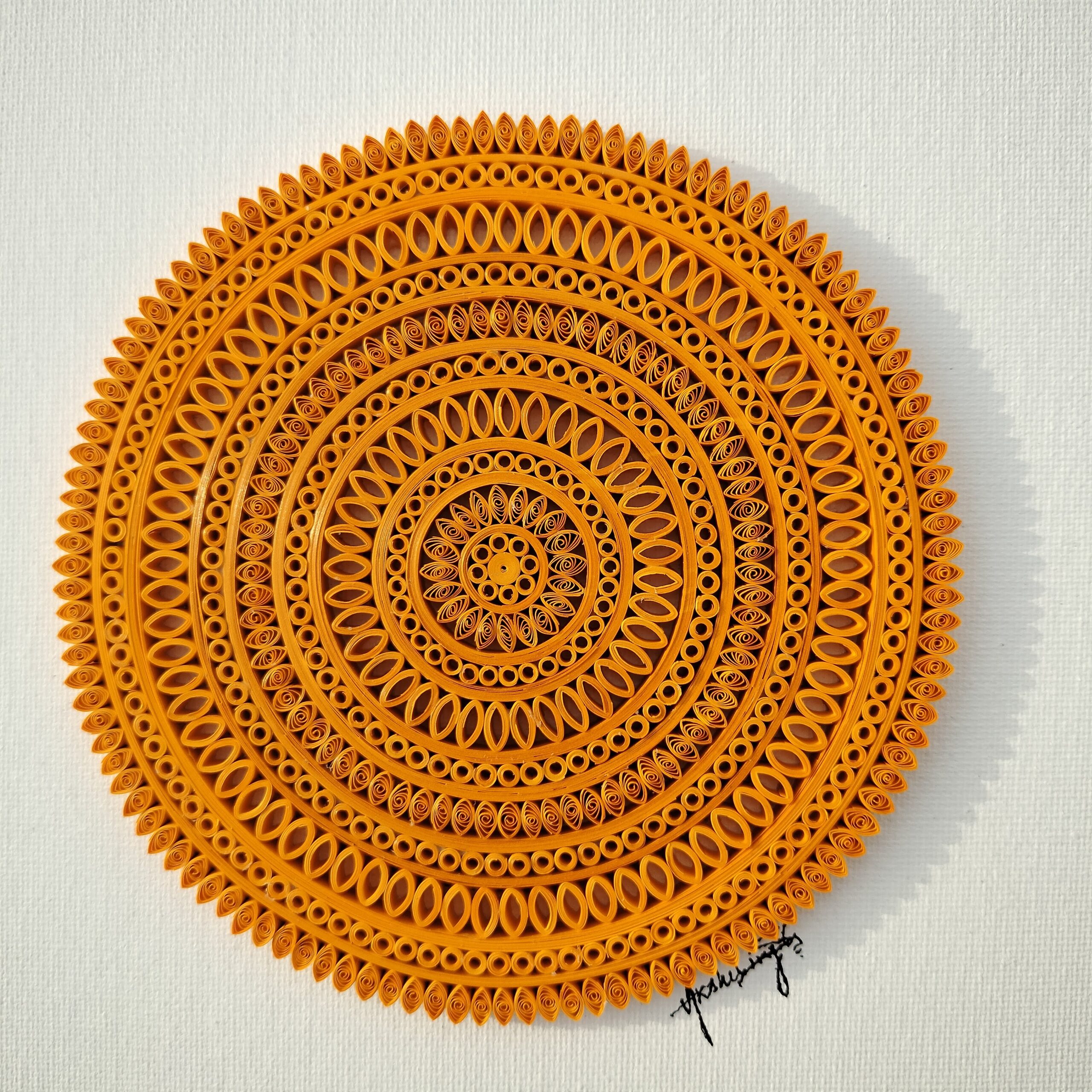 What art do you most identify with?
I love traditional and geometric types of art. I am inspired by Buddhism, Indian mythology and the great Greek mythological Painter Herbert James Draper. I invoke my ideas by Quilling, also known as paper filigree. Quilling involves rolling and shaping the paper strips. The paper strips are arranged to create intricate patterns and three-dimensional forms.
What themes do you pursue?
I have created so many customized themes in Quilling. I try to invoke my ideas by paper. Although I can create every design in Quilling. But most recently I am exploring some traditional and religious themes.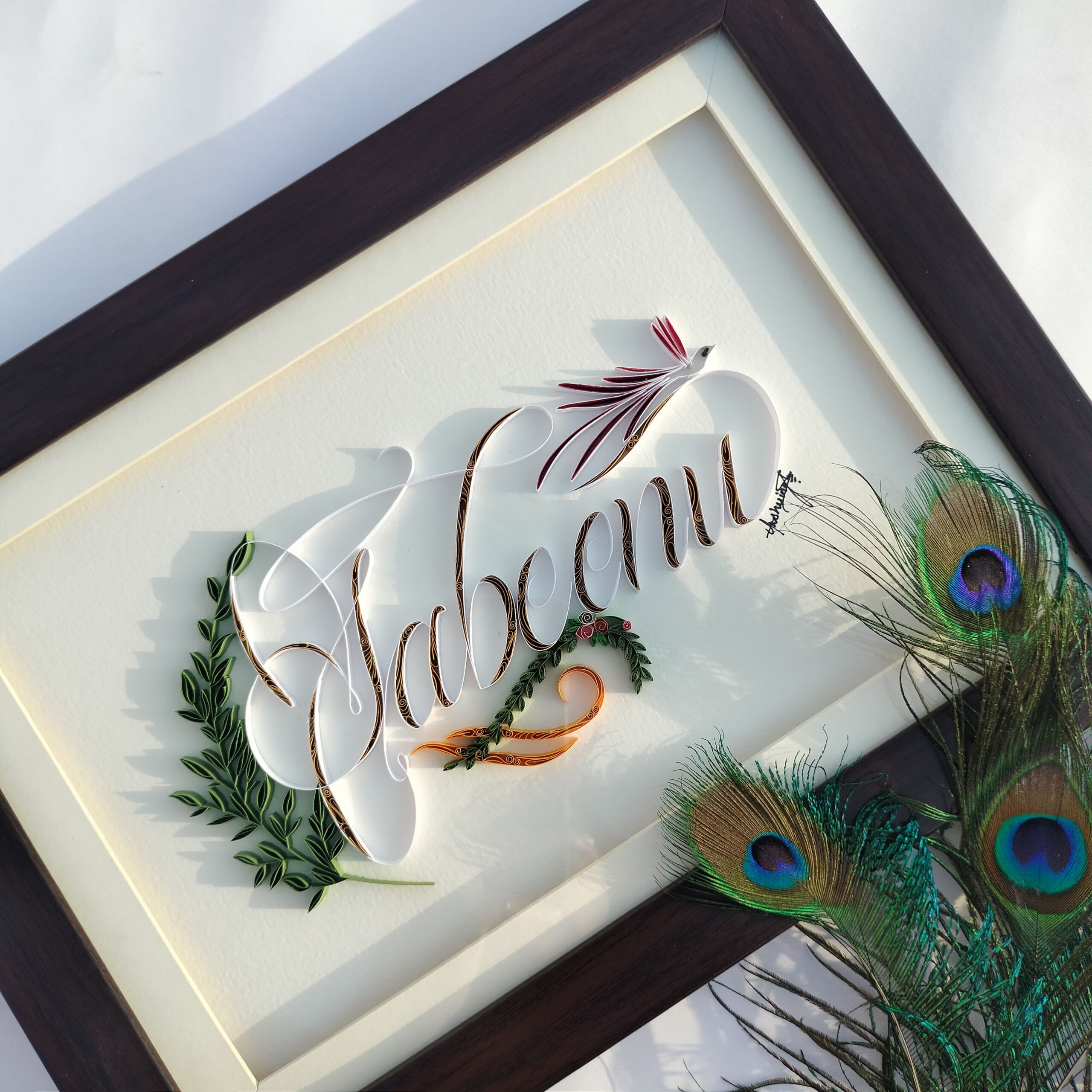 What's your favourite artwork?
I am not sure which artwork is my favourite. But I love Sabeena Karnik's typography work and geometric artworks done by Mirian Fitzgerald Juskova. From my pieces, I love my reindeer artwork which I made in 2021 with the theme of blossom flowers. Quilling offers me a meditative and relaxing state of mind.
Describe a real-life situation that inspired you?
The most real-life situation that inspired me was a few months ago when I was going through a tough time in my life. I never doubted my art. I was not able create those days quilling. The only thing that helps me keep going is my passion for Quilling even during my bad days. Whatever the situation is I know that i will never quit.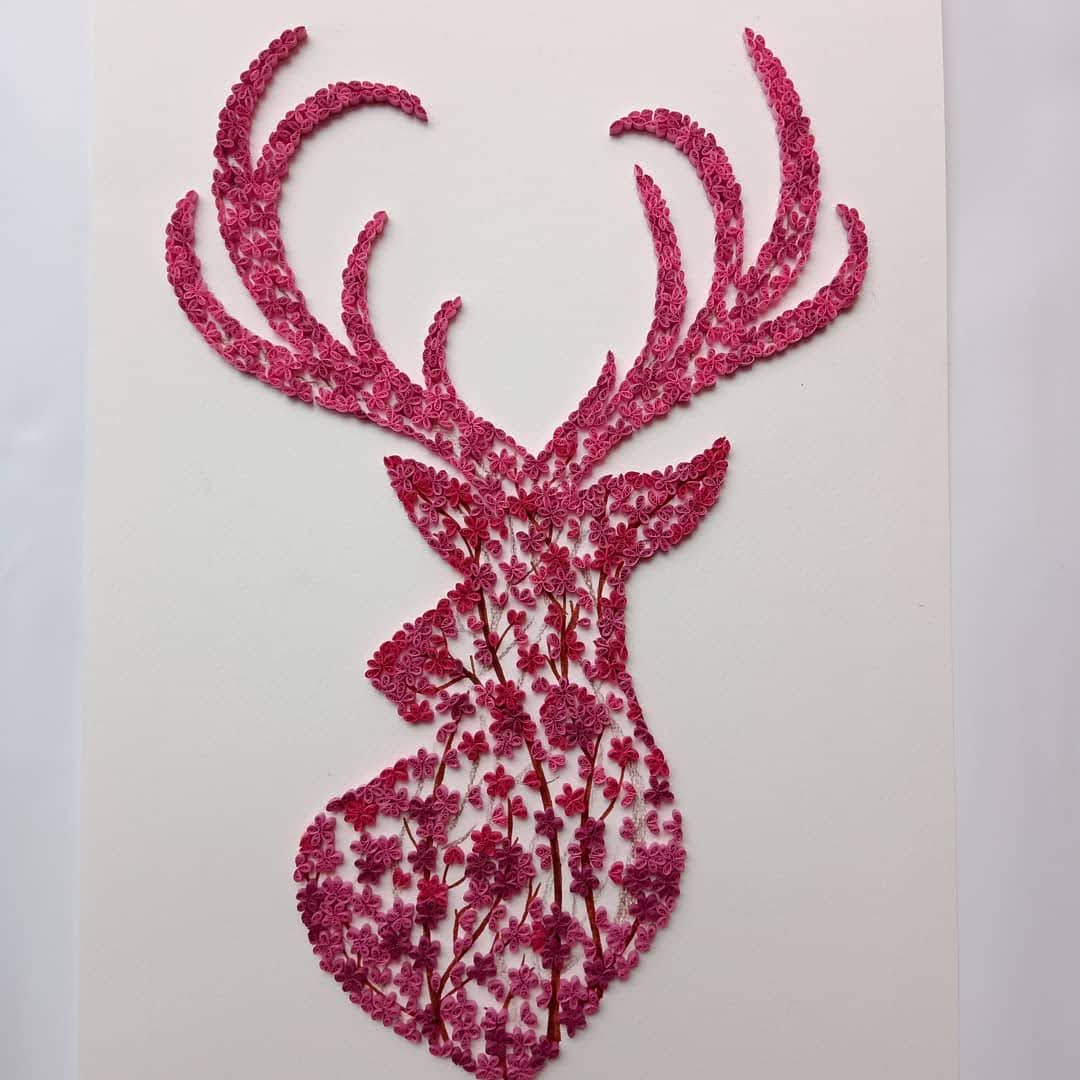 What jobs have you done other than being an artist?
I have never done a job actually.  I am a full-time Quilling Artist. I have been Quilling since my college days. Since then I have been only focusing on my art career. To keep Quilling is my only job.
Why art?
Well, my identity is my art. Art is my life. I can't live without it.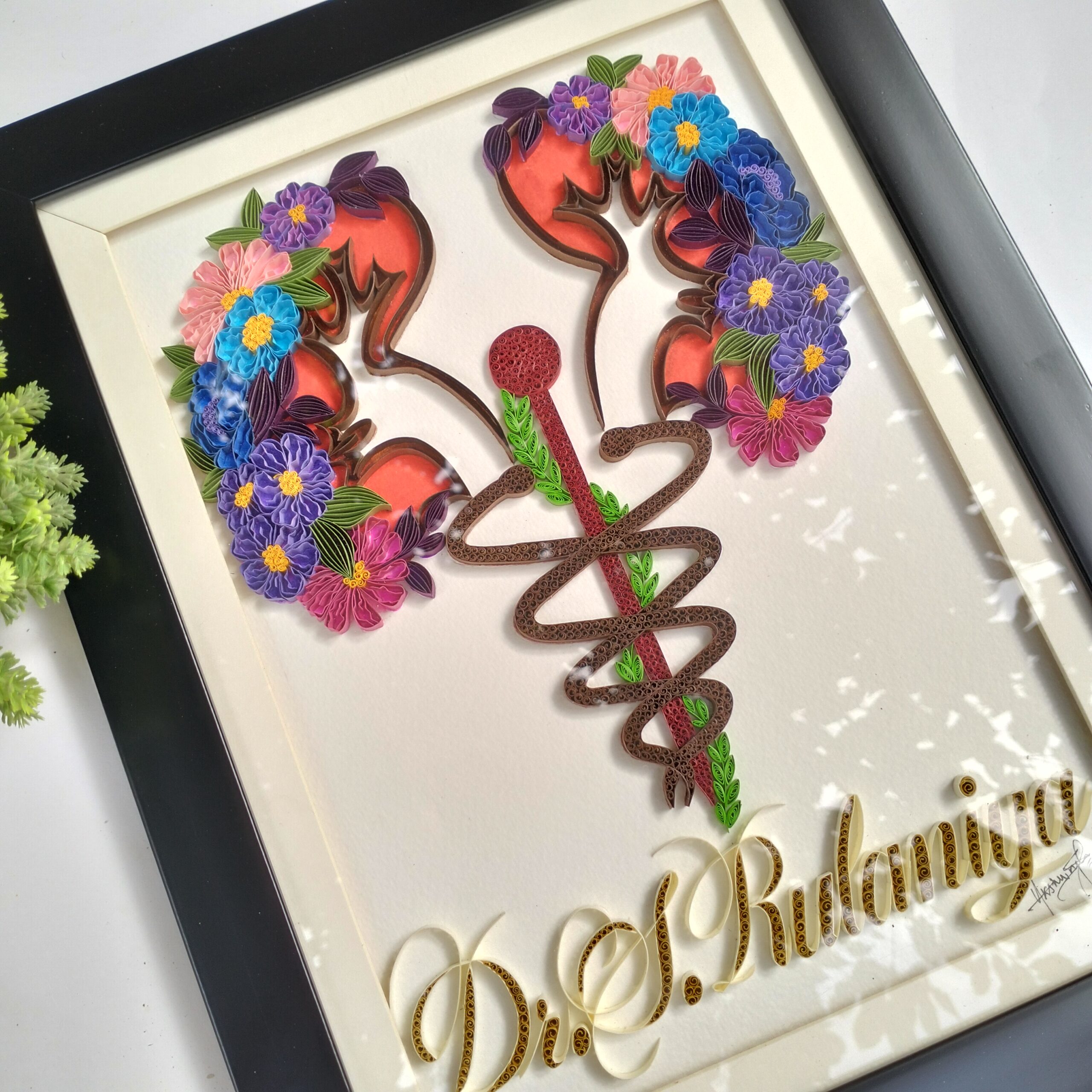 What is an artistic outlook on life?
Life is Art. It involves valuing the exploration of emotions. Artists often embrace their individuality and celebrate uniqueness. An artistic outlook on life involves being present in the moment, finding inspiration in everyday experiences and observing the world with curiosity. I see art everywhere around me.
What memorable responses have you had to your work?
I had a very beautiful response from one of my favourite artists when I made something for her. Her words encouraged me to keep going. And I always get a positive response from my client when I make something memorable for them.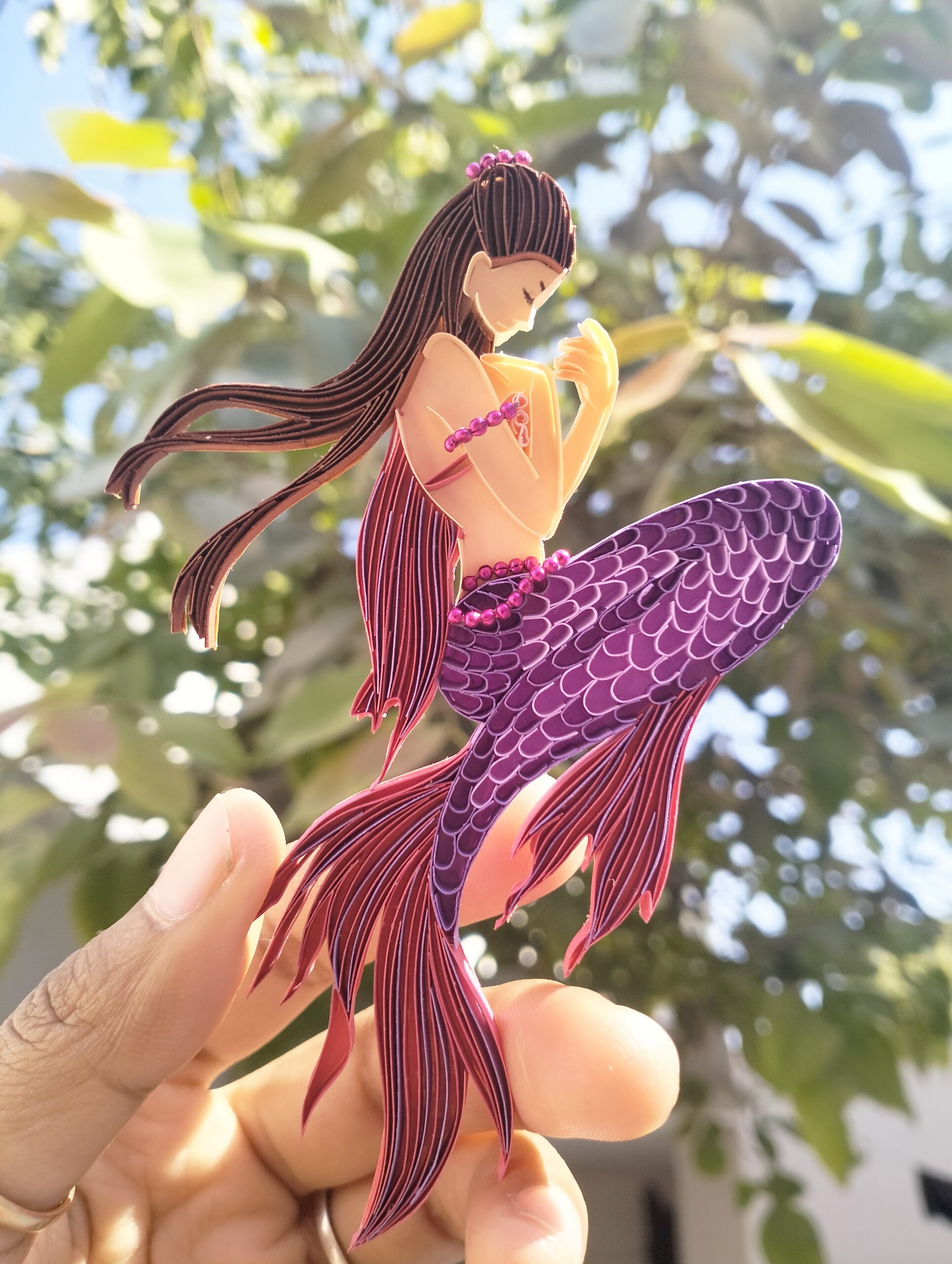 What food, drink, song inspires you?
Coffee is like therapy for me and I drink a lot of cold drinks when I work. My day doesn't start without sweets. I usually listen to mellow music while working. I always have music playing in my studio. It helps me to relax, focus, and find inspiration.
Is the artistic life lonely? What do you do to counteract it?
I am never alone. But I like to work alone. I work from home. Being with family never made me feel lonely.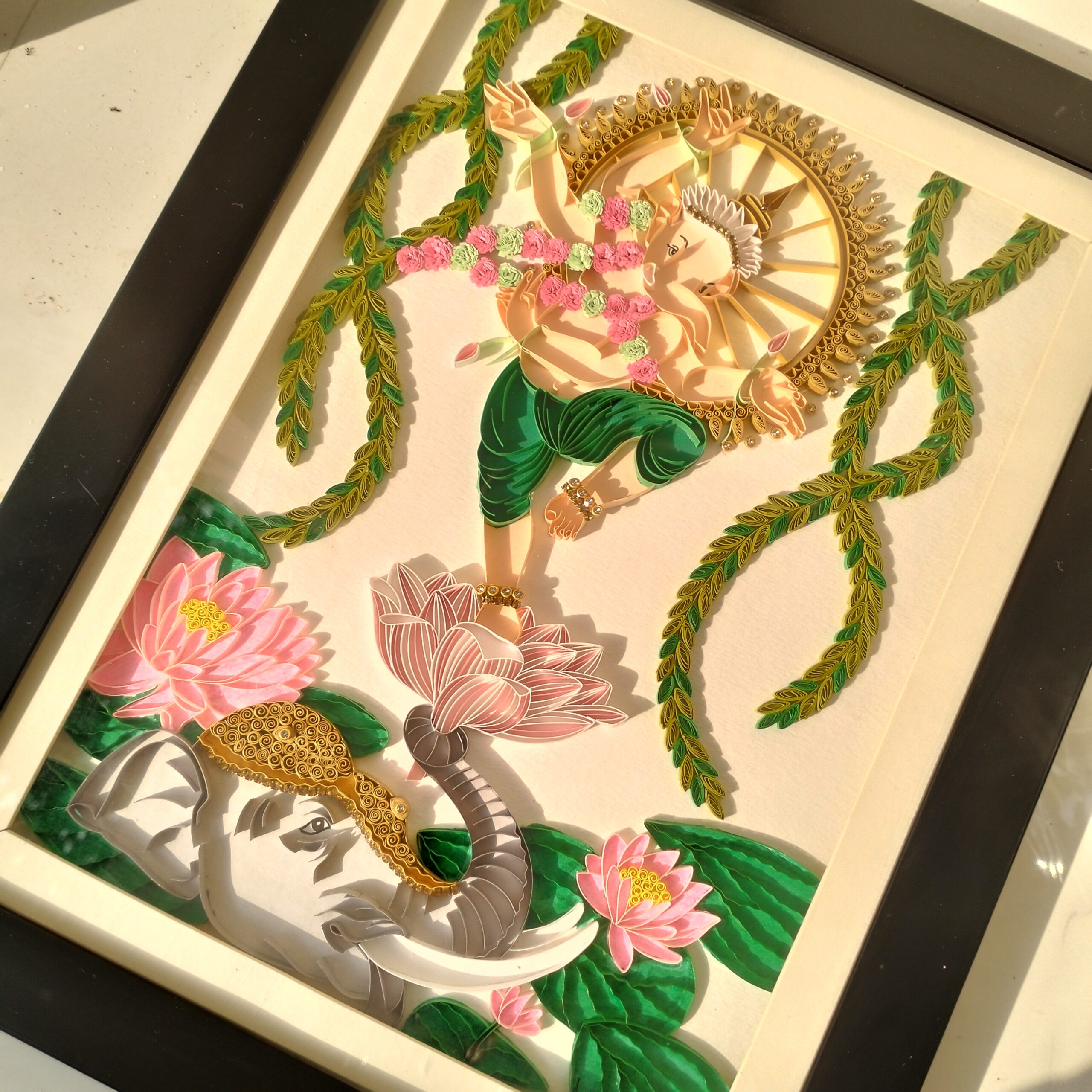 What do you dislike about the art world?
The era of social media has allowed artists to showcase their art to the world, but the social media algorithm is promoting only quick and easy things in the art field. And I feel like because of this a lot of talented artists are underrepresented. Good art takes years of dedicated hard work. Galleries typically have specific curatorial preferences and target audiences. It is always a challenge for an artist to find a suitable match.
What do you dislike about your work?
There is nothing particularly I dislike about my work.
But the only thing that I don't like is when I don't get enough time to finish the artwork.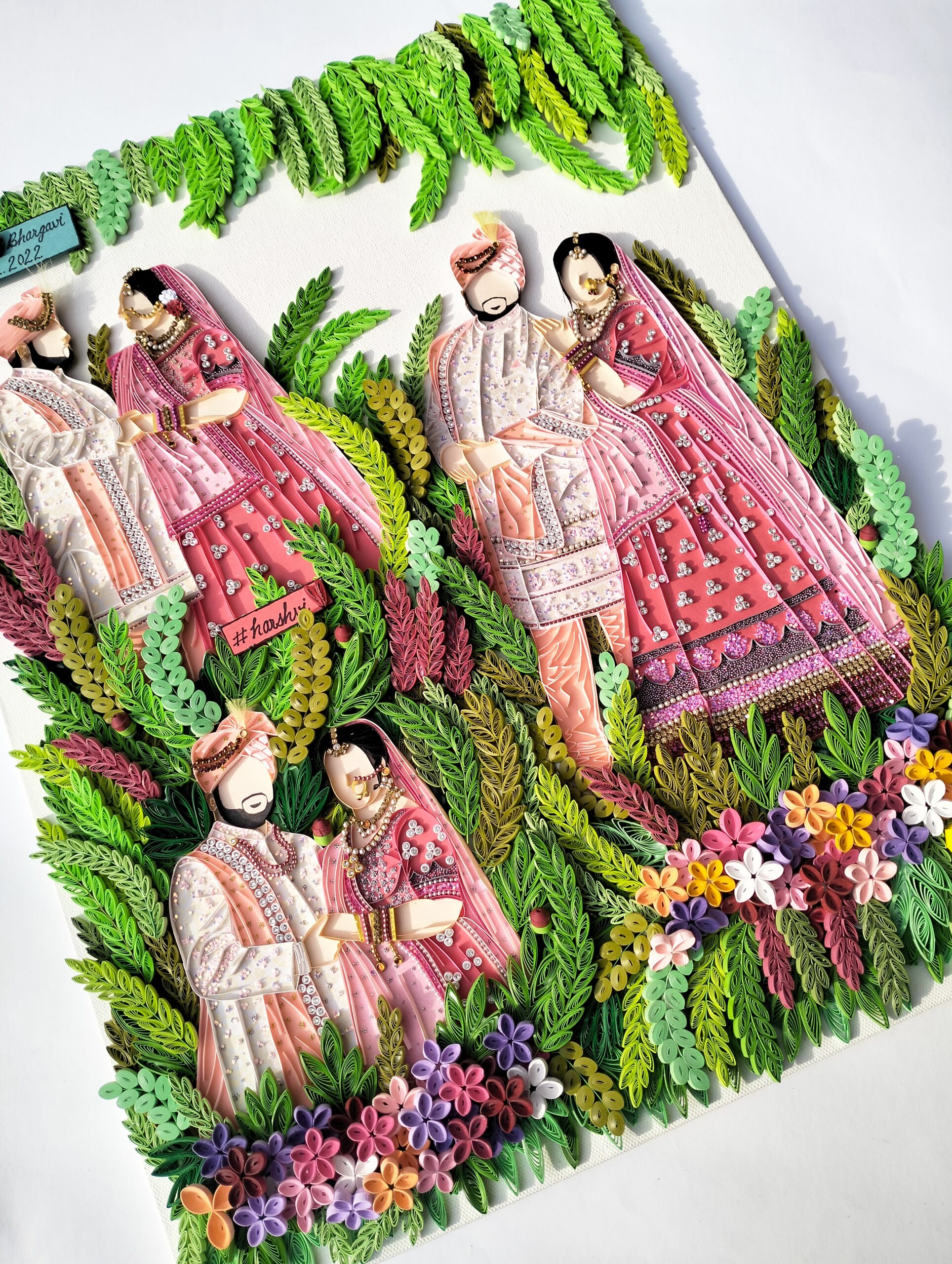 What do you like about your work?
I love my work. Even if it takes a lot of time and effort to produce an original piece of art. I love the colour, composition, texture and feel of the paper. From folding to pasting it I love every single part of Quilling. Quilling is a beautiful and intricate art form. My work is my meditation and the only thing that calms me.
Should art be funded?
Yes of course. It helps artists to find more opportunities and allows them to keep going in their field.
What role does arts funding have?
It provides support for artists. It allows artists to take risks and develop their skills.
Unfortunately, art funding in India is only limited to art studies or degrees. This is also a very tough part for an individual artist.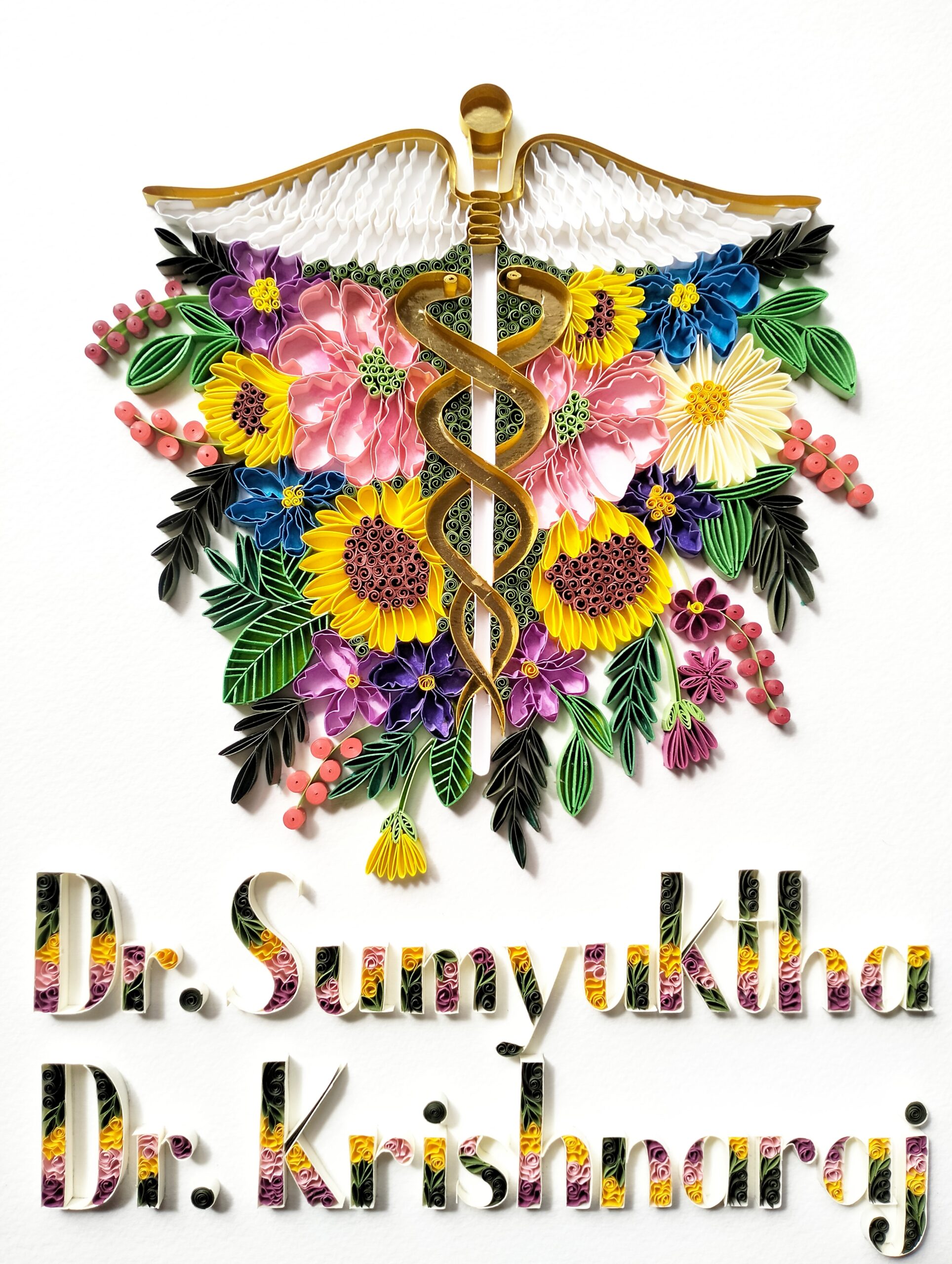 What is your dream project?
To get an opportunity to start working with well known brands.
Name three artists you'd like to be compared to.
I don't really like to compare myself with anyone.
I only like to compare my current work to the earlier pieces and observe the progress I have made over time.
Favourite or most inspirational place ?
My home is always my inspirational place.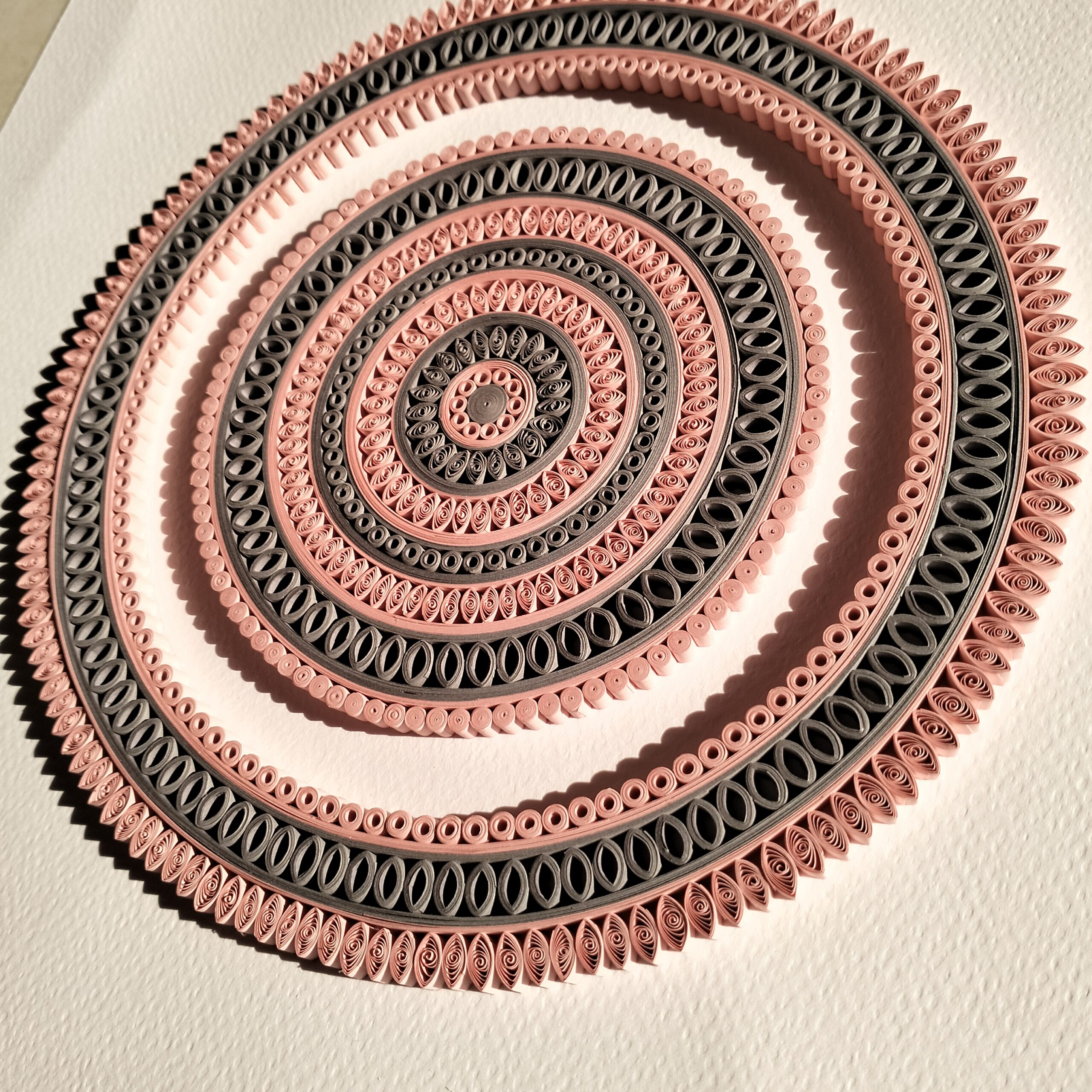 What's the best piece of advice you've been given?
I heard somewhere when a door is closed there is always an open window, don't go to the closed door go to the open window. One should keep on making new discoveries in life, who knows what turn life will take.
Professionally, what's your goal?
To keep Quilling as far as I can go. I want 'quilling' to be known by my name.
Future plans?
My future plan is to open my own studio in Italy someday.