Ganesh Doddamani was born on January 27 in Ramdurg Belgaum Karnataka to Mala and Pareshwar Dodamani. After demonstrating an interest in drawing, Dodamani attended art classes after school hours, and conducted his own experiments with colours . In 1994 Dodamani began his studies at the University College of Visual Arts Davanager, where he met and studied under painter Shanker Patil along with taking classes from Shambhu Das and Nathi Ghosh artist from Calcutta, who became his faculty advisor and close friend. In 1996 Dodamani went to Gulburga to complete his BFA at MMK College of Visual Art from Professor V.G.Andani from where he graduated with honors and he entered the MFA program at Kala Bhavana Viswa Bharti University, in Shantiniketan in 1999-2000. He worked as an art director under GV Iyer and at Visvesvaraya Industrial and Technological Museum, Bangalore.
"My vibrantly colored canvases are abstract and any relationship to landscape has to be sought out by looking deeply. I want to have a narrow, limited footprint to tell people, this is how I see the world and I am going to make you see it that way for a while. I paint landscape in formalistic ways, while filling the canvas with wild colors in combinations never seen in nature; the composition is usually in horizontal bands loosely suggesting earth and sky.  The high horizon keeps everything on earth and below reaching tendril like through these broad zones of color is what I call 'vertical signifiers'- not trees, but maybe the sense of rhythm. That's how I like to paint, with darkness and light, bands that create a sense of rhythm. You feel that you are in a space that is familiar and also unfamiliar. For all their abstract freedom, these paintings are closely bound to a sense of place, a material reality that is very familiar to the artist. I have been living and working in Bangalore from past 11 years, but my impulse to paint grew naturally out of my childhood. I was painting before I even know what a painting was. In my landscape concept, the very materials the painting is made of tie it back to the land, since paint is essentially made from earth, from minerals," he says.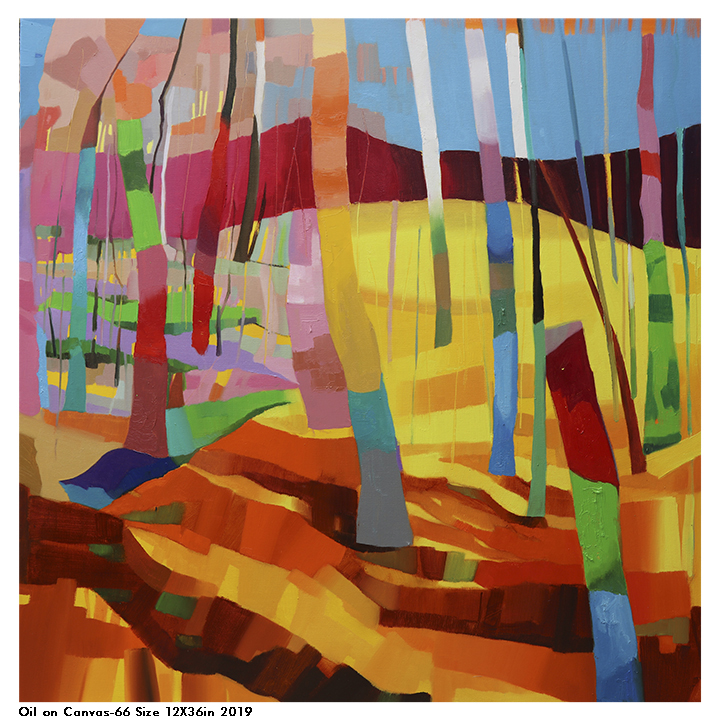 The physicality of his chosen medium, oil on canvas is very important to him. He delights in pointing out that 'a painting is liquefied fat mixed with ground – up rocks and smeared on a flat surface. "Not surprisingly, my studio is hard-core messy, with just about every surface encrusted in truly geologic layers of dried paints. I like a certain amount of clumsiness in the process," he reveals.
What's integral to the work of an artist?
Passion towards art and creating awareness through these artworks is integral to the work of an artist. I feel art gives us the freedom to spotlight the beauty first to ourselves and then as an offering through our art to others.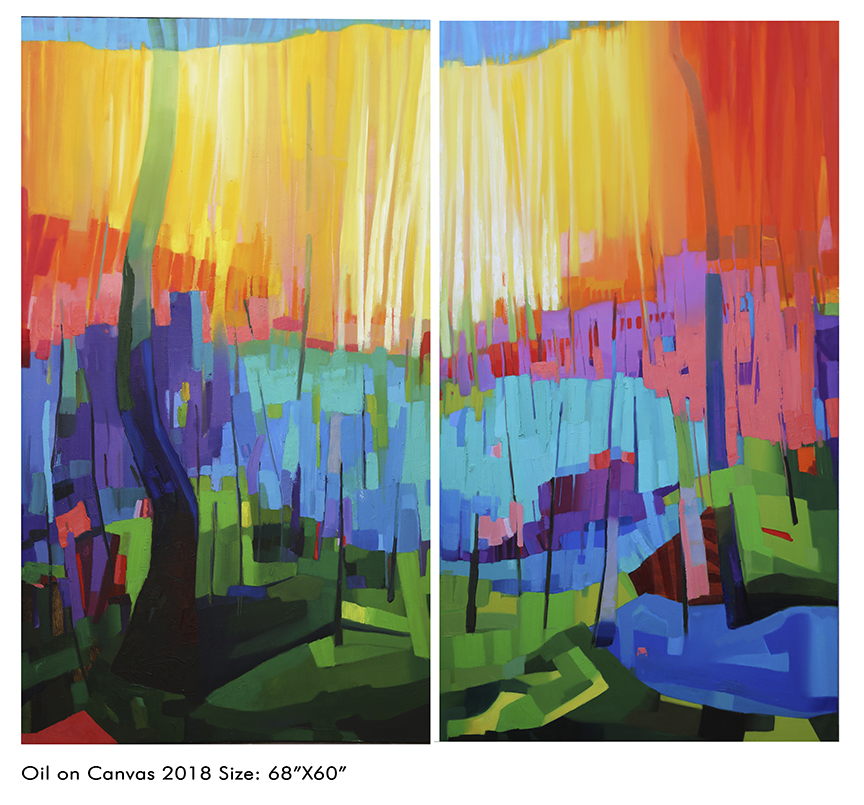 What role does the artist have in society?
Every Artist speaks with society through his art and the purpose of an artist is to express the beauty of the world around him. In this way art keeps society engaged and healthy.
What art do you most identify with?
My source of inspiration is nature and later I gradually drifted onwards abstraction and a distinctive method of compressing the rich color and form of my environment into complex landscape paintings that imbue material reality with a deep sense of place.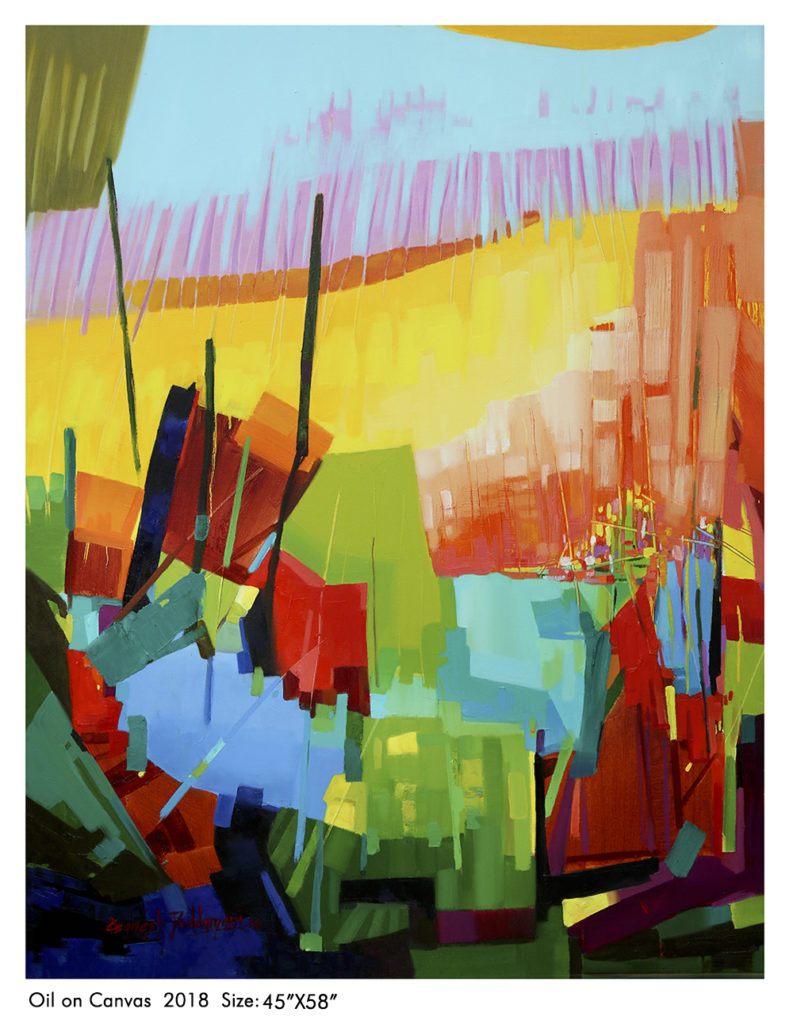 What themes do you pursue?
From the very beginning of my career as an artist, I have had a great passion towards figurative art and Heritage of India; this helped me realize my spiritual qualities. Now, over the past few years or so, my work has naturally and gradually drifted onwards to abstraction to showcase the smell of nature.
What's your favourite art work?
There is no specific artwork as such. I love all the artworks created by various artists.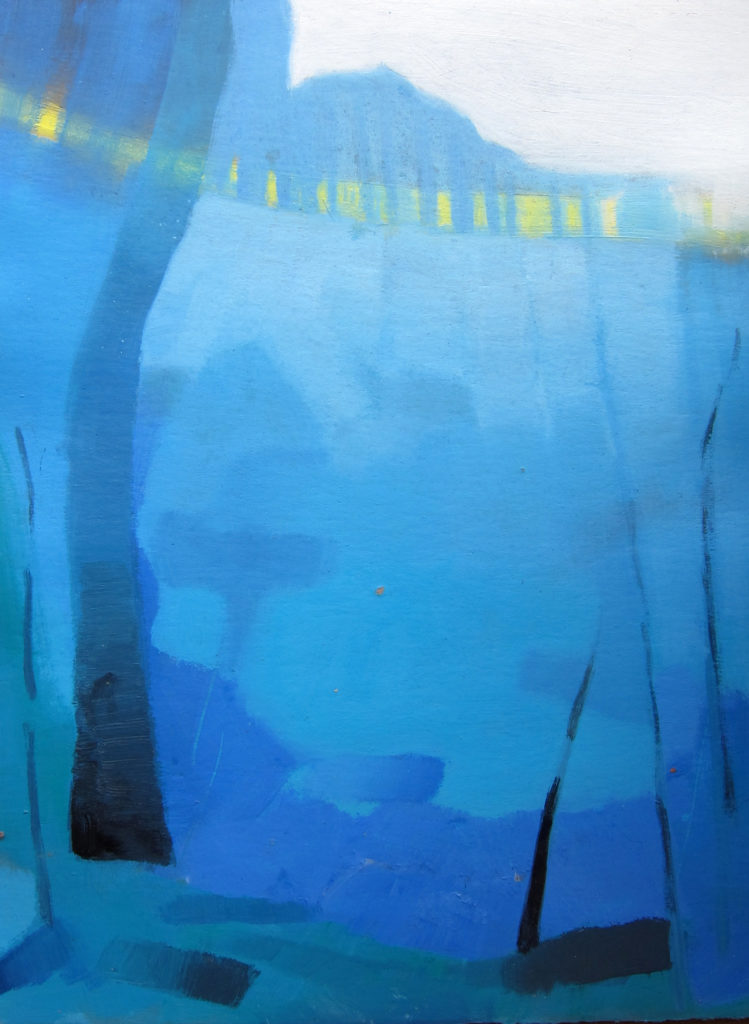 Describe a real-life situation that inspired you?
Rain is one of the most beautiful gifts bestowed on us by nature. Almost everyone loves the rainy season, especially the first rain of the summer season. The sight of raindrops falling after a long summer is truly beautiful, and the only thing more beautiful is the 'smell' of that rain when it first hits the ground. Yes, the smell that makes us poetic and romantic seems to come from rain striking fresh soil.  This made me to think and work on it. I've been painting for the last 19 years so I certainly understand color and the application of oil paint better, but I hope I haven't evolved too much beyond that.
What jobs have you done other than being an artist?
I worked as a Visual Development Artist in art agencies, museums and animation companies.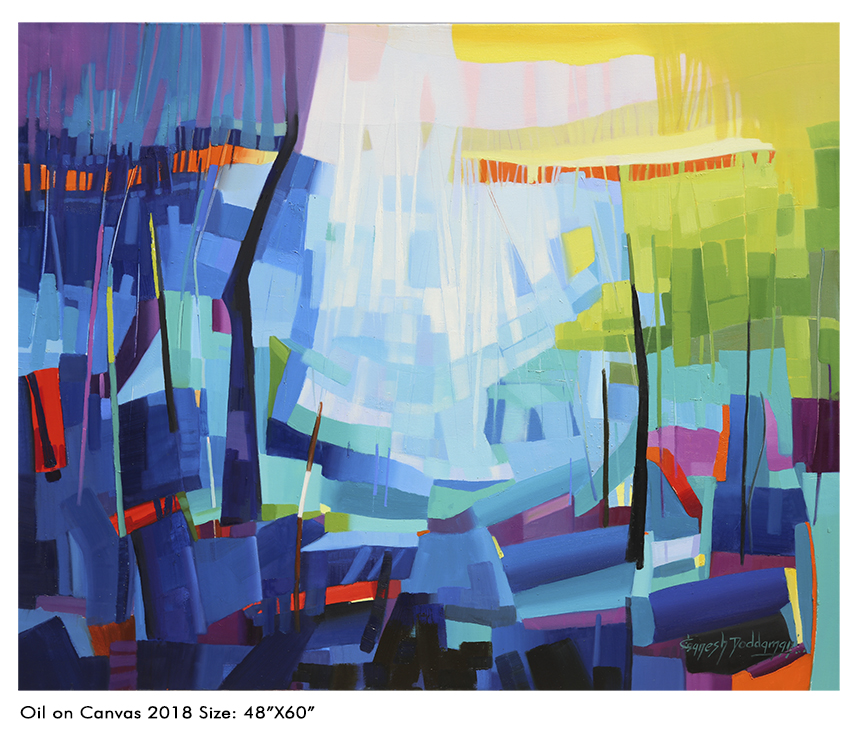 Why art?
Art allows us to imagine, create and reflect our ideas and keeps me balanced and energized all the time and helps me express my emotions through artworks.
What is an artistic outlook on life?
Life is a beautiful journey- one should have inner eyes to celebrate the journey the happiness, positive vibration and energy to see a beautifully colorful life.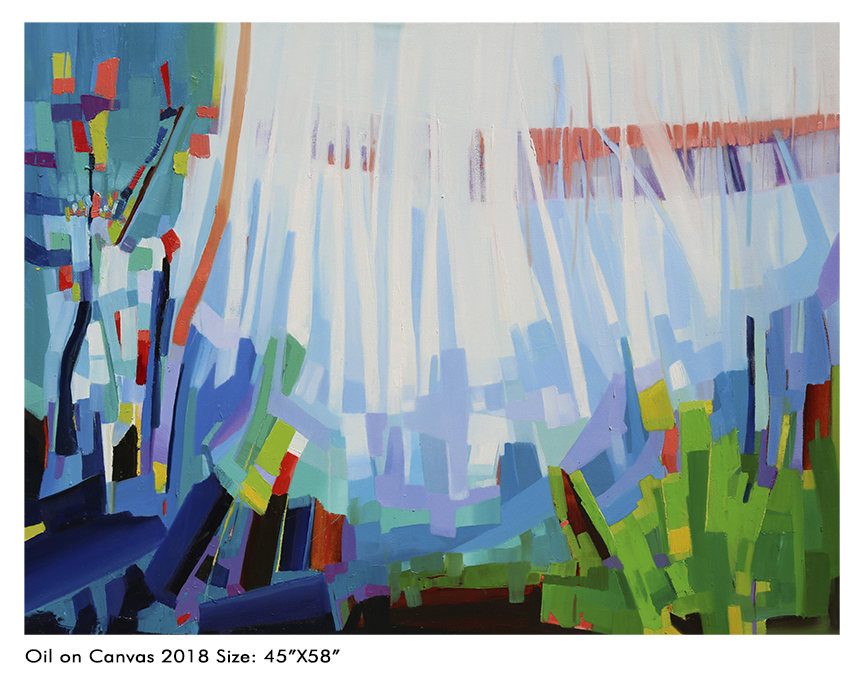 What do you like about your work?
Vibrant Colors, textures, the feel and the play is what I love most about my work. Painting suits my desire to be clumsy, to make a mess. Play is most important. In order to paint, the texture of the paint drippings in the studio is reminiscent of the dense coagulation of paint at the bottom of many of my canvases, which I say is there to create an earthy feel in the ground. I want the bottom to relate to my feet, the middle to relate to my guts, and the top to relate to my head, like you are standing in a place with a discernible foreground, middle ground, and background.
What role does arts funding have?
Art is an experiment, funding of art helps artist to be able to develop new things and experiment at different levels. It should be done if we want to see new art being created.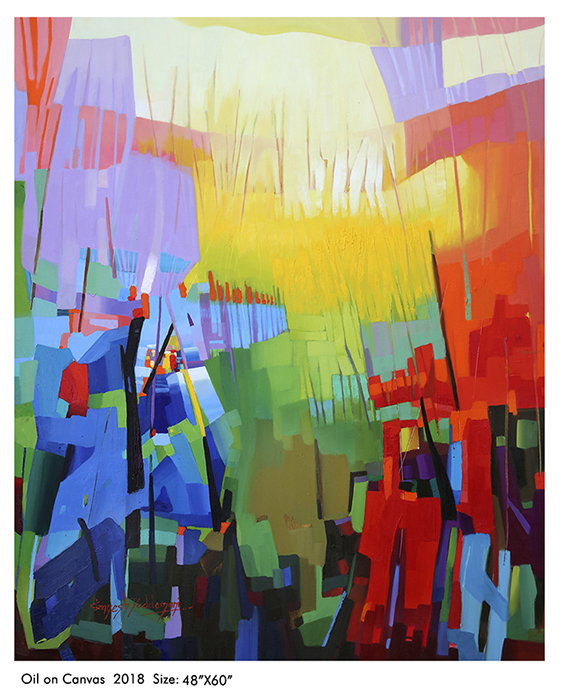 What is your dream project?
My dream is to showcase my works throughout the world.
Favourite or most inspirational place?
My favorite place in this world is my studio. It gives me lot of positive energy and peace which I need for my work and my life.
What's the best piece of advice you've been given?
We have only one life, keep working; it's a long-long journey. What you think you become.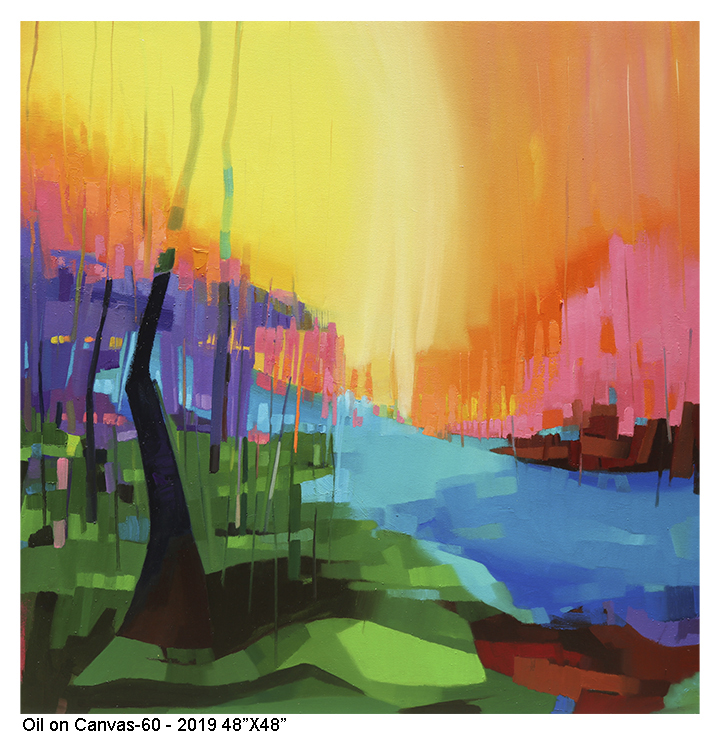 Professionally, what's your goal?
My goal is to maintain the energy flow and to work constantly in other styles too, and also to create interesting shows with different mediums.
Future plans?  
I want to keep working relentlessly as an artist and impart knowledge to others.